The following content may contain affiliate links. When you click and shop the links, we receive a commission.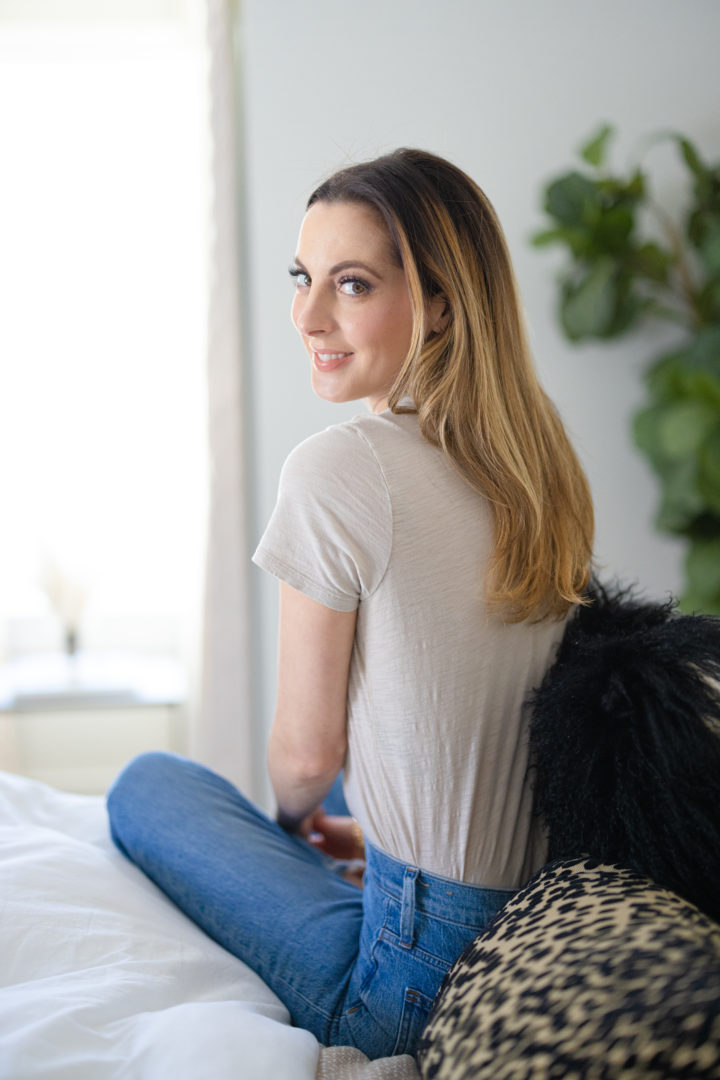 **Many thanks to Navy Haircare for sponsoring this blog post. As always, the thoughts an opinions expressed below are entirely my own. 
The winter months do a number on my skin, hair, and nails. The cold temperatures, mixed with the dryness of the heat pumping through the house take all of the moisture out of me and I end up with cracked, flaking skin and brittle strands. Add on to that the fact that I lighten my hair, and I REALLY have to stay on top of my moisture and protection game to not look like a total mess.
The past couple of years I've put so much time and energy into finding the right products that work for me during the winter—and I'm especially proud of my haircare game! Today I thought I would share a roundup of my favorite winter hair care products. All of these products really help me grow, strengthen, and protect my hair. They're so nourishing, and I highly recommend checking them out! It's taken me a really long time, between split ends and having postpartum hair loss with three kids, to finally grow my hair long again—and I'm making sure to take good care of it! Let me know in the comments below if you have any questions about the products that I didn't already answer.
My Favorite Winter Haircare Products
VITAL PROTEINS COLLAGEN PEPTIDES
$41.95
I'm a firm believer that noticeable beauty starts from the inside out. Happiness itself is a huge factor that comes off in your appearance (in my honest opinion), and so are the supplements you take! I started mixing collagen peptides with my coffee two years ago and I think it makes a huge difference in my hair, skin, and nails. During the winter months, I make sure that I'm keeping up with my collagen intake to counteract the local weather! 
NAVY HAIRCARE SEARCH & RESCUE COLLECTION
$52
I discovered this amazing haircare collection last year, when my postpartum hair loss was at an all-time high. The Search & Rescue line uses a powerful combo of biotin, vitamins A, C, and E, and rosemary leaf extract to help condition, protect, and promote hair growth. Plus, it has no parabens, sulfates, or Since using the shampoo, conditioner, and hair serum regularly, I've noticed such a difference in the growth and condition of my hair. My little postpartum baby hairs are now three inches long! I highly recommend for anybody going through hair loss, or wanting to step up their shampoo and conditioner game during the winter. To apply the serum, I towel dry my hair, and apply a dime-sized amount all through my lower lengths of hair. I either blow dry (for some great shine) or allow to air dry! 
RITA HAZAN CURL CRÈME
$28
This is such a nice, luxurious curl creme for activating those curls when you want to air dry! I always had stick straight hair until I had babies. Now, my hair is kind of curly in patches when I let it air dry, and I really need to apply a curl cream to really get those curls to where they look good without heat styling! This one is super moisturizing and works great. It also protects the hair really nicely if you decide you want to use an iron-on second-day hair. I apply a quarter-sized amount to wet hair that I've "scrunch dried" with a clean, dry T-shirt. Then, I comb through with my fingers, and use the T-shirt again to scrunch it into my hair. Allow to air dry, and voila! This is a great way to wear your hair on low-key winter days to cut down on heat styling! 
NORDIC NATURALS OMEGA-3'S
$36.93
Omega 3's are another supplement that I don't pass up in the winter. It's great for getting a glow in your skin, hair, and nails, and helping the body create a lipid barrier to retain moisture and plumpness. I always notice a real difference with my hair in the winter when I'm regularly taking my Omega-3's. I love the Nordic Naturals brand because they third-party test for mercury, and I really trust that there aren't any hidden heavy metals (which you have to be careful with when it comes to fish oil supplements!) 
SHEA MOISTURE STRENGTHEN & RESTORE LEAVE-IN CONDITIONER
$13.49
This is a supermarket product that Marlowe and I both use! Marlowe has such coarse, thick hair, and after shampooing and conditioning in the bath, I take a nickel-sized amount of this and work it into her towel-dried hair. It really helps make her hair softer and more manageable. I use it more as a mask! Before I go work out, I dampen my hair a bit, and then work a quarter-sized amount all through my hair, and secure it in a bun. While I work out, my elevated body temperature helps the mask penetrate into my strands! I rinse out before shampooing. 
KERASTASE CRISTALISTE
$39.99
This is an awesome mask that works almost like a conditioner. I try to use it once every ten days or so, and especially before a shoot or something when I want my hair to be extra shiny. After shampooing, I towel dry my hair, and then massage a golf ball amount into my strands. I leave it one for a few minutes (usually I'll shave my legs or something) and then rinse out. It instantly adds a glossy shine, and makes my hair noticeably easier to manage. (FYI, after using this, if I'm going to heat style my hair, I always apply the Navy Haircare Search & Rescue serum to my lower lengths before blow drying!) 
Photographs by Julia Dags | Happily Eva After, Inc. © 2021 All Rights Reserved