The following content may contain affiliate links. When you click and shop the links, we receive a commission.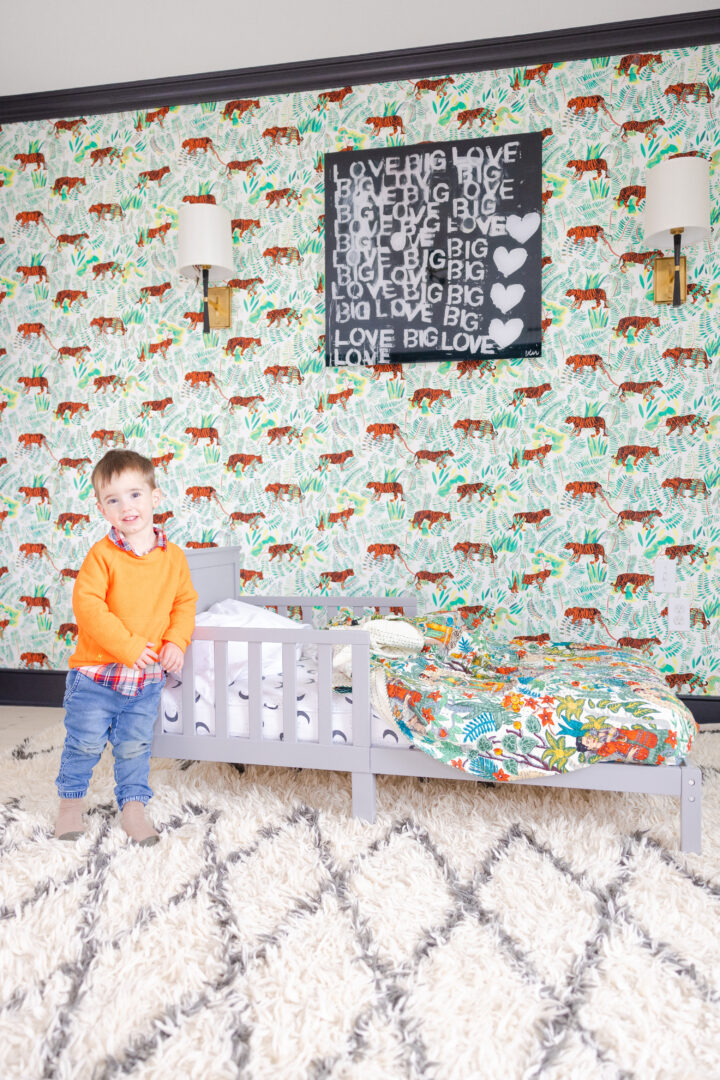 Ladies and Gentlemen, we are all done with cribs in the Amurri/Hock/Martino household! LOL. I will immediately admit that it wasn't my choice to transition him at two to a Toddler Bed. Like most things with this little firecracker of mine, the decision was ALL his. About four months ago, he decided to start climbing out of his crib. Even with the sleep sack on, which had always deterred both Marlowe and Major from escaping their cribs during their toddler years! Basically, he started just jumping ship whenever he was ready to be awake in the morning, AKA absolutely not when the rest of us were ready to be awake. A couple of times he hurt himself jumping out, too.
I trained him while we still had the crib to stay in his bed until the green light, using the toddler alarm clock and tips I outlined in this blog post. It took about five days total, but after that, he was successfully staying in his bed until the green light was on, and then he'd immediately jump out and come to get us. I had removed the sleep sack at this point. I thought we were in a good place until I brought Mateo in for his 2-year-old Wellness visit with his pediatrician. I explained where we were sleep-wise, and she highly recommended we switch him to a toddler bed ASAP instead of having him climb out of the crib. Apparently, she's seen a really high number of broken collar bones from toddlers doing just that! After experiencing a broken leg with Major around this age, I knew anything broken is the last thing we need. Ian, Kyle, and I all decided to collectively take his cribs at both houses, and commit to a toddler bed ASAP. And Lord, was it a tricky transition this time around! Sigh.
First of all, I will say that there is actually nothing cuter than a toddler bed on God's Green Earth. A little mini bed that a little mini person sleeps in, with little mini sheets and a little mini comforter is a dynamite Serotonin boost. 10/10 visual experience. LOL. We found a really inexpensive toddler bed that's also GreenGuard certified, and since we already had the crib mattress, everything came together really easily. I decided not to invest a ton in new sheets etc, since Major and Mateo will be sharing Mateo's bedroom in about a year, and I will get twin beds for the two of them. I want to save up to basically redo the bedroom when that happens! Now let me get back to the Transition part.
Have I mentioned here before how headstrong our little Pisces prince can be?? Ha! The first few nights in the toddler bed were ROUGH. Mateo actually did pretty well immediately with the toddler bed at Kyle's house, but he had the crib itself transitioned with the toddler rail, plus a much smaller room. I think the coziness of it there helped him a ton to adjust. In his bedroom at my house, all bets were off. For a few days straight, Mateo called for me all night long. He got up and switched the lights in the room on and off. He read books, he did dances for his baby monitor camera. He even fell out of bed multiple times, waking up hysterically sobbing. I was basically averaging 3-4 hours of sleep a night, which was savage. Finally, he began to get used to it. I filled the bed with extra pillows and stuffed animals so it felt more protected, I got him a cute little salt lamp night light like the big kids have, and I started leaving the door to his room a little open so he can hear the sounds of the house and see the hallway light a bit more. I also leaned HARD back into the toddler alarm clock, reinforcing that red means bedtime and we have to listen to the rules.
Strangely the door open trick was the one that calmed him the most. He is just now (almost 3 weeks in) finally starting to sleep normally again. I have a feeling that he'll thrive in a twin bed with his brother in the room, but we just aren't there yet. He loves showing new guests his new "big boy bed", and I know he'll be even more excited when the bed itself is just a tiny bit bigger. Ha! It's definitely surreal to be totally done with cribs, though. I can't say I'm sad about it, but it absolutely feels like a new chapter in our life as a family. I'd love to hear about your toddler bed transitions, and answer any questions you may have. Comment below!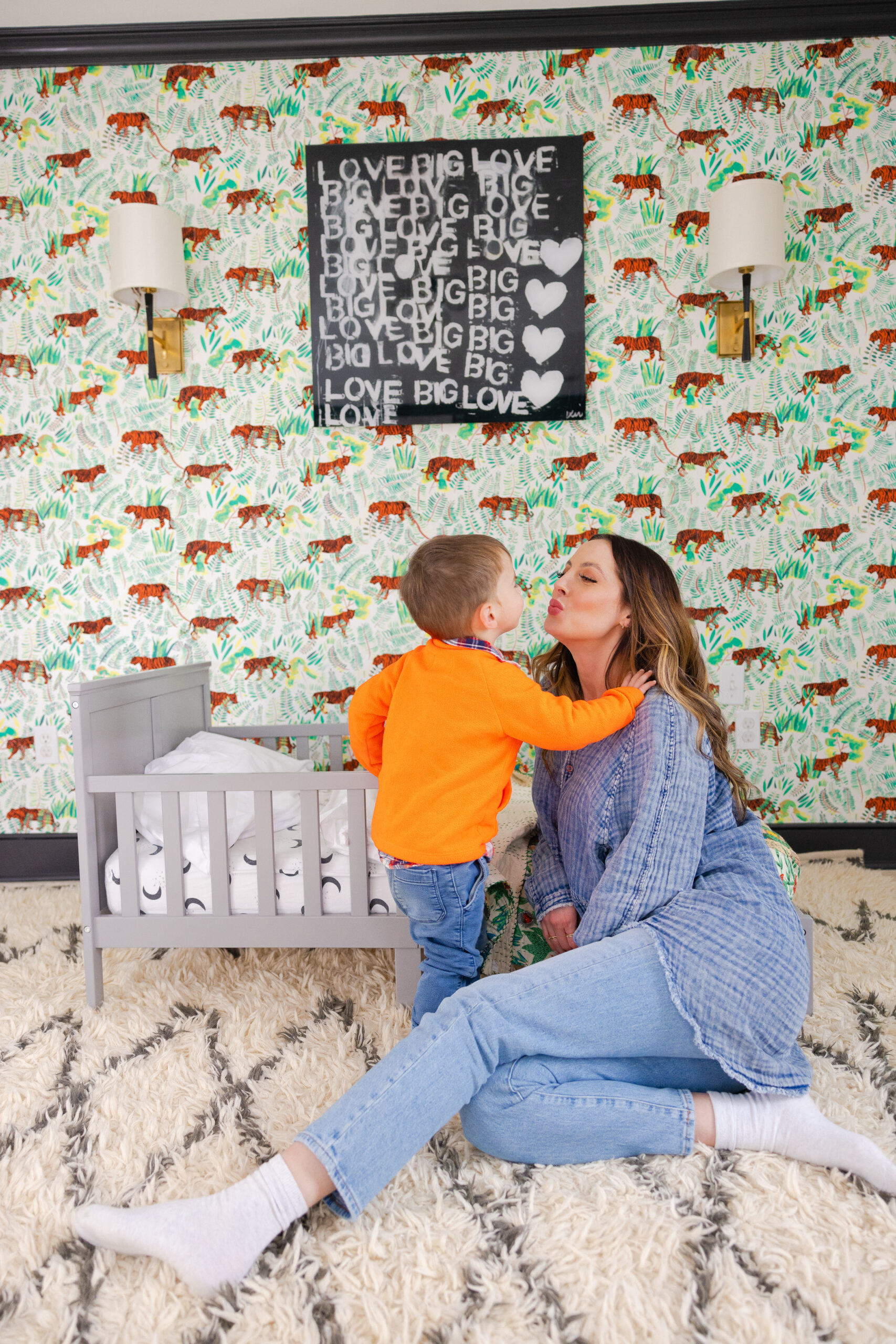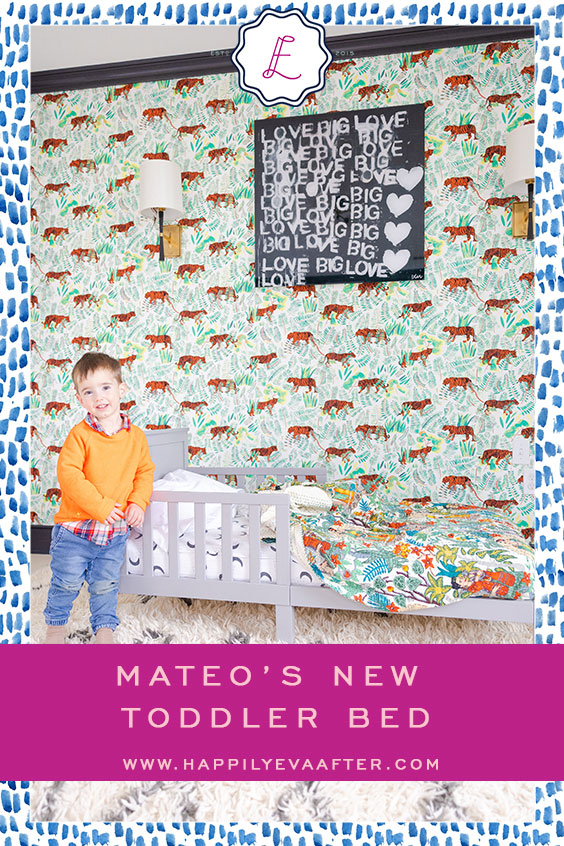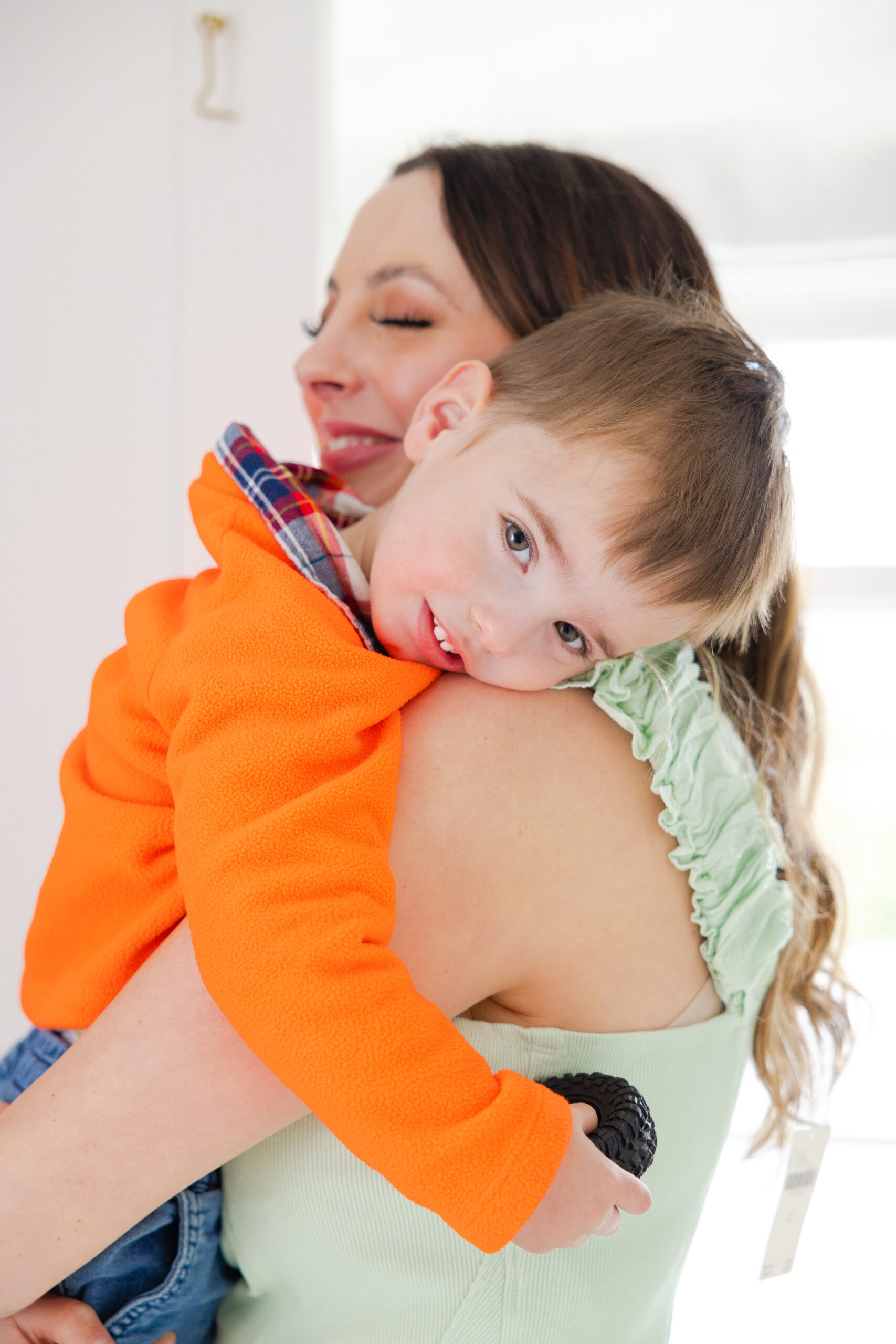 ---
Shop the post…

Photographs by 

Julia Dags

 | Copyright © 2022 Happily Eva After, Inc. All Rights Reserved.