The following content may contain affiliate links. When you click and shop the links, we receive a commission.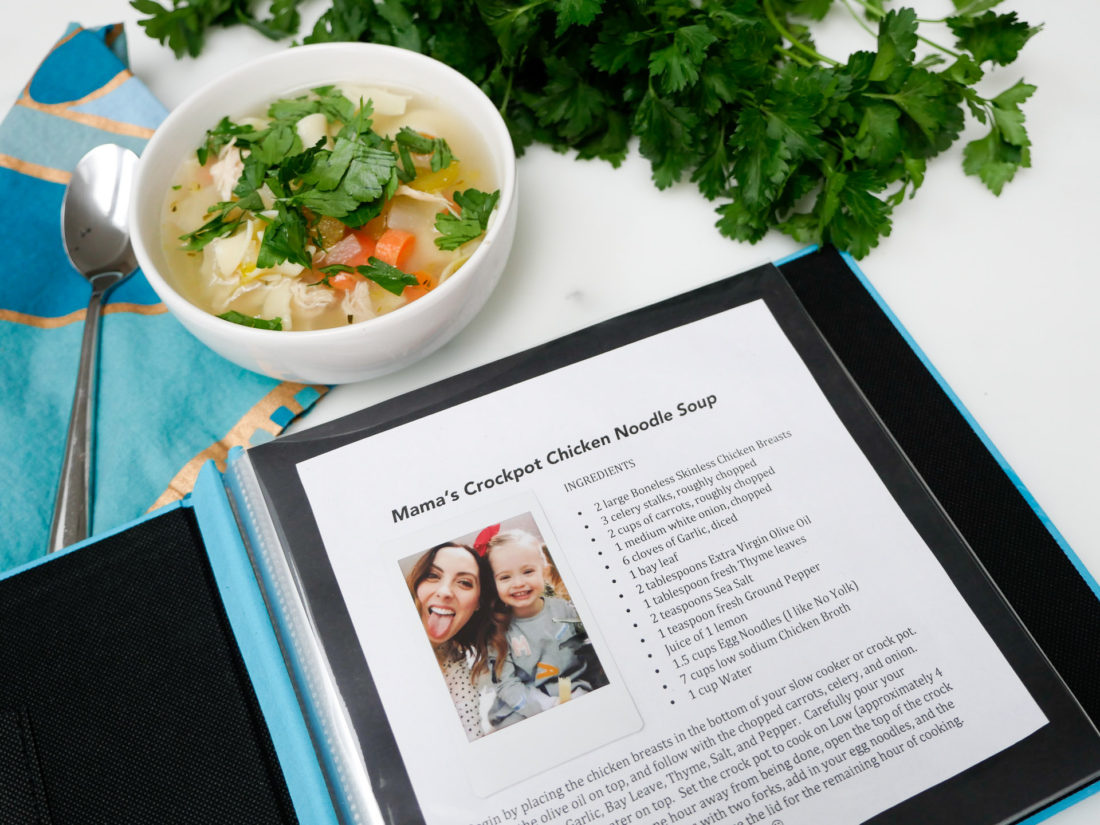 Cooking is something I discovered as a teen. I've always loved eating and trying new foods and flavors. Reading has also always been one of my favorite past times– so it really is no surprise that I became totally enamored with cookbooks. When I was in high school, I started trying to recreate the dishes I loved so much and learn about cooking techniques by reading about them. I started collecting cookbooks and reading through them, picking out my favorite recipes to test and try.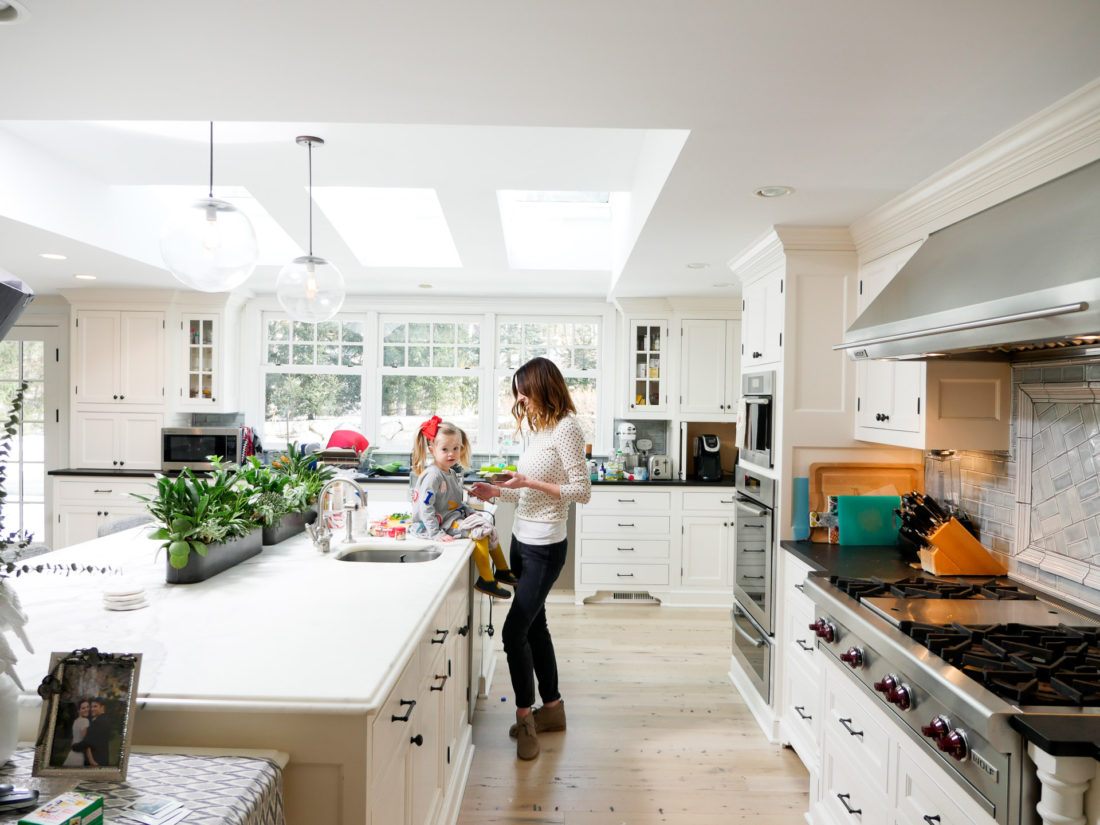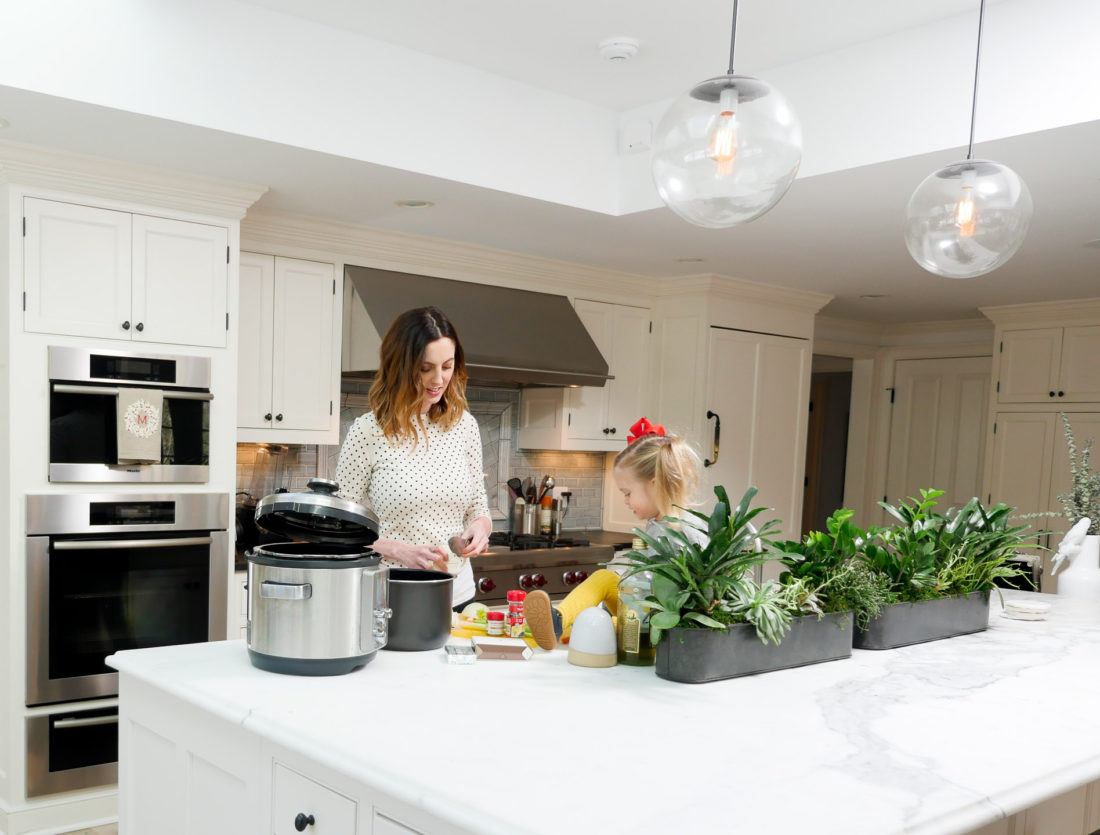 Even though I'm a busy Mom with a business to run, I try as much as I can to cook meals for my family. It's one of my greatest parenting hopes that one day, when Marlowe is off on her own in the world that she thinks fondly back to the days when I would cook for her– and craves some of her childhood dishes! I decided a while ago that I wanted to start compiling a cookbook for her of some of her favorite "Home Cooked Meals" throughout the years. It seemed like such a cute idea but I felt overwhelmed by the idea of its execution. I imagined a complicated undertaking, and just haven't felt up to it on top of everything else that I have going on!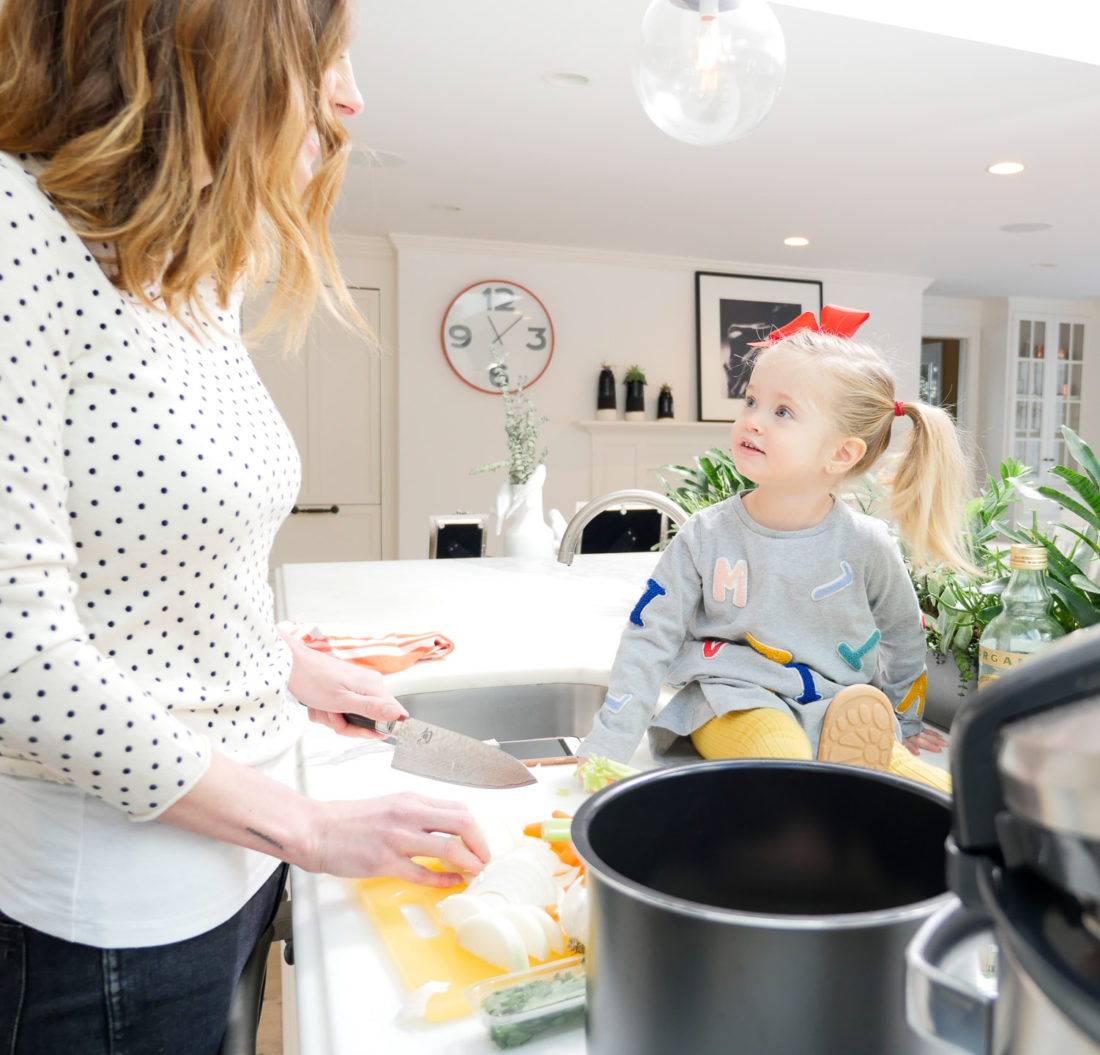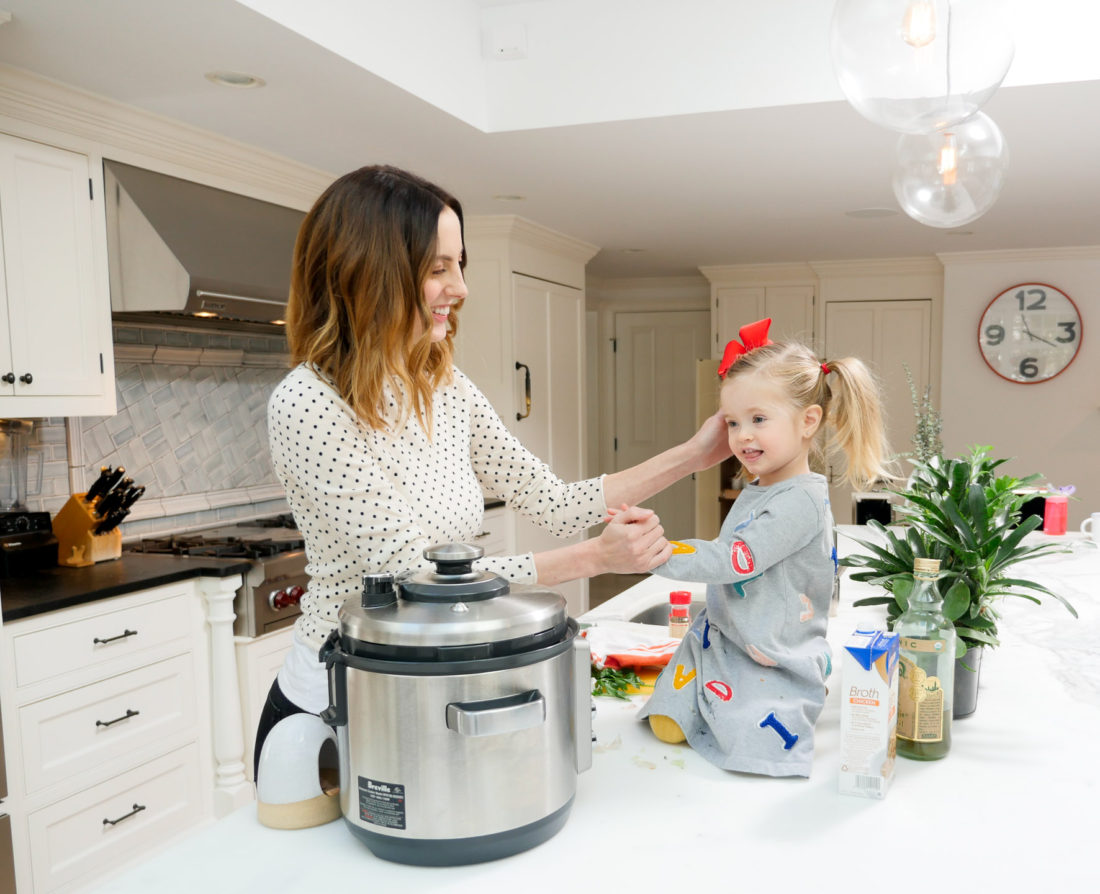 But after falling in love with my FUJIFILM INSTAX® Mini 70 Instant Film Camera, I knew that Instax had another amazing product up their sleeve that could help me make this cookbook a reality: The FUJIFILM Instax SHARE­ SP-2 Smartphone Printer. This thing is insanely awesome. It's a super compact, chic little printer that connects wirelessly to your smartphone and enables you to make any photo in your phone's photo roll into a cute little Instax Mini Pic! The design is so sleek and looks great anywhere (I put it on my desk) and then I have the convenience of snapping pics on the go and printing them out later. By the way, it uses the same mini film that the Mini 70 camera uses. You just connect your phone to the SHARE Printer SP-2's unique wireless signal (after downloading the free Instax SHARE app), select your images, and print away. You can even edit the images through the app to make them look perfect! I knew this printer would be the key to making a cookbook that was filled with awesome recipes and great memories of the two of us cooking together.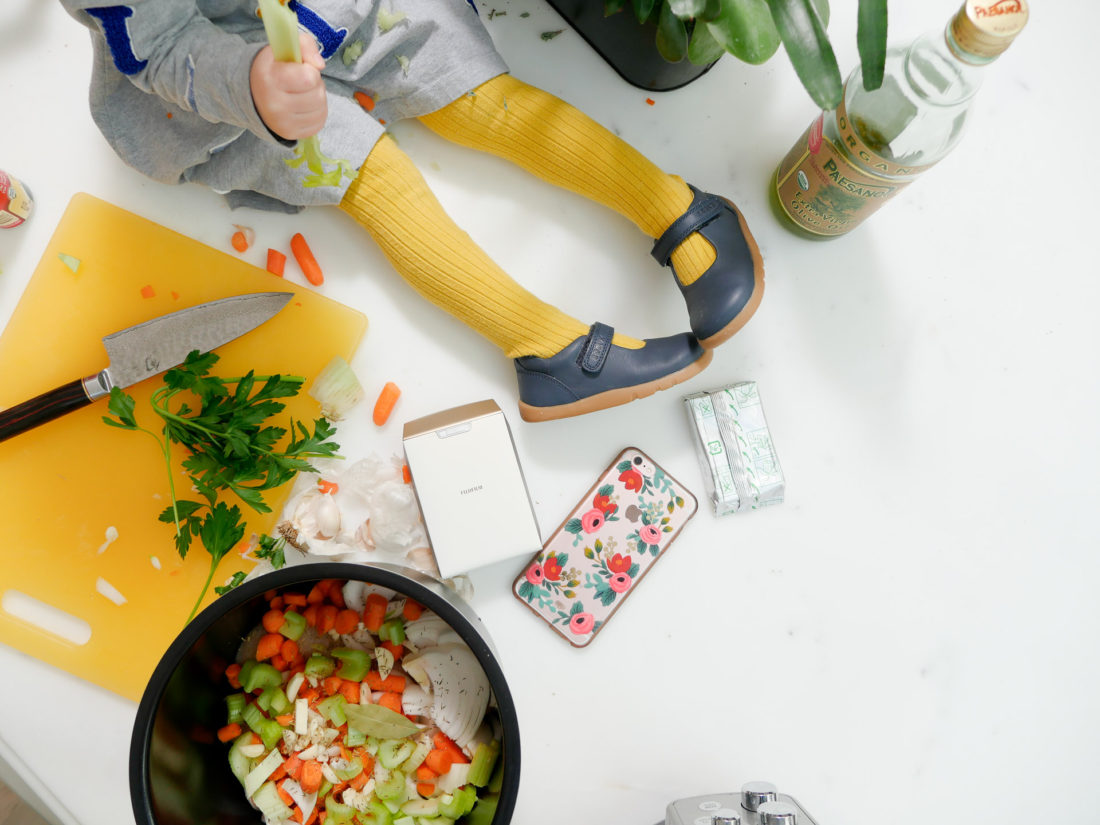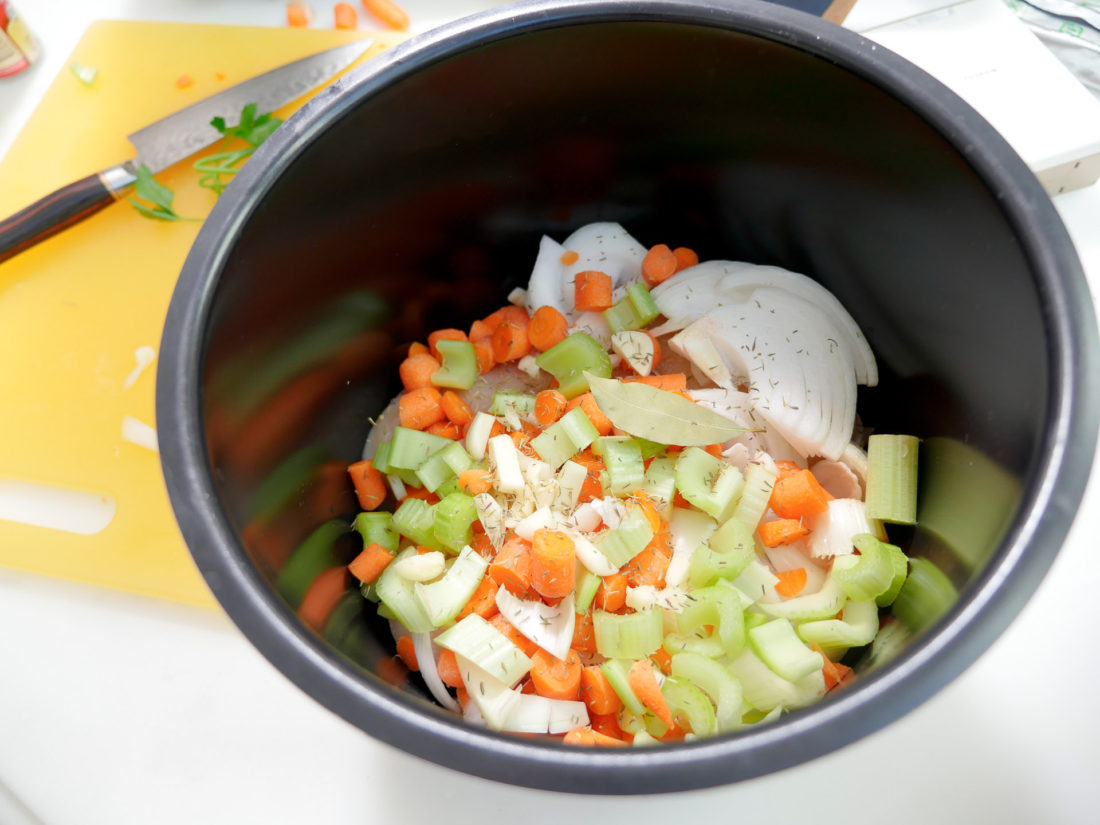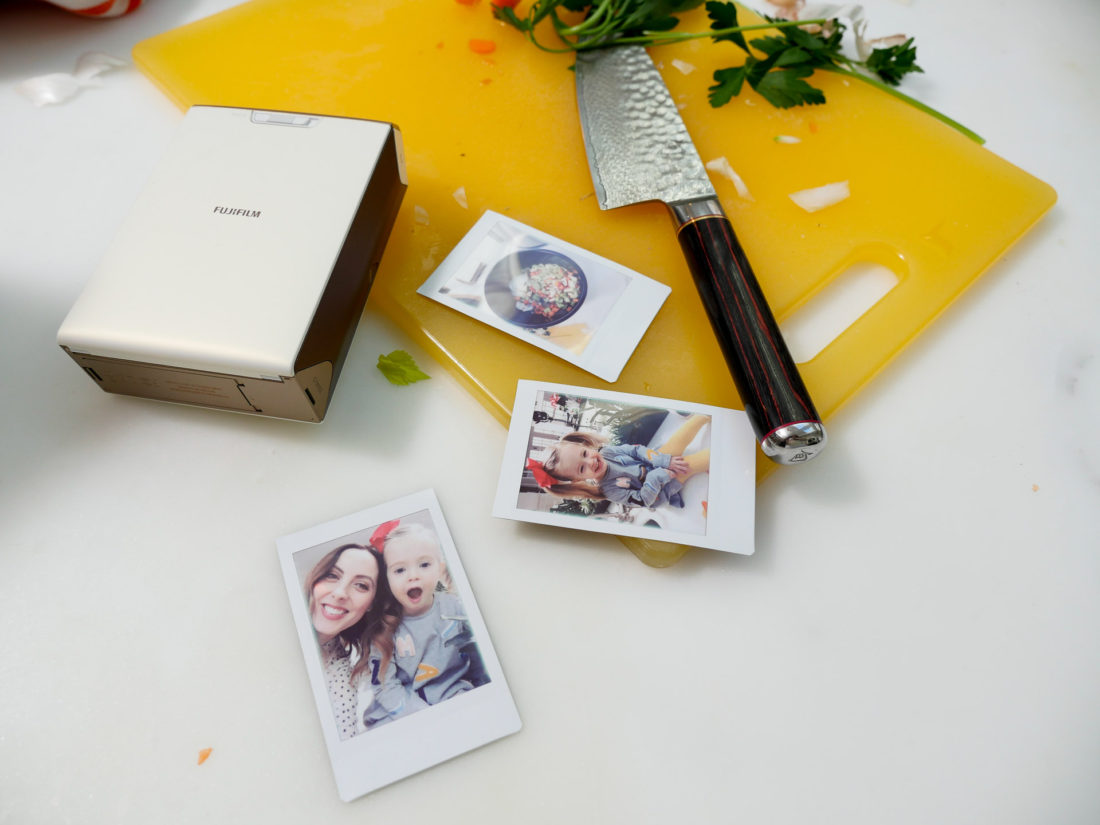 One of Marlowe's favorites is my Crockpot Chicken Noodle Soup. It's beyond easy to assemble, very interactive for smaller kids (as long as you don't let them handle the raw chicken!), and cooks up on its own in the crockpot with Mama barely having to lift a finger. What a win! Marlowe loves dumping all the veggies in the pot…and eating lots along the way. For some reason she ONLY likes eating raw veggies when we are cooking this dish! It's my little sneaky trick! It makes me so happy to know that Marlowe will get to look back on the memories of us creating this dish together in our kitchen, and will have everything written down for her to keep in her own kitchen when she is all grown up. Aaaand I'm going to stop thinking about that because I'm already starting to cry…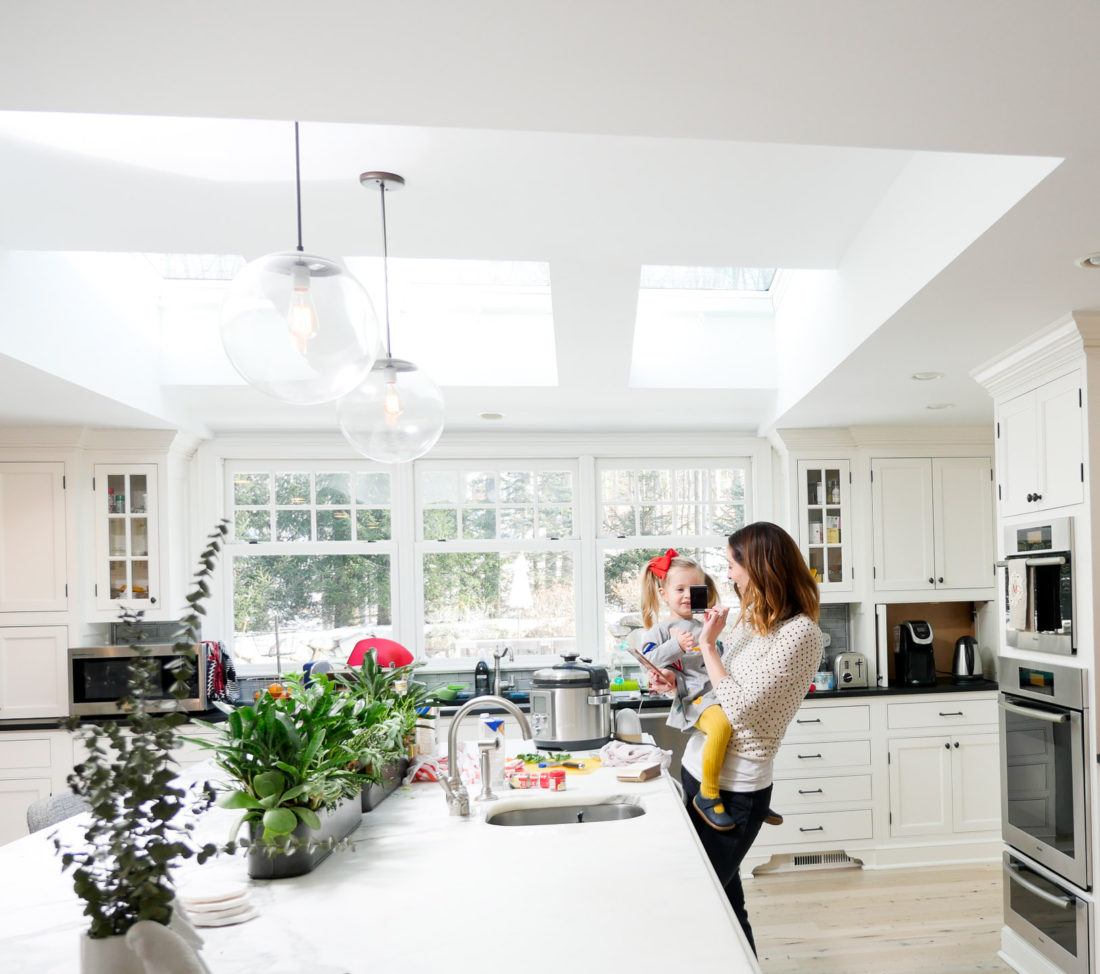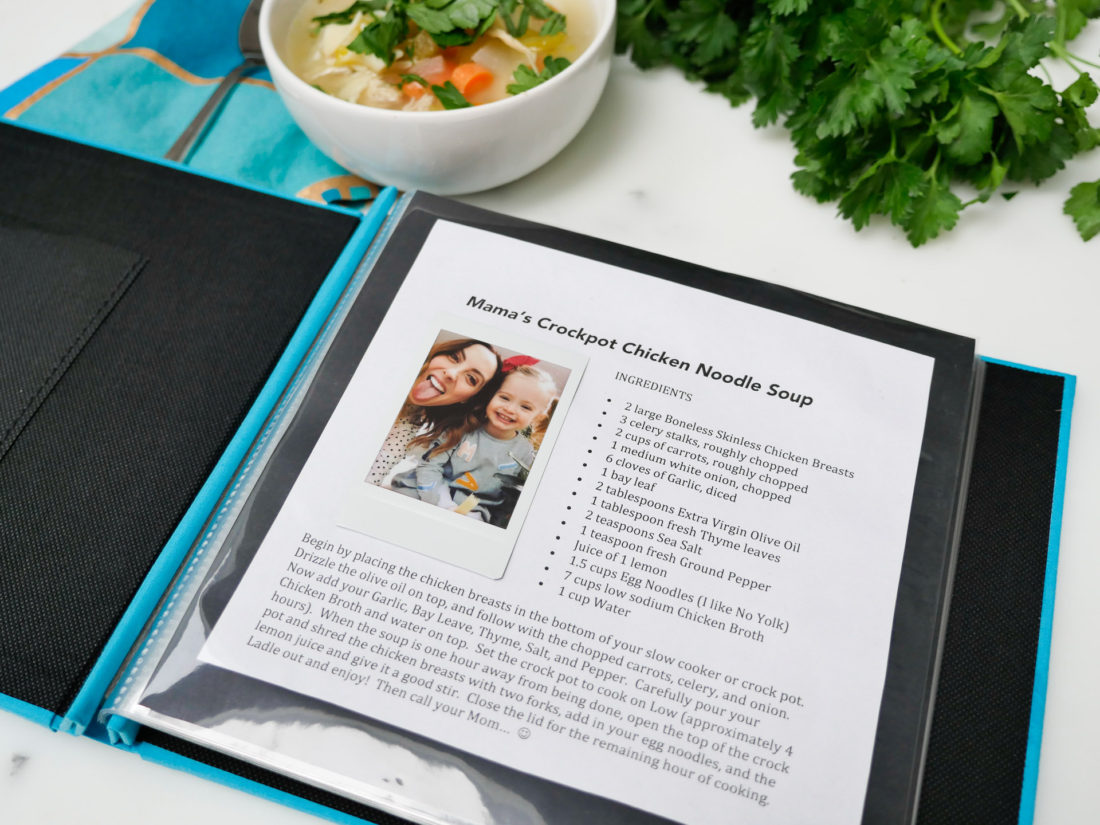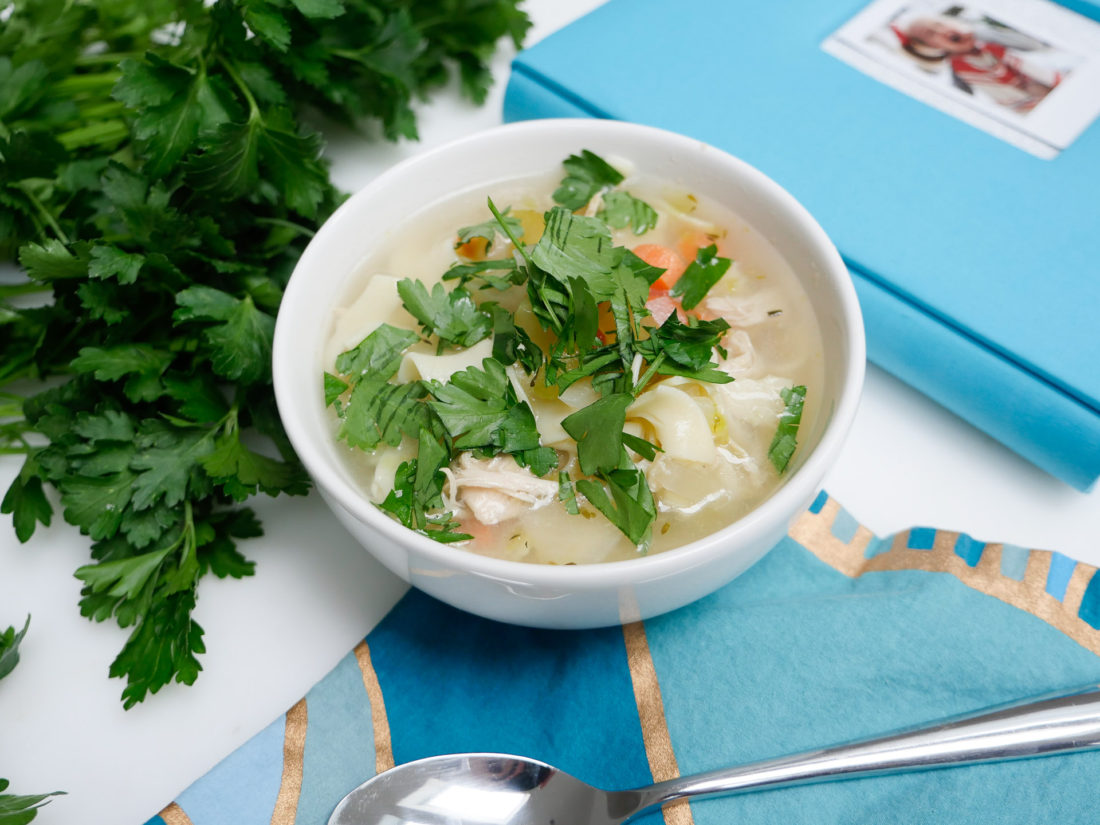 Here's a little video of the behind-the-scenes Recipe Keepsake Book action with my FUJIFILM Instax SHARE SP-2 Smartphone Printer. I can't stop thinking of awesome things to make with these photos! The possibilities are endless. Do you have this printer or camera? If you do – let me know how you use it in the comments below!
Mama's Crockpot Chicken Noodle Soup
2 Large Boneless Skinless Chicken Breasts
3 Celery Stalks, roughly chopped
2 cups of Carrots, roughly chopped
1 Medium White Onion, chopped
6 cloves of garlic, diced
1 Bay Leaf
2 Tablespoons Extra Virgin Olive Oil
1 Tablespoon Fresh Thyme Leaves
2 Teaspoons Sea Salt
1 Teaspoon fresh ground Pepper
Juice of 1 lemon
1.5 cups Egg Noodles
7 Cups low sodium Chicken Broth
1 Cup Water
Begin by placing the chicken breasts in the bottom of your slow cooker or crock pot. Drizzle the olive oil on top, and follow with the chopped carrots, celery, and onion. Now add your Garlic, Bay Leaf, Thyme, Salt, and Pepper. Carefully pour your chicken broth and water on top. Set the crock pot to cook on Low (approximately 4 hours). When the soup is one hour away from being done, open the top of the crock pot and shred the chicken breasts with two forks, add in your egg noodles, and the lemon juice, and give it a good stir. Close the lid for the remaining hour of cooking. Ladle out and enjoy! Then call your Mom… 🙂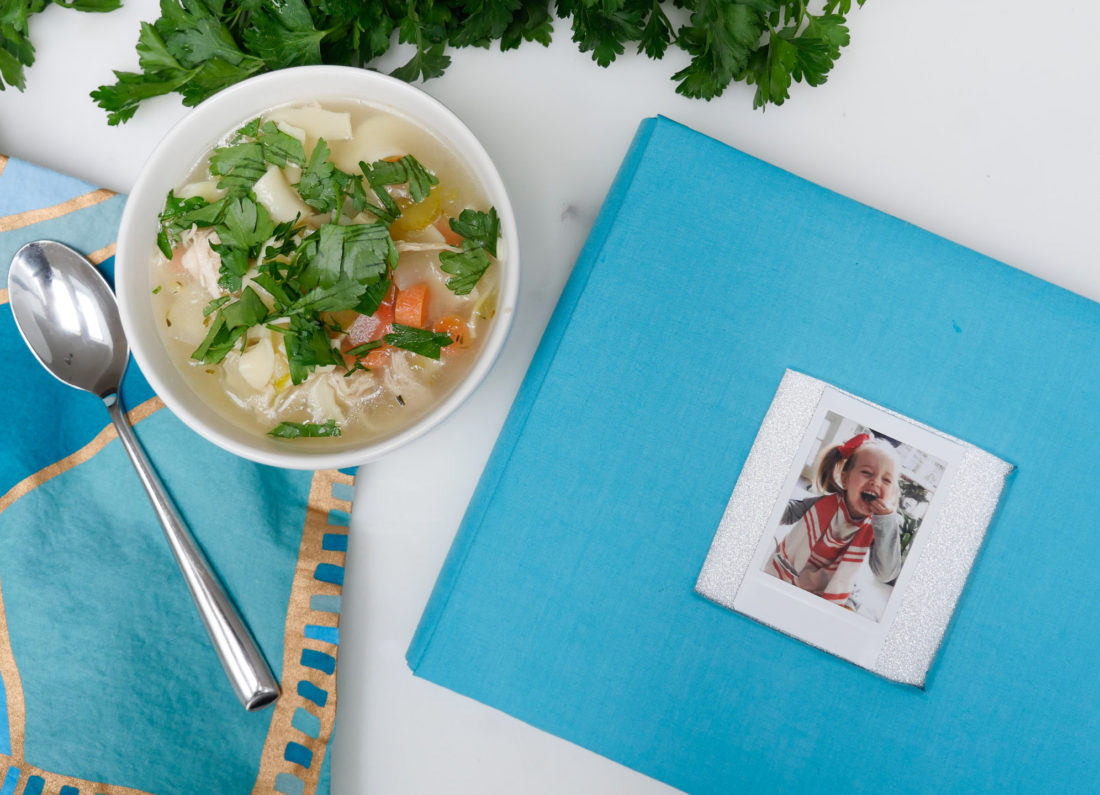 Many Thanks to Instax for sponsoring this post! As always, the thoughts and opinions expressed above are entirely my own
Save
Save