The following content may contain affiliate links. When you click and shop the links, we receive a commission.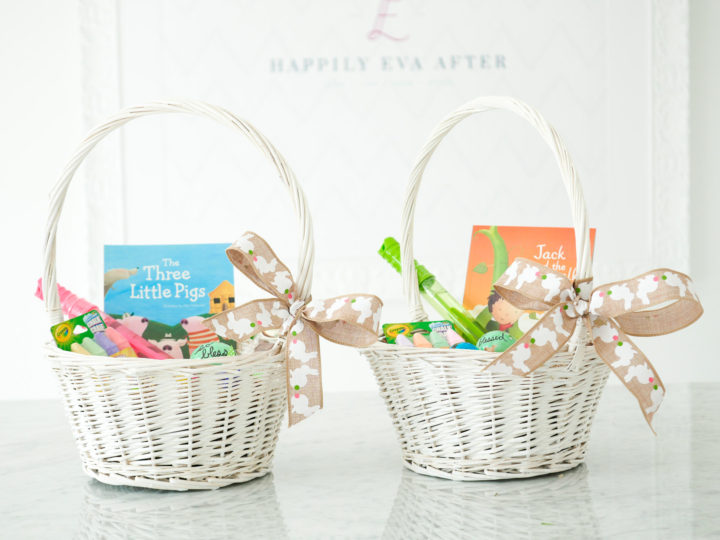 So. Clearly, there are hundreds of ways to fill an Easter Basket, but today I thought I'd share my tried-and-true method that takes out the guesswork and results in a cute and holiday-appropriate little parcel. Plus, there's some simple & easy DIY love in there for my friends who want to personalize their baskets but don't want a craft that takes forever. I got you covered!  Easter was always a big holiday growing up, and my Mom really focused on togetherness and celebrating as a family.  I remember being one of the only kids in my friend group in college who would routinely "go home" for Easter.  Everyone was always like "Whaaaaa?" LOL.  I think of Easter as my Mom's holiday, and she has always been the Queen of Easter Baskets.  She would routinely gather the contents starting, like, three months before Easter and would include the most insane artisanal chocolates and candy, amazing personalized presents, and sometimes even jewelry (!).  My own baskets are just a tad more pared-down (Sorry, Lowie, no jewelry. LOL) but I have learned over the years how to include just the right things to make kids swoon on Easter Morning.  Here are my must-have Easter Basket elements and my instructions for how to fill an Easter Basket!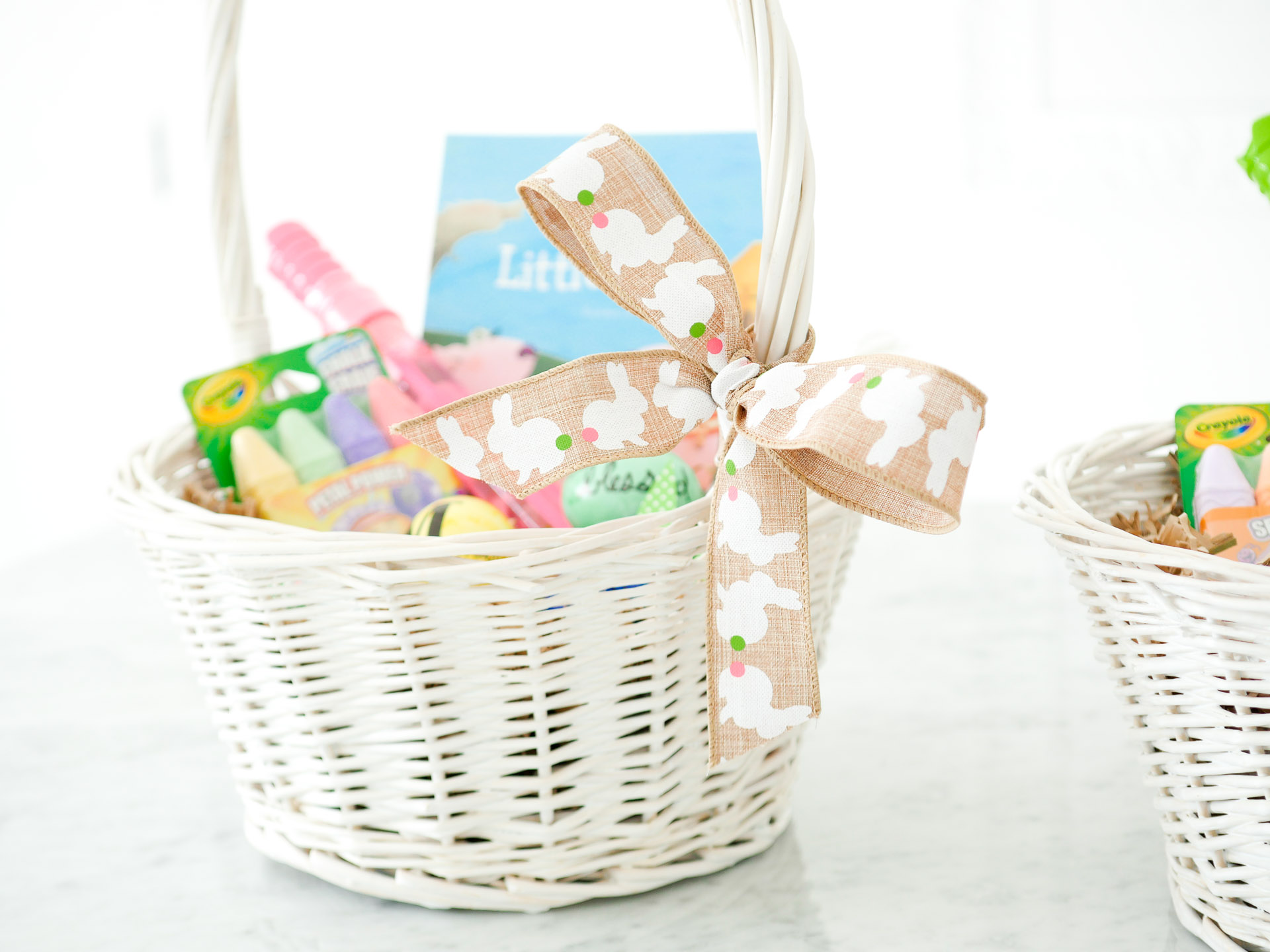 How To Fill an Easter Basket...
Step 1
Use a Classic Basket
I love a simple, white, wicker Easter Basket.  Call me traditional, but these are so gorgeous all on their own, or even cute turned into Easter animals! If using them simply, make sure to buy some beautiful seasonal ribbon and tie a nice fluffy bow around the handle to give them a little special flair. I prefer this classic filling for the interior—make sure to recycle after the holiday!
Step 2
Add Something Sweet
I love including the tried and true foil-wrapped Easter chocolate– and I always find one special, statement piece of candy or chocolate for the kids.  This year I chose two adorable little chocolate bunnies.  Little does Major know that his chocolate is only for show…hate to break it to ya, guy!  My rule though is to not go too overboard with the candy.  I don't deprive Marlowe of sweets, but I like it to remain special! Just a small scattering of chocolate will do the trick.
Step 3
Add Something Fun
A small toy is such a great addition to an Easter Basket. Your kids can bring them to church, or can play in the living room for hours while you hang out or prep dinner in the kitchen. I chose large bubble wands this year, since we finally have a big yard to run around in! Marlowe flips for bubbles, and I know Major will be spellbound as well.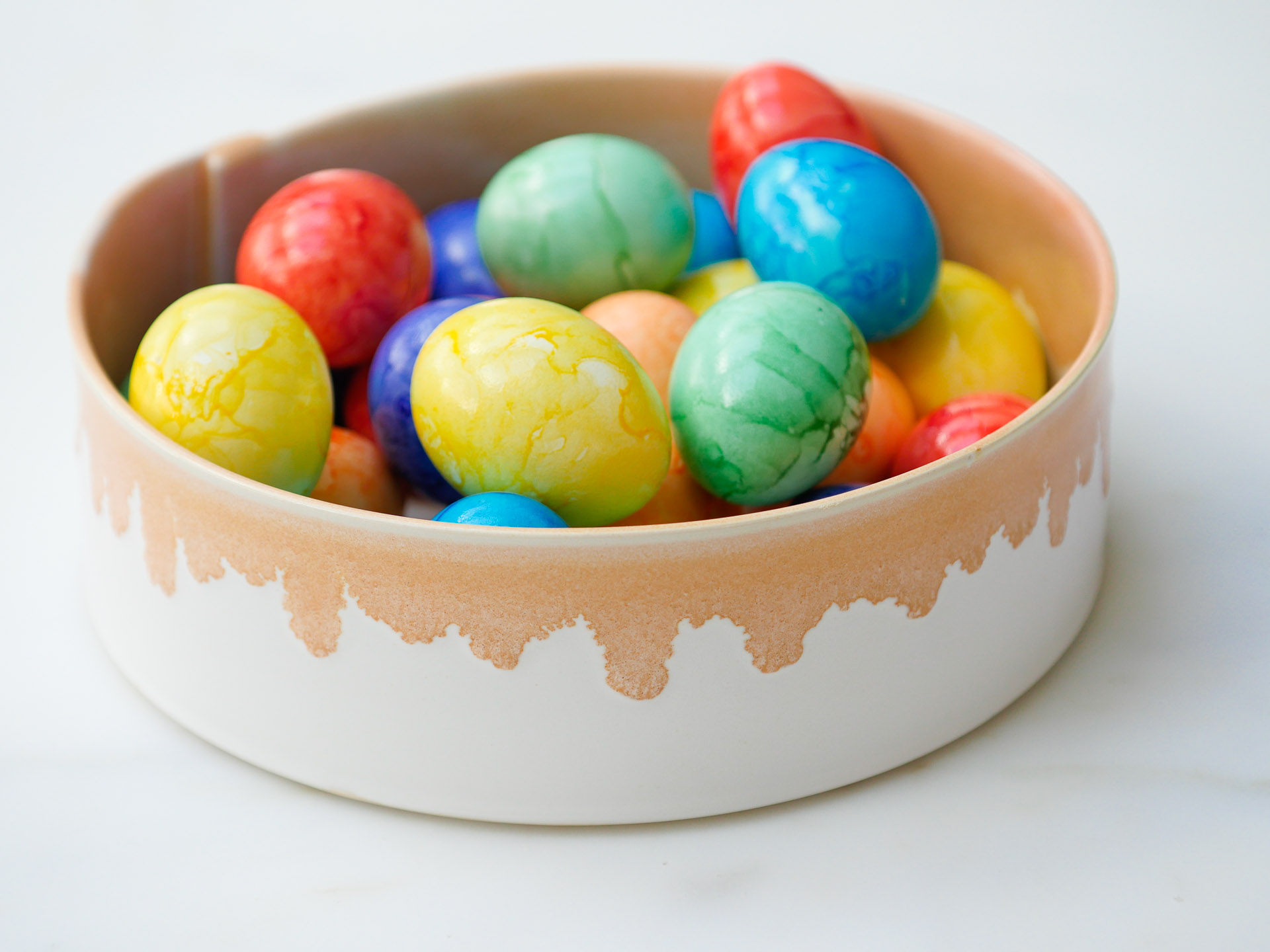 Step 4
Add Something Creative
It's nice to have an Arts & Crafts element to your Easter basket! Since Easter is such a family-centric holiday, it's great to turn off your devices and really connect over a creative experience.  This year, I got the kids chalk to draw with in the driveway.  The nice bright colors will look great against the jet-black pavement!
Step 5
Add Something To Read
Another great church trick…put a new book in your child's Easter Basket! I don't know about yours, but my toddler wants to read new books about a trillion times the first day she gets them.  An engrossed child makes for a less-stressed Mama.  Amen to that. This is also a good airplane trick…just saying.
Step 6
Add Something DIY
It's so lovely to personalize your child's Easter Basket in some way.  It really makes kids feel special!  But personalization doesn't mean it has to take forever, cost a fortune, or be challenging to pull off.  This year I created a DIY element to my kids' baskets just by dyeing eggs and using crafting elements I already had on hand to make them extra special.
When dyeing the eggs, dip repeatedly, and let the dye drip around the egg to create an easy marbleized look.  Next, use stickers, a fine-tipped Sharpie, googly eyes, craft paper, and your imagination to create special messages and characters for your basket!  I put each of my children's names on an egg in their basket along with a sweet Easter message.  Then I made cute chick and bunny characters by adhering printed craft paper and eyes to my eggs!  I highly recommend using these sticky "Zots" for projects like this since they're super strong, and you don't have to wait for the glue to dry.
Do you have any tried and true Easter Basket ingredients that you use year after year? Let me know in the comments below!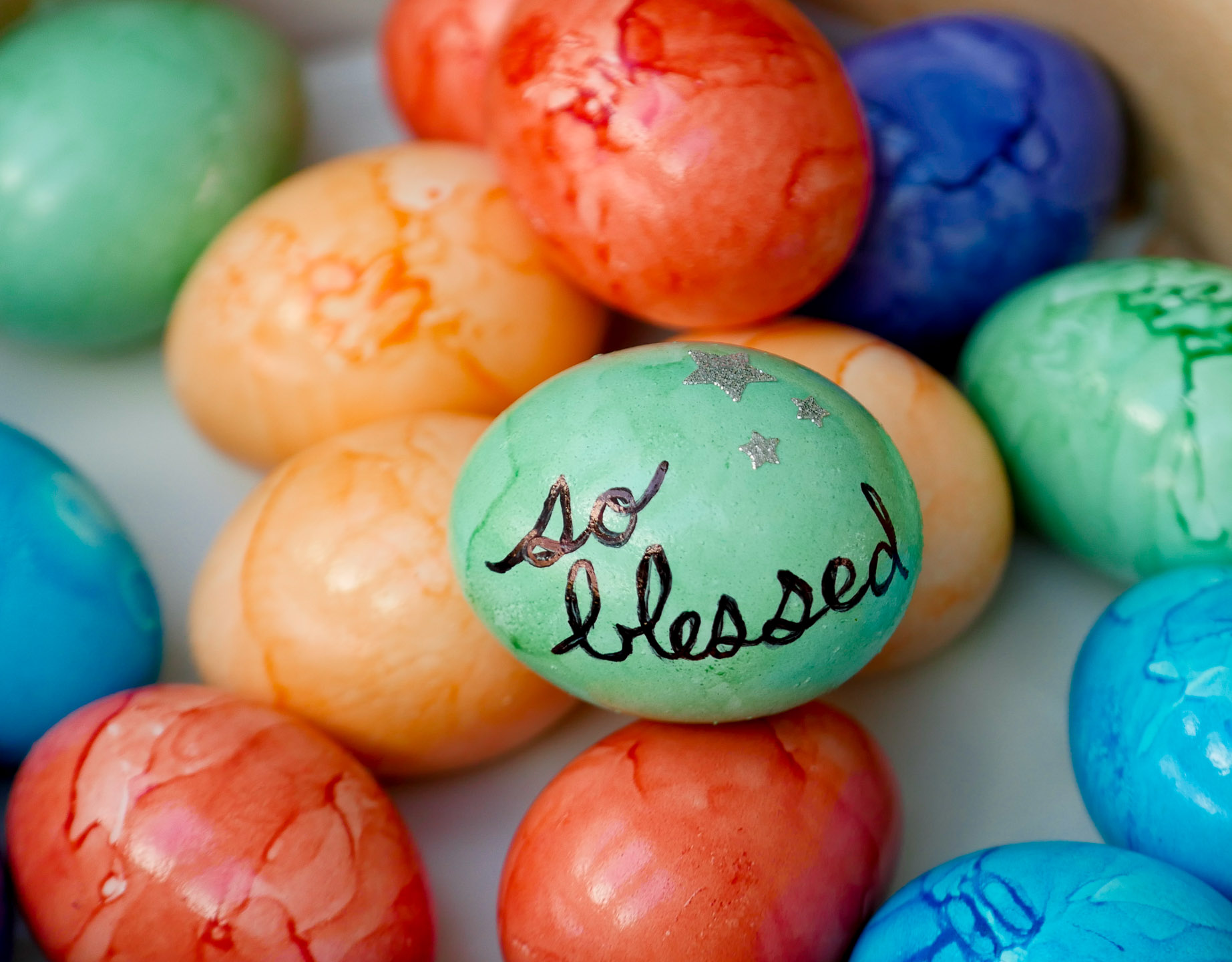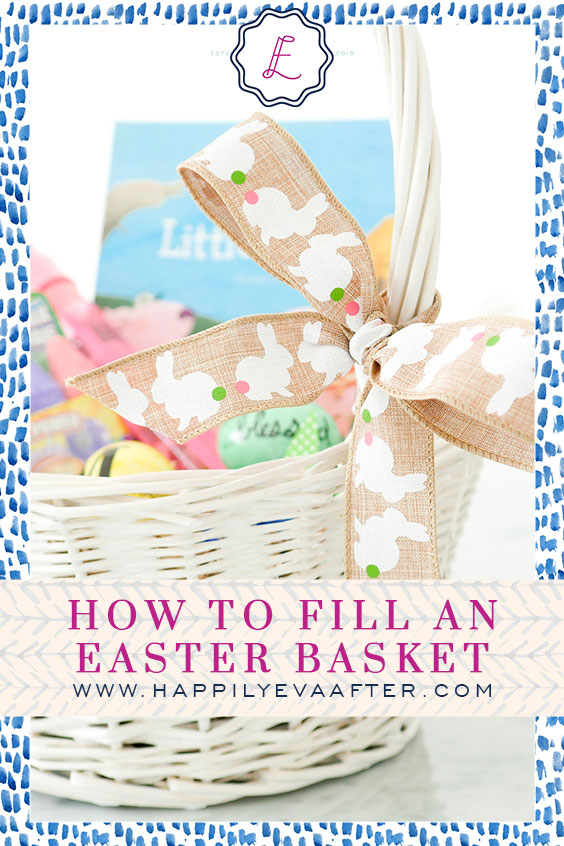 Happily Eva After, Inc. © 2017 All Rights Reserved