The following content may contain affiliate links. When you click and shop the links, we receive a commission.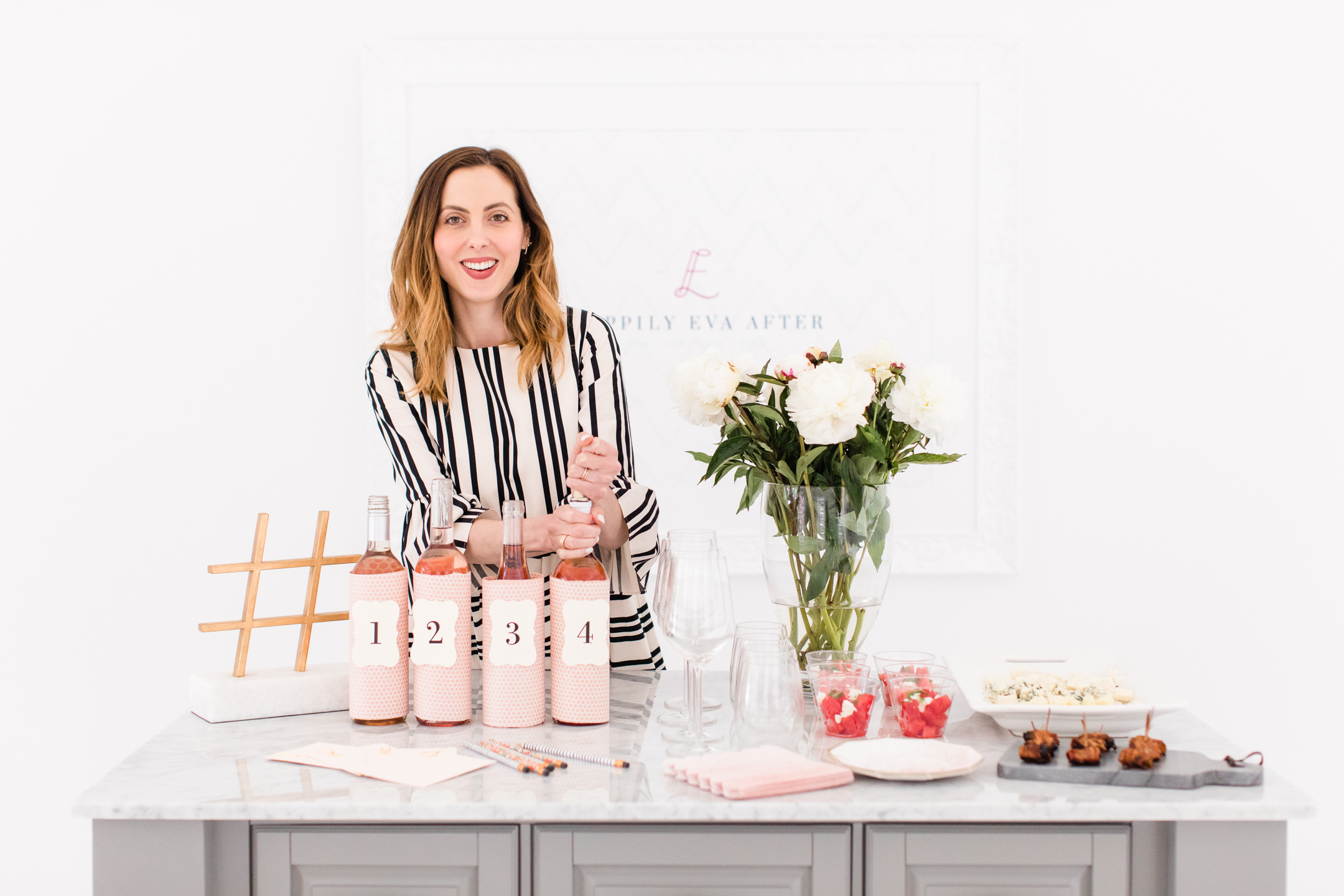 Yes way, Rosé! Ooooh do I love Rosé wine, and I love tasting it and trying new manufacturers to add to my list of faves! I know that Rosé has a strong "Summer" reputation, but my personal favorite time to drink it is actually during the later Summer months when the air is starting to turn and you can sit outside with a light sweater and a nice frosty glass of Rosé….ahhhh! So lovely! Today I am sharing a really fun, femme, and intimate party idea to host as an end-of-Summer and beginning-of-Fall fete: A Rosé Tasting Party!
It's a great way to get to know a new group of people a little better because it sparks conversation, keeps the wine flowing, and gives you a chance to share opinions and learn something new.  For example, it would be an awesome way to get together all the Moms in your child's new class—or even to break the ice with a new book club you're a part of. It's a cute Bridal Shower idea also!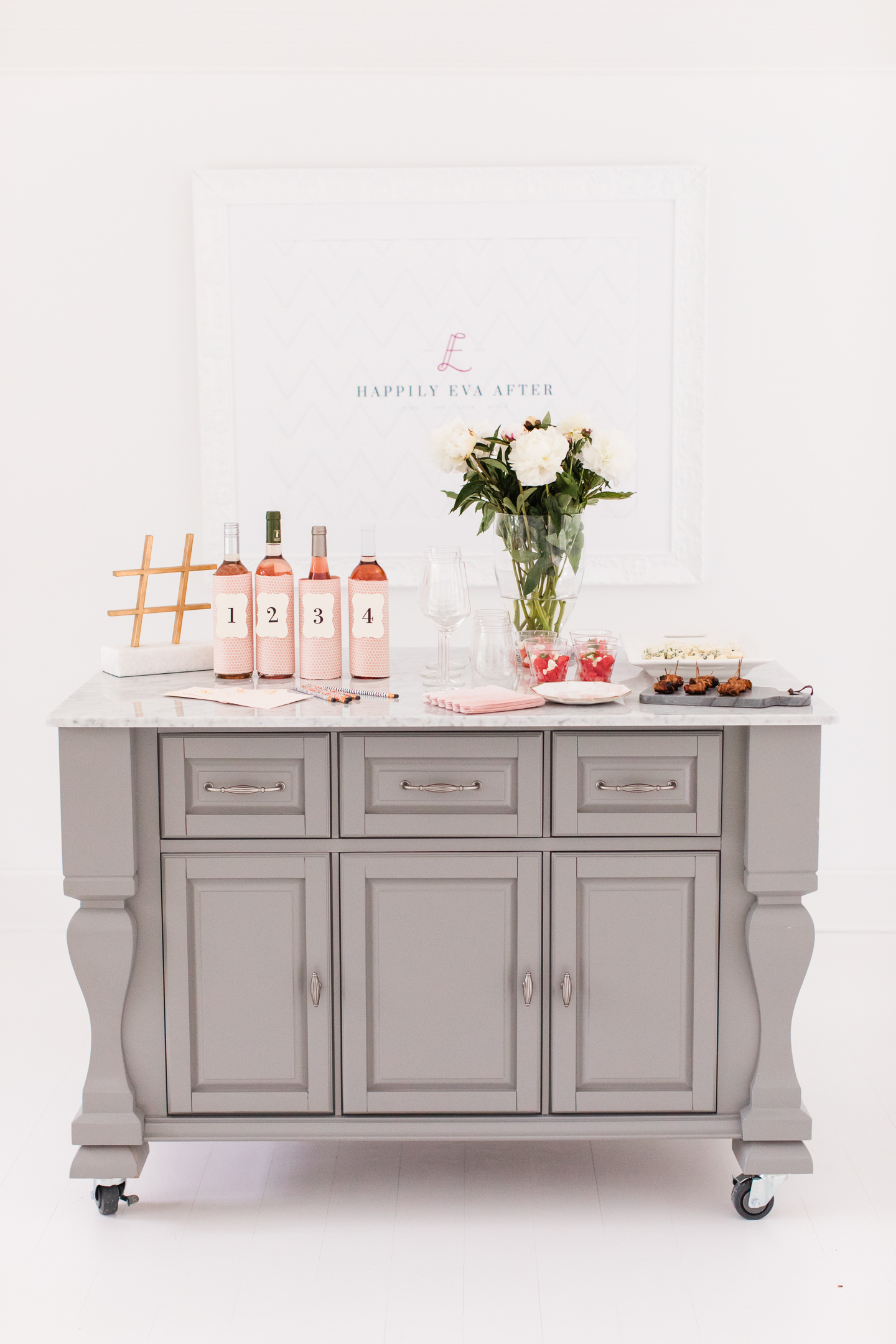 The essentials you'll want to have on-hand are…
Rose Tasting Party Essentials…
4-5 Different Types of Rosé
I had somebody at my local wine shop walk me through a variety of Rosé wines.  I purchased one "nice" bottle (I thought it would be fun to see if guests automatically chose the most expensive bottle as their favorite in a blind test), and then a few different varietals from across the globe: one from California, one from Spain, and one from France.  Sometimes it's fun to throw a super "cheap" bottle in there too just to see if people like it best without seeing the label!
A Way for Guests to Take Notes
Make sure to have some writing utensils on hand and some card stock in a cute color!
Little Bites to Soak Up the Alcohol while you Sip
For me, the food at a social gathering is always key, and for this party, I wanted to serve some delectable little bites that would pair nicely with the wine. I served a watermelon & mint salad in individual little serving cups, an assortment of cheeses (already cubed for easy eating), and my FAVE warm Bacon-Wrapped Dates. You can watch a video of how to make the dates (and a few other of my favorite entertaining hors d'oeuvres) at the link below.
A Cute Favor for Guests to Bring Home
Send guests off into the night with their favor—a little stash of Rosé Gummies to keep on their desk for the week ahead!
Make sure to have a "spit" bucket on hand for guests to dump out the rest of their glass after tasting, and some water in a pretty jug to swish around the glasses to rinse before tasting the next wine! If you have enough wine glasses to have four for each guest, that is ideal—but just one per guest will do as long as you rinse in between! Cover each wine bottle with pretty paper and a number sticker before guests arrive.  Start pouring, and take notes for each bottle!
Once you have tasted all the wines, made your notes (and maybe even bets on the most expensive and where each bottle is from?) you can reveal the bottles! I love this part, since I find that I am always so surprised by what my palate tells me versus the bottle.  It's amazing how much seeing a label can affect the way you experience something, right?  I always have a backup of each bottle so guests can have a full glass of whichever Rosé was their favorite.  Don't forget to send guests off into the night with their favor—a little stash of Rosé gummies to keep on their desk for the week ahead.
Don't forget to take lots of pics with your friends to remember the night! Nothing like a pretty backdrop of blush to create a slew of sweet images.