The following content may contain affiliate links. When you click and shop the links, we receive a commission.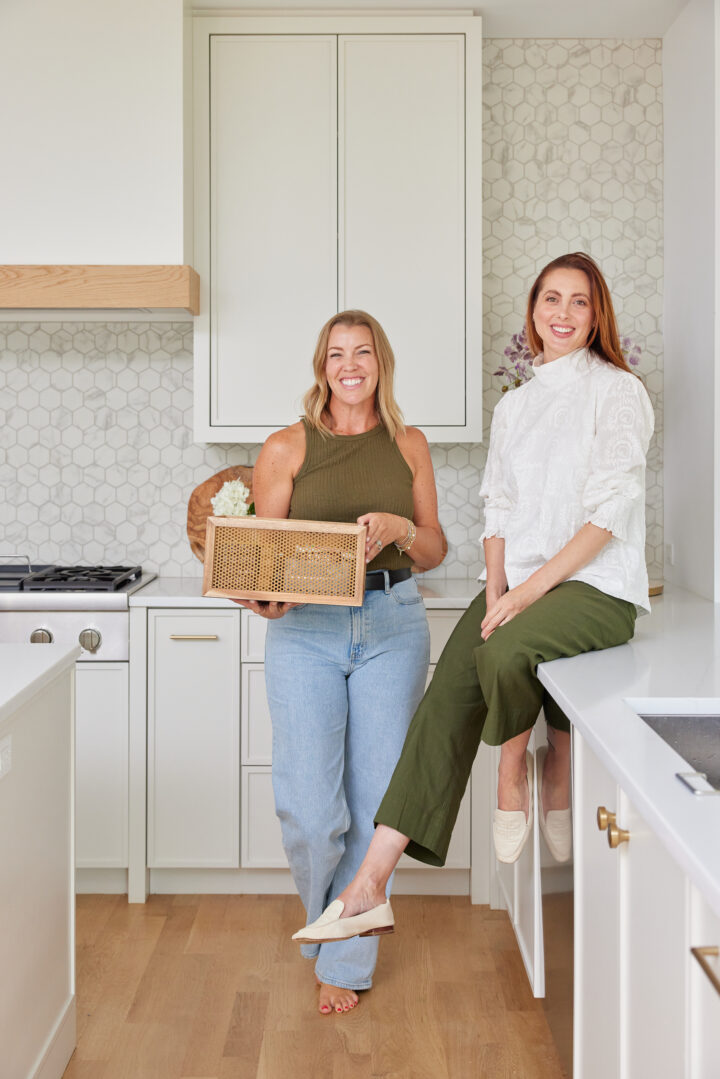 I'd definitely consider myself an "organized" person. I like things put away, clean, and tidy. I don't keep messes laying around, and I'm great at editing clutter down to the essentials. But, when we moved into our brand new home, and I had an absolutely fresh slate to work with, I started to realize I was in over my head. Certain areas, like our clothing closets, felt easier for me. But our kitchen, pantry, and mudrooms felt like a no-man's land. It didn't help that those were the areas with the most accumulated things– both from having three kids, AND from moving in with another adult later in life. For the kitchen in particular, both Ian and I had our favorite dishes, kitchen gadgets, and counter appliances from our own separate lives that were now existing all together. We have a real pantry for the first time in any of my homes ever, and that in itself felt like an insurmountable pressure. How could I make this like what I'd always wanted? Where did I start?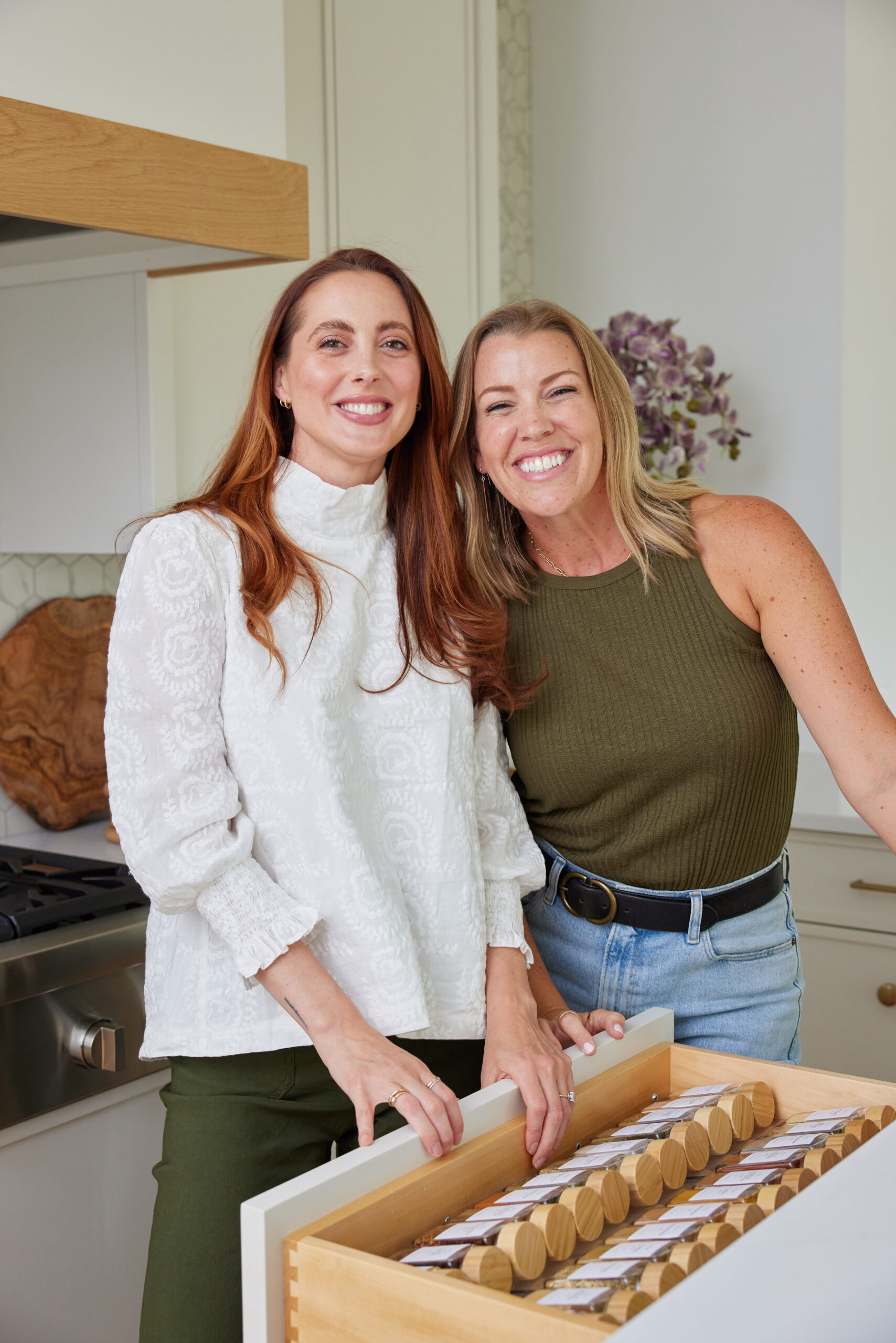 I feel like in my old(er) age, one thing I'm getting much better at is asking for help when I need it. And optimizing the rooms in our home that we use the most seemed like exactly the right place to ask for help. After all, there are people who organize these spaces as their job, as literal experts! And when I knew I was going to call in the professionals, I knew exactly who to reach out to first. Stefanie Jones! I've known Stefanie socially for years, and I have seen firsthand the work she's done for friends of mine (like Julia of Lemon Stripes!) What I always have admired most about her method with her company, The Realistic Organizer, is that she offers approachable and **gasp** REALISTIC solutions to organization and optimization problems all families face. Stefanie really just inherently understands how people want to live, and breaks that down into the most direct and simple solutions that feel like they existed in your home all along.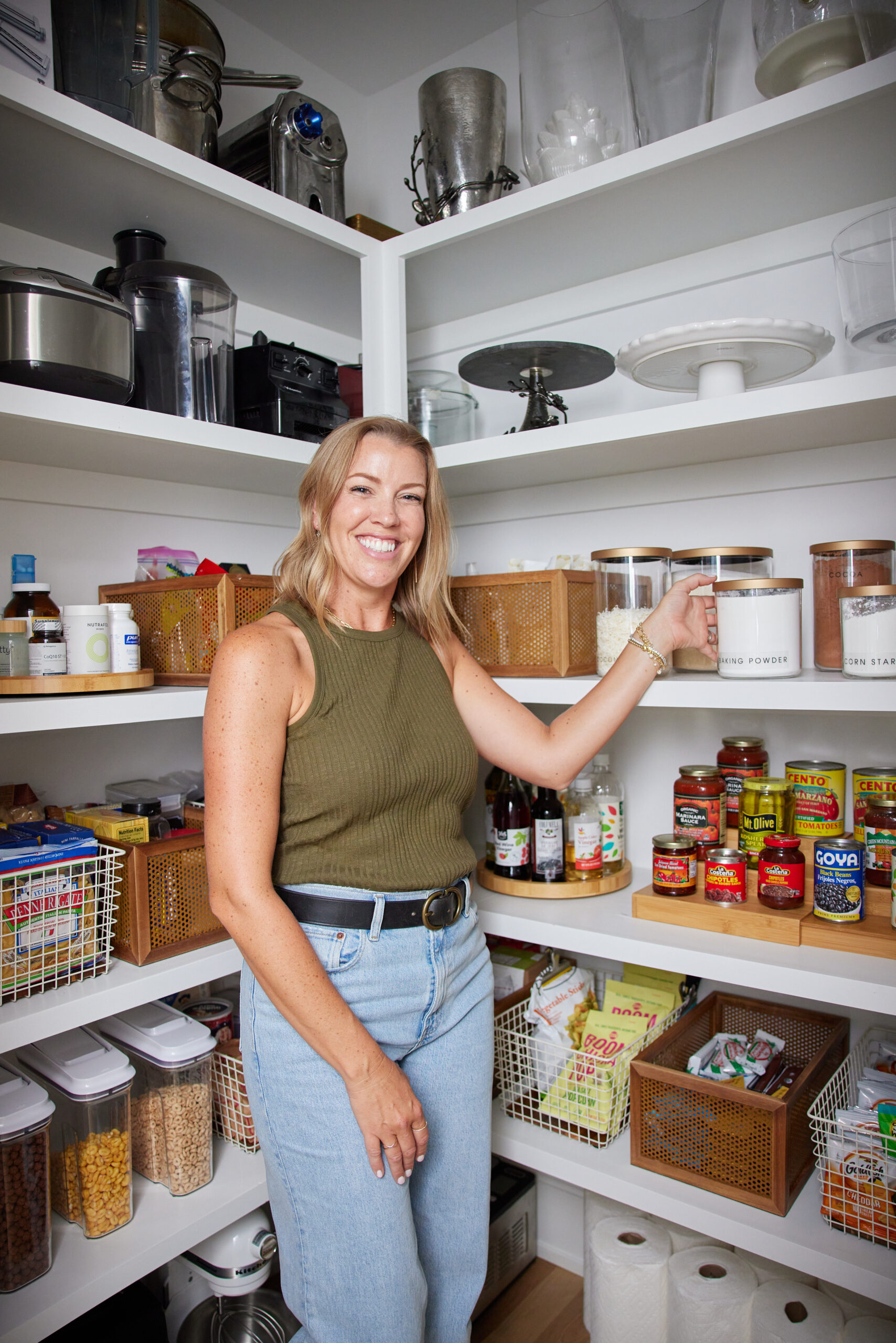 So, who is this magical Stefanie Jones? Stefanie is a mom of four little boys, James (7), Noah (6), Drew, and Alex (3.5), with her husband Simon. Stefanie started her professional life as a social worker before pursuing her passion for professional organizing. It has since grown into a small business working with individuals and families to create realistic and functional systems. Each project is tailored to meet the unique needs of the client and to create long-term solutions. Her ethos is simple: having an organized space can help save time, money, and reduce stress. When you know what you have, and when things have a place, it can streamline your life and allow you to focus on what's important.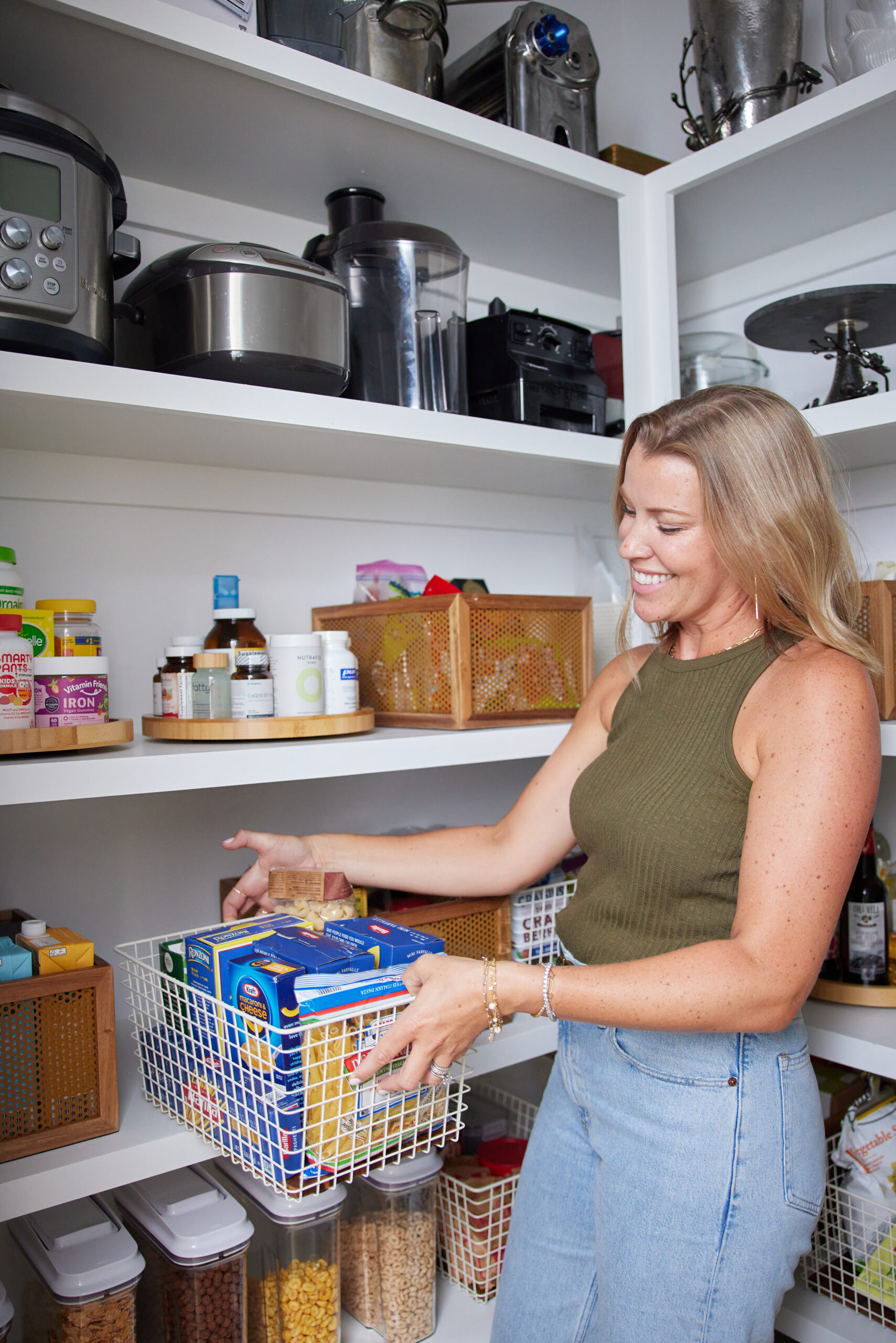 Stefanie and her team completely transformed and optimized our kitchen, pantry, and mudroom into spaces of my dreams– and I'm so excited to share them with you today! Hopefully, they give you some great ideas for your own home. I also wanted to include an interview with Stefanie below that gives some insight and solutions for your most-asked questions. If you have a pressing question beyond these or need some organization in your life, feel free to reach out to Stefanie and make a connection!
So many thanks to Team Realistic Organizer for making this fresh start for our family even sweeter. It truly sparks such joy for me to be surrounded by such thoughtful order every single day, in the rooms we spend the most time in as a family. It makes such a difference in my daily happiness and helps all of us find things more easily and keep our spaces more clean. I can't recommend an investment like this enough!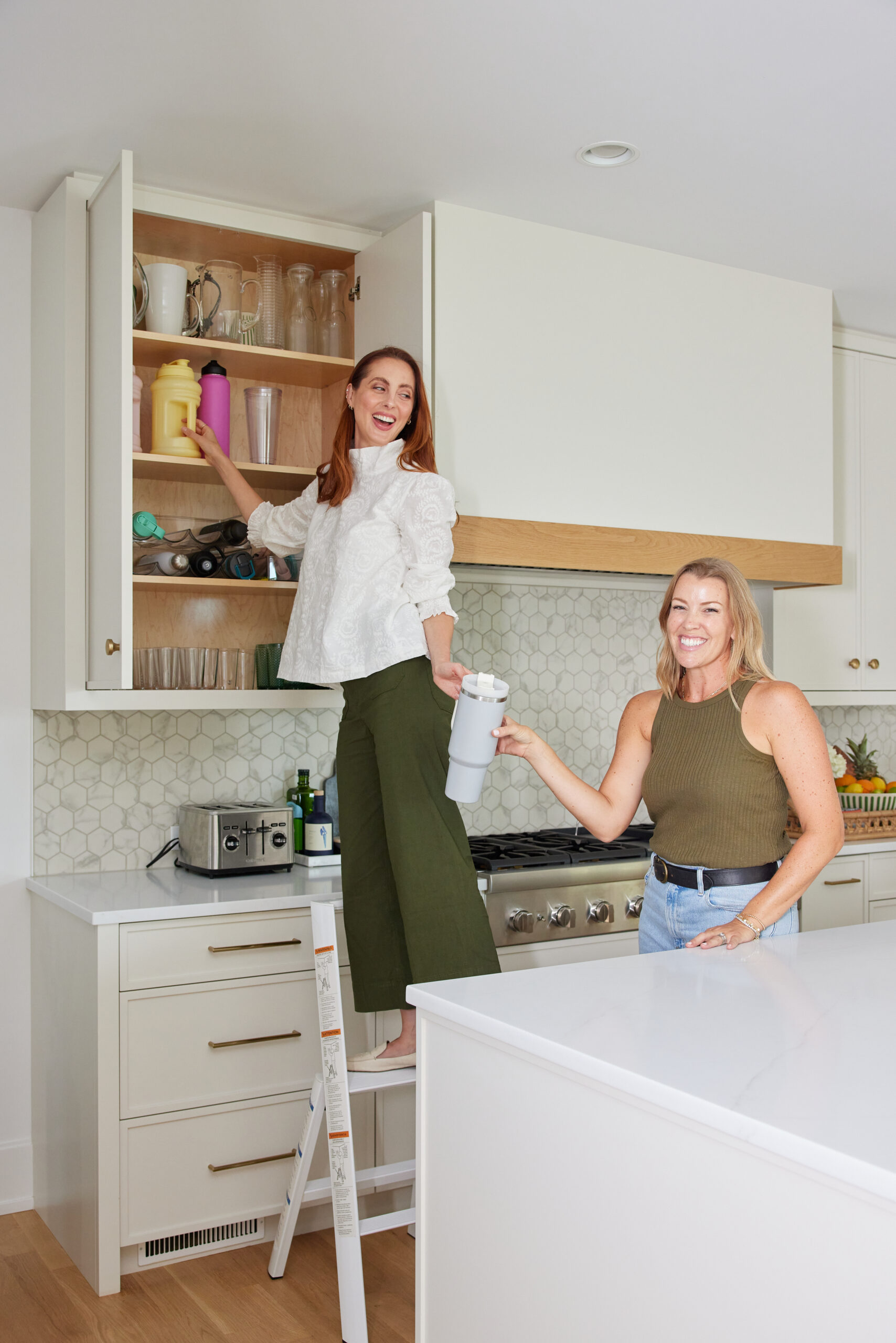 How did you get started with professional organizing?
I started very slowly. Early on, I was working with friends and neighbors while we were living in NYC. When we moved out to Connecticut, I was a new mom and got connected with local parenting groups, where I started advertising my services. Through word of mouth, I began taking one client per week for no more than 3 hours, so I could get home to nurse my newborn. After 7 years and 3 more kids, I now have a small team and much more flexible schedule that I'm able to set for myself.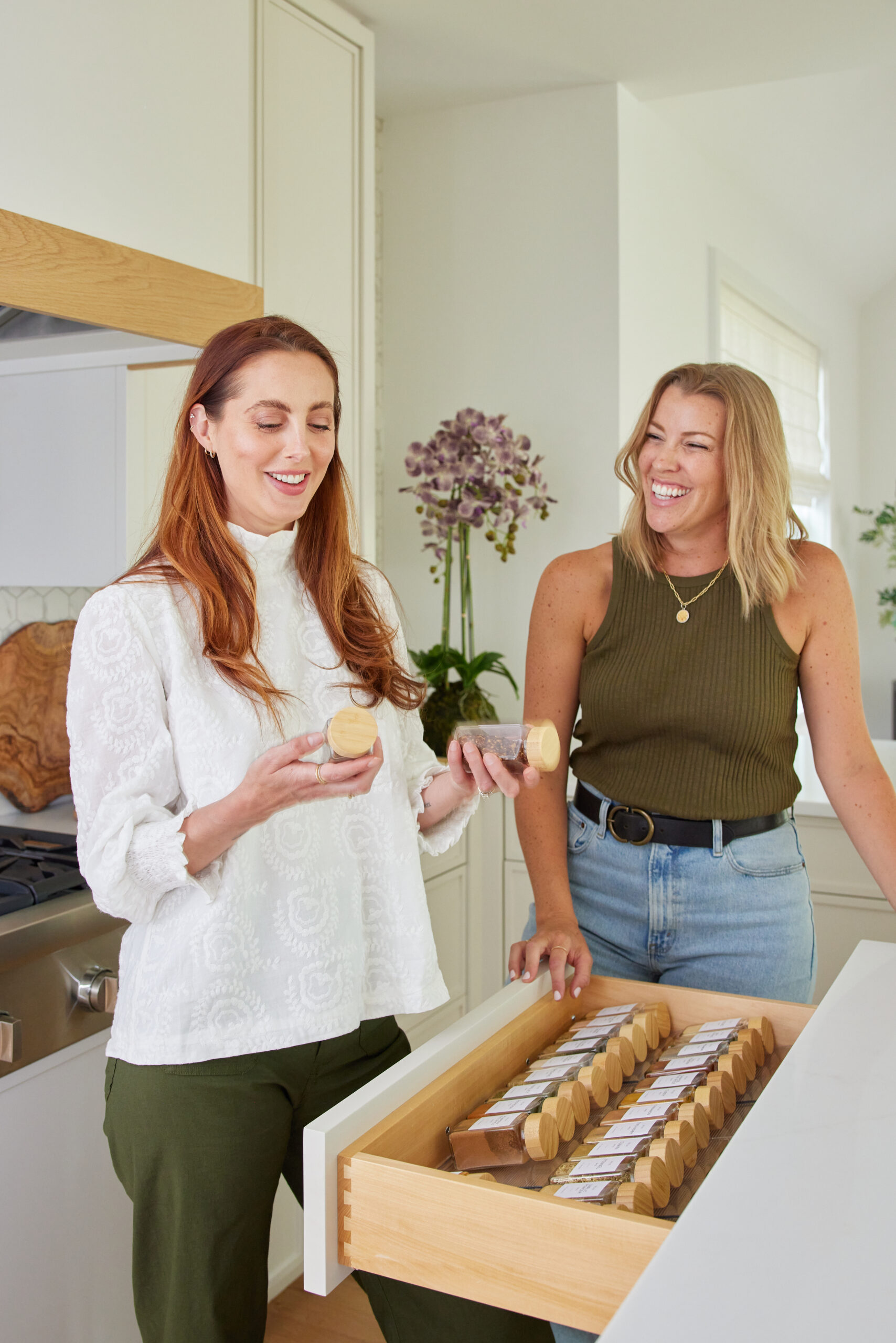 You have four young boys, what are some of the biggest organizing wins you've implemented in your own home?
Having a place for everything, and making sure the kids have easy access to their belongings has been a huge benefit in our home. Now, just because everything has a place does not mean it always gets put away, however, when it's time to clean up or grab backpacks or put shoes on, they at least know where to go. Allowing our boys to have independent access to their items has truly helped. From about the age of 1.5-2yo they've been able to get their own dinnerware, get themselves a snack, and pick out their clothes. This doesn't work for everyone and has absolutely led to chaotic situations at times (like when my twins would empty out their entire dresser drawer each morning), however, it's also saved so much time and sanity and provides them with a sense of autonomy in our home.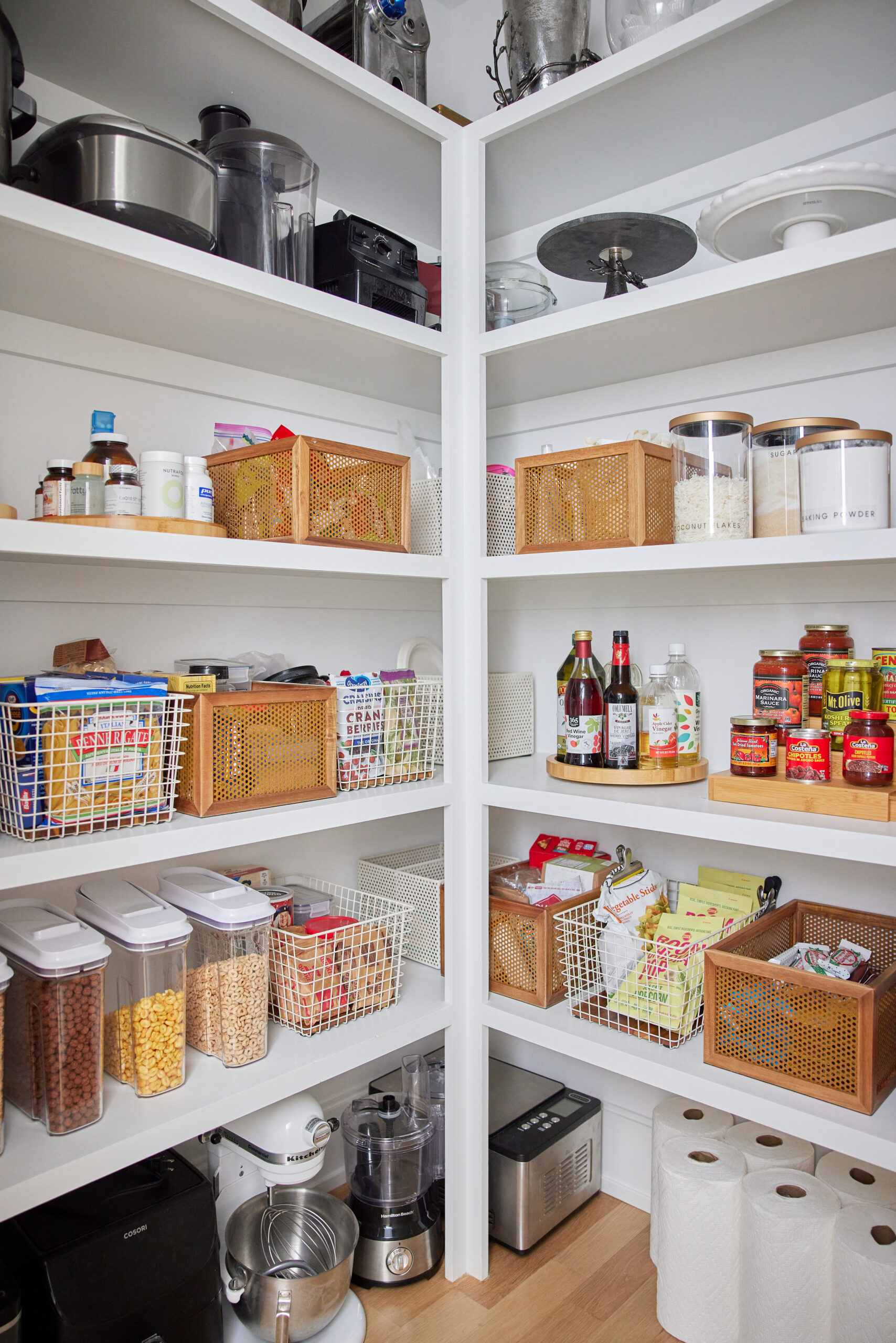 What is the most unique or challenging solution you've implemented as a professional organizer? Is there a particular job that was the most rewarding?
Every client and job are unique to the home, the person, and their belongings. I'd say when we help clients move into a new home it can feel incredibly challenging simply because of the scope of work, but is also the most rewarding when we leave knowing the client is completely unpacked and settled in their new home. We love being able to help a clients' overall sense of calm in their home and in their lives, whether it's a mom with a new baby who needs systems in place so she can function with a baby on her hip, or an aging couple who needs their space to be accessible for their physical abilities, or someone who feels paralyzed by their belongings and doesn't know where to begin. Organizing is more than just categorizing and labeling in a home, it's also about creating a calmer and more manageable lifestyle.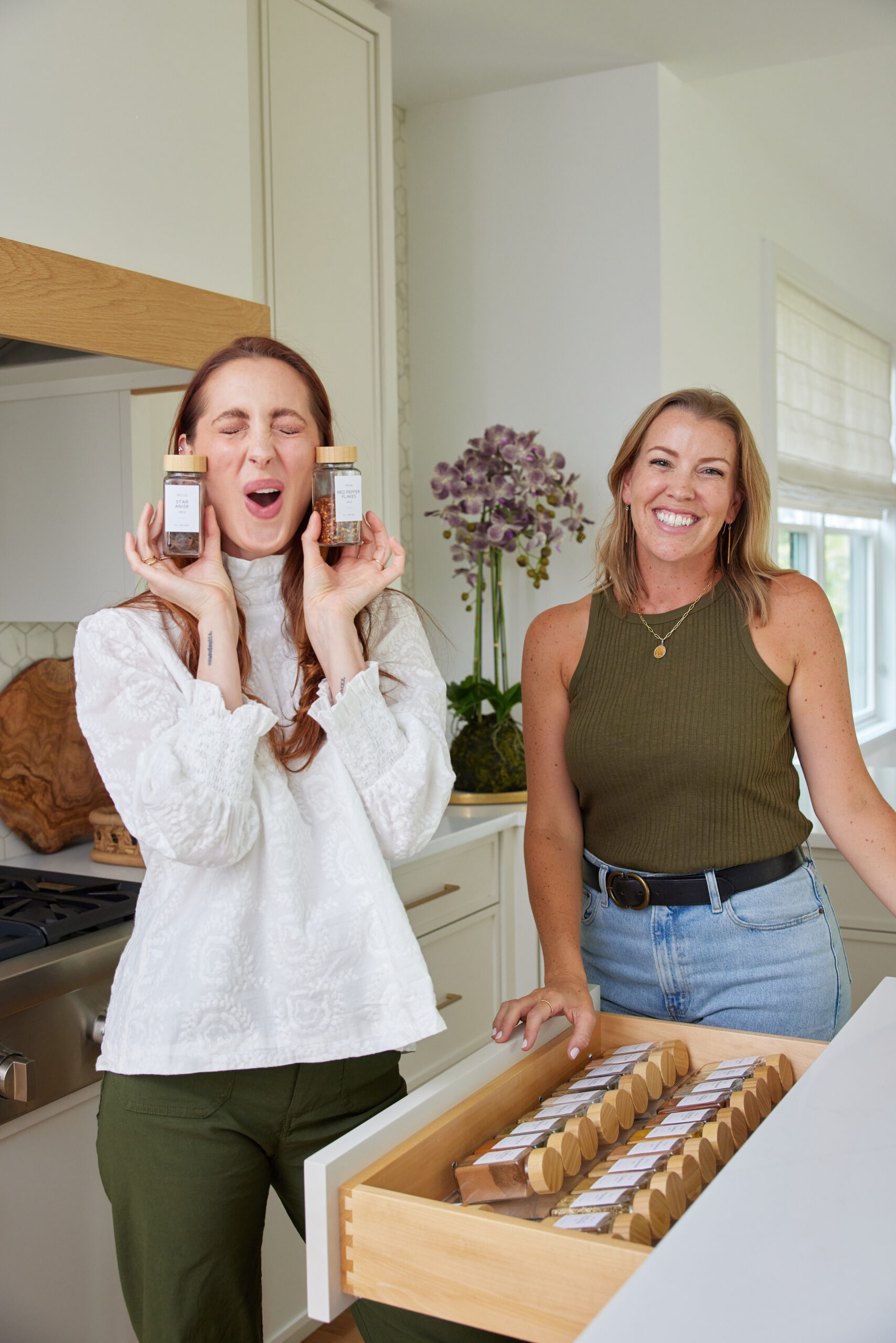 When organizing a whole house, where do you start? How do you combat the feelings of overwhelm?
We always prioritize the kitchen, it's the nucleus of the home. The rest of the home feels easier to plan when we know the flow of the kitchen.
Organizing can be very overwhelming, especially when organizing your own items. It's always more challenging to organize my own spaces than it is for me to do someone else's. I work with a small team and we are constantly bouncing ideas off each other. It can still feel overwhelming from time to time but we work together and it always feels way more fun than overwhelming. If you're organizing a space on your own, try to bring a good, non-judgemental friend to help you work through the space together.
What's a typical investment cost for organizing a kitchen/pantry? How do you plan for additional items so it matches?
The cost always depends on the size of the space and what is in the space. On average, we spend 4-5 hours in a kitchen with a team of three or more. The time it takes to complete a project also depends on how large of an overhaul that client is looking for. All new products, labels, and decanting will make a huge impact and also tend to take more time to finalize. I realize giving a specific number and cost here would be ideal, but the truth is it simply varies.
We do a lot of measuring and planning prior to a session. I research products that fit within the specific space and match the client's overall aesthetic. If the client already has items and containers they'd like to use, we will aim to match what they have. After organizing for several years, you develop a good sense of what will work and where to find the best products. Whenever a client has an initial budget in mind, we will always work within that budget.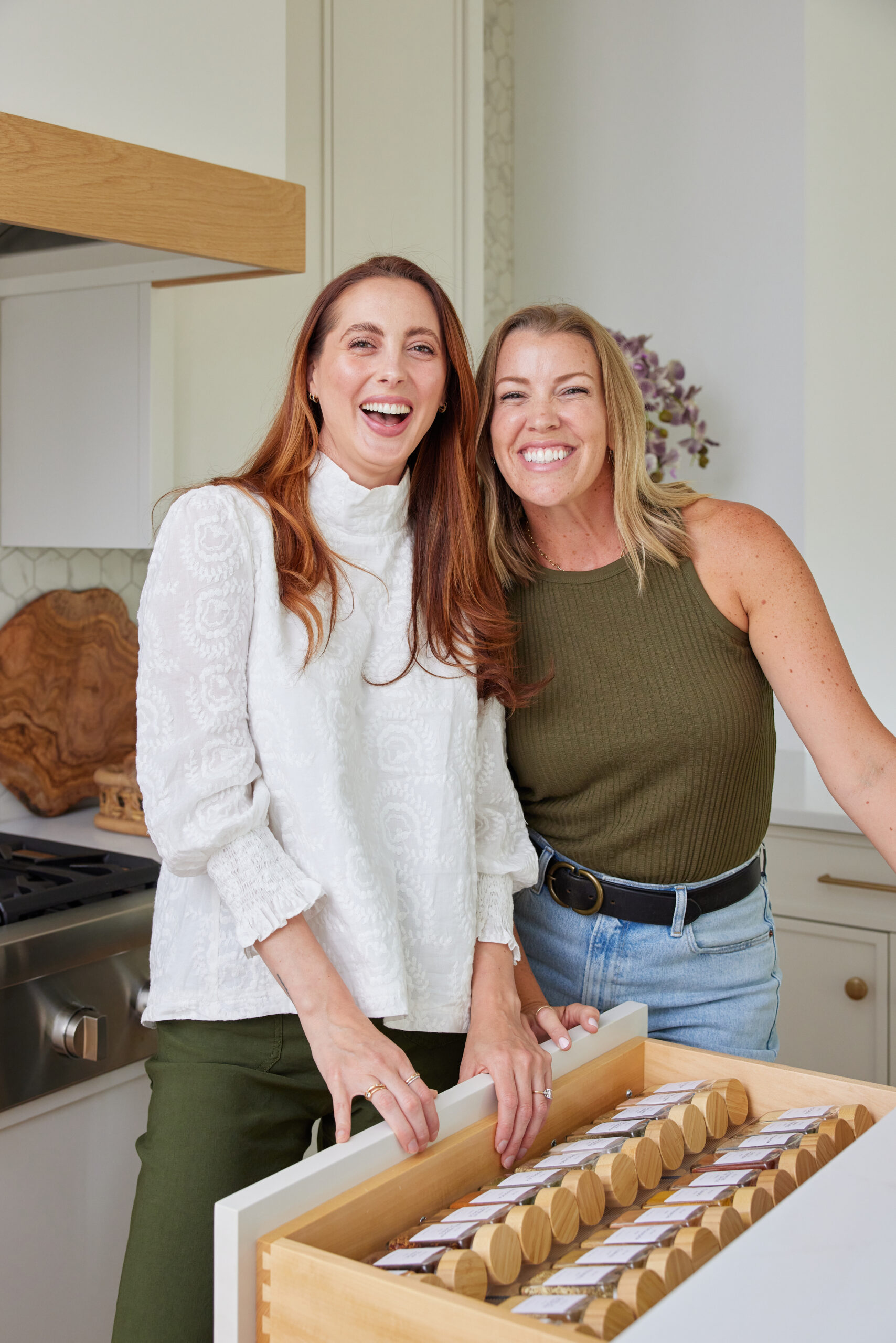 If you could only give ONE suggestion for organizing, what would it be?
Start small, set a timer. If you're planning to take on a space in your home, whether it's a drawer, closet, or entire room, give yourself a set time that you know you have available, and stop when your timer goes off. One of the most overwhelming parts of organizing is when you start on a space and then don't have time to finish it. If you have to walk away, it's very hard to pick back up where you left off and to function in your space while it's partially complete. Always start with something small that feels manageable for you.
What are your favorite items for kid snack and kid accessories/items organizing?
I love bins that are wide with a slight dip in the front so kids can easily see and grab what they need. In a pantry, I'm a huge fan of anything that allows a parent or child to see what's available and quickly grab it without having to do much work. These clear bins are great for small toys in a playroom and snacks in a pantry or cabinet. They also fit nicely on a closet shelf for storing seasonal accessories like gloves, hats, etc.
What is your favorite gadget or tool for organizing your own things?
Personally, I love a good turntable. I think they are so versatile and help keep things organized effortlessly. I use them in our fridge, under our sink, in our pantry, in our mudroom, in bathrooms, and cleaning closets. There are so many out there but these three are my favorites: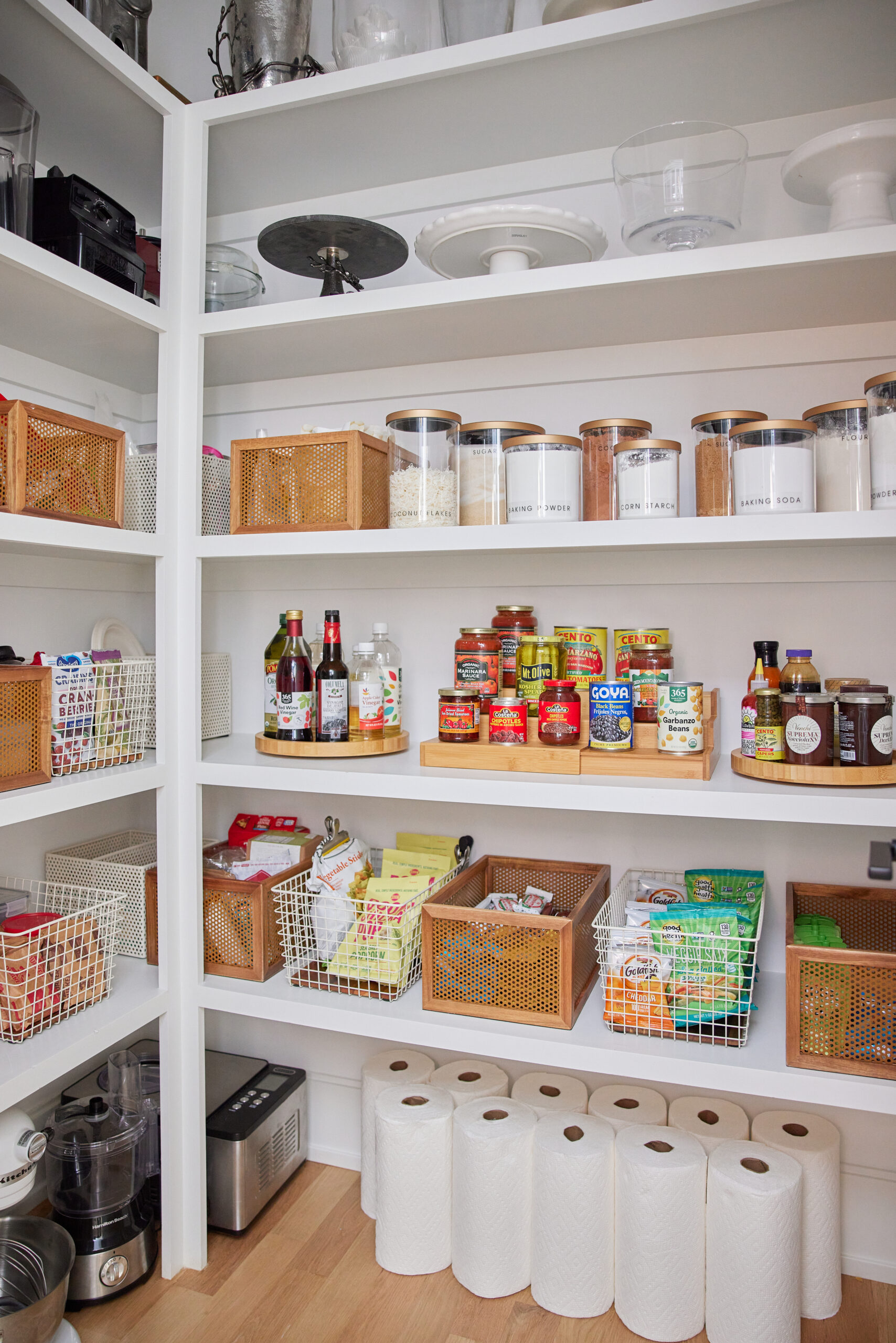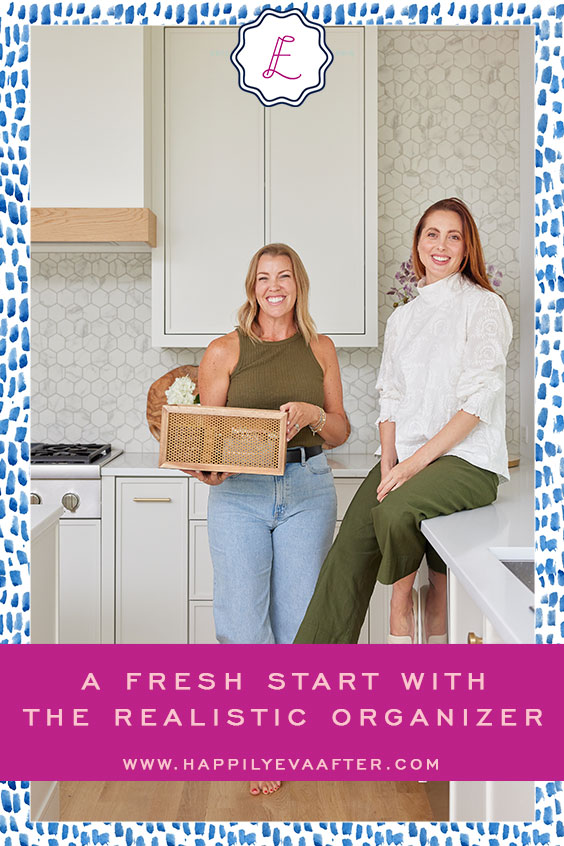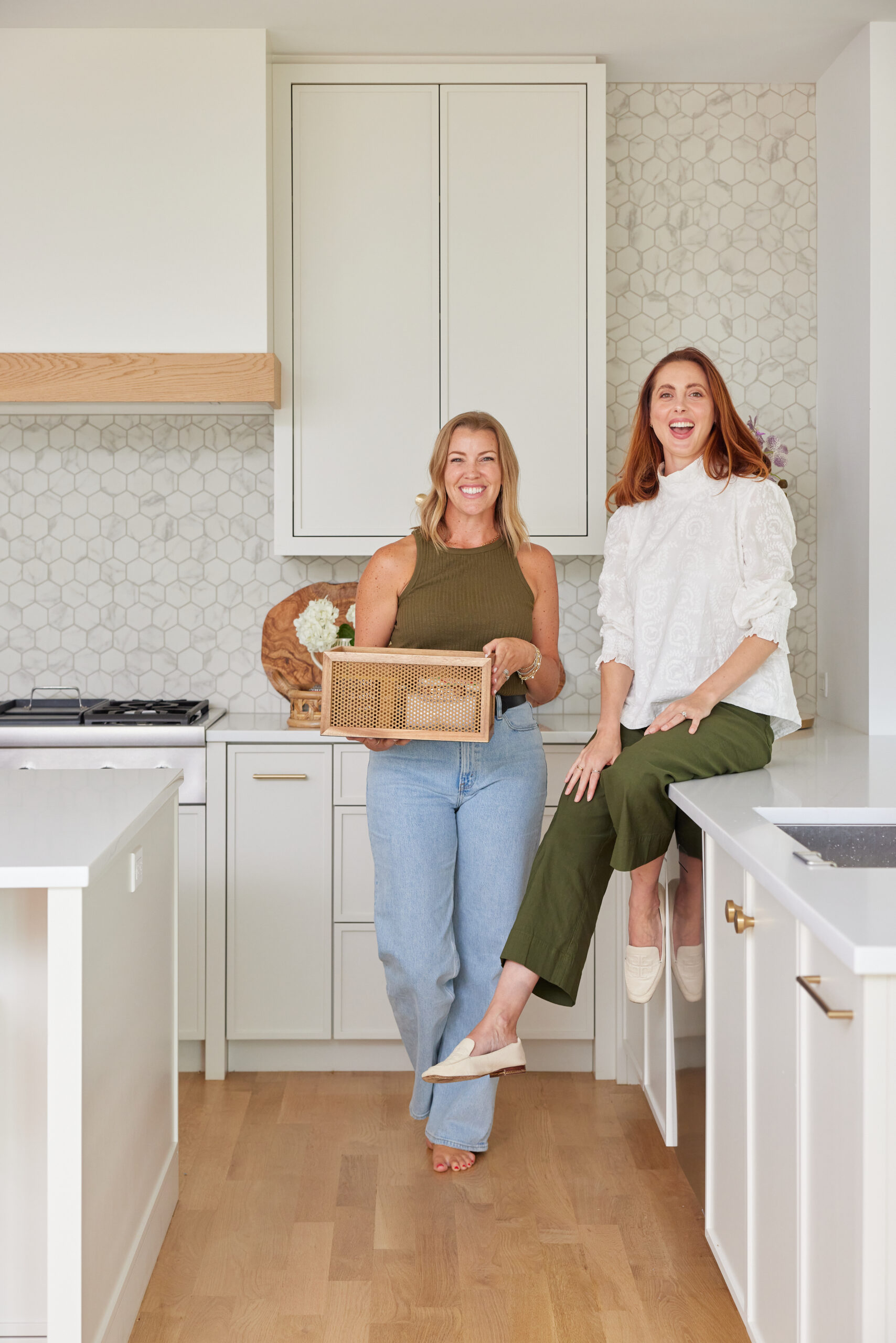 ---
Shop the post…

Photographs by 

Julia Dags

 | Copyright © 2023 Happily Eva After, Inc. All Rights Reserved.