The following content may contain affiliate links. When you click and shop the links, we receive a commission.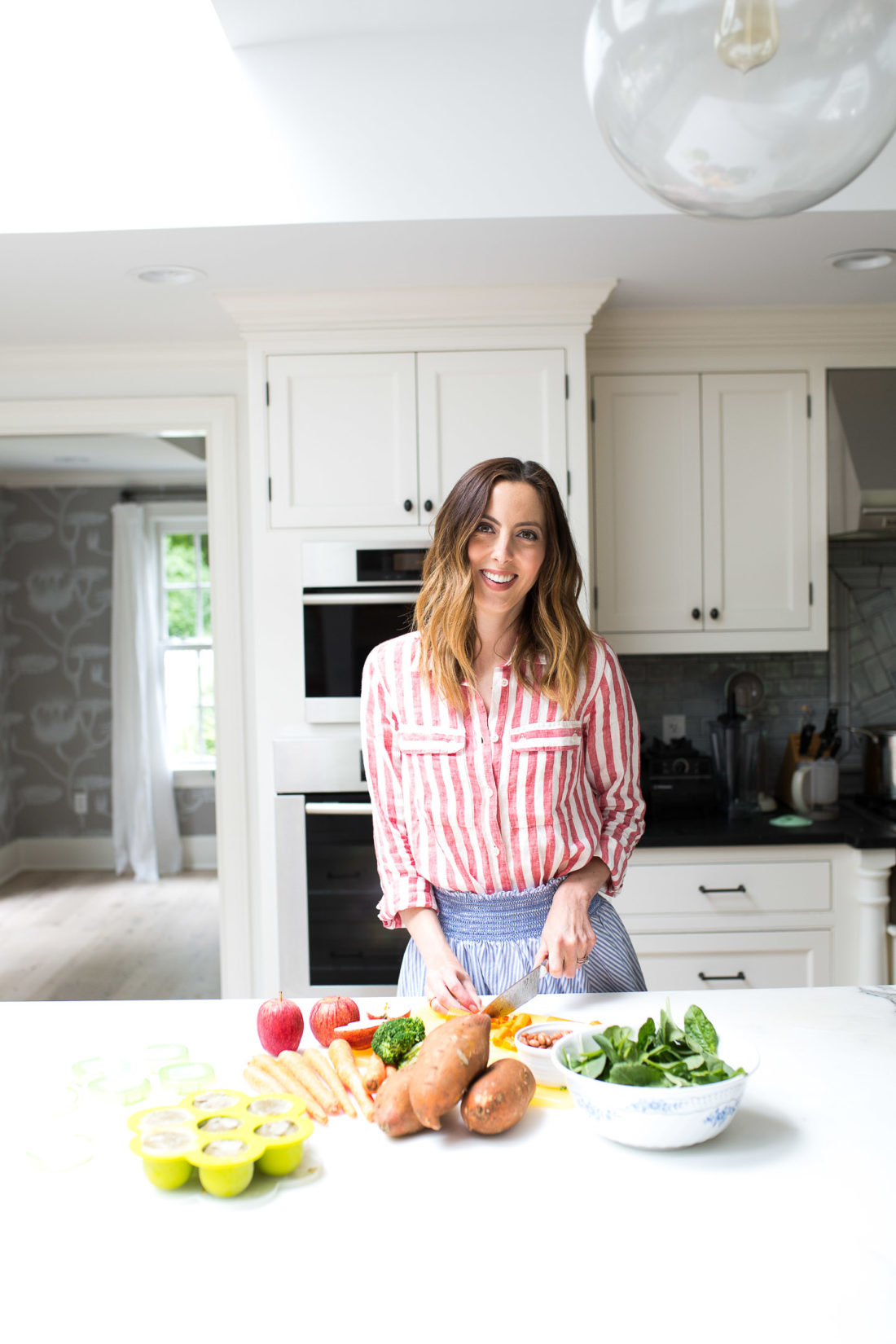 These days, I have Baby Food on the brain.  All. Day. Long.  What is it about feeding our kids that gets us so stressed out? Am I the only Mom out there who is already stressing about what my kids are going to eat for dinner at like 9am?! LOL (but actually).  When Marlowe transitioned in to eating solids, I made all of her food myself.  All of it! It was so much work, and hardly sustainable as a Mom of one child– I knew for sure that I wasn't going to be able to swing it for baby number two.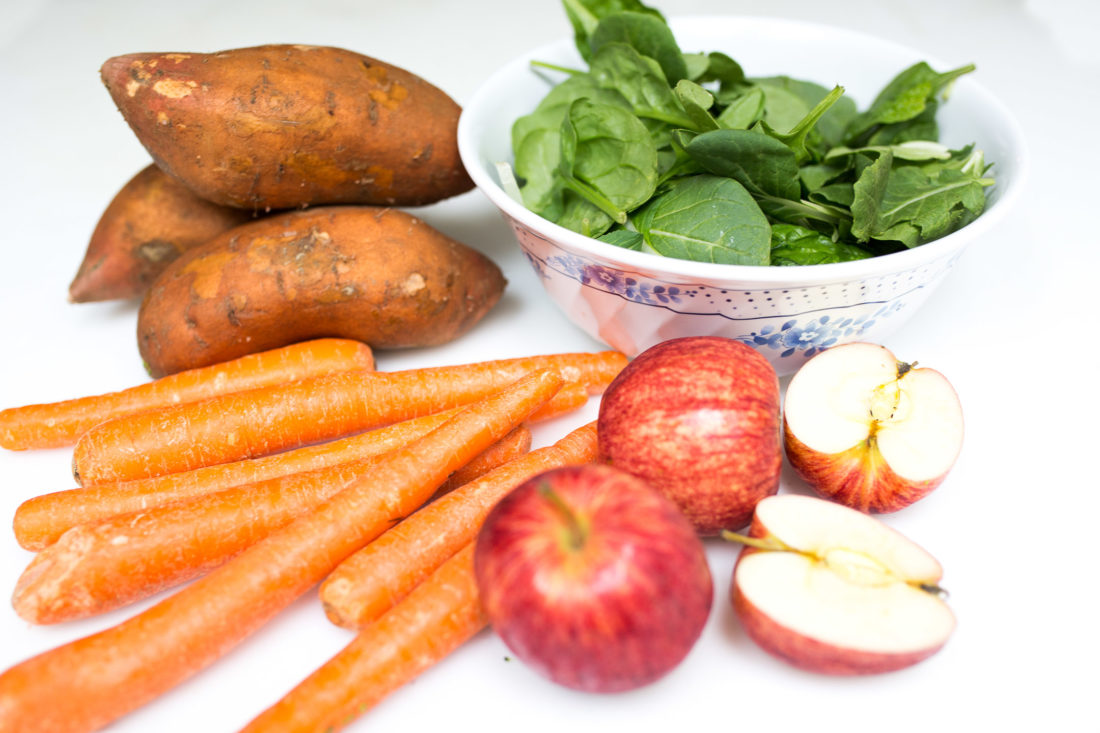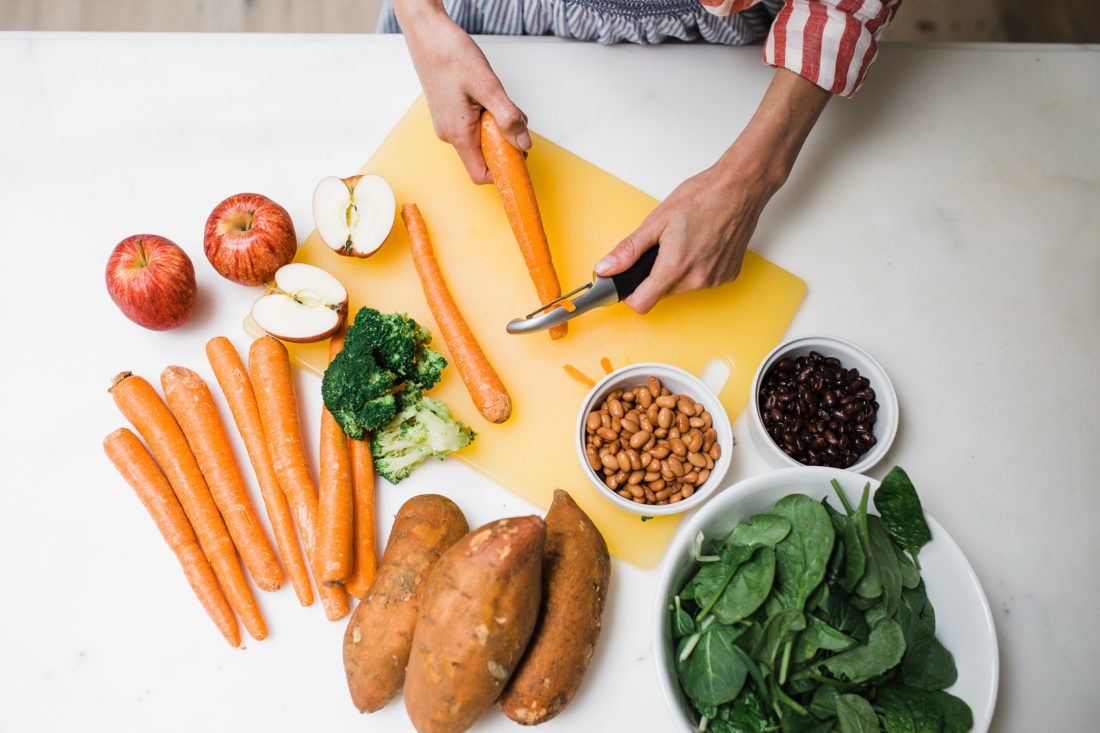 I will be the first one to tell you my opinion that feeding your child home made food versus store-bought should be a total non-issue.  Does it make you a "better Mom" to make all your kids' food? NO.  Does it show that you have a bit more time on your hands? Sure.  Does it show that you have an interest in cooking? Definitely! I always advocate for making your kids' baby food if it's interesting to you and it fits in to your lifestyle.  PLEASE don't add baby food on to the list of things you shame yourself over, though.  We Mamas have it hard enough as it is.  With that said, this round of parenting with Major I decided that I would make one big batch of baby food every week.  I would freeze it and dole it out while it lasted, mixing a store-bought organic pouch with one frozen pod one or two times a day (and using pouches for the other times).  One big batch cooking session usually takes half an hour for me (or less). This seemed doable for me, and I like making baby food and trying new combinations– so I went for it! I use (and swear by) the Beaba Babycook Pro, which I have used ever since Marlowe started solids.  I love it because you can steam and puree in the same container (and even use it to heat up canned baby food).  I think it's a really great investment. Of course you can also always use a steam basket and a blender or food processor as well!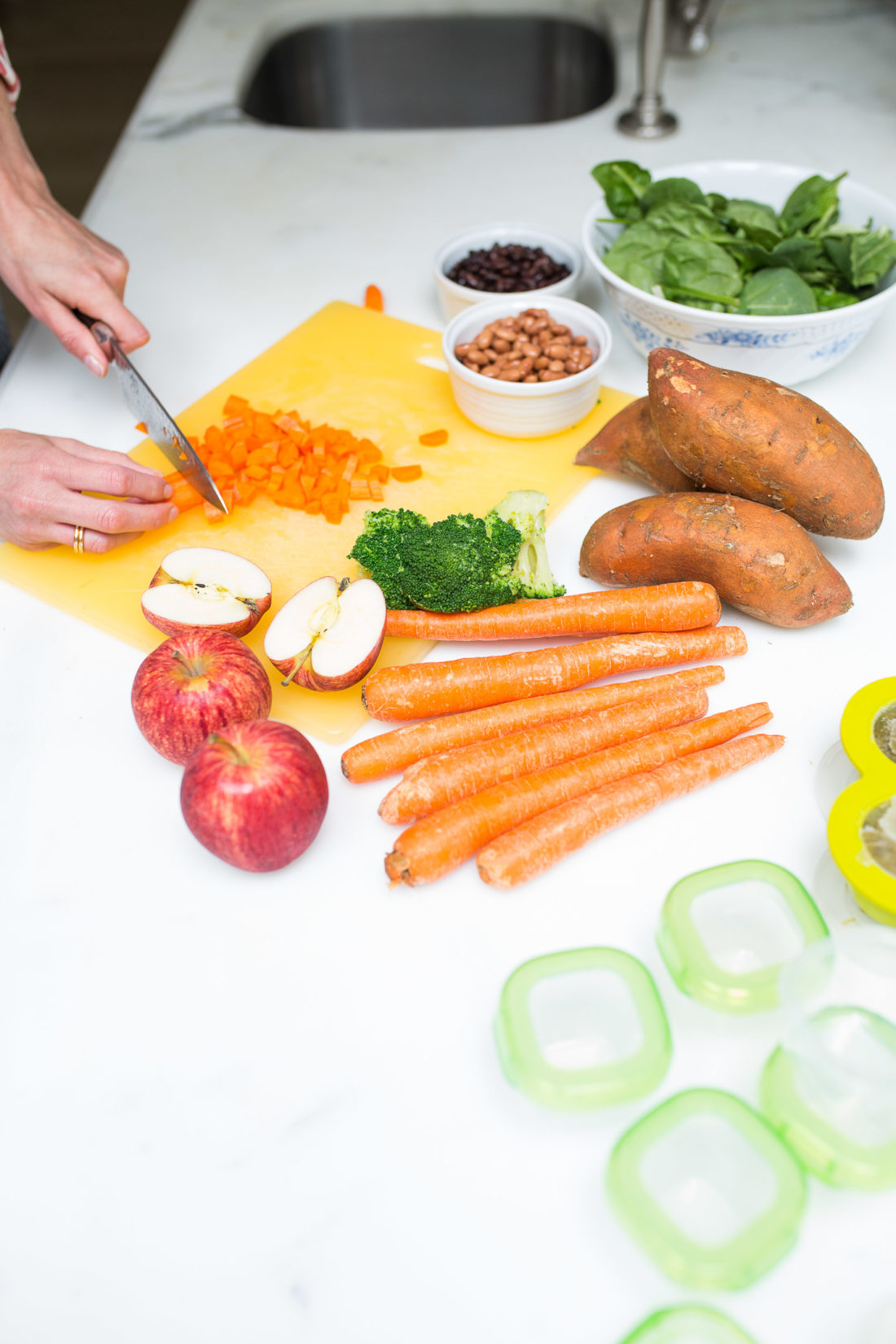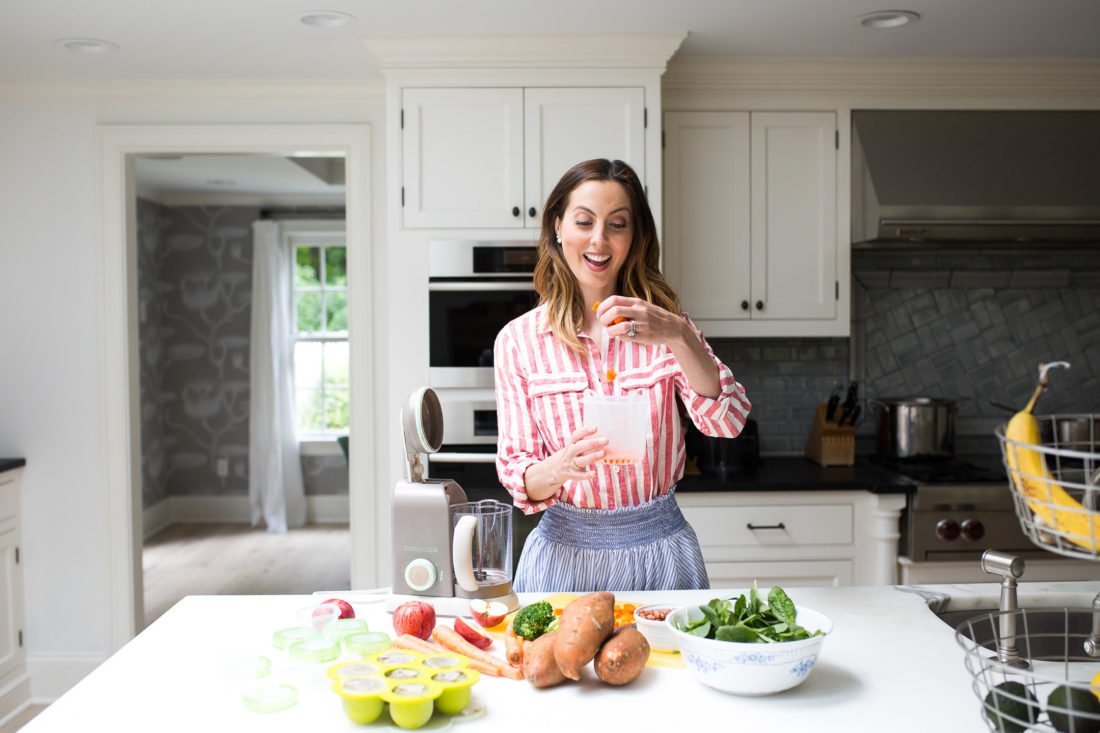 So far this system has been working out well for us, and it's been really interesting to see which blends Major responds to the most– and how those differ from or are similar to Lowie's favorites! Today I am sharing a few of Major's favorite baby food combinations, along with some of my tips for making and storing baby food. Please share any combos your children love in the comments below to inspire others!
"Chicken Salad" Blend
1 6 oz. Chicken Breast, cooked (I bake in the oven with a light coating of Extra Virgin Olive Oil until cooked through)
2 Tablespoons chickpeas
2 Cups of raw Spinach leaves, tightly packed
1 Apple, diced
2 Prunes
1 cup Water, plus more to thin
Begin by steaming your spinach and apple, together.  While this is happening, dice your chicken breast in to small, 1/4 inch pieces.  When the spinach and apple are done (the apple should be very soft), add all ingredients in the list together in to your blender or food processor along with 1 cup of water and begin to pulse to blend.  Add more water as you need to keep the blend going.  Blend until smooth!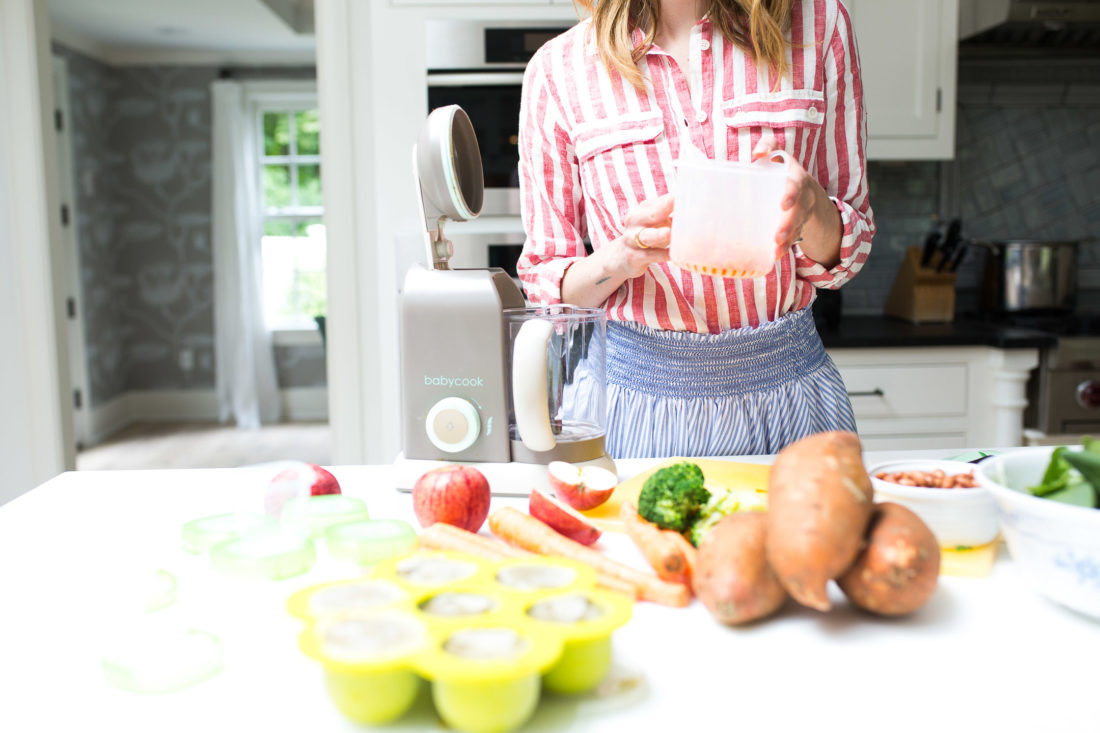 Major's Favorite Beans
2 large sweet potatoes
1 cup cooked Black Beans (I use canned. Obviously)
1 cup Water, plus more to blend
I literally can't keep this blend in the house, it goes so quickly when I make it.  Begin by preheating the oven to 400 degrees.  Prick the sweet potatoes all over with a fork, and put on a baking tray.  Roast in the oven for approximately an hour, or until a fork inserts very easily in to the sweet potato and it's bubbling a bit.  I like to caramelize them a little, but be careful not to burn! (By the way, I put these potatoes in the oven while I'm doing the bedtime routine, and they are almost done by the time I get downstairs.  I like this timing a lot) Allow the potatoes to cool, and then scoop out the cooked inside in to your blender or food processor.  Add the beans and water, and pulse to blend.  Add more water as needed to keep the blend going.  Blend until smooth!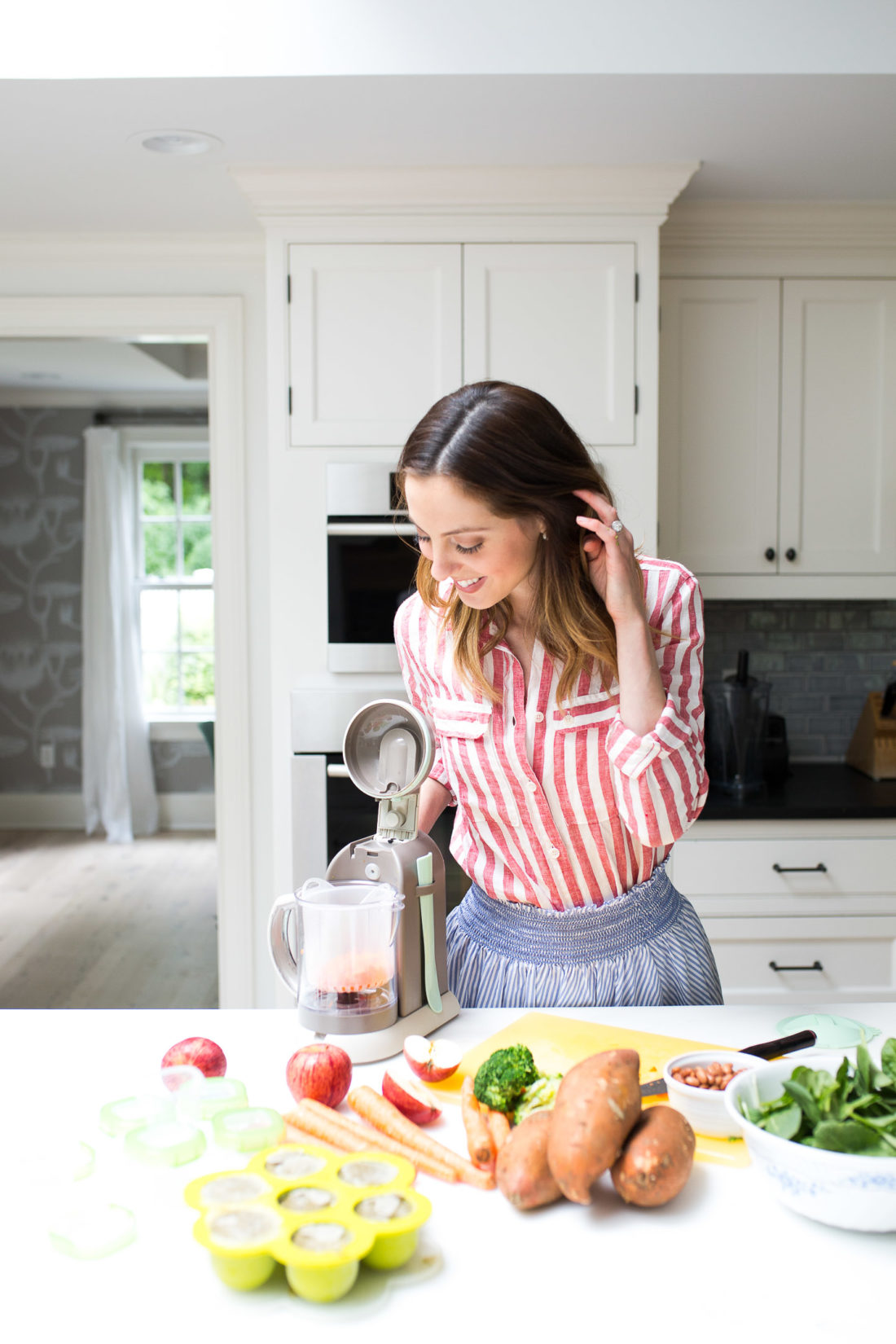 The Classic Veggie Blend
2 large carrots, peeled and chopped in to 1/2 inch pieces
1 cup raw Broccoli florets
1 cup White Beans (I use canned.  Obviously.)
1 cup Water
Begin by steaming your broccoli and carrot pieces in your steamer! When finished  (and very tender), add all ingredients to your food processor. Blend, adding water as needed to keep the blend moving.  Blend until smooth!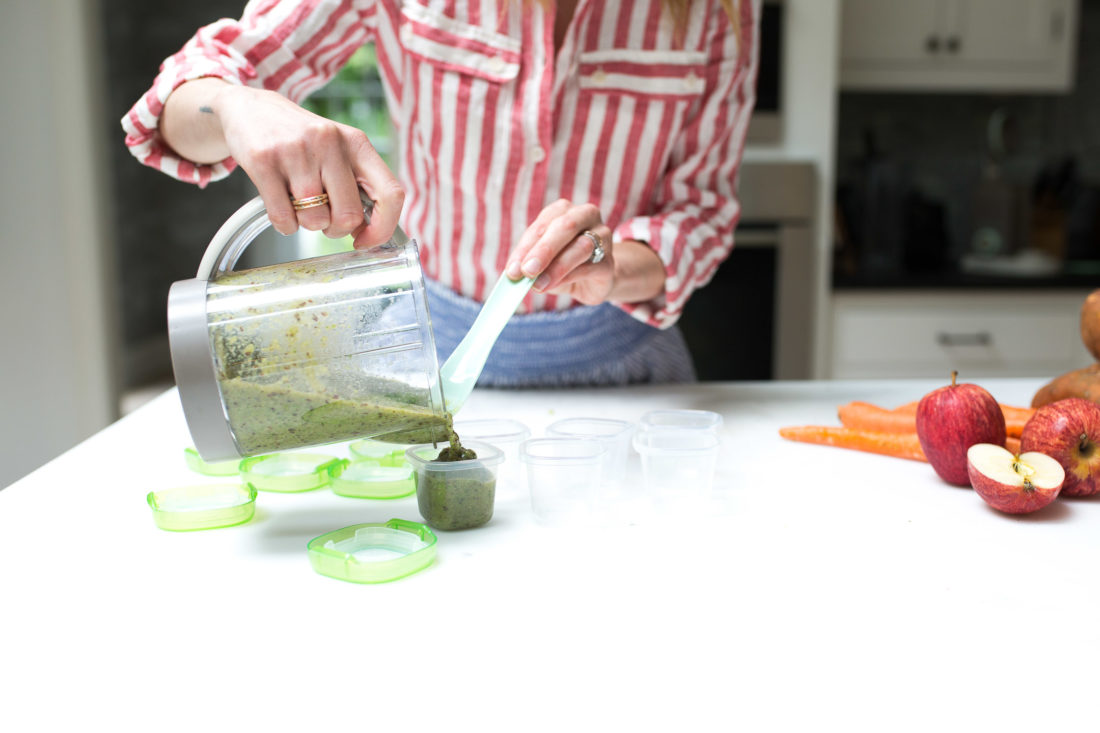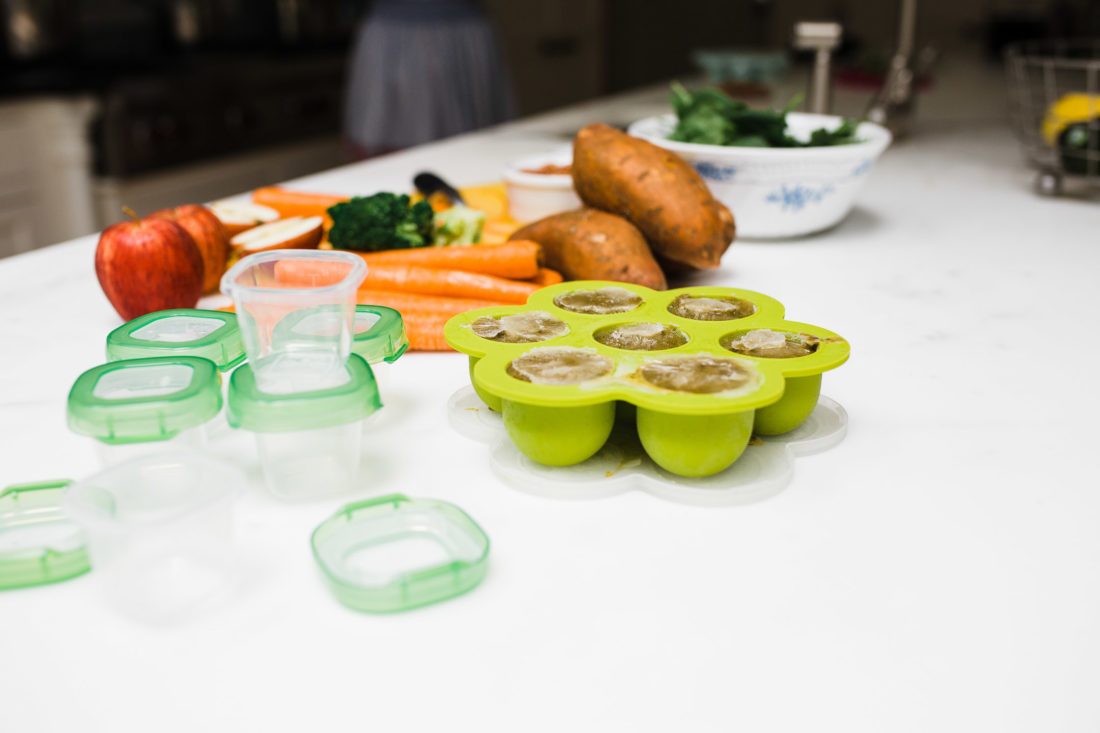 Storing Baby Food
I always freeze big batches of baby food, it's such an easy way to have access to homemade food in a pinch, and it heats through so easily.  I reheat my blends in a small saucepan on low on the stove, with the lid on.  I usually add a teaspoon of water in the saucepan to help steam the freeze off.  See below for some of my tips for storing baby food!
Use pre-portioned containers.  I use both bpa-free storage cubes and silicone storage containers to store my baby food.  I like to have the tiny cubes on hand in case I want to bring an individual portion or two of food on the road, or to a restaurant.  I love the silicone trays for everyday use because the portions pop out so easily!
Once food is thawed, don't forget to use within 24 hours to maintain freshness
For the freshness factor, I use the same rules I used when storing breast milk: three days (fresh) in the fridge, three months in the freezer. I have never even actually stored frozen baby food for three months because it goes so quickly! The longest I've stored it was probably a little over a month.
If you have the option, defrost and warm in a sauce pan as opposed to a microwave! I like to cut down on my kids exposure to microwave rays whenever possible.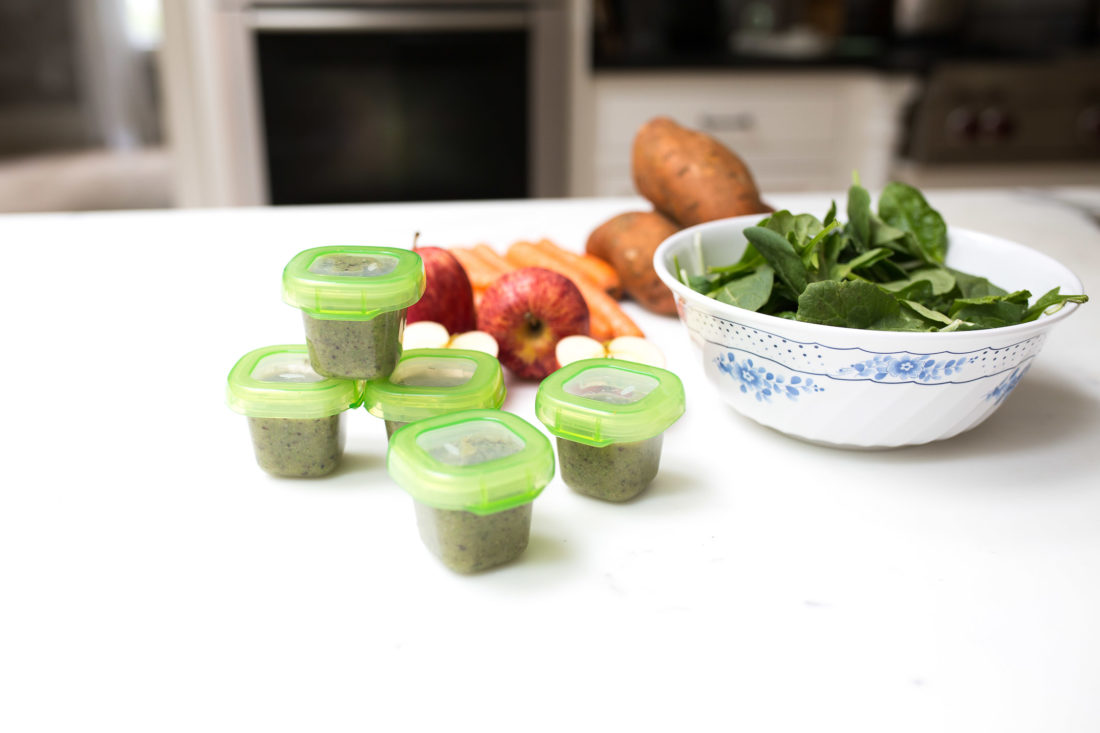 Shop the post…

Photographs by Stephanie Elliott Photography
Save