The following content may contain affiliate links. When you click and shop the links, we receive a commission.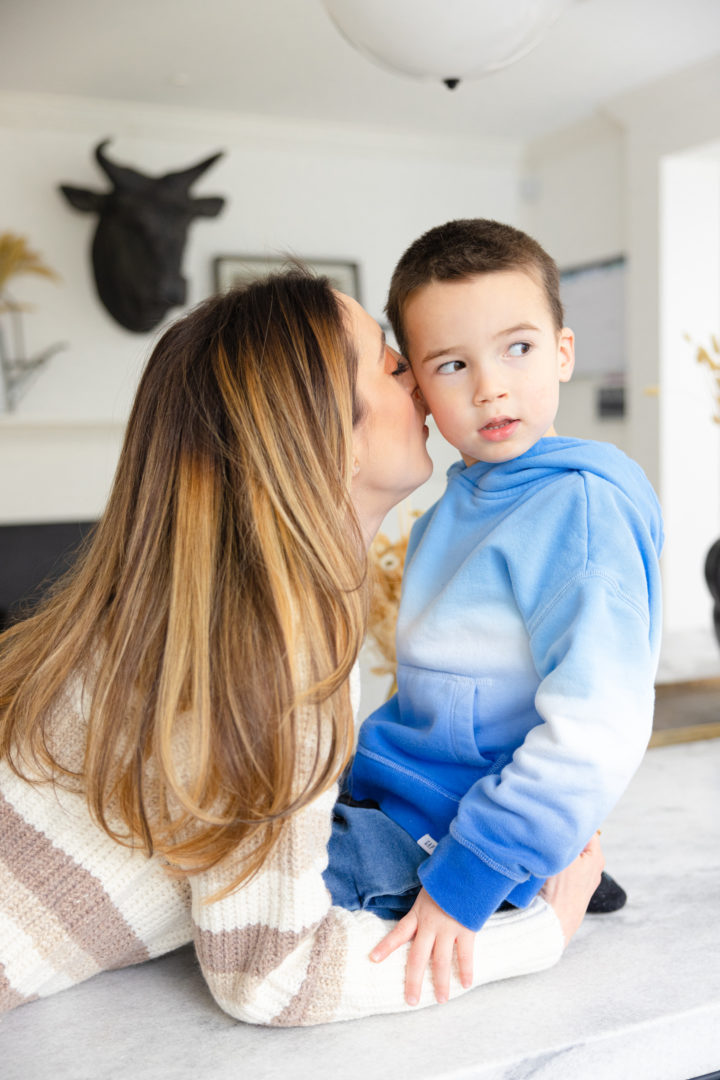 We've all heard the term "Middle Child Syndrome", which is also pretty much never used to describe something positive. In our society, Middle Children have become a bit of a punchline…sort of like "The Terrible Two's" or "Acting Like A Teenager". There is a certain kind of cultural expectation, I've noticed, for kids who are used to being the "baby" of a family, to suddenly develop various negative personality traits as they cope with being relegated to "the middle" of the sibling line up.
Needless to say, when I knew Major would go from being my Baby to the Middle once we welcomed Mateo, I was SCARED. Major has always been a highly emotional introvert. I'm obsessed with his personality, but he's definitely somebody who internalizes emotions and frustrations in the best of times. I was worried that being the Middle Child would make him disappear into himself and pull away from us. Or, similarly scary, that he would have too much anger or frustration to contain and would go from being my sweet-tempered child into a terror. The fact that we were expecting another boy made me even more worried that he would feel replaced, and angry. Since I was balancing so much in the last few months of my pregnancy (Read: Getting Divorced In My Third Trimester And Navigating A Global Pandemic), I decided to just stop worrying and see what the future held. We'd take it day by day.
Well, I am here to report that my worries could not have been unnecessary, and my fearful expectations could not have been more wrong. Major has been absolutely blossoming as the Middle Child. Quite frankly, I'm in awe of it. From day one, he has been so sweet with Mateo. It isn't like Marlowe, where he wants to snuggle him all day or play with him like a little doll, but he is so loving and attentive. He'll spend a few moments kissing or hugging him, and then will go on his way. I've been waiting for the other shoe to drop this entire time– for Major to suddenly decide that it IS super annoying to have a little baby come underneath him in the lineup and occupy a place in Mommy's lap…or, worse, in the playroom. But, it hasn't been like that at all. Now that Mateo is cruising and crawling, of course, there are moments when he smashes the train track that Major has spent all morning building and it ends in a big meltdown. But generally speaking, Major has been so good about understanding that Mateo is a baby and that we need to be patient and loving with him. 
The biggest surprise, though, has been how Major's personality has really blossomed amidst all of this! I think a huge factor has also been Major being in Preschool full time. He LOVES his school teachers and friends, and I think going to school has given him a place where he can be and express himself outside the construct of our family. Marlowe is pretty bossy in general and is definitely bossy with her little brothers. But at school, Major doesn't have to deal with anybody bossing him around or talking over him. It's amazing to see how happy and centered he is when he comes home. It's also nice for him to have his own "thing" to tell us about. He loves sharing what he learned every day while we eat dinner! He's gotten so talkative this past year, and I love hearing about what's going on in that brain of his!
Most of all, I love the silliness and goofiness that has emerged in his personality. If anything, instead of retreating into his internal world as I feared, he's shared even more of himself with us. Instead of being jealous of the "new baby", he's found showmanship in being a Big Brother and taking on that role. He definitely has moments of wanting to be held and carried by me, but I have to admit that I probably love that just as much as he does. Ha! Sometimes I even hold both boys on my lap, and we snuggle all together.
The other day, I mentioned to Julia Dags (the photographer who shoots almost everything on this blog, and who we see weekly) that I feel like Major has really hit his stride recently. She said she had been thinking the same thing! I don't know if it's just been the process of growing up or the responsibility of being an older brother, but he has stepped into the new chapter with so much excitement. I'm really eager to see where the three kid dynamic goes from here!
I'd love to hear if anybody else had a similar dynamic with a Middle Child really surprising you in their transition? Please share in the comments below!
Photographs by Julia Dags | Happily Eva After, Inc. © 2021 All Rights Reserved