The following content may contain affiliate links. When you click and shop the links, we receive a commission.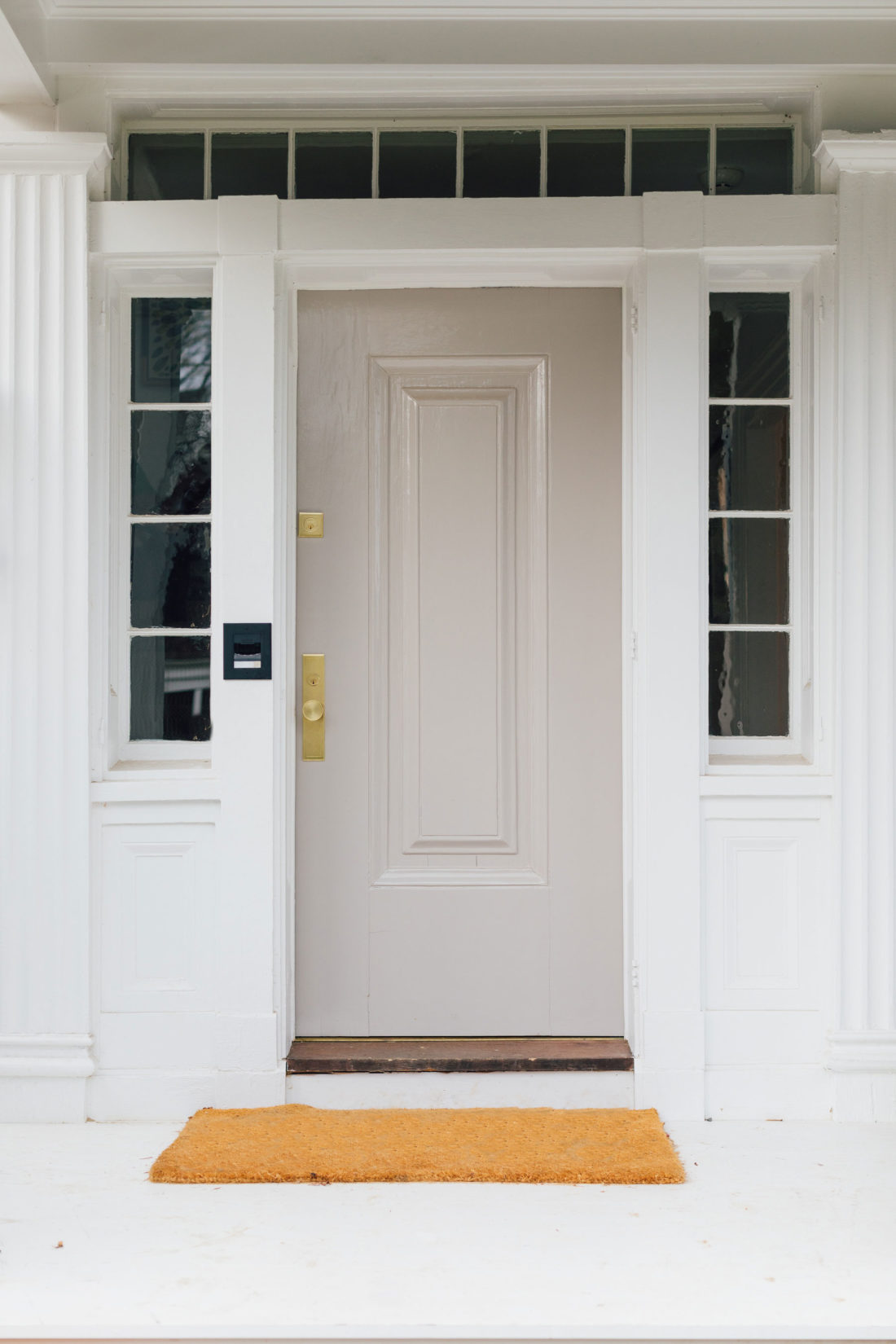 *Thank you to Rings End for supplying the gorgeous paint for our home. As always, the opinions expressed below are entirely my own.
I get asked a lot about what my "basics" are when it comes to decorating or renovating. The current house I'm in is the third house Kyle and I renovated together during our marriage, and I really learned a lot about what I like and what I don't like. And just like the foundation of a wardrobe, which might include the perfect white T-shirt, a great pair of jeans, and a classic blazer (for example)– I feel like we each develop the foundation of our interior styles also! You've probably done it even if you haven't thought about it… Do you like neutrals or pops of color? Are you drawn to grey walls or white? Wallpaper: love or hate? Is there a floor stain that speaks to your heart in a certain way or instantly relaxes you? What about hardware metals and the way your eye is drawn to accents? We each have a foundation of what we love to surround ourselves with, whether we acknowledge it or not! Today I wanted to talk a little bit about mine, and some of the colors and textures I love.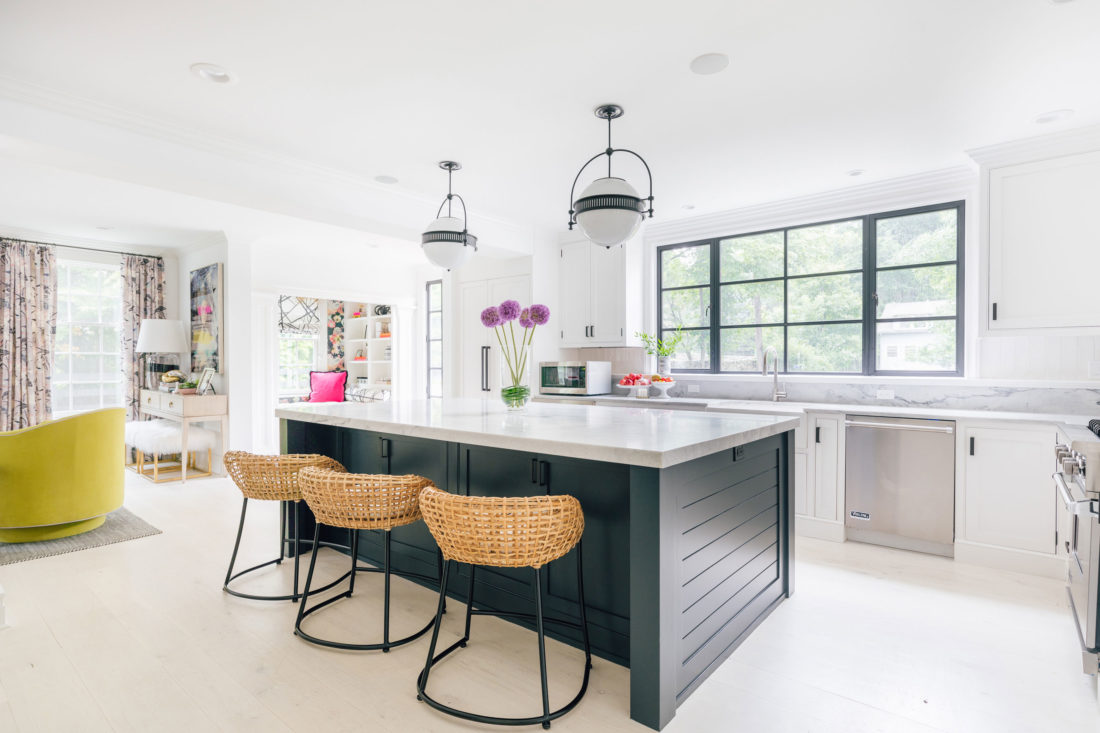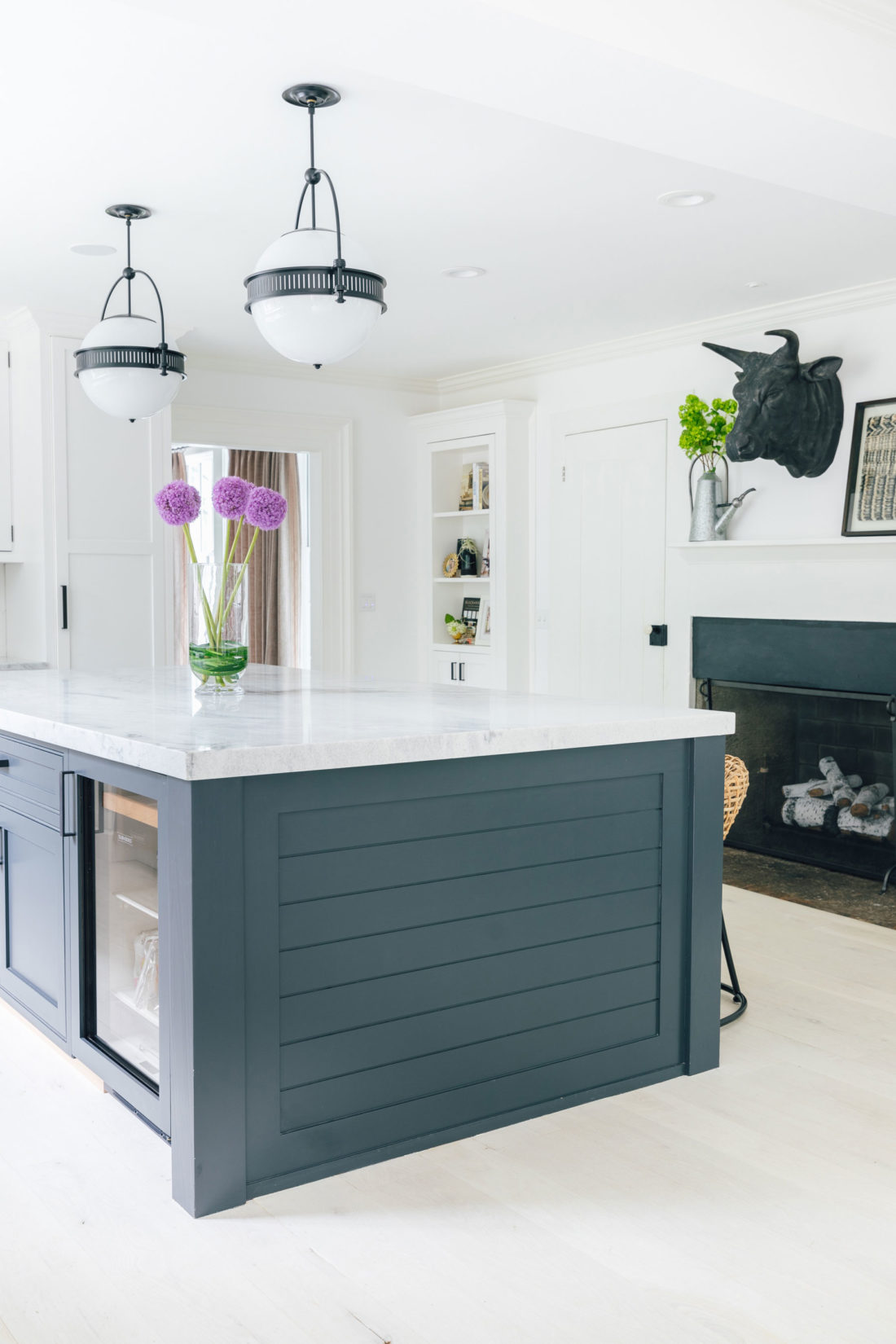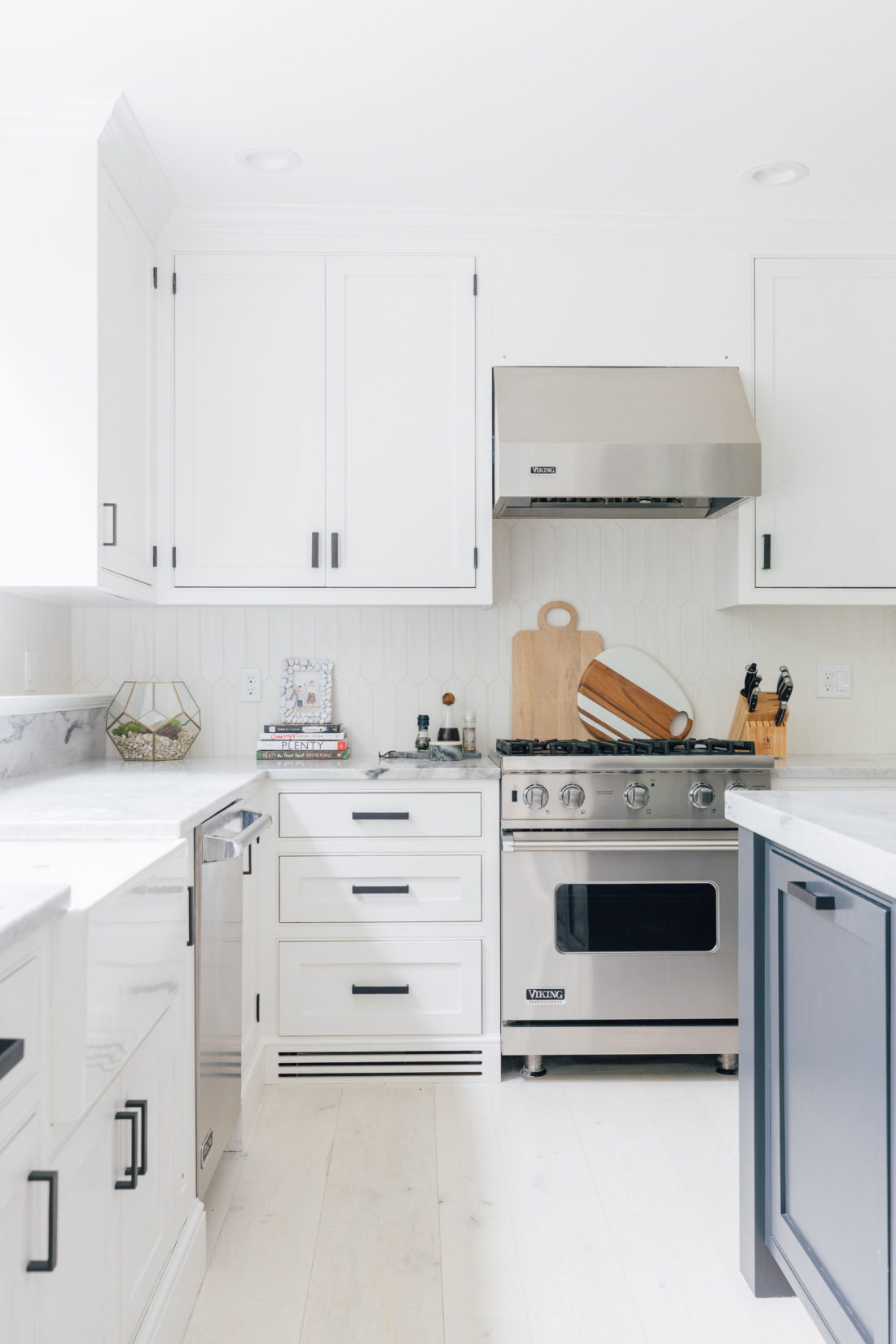 I was so lucky in this home to partner with Ring's End, an incredible local business that really understands quality, style, and the important parts of renovation and design– and they work with it in every capacity! With over a century of experience delivering premium quality materials and services for professional builders, contractors, architects, and individual homeowners, Ring's End is unmatched in the area for having the best product AND the expertise surrounding it. I've loved working with them because they have everything for every taste and budget. All of the paint in my home is Ring's End– and the vast majority of the hardware too! These are details that some people overlook– but they really are a huge factor in the foundation of any home's style. I thought I would go over some of my faves for this home, since I get asked a lot about my go-to paint colors and hardware!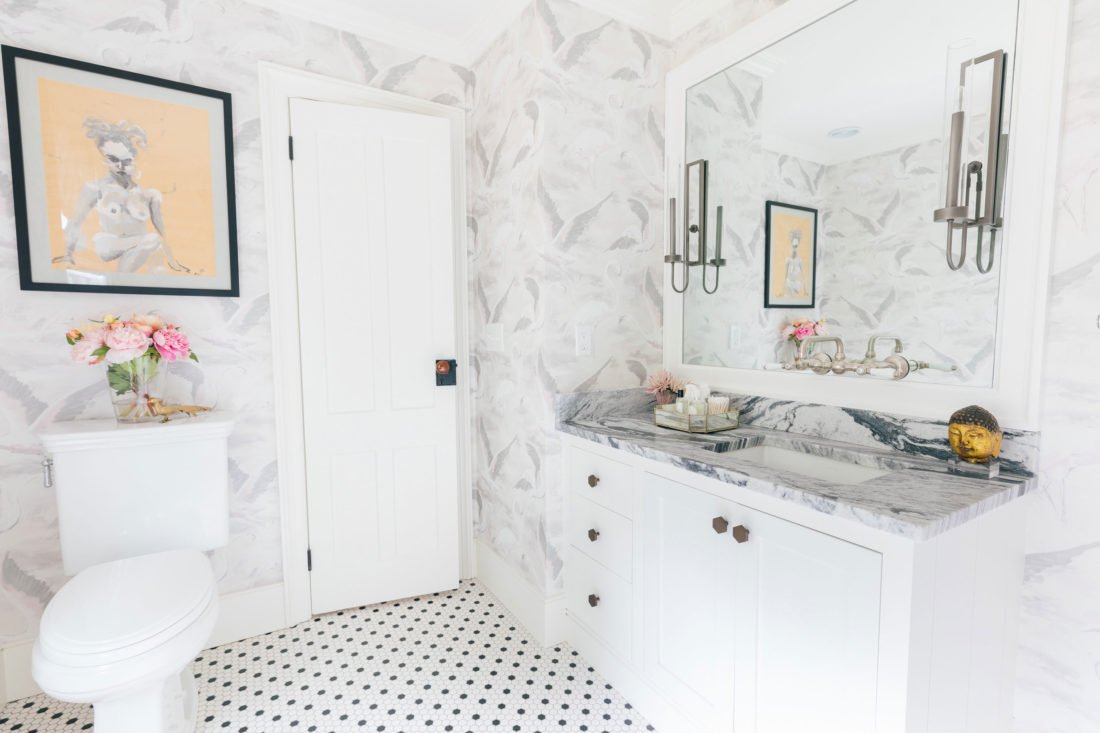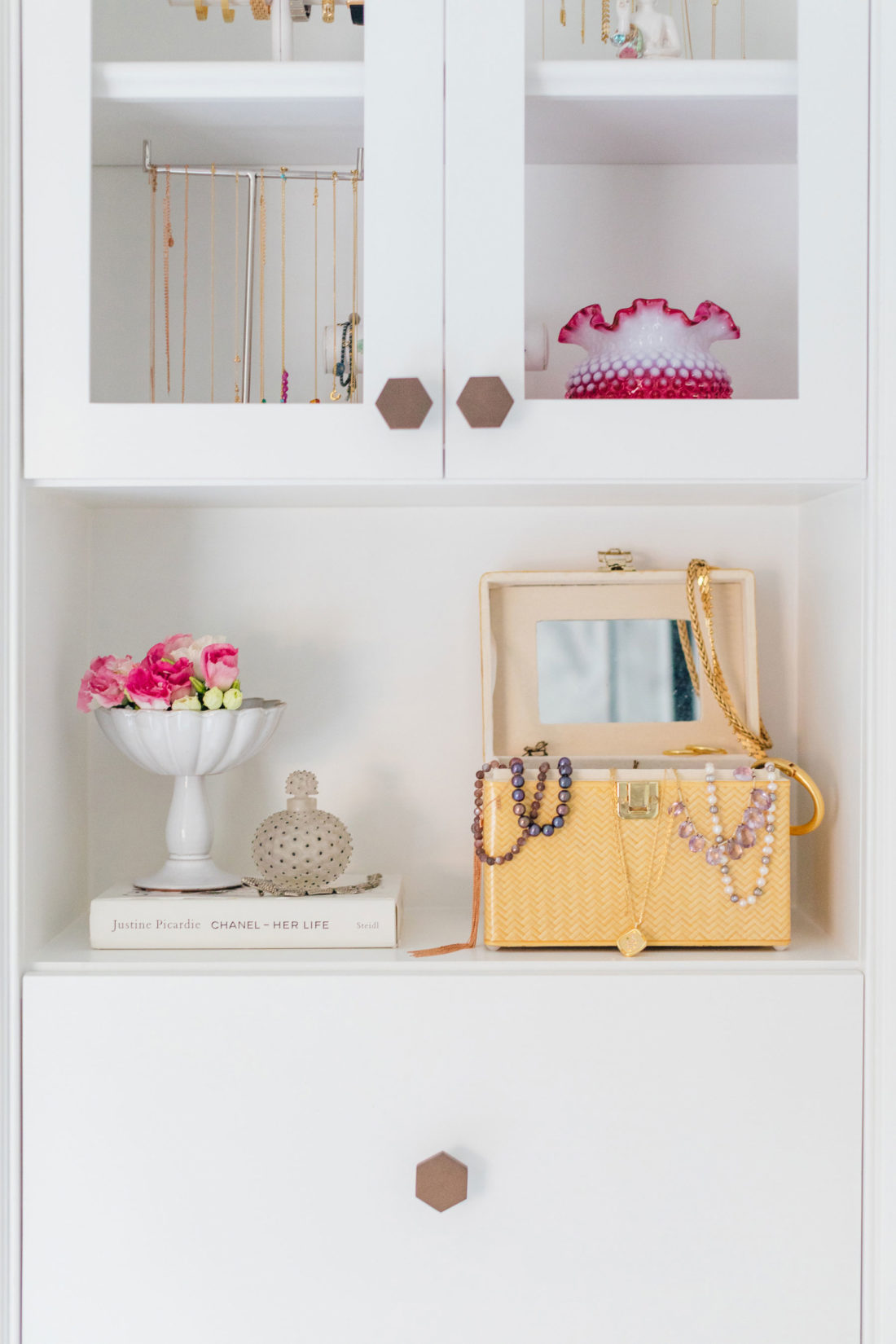 My favorite white paint ever, and the one that I used in my last home AND this one, is "Chantilly Lace" by Benjamin Moore. For me, it's the perfect amount of warmth and the best neutral to a style of home decor that is more "Maximalist" in nature. Lol! It's important to have a soothing backdrop when you like to do a lot with design! I also used the Benjamin Moore color "Soot" on the kitchen island, and in my Mudroom in the new construction– and I love this color just as much! For me it's the perfect dark counterpart to Chantilly Lace. Another color fave via Ring's End for this home has been the high gloss Fine Paints Of Europe on our front door! The color is La Paloma Gray and I just adore it. Mixed with the brass hardware, I think it gives off a really simple sophistication that can be super versatile through the seasons.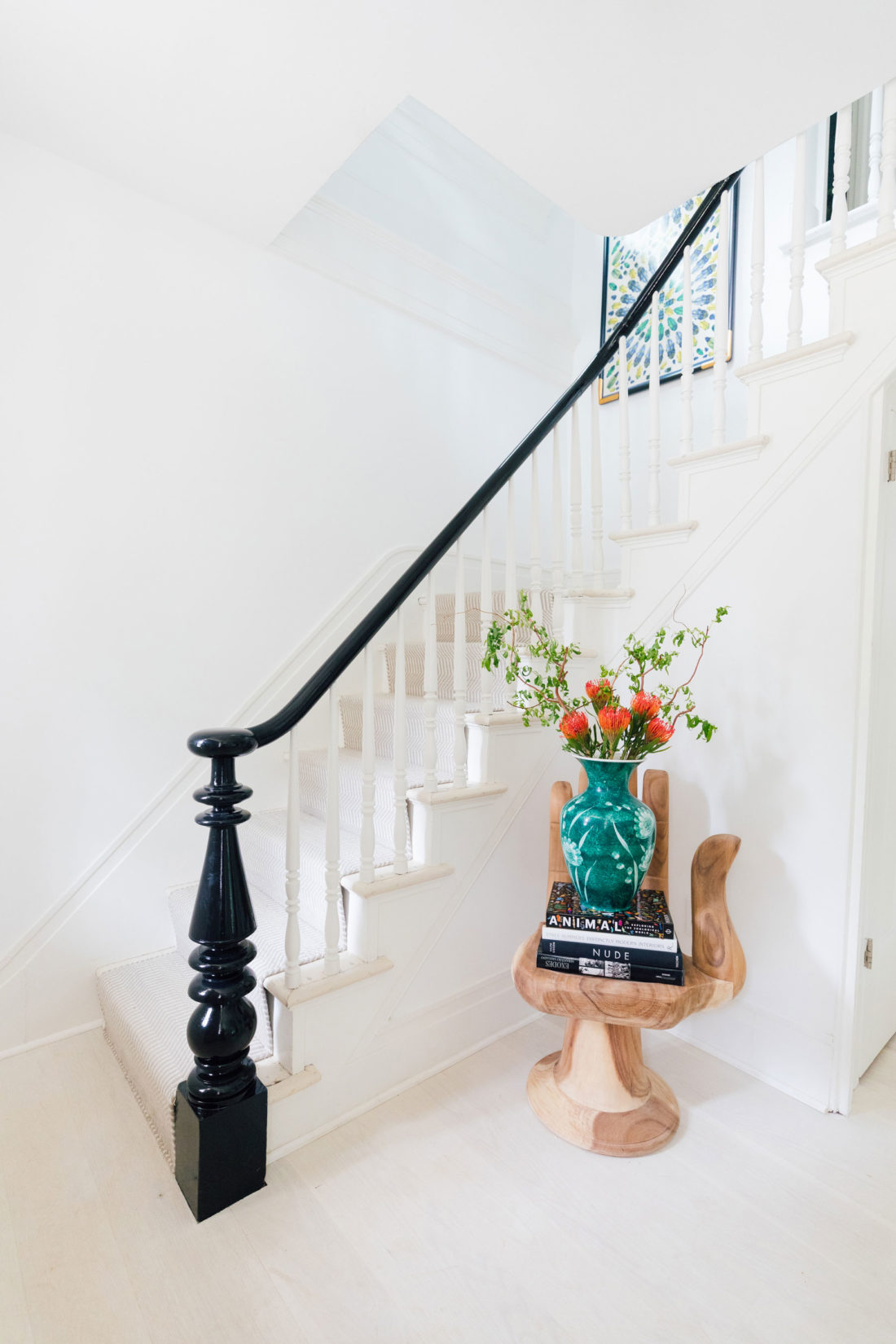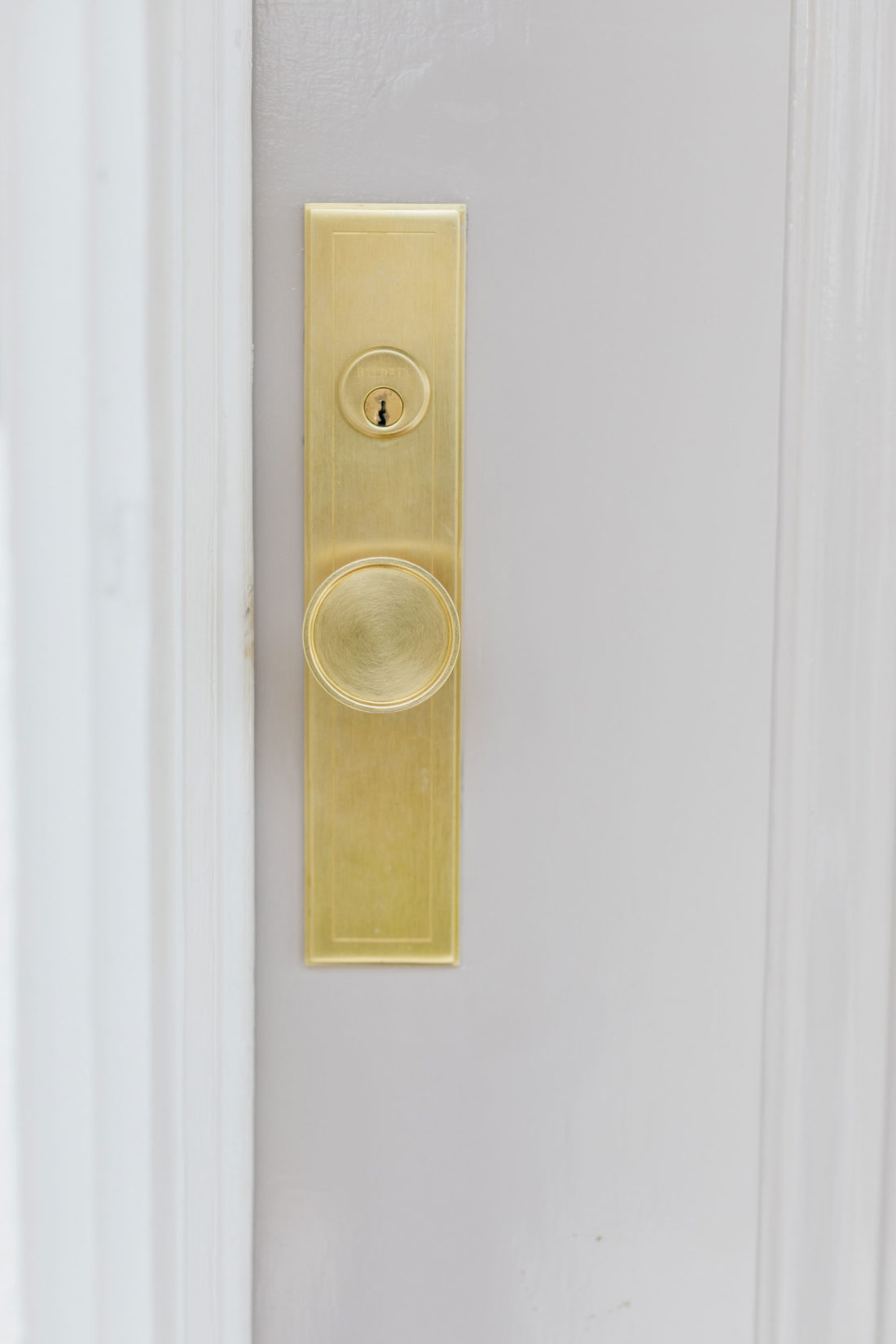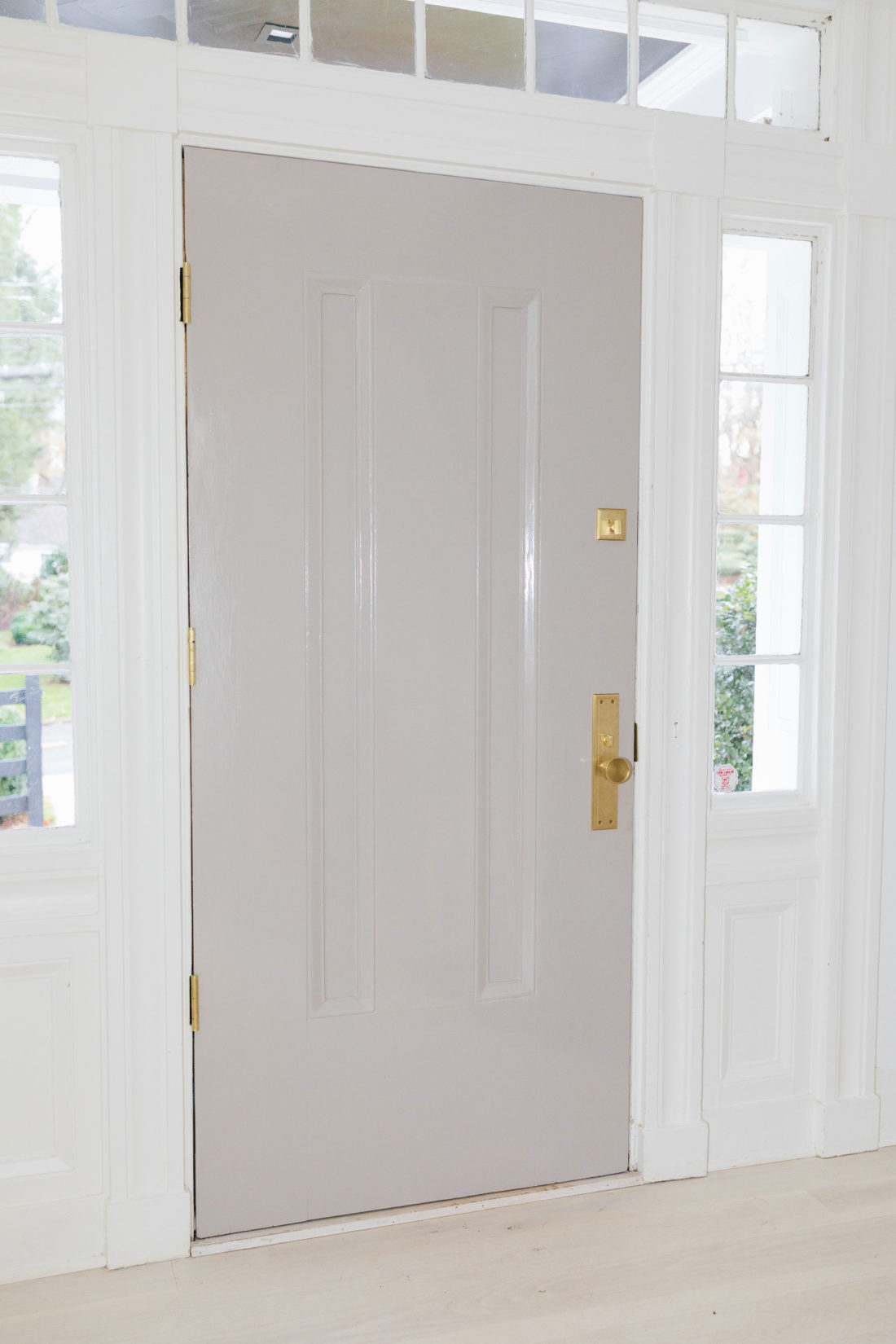 Since I get so many paint-related questions from readers, I thought I'd take some of your questions to the specialists at Rings End for answers! Read the Q&A below:
Q: Can you give a breakdown of the different paint finishes and which are most commonly used for both walls and trim? What are the best ways to pick your finishes?
RE: Common paint finishes are Flat/Matte, Eggshell, Satin/Pearl, Semi-Gloss and Gloss for interior finishes while exterior finishes are generally a Flat, Low Lustre or Soft Gloss. Rule of thumb is the higher the sheen the more durable the finish, so for high traffic areas, playrooms, hallways or kitchens and baths we generally recommend at least an Eggshell finish. Most Matte finishes are now scrubbable as well, but if durability and stain resistance are important always use a higher sheen. Outside of durability, selecting a sheen is largely a personal choice. We always recommend contrast, so if you are using a flat or matte for a wall, choose a satin or gloss for the trim and woodwork. This makes your color choices pop more.
Q: What are the best paint brands and/or colors for families with rambunctious kids?
RE: Benjamin Moore and Curator, both make very durable and stain resistant products that are low VOC (low odor and more environmentally friendly). They stand up well over time and have great color retention. Colors are a personal choice but light colors will always show stains quicker while dark colors may wear/show imperfections quicker.
Q: Do you carry "Clean" or more nontoxic paints? And if so, what are the most popular brands? Are they as durable?
RE: Ring's End stocks green, environmentally friendly paints from Benjamin Moore and Romabio. Benjamin Moore latex paint is almost all 0 VOC (volatile organic compounds), though their Natura product line is Greenguard certified. Natura is a no odor, 0 VOC wall and trim finish that stops outgassing after 15 minutes; a great choice for use around kids! Romabio is an Italian mineral paint that is 0 VOC, hypoallergenic and low/no odor. Romabio is also super durable and a good choice for use when allergens are a concern!
Q: Touch up paint: can you store it in a garage or attic, or does it need to be in a climate-controlled space?
RE: Touch up paint should be kept in any place that doesn't reach freezing temperatures and doesn't get super-hot during the summer. Garages and basements are fine as long as the cans are not left on the floor. The most important thing is the can is kept on a shelf and the lid is hammered back on completely so air cannot get into the container. If the space can be somewhat temperature controlled it helps since paint doesn't like freeze/thaw cycles.
Q: If you're painting the walls and the trim the same color, do you use the same finish?
RE: We would recommend using a different sheen on walls and trim even if you are going monochromatic with your color. It's nice to show off the woodwork!
Q: Should primer always be used on walls? Can you paint cabinets without primer?
RE: We always recommend primer. Paint & Primer in one is largely a marketing gimmick; if you are trying to change color significantly, going over bare sheetrock, painting on a hard to stick to surface (previously finished cabinetry, plastic or PVC, or bare wood) we always recommend a primer. If you are going over a previously painted surface and it isn't a major color change, you can get away without priming if you use a good quality paint like Benjamin Moore Regal Select or Aura. For cabinetry, we always recommend priming and if it is previously finished, we recommend a light sanding followed by priming with Stix bonding primer and then a finish like INSLX Cabinet Coat, Benjamin Moore Advance, Curator Satin Finish or Curator Gloss.
Q: What is the most popular white paint sold at Ring's End?
RE: Whites are hard! We sell a lot of white paint these days but the most common seem to be Benjamin Moore Simply White, Chantilly Lace, White Dove, Decorator's White and regular Benjamin Moore White. If you are looking for more adventurous off-whites, we recommend checking out one of our design showrooms or ordering peel and stick samples from our website.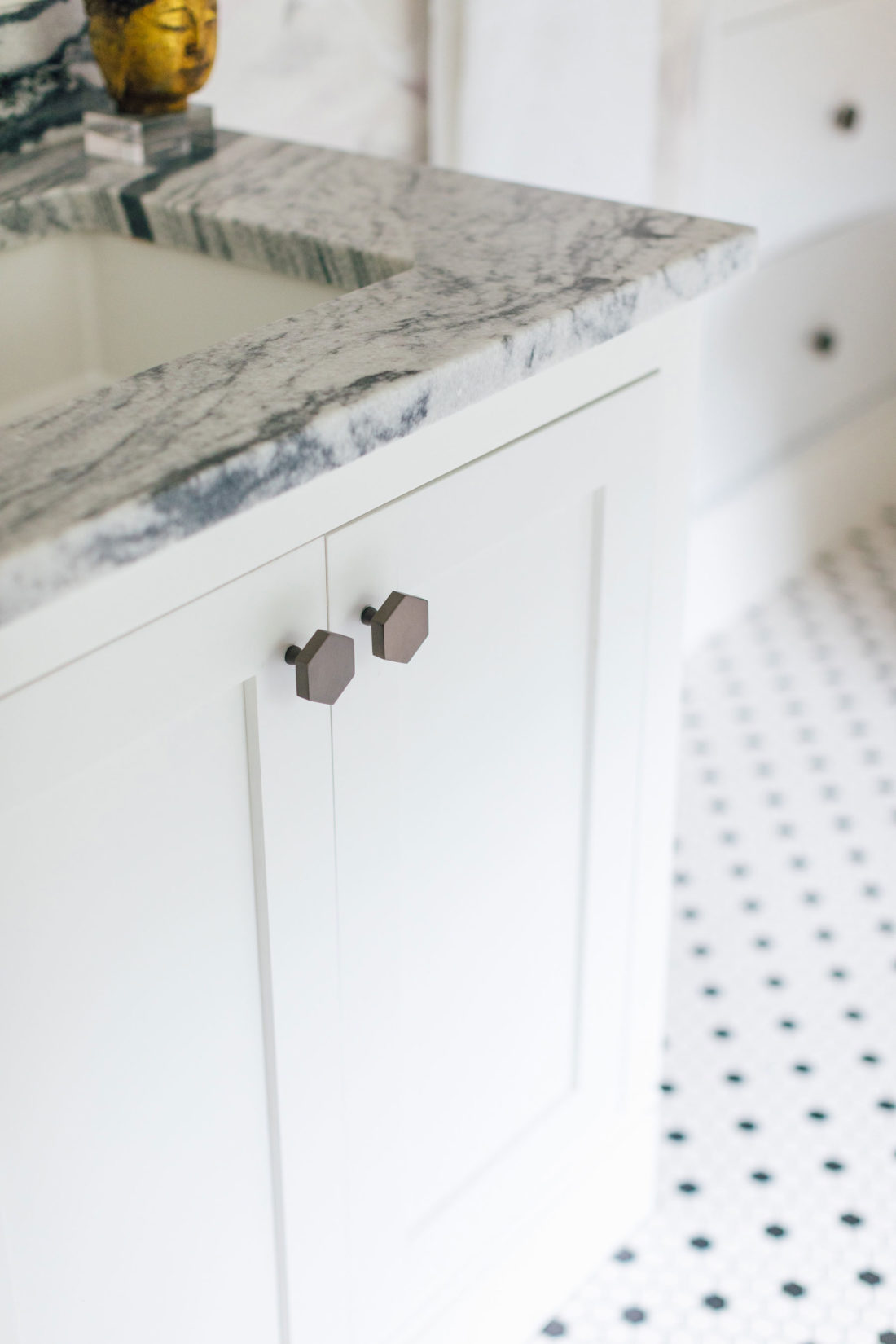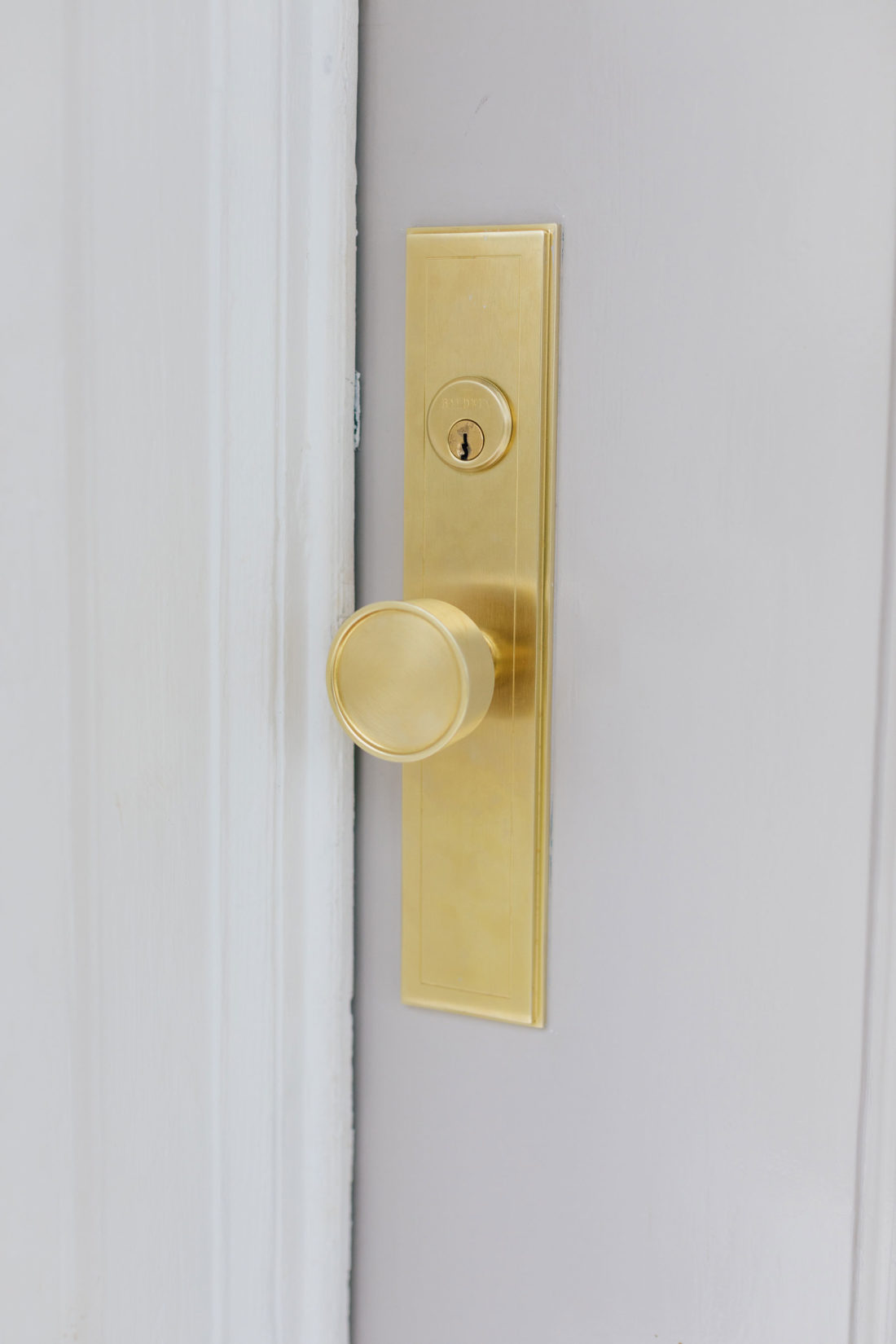 And speaking of hardware, I've loved the really diverse and chic hardware we sourced with Ring's End. They have the greatest selection, and since I love mixing metals so much it was nice to have a wide variety to get exactly the look I wanted in each room. I particularly love the hexagonal hardware in my Master Bathroom– it's so unique!
Do you have a certain style foundation you love for your home? Please share in the comments below!
Photographs by Julia Dags
Design and Styling for pictured rooms by Prudence Home and Design