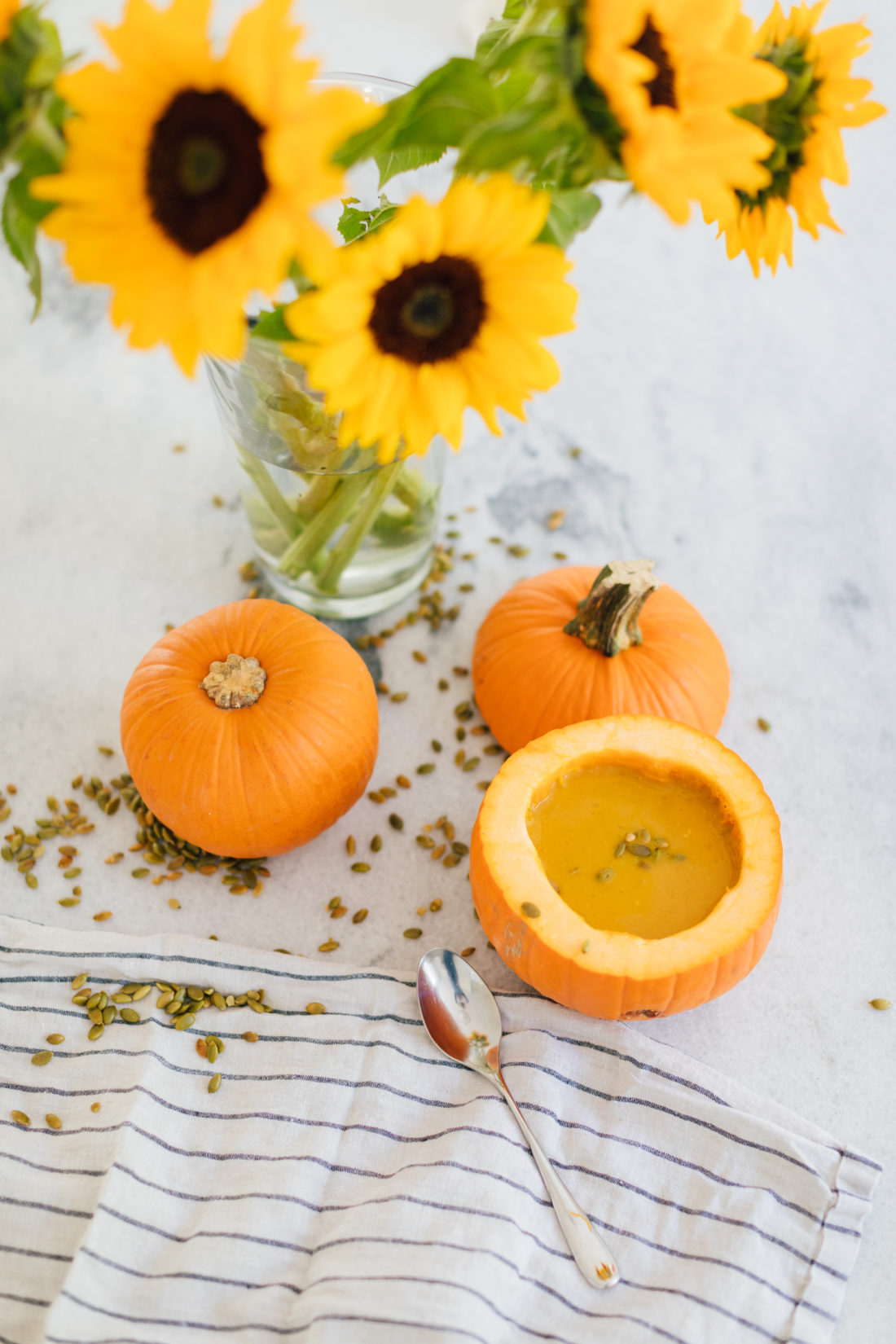 It's that time of year when Pumpkins are absolutely everywhere, and I for one am thrilled. Pumpkin season feels so wholesome and cozy to me, and pumpkins can be great for things other than lattes and front porch decorating! In our house, Fall is the season of soups– my kids love them just as much as I do– and I love making soup because it can last over a couple of days, freezes easily, and packs so many nutrients in to a meal.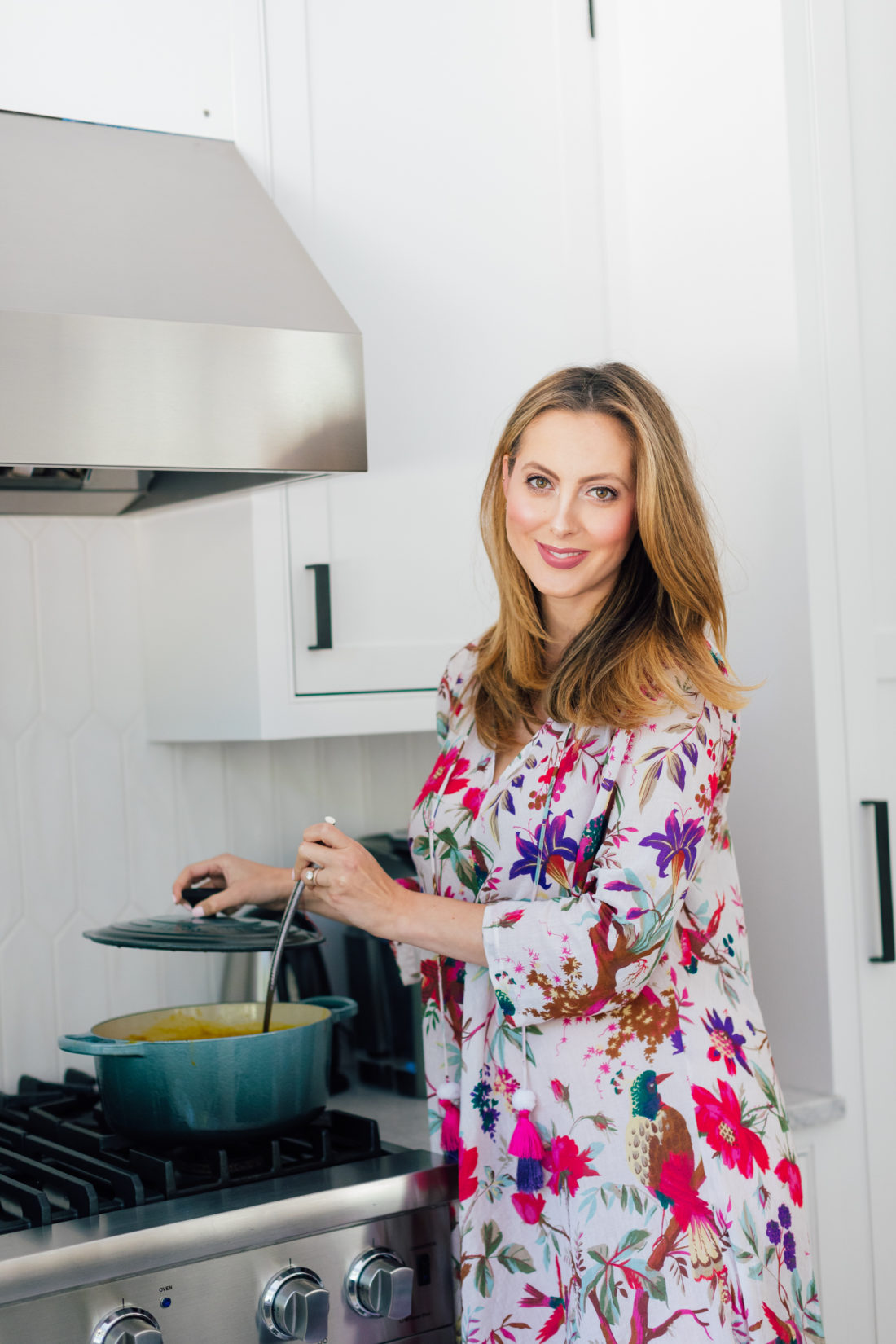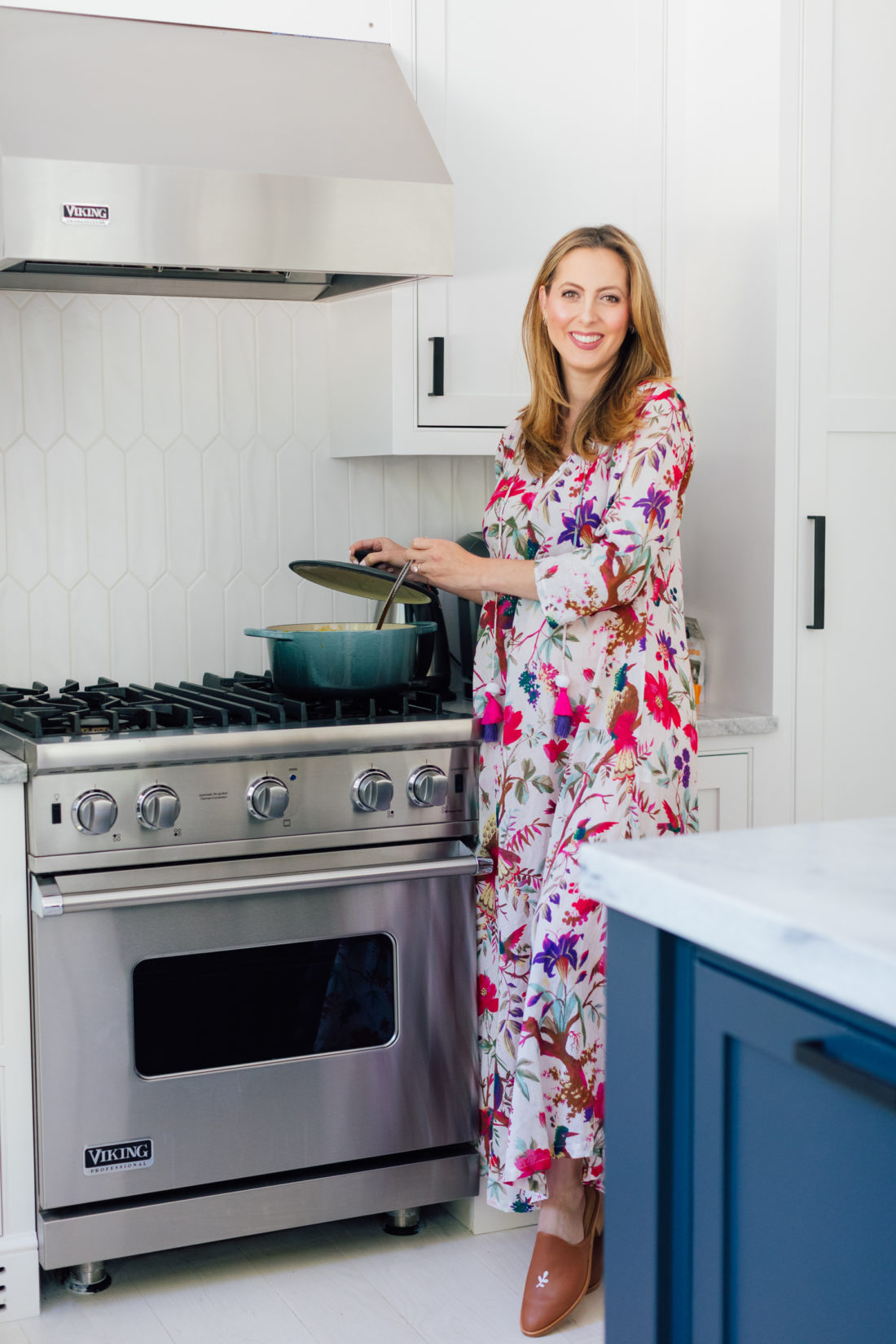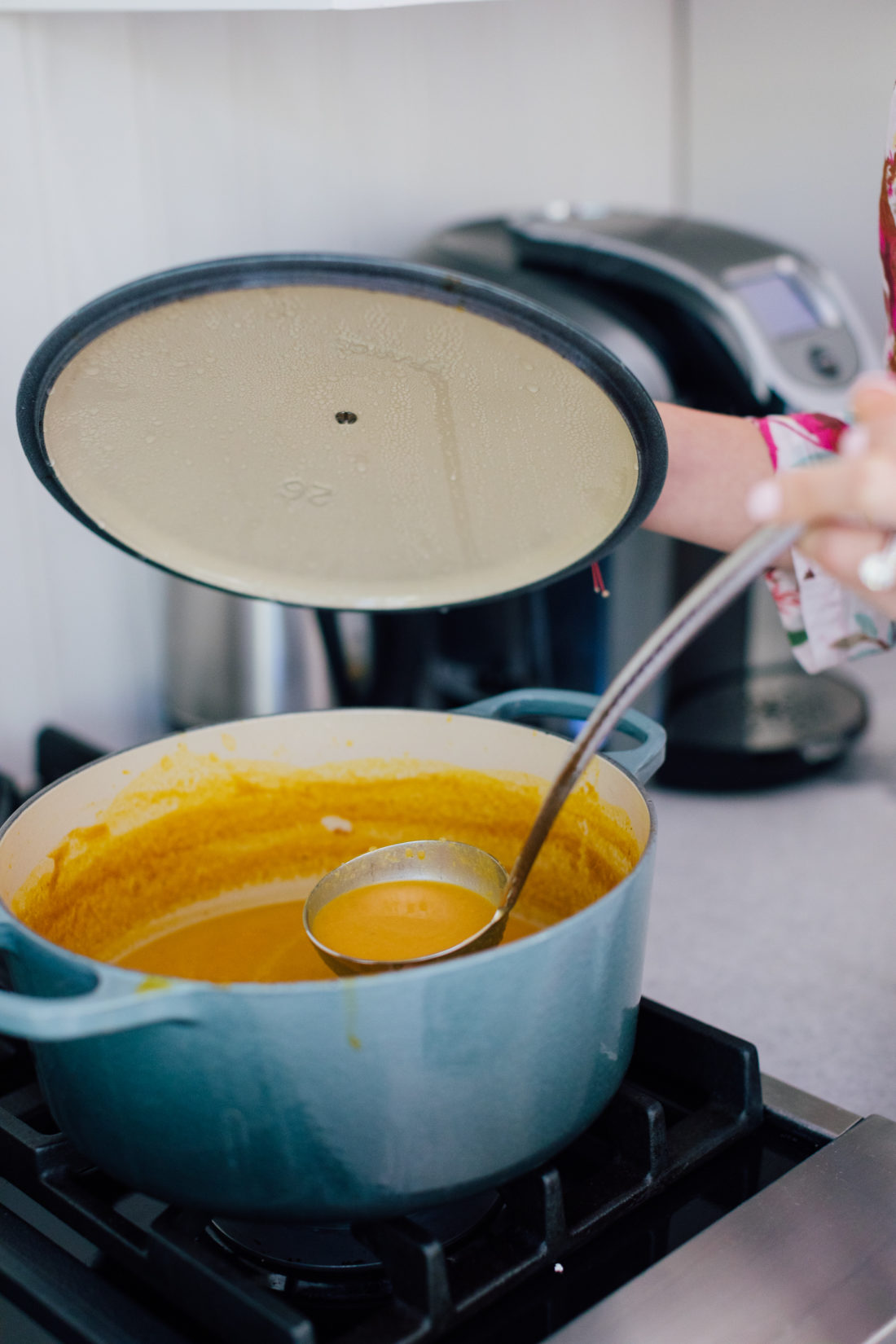 This SUPER easy Pumpkin soup is one of my faves, and I've added two different ways to make it below, depending on what season you find yourself in and whether you want something ultra easy, or a bit more gourmet. Either way, it's delicious. Extra points for serving this soup in a festive pumpkin!
Recipe…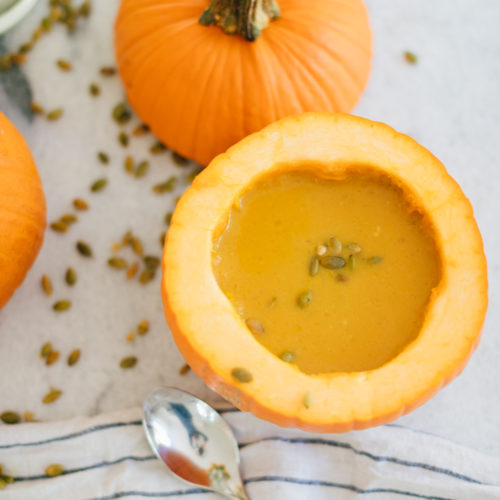 The Easiest Pumpkin Soup Ever
This is the easiest pumpkin soup recipe ever! It uses canned pumpkin puree but if you're in the mood for something a little more challenging, you can definitely roast pumpkin from scratch and throw it in a blender to make the puree yourself!
Equipment
A Dutch Oven

A Blender

A Baking Sheet
Ingredients
2

tbsp

butter or butter substitute

2

yellow onions

chopped

4

cloves

garlic

minced

salt and pepper

1

tsp

cinnamon

ground

1/2

tsp

nutmeg

ground

2

cans

15oz pumpkin puree

always use a brand that has BPA free cans!

4

cups

chicken broth

1/2

cup

heavy cream

I used coconut cream because I can't have cow dairy!
If You Choose To Make The Pumpkin Puree From Scratch (In Addition To The Above Ingredients):
1

4lb sugar pie pumpkin

seeded, chopped, and quartered

4

tbsp

olive oil
Instructions
If You Chose To Use Canned Pumpkin Puree:
Melt the butter in a large pot over medium heat, and add the sliced onions to the pan.

Stir the onions occasionally until they caramelize (around 12 minutes)

Add the garlic, salt, pepper, cinnamon and nutmeg to the onions, and stir for a minute until combined.

Add the chicken broth to the pan and stir, scraping up any burned bits from the bottom, for about two minutes.

Add the pumpkin puree and stir to combine.

Turn the heat to low, and let the soup simmer for 20 minutes.

After the soup has cooked, turn off the stove and puree the soup with an immersion blender or pour into a regular blender and pulse until smooth. If you use a regular blender, you'll have to puree it in batches.

Once everything has been pureed, return the soup to the original cooking pot and add your cream of choice.

Enjoy with a nice slice of warm bread!
If You Choose To Make The Pumpkin Puree From Scratch:
Preheat the oven 425ºF and line a baking sheet with parchment paper.

After seeding your pumpkin, cut it into quarters and brush it with 1 tbsp of olive oil.

Place the pumpkin pieces cut-side down on the baking sheet and roast for 35 minutes.

Once the pumpkin has cooked and you can easily pierce the flesh with a fork, let it sit for 15 minutes (or else you will burn your hands!)

Heat the remaining 3 tbsp of olive oil in a dutch oven and add the onion and the garlic. Stir occasionally for 10 minutes until the onion is translucent.

Peel off the pumpkin skin and discard.

Add the pumpkin flesh, cinnamon and nutmeg to the pot and season with salt and pepper.

Pour in the chicken broth and bring the mixture to a boil, reduce heat to low let it simmer for 15 minutes.

Once the soup is finished, use an immersion blender or a regular blender to puree. Again, you will have to do it in batches if you use a regular blender.

Add your cream of choice and enjoy with warm bread!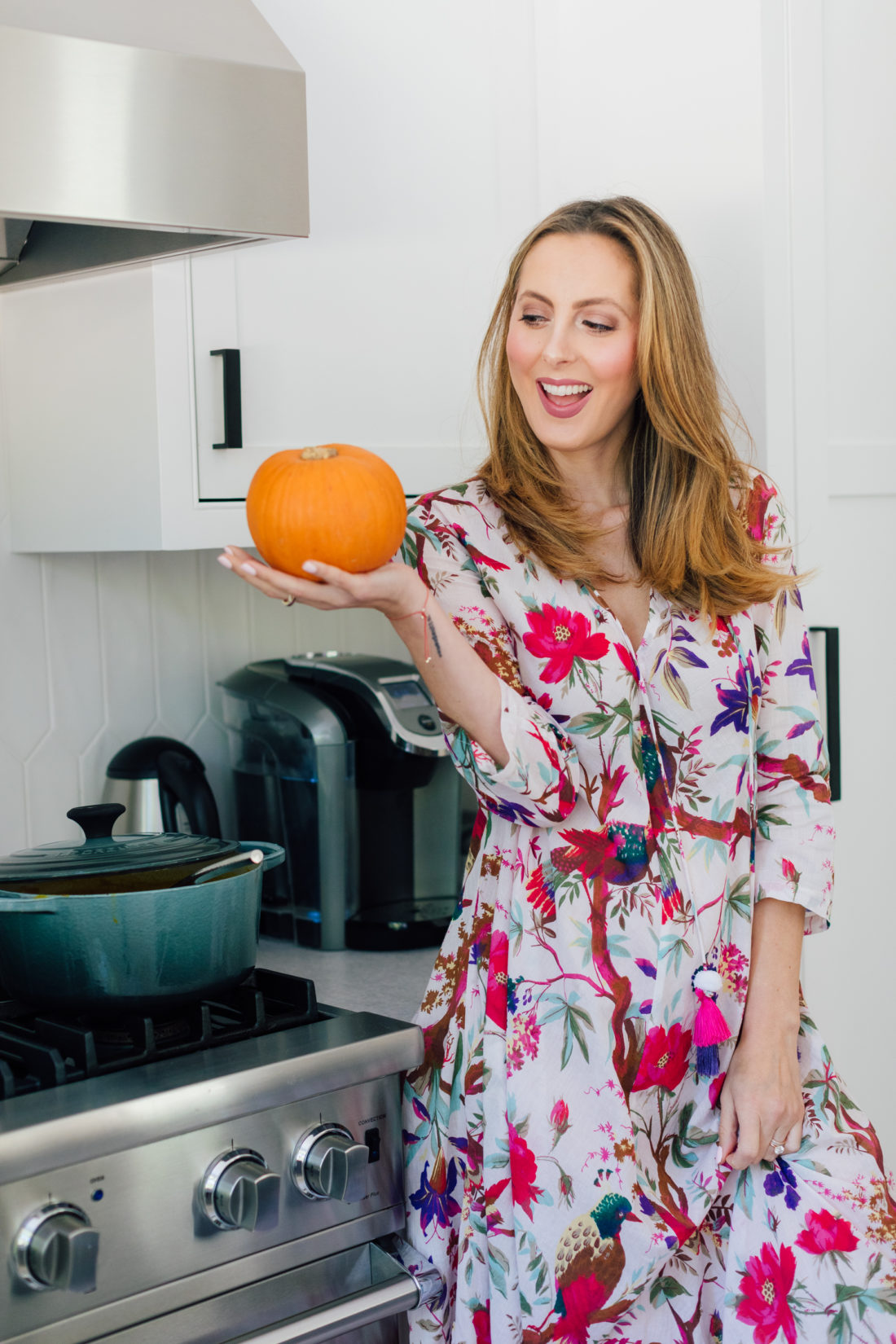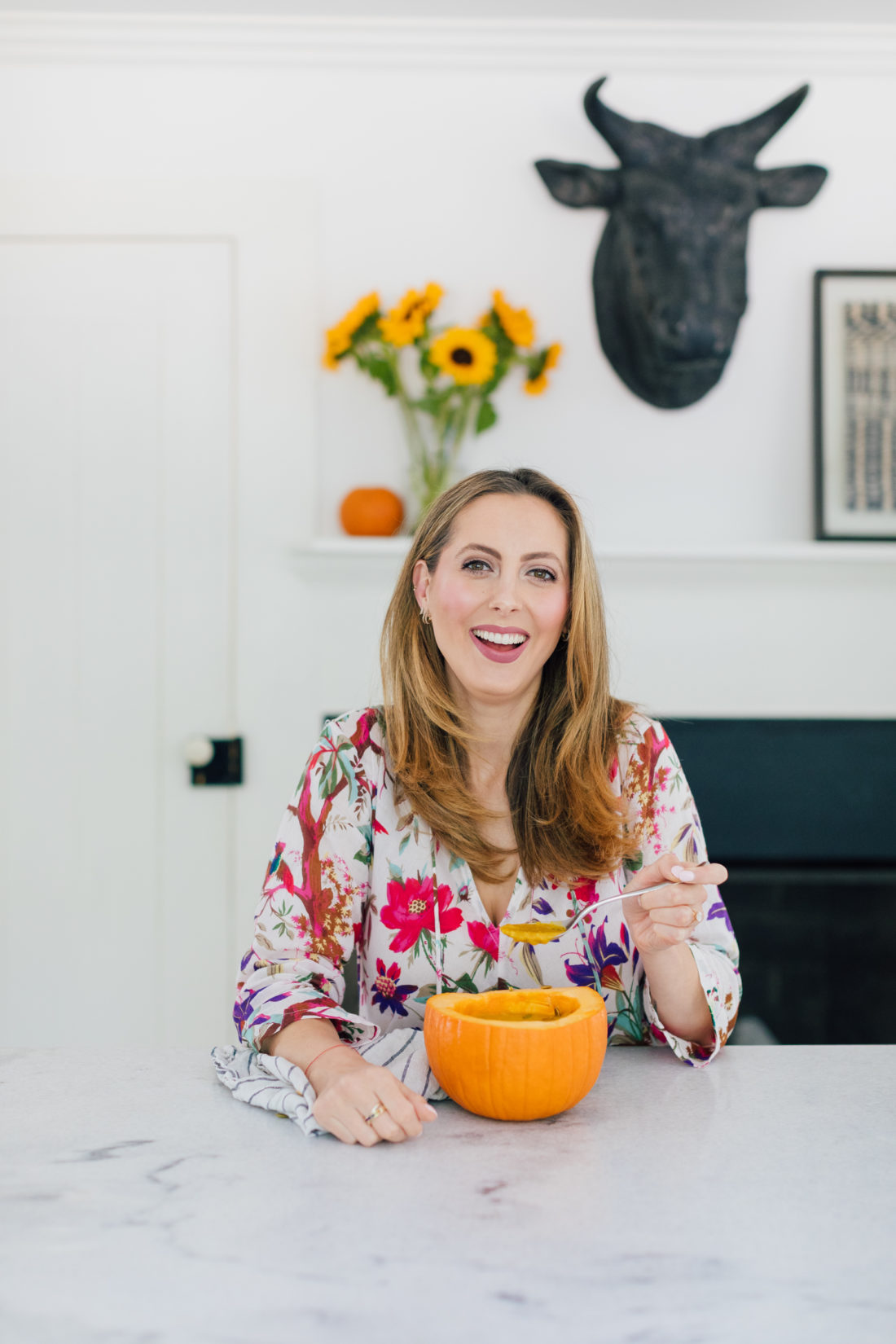 Somebody told me the other day that they think people either love or hate pumpkins. I had never thought about that before (as a pumpkin-lover…LOL) but now I'm curious to hear your thoughts. Do YOU think pumpkins are polarizing, and if so: are you a Lover or a Hater??? Do tell in the comments below!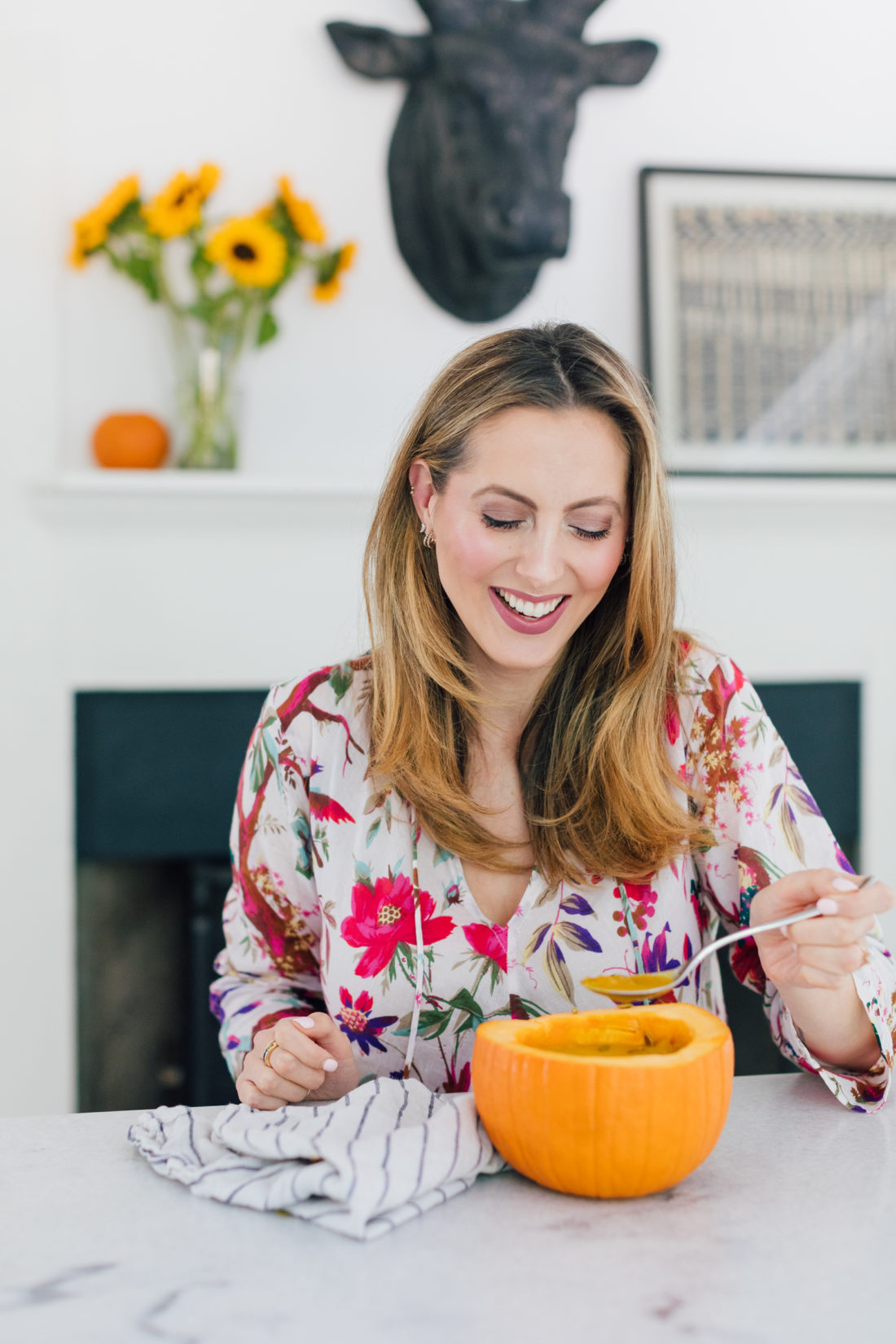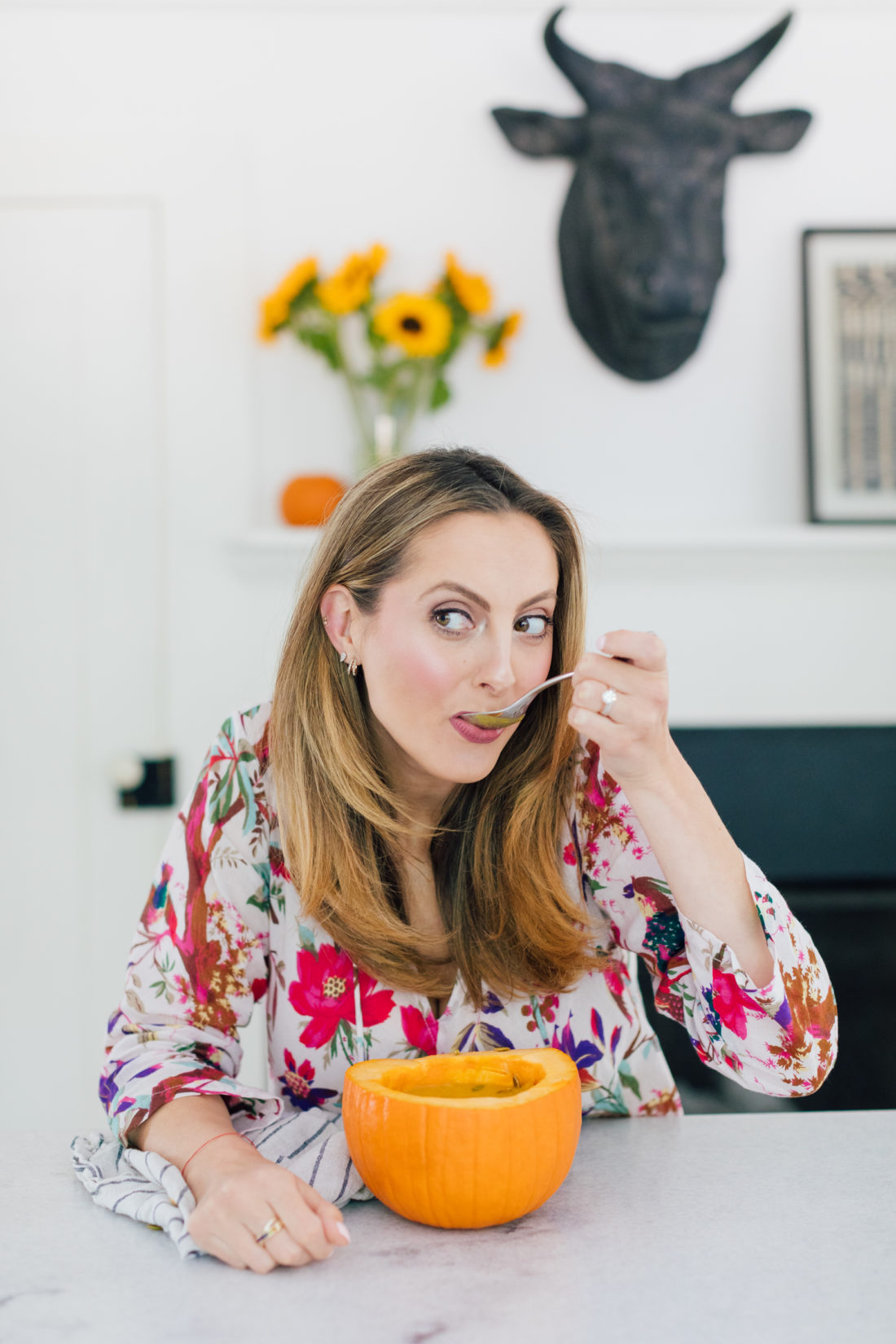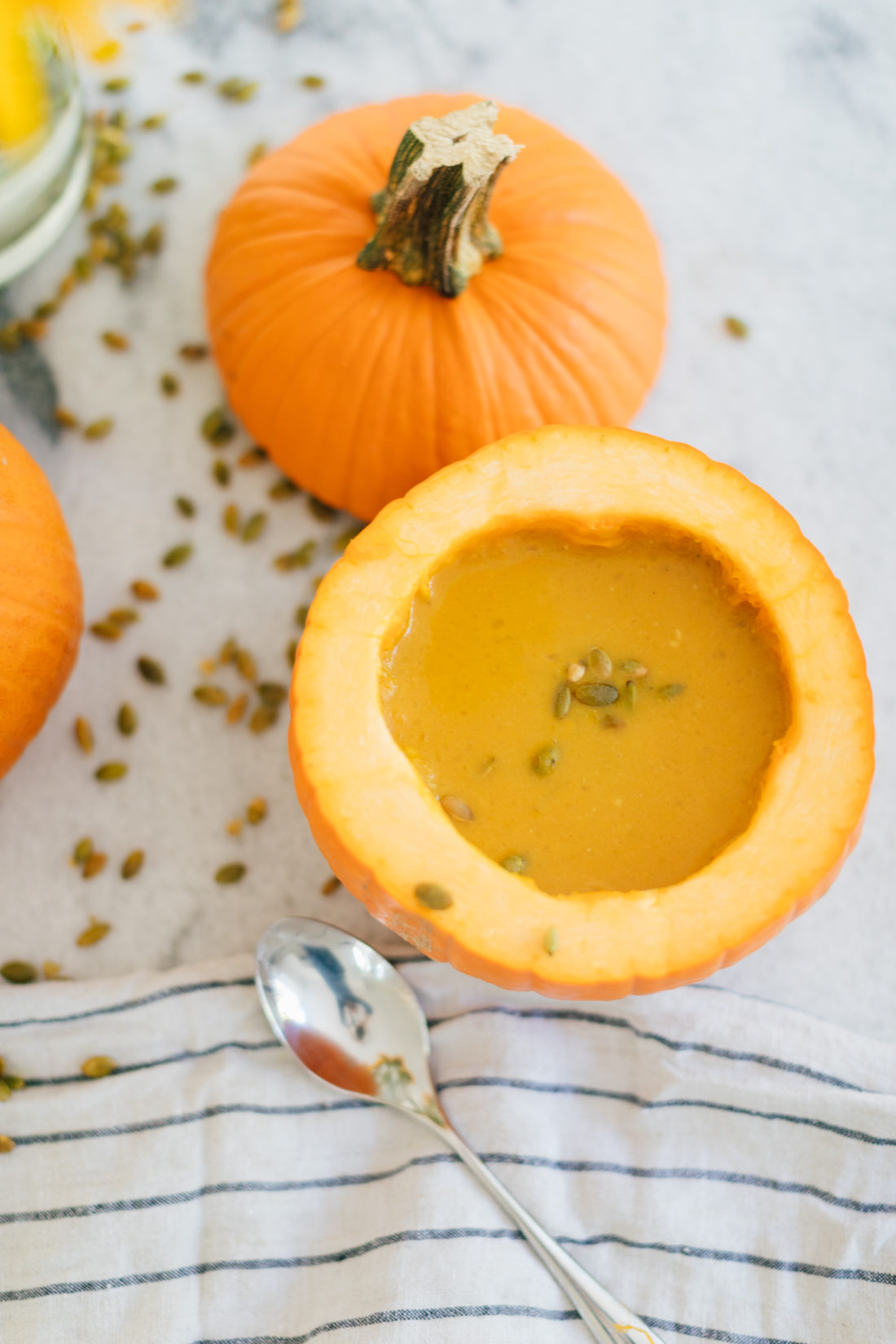 Shop the post…

Photographs by Julia Dags