The following content may contain affiliate links. When you click and shop the links, we receive a commission.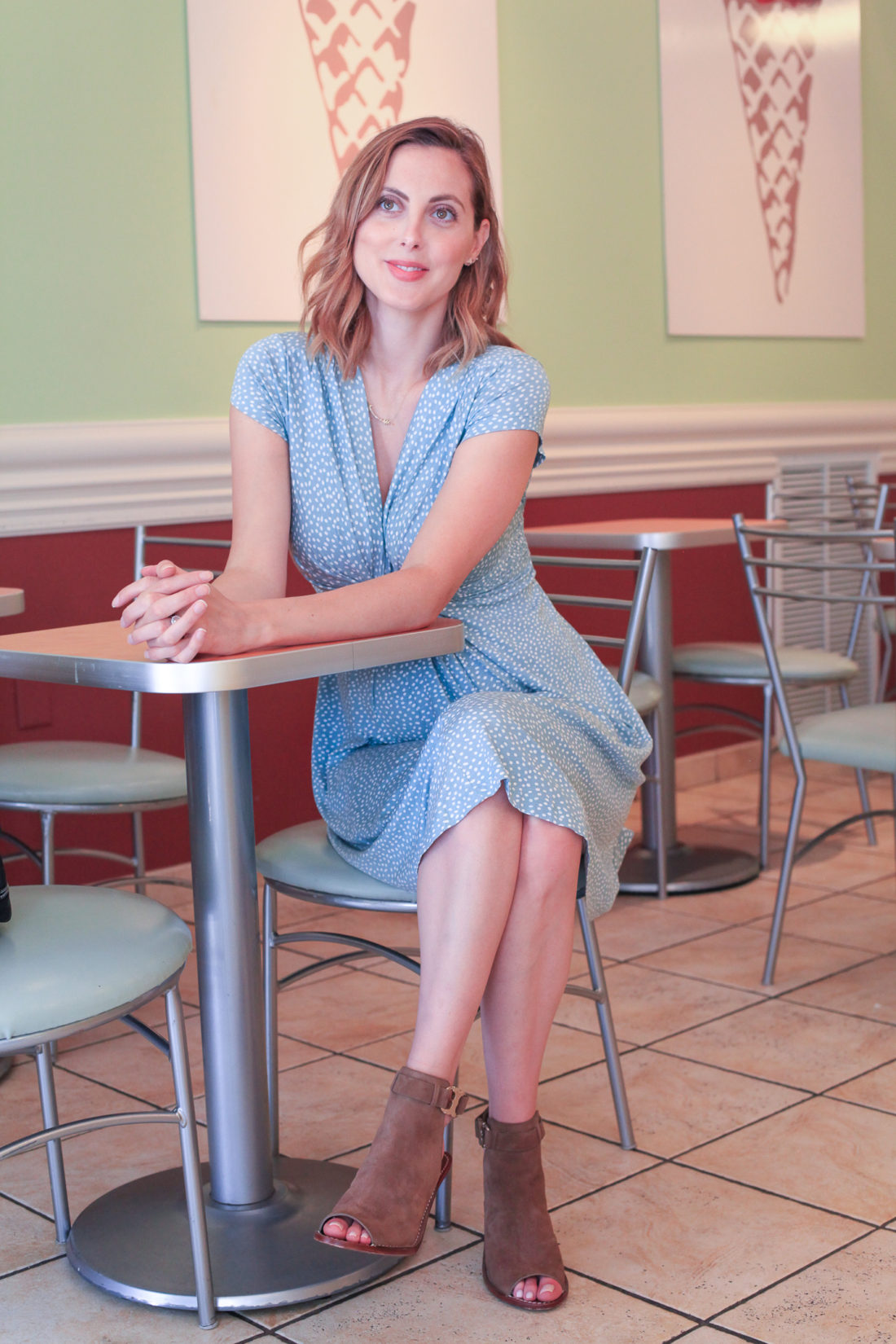 So here I am, waiting for a big bowl of ice cream during what was probably the most stressful week of our Home Renovation process– the "finishing touch phase".  Can you see the panic behind my Ice Cream Eyes? This is the phase when every single tireless person who has been working steadily on your house for the past several months rushes to complete everything– discovering in the process all the various elements that have been forgotten, left out, or not ordered.  And who forgot to order them? The eight month pregnant lady of course! Chaos and tears! And ice cream…
Our renovation on this house was pretty extensive.  Luckily the house we bought has great bones and there wasn't a lot of major structural work to be done, BUT (and this is a huge "but") we did end up doing a complete aesthetic overhaul which included reno of three bathrooms, the floors throughout the entire home, every light fixture, hardware, and any and all tile.  Oh, and paint.  Gallons upon gallons of paint.
We were so fortunate to work with the best in the biz, Gemini Restoration, who really saved our asses and got us in our beautiful, shiny new home under the ticking pregnancy clock.  I think it adds a little extra element of panic for contractors when you tell them you'll actually be BIRTHING the baby inside of the house.  Gotta get those floors done guys! Ha! I had never had the opportunity to do renovations on a home before– aside from little fixes here and there, I'd always just bought a house and made whatever it was work for us.  It was the most amazing luxury and treat to be able to choose what I wanted my house to look like this time around! Especially the bathrooms– hellooooo gorgeous marble tile. But for a design-loving person it was a little overwhelming as well.  How do you pick out your favorite elements and leave the rest?! With so many directions to go in, how do you choose just one?! Kind of like wedding dress shopping, amirite?
Anyway, I learned a lot during my virginal renovation process, and today I thought I'd share with you a few tips and tricks I figured out along the way…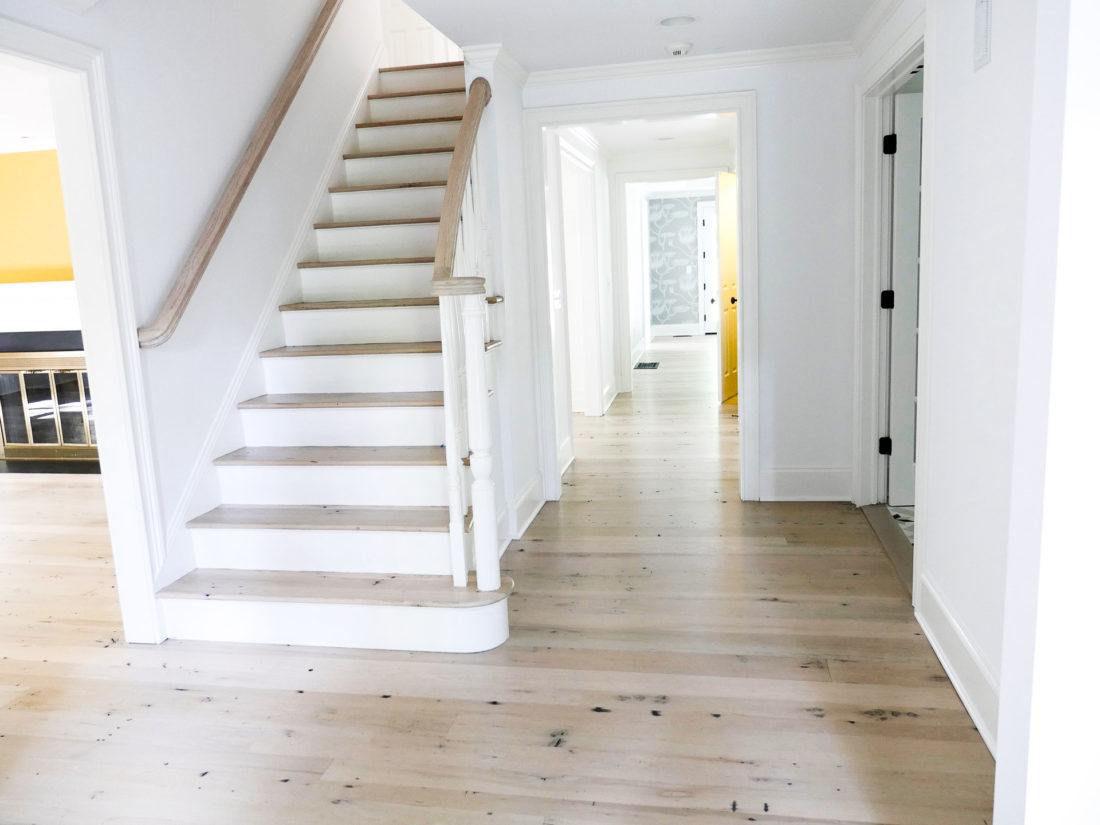 Be prepared…
Do your research, create inspiration boards, and know what you like!  Make sure you really investigate your options beforehand so that when you are faced with a decision you need to make quickly during the renovation process, you know what direction you'd like to go in.  Ensuring that your time frame and budget aren't stretched too much are also crucial aspects to this phase of planning.  How do you do all of this? My tips below:
Get Inspired.
When I know I'm going to be making changes to a home, I go on a design binge.  I buy a ton of magazines and pull up design sites.  Let your eyes explore and see what you respond viscerally to.  You may even find an exact example of what you love already designed in another person's home! My favorite Magazines to buy are Elle Decor, Architectural Digest, House Beautiful, and HGTV.  Some great websites are Domino, Apartment Therapy, HGTV, and Houzz.
Create Inspiration Boards.
I love Pinterest for this now, but I've also bought physical cork boards in the past and used them to pin up fabric samples, magazine clippings, and inspiration colors.  Don't count on the fact that you'll remember details later– renovations are hectic and you will be using your brain for other things, trust me!  Pinterest can also be helpful for researching further once you find design elements you like.  For example, with this house I became obsessed with putting black and white concrete tile in our entryway and mud room/laundry/powder room.  By searching "Black and White Concrete Tile" on Pinterest, I was able to see a lot of different examples, which really helped educate my decisions when I bought my own tile.
Research Your Options, Always.
Find something you love? Whether it's a piece of hardware or a piece of furniture, there may always be ways to get it for cheaper.  Find the exact product name, and do a google search.  Sites like Overstock.com can be overwhelming to browse but are really helpful if you have something specific in mind and usually offer great deals.  Are there big holidays coming up? Wait to see if online sites offer big discount days during these times! I got a ton of stuff online for our home during the Fourth Of July Sales.  Score!
Be Realistic With Timing.
Do you have a deadline in mind when you NEED to be back in your renovated home? Be realistic and just add 3-4 weeks on to that.  By loosening your expectations and allowing for more time, you'll lessen your stress later on when things aren't done in time (Spoiler Alert: they never are).
Stay On Budget.
Ok, admittedly this is challenging to do when you're renovating.  Little things can come up here and there and nobody likes spending more than they planned.  We found two rotted out windows during our reno, for example, which were added expenses since they had to be replaced.  Make sure you control what you can by creating budget spreadsheets and documents that monitor what you're spending.  I created two separate spreadsheets for our new home– one for renovations and one for furniture and design.  We had a total on each that we were prepared to spend, and every time a decision was made or an item was purchased I would add them to the spreadsheets and subtract from the total so we would always know how much more we had in our budget.  This was pretty time consuming and took a lot of discipline but it really helped Kyle and I understand where our money was going and how we wanted to budget things out as I made design decisions.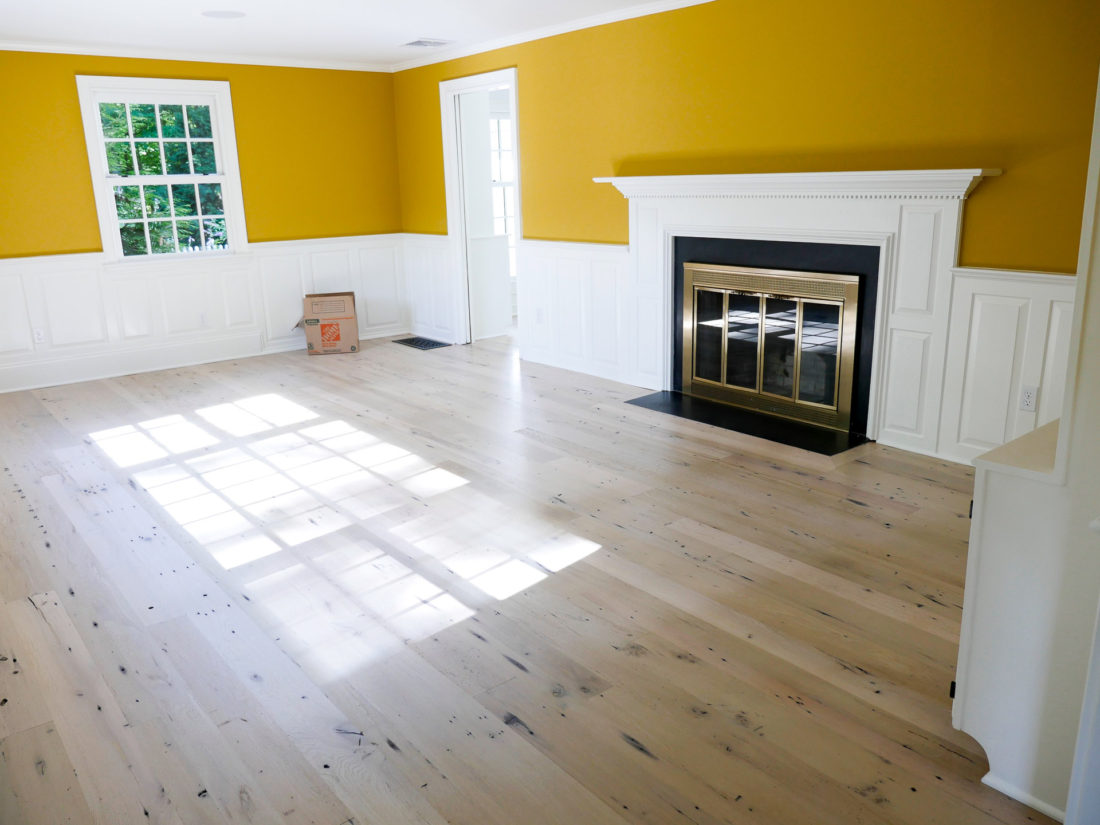 Stay involved…
When it comes to renovations, you want to make sure that your dream is realized.  But your contractors aren't mind readers! Just because you've made a decision and showed somebody a link or picture doesn't mean your job is over! Here are my tips:
Communicate!
Make sure you're in constant communication with your contractors and that they feel comfortable coming to you with any questions they might have.  Be responsive and return calls and emails in a timely manner to help your contractors stay on time and in the loop.  Share your Inspiration Board with them so they know the overall style and look you're going for.  Share your budget, too, obviously!
Check In On Progress.
While a project is underway, make sure you check in a couple times during the process to ensure that things are turning out as you'd  like it to.  It's WAY easier for everyone to correct little things along the way if it isn't how you expected than to have to completely redo it.  For example, I had originally chosen a grey floor stain for the house.  When I saw the sample (pictured below), I totally changed my mind and opted for a lighter tone of grey instead.  However, Kyle and I decided to stop by the house halfway through the floor refinishing process to see how things were going.
We walked in to the house and audibly gasped at how beautiful the floors looked! But the Floor guys were only halfway done! They had put a white-ish stain on the oak to prime it for the light grey color on top.  We decided right then and there to seal them as we saw them and not to go ahead with the grey tone.  If we hadn't stopped by we would have never seen the floors the color we decided to keep them and I'm so thankful that everything turned out as it did.  Our light wood floors are my absolute FAVORITE part of our home now!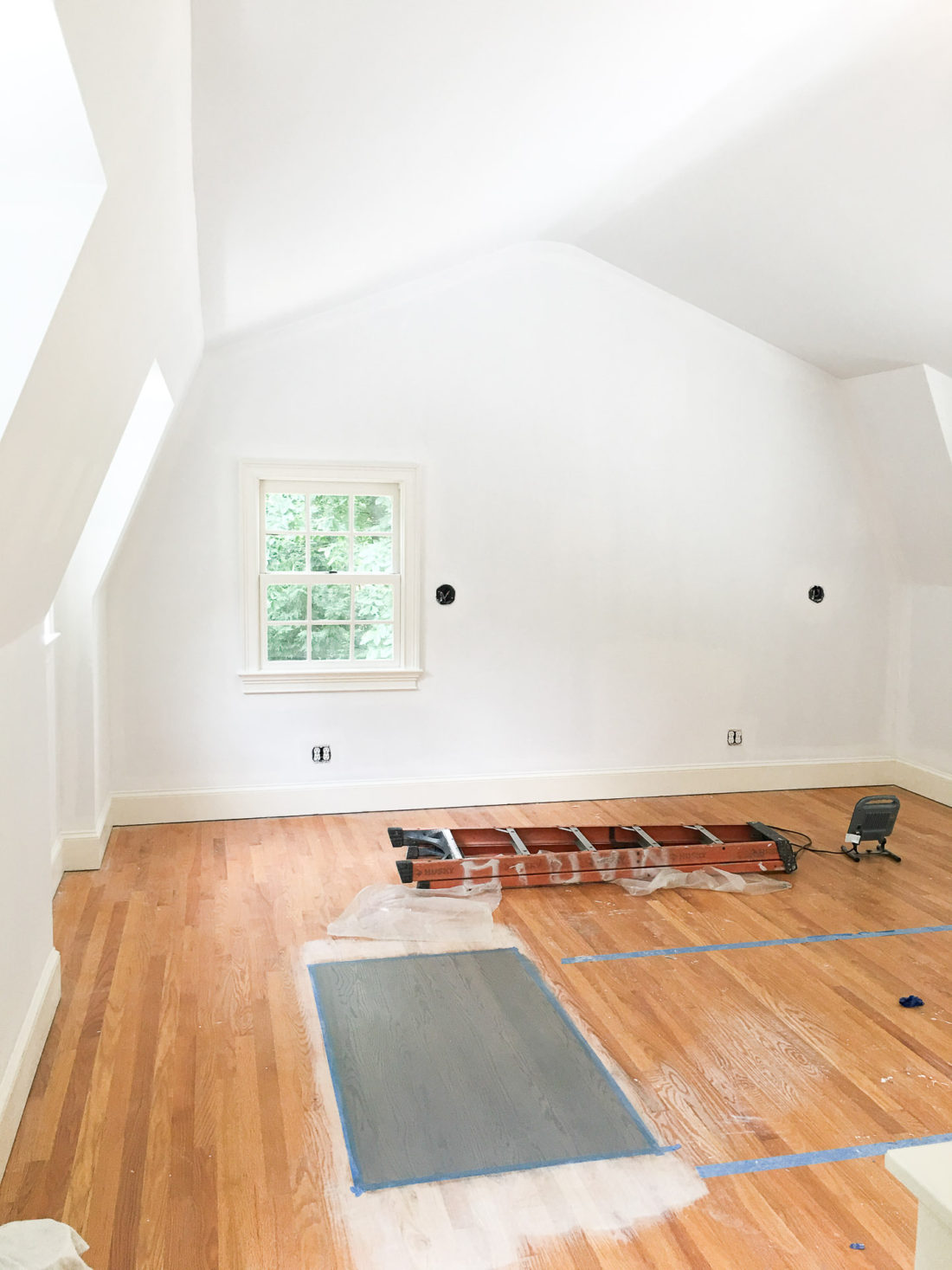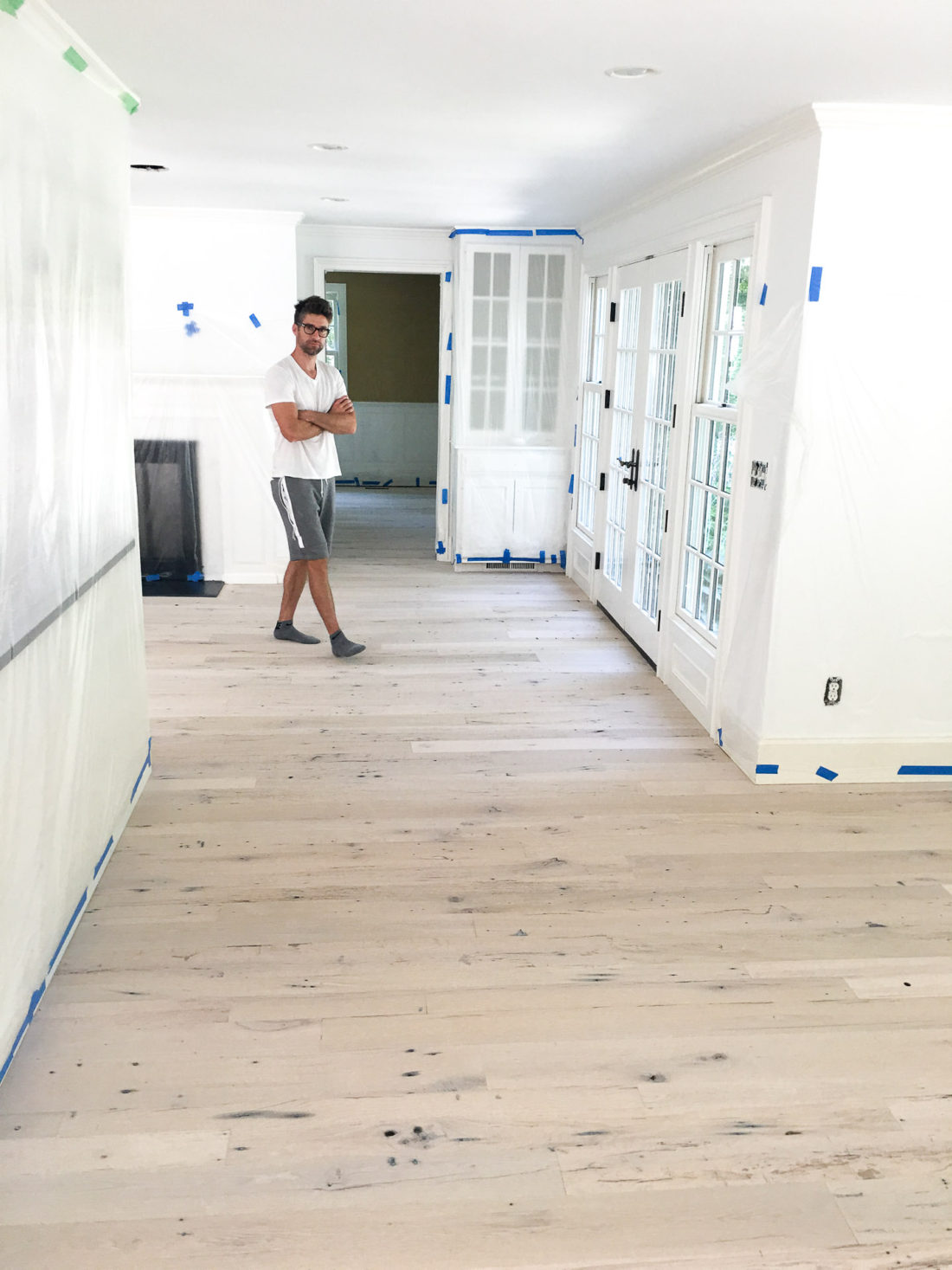 Love where you live…
This may seem obvious, but YOU are the one who will live in this home, so YOU need to love it.  And I mean really love it.  Make decisions based on gut feeling and emotion, and not based on design trends or other people's advice.  This can be hard sometimes, so here are my tips:
It's OK To Be A Copy Cat.
See something in another person's home and covet it? Use it! Imitation is the highest form of flattery and trust me, that person isn't the first person to think of that design feature.  This also pertains to copying your own style.  I had a wallpaper in our old house in LA that I was absolutely in love with.  When I wanted to wallpaper our new Dining Room, I kept on comparing all of the wallpaper patterns I saw to the one I had left behind.  Suddenly a light bulb went off and I realized what I needed to do was to use the exact same one! I love having our "Los Angeles Dining Room" transplanted in to our new home.  It's a nice reminder of our family history and all the memories we made in a home that we loved so much.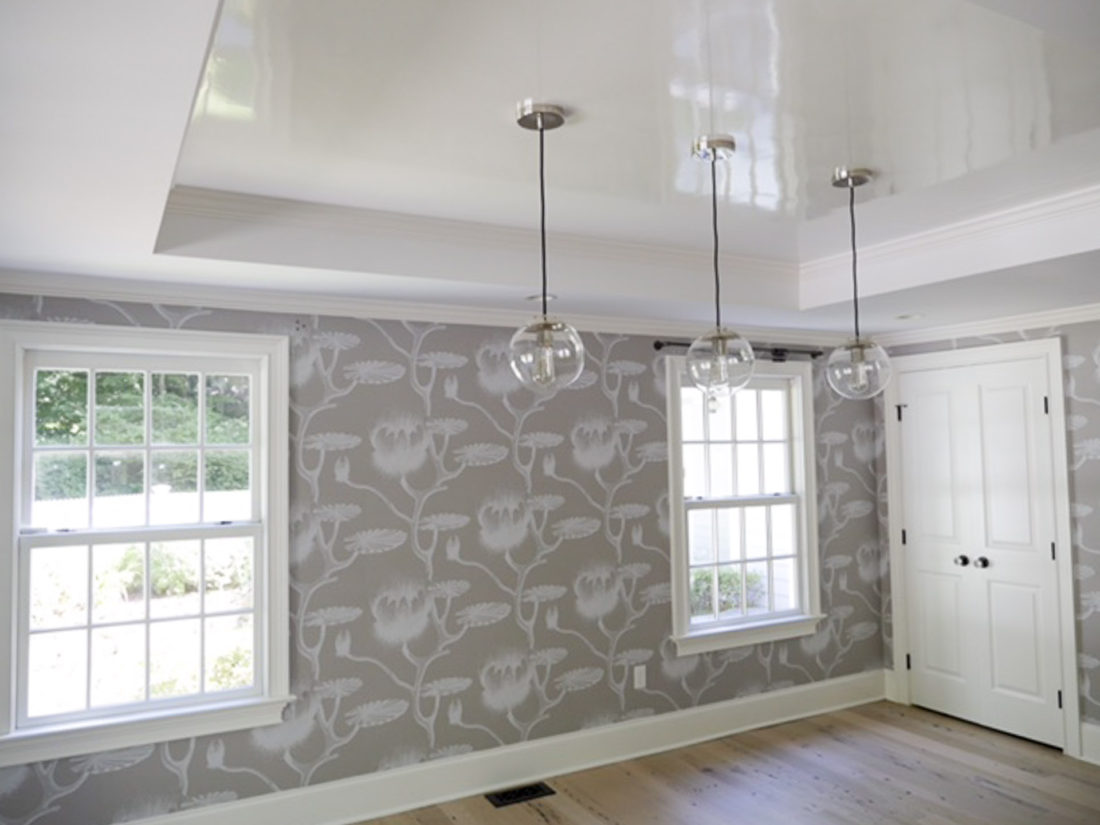 Samples Are Key.
Don't put anything in your house that you haven't seen a sample of.  In person! It's that simple.  Tones and textures vary so much in person versus on a computer screen and you really want to make sure your choices are all coming together cohesively.  Most businesses will send you a sample either for free or for a small fee.  When choosing a paint color, I recommend narrowing your choices down to four for each design element and testing them on a large space.  By large space, I mean at least 2'x2′.  Paint these color tests lower on the wall near the baseboard so you can get a sense of what the color will look like with the floor, carpet, or molding (if you have it).  I had a really hard time narrowing down the bright white color that you see throughout our house.  It took me a lot of paint chips to narrow it down, and then you'd be amazed at how different the whites looked once they were painted in a larger area on the wall.  I settled on Benjamin Moore's "Chantilly" for the majority of the house, and Benjamin Moore's "Bright White" for my Studio.
Throw Convention Out The Window.
And speaking of my Studio…for this space I wanted something really bright and white and airy.  I feel so energized by white paint colors with bright patterns mixed in, and I really wanted to capture that feeling in my work space.  I think everyone thought I was a little crazy to be painting every single surface of the big space such a bright white color, but I love how it turned out.  I added dimension by making the surfaces different textures.  The ceiling is high gloss, the walls and built-ins are eggshell, and the floor is semi gloss.  It may not be a conventional space, but it is absolutely perfect for me and I'm glad I listened to my gut and how I knew I like to engage in a space.   I included pictures below so you can get a sense of the design process.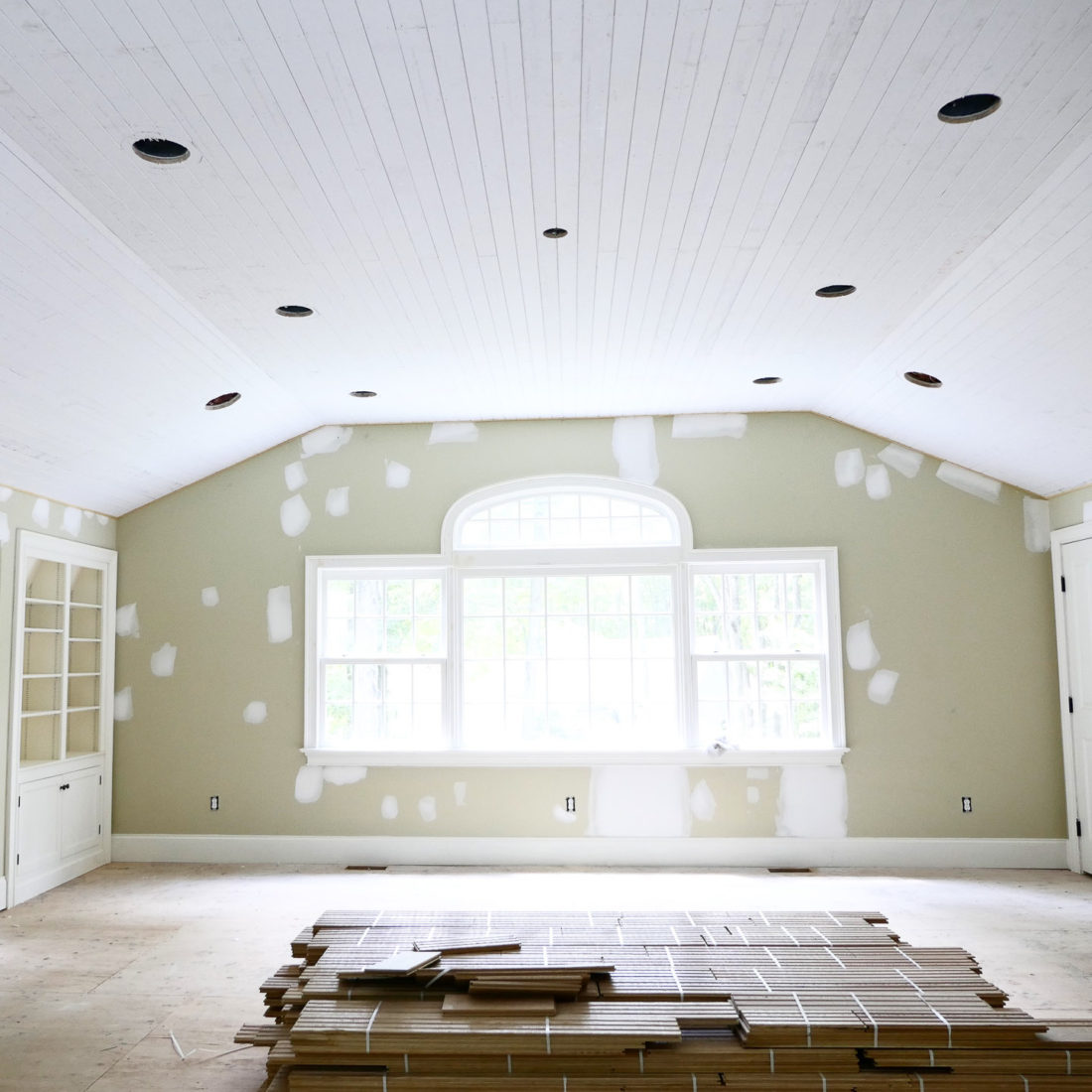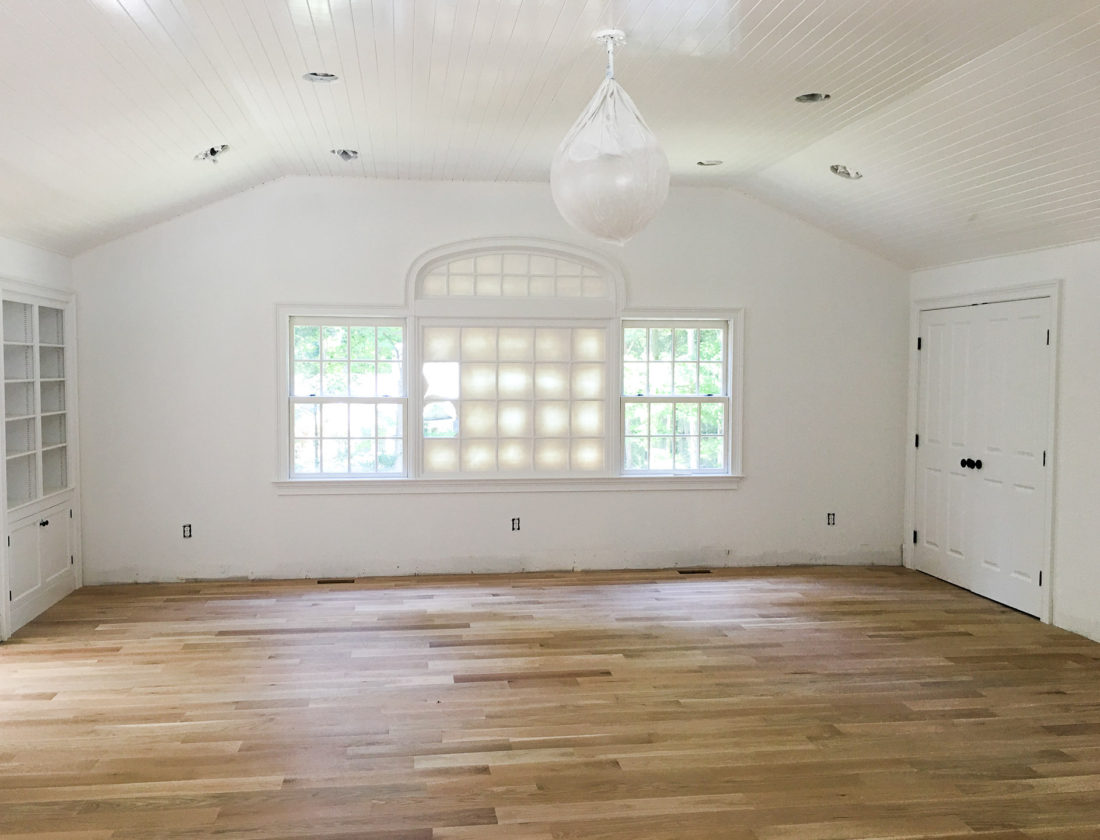 The full studio reveal, along with the reveals of all our rooms will be trickling out this Fall! Stay tuned for lots of fun Home Design and Decor content.  I can't wait to show you guys what I've been working on these past five months! I hope the lessons I've learned through my first House Renovation will help you a little through yours.  I'm so grateful to everyone who worked so hard on making our house come together so quickly and beautifully.  If you have specific questions I will do my best to answers them here– otherwise keep an eye out for specifics in the closer room-by-room looks.
Save
Save