The following content may contain affiliate links. When you click and shop the links, we receive a commission.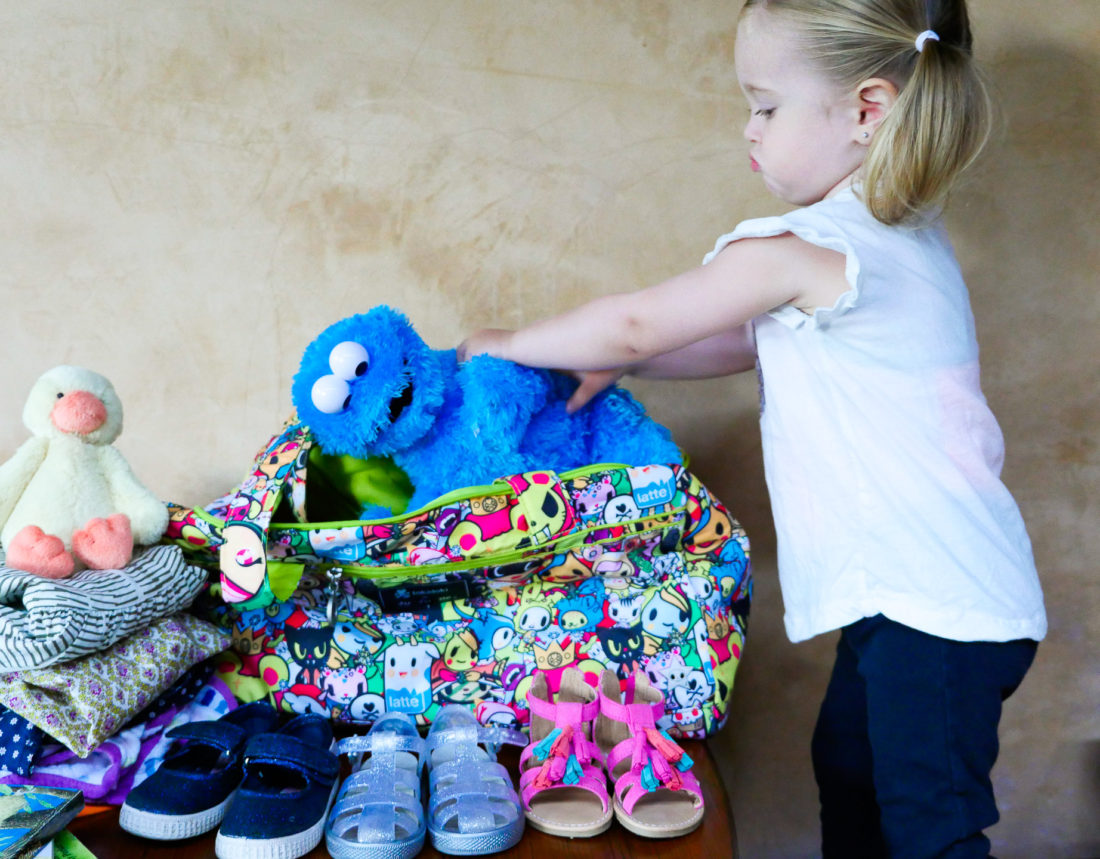 Last week, while packing Marlowe for our annual family getaway to Maine, I was reflecting upon all the lessons I've learned in the last year from packing and unpacking our daughter countless times.  We really do "get up and go" A LOT as a family– having a Daddy who's gone half the week will do that to you! I've noticed that as long as you take your packing mistakes in stride and learn from them, you really can cut down on your stress level and pack the perfect suitcase for your little one fairly easily.  And, if I've said it once I've said it a thousand times: being prepared in advance makes all the difference when it comes to enjoying an experience.  You want a vacation to really feel like one! Today I'm sharing my Tips & Tricks for packing your child's suitcase– and divulging some of my worst experiences!
I've outlined my personal packing list below.  This is what I pack Marlowe for a week long Summer trip! Read through for my favorite items,  my organization tips, little anecdotes, and a easy shopping widget to pick up some of our family faves: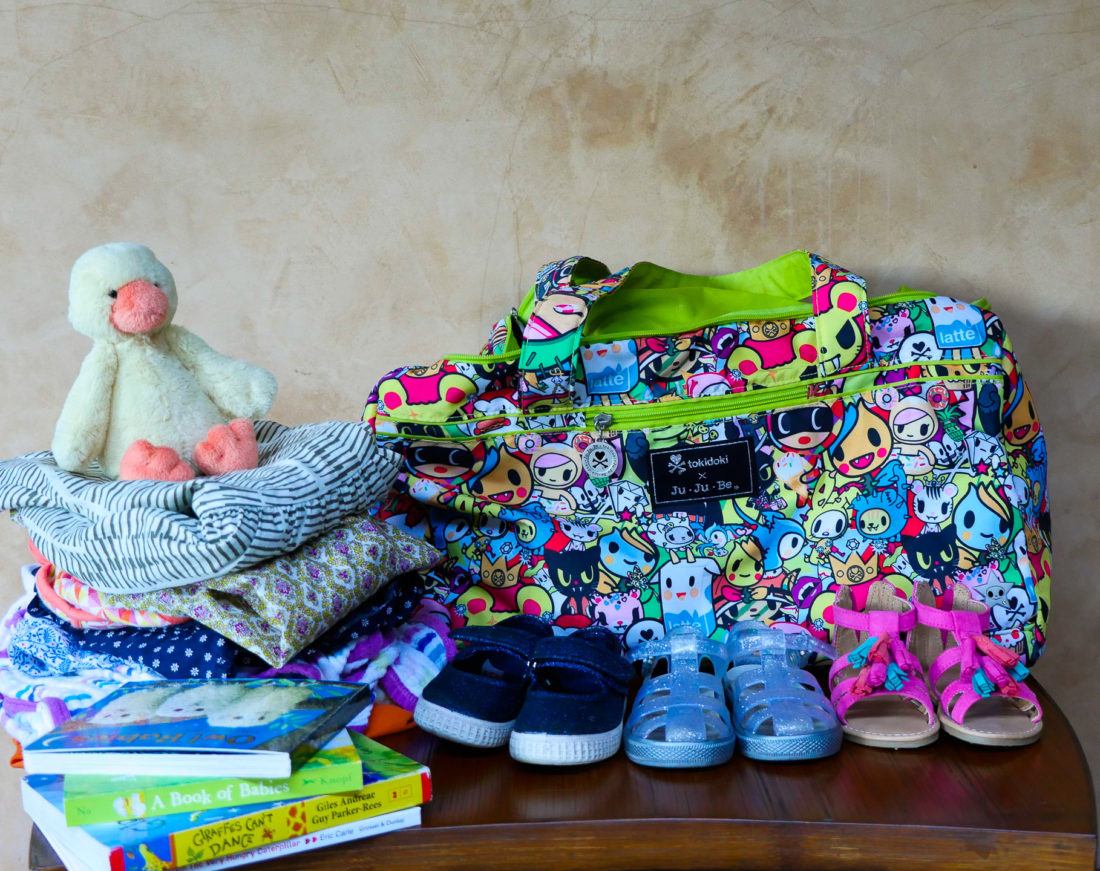 Marlowe's Suitcase…
Clothing
For a week, I pack Marlowe 9 outfits, 4 sets of Pajamas, and 3 Bathing Suits. This is considering the fact that we will have access to a laundry machine.  The times that we do not have access to a laundry machine, I pack two outfits per day that we are gone, plus 1 basic Tshirt and 1 basic pair of leggings that can pair with anything, in addition to the pajamas and bathing suits.
MAMA TIP:  Fold each outfit, and roll it up together.  Tie with a piece of ribbon, and clip any matching hair accessories on to the cloth.  This will enable you to pack them more easily, and find a clean outfit without rummaging through your child's suitcase.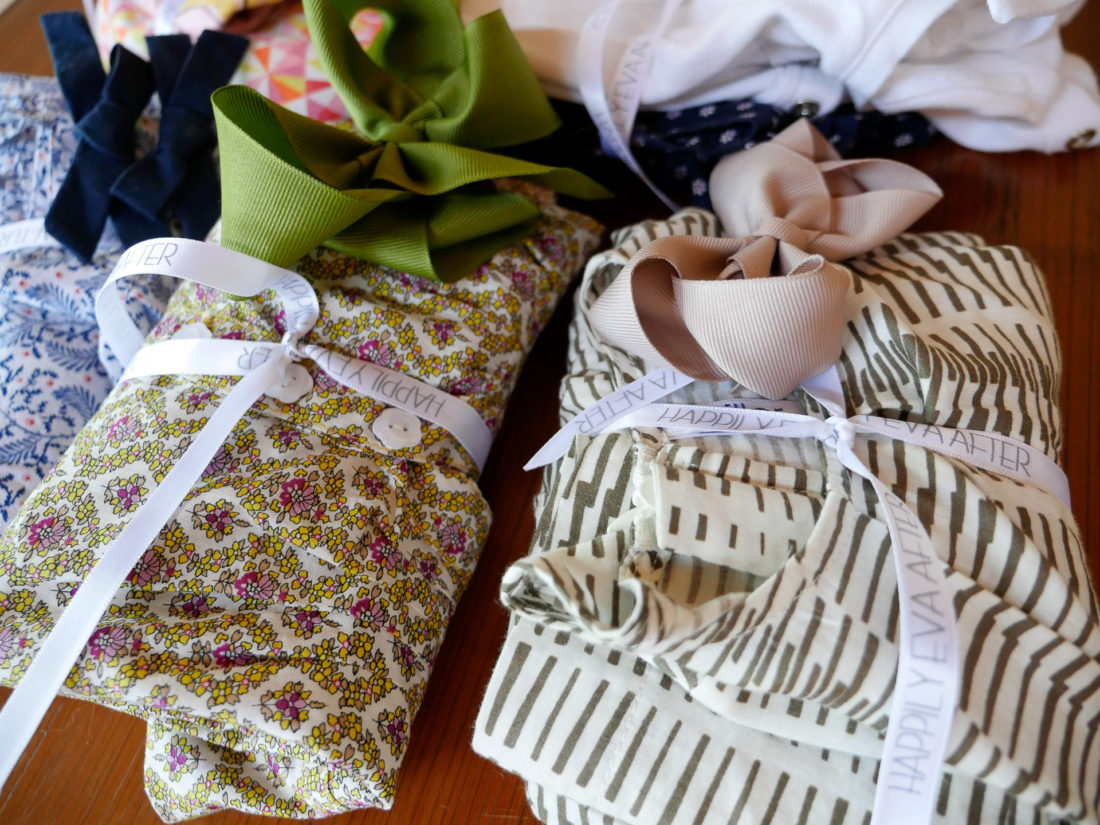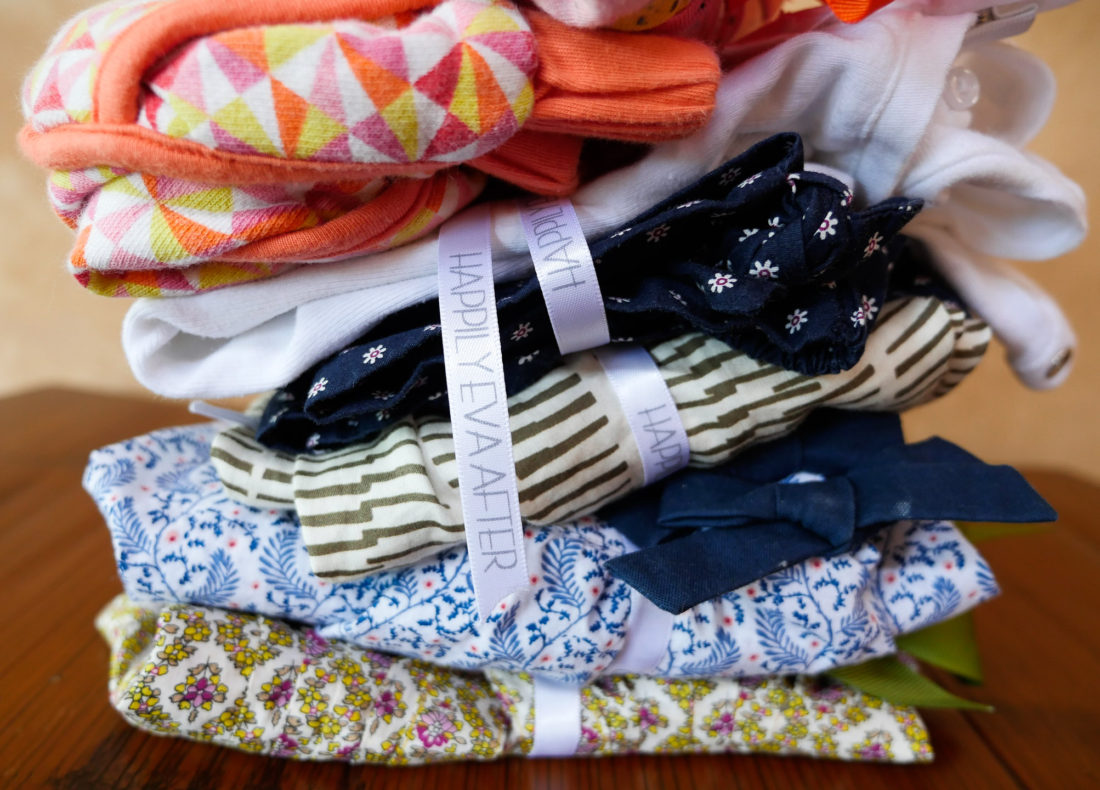 Outerwear
In the Summer months, I pack Marlowe 1 light jacket and 1 cardigan.  Usually I bring her cardigan on the plane with us in case the air conditioning is too chilly.
Shoes
Normally, I pack Marlowe 4 pairs of shoes total: 1 pair of comfy sneakers, 1 pair of cute sandals, 1 pair of Mary Janes, and 1 Water Shoe for the beach or lake.  I usually have her travel in the bulkiest pair of shoes (sneakers) for the plane flights.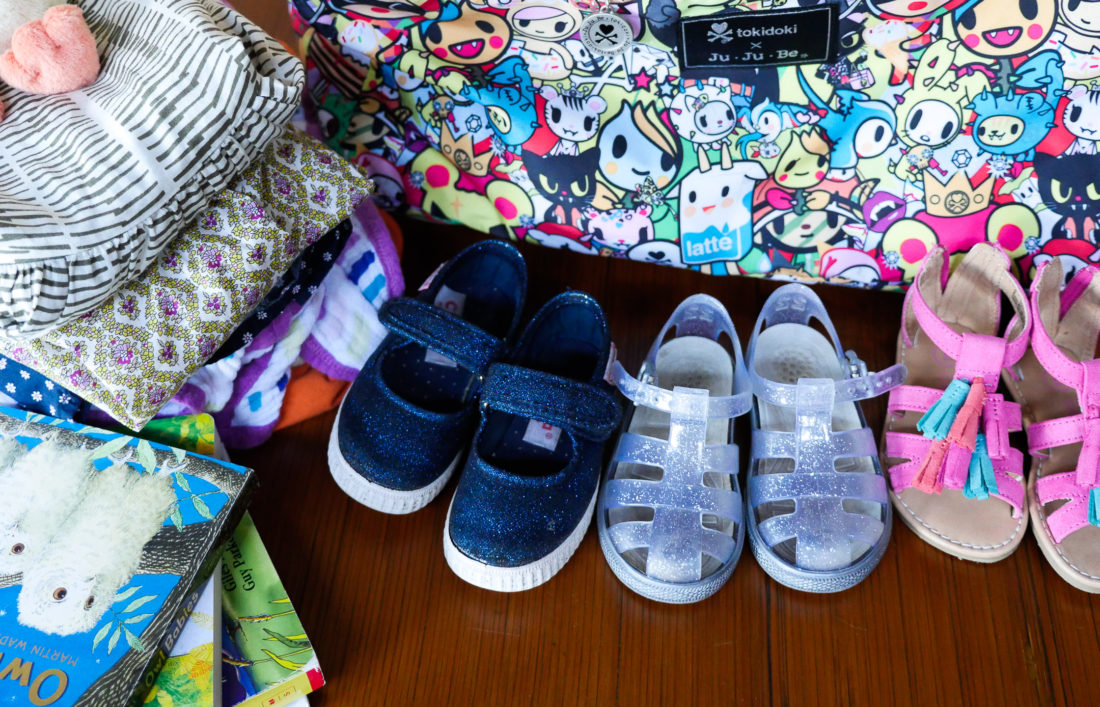 Diapering & Bathing
I pack 1 package of diapers, 1 package of swim diapers, and 1 package of wipes.  I purchase anything additional that I need while on the road.  I pack a toiletries bag just for Marlowe that has diaper ointment, a soap/shampoo, a body lotion, her hairbrush, her toothbrush + toothpaste, hair ties, and a bottle of children's sunblock
Loveys
I always, always, always pack at least 3 Loveys.  One with us on the plane (this becomes the "street Lovey" and is the one that gets dragged around during the day, and at least two additional.  One for night time that remains in her travel crib (and stays clean), and one backup. I learned this the hard way…
NIGHTMARE TALE: Not too long ago, Marlowe got a violent stomach bug while on a trip to visit her grandparents in South Carolina.  She puked all over both of her Loveys within half an hour, and was absolutely inconsolable and miserable while the Loveys went through the washer and dryer for the next 90 minutes.  It took years off of my life.  Now I always pack at least three in case of emergency!
Toys
When we travel, I always pack 5-7 Toys and 5 books.  The toys include a stuffed animal, a doll, a car or truck, and several plastic animal figurines.  I like these types of toys because they inspire creative play and can be used in different games for hours on end.  I can't even tell you how many times Marlowe and I have built forts and homes in Hotel Rooms for her animal friends!
MAMA TIP:  Try to select toys and books that your child hasn't played with or seen in a while.  It's amazing how absence really does make the heart grow fonder when it comes to toys!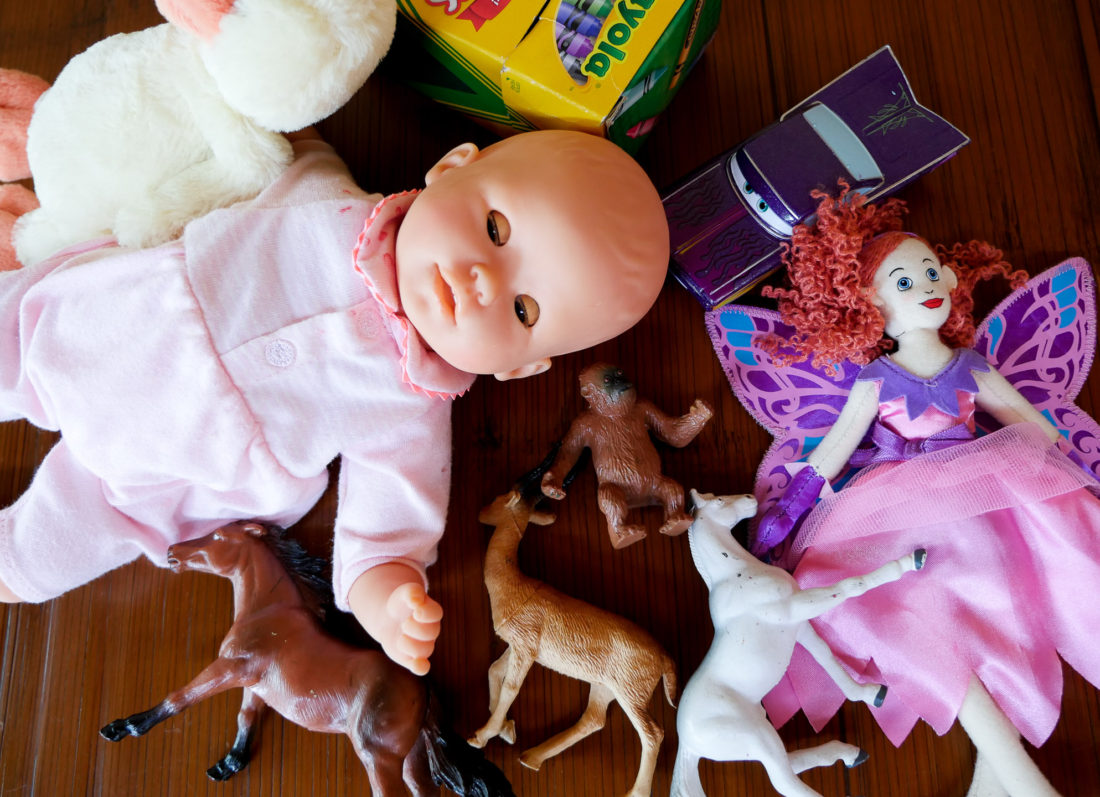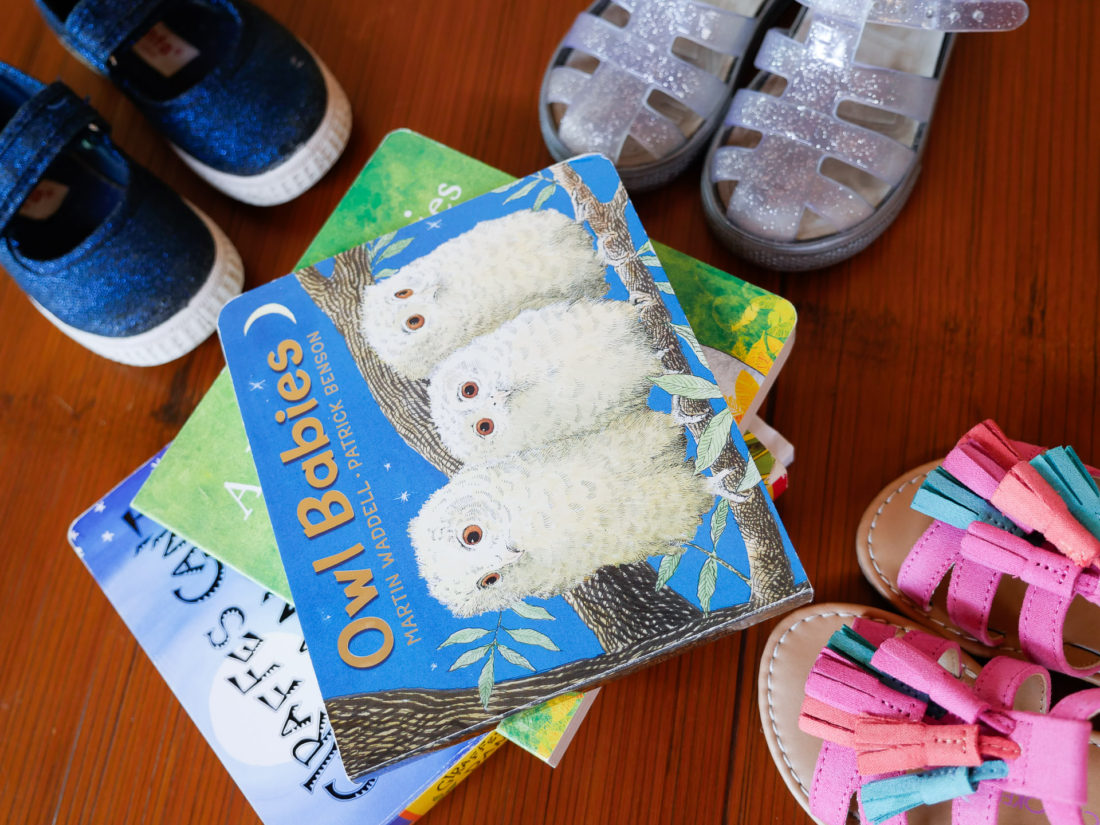 First Aid
I've learned to pack a little first aid kit when we travel with Marlowe.   You really never know when something will come up and you won't have access to a medicine or product you need to help your child be more comfortable! Why do the worst fevers and illnesses always strike at night?! I put the kit in a ziploc bag so I can see all of the items well and access them easily.  Here's what I keep in our Travel First Aid Kit: The NoseFrida, Infant Tylenol, Infant Benadryl, Homeopathic Cold Remedy, Saline Drops, Band aids, Neosporin, Lavender Essential Oil, On Guard Essential Oil, Tea Tree Essential oil, Thermometer.
NIGHTMARE TALE: When Marlowe was only a year and a half, we were traveling with Kyle on the road in the middle of winter, and she came down with croup.  Not only did we not know any doctors in the town, but it was the middle of the night and we were staying at a hotel in a snowstorm.  We ended up having to take an Uber at midnight to a 24 hour CVS very far away to find medicine to make her more comfortable until the morning when we were able to get to urgent care.  Now I travel with the essentials!
Ziplock Bags
I always pack 3 or 4 gallon sized Ziplock bags when we travel.  You never know what they'll come in handy for, and are great for wet or dirty clothes that you need to bring home.  Kids always love taking that extra dip in the Hotel pool right before you pack up to leave…
Bed Time Gear
The bed time routine is definitely the most important in our house.  It's what keeps Lowie sleeping well, keeps her parents sane, and keeps our trips and vacations feeling "vacation-y".  I ALWAYS make sure we have everything we need to recreate her normal nighttime experience while on the road.  Do it or suffer the consequences! Ha! For Marlowe's bed time routine, I pack:
1 Travel Crib (she isn't allowed to sleep in bed with us ever), 1 Sound Machine, 2 Sleep Sacks (one backup), 1 Mermaid Doll, 1 Baby Monitor, 1 Bottle. We use the baby monitor if we are at a house or someplace where her sleeping area is out of earshot.  It makes me able to relax more knowing I can hear her if she needs me, even if I'm in a different part of the house. We bring the bottle because Marlowe still has warm milk in a bottle at night before bed.  I'm planning on transitioning out of this when she turns two…which should be interesting… (YIKES)
NIGHTMARE TALE: We were traveling six or seven months ago, and I forgot to pack a bottle.  Cut to 9pm, my kid is still not asleep and freaking out because she didn't have her bottle before bed.  The next day I set out to try to find a bottle but the only ones available had the infant flow nipples and frustrated her even more.  All in all a really terrible few nights of sleep for all of us! Yahtzee!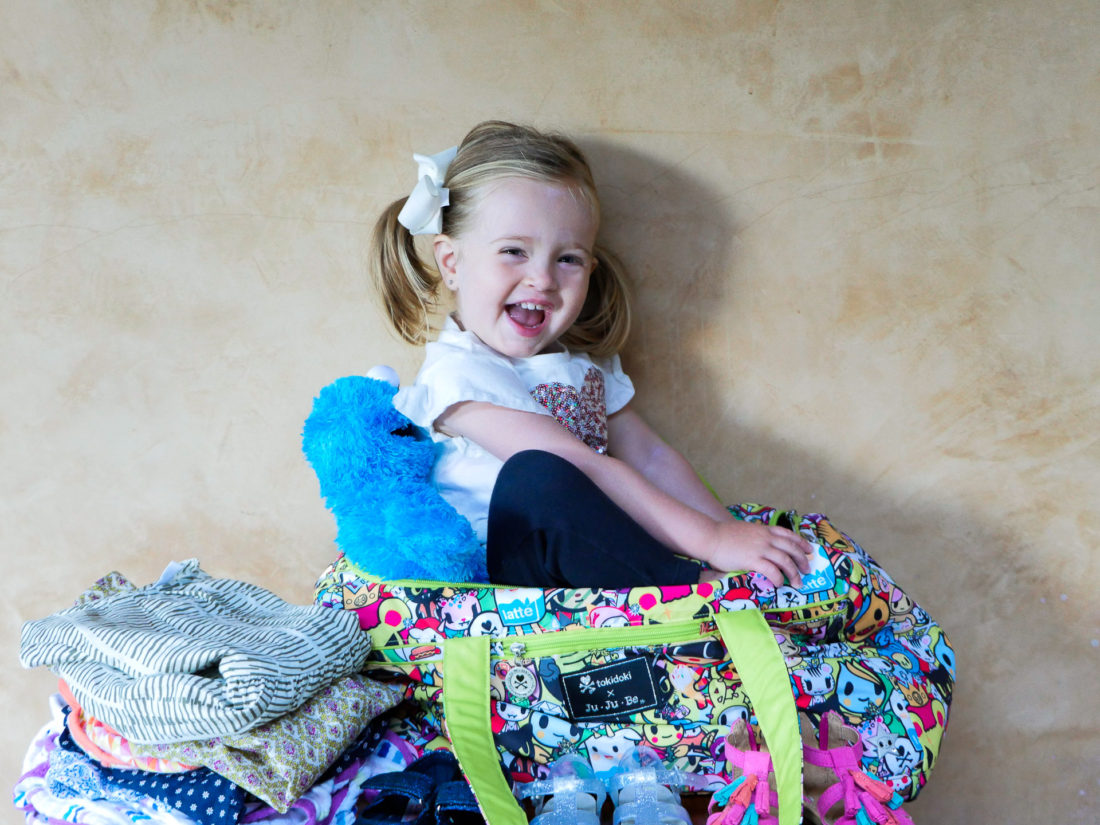 Stow Essentials In A Carry-On
I have also learned this the hard way when our suitcase has gotten lost with all of my child's perfectly packed and organized belongings.  Many thanks to Target for saving the day that day (about a thousand dollars later…) Now I bring a carry-on on the plane with us that has 24 hours worth of essentials.
1 swimsuit
1 change of clothes
1 set of pajamas
1 sleepsack
1 lovey
cribsheet
1 bottle
6 extra diapers
Of course I always remember to pack my adorable toddler as well.  She's a little bulky and rambunctious, but she really does make our trips that much more enjoyable…most of the time 😉
I hope these tips were helpful to you! Let me know any gems you might have about packing kids for a trip in the comments below!!
Shop the suitcase…

Save
Save
Save