The following content may contain affiliate links. When you click and shop the links, we receive a commission.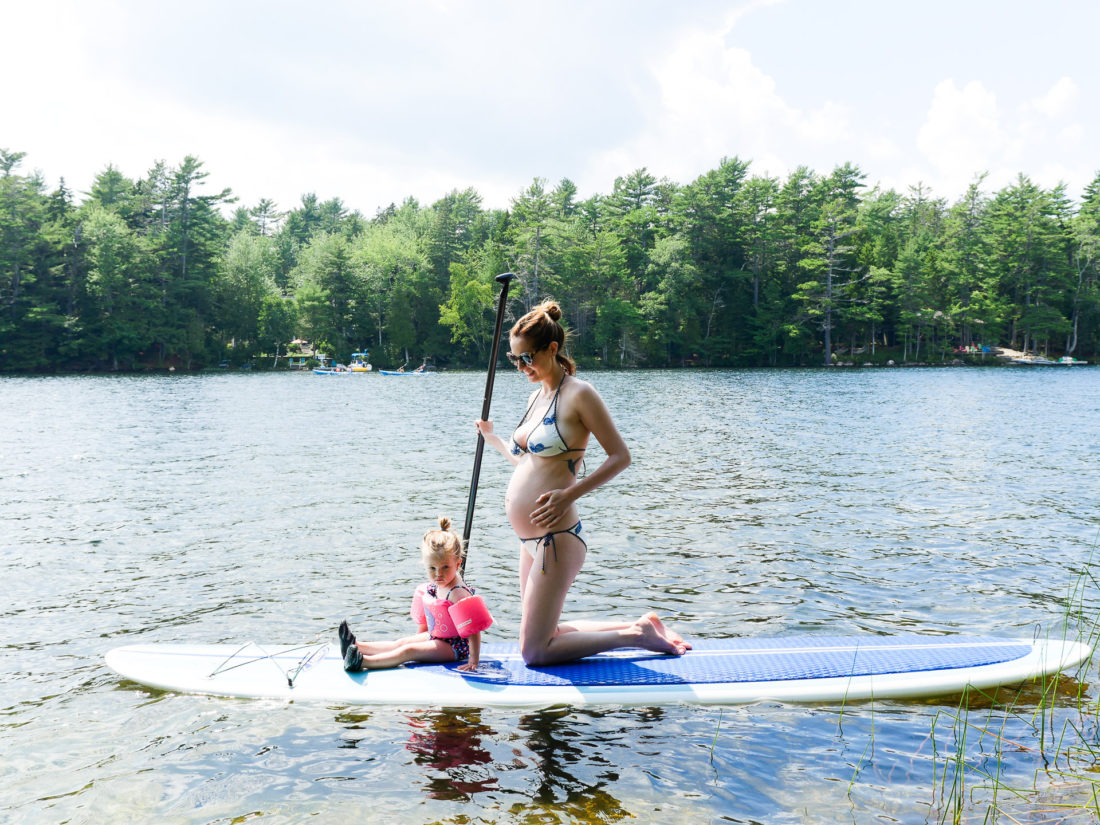 Welcome to Part 2 of our Summer trip to Bar Harbor, ME! The second half of this trip was all about getting out and exploring.  I was a little hesitant to get on the paddle board while pregnant, but it ended up being my absolute favorite part of our trip! Our Lake house is right on the water, and so in the early mornings while Marlowe was eating breakfast with Daddy I would take the paddle board out on the perfectly still lake and get a half an hour to myself to get the blood pumping and my arms working! It's such a great form of exercise– when you stand up you can get some great core and arm work, and if you ever feel too tired you can just kneel and work those arms.  I loved it! I would paddle out to the middle of the lake and lay down on the board and just relax for a few moments.  I can't stress enough how much this stillness helped me recharge my batteries at the beginning of the day.  Of course Ms. Marlowe saw Mama doing something and wanted to join me! I didn't think she would sit still or last on the front of my board, but she could have done it for hours.  She was so well behaved out on the water! The apple doesn't fall far from the tree, I guess…
Our other favorite part of the trip was eating the MOST delicious lobsters! We had lobster rolls and steamed lobsters galore.  Marlowe wouldn't try the lobster part, but she loved all the sides that come with a lobster dinner, especially the corn! She wouldn't ever eat corn before this trip, but now she's obsessed.  I guess summer corn really is that much yummier.  I just can't get enough of Maine.  The beauty of the surroundings, the crisp and clean waters, the healthy mountain air, and the incredible food.  You leave feeling totally scrubbed clean, which I REALLY needed.  I can't wait to visit again next summer with our son in tow, and an even bigger "Big Girl"!  What a comparison those photos will be to these!
Save