The following content may contain affiliate links. When you click and shop the links, we receive a commission.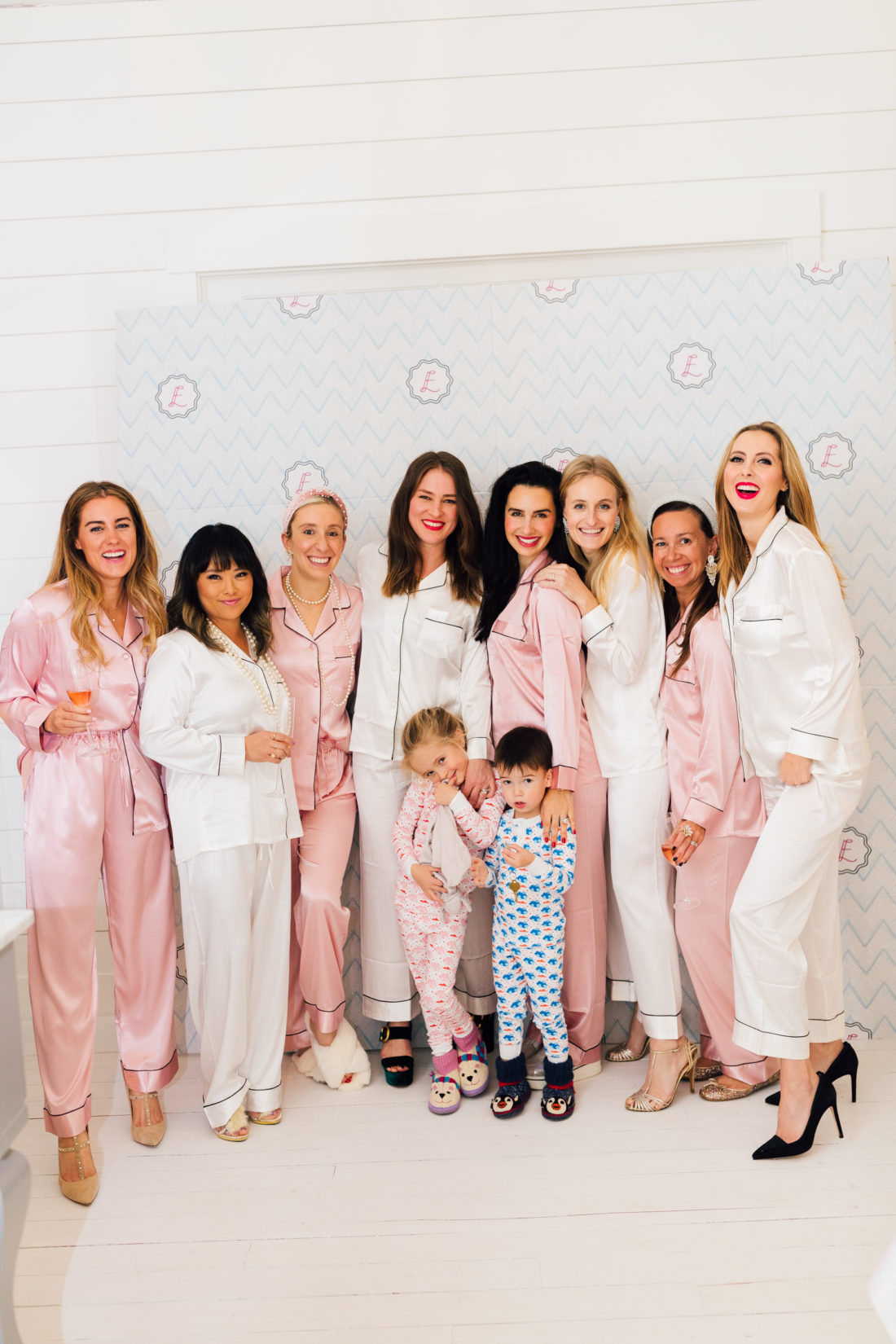 *Many thanks to Grandin Road for sending me the most incredible Holiday decor for the HEA Studio, and to Fjord Fish Market for supplying such a lush spread! As always, the opinions expressed below are entirely my own.
A month ago I was having a really tough time. I decided that some fun Girl Time was exactly what I needed, and with the holidays in full swing, I wanted to spend some luxurious time with my girls in a Christmas wonderland– a pastel Christmas wonderland to be exact! Every good party needs an activity– I love White Elephant parties this time of year and thought it would be the perfect excuse to do a cute gift exchange. I had a really femme, really "Extra" vision for this White Elephant Pajama Party, and I am so happy with how it turned out.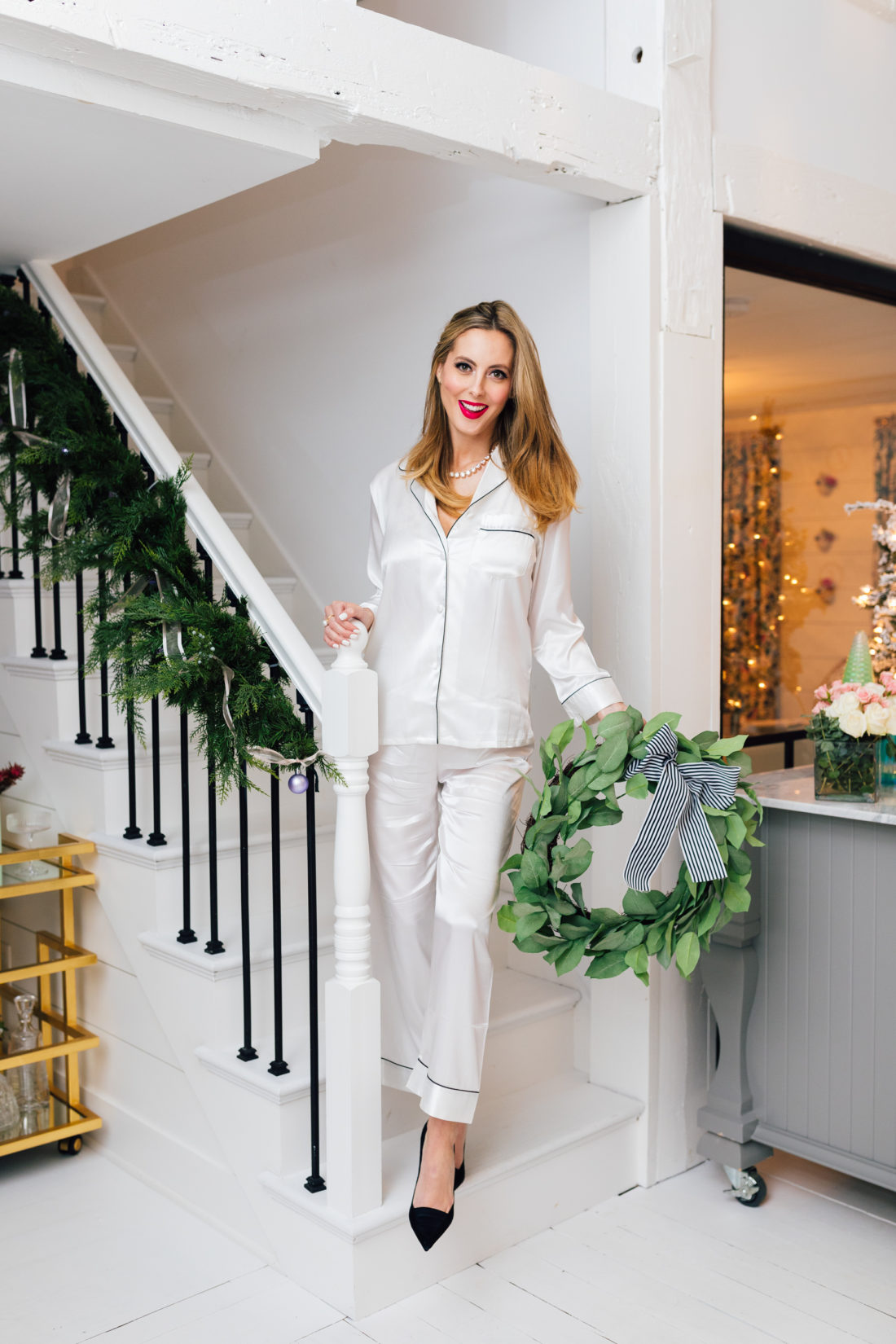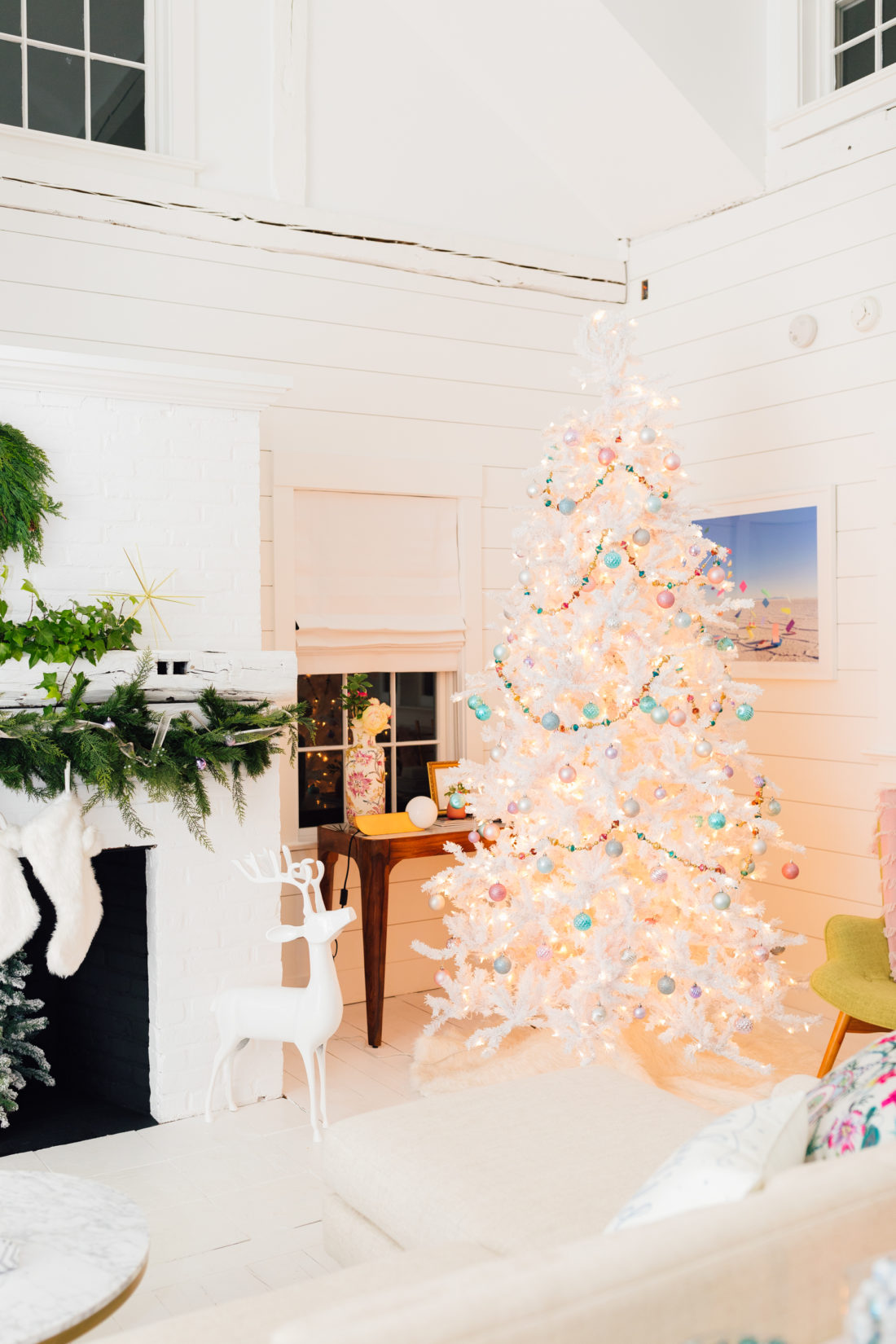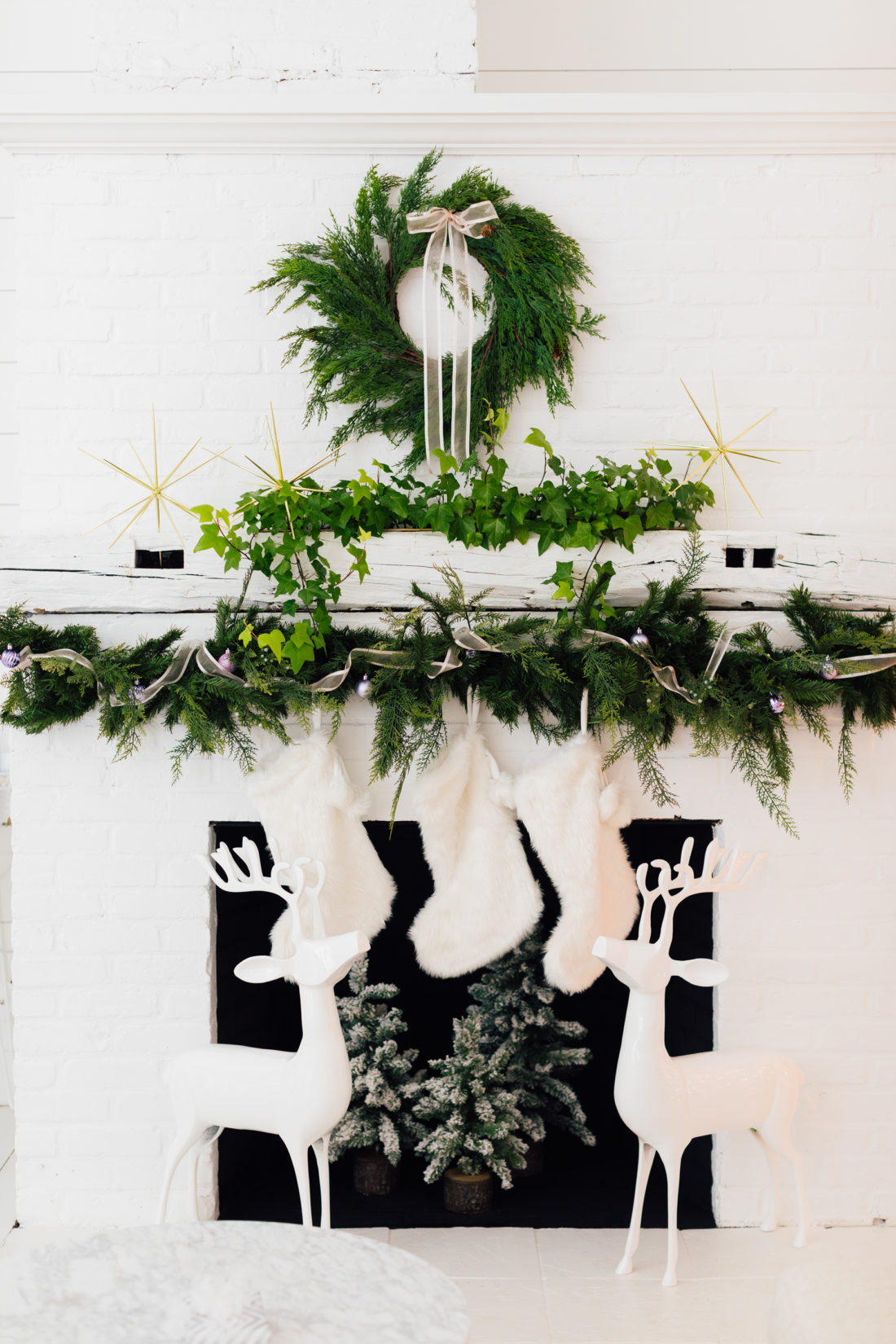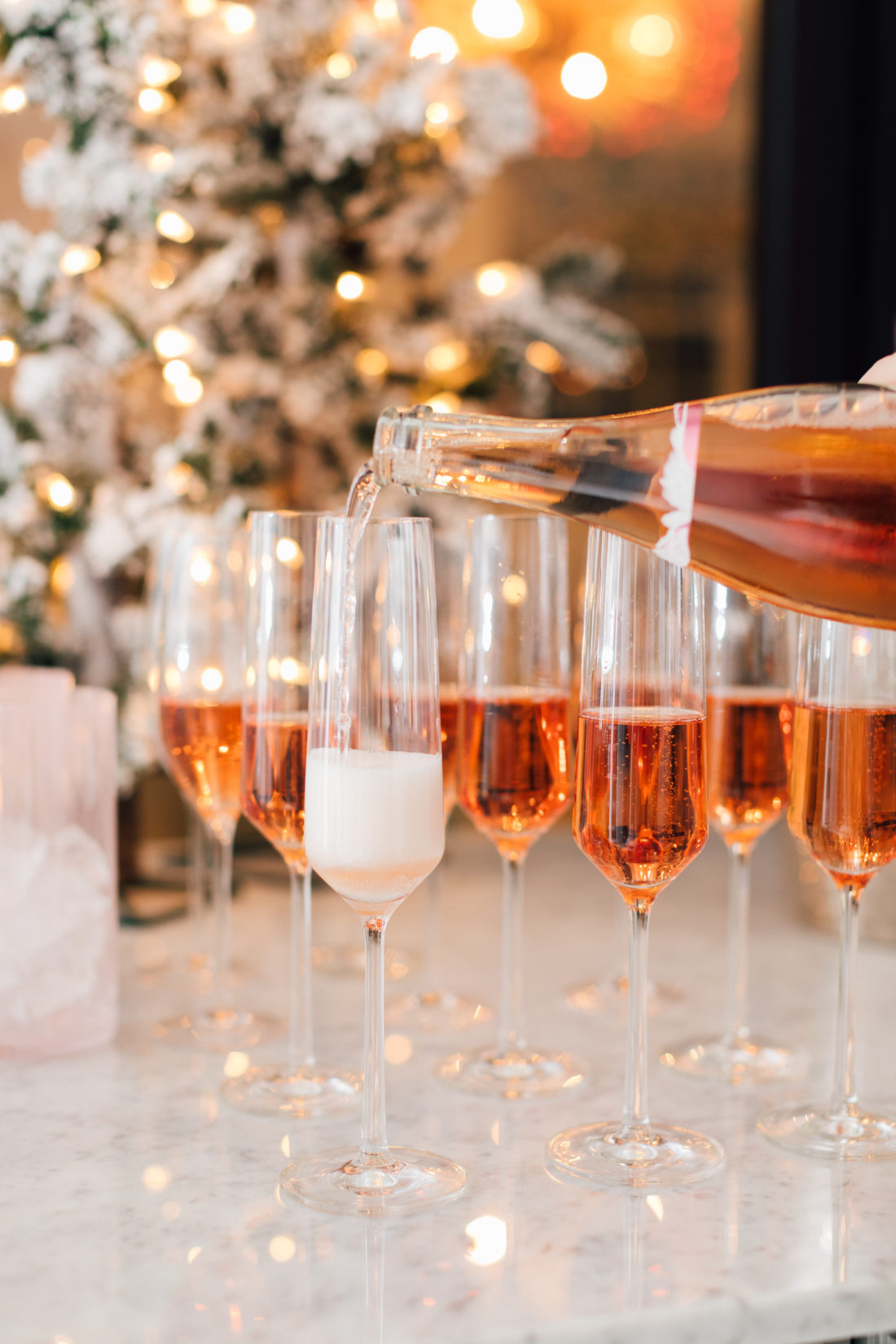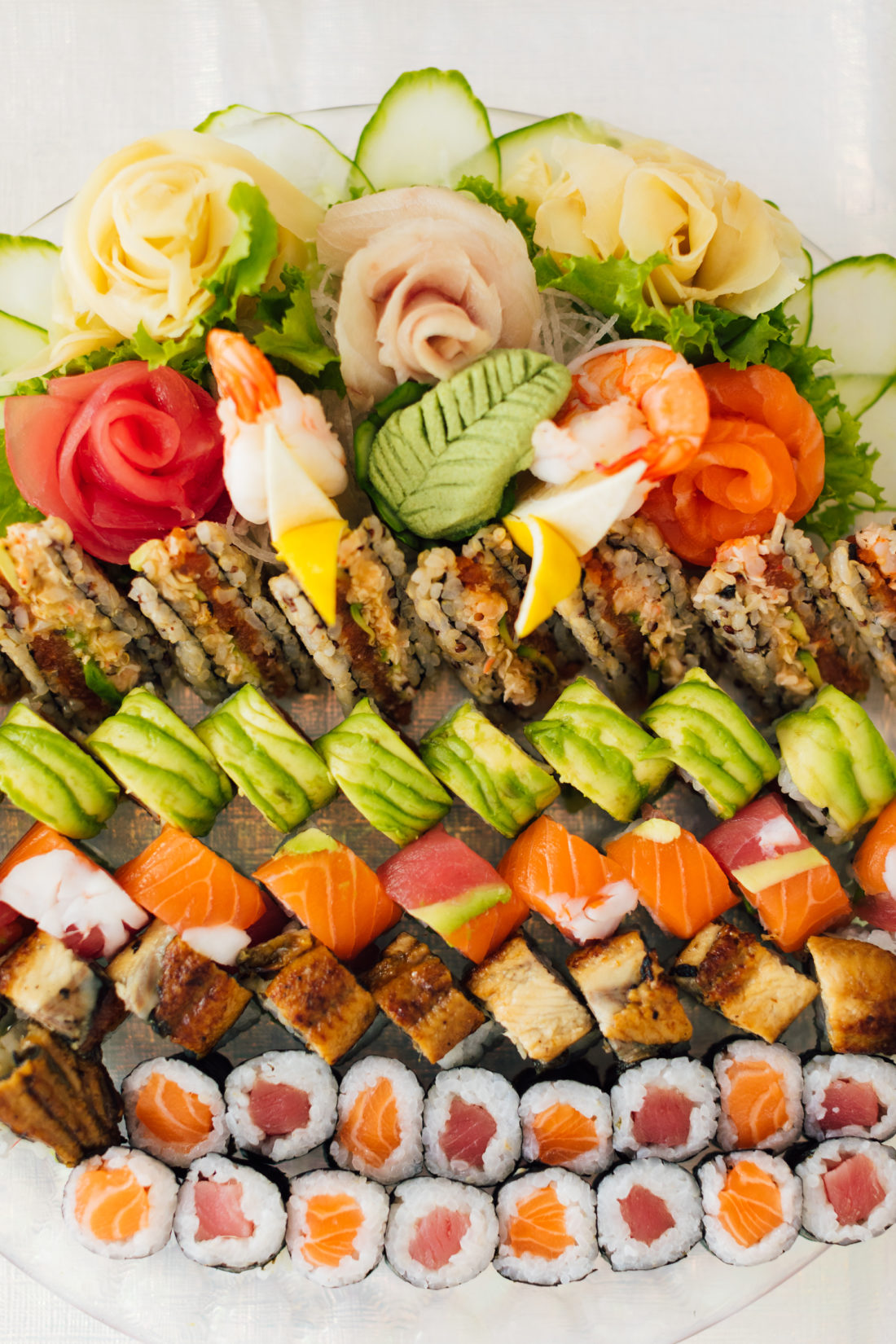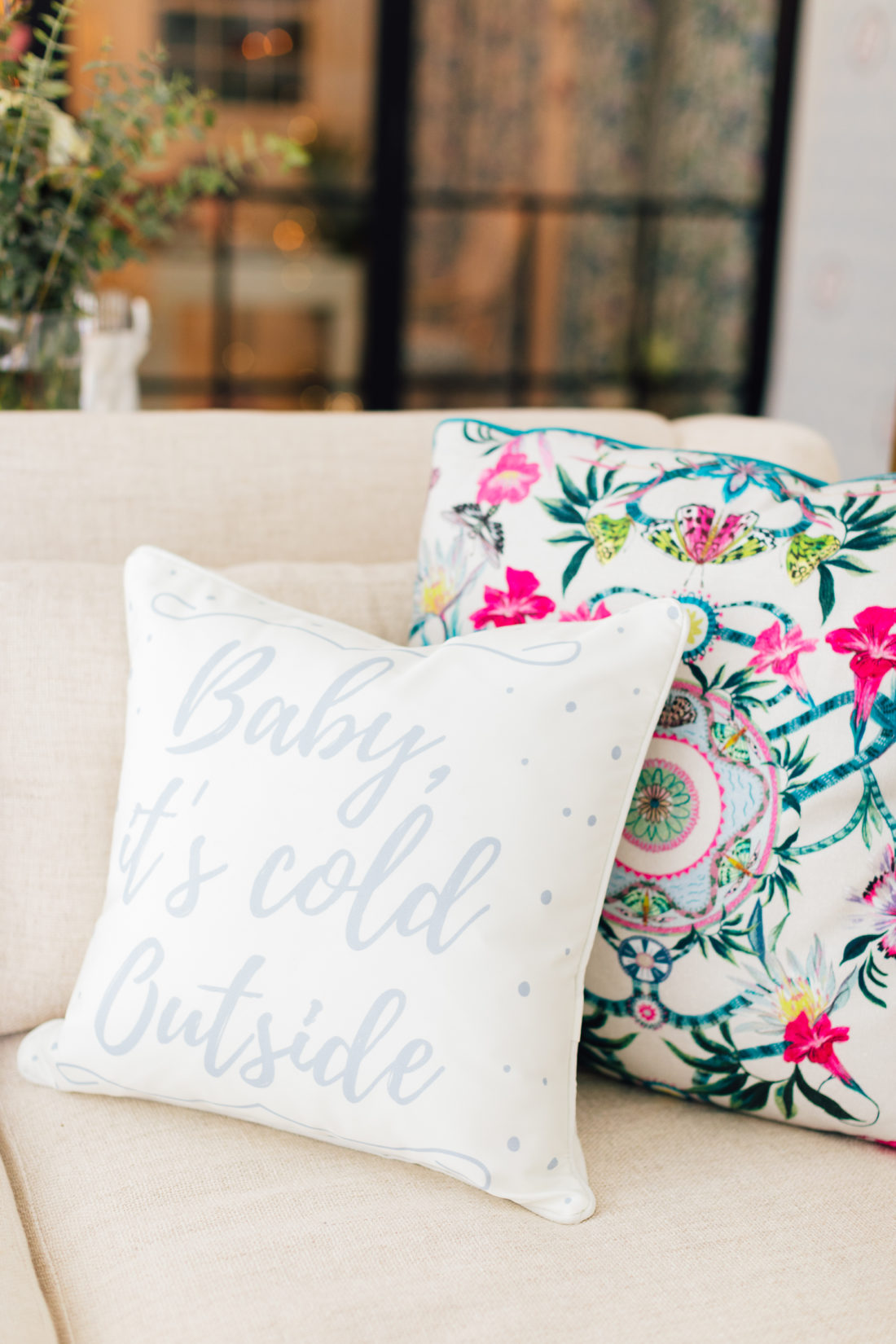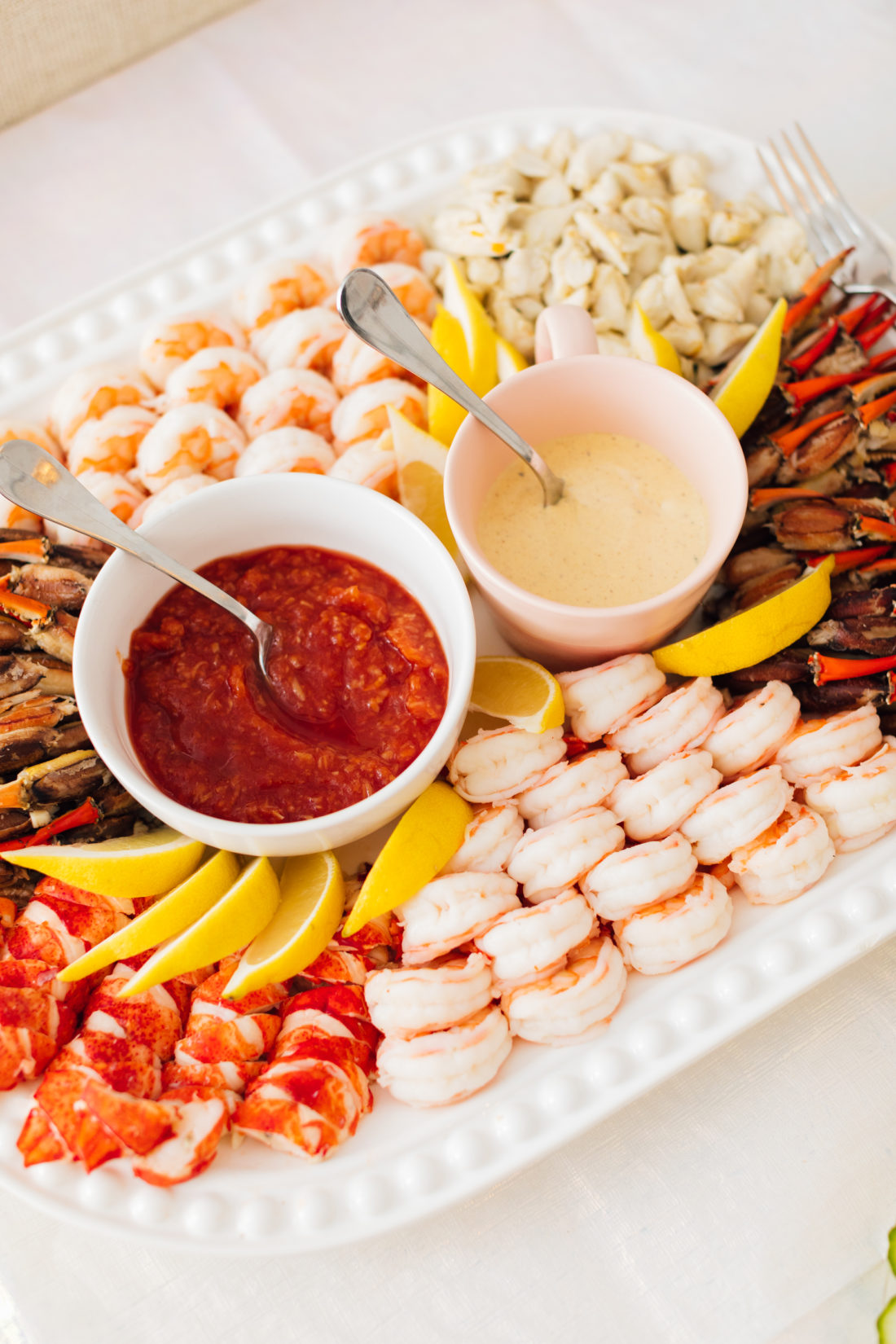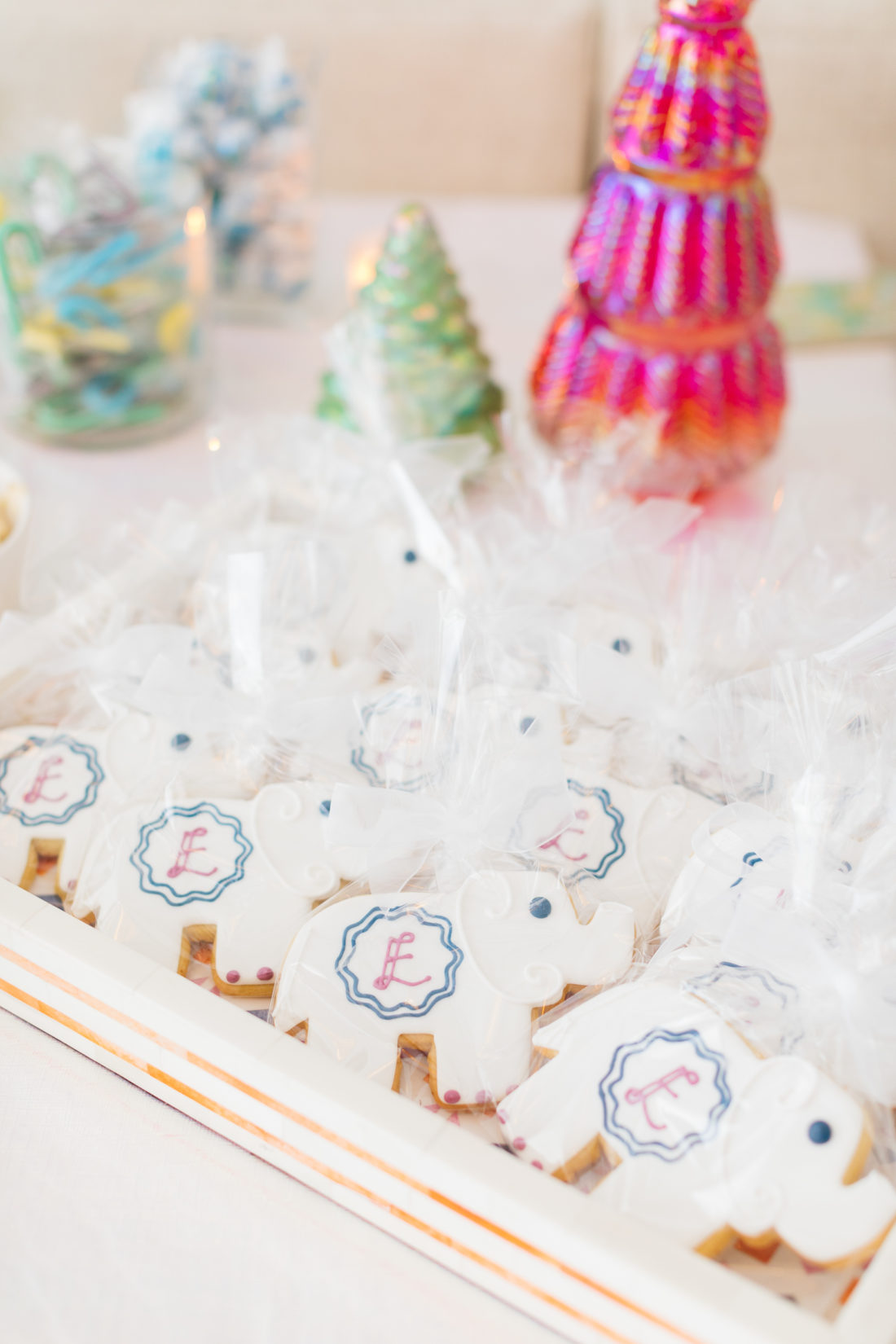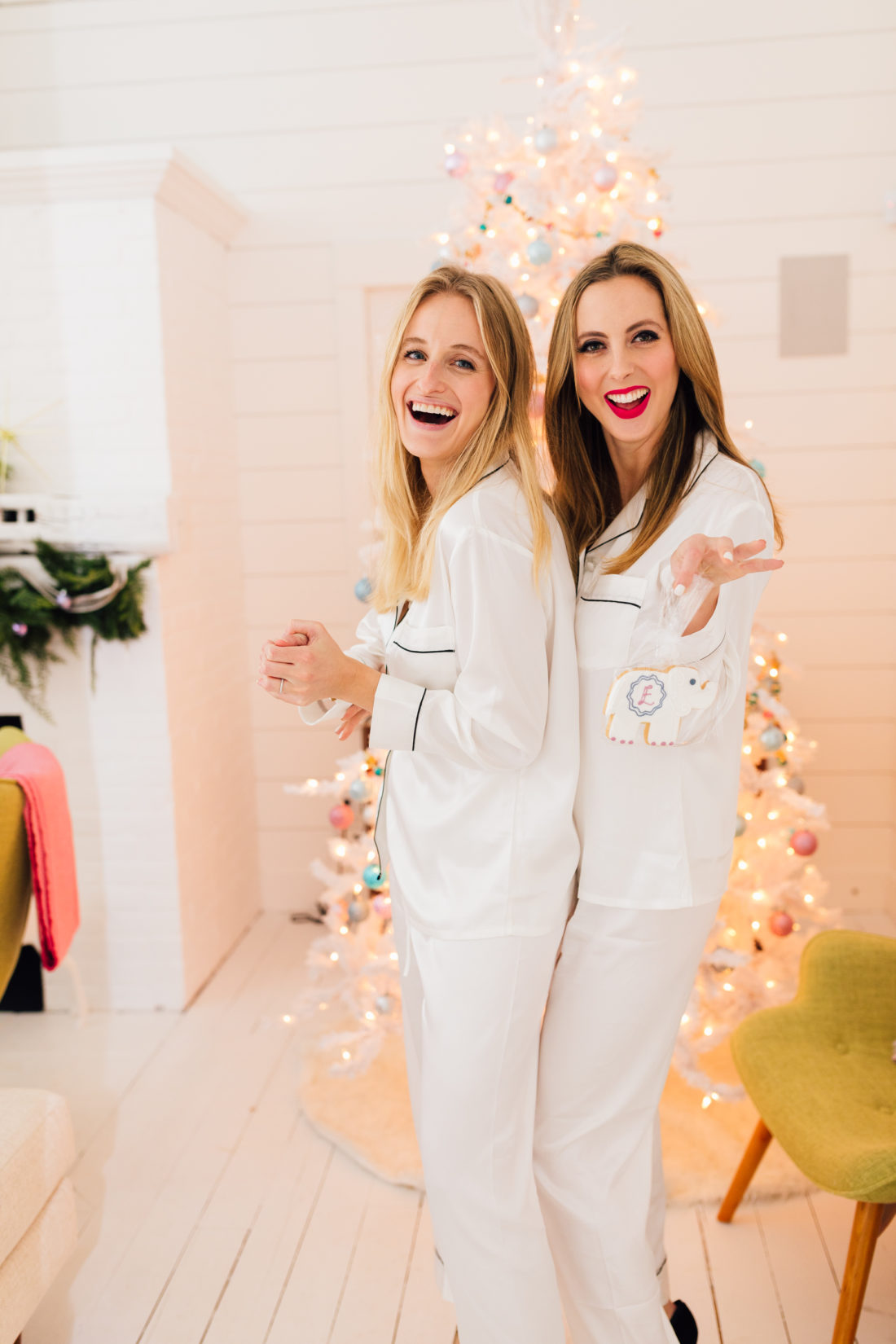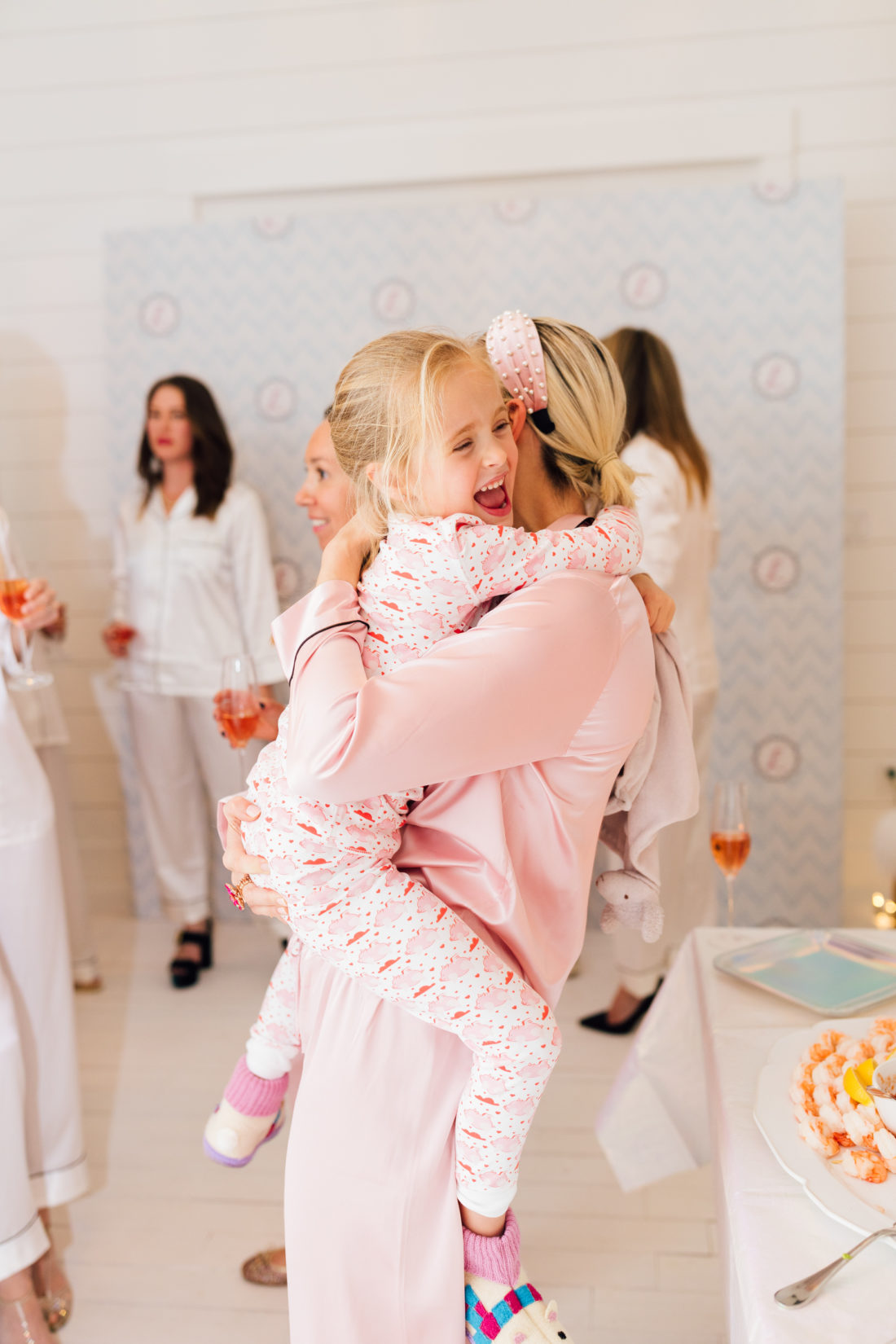 The pastel winter wonderland was on POINT! As you guys know, I always turn to Grandin Road for holiday decor, and their pastel selection of glam vibes for Christmas was so incredible this year. Everything goes so well in my studio, and especially for this theme! I'm obsessed with the White Iced Fir Tree and the Cast-aluminum Standing Deer! Also, the White Faux Fur Stockings! I can't wait to use these decorations for years to come!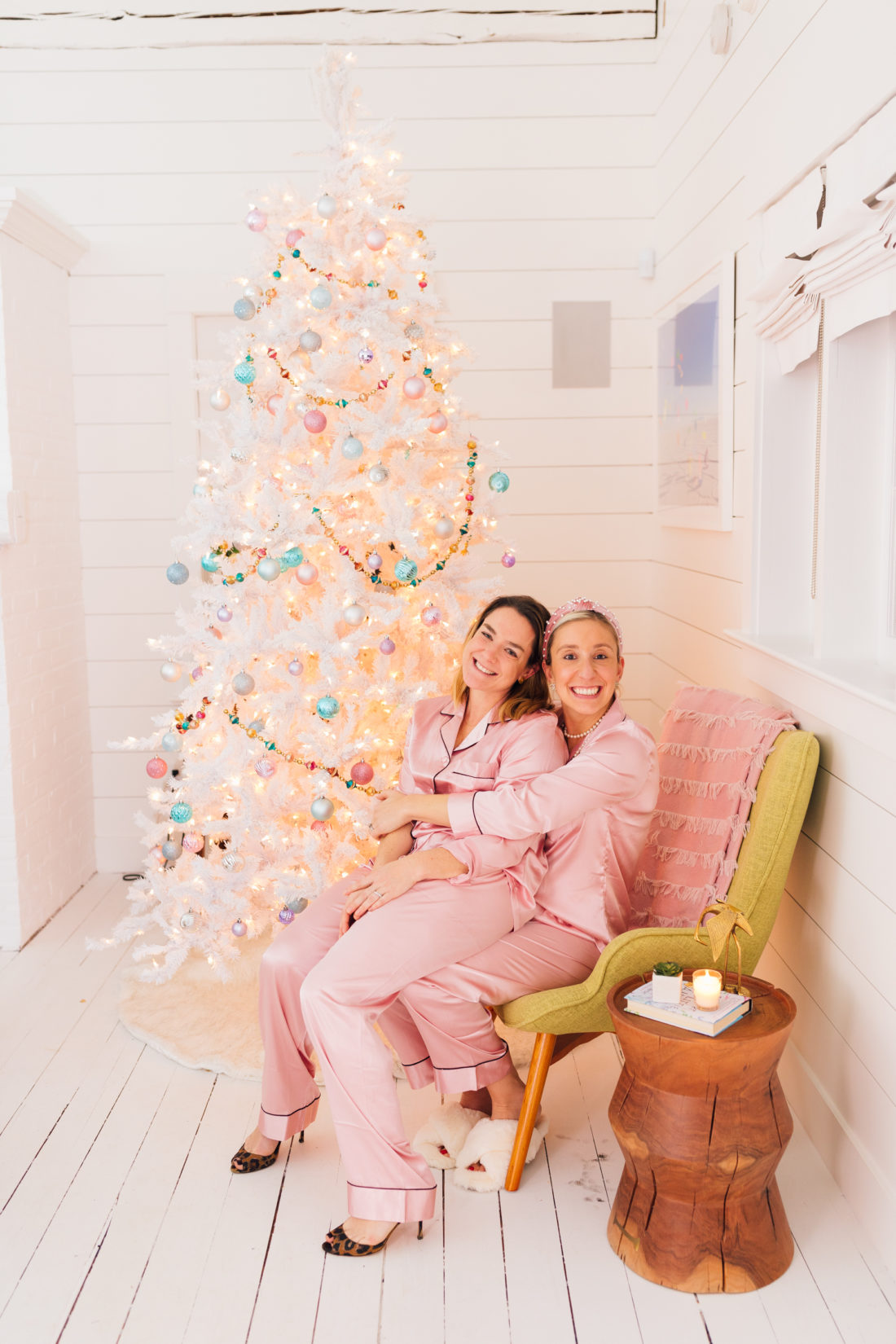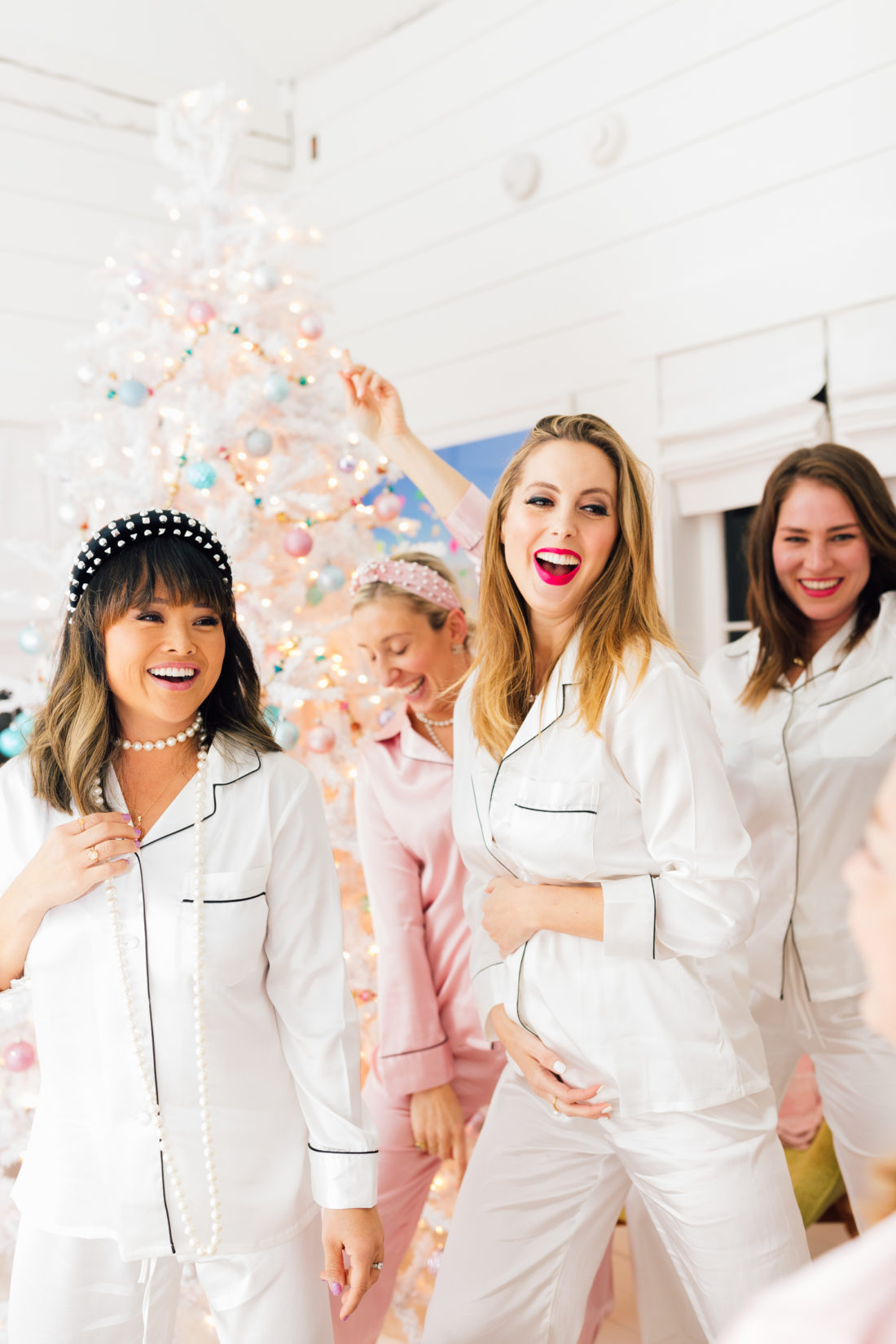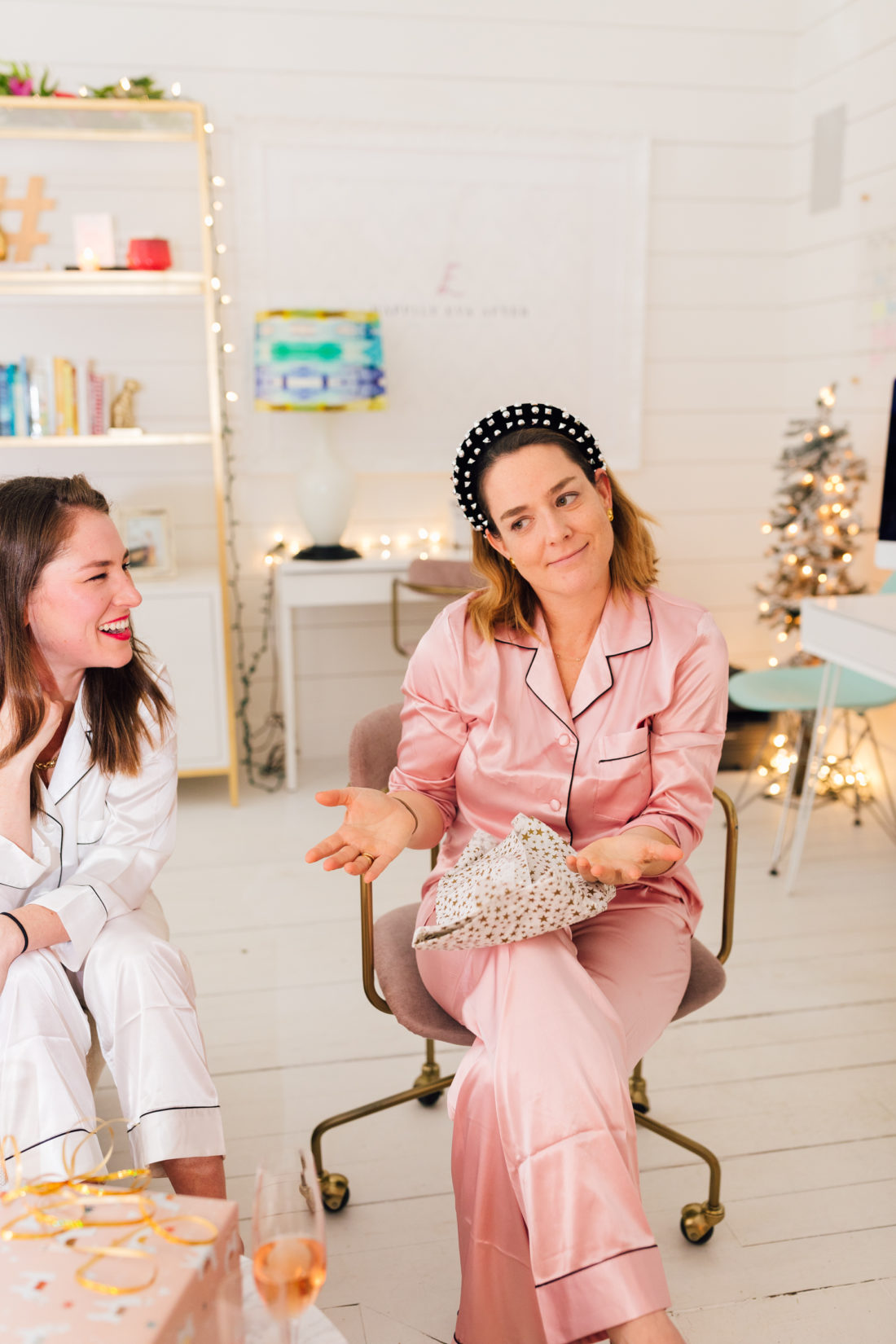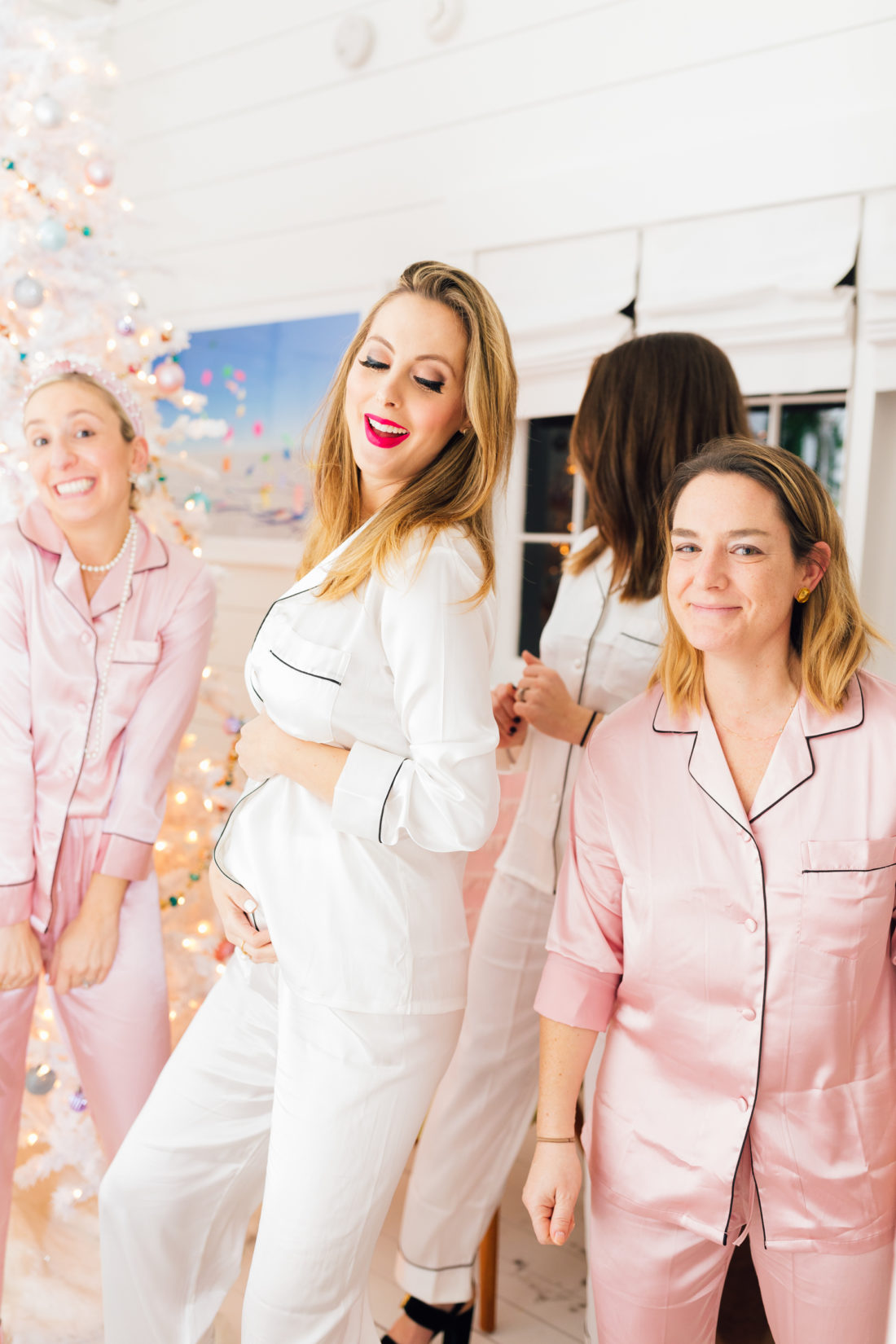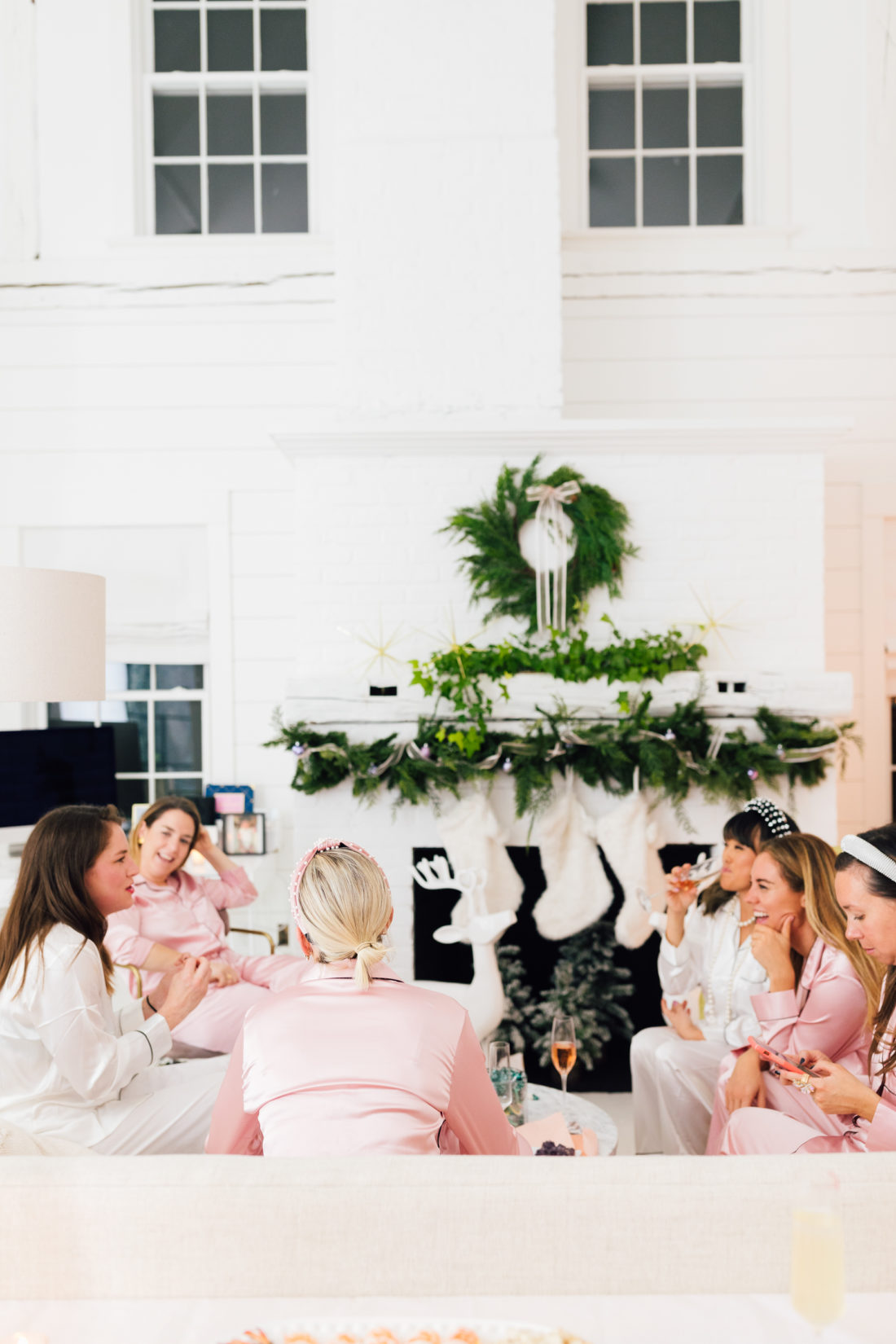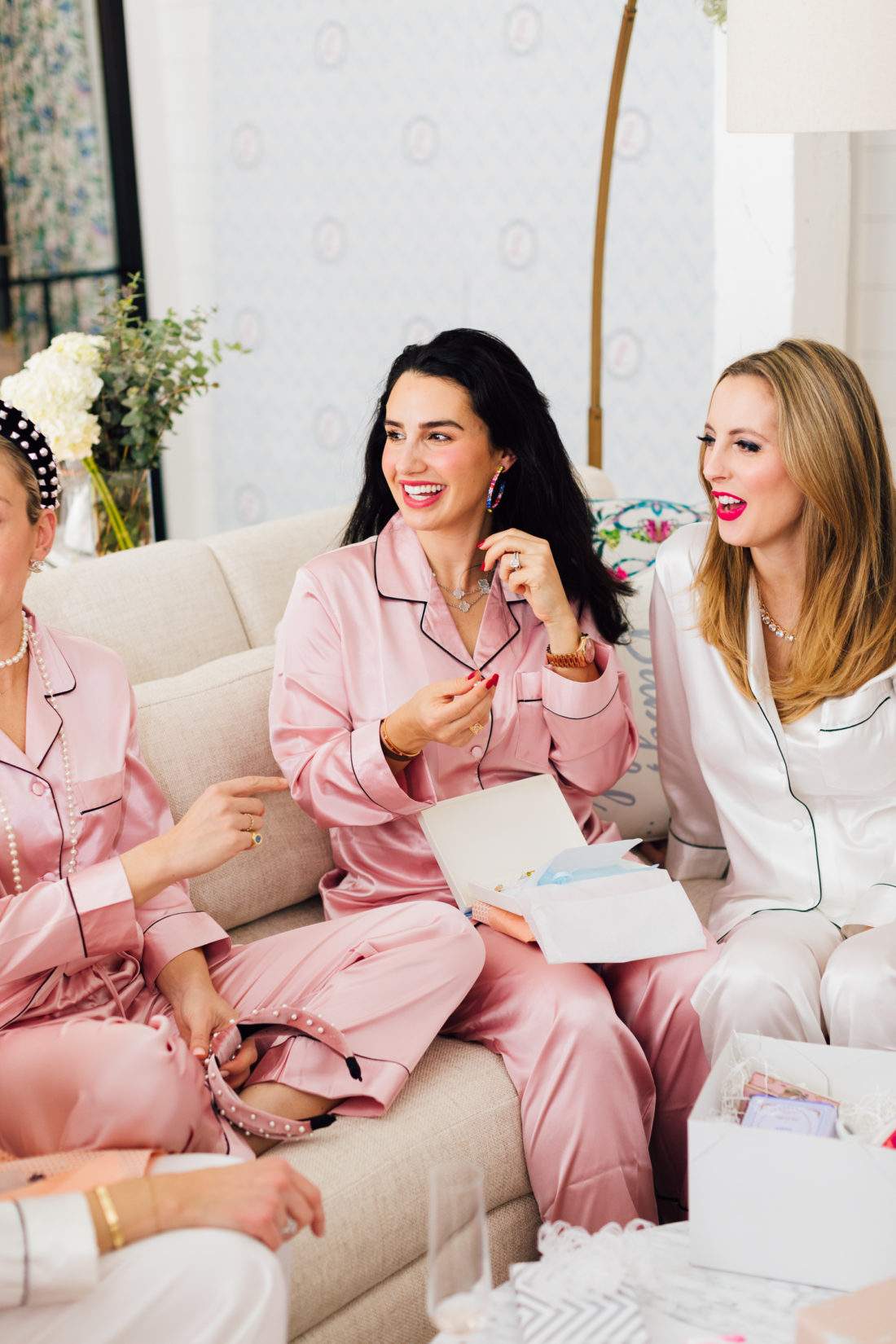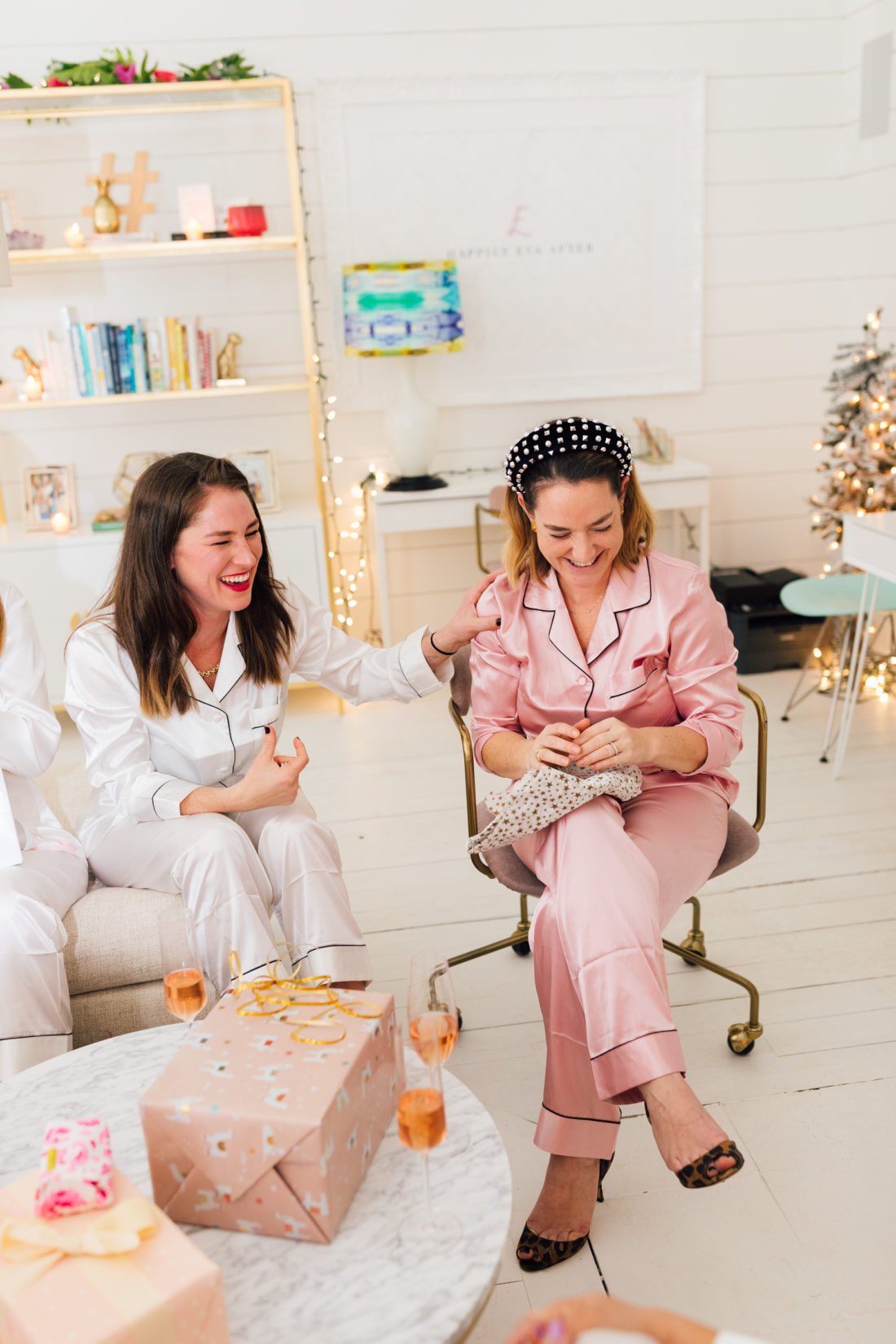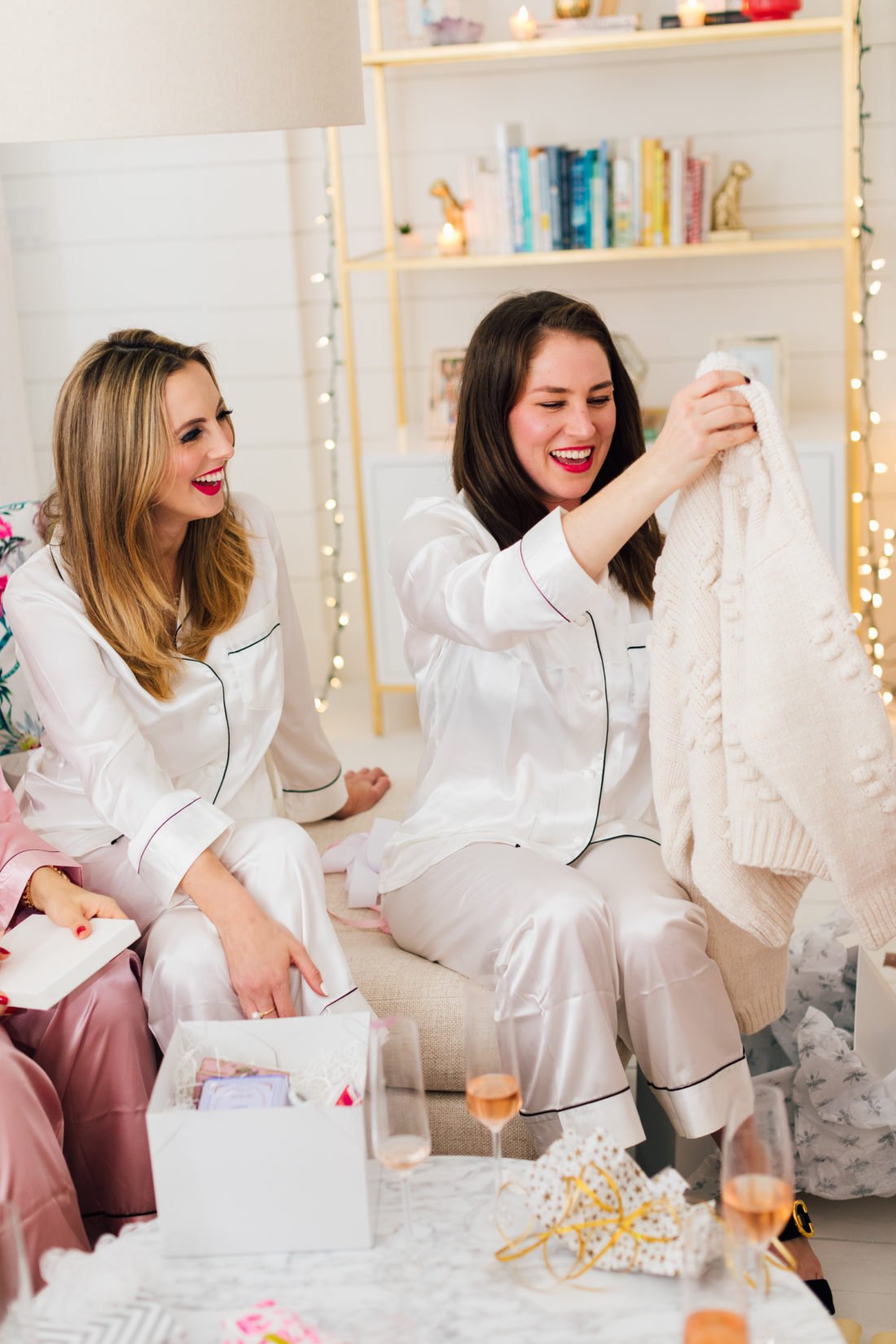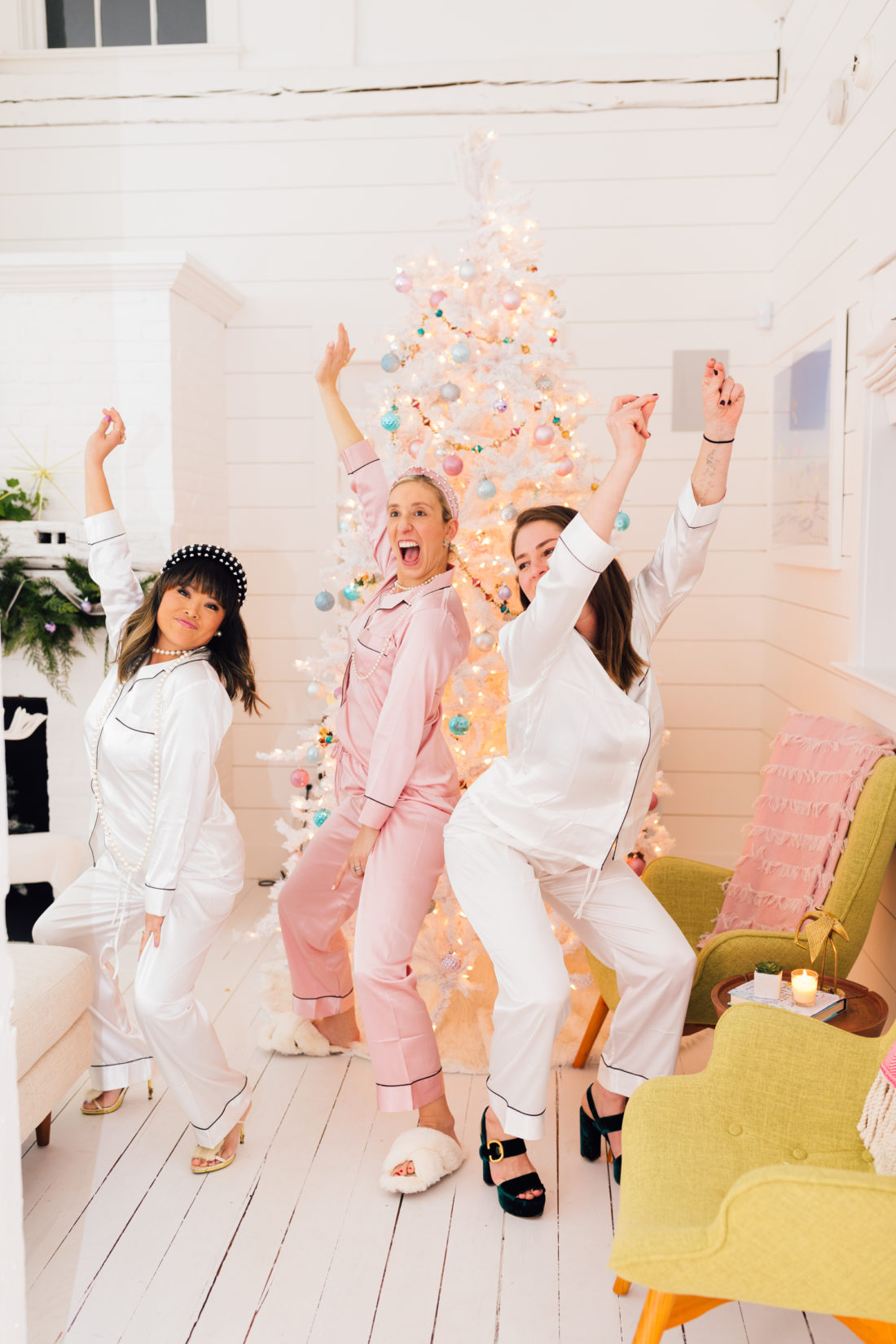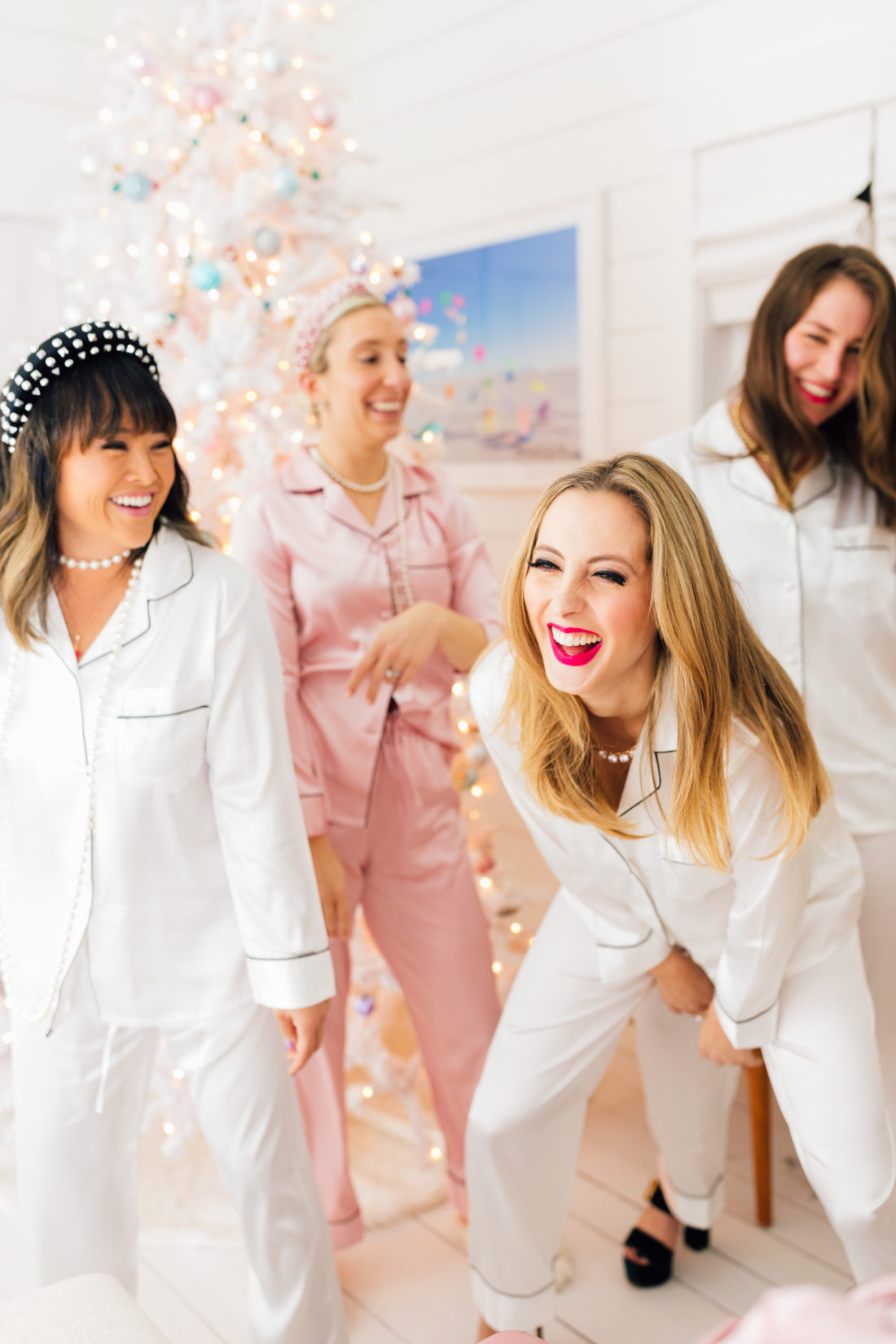 There is nothing I love more than the juxtaposition of "high/low". The idea of lounging around laughing with my girlfriends in matching loungewear, with everyone sipping champagne and eating some delicious, elegant food was exactly what I had in mind. Welp. I was sipping seltzer, but you catch my drift. LOL. I decided to be REALLY "Extra" and hand deliver my girlfriends their "outfits" for the night the week of the party! I found some really fab silk PJs that weren't expensive at all, and chose two colors that perfectly complimented the party decor. It was really fun to see how each woman accessorized her look.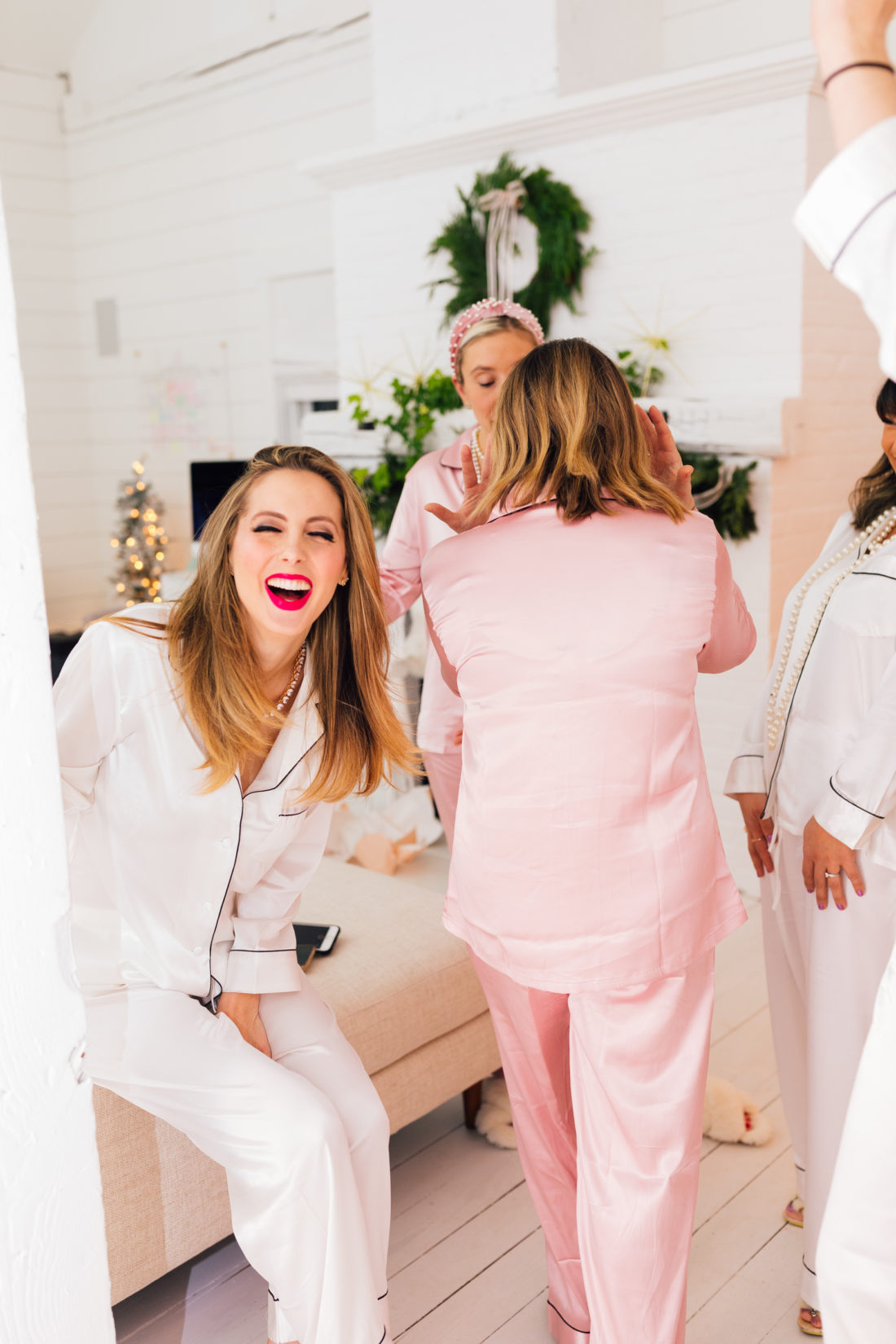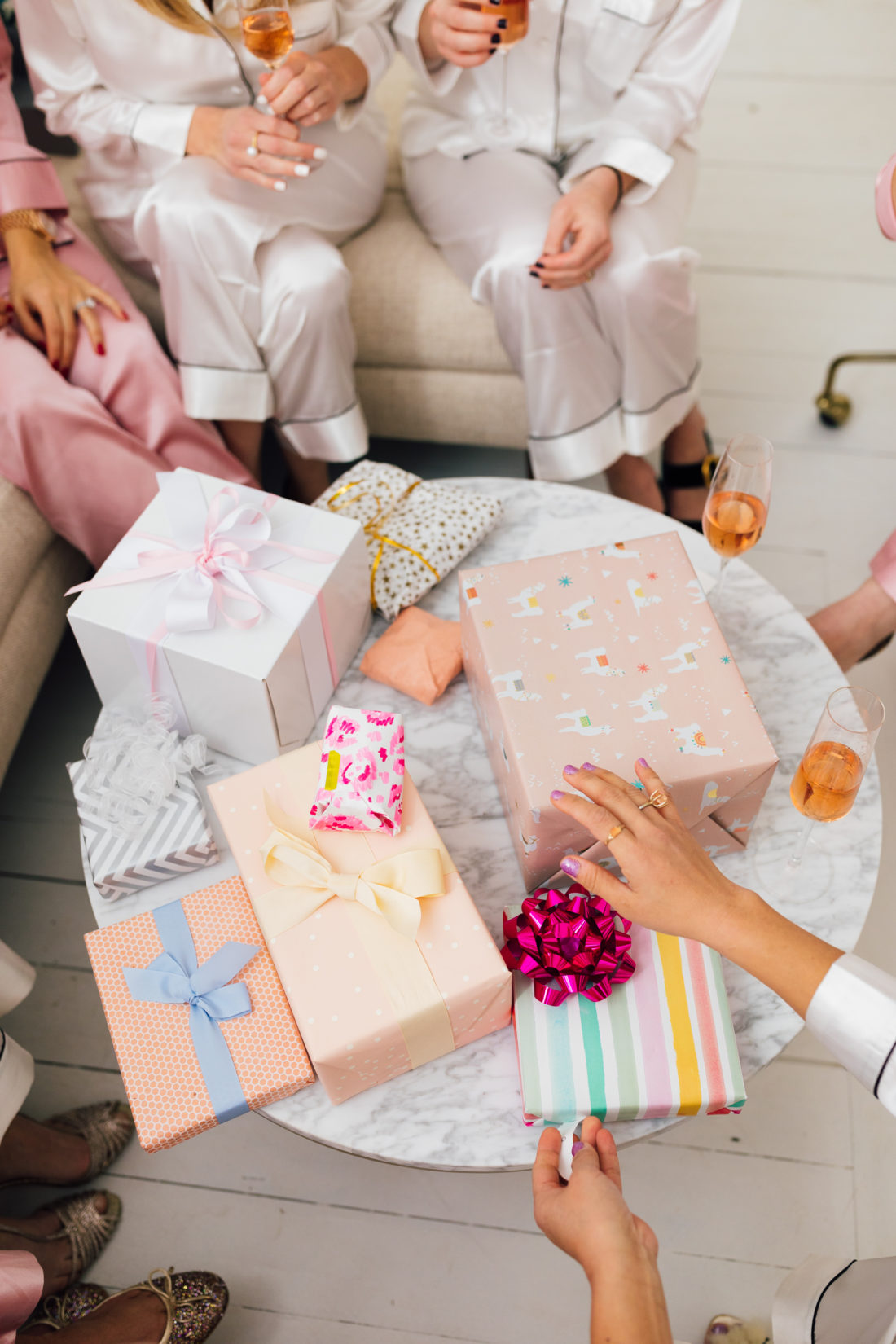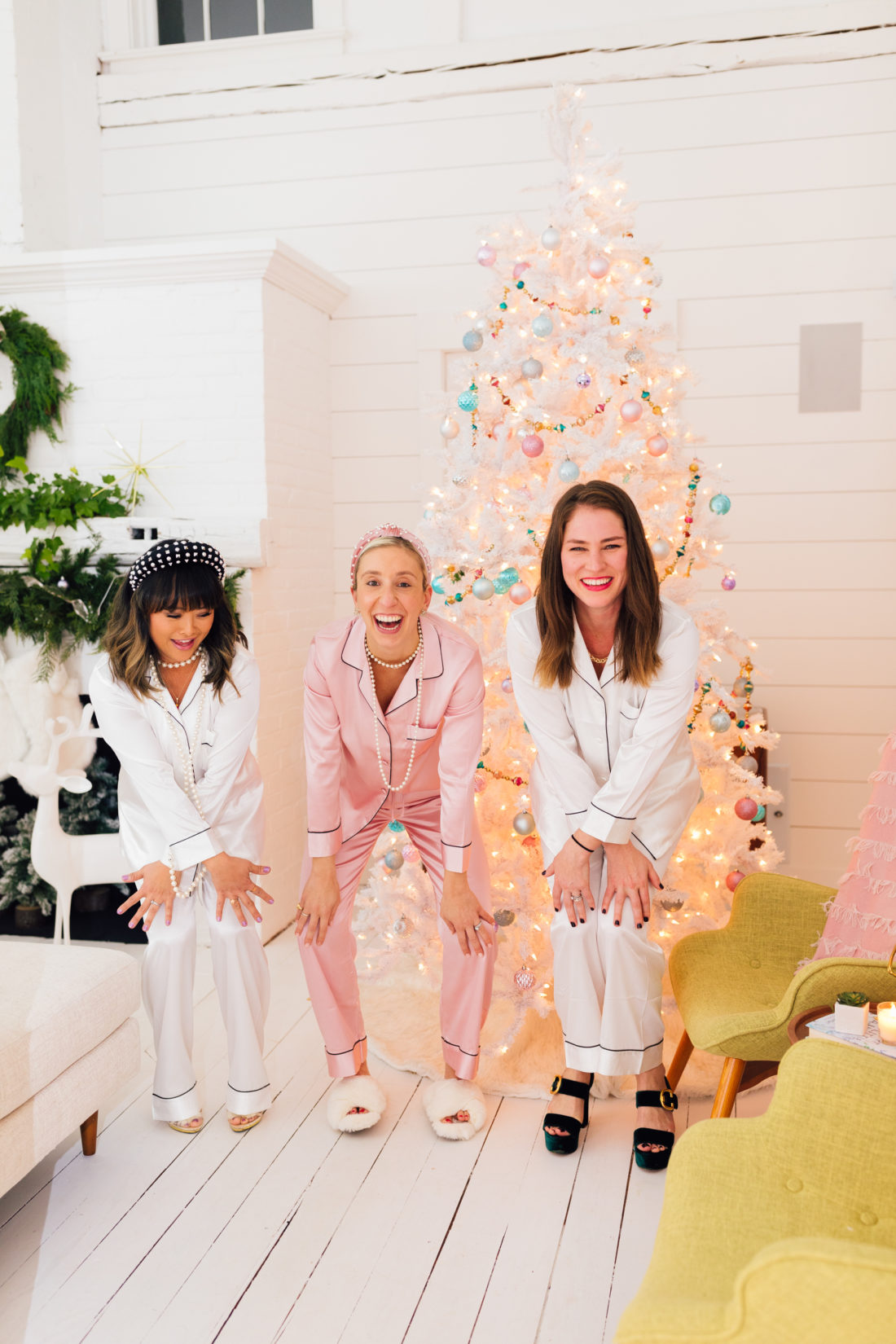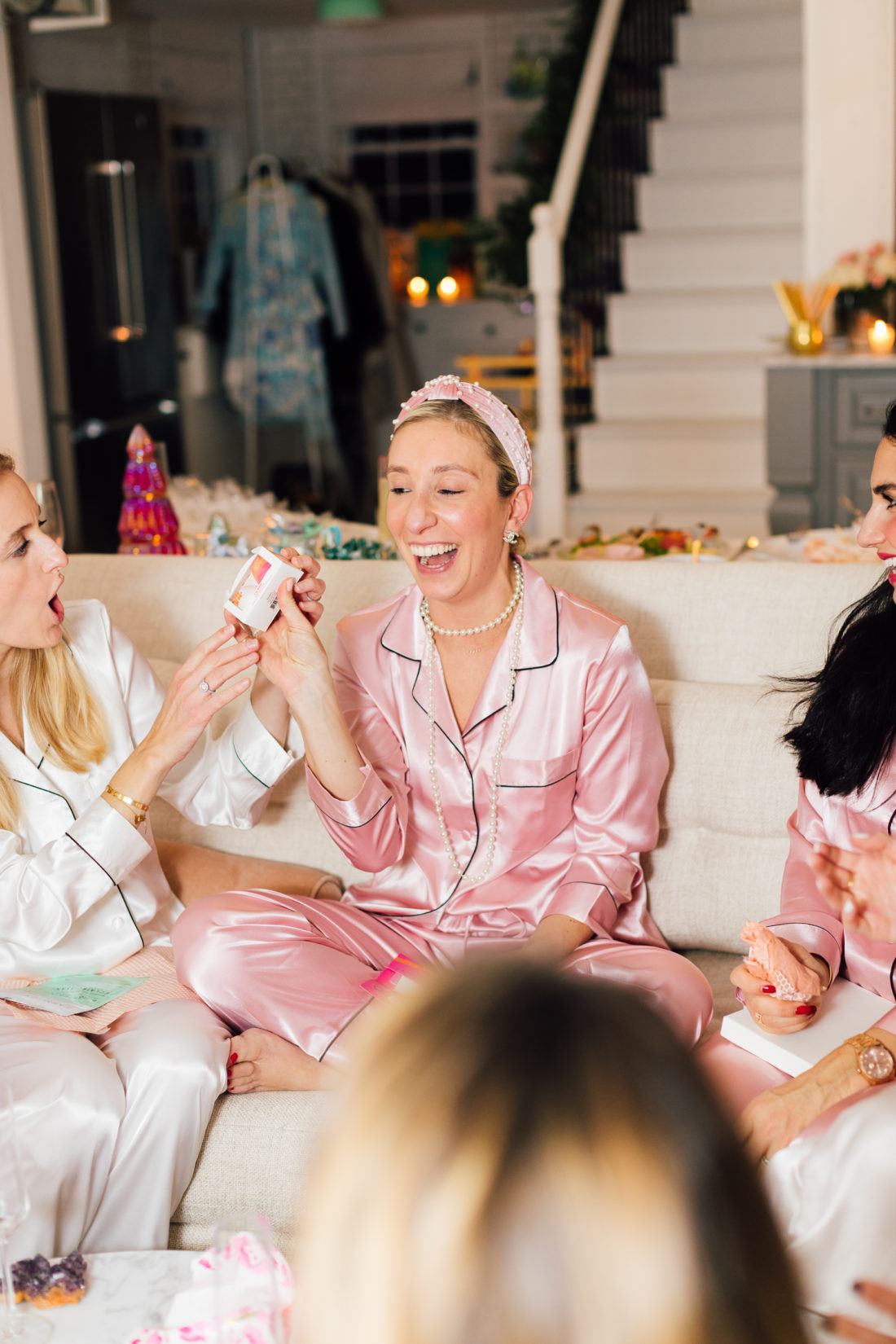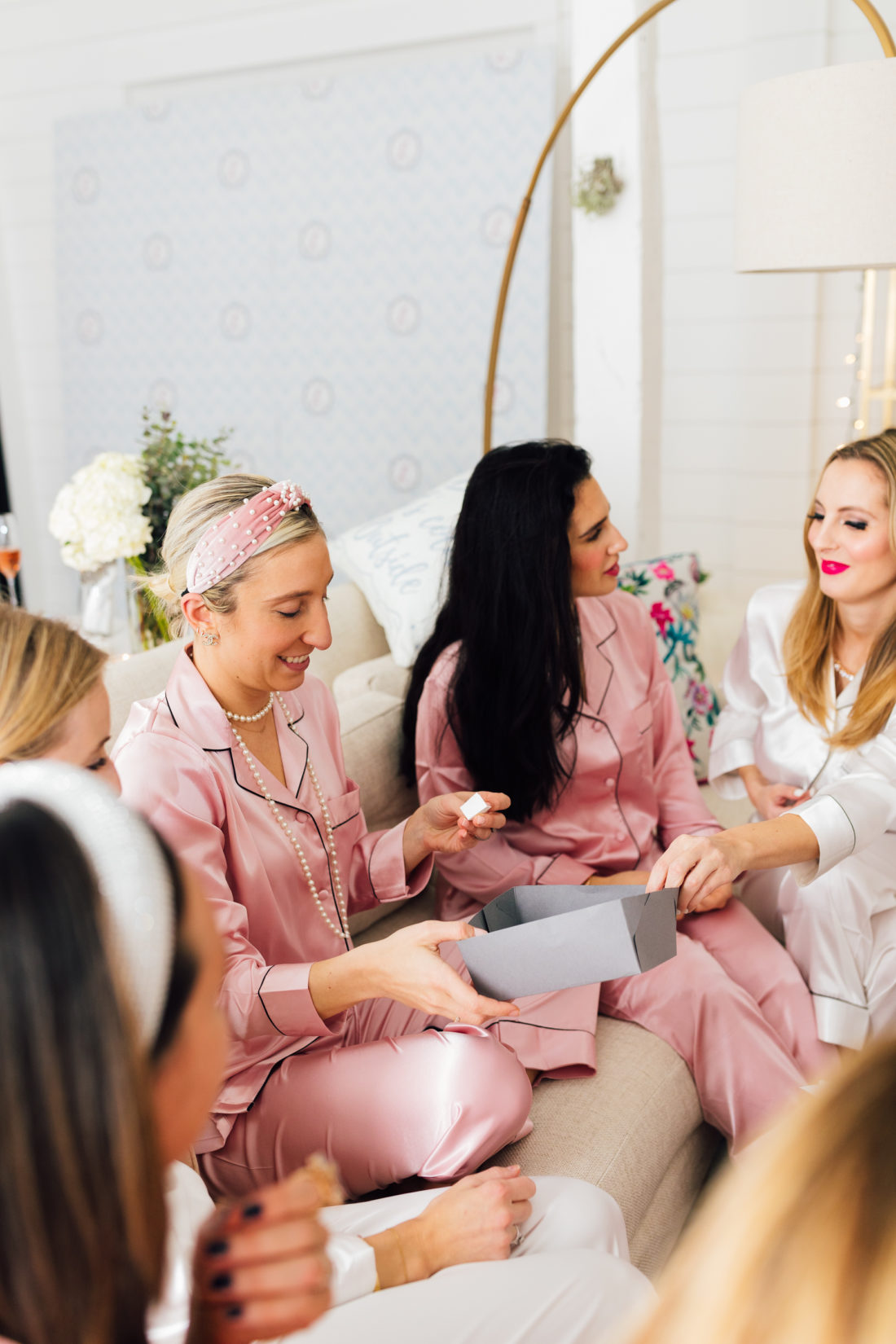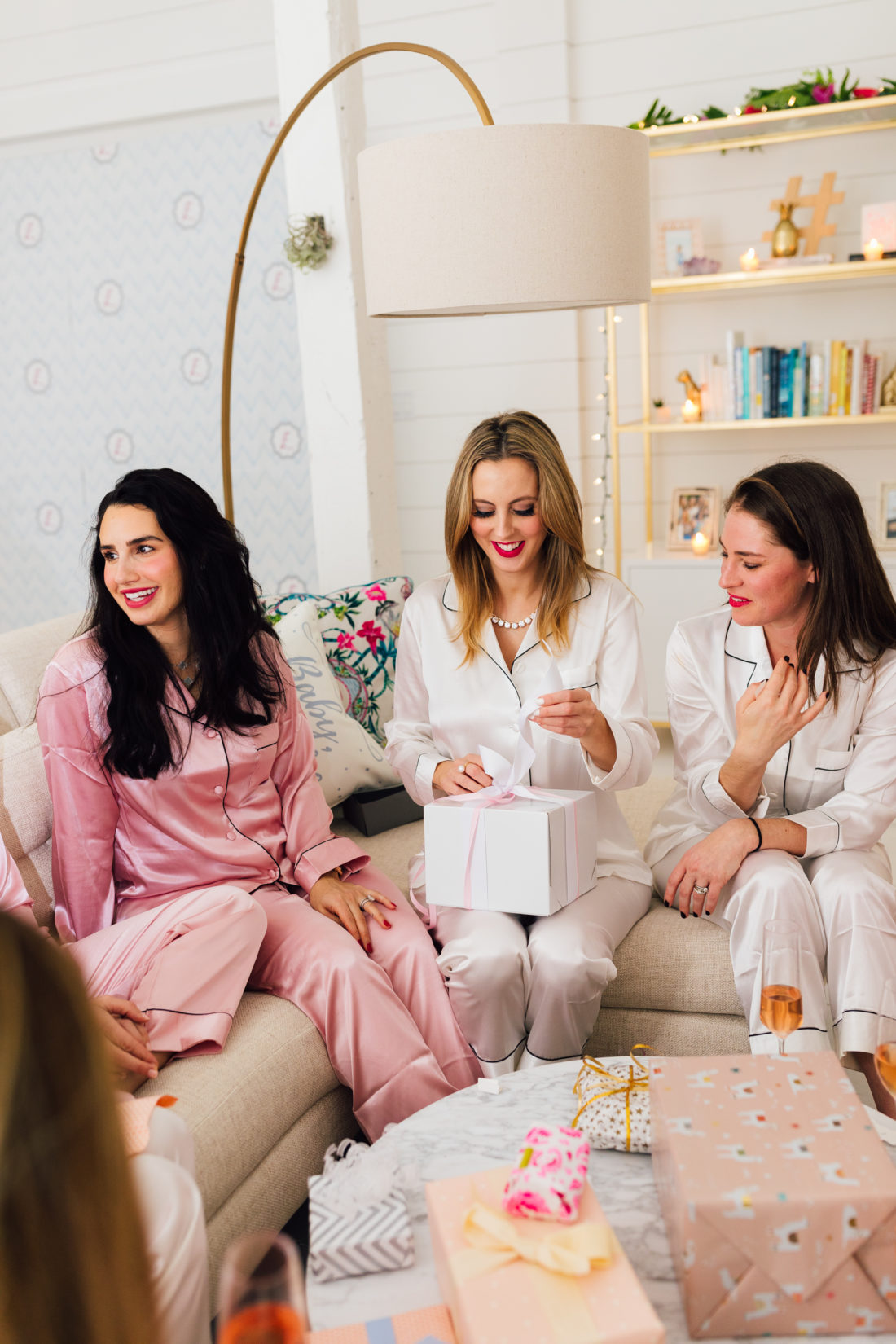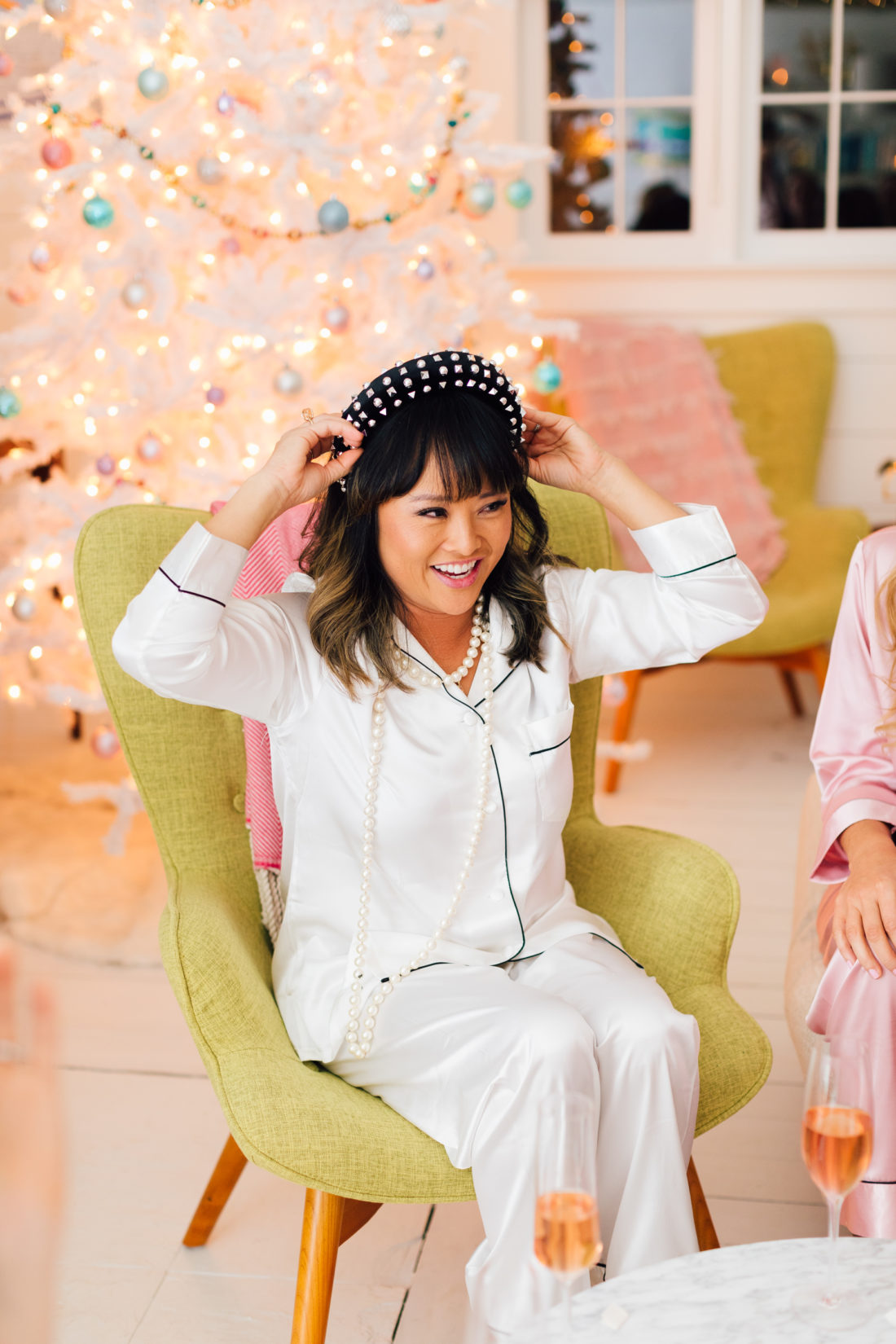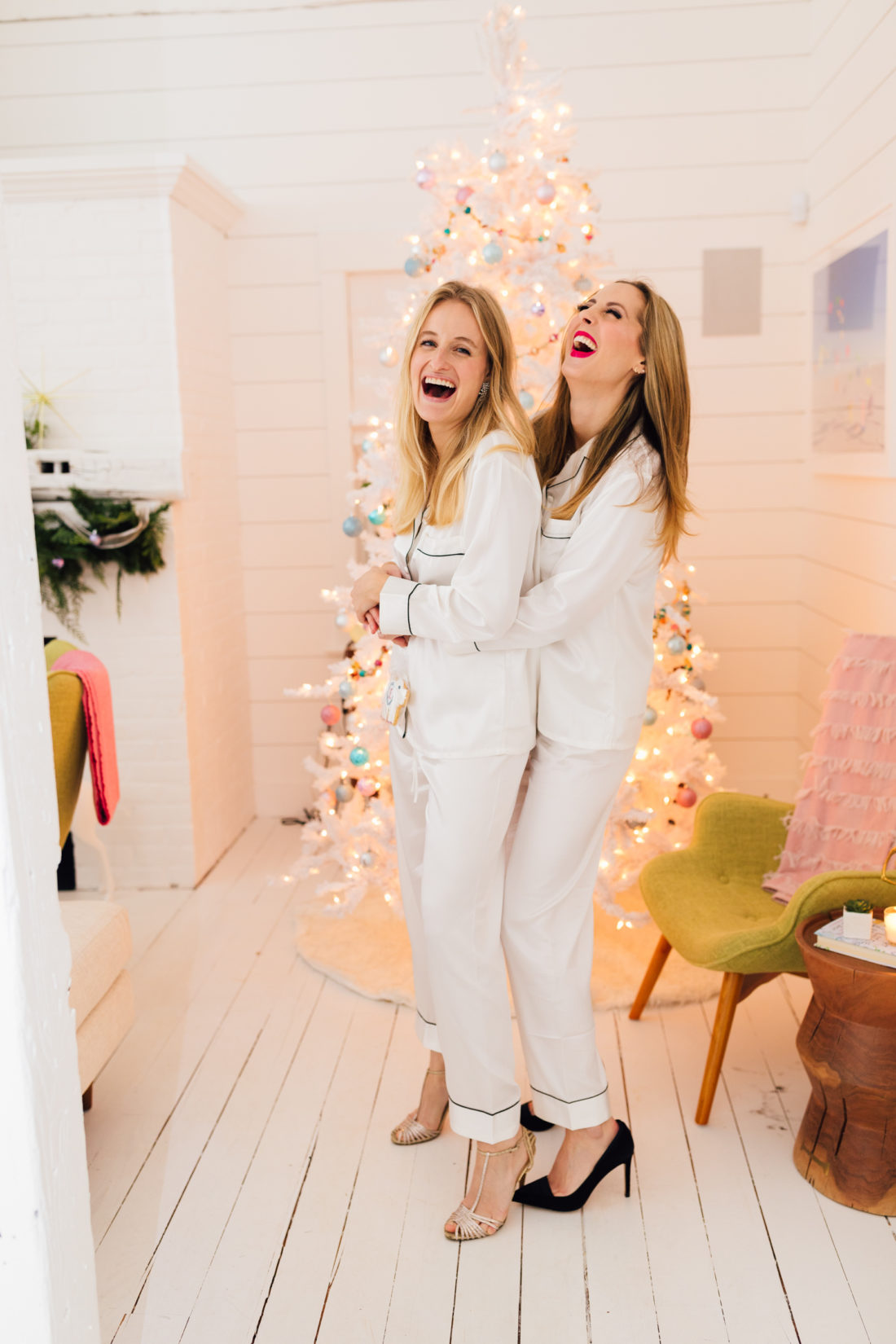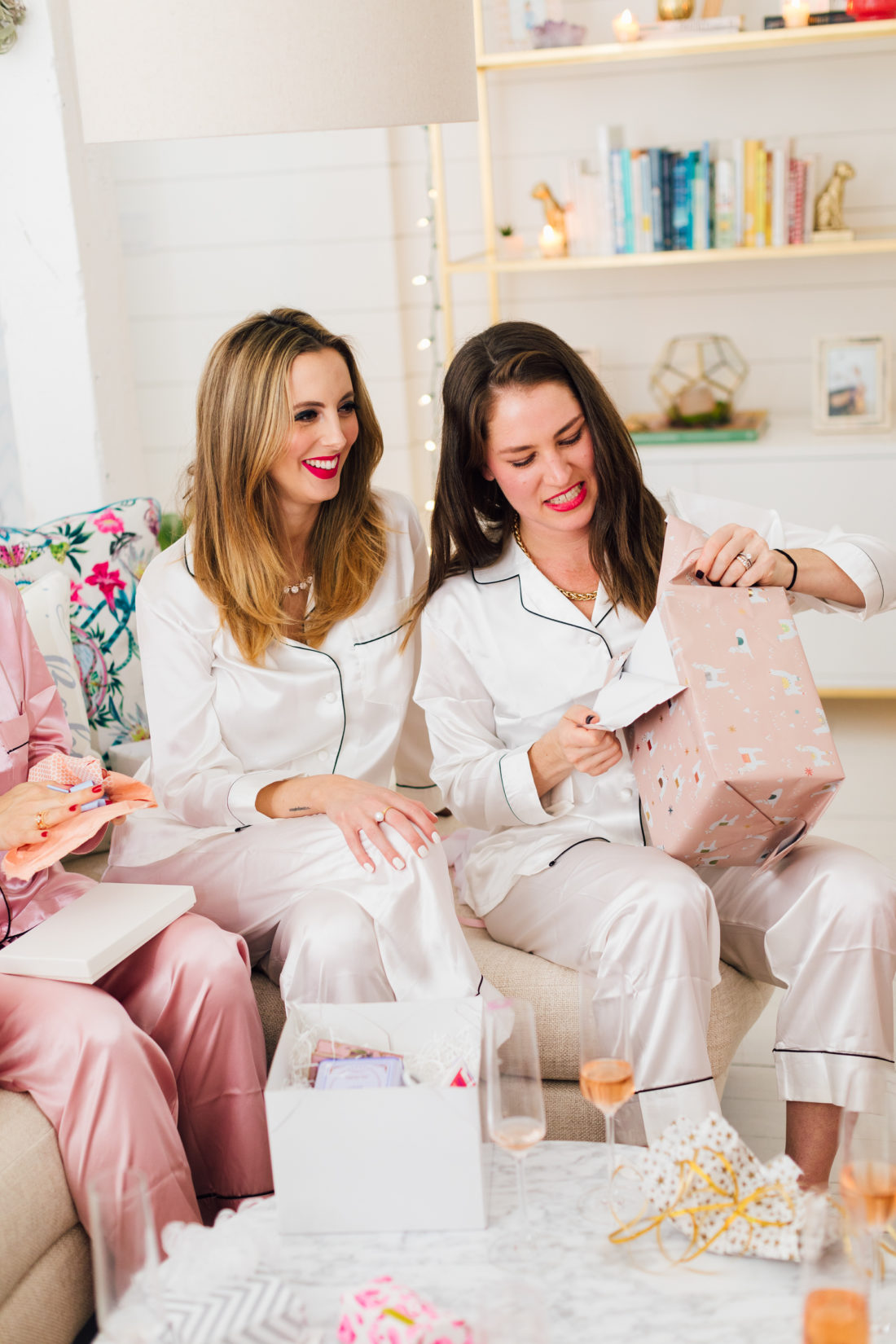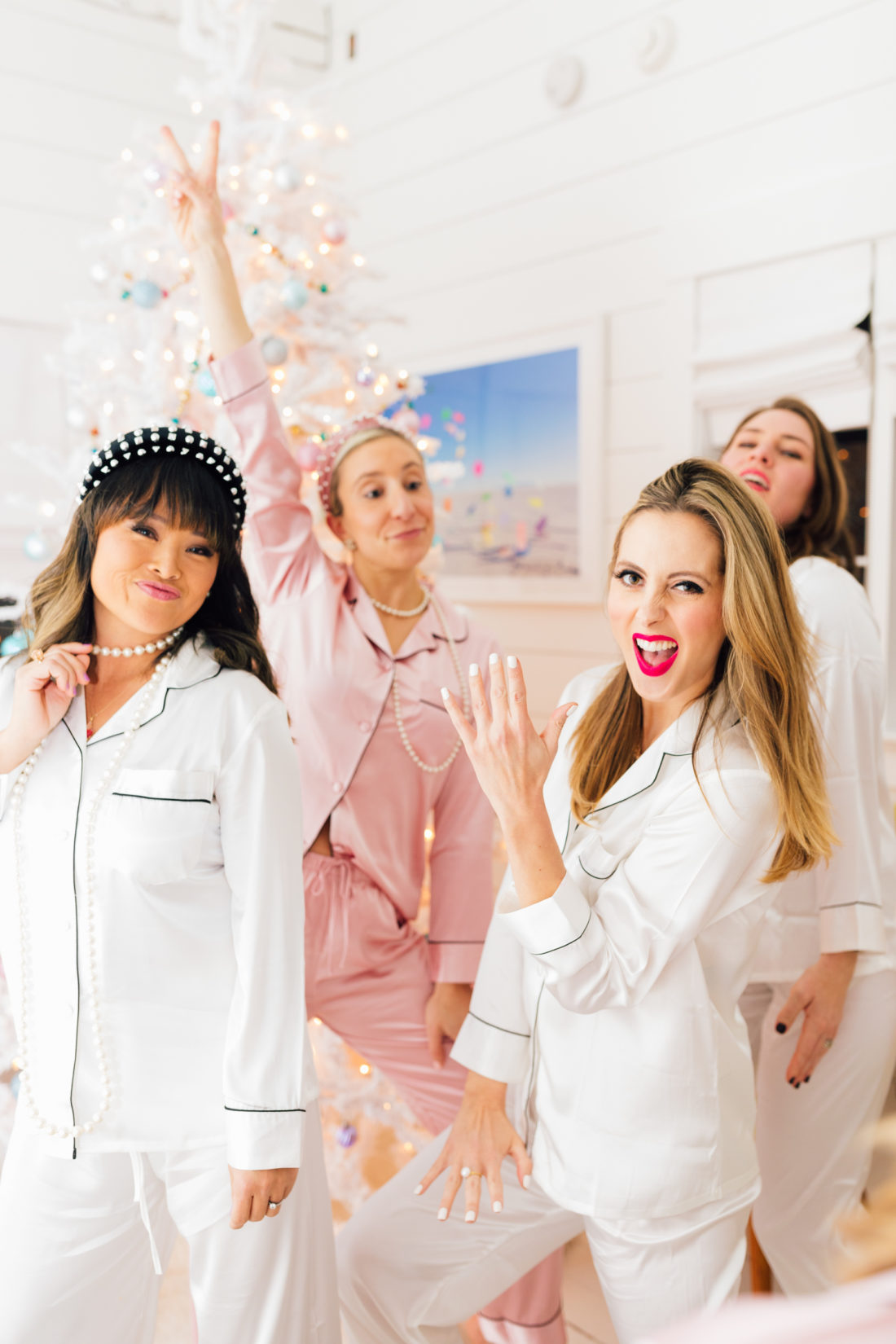 For the food, we had the most delicious seafood spread from my favorite local seafood provider, Fjord. Everyone in Fairfield county is obsessed their Marlin Dip, which is perfect on ritz crackers with a Jalapeño slice! I've been craving it this entire pregnancy. Then, we had a gorgeous platter of shrimp, lobster, crab claws, and lump crab meat. It was heaven. Last but not least, Fjord's secret specialty is their sushi! It's so fresh, and we had a platter of that too, so all the girls could indulge. For dessert, I made HEA White Elephant cookies from The Painted Cookie for the girls to take home!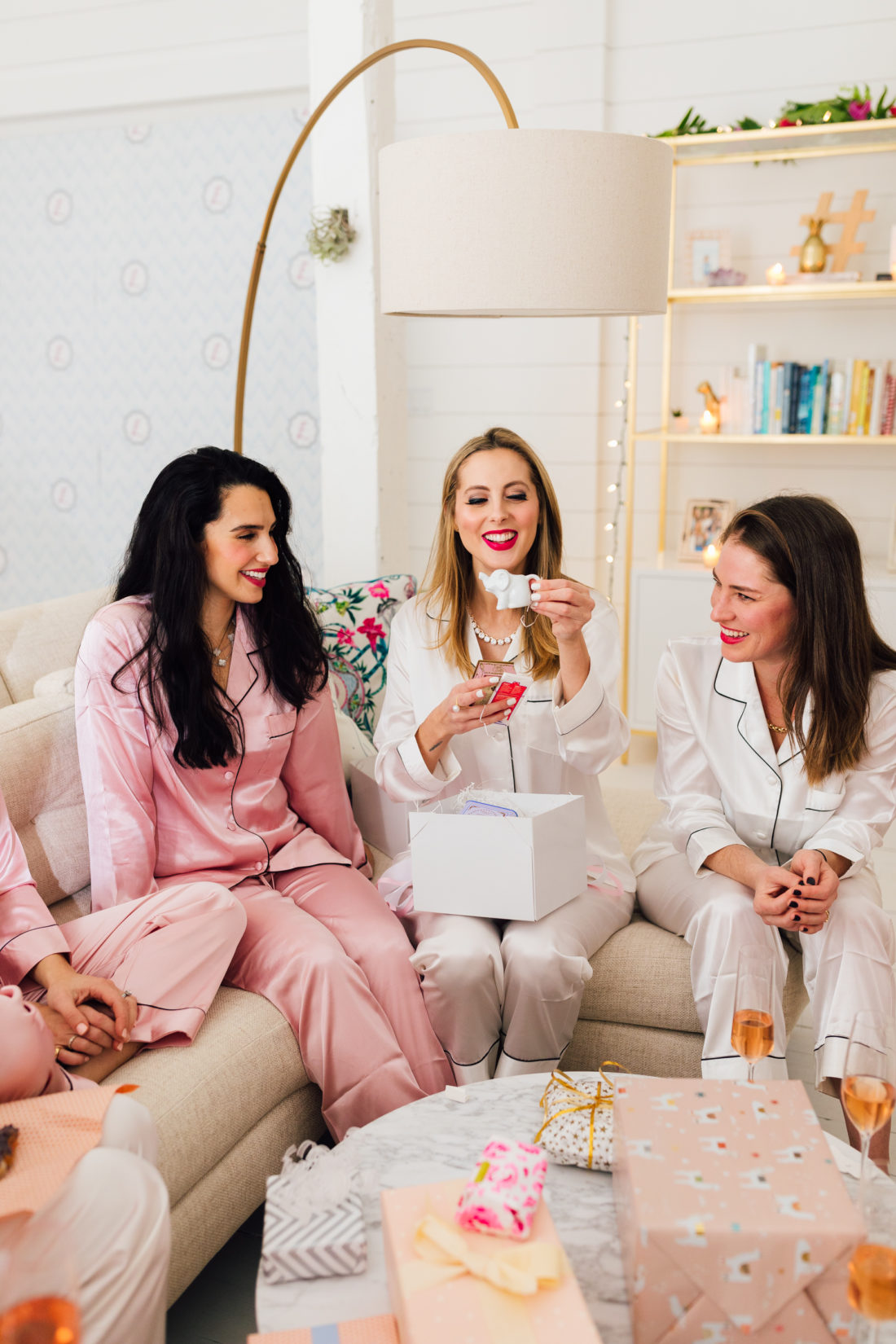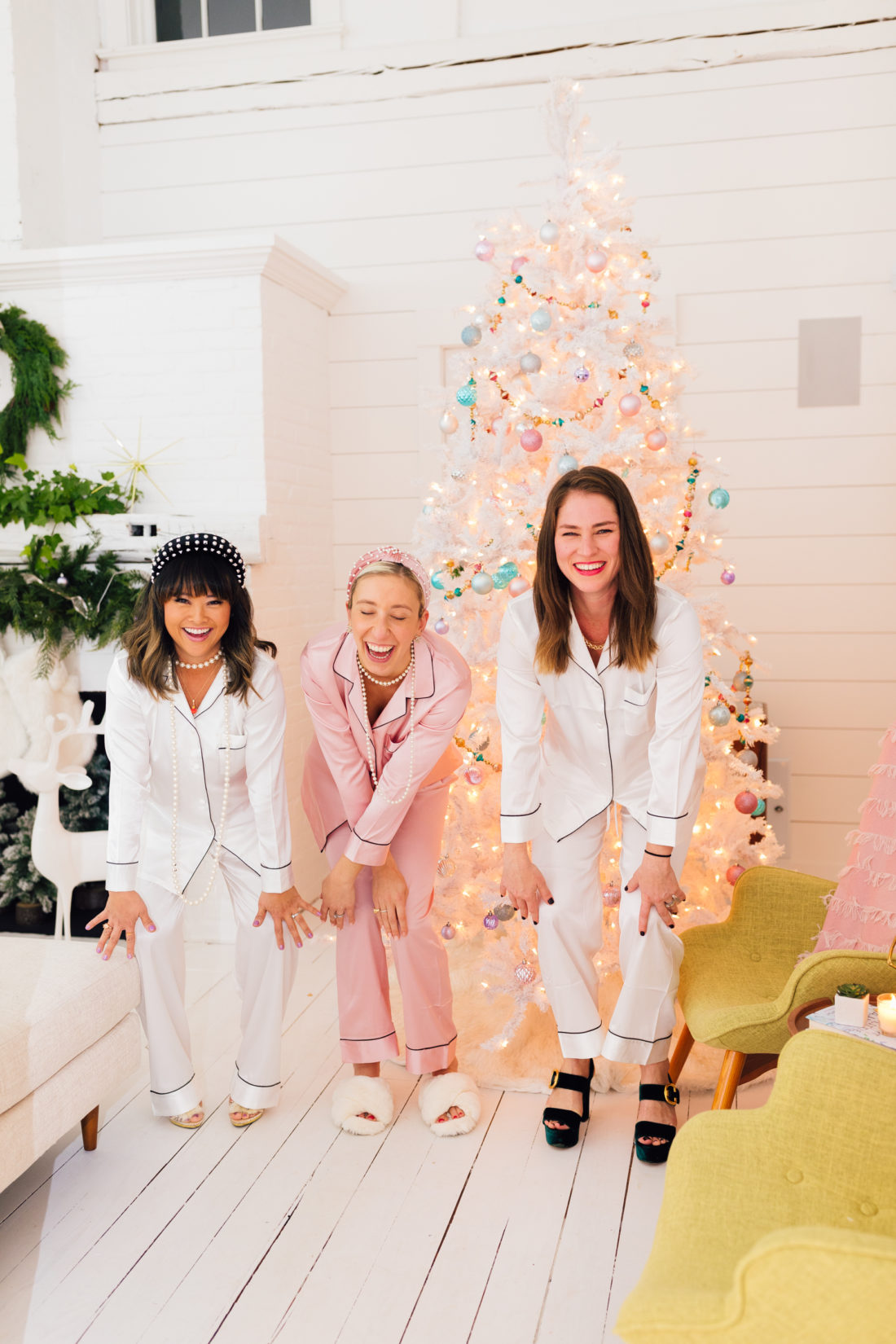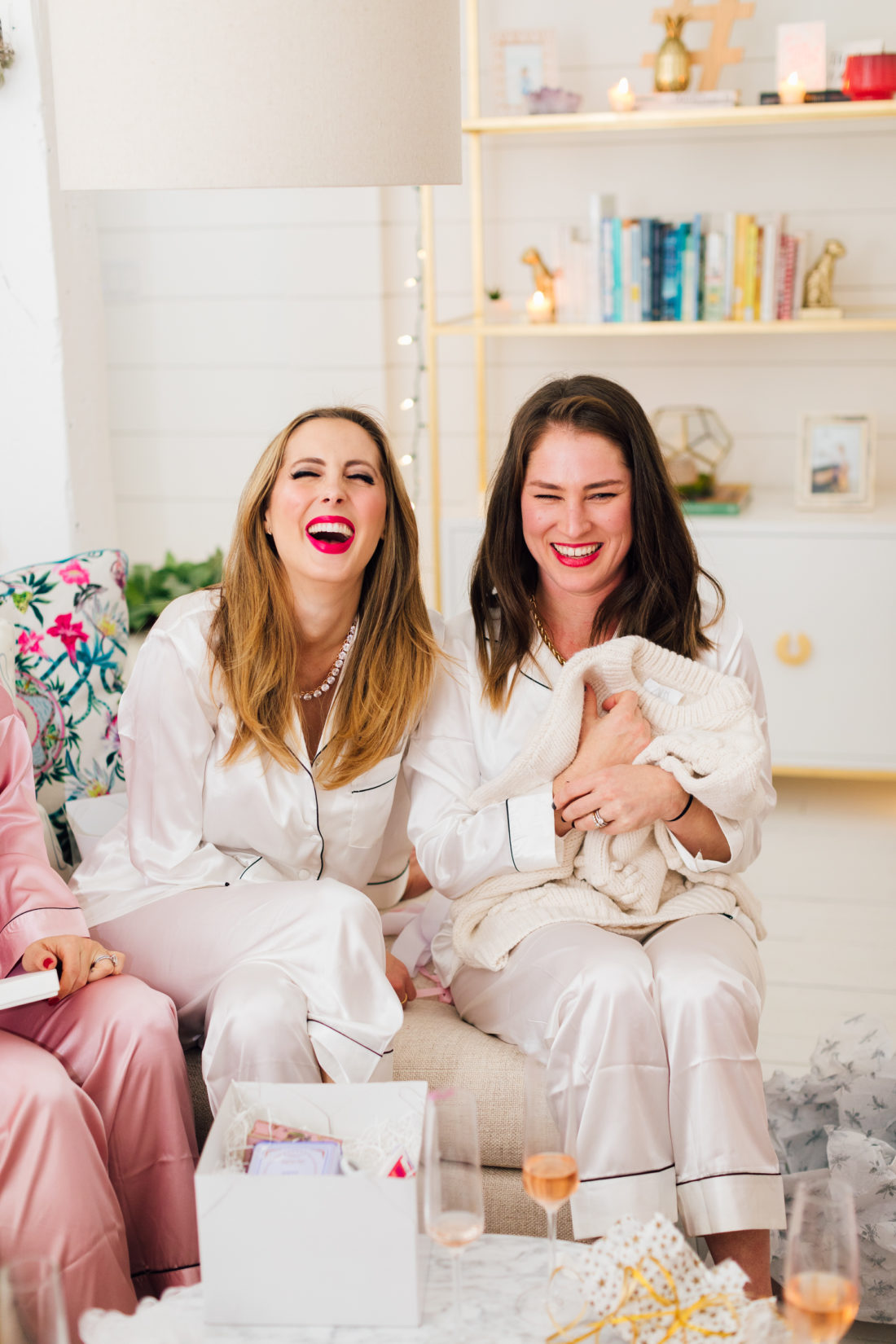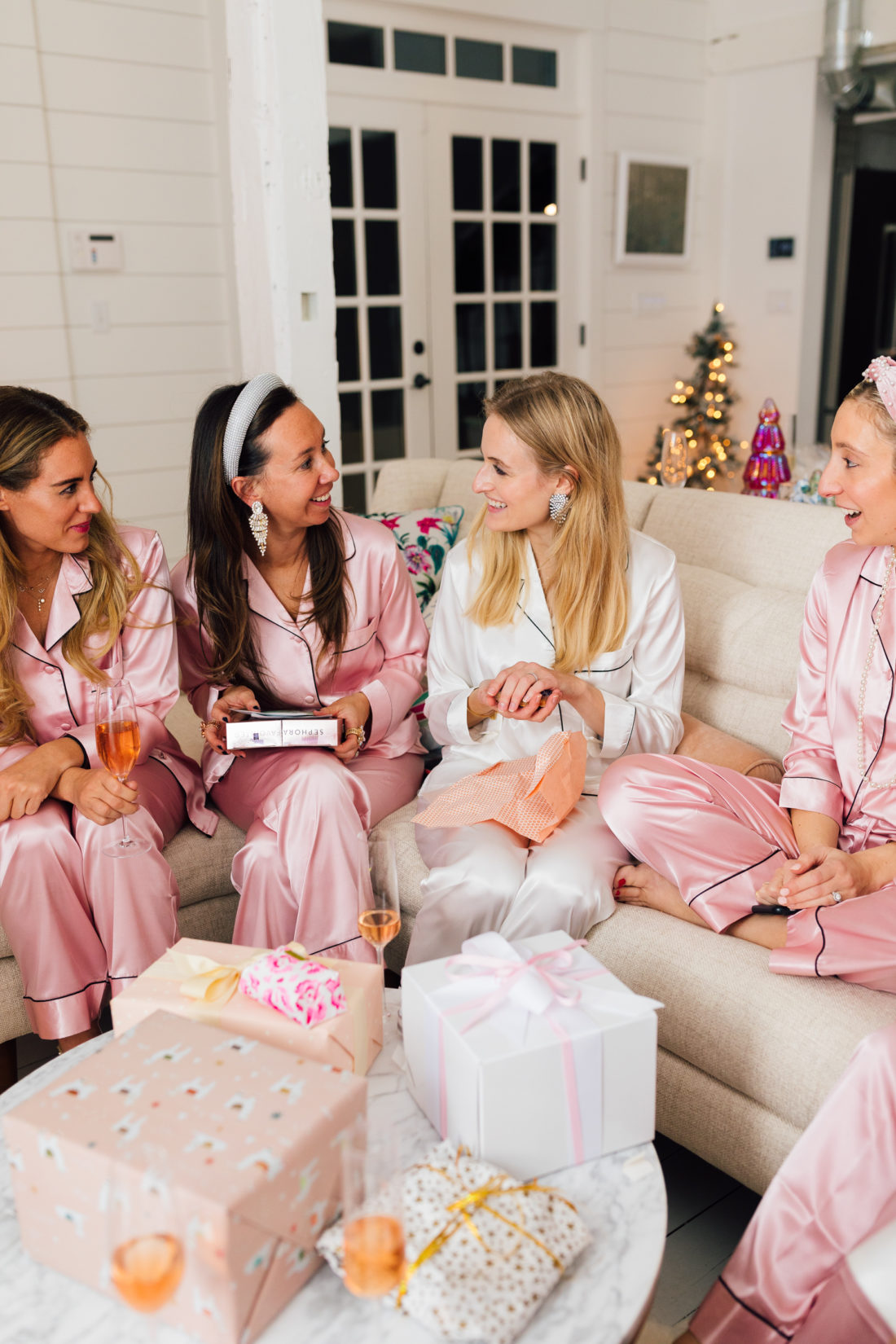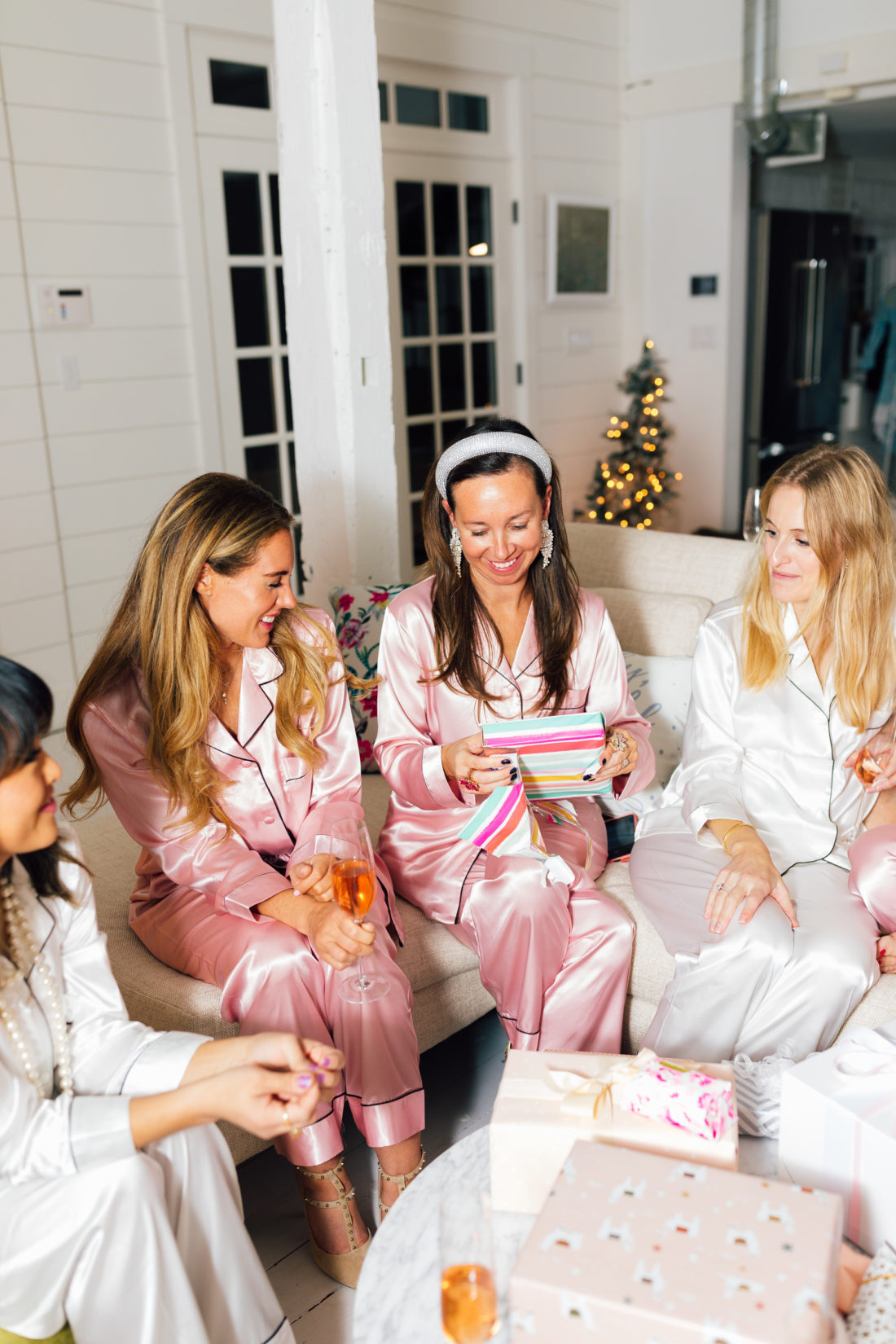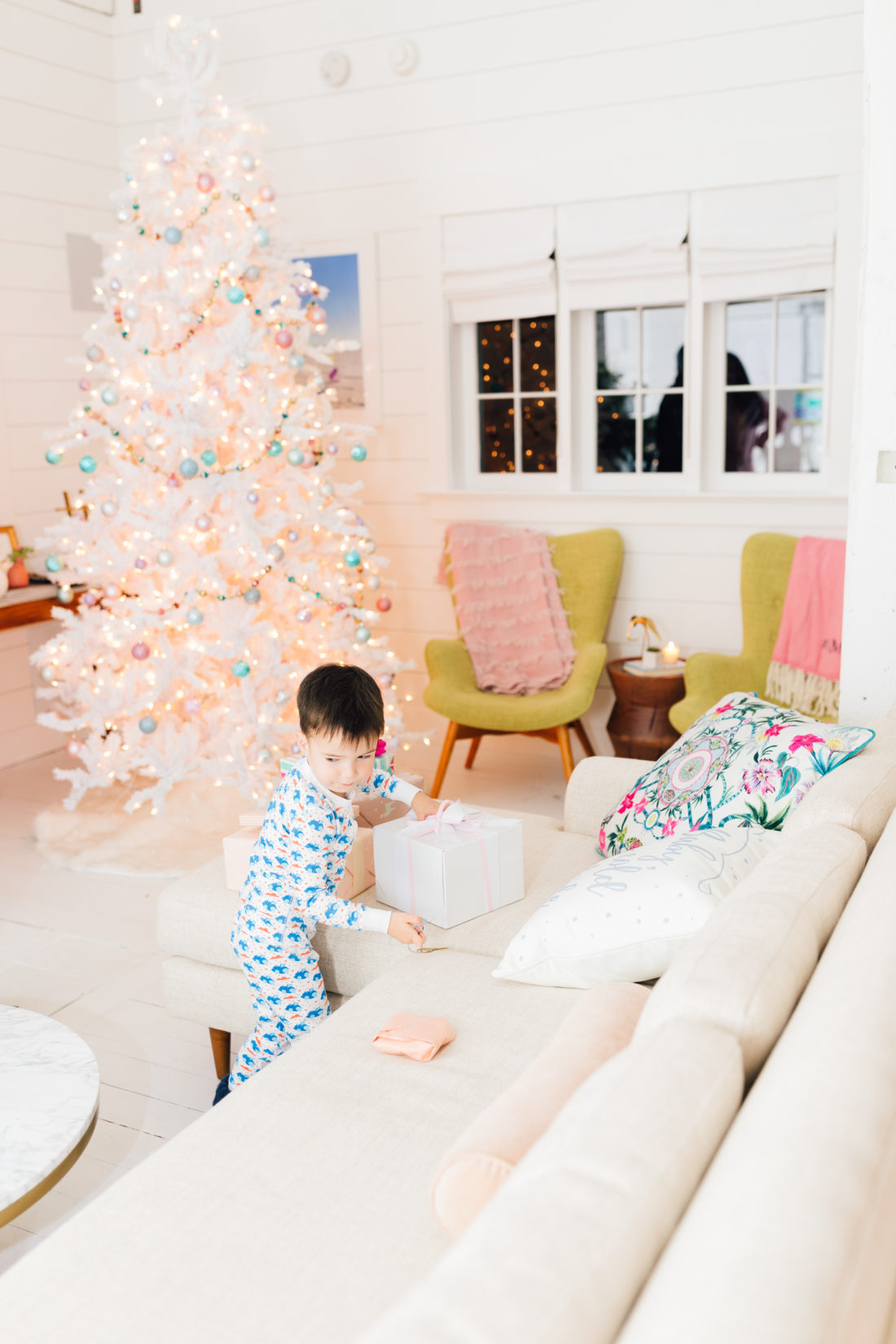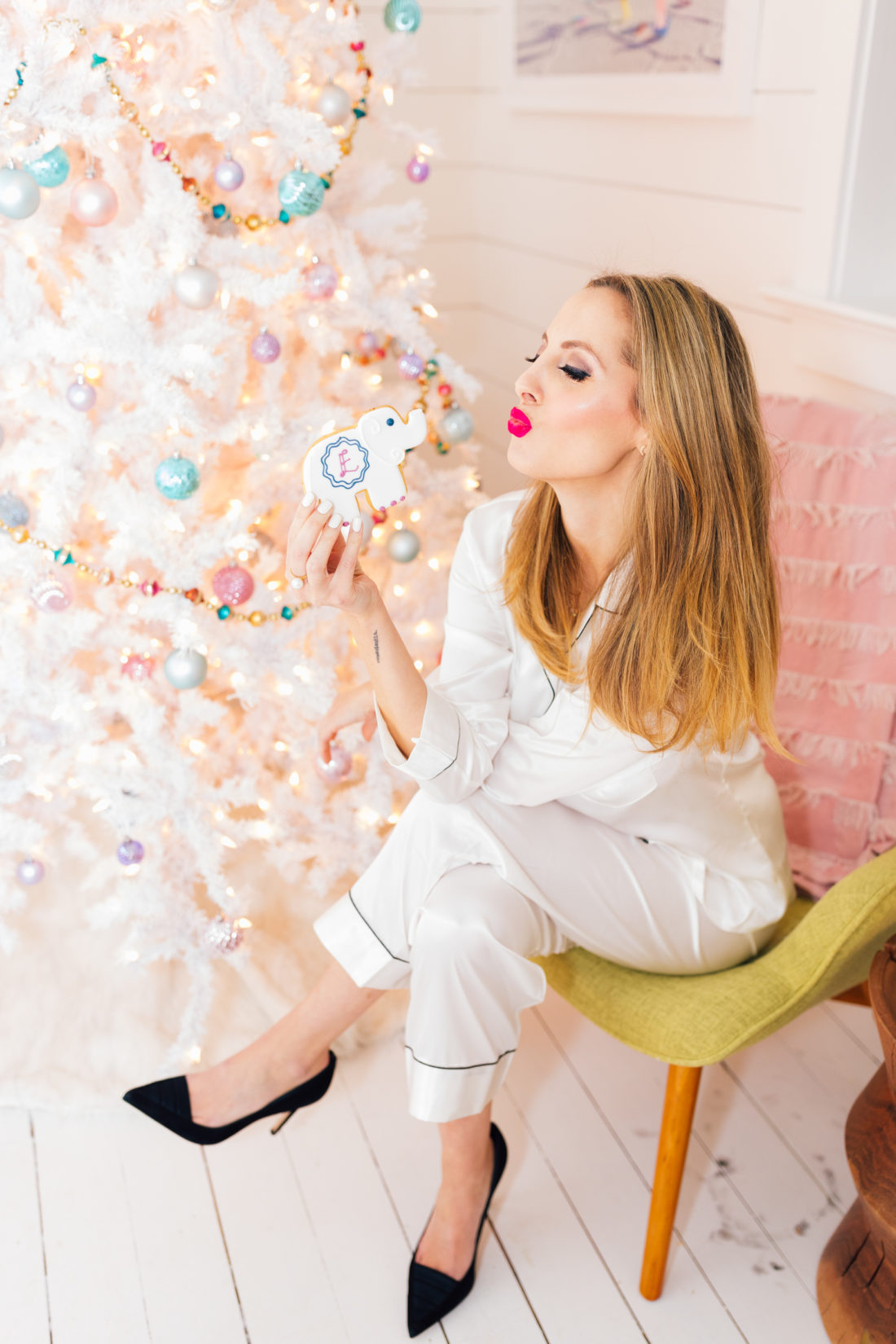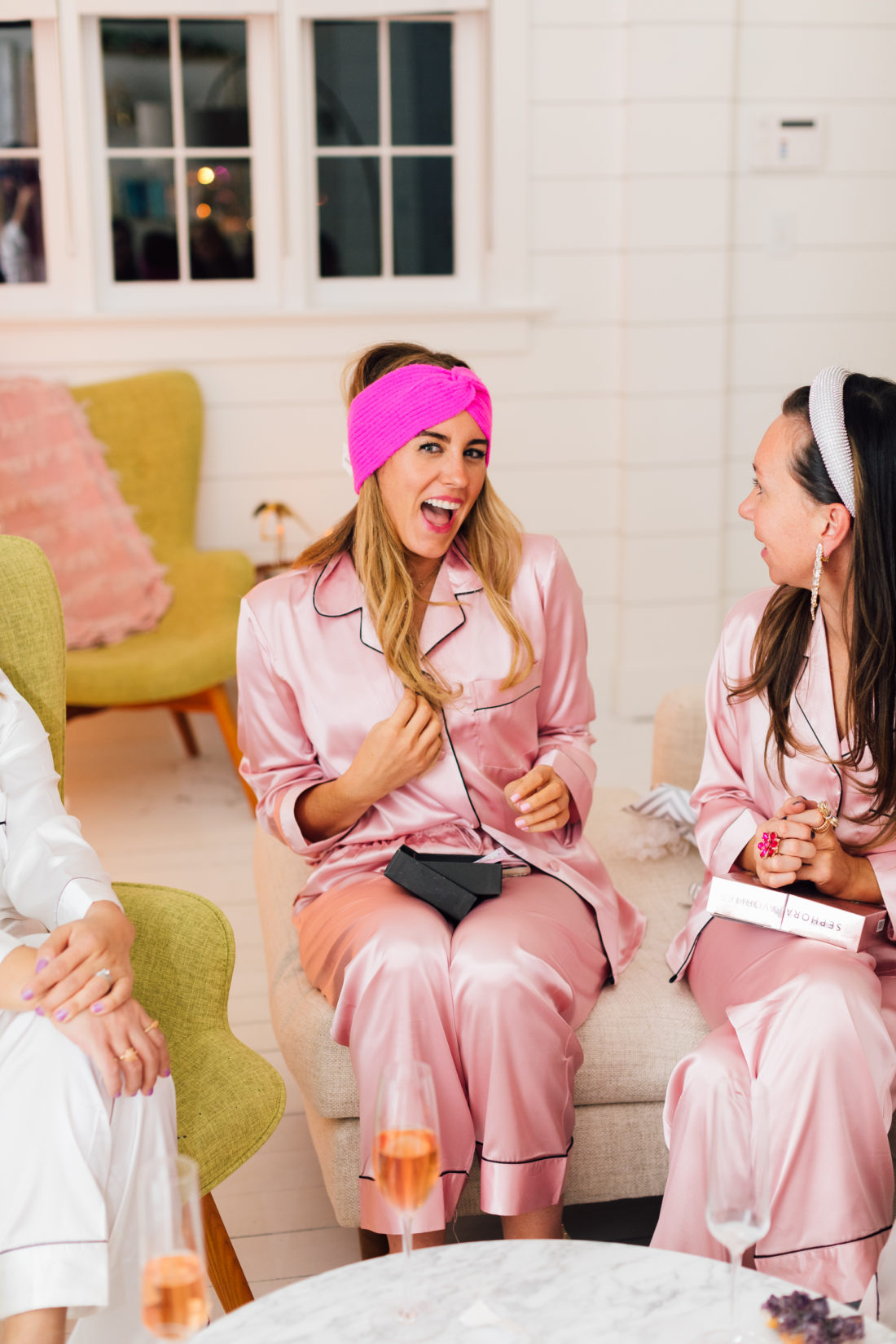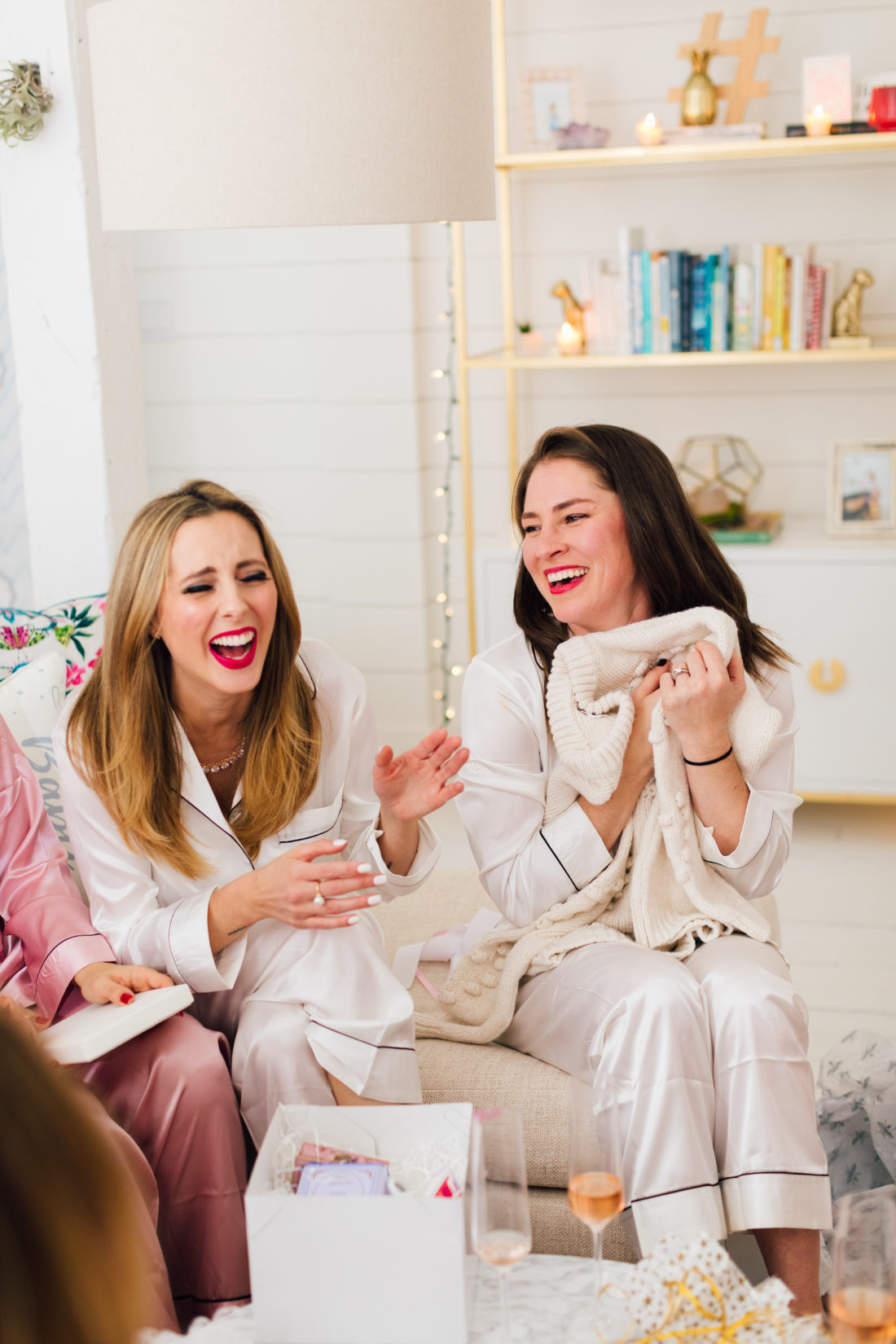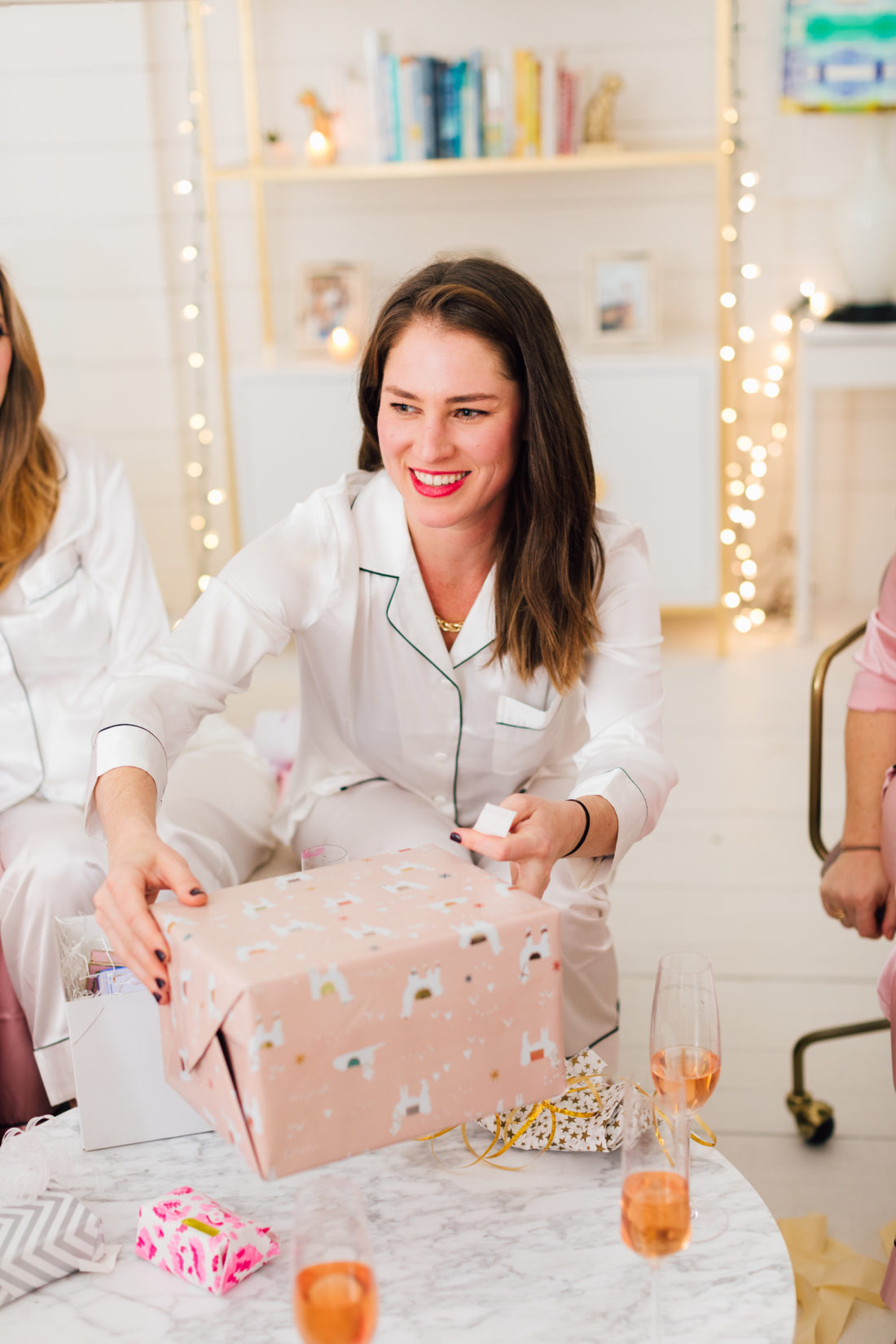 We had the best time playing White Elephant, seeing what everyone chose as their gifts, and stealing gifts from each other (per game rules). It felt so great to have some big laughs, to be surrounded by so much love, and to take the night off. Of course, Marlowe and Major made an appearance in their jammies at one point. What is childhood without a good party crash every once in a while? My kids adore my girlfriends and nothing makes me happier than seeing them interact. I am truly feeling so blessed right now in my life. It makes me tear up even thinking about how lucky I am to have these bold, brave, and beautiful Mama warriors in my life. I look up to each and every one of them.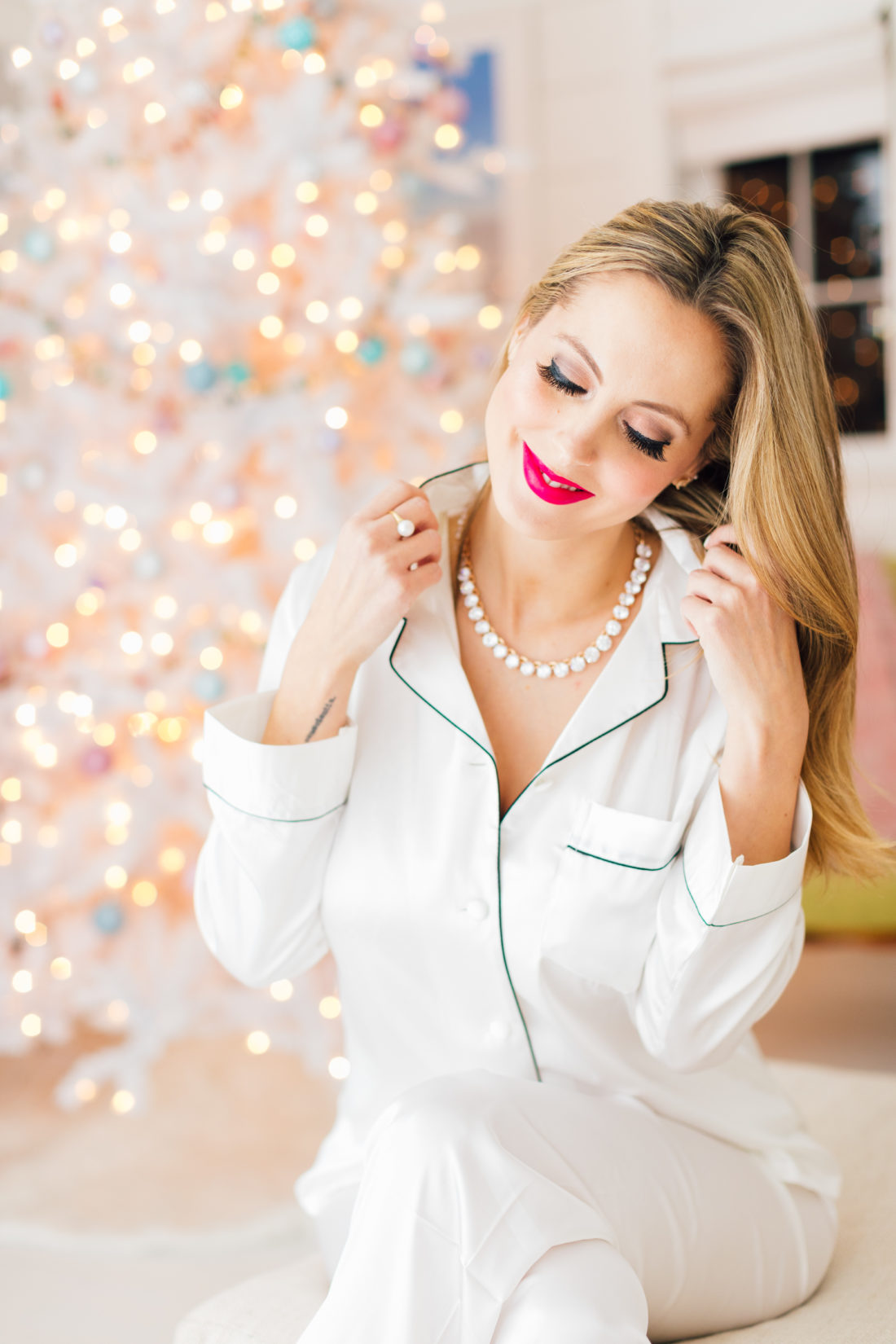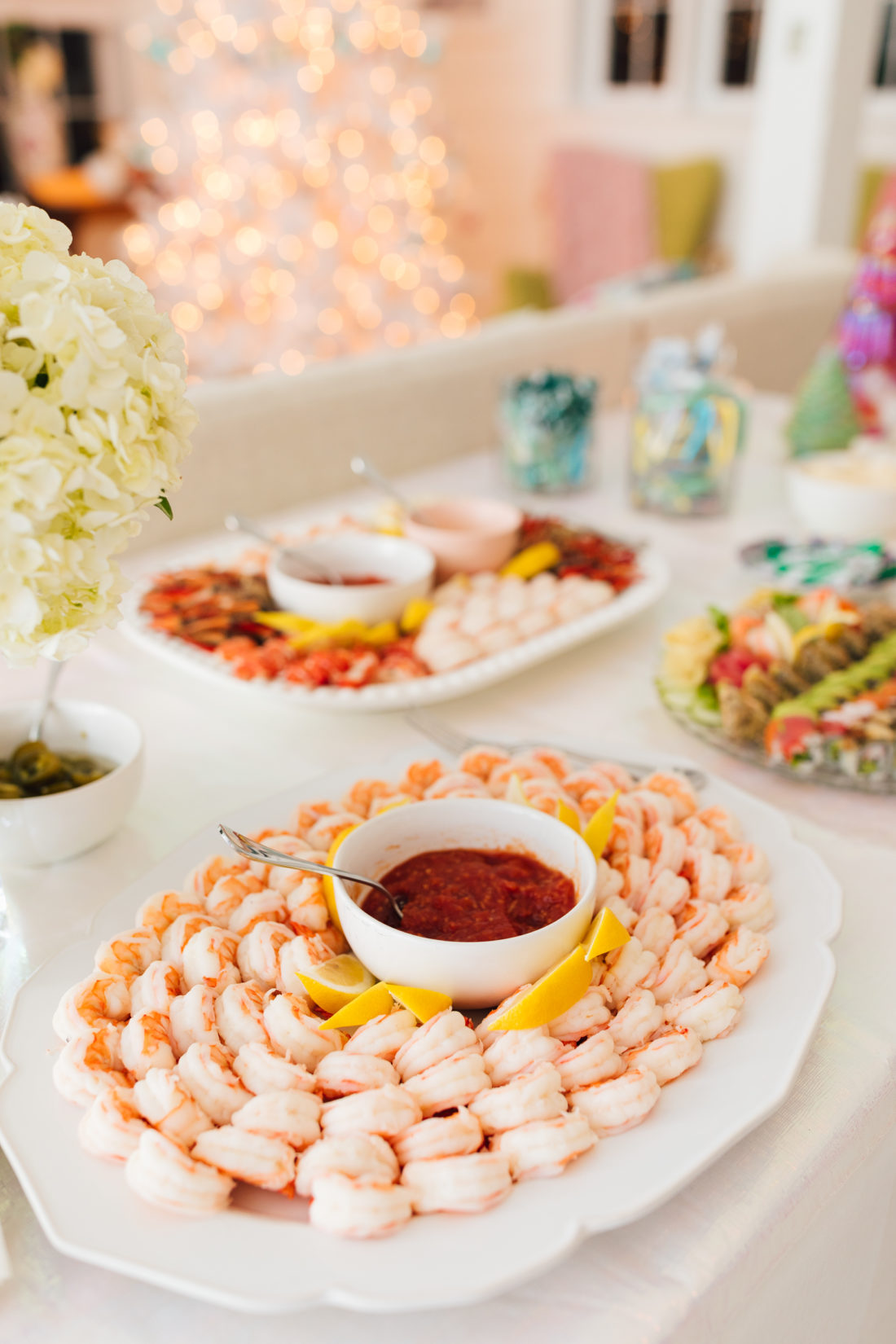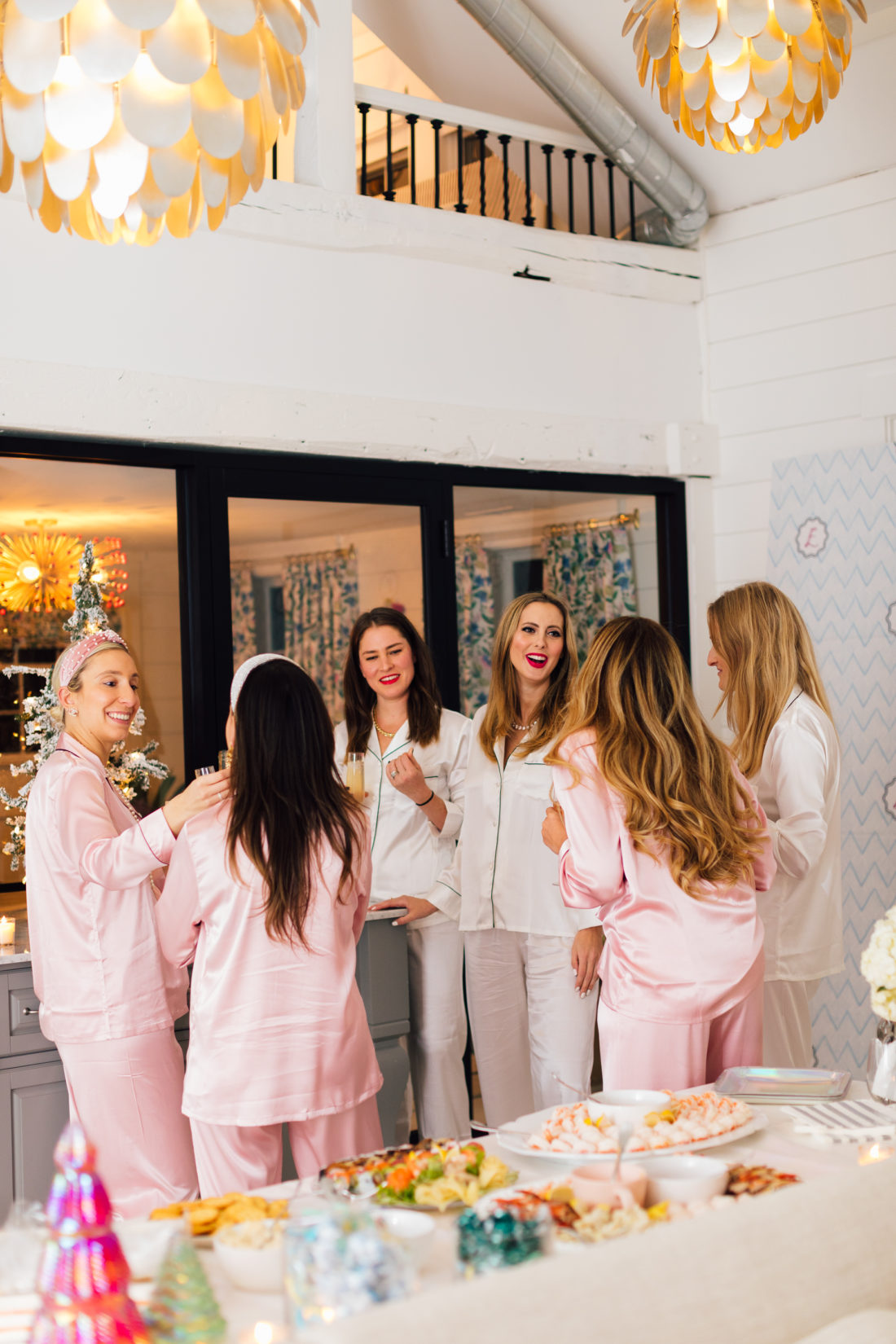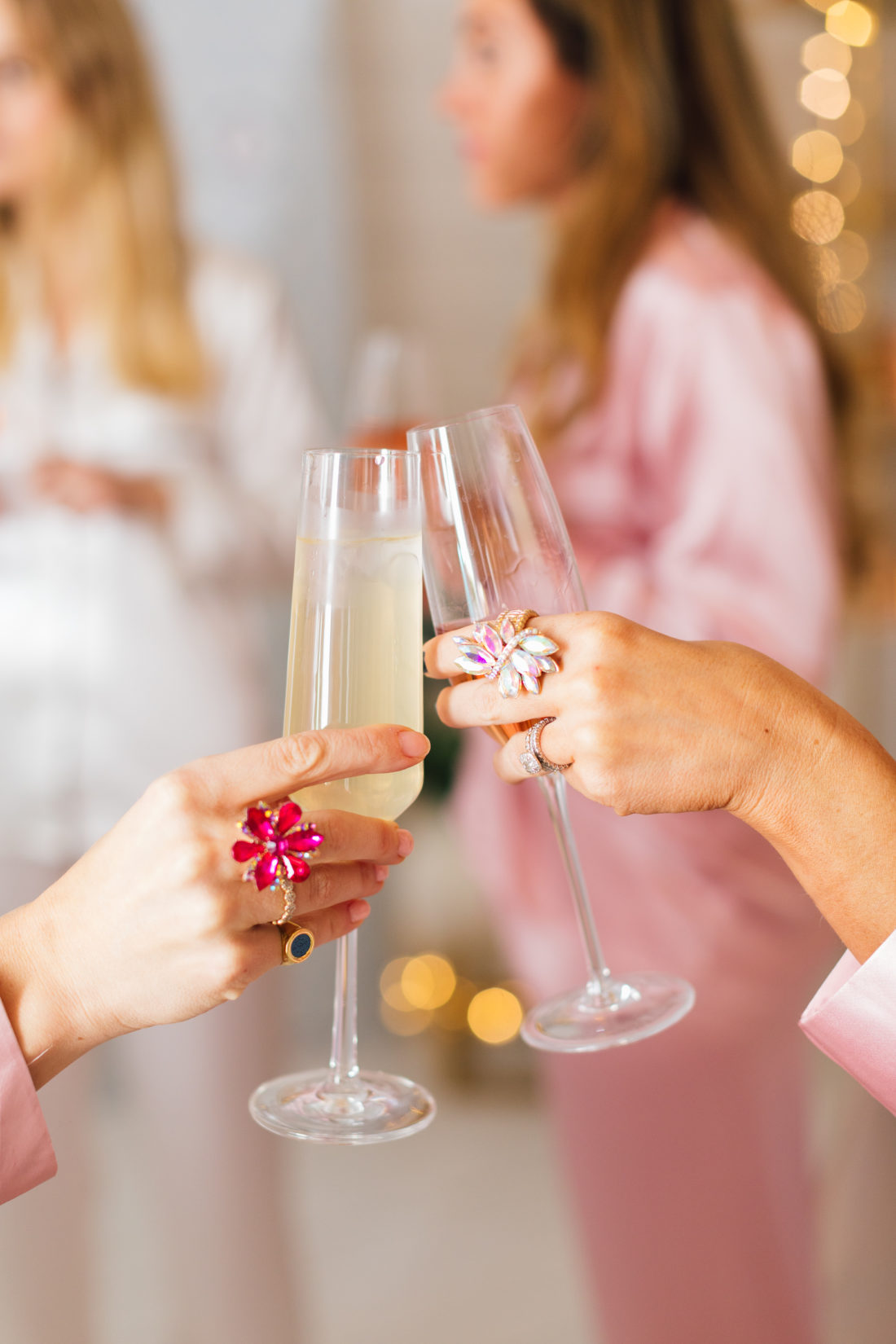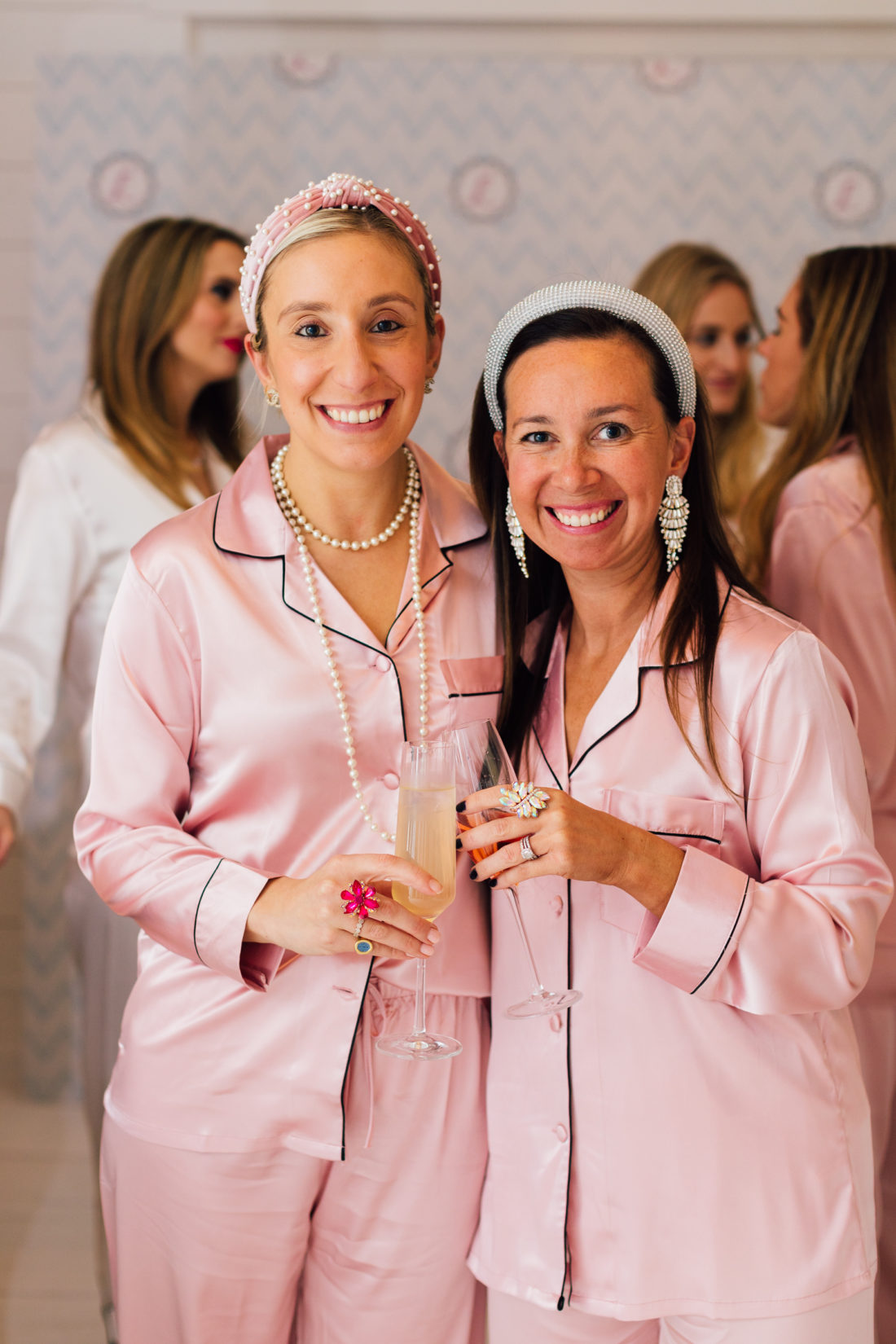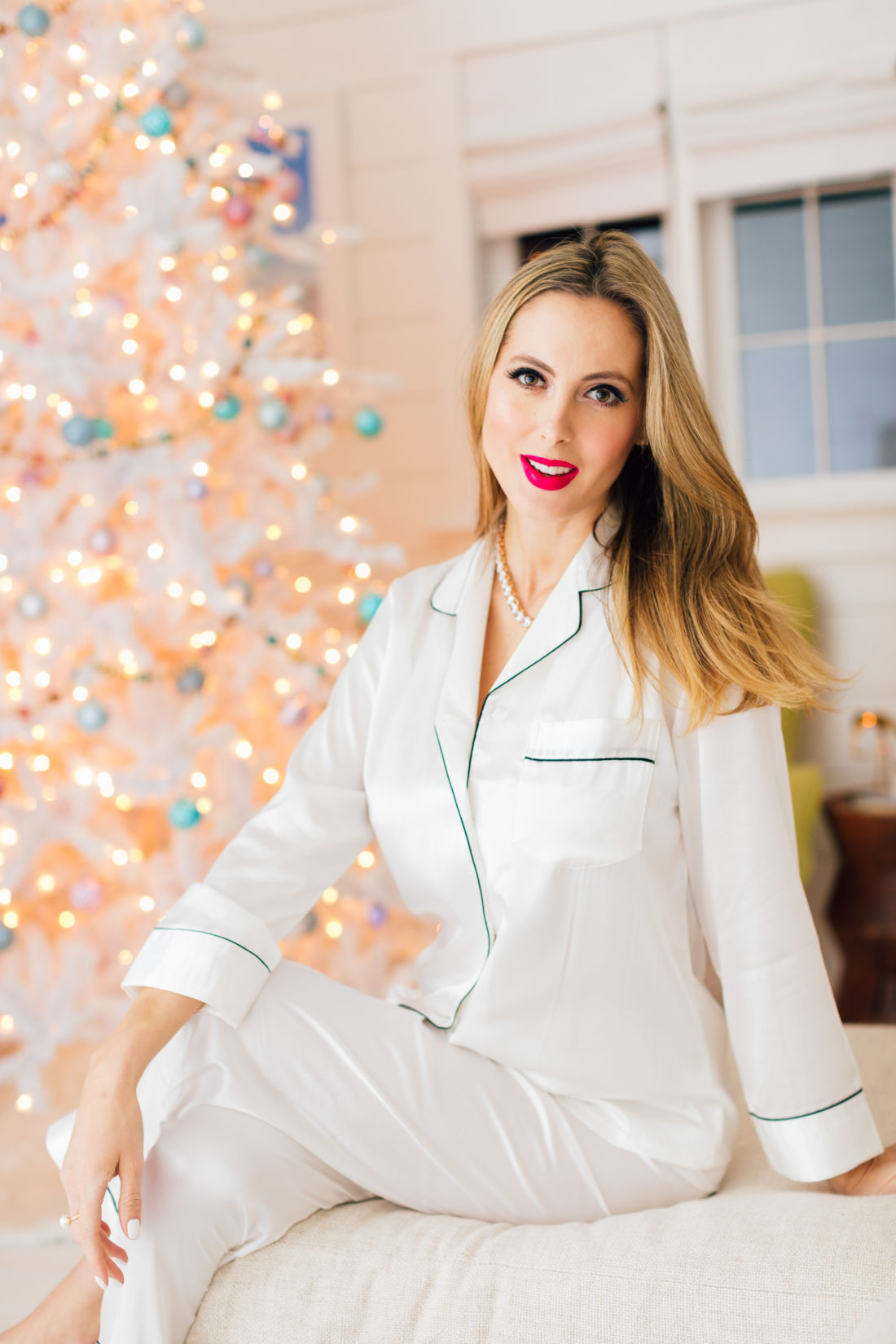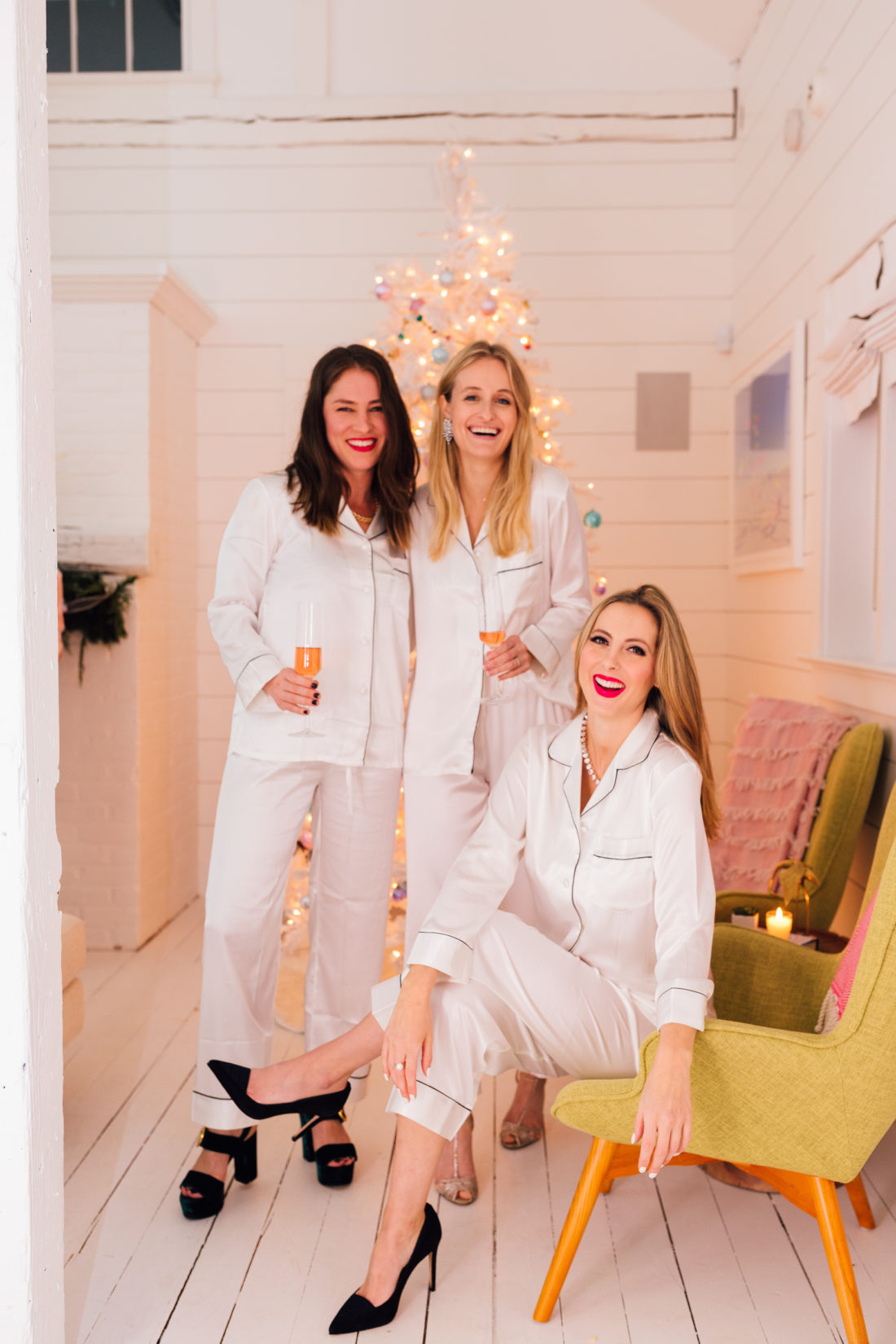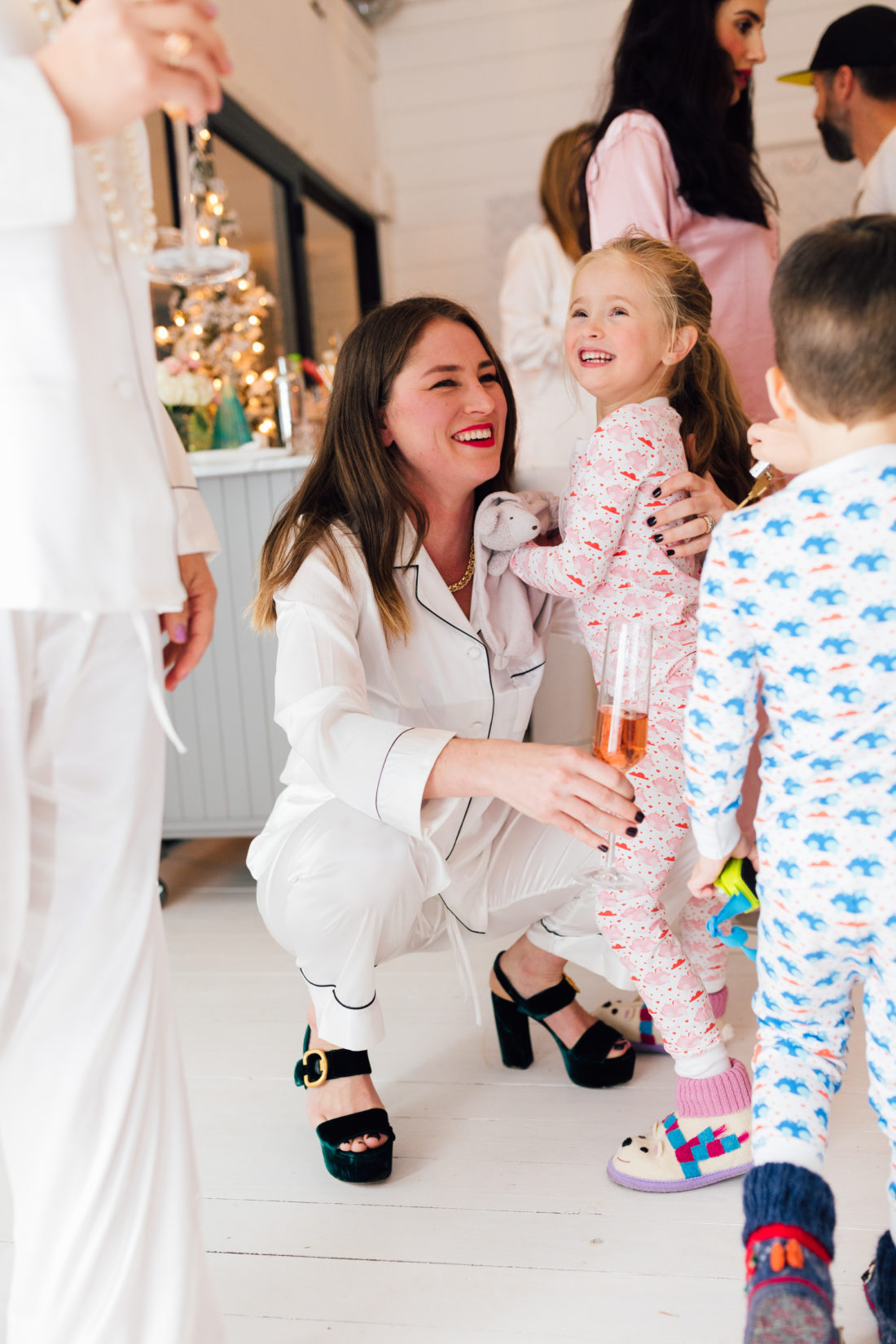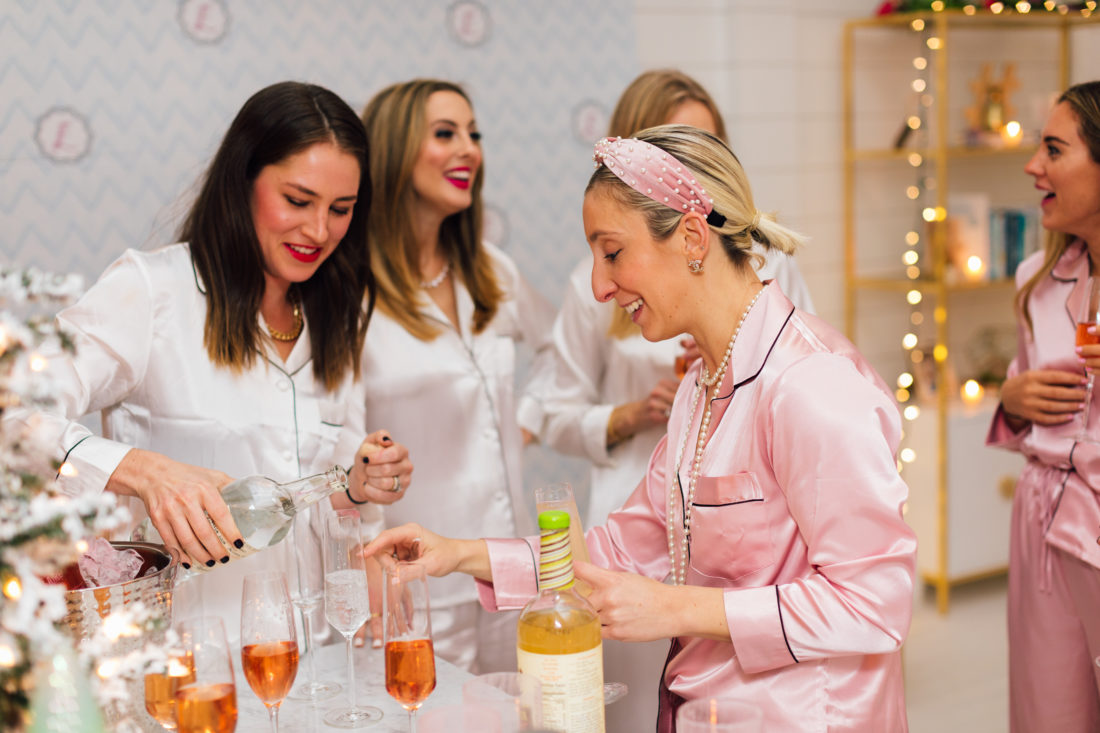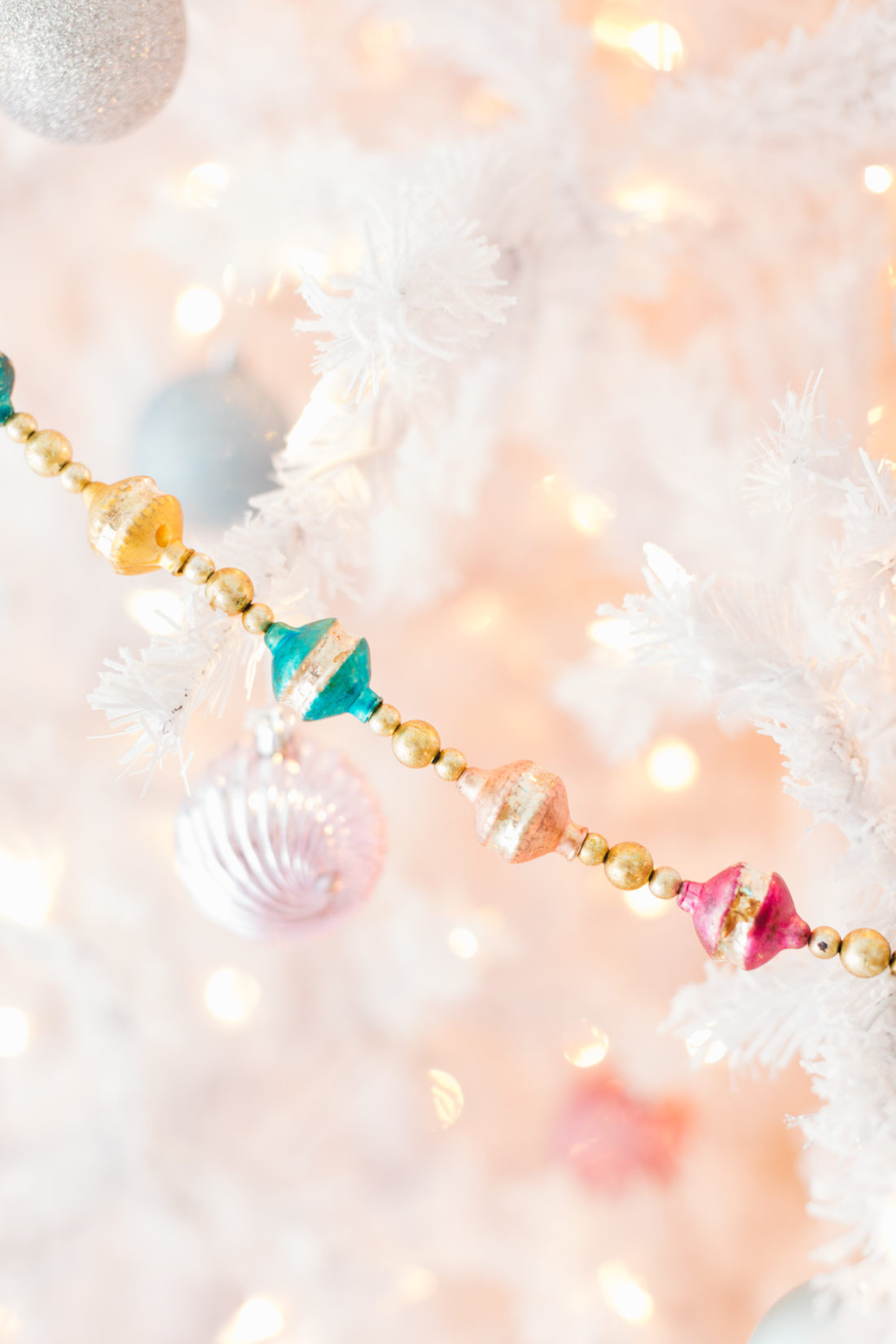 I hope this party gives you some good glam Inspo! I think this would be a really fun baby or bridal shower idea as well!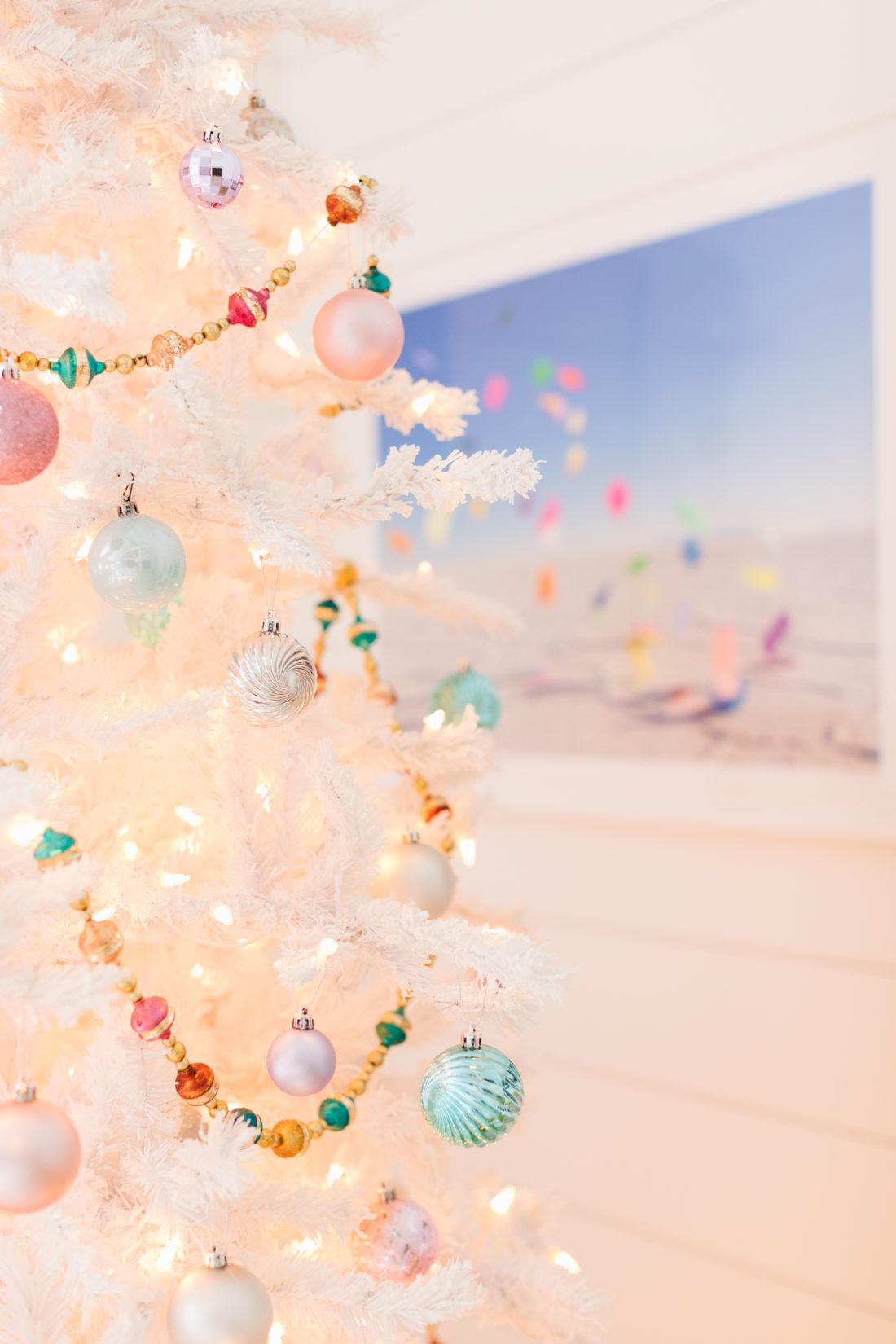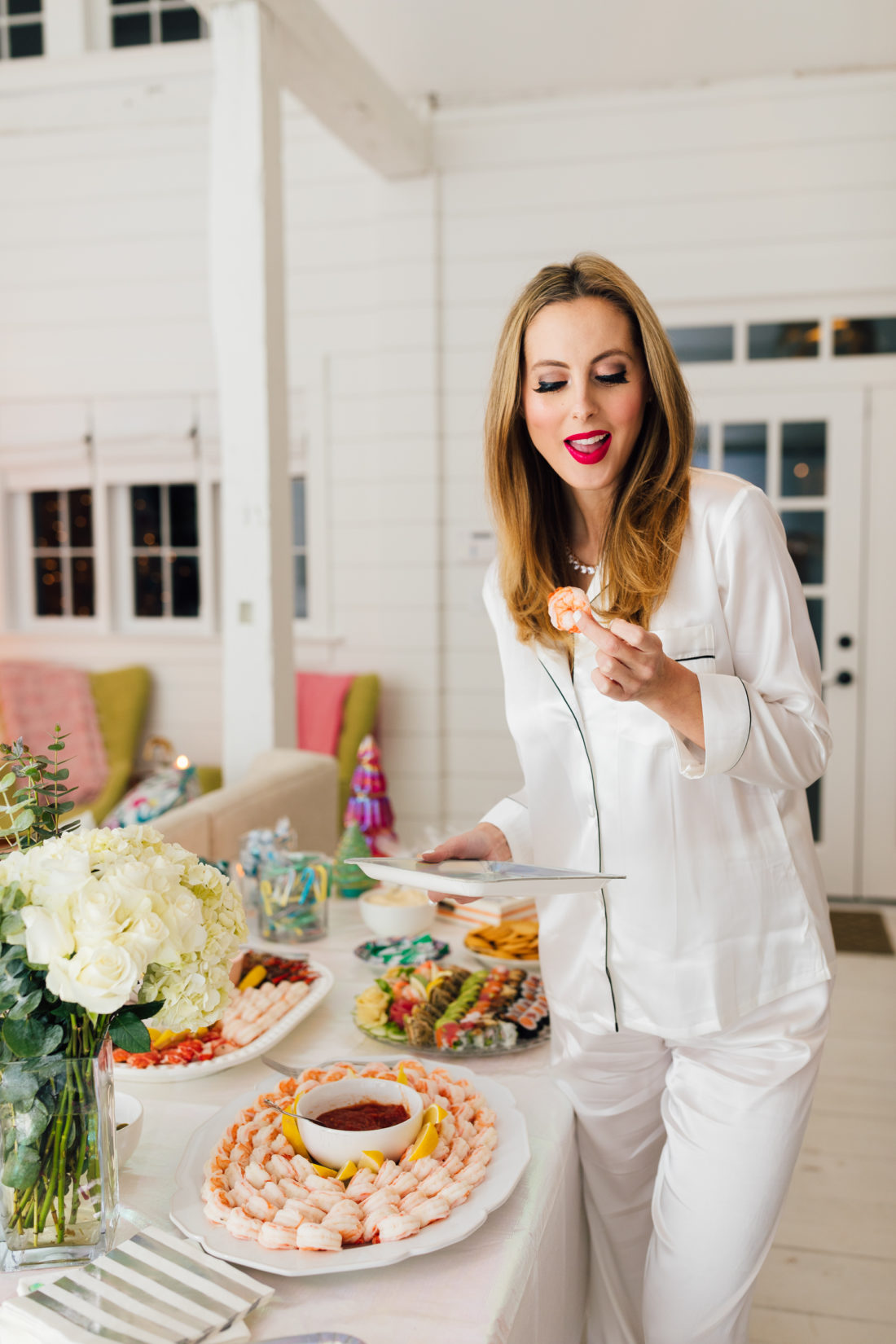 Shop the post…

Photographs by Julia Dags