The following content may contain affiliate links. When you click and shop the links, we receive a commission.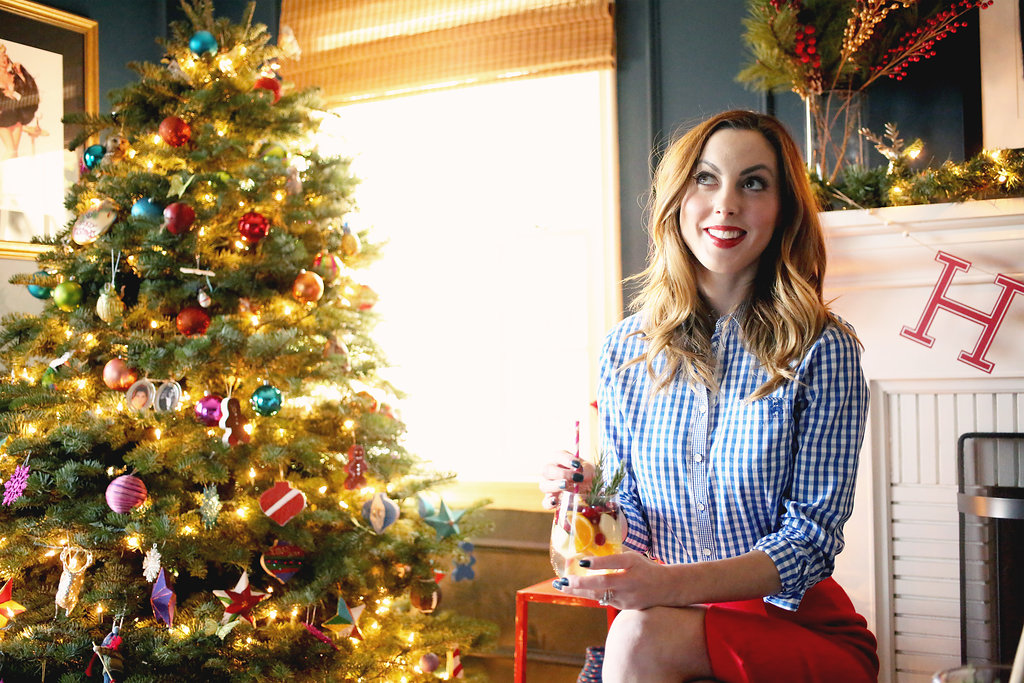 (Kinda) Gone are the days of buying a ticket to some schmancy New Years Eve Night Out, getting dolled to the max, and being hungover until at least the third day in January.  Now my idea of a great New Year's Eve includes an easy and festive late afternoon/early evening cocktail party at my house! Have you tried finding a babysitter on New Year's Eve? And then have you taken out every dollar to your name to PAY that babysitter when you get home? Nothankyouverymuch.  All I want to do is celebrate with the people I actually like– drink a yummy cocktail and eat some delicious bites while the kids play with each other.  Maybe we watch the East Coast feed of the ball dropping, but probably we just…don't.  Does this sound good to you? Let me show you the party I have planned.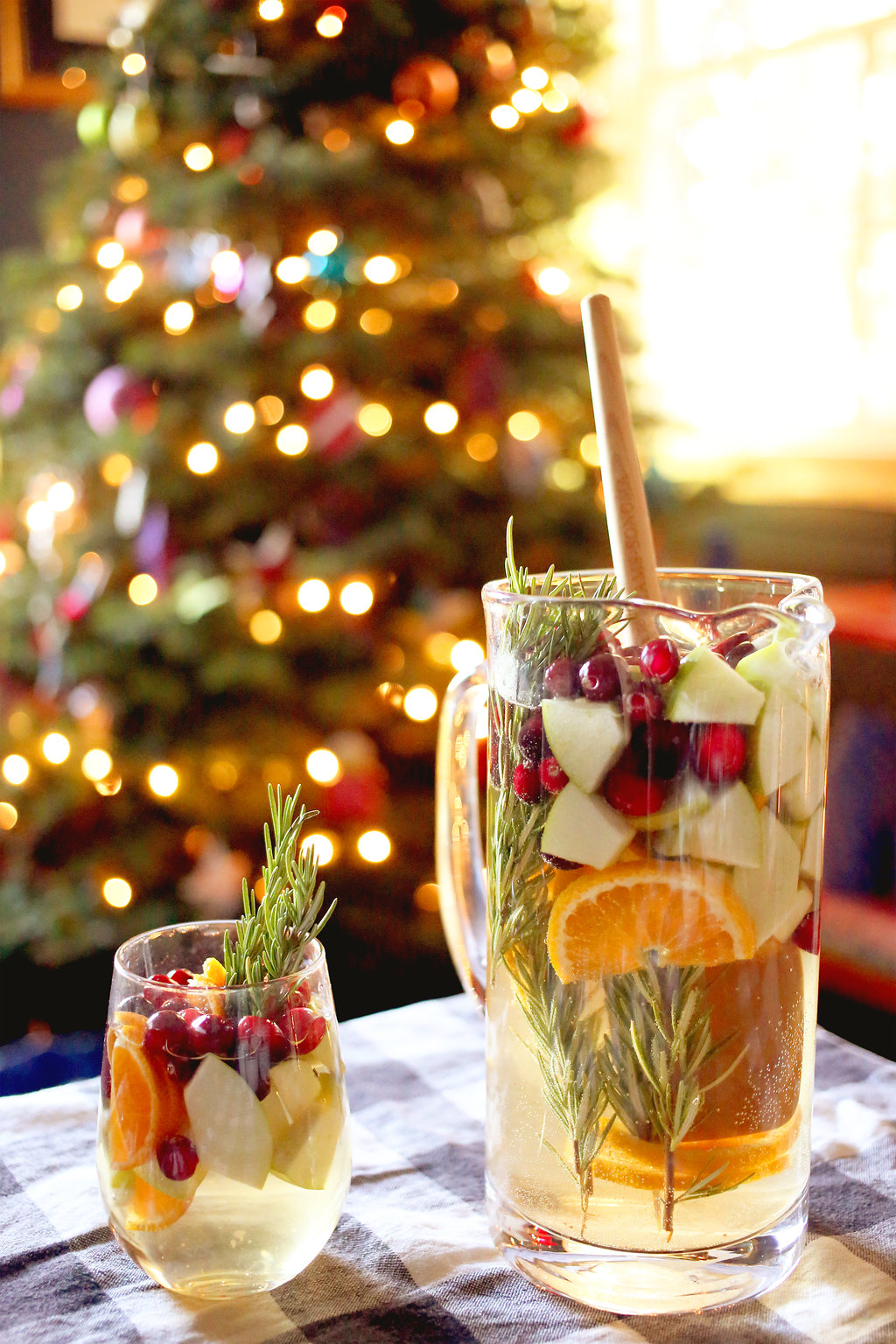 For any party I host, I like to make a batch cocktail.  This saves me a lot of time and headache (well depending on how many I drink, maybe not the headache).  I also find that it's nice to have a signature cocktail at a cocktail party.  It make it seem like a lot more planning went in to a party than (maybe) actually did.  This Holiday Sangria is so festive it practically fills in for a centerpiece! It's also dangerously tasty.
Holiday Sangria (Makes 1 Large Pitcher)
1 Bottle Sauvignon Blanc
1 cup vodka
1 cup white grape juice
1 can lime flavored sparkling water
2 apples, chopped in to 1 inch pieces
2 oranges, cut in half and then sliced in to half-rounds
1 cup cranberries
4 sprigs fresh rosemary, plus more for garnish.
Add all of the ingredients except for the sparkling water in to a large pitcher. Mix well with a wooden spoon, cover with plastic wrap, and refrigerate for at least 1 hour or up to 6 hours. When ready to serve top-off with the sparkling water, mix well, and pour in to glasses– make sure to let lots of the yummy fruit tumble in to each glass! Garnish with extra rosemary sprigs.
Easy food is a must at a party.  This is the step that can take you from Happy Hostess, to Stressball Hostess About To Have A Meltdown In The Bathroom.  Let's avoid that.  When I want to make sure I enjoy my party, I like a few really simple make-ahead hors d'oeuvres that you can put out right as the party is starting– and then forget about them.
Pear & Blue Cheese Crostini
Flat crackers of your choice (make sure they are sturdy and flat enough to hold the topping!)
Good blue cheese, sliced in to flat and wide pieces
Ripe pears, cut in half, and sliced very thin
Rosemary to garnish
Honey to garnish
Arrange the blue cheese on the crackers. Place a thin slice of pear on top, and finish with a tiny sprinkle of rosemary! Serve along side honey to drizzle.
Prosciutto Fig Pinwheels
Puff pastry
1 jar fig preserves
Good Italian prosciutto di parma, thinly sliced
1 egg, beaten
Preheat the oven to 350 degrees. Place parchment paper on a large baking sheet. Thaw puff pastry as per package directions. When ready, roll out lightly on a floured surface, to make slightly thinner. The surface area of the pastry should increase by about a third. Lay the pastry so the short side is facing you. At the far end, brush the last two inches of the pastry with the beaten egg. Then, progressively moving towards you, spread fig preserves on half of the remaining pastry, and lay prosciutto slices beside eachother (flat) on the other half. Beginning from the side closest to you, roll the pastry away from you in to a tight jelly roll. Use the pastry with the egg wash to seal the roll. Wrap in plastic and place in the freezer for 15-20 minutes.
When ready, remove from the plastic wrap, place on a floured surface, and cut crosswise in to ¼ inch rounds. Lay them flat on the baking sheet, careful not to overlap or place too close together. Brush with the egg wash on the side facing up.
Bake for 15- 20 minutes.
Caprese Salad Bites
Bite-sized Mozzarella balls
Cherry tomatoes
Basil leaves
Toothpicks
Cut the cherry tomatoes in half. Start by putting a torn piece of basil on the toothpick. Follow by one cherry tomato half, a mozzarella ball, and the second cherry tomato half. Serve along side a dipping bowl of Extra virgin olive oil, Aged balsamic vinaigrette, and fresh oregano sprinkles.
Now in my humble opinion, no party is complete without a cute little favor for guests to take home! I love figuring out something surprising that will be special for my nearest and dearest as a thank you for coming to visit.  For this party, I thought I'd take the New Years Eve theme to the next level, and create a DIY Trail Mix Bar!  Happy Trails in 2016! We drive so much here in Los Angeles, and I always wish I had a little snack in my car for when I'm feeling stressed, bored, or famished.  I wanted my guests to be able to create their own perfect Holiday mix– a little bit salty, a little bit sweet (just like 2015!!)  You can really go wild here with your imagination (I am a Trail Mix lover myself) but I used an array of raw almonds, yogurt covered raisins, chocolate peanut clusters, roasted pecans, roasted cashews, gummy bears, and M&M's.  I wrote out guests names on the tags first, and then placed them stacked nearby with the treat bags.  Even kids love to make their own Trail Mix! (If you are my particular child, you especially like to sneak M&M's out of the center bowl…even though you know they are normally reserved for Potty Training rewards.  Stealthy like a Cat Burglar)
What are your plans for New Year's Eve? Do you celebrate with friends at home, or venture out for a night on the town? Let me know in the comments below!!
SHOP THE POST