The following content may contain affiliate links. When you click and shop the links, we receive a commission.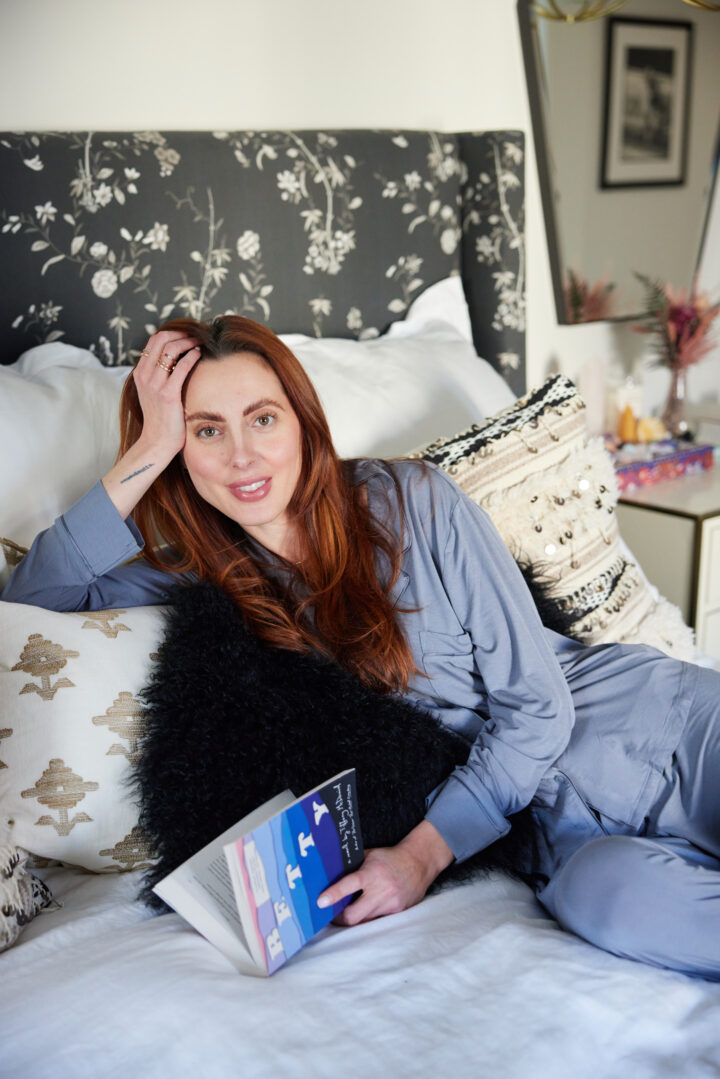 Since I've been a little girl, I've always loved a routine. As somebody who is a Type A, perfectionist planner, a routine is basically the backbone of my life. Of course, until I had kids. And then it was harder than ever to prioritize my own routines as I made way for theirs! It has taken me eight years of parenting to realize just how important routines in my own life are to not only my mental health but my physical health as well. I think most parents can relate to putting their kids' needs above their own. I have found myself eating various leftovers out of the Tupperware, standing over the sink, in place of actually preparing dinner for myself. On numerous occasions. I have spent so many of the last several years grabbing good habits here and there when I remembered, or stumbled upon them, but not truly creating a routine.
I heard about habit stacking a few months ago, and it made me realize that not only did I need to Habit Stack in order to stick to important habits like taking my vitamins, but I needed to get back into some steadfast routines in order to have those well-worn grooves to stack my new and healthy habits with! I also wanted to really prioritize my mental health for the first time in a while…and knowing myself, I knew just where to start: my mornings.
Mornings are important to me because I'm a true Morning Person. I'm at my most clear and happiest first thing in the day, and then by the end of the day, I tend to be at my most burnt out, tapped out, and exhausted. I've always had the most success with anything challenging when I can get it done in the morning hours. Chief among these things is exercise! I knew when I wanted to get serious about getting back into a routine that my morning was where I would start. Before I was pregnant with Mateo, and the Pandemic happened, I used to get up way before the kids. I'd set my alarm to be able to have at least an hour of alone time (or time with my husband) before the kids woke up and the focus on them started. I felt SO much better stress-wise whenever I was practicing these early wake-ups, so I knew my routine needed to start with that. Here, I'm going to share my current morning routine. This is mostly for the weekdays, as Ian normally lets me sleep in a bit on weekends and our routine differs without school in the morning. Let me know if you have questions!
5:45
Wakeup with my alarm. I let my eyes adjust while I check my phone for any text messages or emails I received while asleep.
5:55
Get dressed if I'm going to work out (3x a week) Grab my book or laptop if I'm not going to work out. Brush my teeth and take my medication. Head downstairs.
6:00
Make coffee. There is nothing better than sipping a cup of warm coffee in silence. And it's rare in a family of five!
6:10
If I'm working out, I head to the gym, pick a 23-30 minute Tonal workout, or unroll the mat and do a Melissa Wood Health app workout with a similar timeframe. If I'm not working out, I read my book, or answer emails on my computer. This may not seem like "Me" time, but it truly does de-stress me to get ahead of the day and makes me feel so accomplished!
6:45
Mateo wakes up at 6:45 and the big kids wake up at 7 am. I try to be waiting on the couch for Mateo when he wakes up so I can make his oatmeal with him and get some solo snuggles in. I drink a big glass of water and take my morning supplements.
7:00
I start breakfast for the big kids and then make their snack for school while they eat. Ian is usually back from his morning run by this time, and we trade off.
7:15
If I've sweat a lot, I shower. Otherwise, I go through my skincare routine and use some dry shampoo. I get dressed.
7:45
I come down to have something to eat myself, possibly a second cup of coffee, and hang with Ian. By now the three kids are usually dressed and enjoying free play while we wait to take them to school. Ian and I go through what's on the schedule for the day and chat about what we'll make for our dinner.
8:15
I make a little list for myself (Yes, with paper and pen) of what I want to accomplish for the day and anything I need to remember. I get the kids' backpacks ready for school and make sure they have their sneakers/coats/hats/etc. ready.
8:30
Ian takes the big kids to school, and I snuggle with Mateo on the couch and we watch a show together. He's not a particularly cuddly child, and so I tend to get my much-longed-for snuggles in when we do this in the mornings! Win for me!
9:00
Our nanny arrives to take over, I start my work day, and Brianna and I have a little meeting about the day and any loose ends.
Some products In My Routine That I Love
Stanley Tumbler
$40
It's trendy for a reason! I love this tumbler because it keeps my water cool next to my bed, and I make sure it's full to use during my workout!
Pill Organizer
$5.99
I use this day-of-the-week pill case to keep my medication organized, and so I can tell if I've taken it or not! (Early morning problems)
Personalized Yoga Mat
$44.09
I have one of these yoga mats with my name on it! Helps motivate me!
Tiled Margot Monogram Mug
$14
I always use a mug with an E on it for my coffee. My regular one is chipped so I just ordered this gorgeous option!
Waved Herringbone Black Blanket
$135
A Chappy Wrap blanket is a must for snuggling on the couch with my book and coffee in the chilly mornings.
Percey Eyeglass
Starting at $95
These are the glasses I wear when I read. I love that the clear frames go with everything.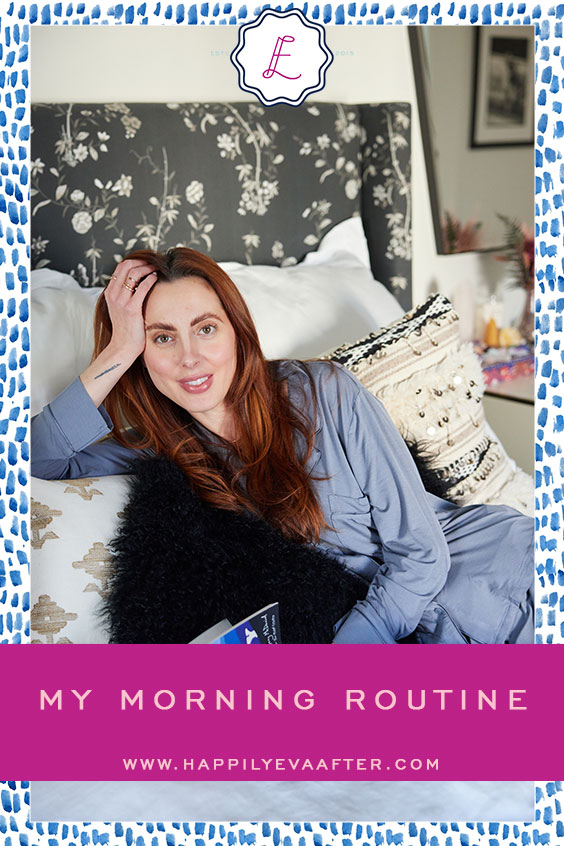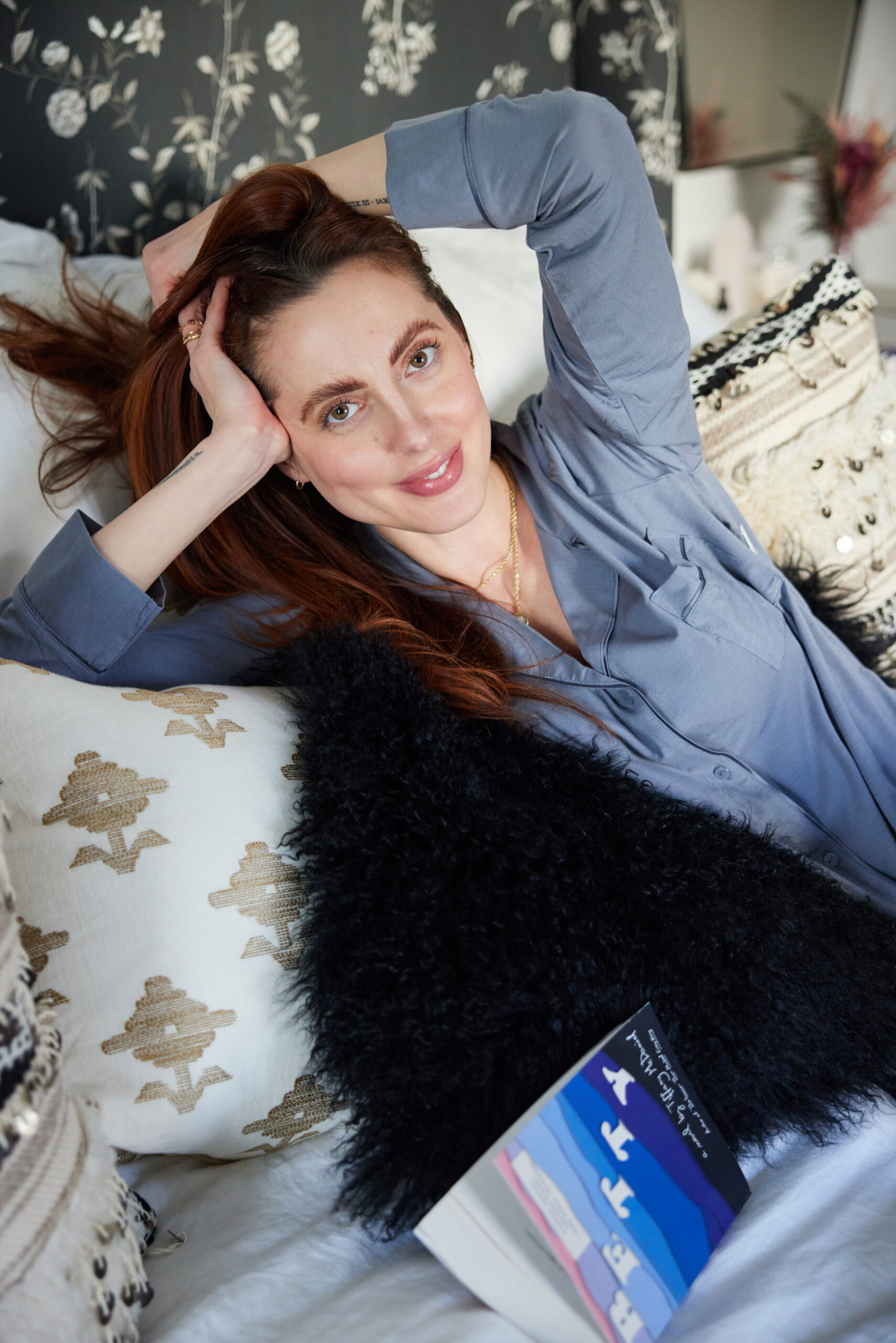 ---
Shop the post…

Photographs by Julia Dags | Copyright © 2023 Happily Eva After, Inc. All Rights Reserved.