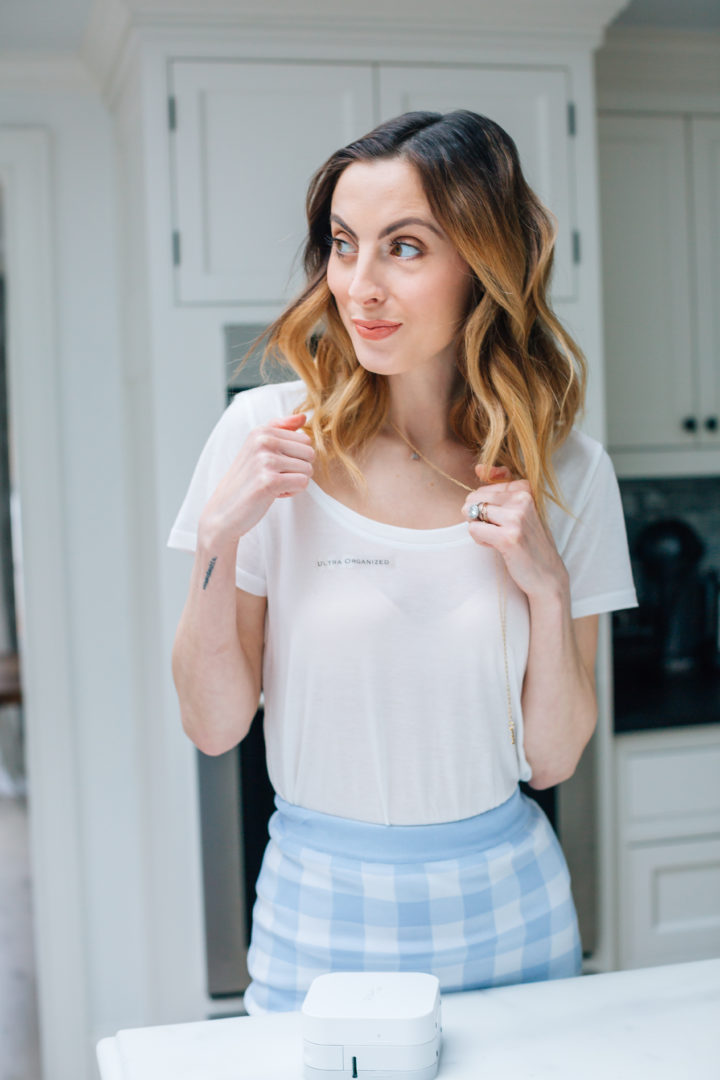 *Many thanks to the P-Touch cube team for sending me this awesome device and sponsoring this post! As always, the thoughts and opinions expressed below are entirely my own.
Like any mom, my life is insanely busy– and not getting any less busy any time soon! Keeping my home organized is really important to me, but between work meetings and general life craziness, I've finally realized that I can't be the ONLY person putting everything away every single time.  In a super busy lifestyle, something has got to give– and my control-freak-ness has got to be that thing (fortunately and unfortunately).  One of the greatest things I've learned in recent years has been how to ask for help (I used to be terrible at this!)– but when I have my husband or other friends or family help me put things away or unload the dish washer, I can never find anything! The other day I searched for the little cup to measure rice for the rice cooker for an actual hour.  I don't even want to think about the things I could have done with that hour!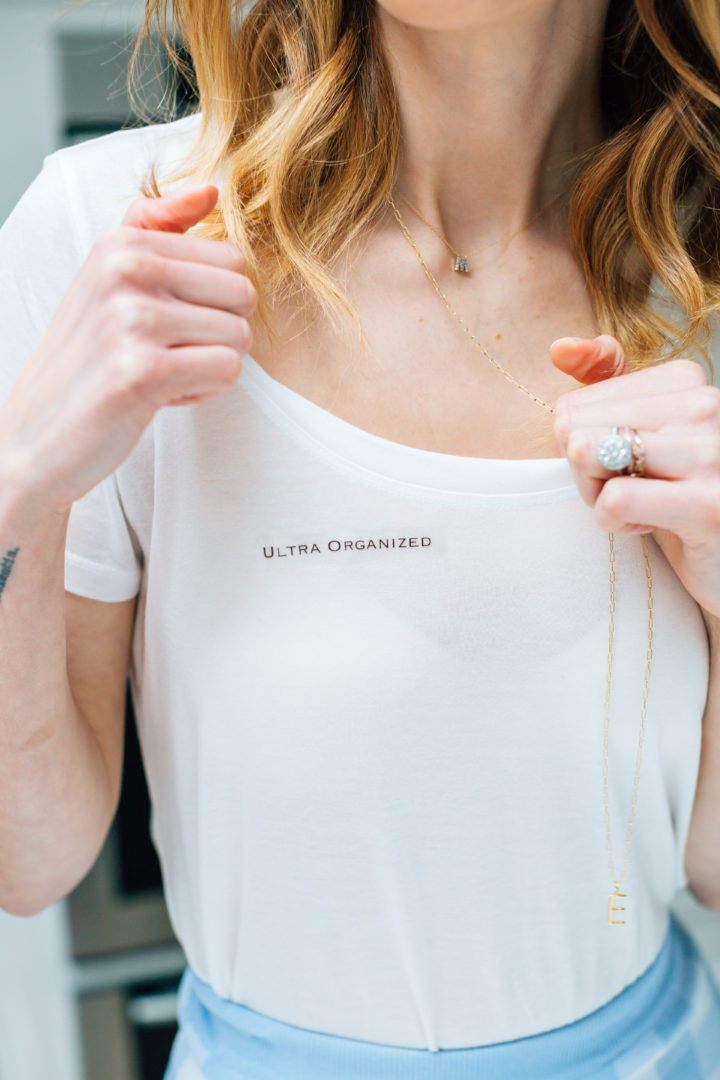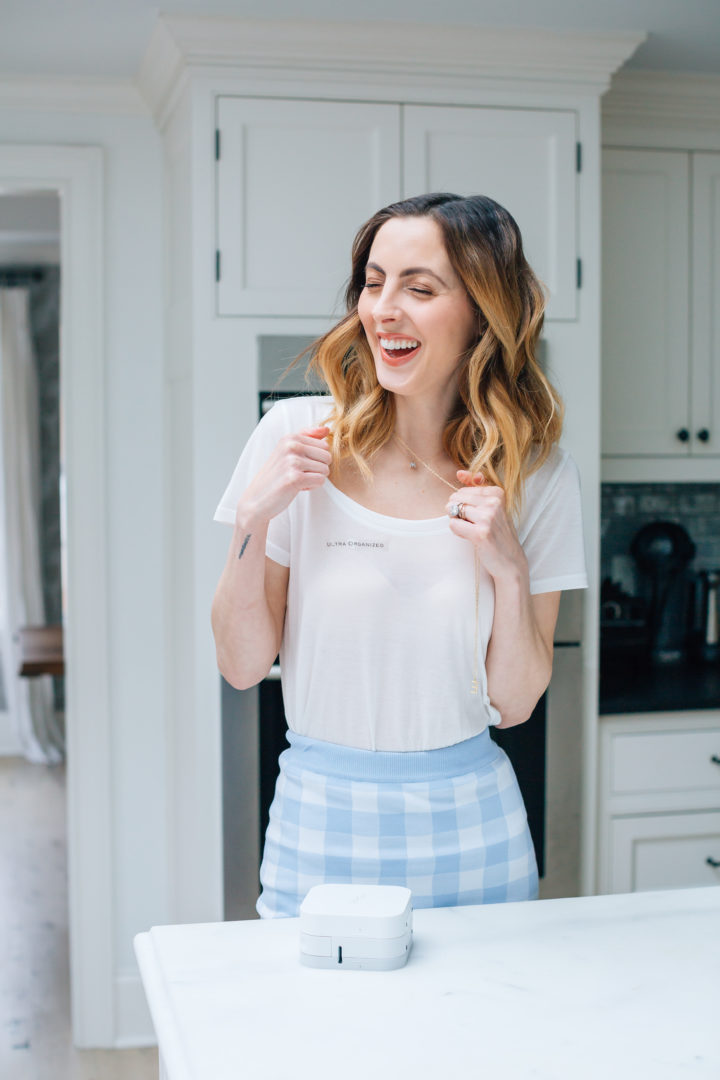 Well, I'm finally getting serious about making sure that my kitchen makes it easy for people to help me.  And it's all thanks to my new label maker! The P-touch Cube is a super convenient, Bluetooth-enabled label maker that helps you label anything quickly, efficiently and best of all– stylishly.  There are tons of fonts, different tape and text color combinations, and even emojis and designs to choose from for your labels.  I've become totally obsessed with it, and it has helped me complete my Kitchen Organization project so easily!  I get asked all the time by readers how I stay organized with two kids and a business to run and whenever I find little hacks and tools to keep my house functioning, well, I always love to share. Today I want to give you a look at my kitchen project!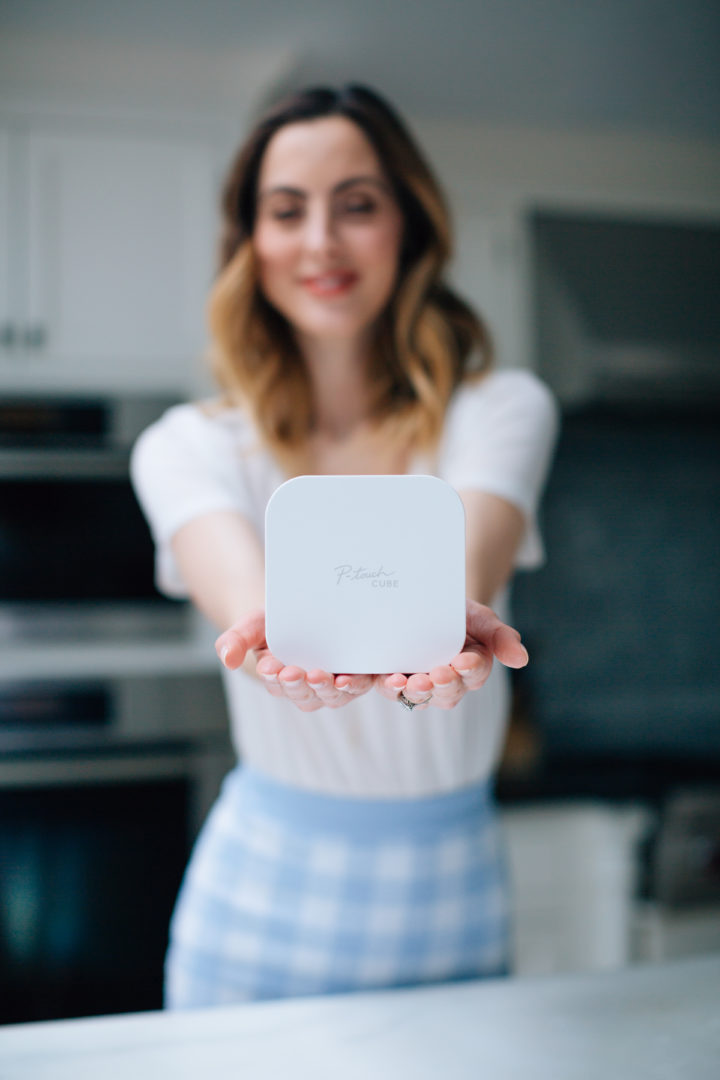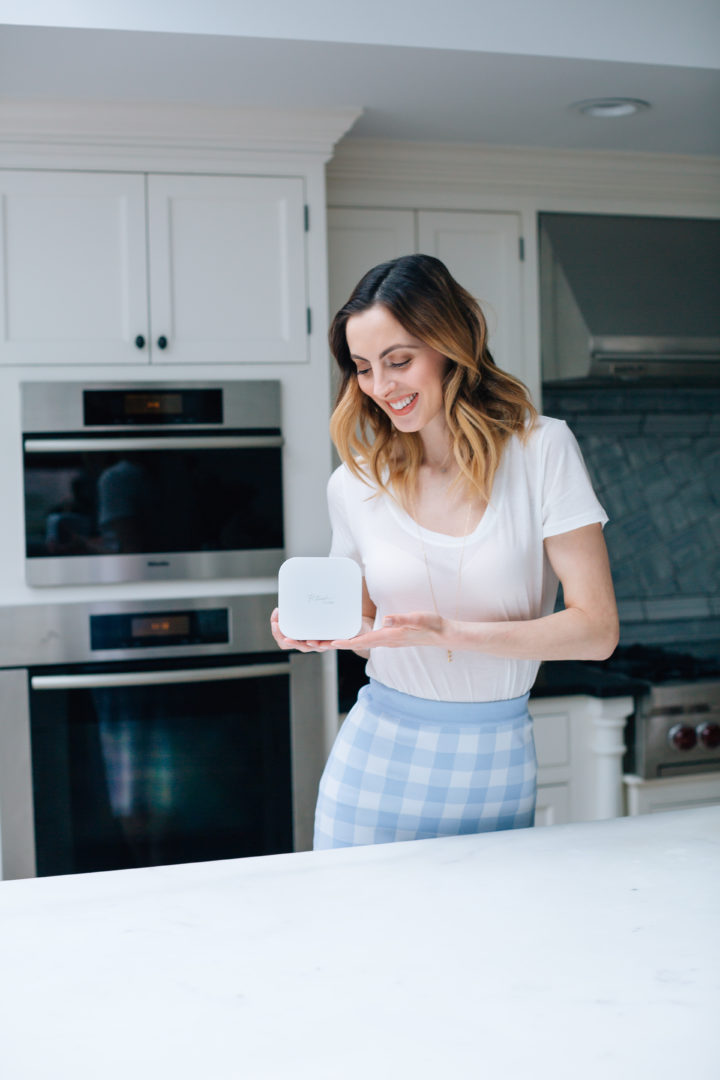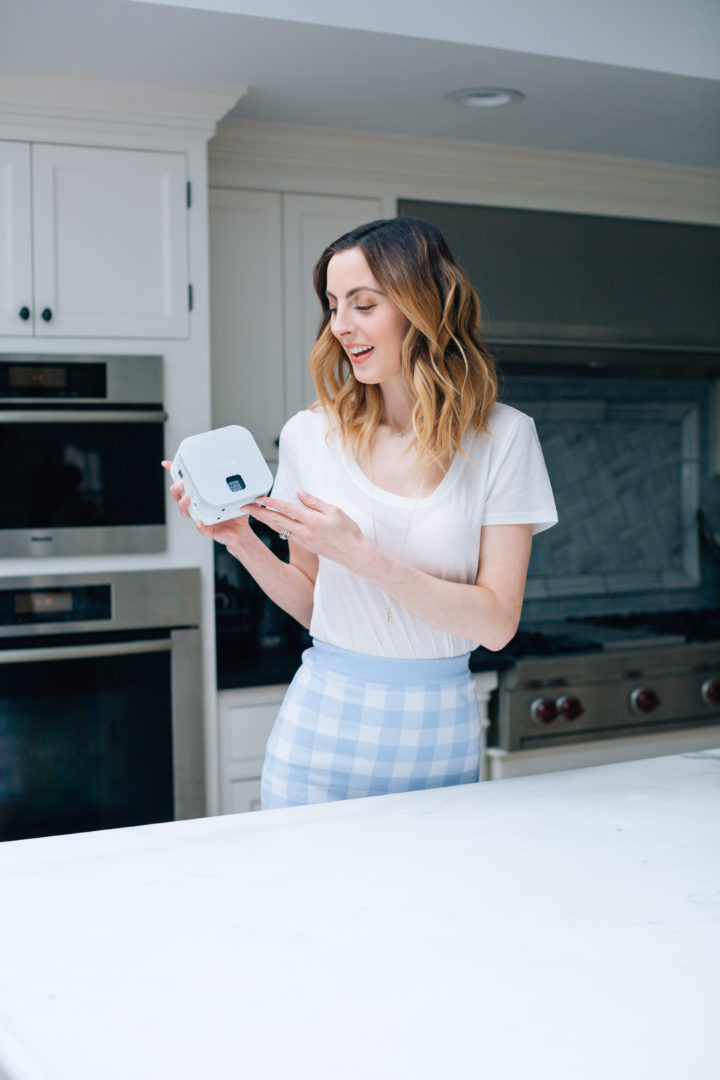 The P-touch Cube is super easy to use, and the Bluetooth aspect makes it so convenient.  The whole thing is run by the really user-friendly P-touch Design&Print app that you download on to your phone (iPhone or Android!).  You can choose from already-made templates and projects– there are so many inspiration points in the app for ways to stay organized– or you can make your own from scratch! The actual P-touch Cube itself can either be plugged in to the wall, or wireless with batteries, so it really fits with whatever electronics system you like for your home.  You just pick the style of your label, and then easily type in whatever you'd like it to say.  Then you press print! Voila! The label emerges in seconds.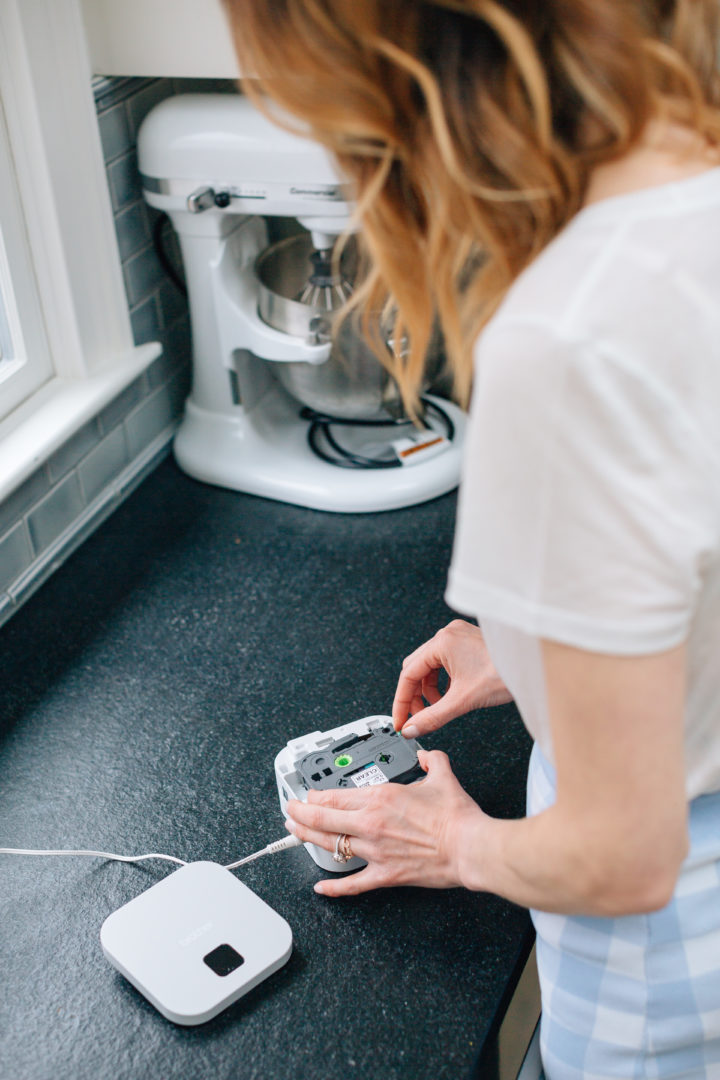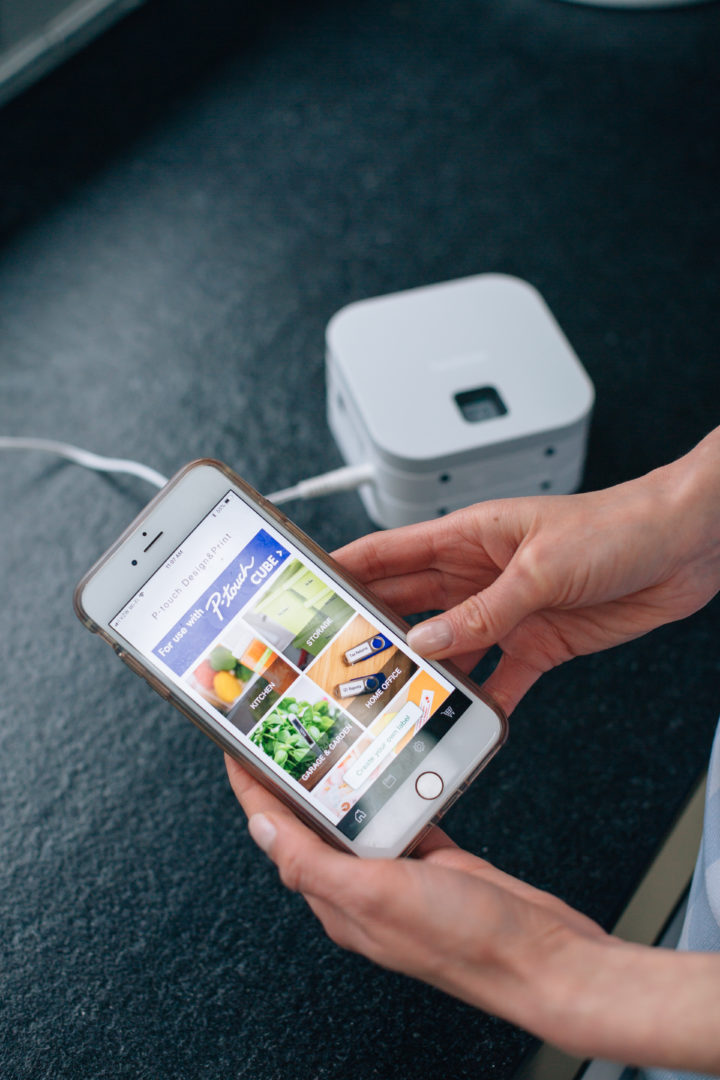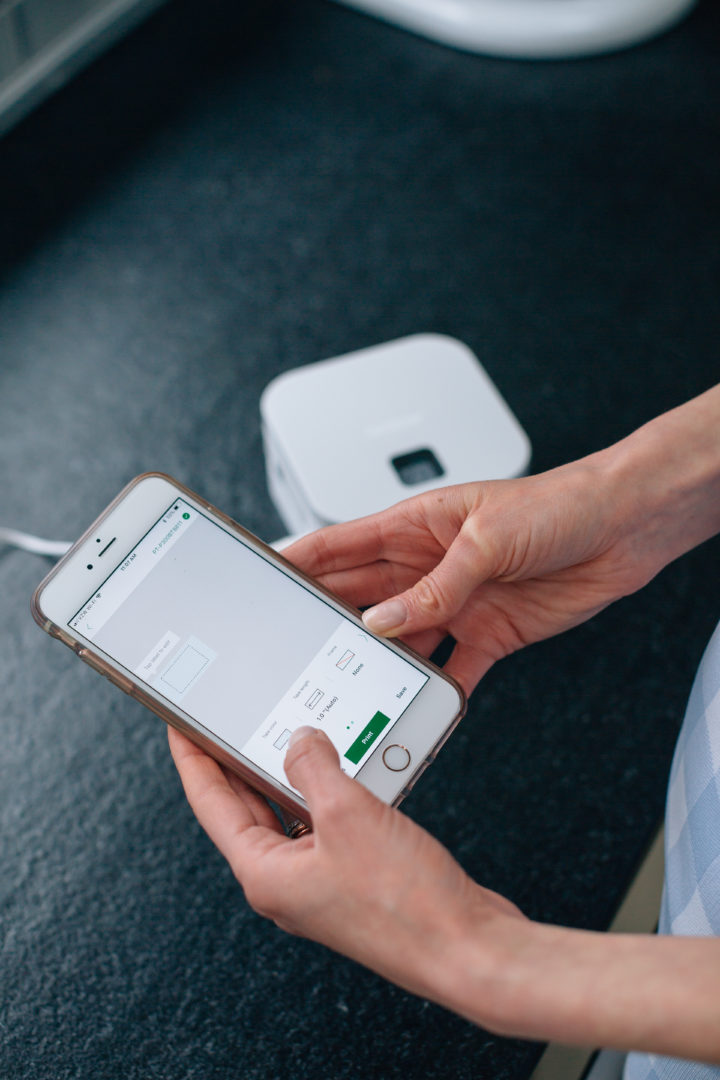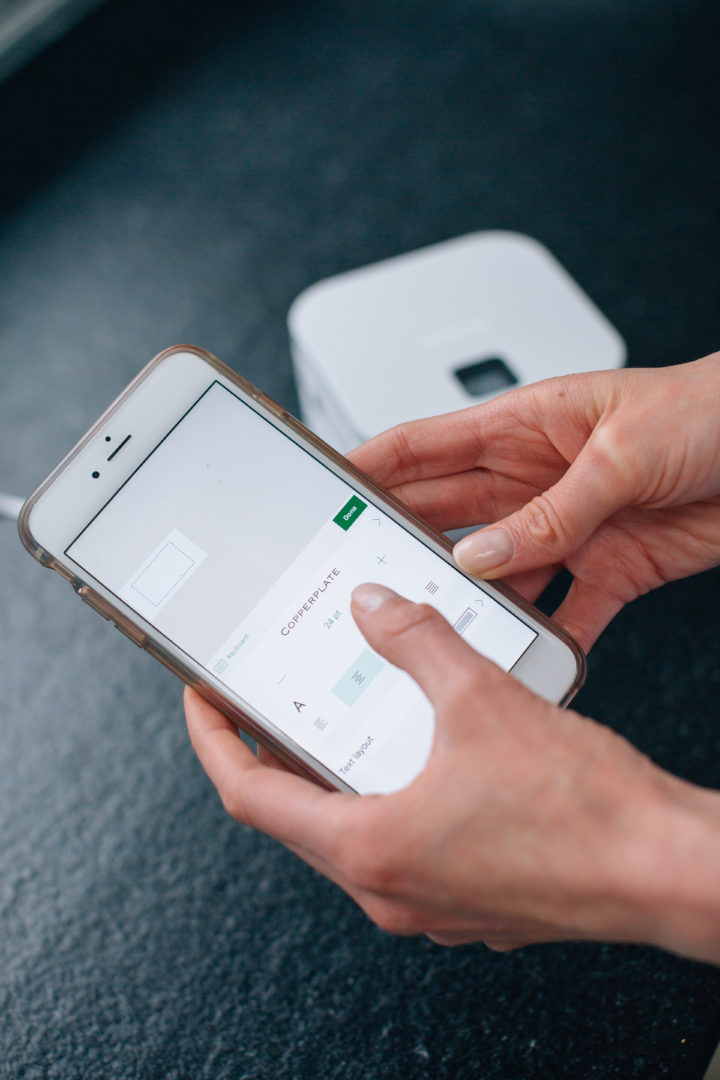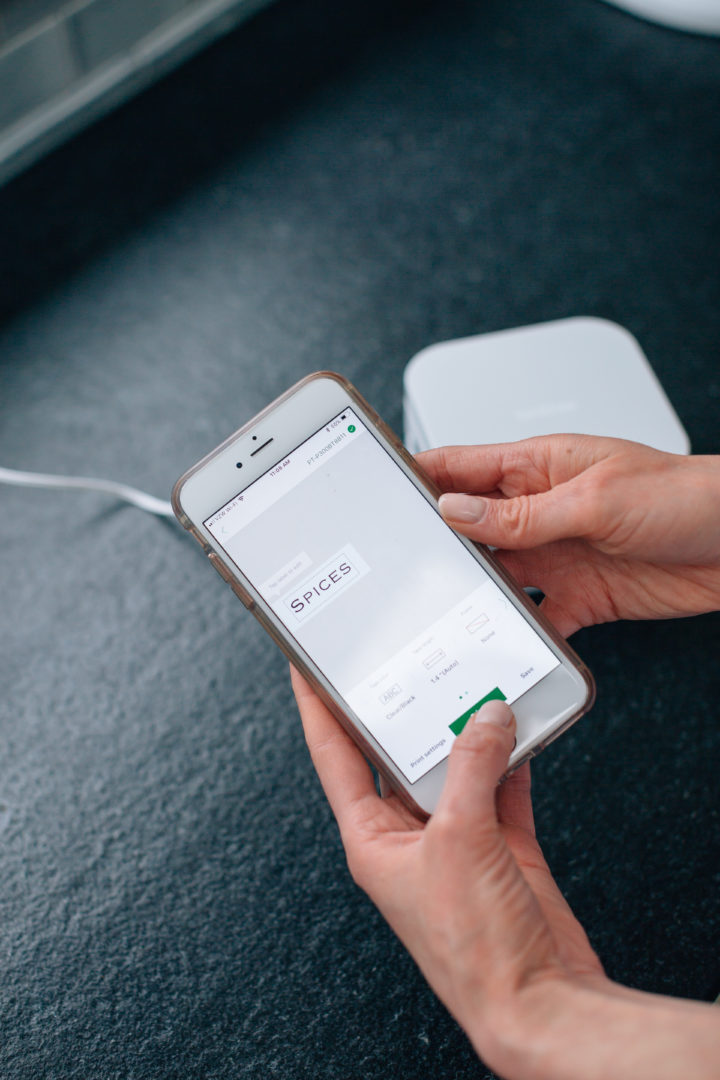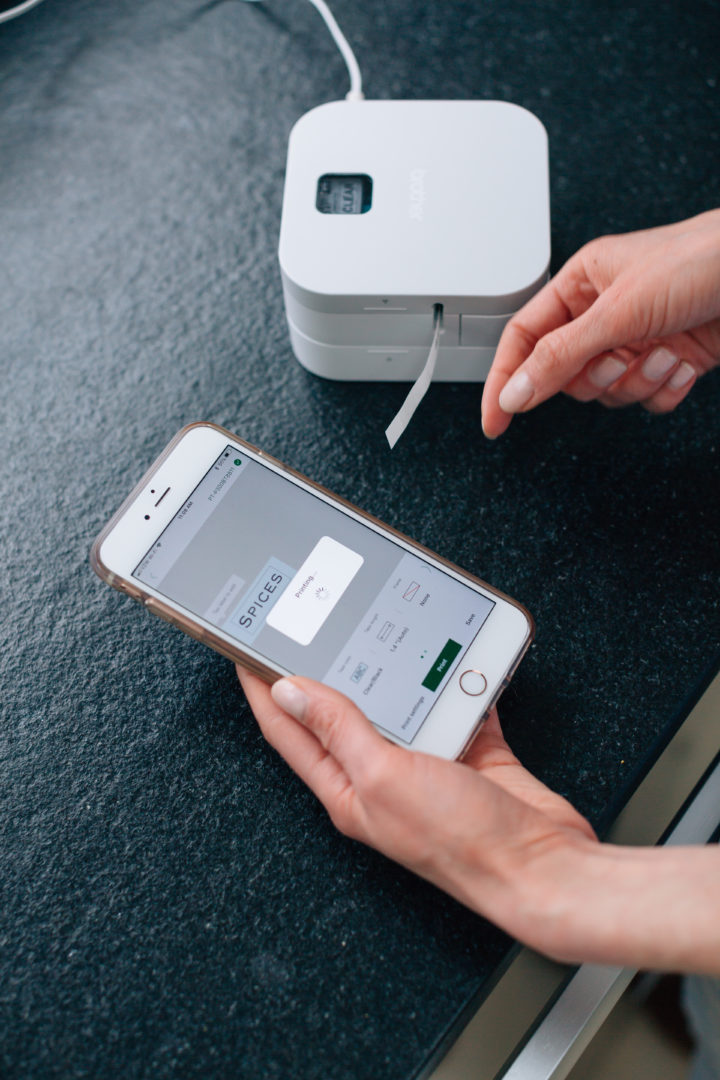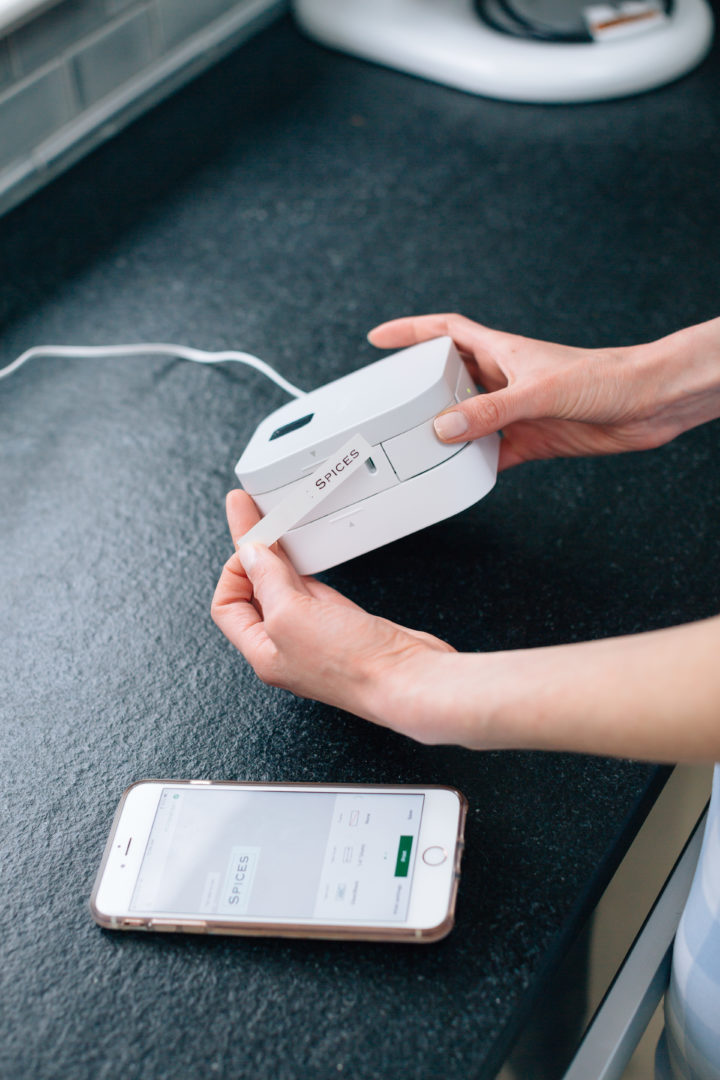 If you don't want to print your labels right away, you can save labels within the app to print later when you are near your P-touch Cube.  This makes my life so much easier as a working mom because I can work on organizing our family life from absolutely anywhere.  I can be on the train coming back home from meetings in the city, and use my hour on the train to brainstorm and organize labeling projects! The P-touch Cube itself is so sleek and elegant that you can even keep it on your desk and work on projects in between conference calls.  I also may or may not have printed a bunch of labels while I was sitting and watching The Bachelor finale the other night.  It felt good to transform couch potato time in to a way to save my sanity around my household!  Three cheers for Bluetooth! LOL.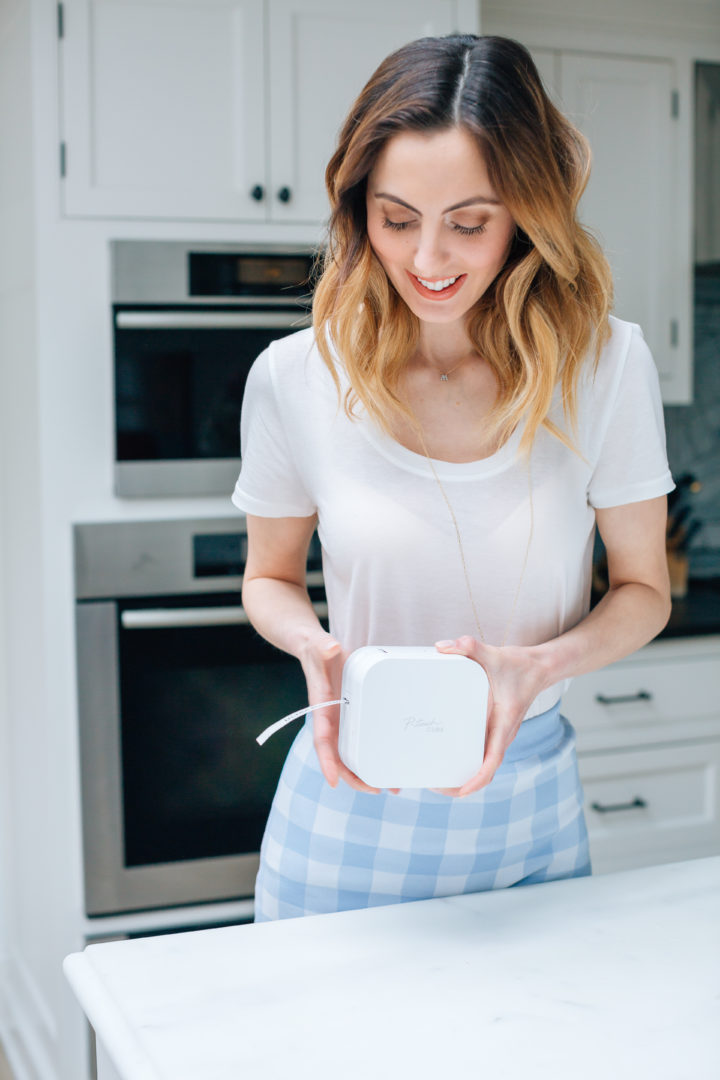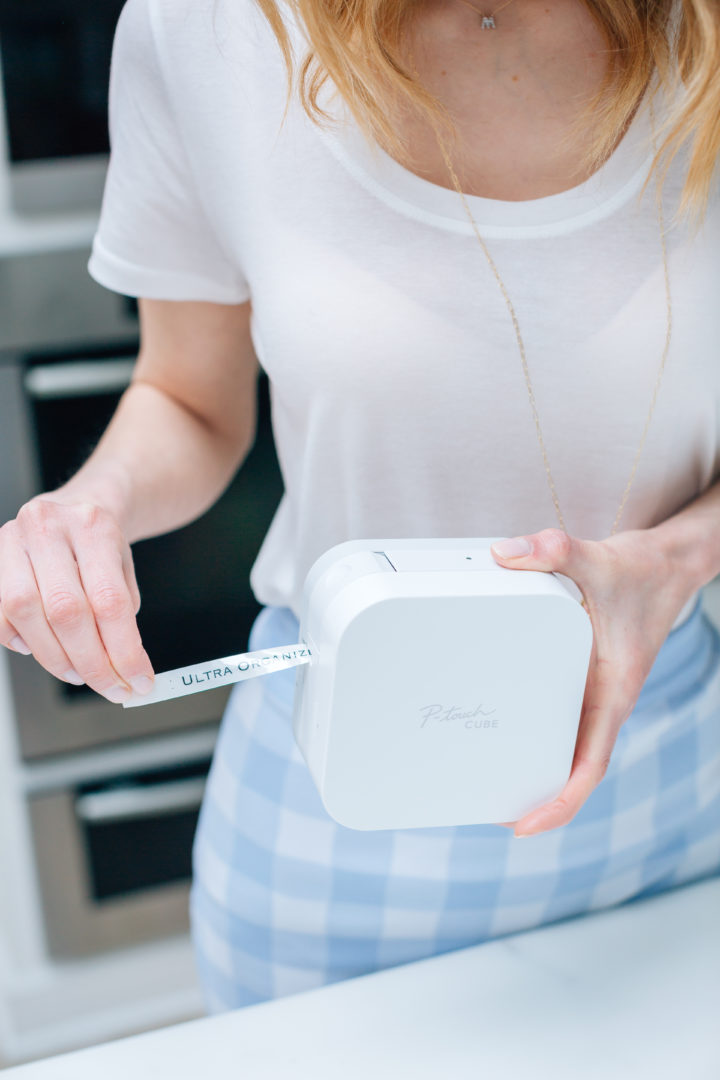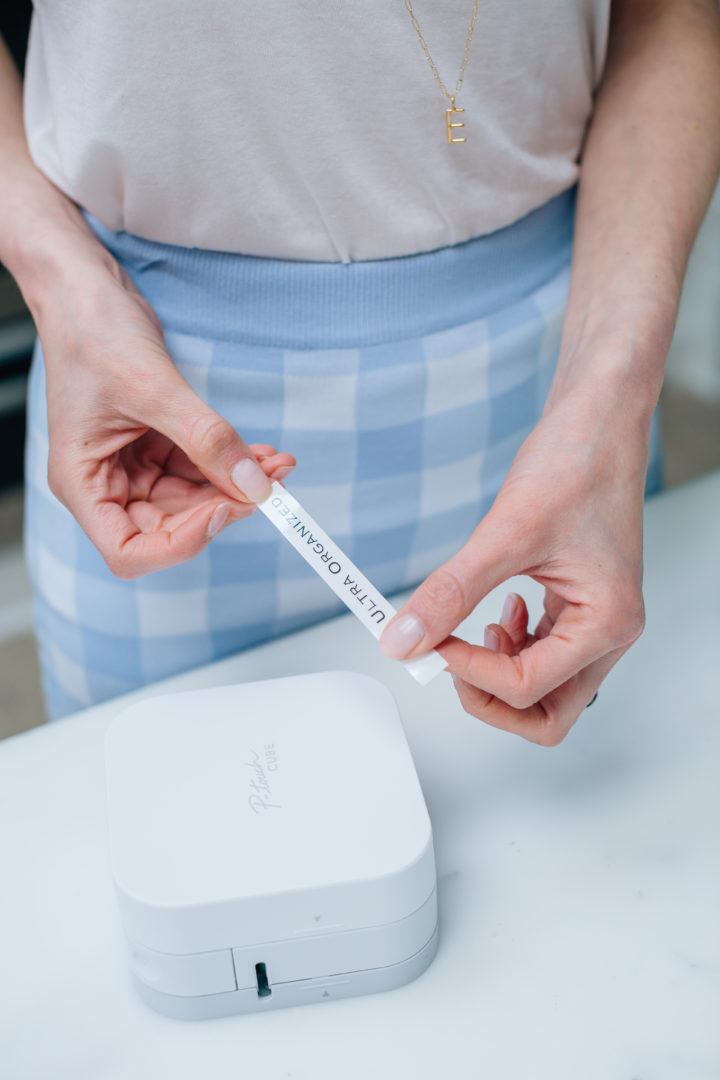 So back to the kitchen project: I wanted to make sure the labels were elegant and subtle, but also really effective.  I chose the Copperplate font and the clear tape with black print.  I love how the clear tape let the wood of the shelves shine through.  Once I got rolling, I started labeling everything! Our kitchen gadgets and our serving utensils drawers were the most chaotic.  There was just a jumbled mix of everything that fit in those drawers– no wonder I could never find anything when I needed it. I took the time to sort everything out, and then I labeled the drawers once and for all.  It felt so satisfying!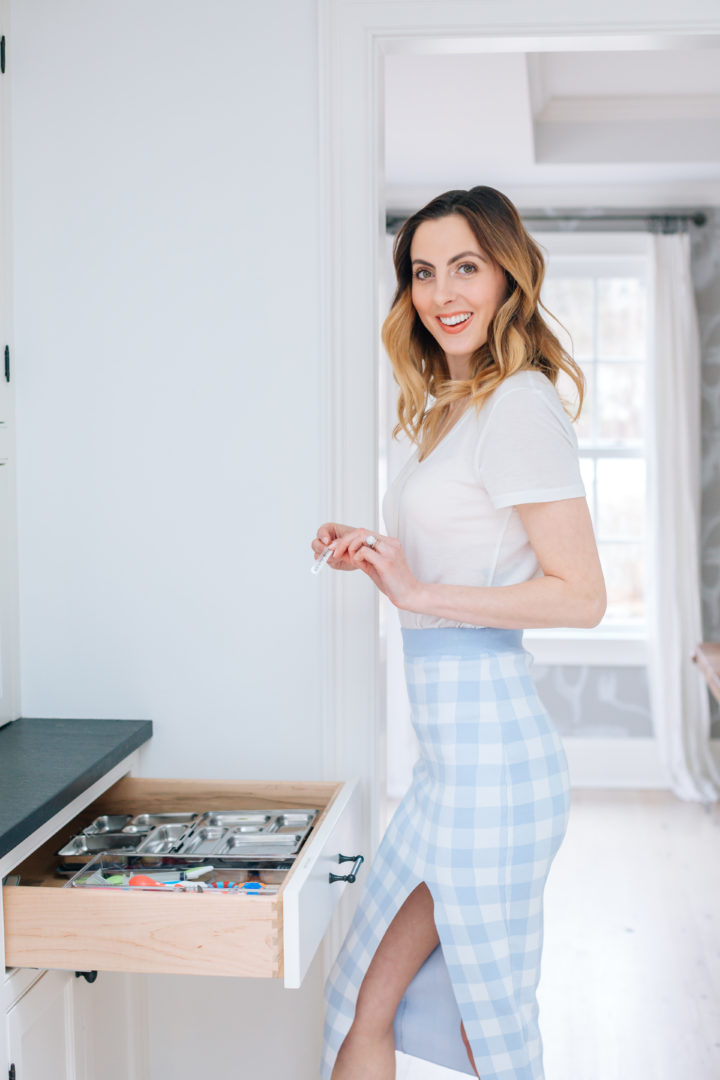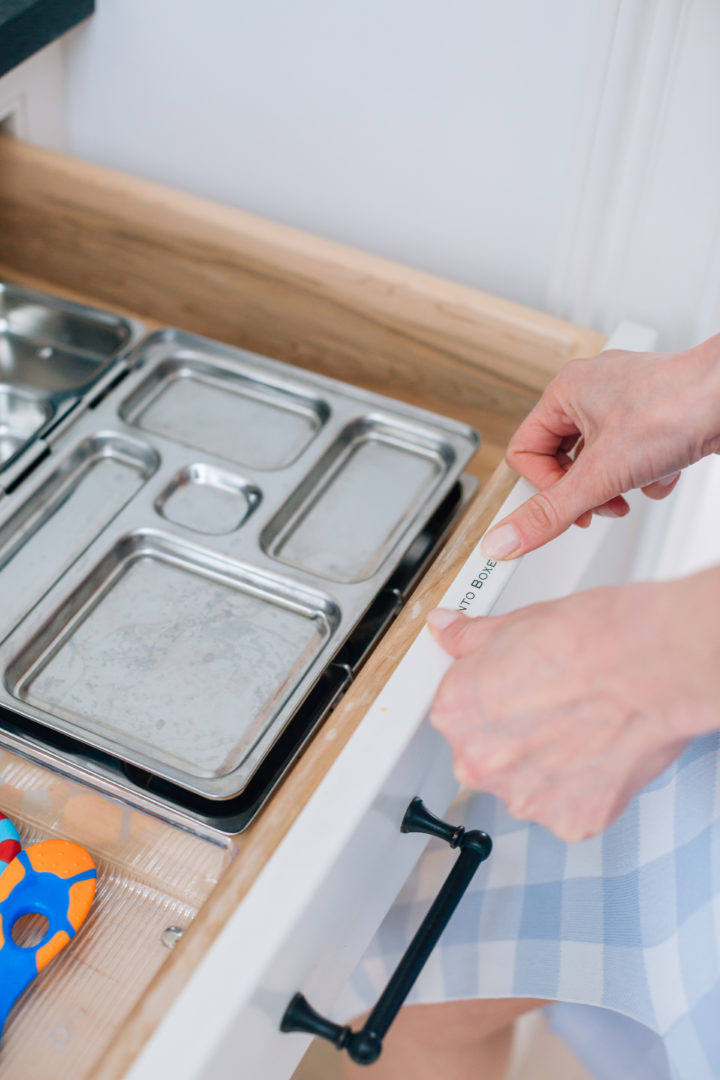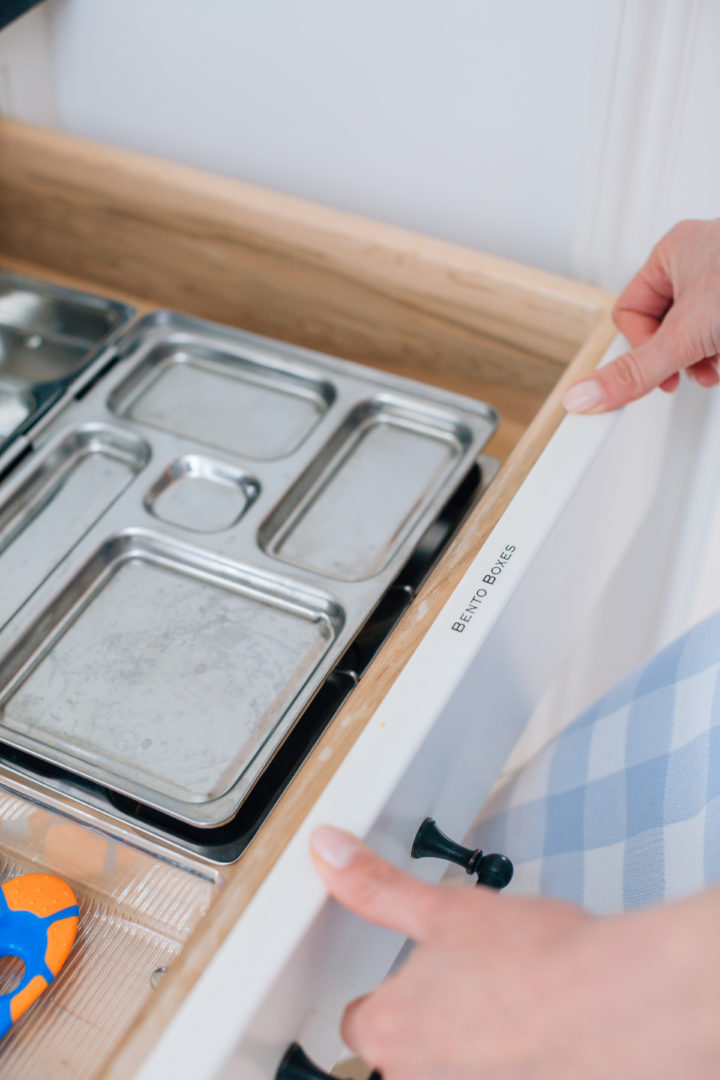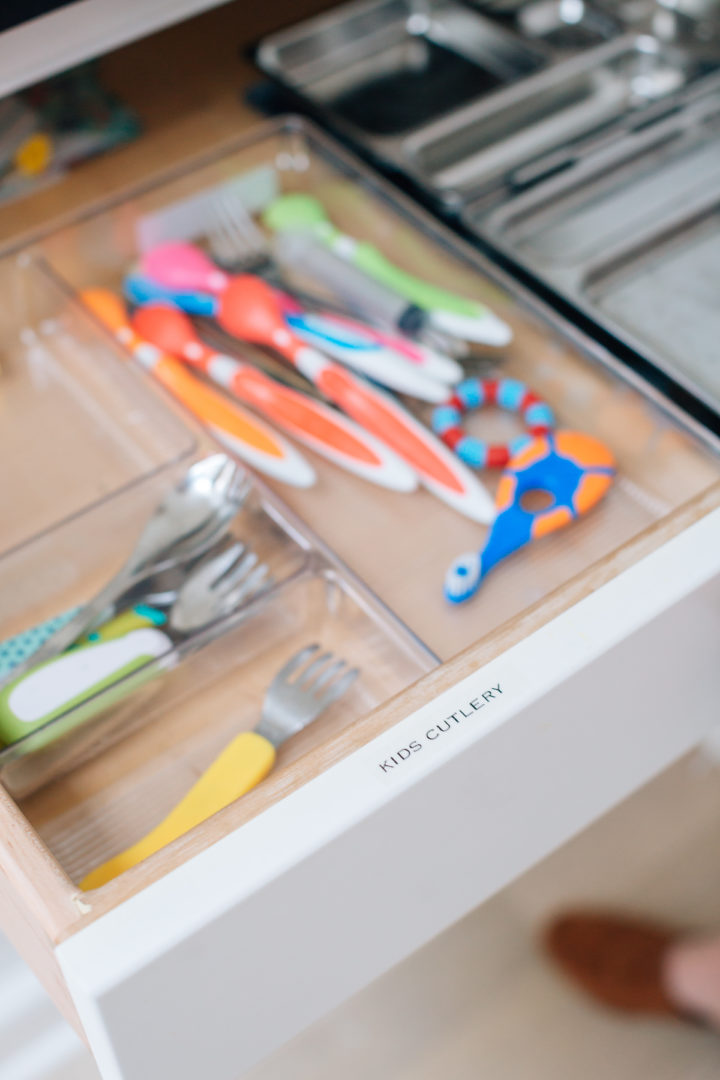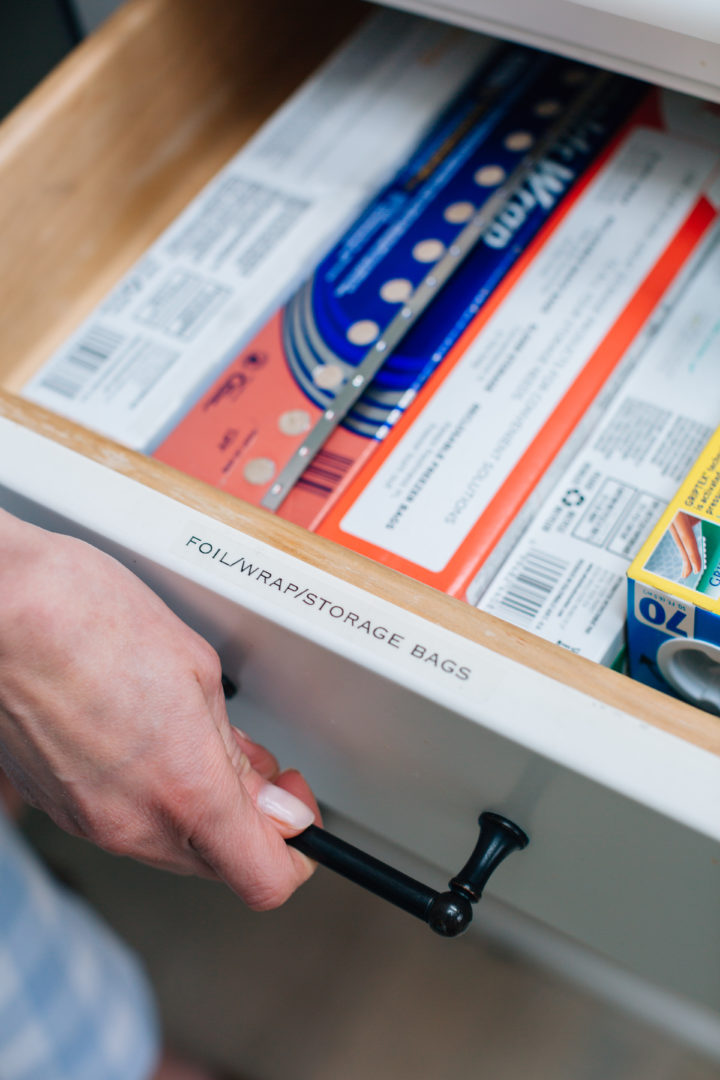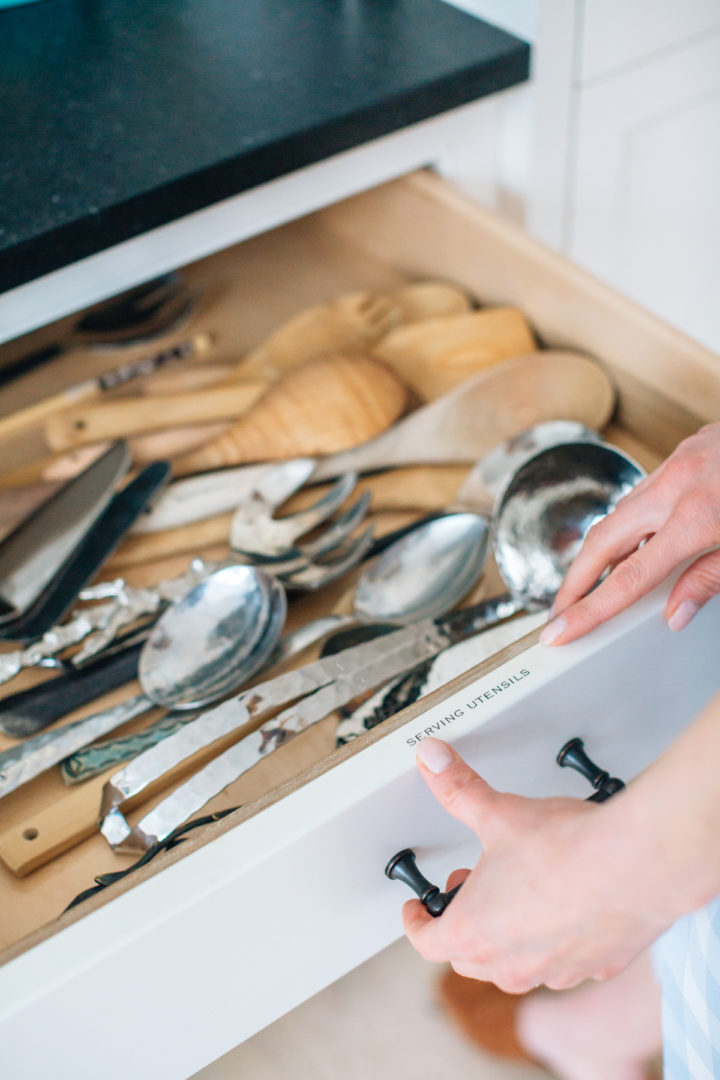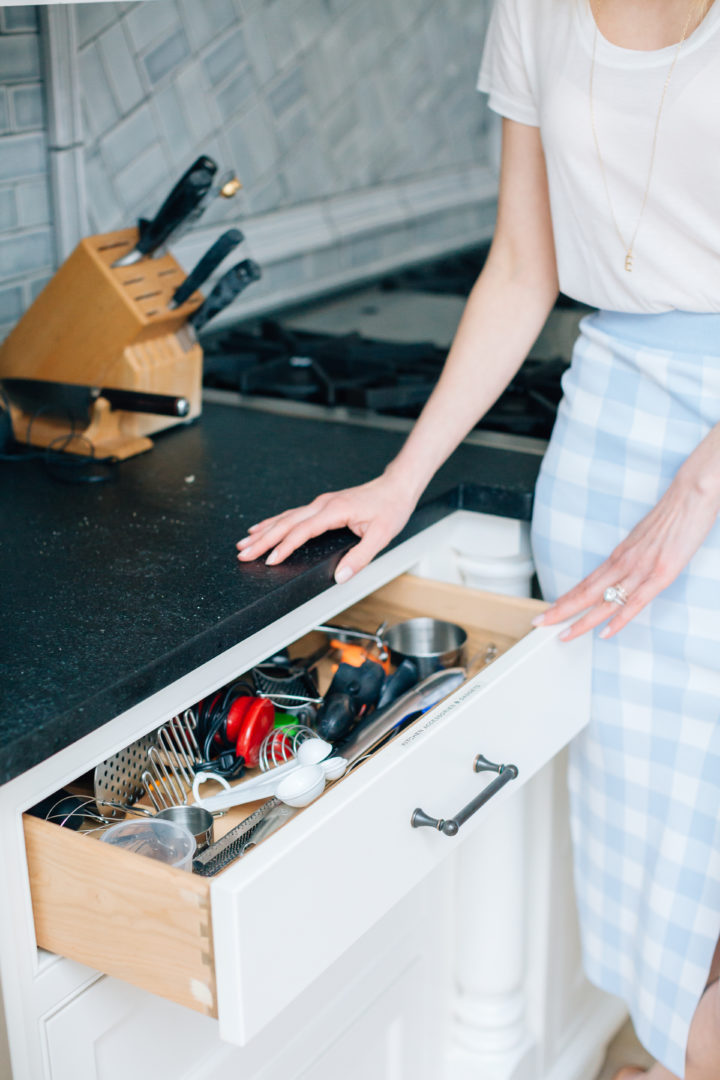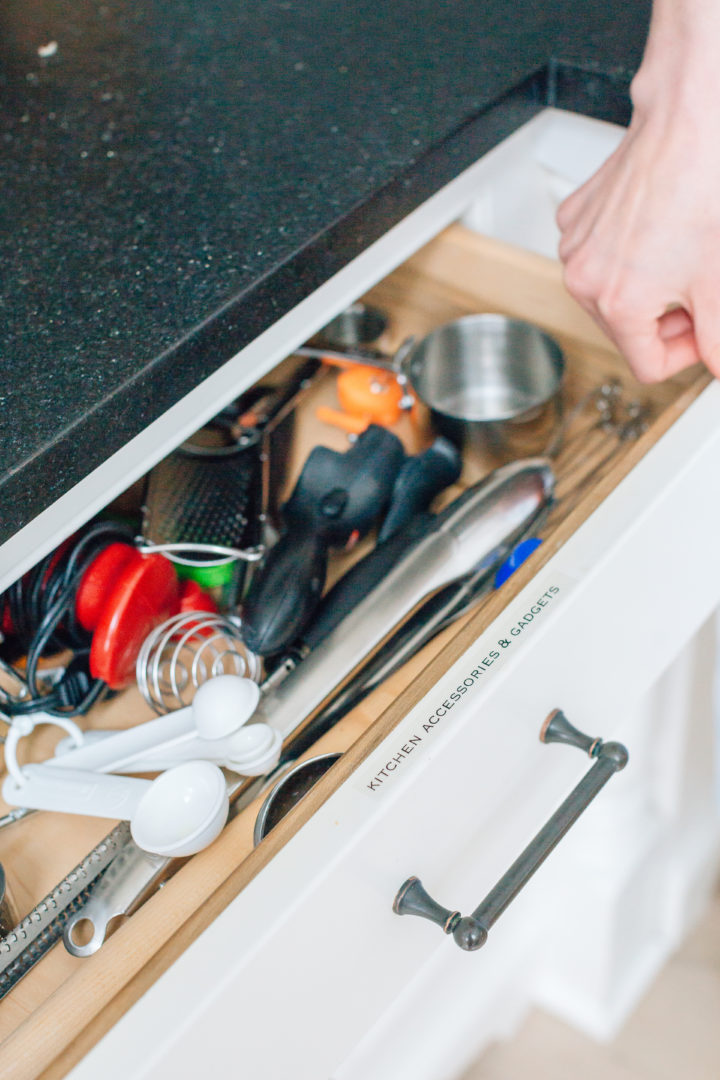 Another jumbled mess has been our tea and spice cupboard.  Printing out those labels will help us make sure that anyone who helps themselves to the tea and coffee– or to the spices while cooking– is cognizant of replacing them in the correct location! I can't tell you how many spices I have bought double of only to find the original a week later…in a crazy place in the kitchen!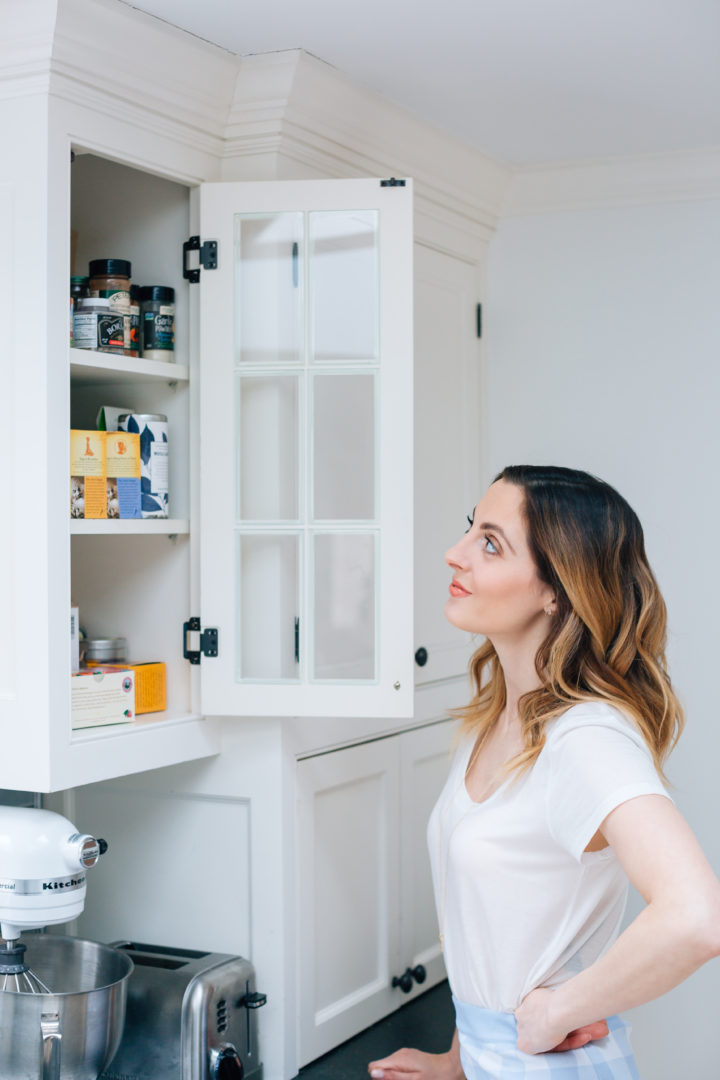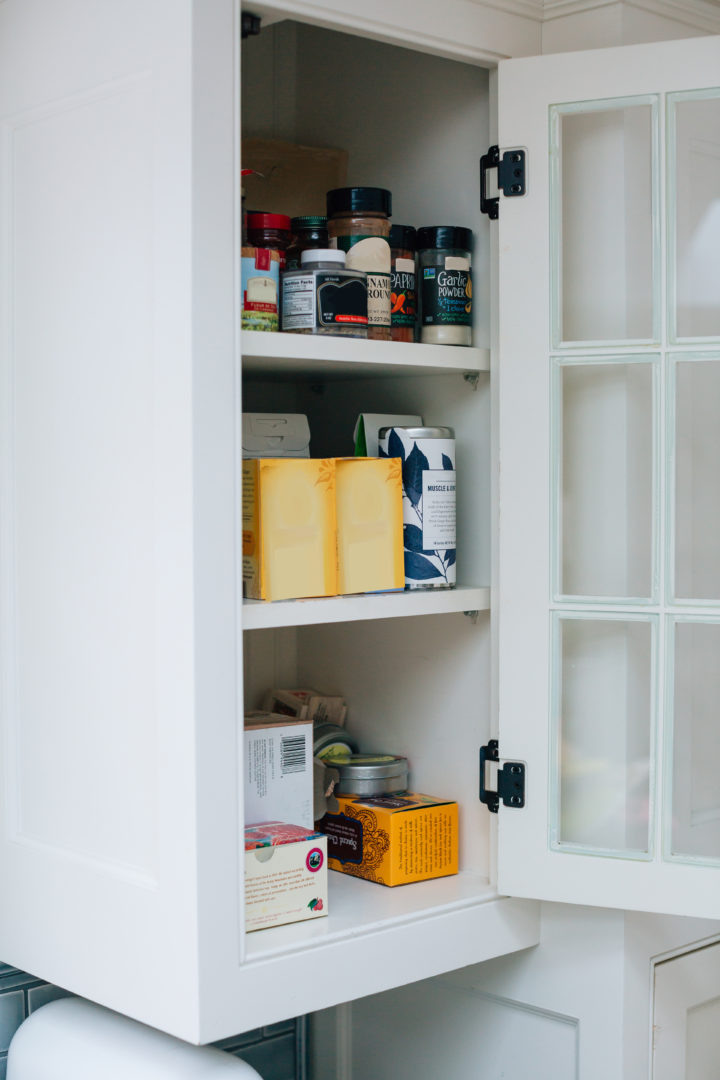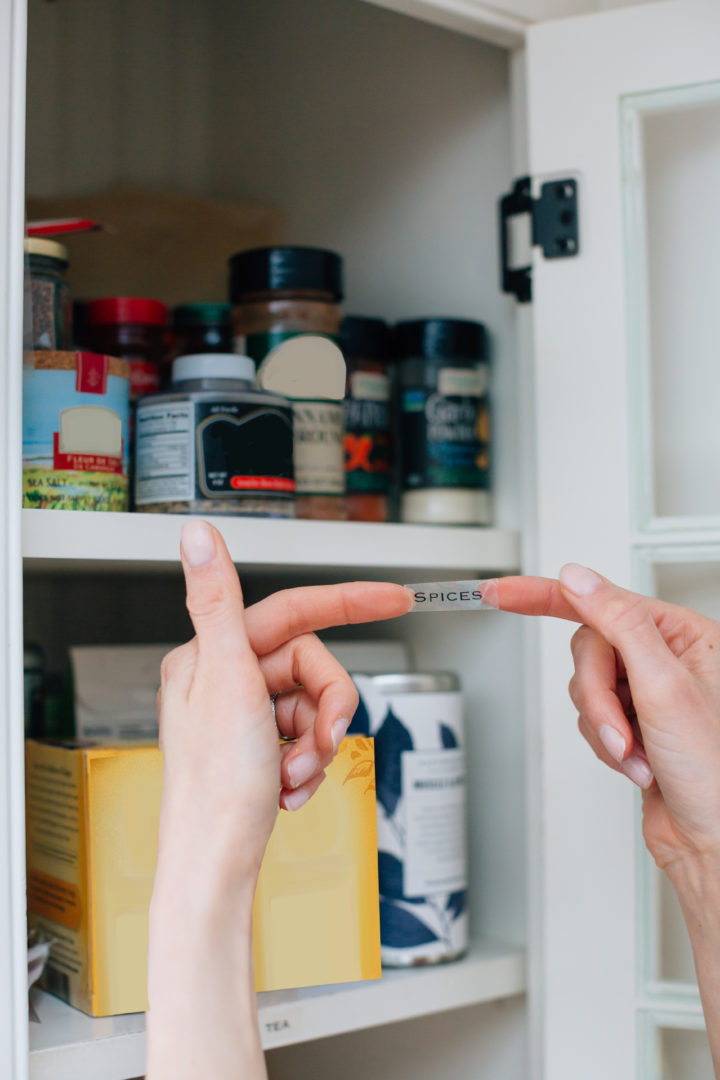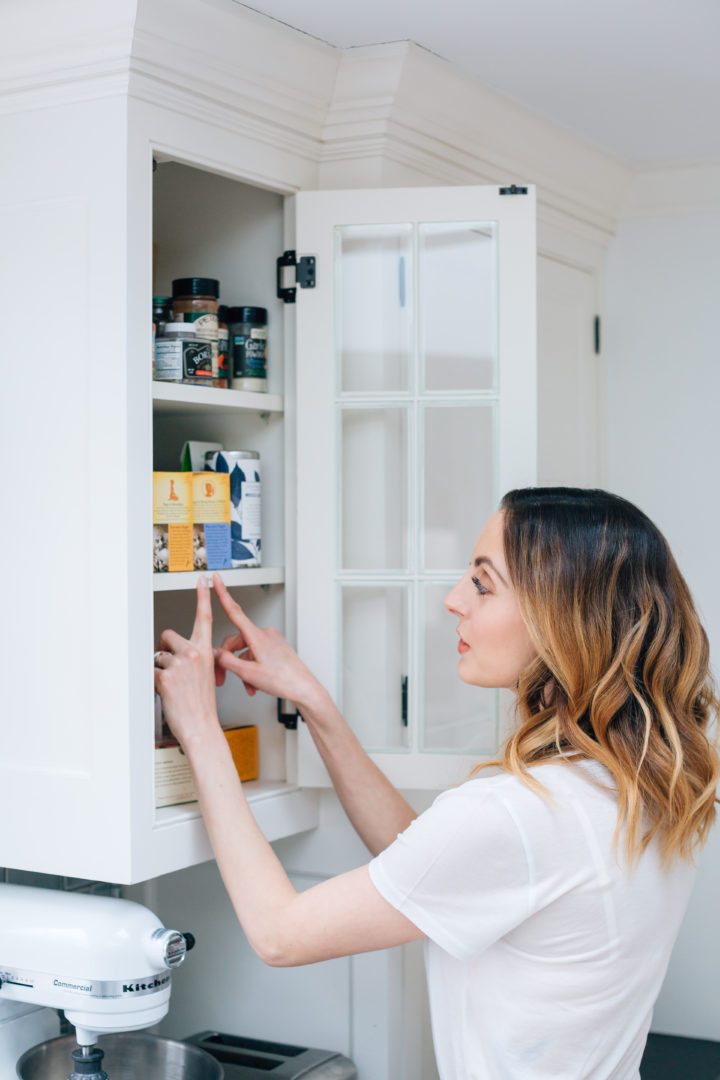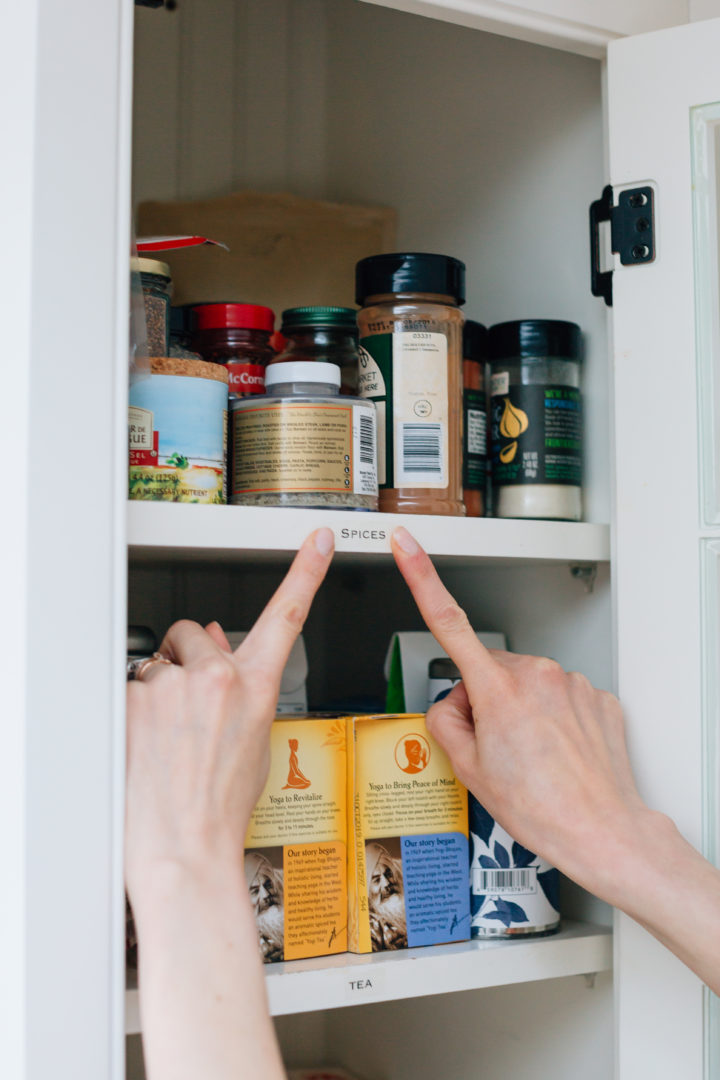 I had one of those moments while I was labeling the kitchen where I thought to myself "Why on earth have you not done this sooner?!" And ooooo, baby, the cupboards and drawers with the KIDS' STUFF! Talk about pure satisfaction! It had been chaos in there, and it stressed me out every time I reached in for a plastic bowl, tiny spoon, or sippy cup. I don't know what I was waiting for!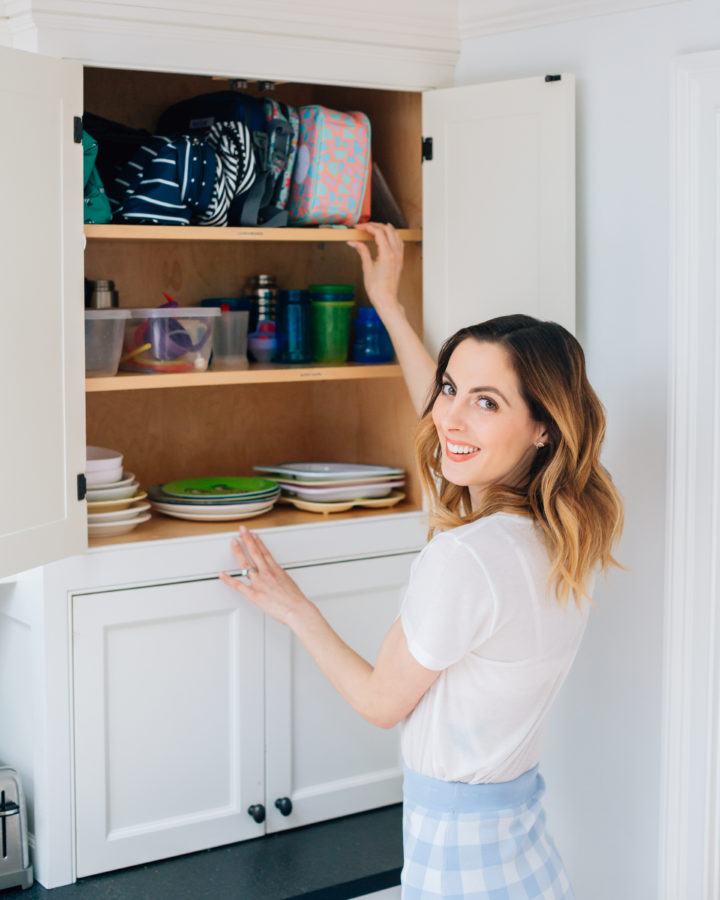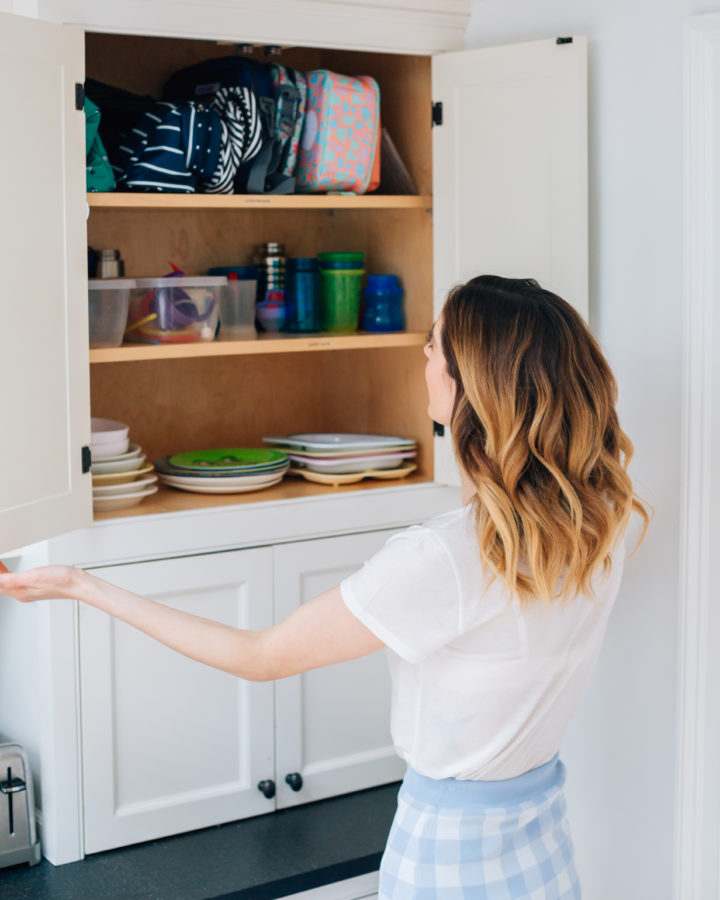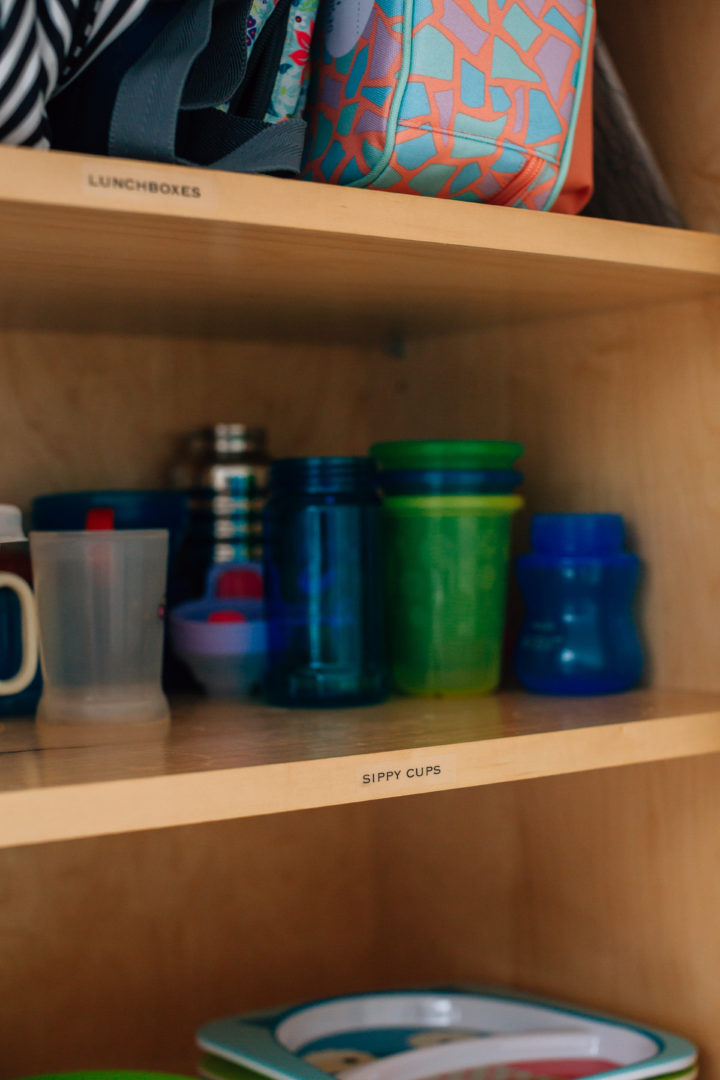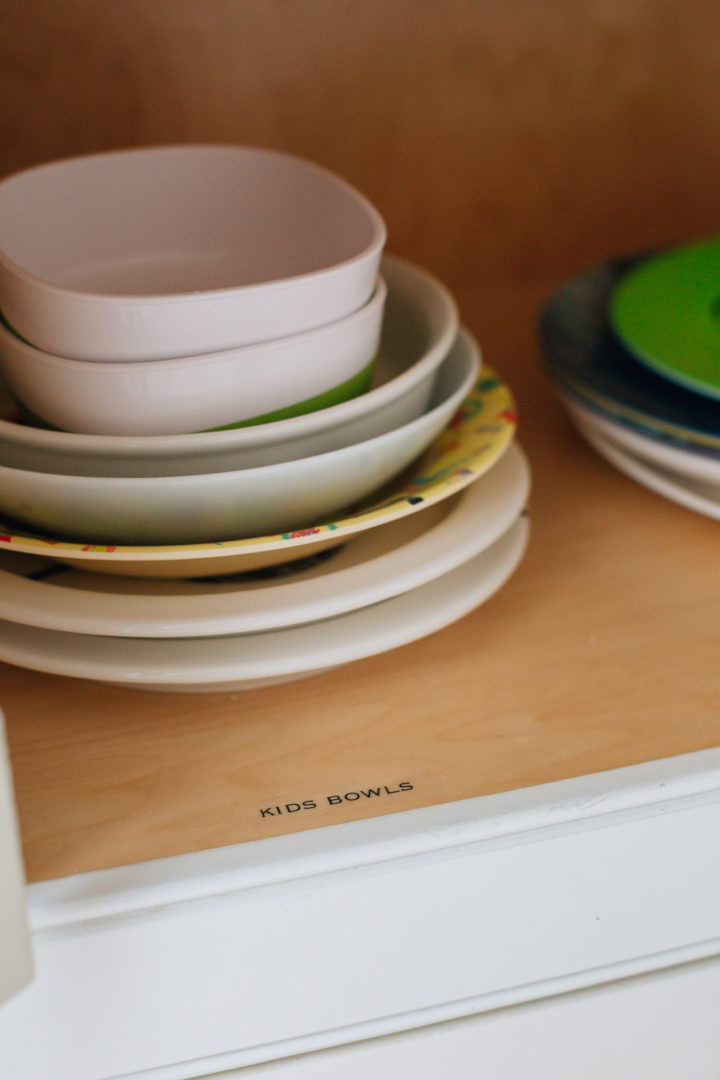 Truthfully all I keep doing is thinking up projects I can tackle with my new P-touch Cube.  Get ready for camp this summer, kids, because Mama will have everything from your socks, to your water bottles, to your swimsuits, sneakers and snacks labeled to a T! You can't stop me now! Haha.  I even printed out a special label for myself.  I think I deserve it…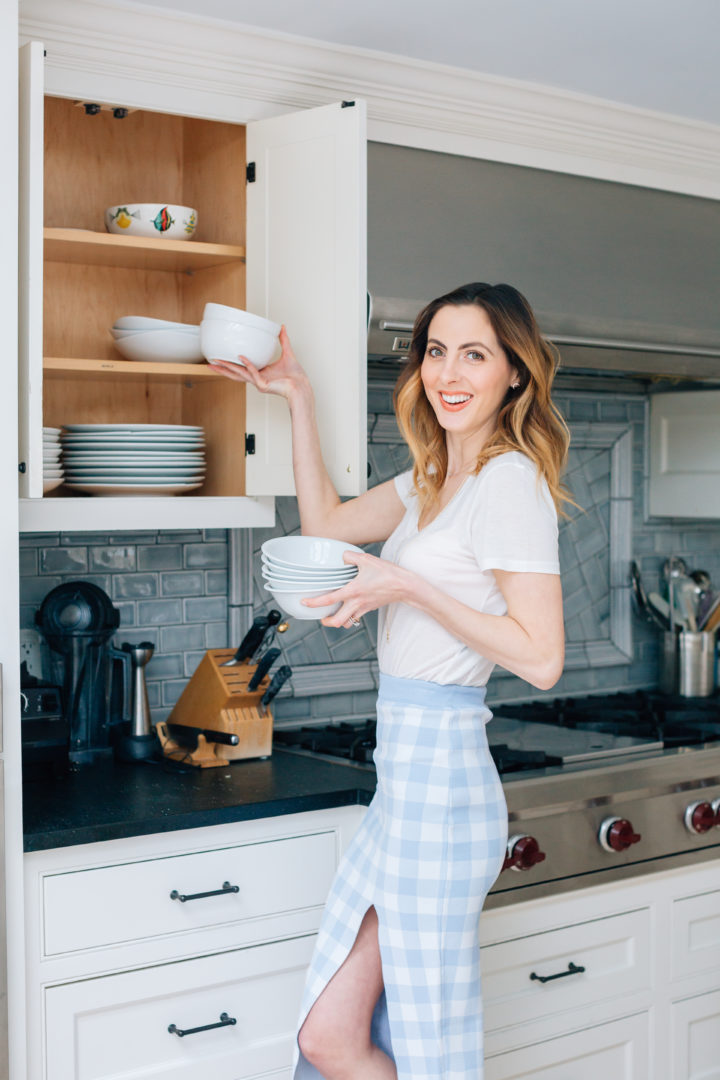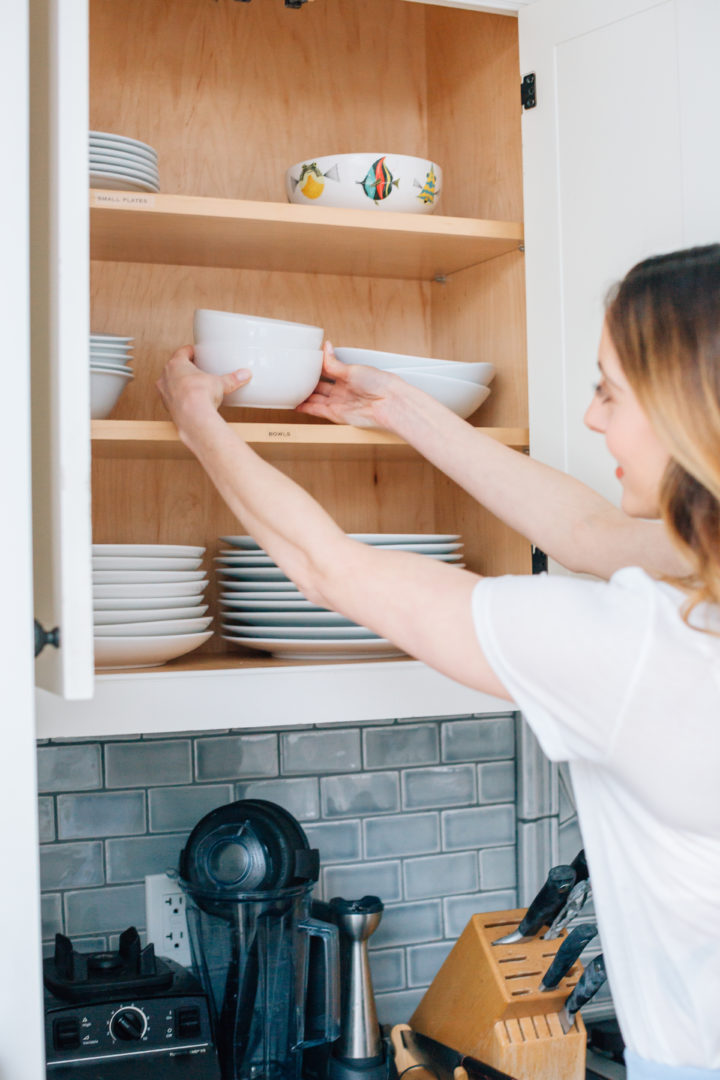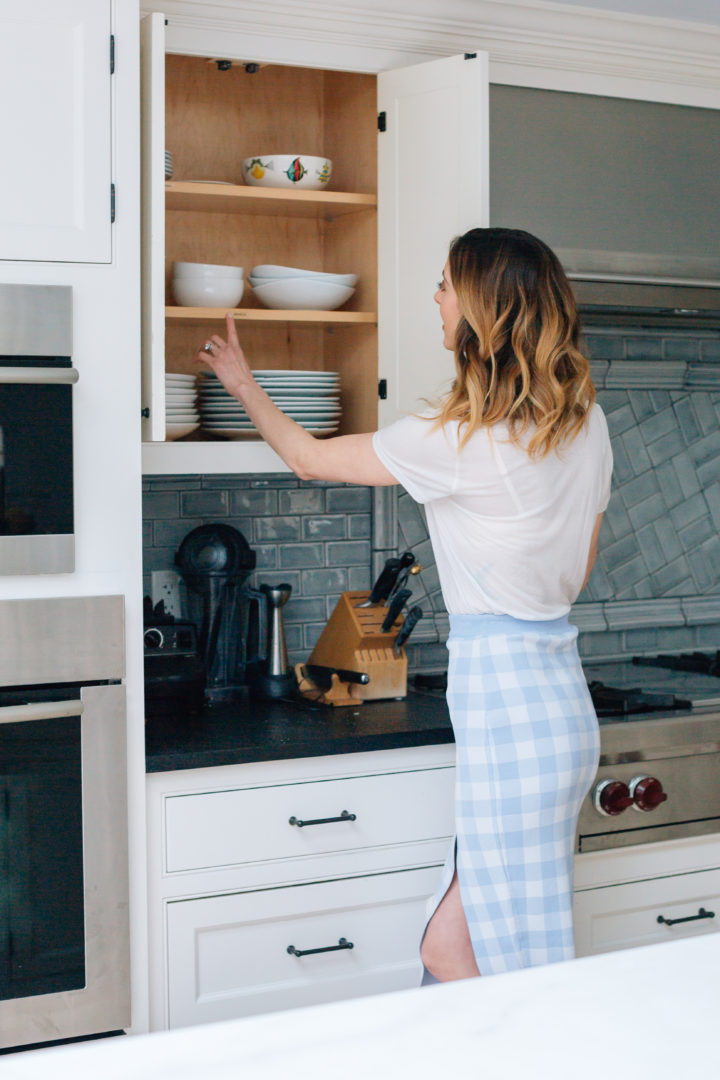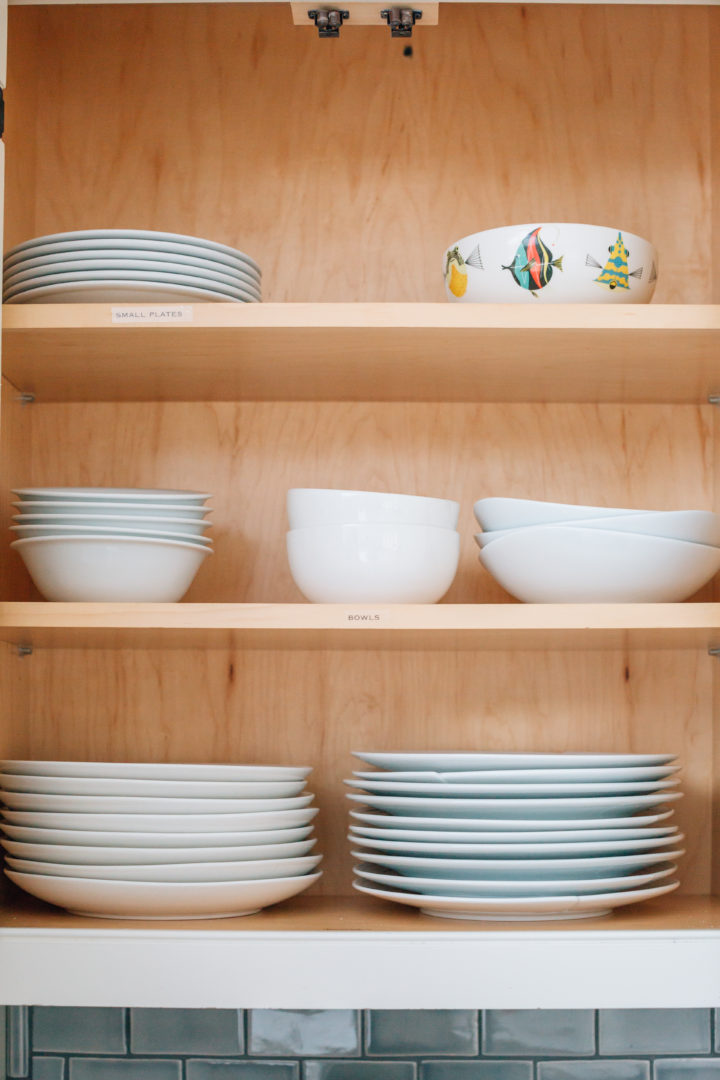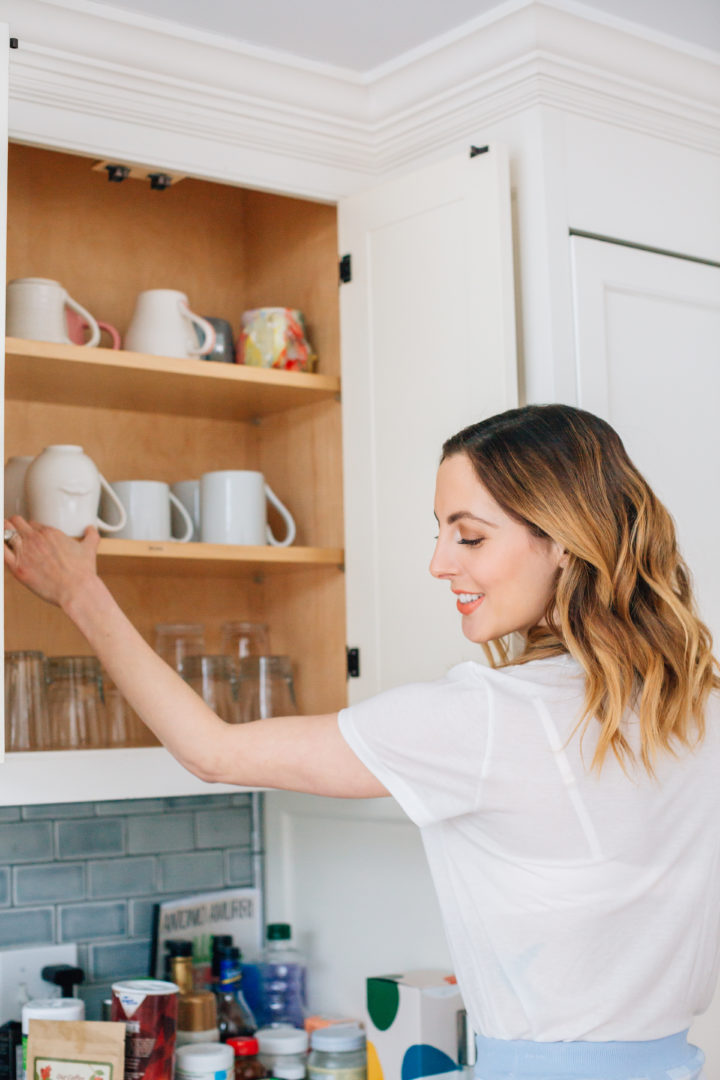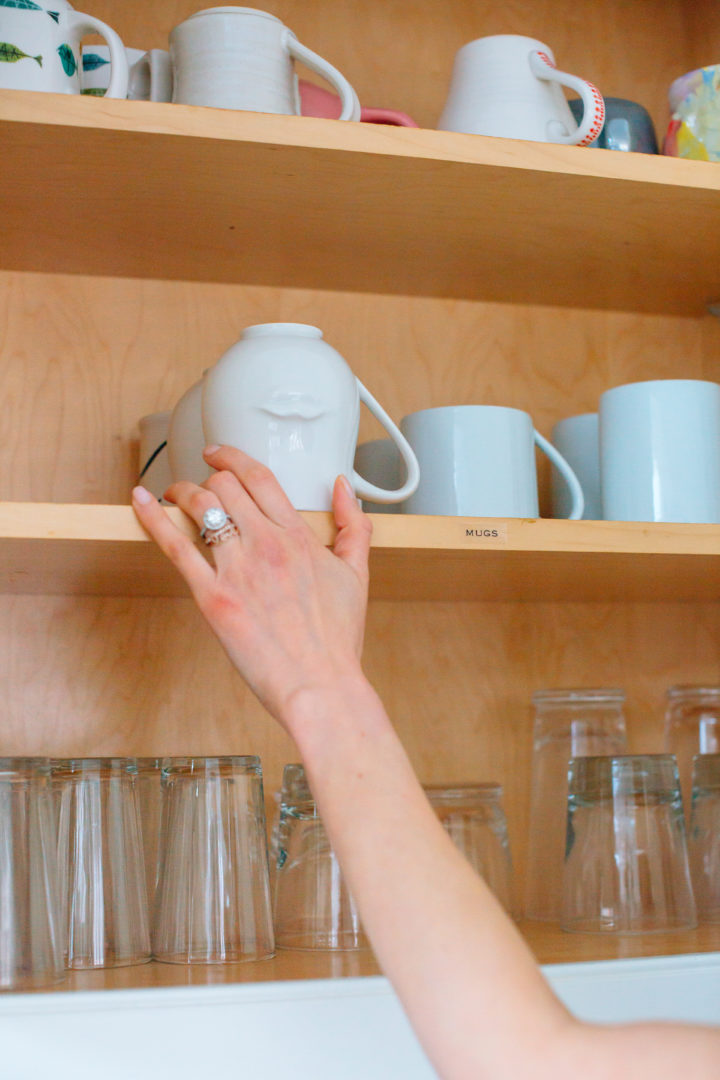 Are YOU a labeling King or Queen, or have you tried this awesome P-touch Cube? I'm dying to hear about your best labeling project in the comments below! Inspire us all, please!
Photographs by Julia Dags