The following content may contain affiliate links. When you click and shop the links, we receive a commission.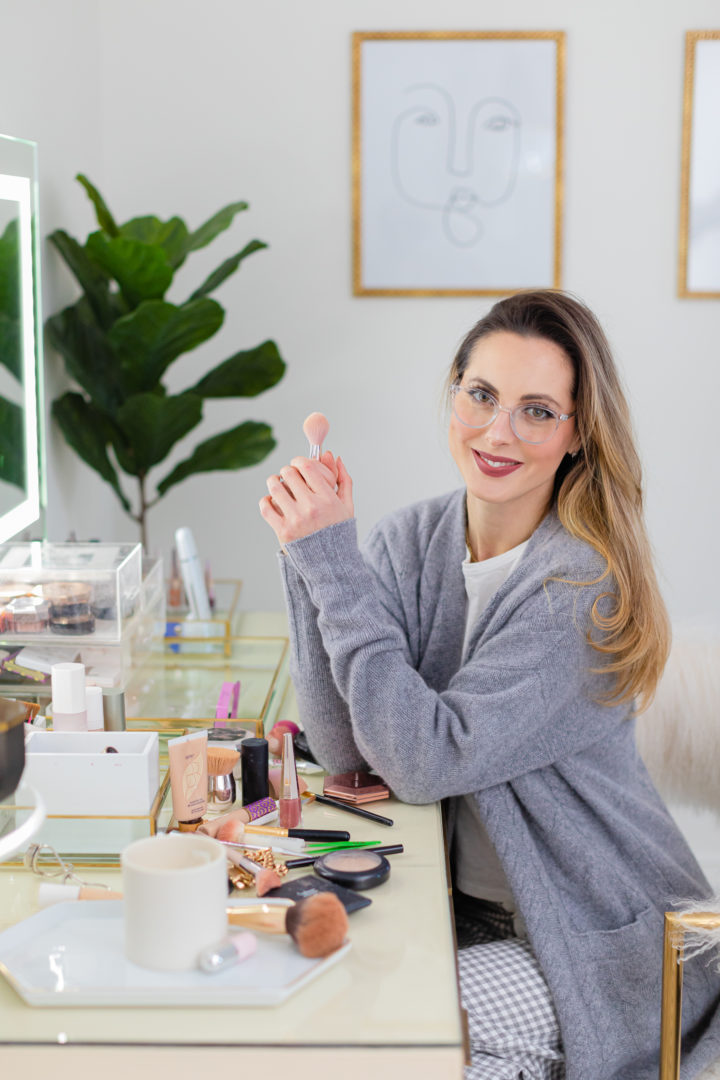 When I was a kid, I always wanted glasses. I was so desperate for the glasses of my dreams that I found an old pair of discarded readers from a nanny or grandma when I was in third grade, stashed them in my backpack, and told my teachers for three full days that I needed them to see in class. And yes, the headaches from wearing somebody else's prescription glasses for days on end was no joke. My mom got my eyes tested all throughout my childhood, and I never did actually need those glasses. Not even a little bit.
Over the years, I ended up feeling lucky that I didn't have that extra thing on my plate, and didn't think much about my eyesight. That is, until recently. I'm not sure where things changed, and whether it is my new career that has me spending HOURS daily on a phone and computer, or whether it's my old(ish) age…but about six months ago I noticed my eyesight changing. Or, something changing. I started getting headaches after writing for more than an hour on my laptop. Early in the morning, or late at night, it started becoming harder to read the small print on my phone. Even seeing the TV from my bed was a little off at times. The biggest issue I had was eyeball fatigue. If I was writing for several hours, or spending time working, my eyes would start to ache. I knew it was time for an eye appointment.
When I finally got one, I couldn't believe how thorough it was! I read letters on a projector, of course, but I also got images taken of my retinas, and the health of my eye tissue assessed. They even tested the pressure of my eyeballs! By the end of the appointment, I had a diagnosis: astigmatism in my left eye. My doctor told me I definitely need to wear glasses to work and/or read. Especially on a computer. She also suggested I include a blue light blocker on my glasses to help protect my eyes. Part of me was so surprised that my day in glasses had finally come! LOL. I ended up picking some cute clear frames, but I can't wait to add even more to my collection. I'll put some that I'm coveting here in this blog post.
When I was there finishing up my appointment, they asked me if Marlowe has had her eyes checked. She had always done the basic vision test at the pediatrician, but they told me that around 1st grade they like to do a full eye exam to at least get a baseline for eye health in kids. I shared with the doctor that I'd had a feeling she might need glasses and made an appointment.
With Marlowe home all last spring, and half the day this school year, it's been the first time that I have an eye on her while she does schoolwork. I've noticed her mistaking letters at times, or even having a hard time focusing on the paper in front of her. She's SO attentive when she's playing with her animal figurines or doing a project, and so my instinct was telling me that something about focusing on words, numbers, and letters was getting tough for her. I would also notice her rubbing her eyes a lot after doing homework or after Zoom classes.
I'm so glad I listened to my instincts because after taking Marlowe in for a full eye exam, it turns out she needs glasses too! The doctor told me that it's important for her to wear the glasses while reading or doing homework…or really any close-up work. If she is dedicated to wearing them for these purposes, her eyesight won't deteriorate as quickly, and she can hopefully stave off full-time glasses-wearing for a while.
Marlowe is SO excited about her glasses and even picked out her own pair herself: black frames with a cool light blue rim around the inside. I can't wait to give you a full report on the transition into wearing them. I'm especially excited to see if the glasses make it easier for her to sit and focus on her school work. Here's to hoping! hahaha.
Warby Parker 'Violet' in Rose Gold
$145
I love the retro vibe of these glasses! The rose gold metal frames also give it a really elevated, modern look as well.
Ray-Ban 6392 Ja-Jo
$163
These frames are bringing alllllllllll the hot nerdy girl vibes, and I'm here for it!
Gucci GG0209O
$224
These blush colored tortoiseshell glasses from Gucci are SICK! Def worth the splurge!
Shop the post…

Photographs by Julia Dags | Happily Eva After, Inc. © 2020 All Rights Reserved