The following content may contain affiliate links. When you click and shop the links, we receive a commission.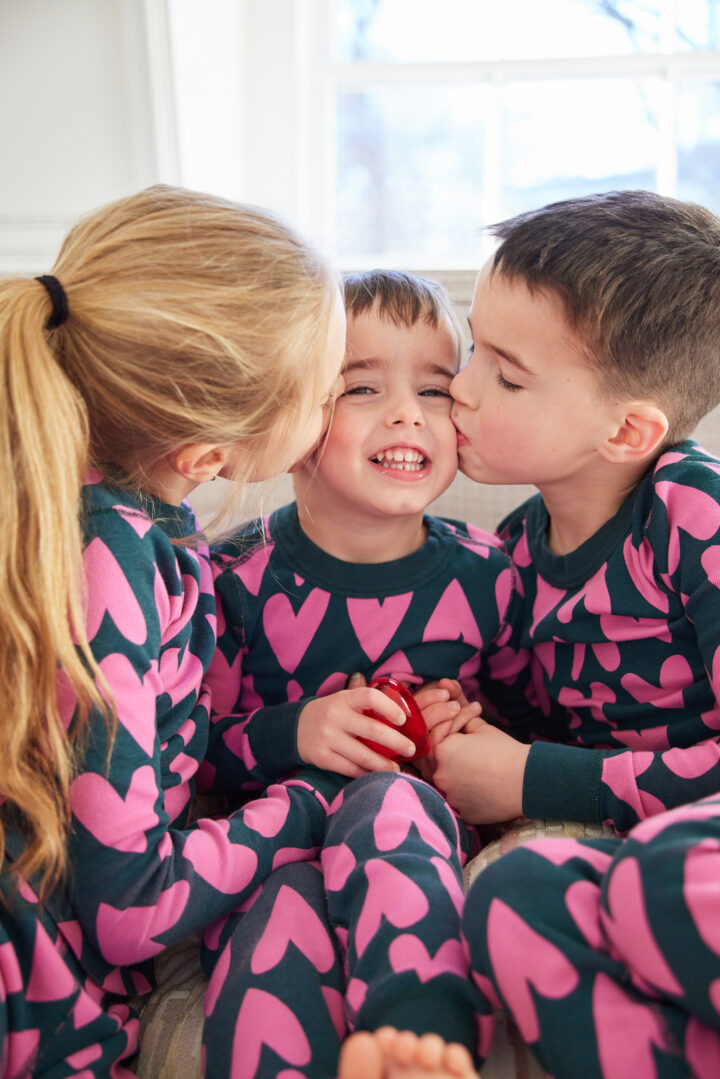 Having three kids, and not being able to do man-on-man defense any longer, is definitely not what I'd call "Easy". I've actually had some people with four kids tell me that they thought having three kids was actually harder than having four kids. I'm not exactly sure how the math on that one works out, or if you just turn a corner after four kids and become superhuman so everything feels easier…LOL. Either way, my point is that Three kids can be tricky sometimes, and the TRICKIEST time of day for me by far is bedtime!
I shared a bedtime routine blog post a couple of years ago when Mateo was still a baby. Since he's grown up a lot recently and is now one of the Big Kids, I thought I would share another, updated post about our bedtime routine! I've tried to put the whole schedule below, with as many details as possible. I'm beginning the routine at 6 pm after the kids have had dinner and taken a bath. I will say that there are a few nights a week when this strays slightly: 1. Marlowe and Major each have one "late" class/appointment per week that has them bathing and eating after the other two kids, at 7 pm. 2. Once a week we "Pretend" and let the two big kids stay up 45 mins "late" so we can have family game night. Unfortunately, Mateo still ruins every game night and is simply not old or mature enough to join us yet! Toddler Wrecking Ball, amirite?! LOL. I'm looking forward to adding him to the mix in a year or two.
6:00 – 6:45 pm — Homework for Marlowe, Reading + Educational iPad game for Major.
With 20 mins of reading to do each night, and 20mins of homework (with 5 min break in between) Marlowe has the most homework in the house. During this time, Major reads to us, or independently for about 15-20 mins, and then will either play an educational game on the iPad, dribble the soccer ball around downstairs, put his Bluetooth headphones on, and dance to music only he can hear, or do one of his educational workbooks. Mateo will either be playing with one parent or watching a show of his choice in the playroom.
6:45 – 7:15 pm — Free time
After homework, the kids have half an hour to do whatever they want. They can watch a show, or a movie, play on the iPad, play with toys, read with us, or hang out with Ian and I as we prep our dinner for later. Sometimes we let the kids pick songs and have a family dance party! I normally try to be off of my phone as much as possible during this time period!
7:15 — Bedtime Snack
My kids eat dinner between 5-5:15 every night, so they're usually ready for a healthy snack right before bed. This means either a probiotic smoothie, string cheese, a piece of fruit/veggies, or a yogurt. If we have muffins or fresh bread we've baked that week they can have that as well if they prefer.
7:25 — Brush Teeth!
All three kiddos brush and floss their teeth together, fill up their water bottles for their beds, and use the bathroom before climbing into bed.
7:30 — All 3 in Bed
Ian and I start with Mateo. I go in first, and sing a song to him, and then Ian goes in to sing a song or two and snuggle. I try very hard not to take it personally that Ian is preferred at bedtime at the moment! When I leave Mateo, I go into the big kids' room. I first lay in Major's bed with him and snuggle and talk about the day. After five minutes, I switch to Marlowe's bed. This is our favorite time of day, because it's so special to just get that really centered time of connection with the kiddos. Ian comes in to the big kids' room when he's finished with Mateo, and starts with Major, too. He's out of the room five minutes behind me….or maybe about fifteen if the kids rope him into staying longer…which they usually can! The man is a softie, what can I say LOL.
7:45 pm — Lights Out For the Big Kids, Stoplight Alarm Clock ON
All of our kids abide by the stoplight alarm clock, which I talk about in THIS blog post. When the red light is on, they know that unless somebody is very hurt, vomiting or bleeding, they stay in their bed! I've always been very strict about bedtime because I truly believe that good sleep habits make happy, healthy kids. Once they're settled in their beds, the kids get about 11 hours of sleep a night! So important since they have so much learning and growing to do.
Let me know if you have any questions about our routine!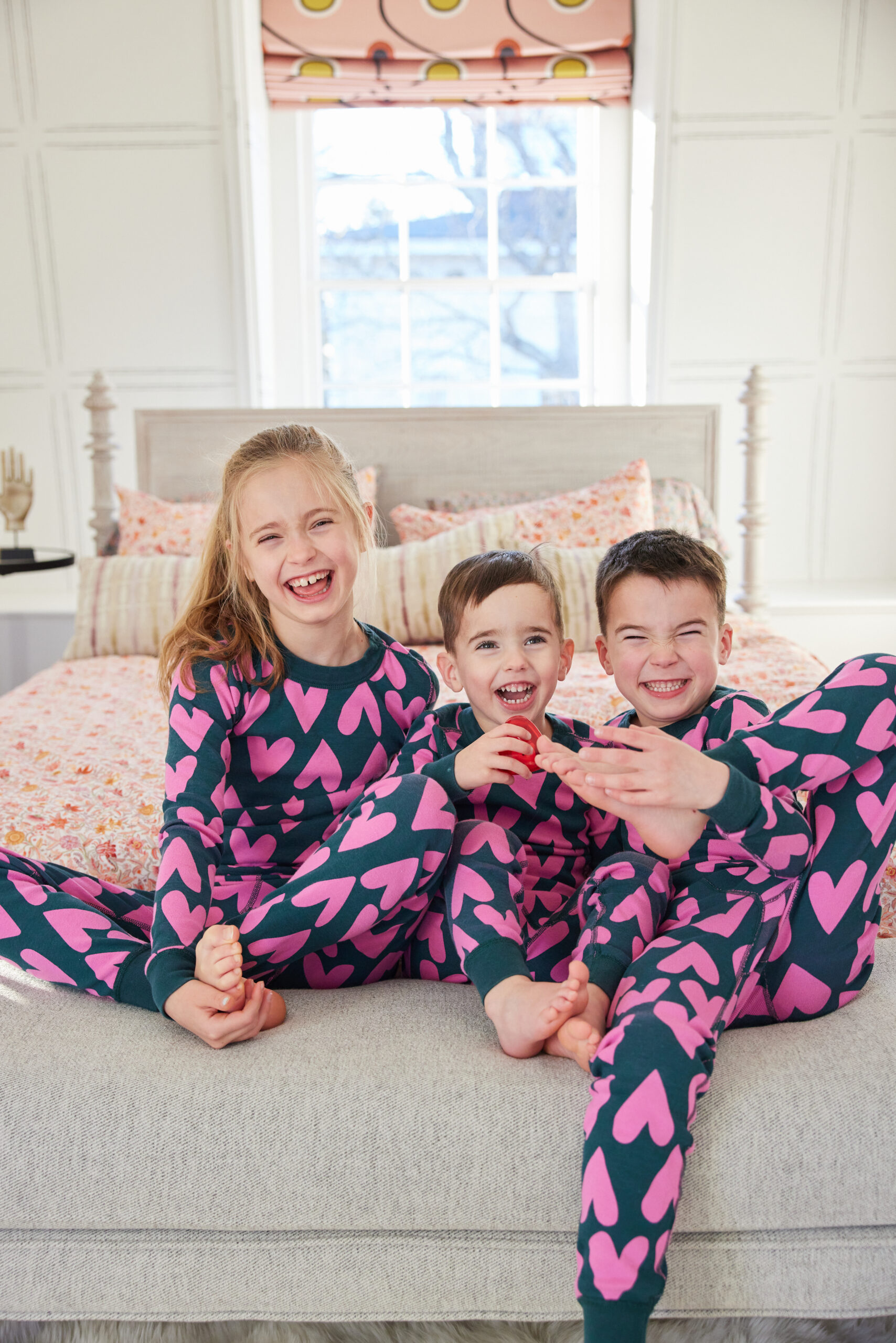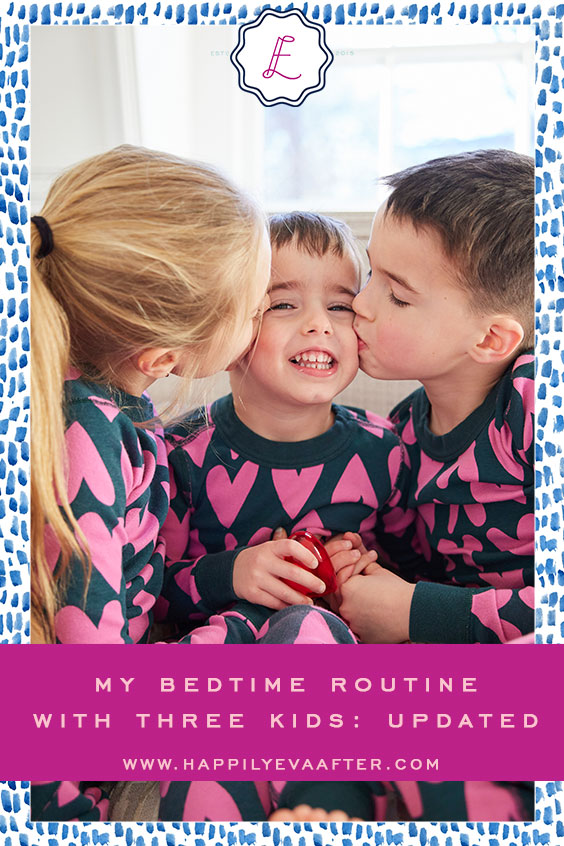 ---
Shop the post…

Photographs by 

Julia Dags

 | Copyright © 2023 Happily Eva After, Inc. All Rights Reserved.