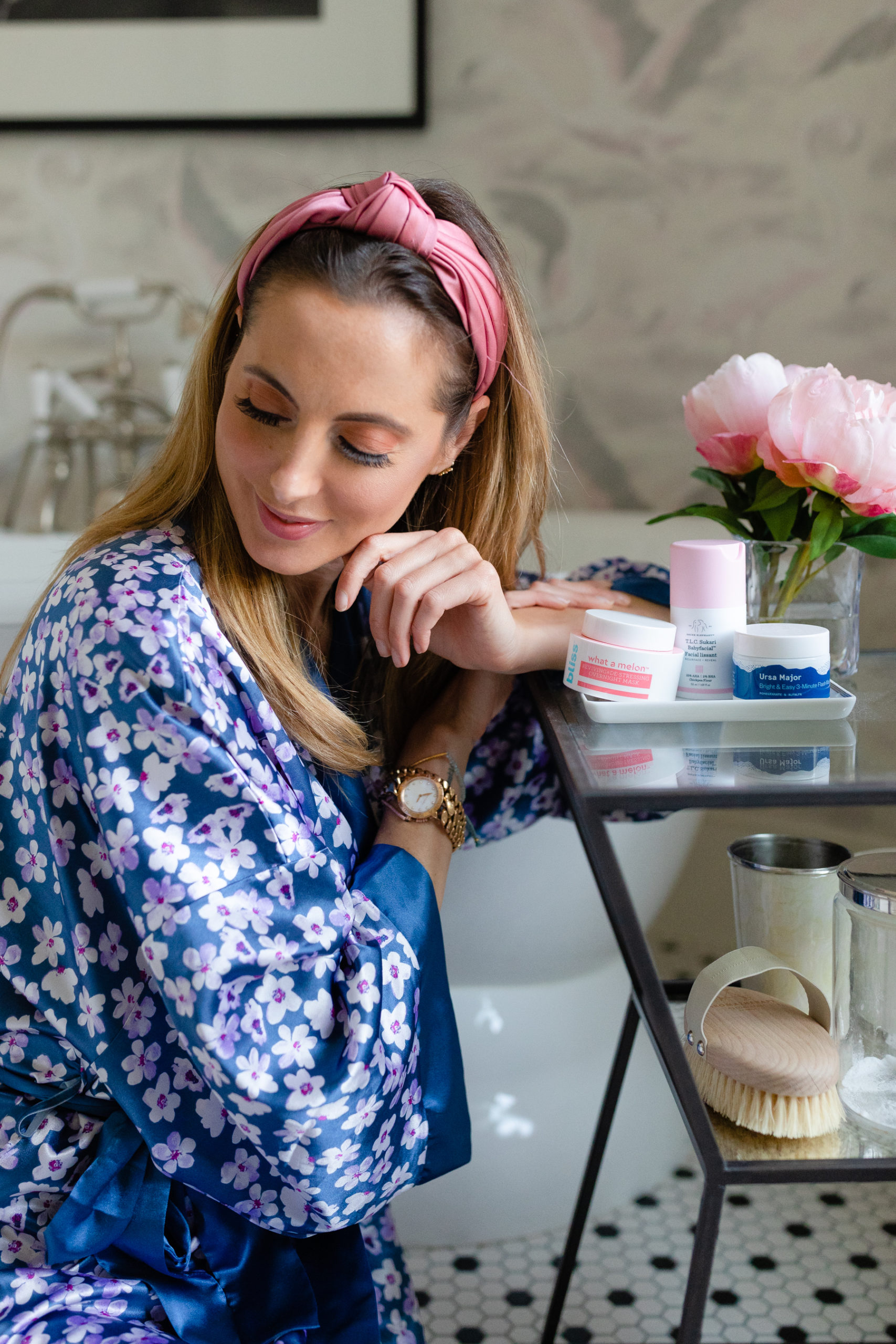 You know how important skincare is to me, and in these strange times, I've had to take matters into my OWN hands — just like most of you! I've been relying heavily on facials done in my own bathroom by Yours Truly, and a huge part of that process includes some fabulous must-have beauty masks!
I've also been loving this facial steamer that really makes the experience complete. I wash my face first, then steam, cleanse again, and then apply my masks. I'm doing a roundup here of the best ones I've tried and continue to use. Let me know if any of these are your faves too!
Drunk Elephant T.L.C Sukari Babyfacial
Drunk Elephant
This clean beauty mask is the BEST for getting that glow back. I use this once a week without fail and couldn't love it anymore. It contains 25% AHA and 2% BHA acids which work together to loosen dead skin cells and reveal the new skin underneath. I've also found that these acids are great for maintaining clear skin! Make sure to use a really nourishing face cream or oil for your skin type after this mask– your skin will be perfectly primed to soak it up!
Ursa Major Bright & Easy 3 Minute Flash Mask
Ursa Major
For me, this mask is sensitive skin version of the Drunk Elephant mask. Ursa Major is a brand I love because it's as clean as it gets, and this mask I use any time I'm prepping my skin for a photo shoot. My skin is so soft and clear after, and I really notice a glow. it's super gentle at the same time, though!
What A Melon Overnight Mask
Bliss
This overnight mask is budget friendly, and is great for reviving tired skin that needs a makeover. I love using this when I've had a rough day to wake up looking great. It's also on the clean side and free from any sulphates or parabens.
Control Corrective Sulfur Calming Mask
Control Corrective
This is hands-down the best mask I've ever used for getting rid of blemishes ultra fast and keeping skin clear. I use this more as a spot treatment for pimples rather than preventative but I always make sure I have it on hand.
GlamGlow SUPERMUD Charcoal Mask
GlamGlow
This charcoal mask is my favorite for hormonal breakouts, and keeping them at bay! I always use this the week I'm supposed to get my period, and once at the end of my cycle to dry up any excess oils
Elemis Superfood Vital Veggie Mask
Elemis
This mask is my go-to when my skin needs some nourishment. It contains amazing nutrients and always calms my skin down when I need to feel refreshed and rejuvenated. Also great heading in to the cooler months!
Fresh Rose Face Mask
Fresh
I've been using this mask since high school and it's still a favorite! It smells heavenly and is wonderful for maintaining skin tone and texture.
La Mer's The Lifting & Firming Mask
La Mer
If I ever need a real surge of moisture, this mask is the best of the best! It's pricey but anybody will tell you it's so worth it! This mask is an anti-aging superstar.