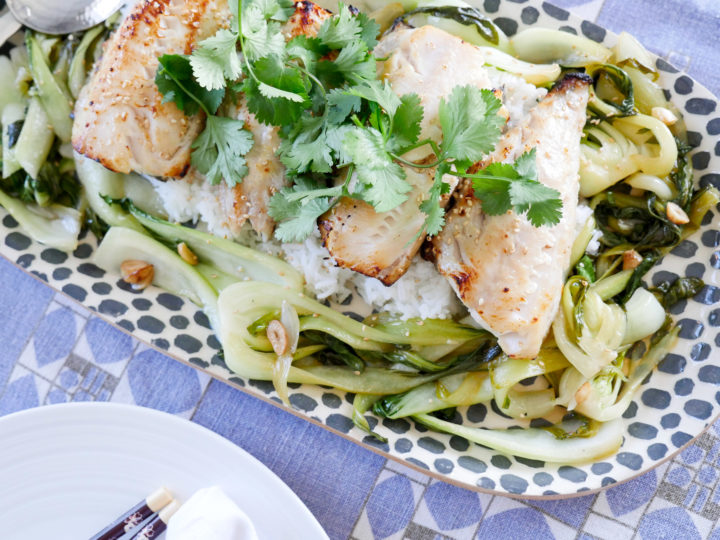 Los Angeles is known for it's killer Japanese food, and is home to some of the best Japanese restaurants outside of Japan itself!  The menus are famous for their sushi of course, but there's a cooked dish on the menu of every Swanky Japanese Restaurant that people swoon for: Miso Black Cod.  This dish is one of my absolute favorite "special occasion" foods! Sweet, salty, buttery, and earthy– this dish feels like a little piece of luxury, and usually has the price tag to match! But did you know you can totally make this mouth-watering dish at home without breaking a sweat?!  Follow along for a wow-worthy meal that is sure to impress.  I love making this Black Cod meal for special company, or even a romantic date night in!  Pour a couple glasses of sake and drift away to Tokyo…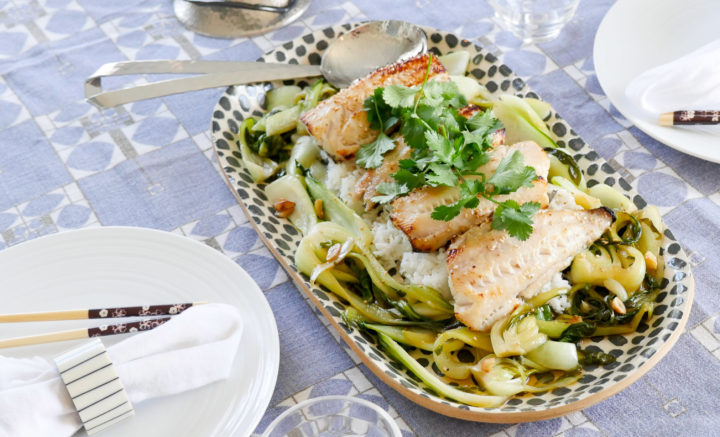 Miso Marinated Cod
Ingredients (serves 4)
2 large or 4 small Black Cod Fillets

¼ cup white Miso Paste

1 Tbs Rice Wine Vinegar

1 Tbs Water

1 Tsp each Salt and Ground Pepper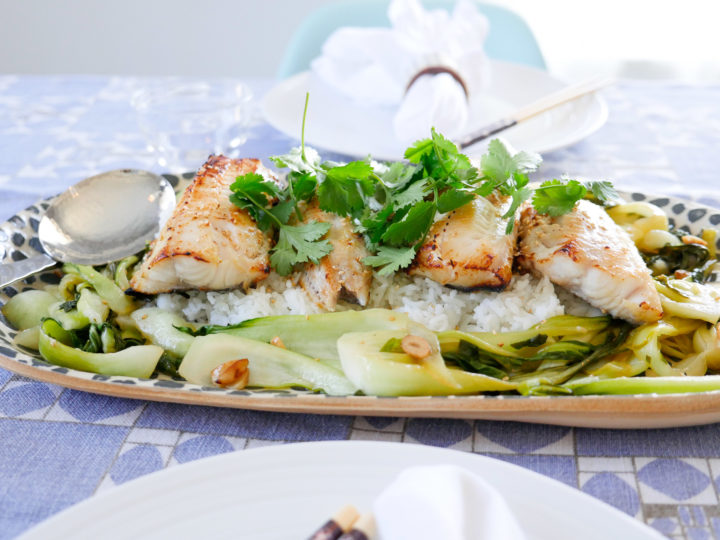 Season Fillets with salt and pepper.  In a bowl, combine the miso paste, vinegar, and water, and mix well with a fork until a thinner yogurt like consistency is reached.  If the paste isn't thinning appropriately, add ½ teaspoon of water until desired consistency is reached.  Place the fillets in a glass baking dish, and coat on all sides with the miso paste mixture.  Really glop in on there, rubbing it in to the flesh.  Cover the dish with plastic wrap and place in the fridge for at least two hours, or up to 12.   TIP:  For an easy after-work meal, prep the fish and miso marinade in the morning before you leave the house– then pop it in the over right when you get home at the end of the day! Your fish will be bursting with yummy flavor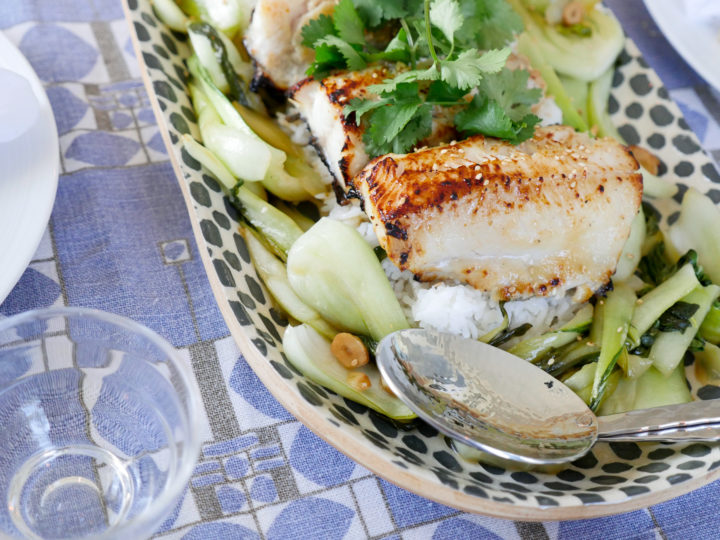 When ready to cook, set the oven to broil. Place the oven rack so that it Is about 4-5 inches from the broiler. Turn on the exhaust fan associated with your oven and/or open a window– this sometimes smokes a bit while broiling!  Remove the fish from the glass baking dish, and place on a foil lined baking sheet with the skin side up.  Place the fish in the oven, and broil approximately 4 minutes on one side.  Then flip over with tongs and broil the other side– approximately four minutes.  Check the fish periodically to make sure it isn't getting too browned on either side.  A little browning is good, though! You want the sugars in the sauce to caramelize!  When the fish looks done, remove from the oven.  I love serving these fillets over a mound of jasmine rice and my Garlic and Soy Steamed Bok Choy!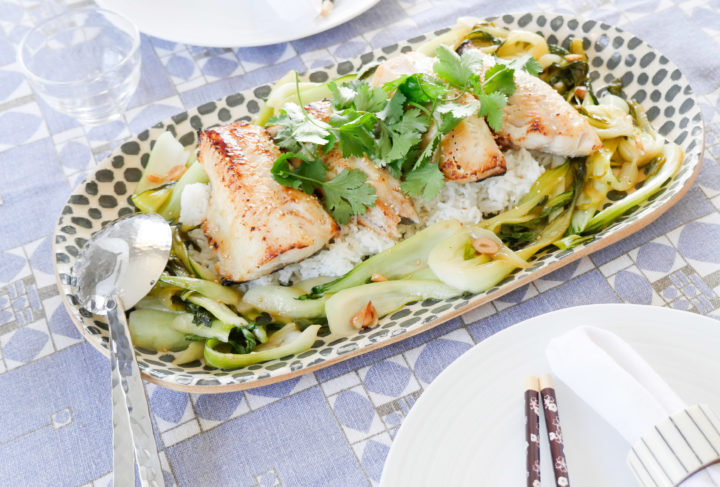 Garlic & Soy Steamed Bok Choy
Ingredients (serves 4)
4-6 heads of bok choy, rinsed and sliced lengthwise to ¼ inch thickness

2 Tbs Canola Oil

4 Garlic Cloves, sliced very thin

1 Tablespoon Soy Sauce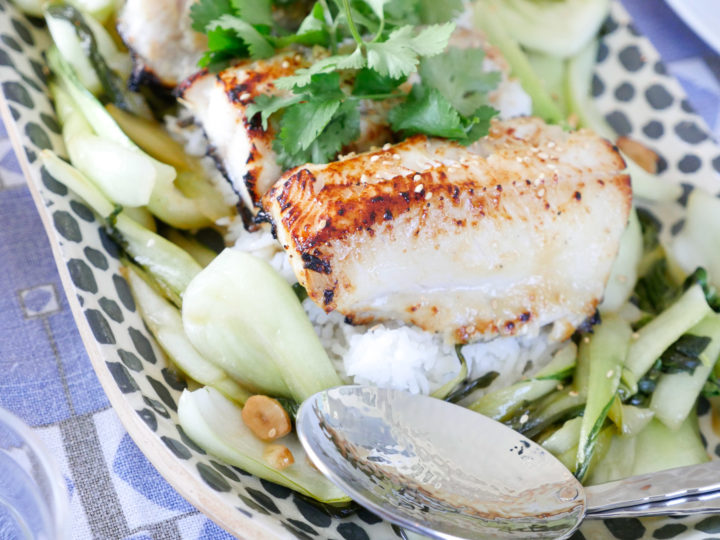 Warm the oil over medium-high heat in a medium sized pan.  Add the garlic cloves and cook, stirring continuously, until beginning to brown.  Add the Bok Choy, and toss to coat in oil and garlic.  It's OK if the Bok Choy is piled up in places instead of laying flat.   Cook for about one minute, and then add the soy sauce.  Cover the pan and steam cook for about four minutes more, or until the Bok Choy is tender but still bright green in color.  Remove from the pan with tongs, and plate with your fish!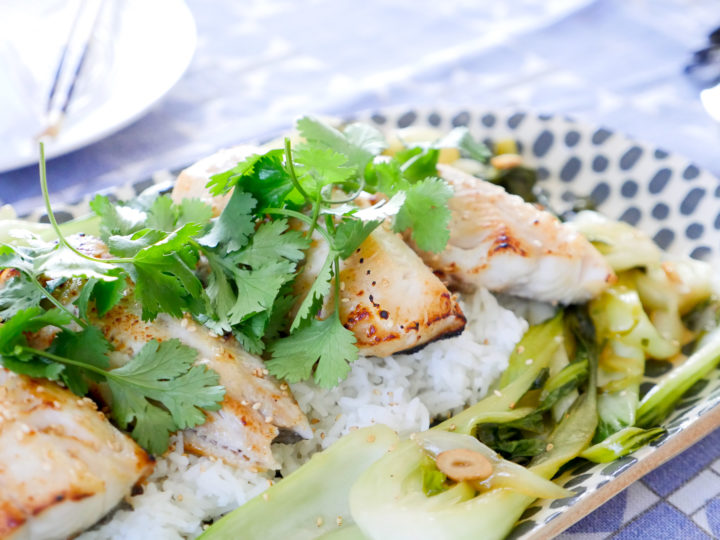 Shop the Post…