The following content may contain affiliate links. When you click and shop the links, we receive a commission.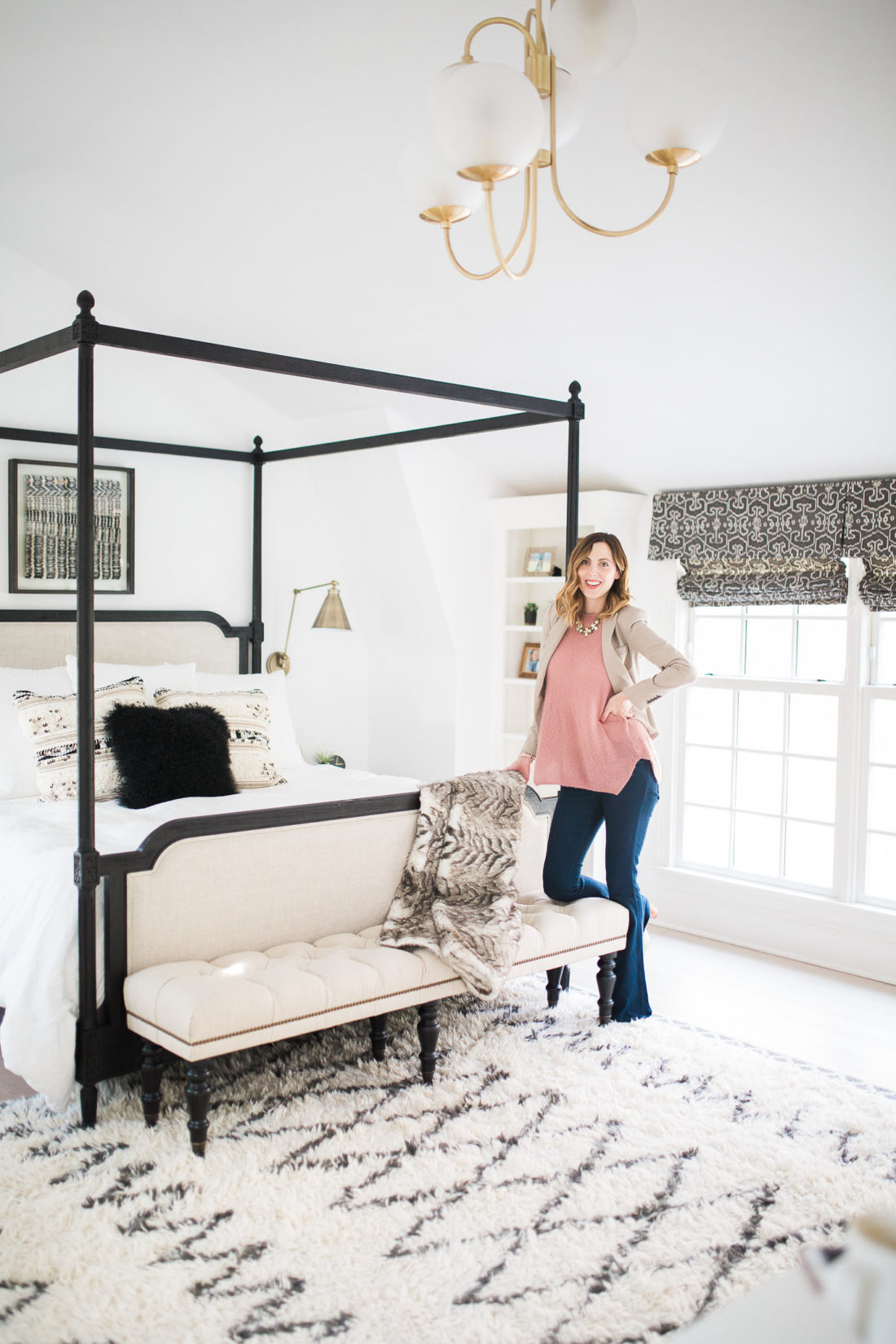 "Hi, I'm Eva Amurri Martino, and welcome to my Crib! This is where the magic happens…"
Sorry. Sadly I will never be on an episode of MTV's Cribs (word up to all my fellow 90's teens!) so I just had to type it out at least once to satisfy the urge! In reality of course, a toddler and a newborn do not afford for a ton of "Magic" happening at all. Unless you mean the magic of every member of our family piled in the bed watching Minions for the five-hundredth time! That kind of magic happens in this room A LOT. Oh, and also a baby was born on this bed about a month ago. No big deal. Welcome to our Master Bedroom, folks!
This bedroom design was a direct gift for my husband, but turned in to a style of room that I realized I also needed more than I could have anticipated. Let me explain: our old Master Bedroom in Los Angeles was super fab, bright, energetic, and totally Me. Lots of mixed patterns, fun colors, and great textures. As usual, I had designed the space, and Kyle and I had enjoyed sleeping in there for four years…at least that's what I had assumed. Right before we were about to move, Kyle let me know (nicely, I swear) that he had actually HATED our old bedroom. He finally admitted that what he craved in a Master Suite was a calming and neutral palette and that the energetic colors and patterns of our old room had never really allowed him to relax and feel calm in his sleeping space. At first, I was super hurt (duh) but also dumbfounded that he had slept in a room for four years that he didn't like! Then I realized that he loved me so much, and knew how much I loved the room, that he had just endured it for way too long to please me! I actually found this romantic, in a twisted kind of way– but I also felt really guilty and vowed to design our next Master Bedroom to be the perfect space for he and I to both enjoy. A great design challenge!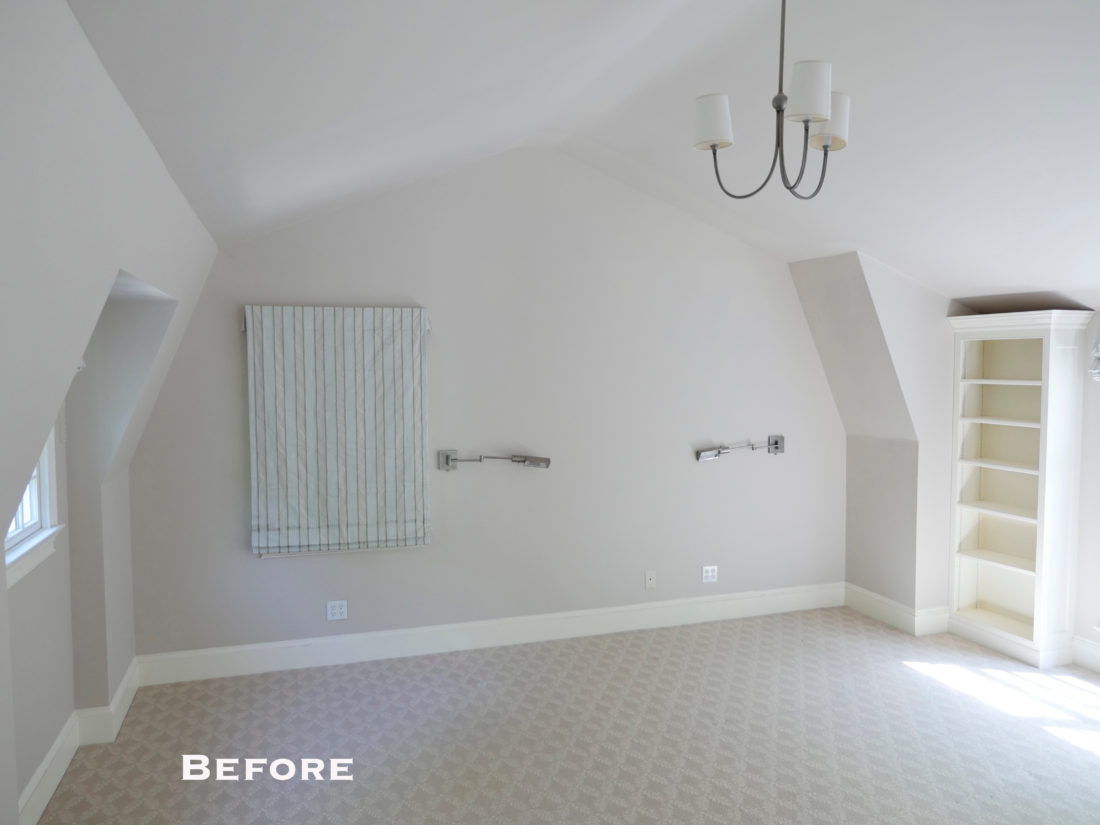 My first order of business was to brighten up the space so that a neutral palette would really pop and not seem boring. I love implementing lots of texture for this as well, since textures can add so much dimension to a room even when the color scheme is pretty muted. After refinishing the floors to match the rest of the house, I painted everything a bright white (Benjamin Moore's "Chantilly"). To keep the space calm, I decided to go with a really simple color palette: Linen, Black, and White– with Brass accents. I love this combo because it feels really masculine and "hubby friendly" while also feeling bright enough for my tastes. PS- I highly recommend a white linen bedspread to anyone out there who loves taking pics of their kiddos. Just plop them on there and you have the perfect comfy backdrop 100% of the time! But I digress….
To keep the room feeling exciting for me also, I added my signature print-mixing– but all within the restricted color palette! My finishing touch was a set of beautiful bedside tables in a pretty mint tone to give the room a bit of sass. I replaced the knobs with brass ones to tie them in to the rest of the design concept. Now we both feel so comfy in our sleeping space, and I am so appreciative of the restful and regenerative vibe that this room gives us. I know it contributed big time to the zen atmosphere of Major's birth when I labored in here last month!
Design Credits and a Shop The Look catalog can be found at the bottom of the post.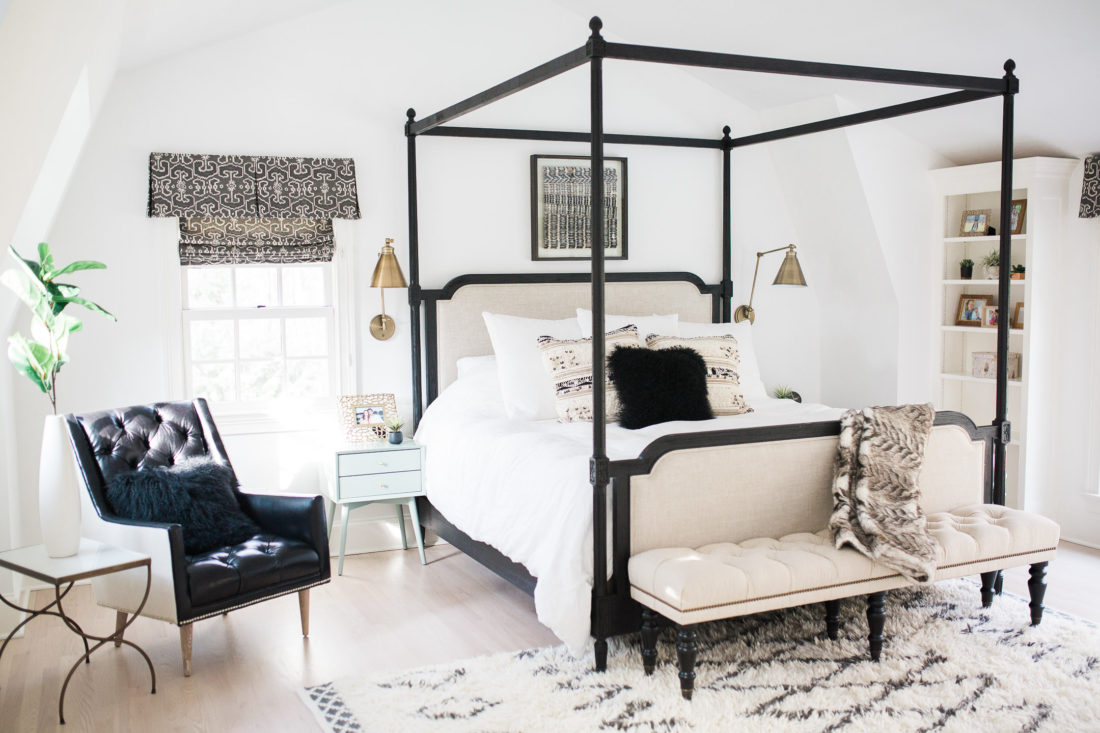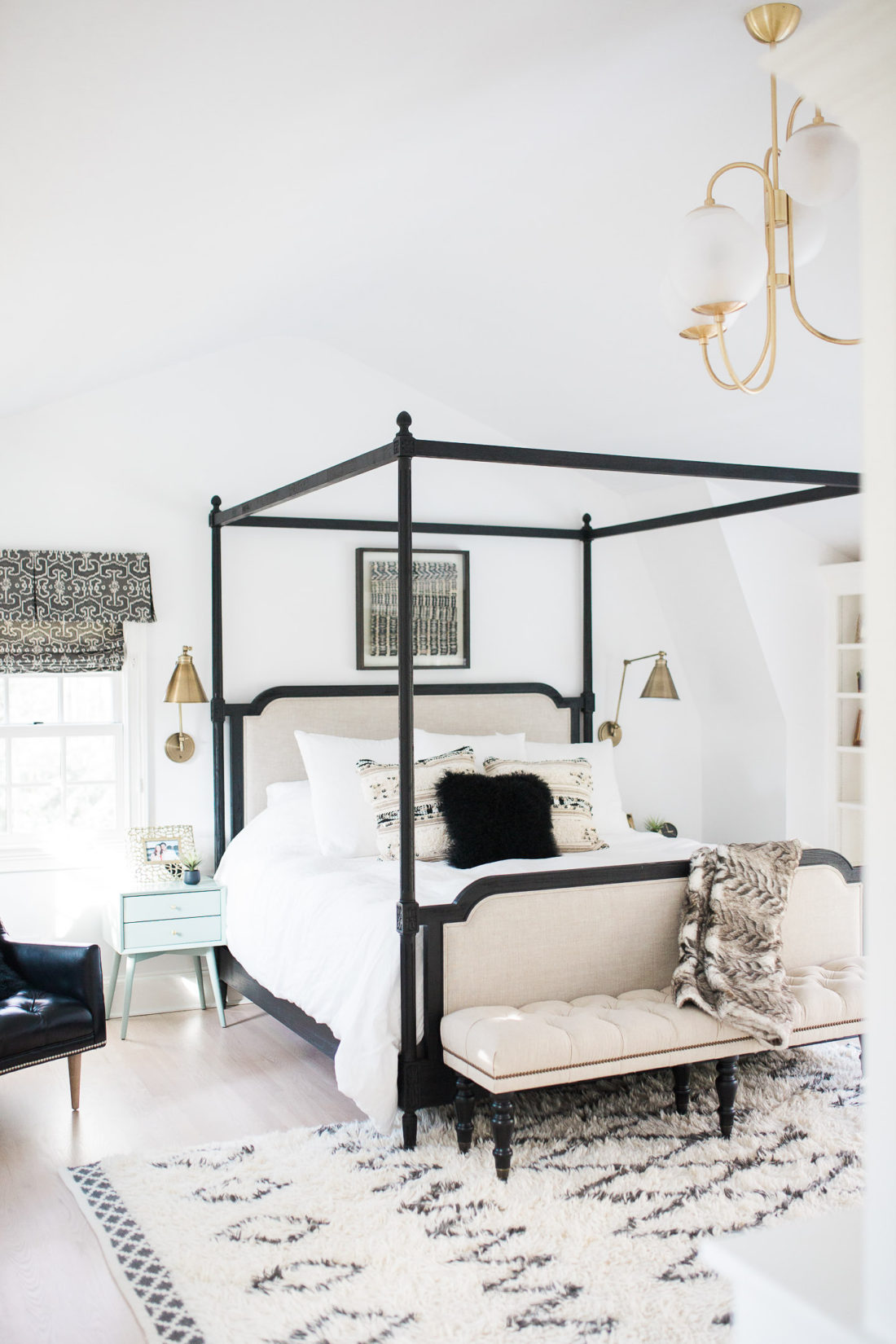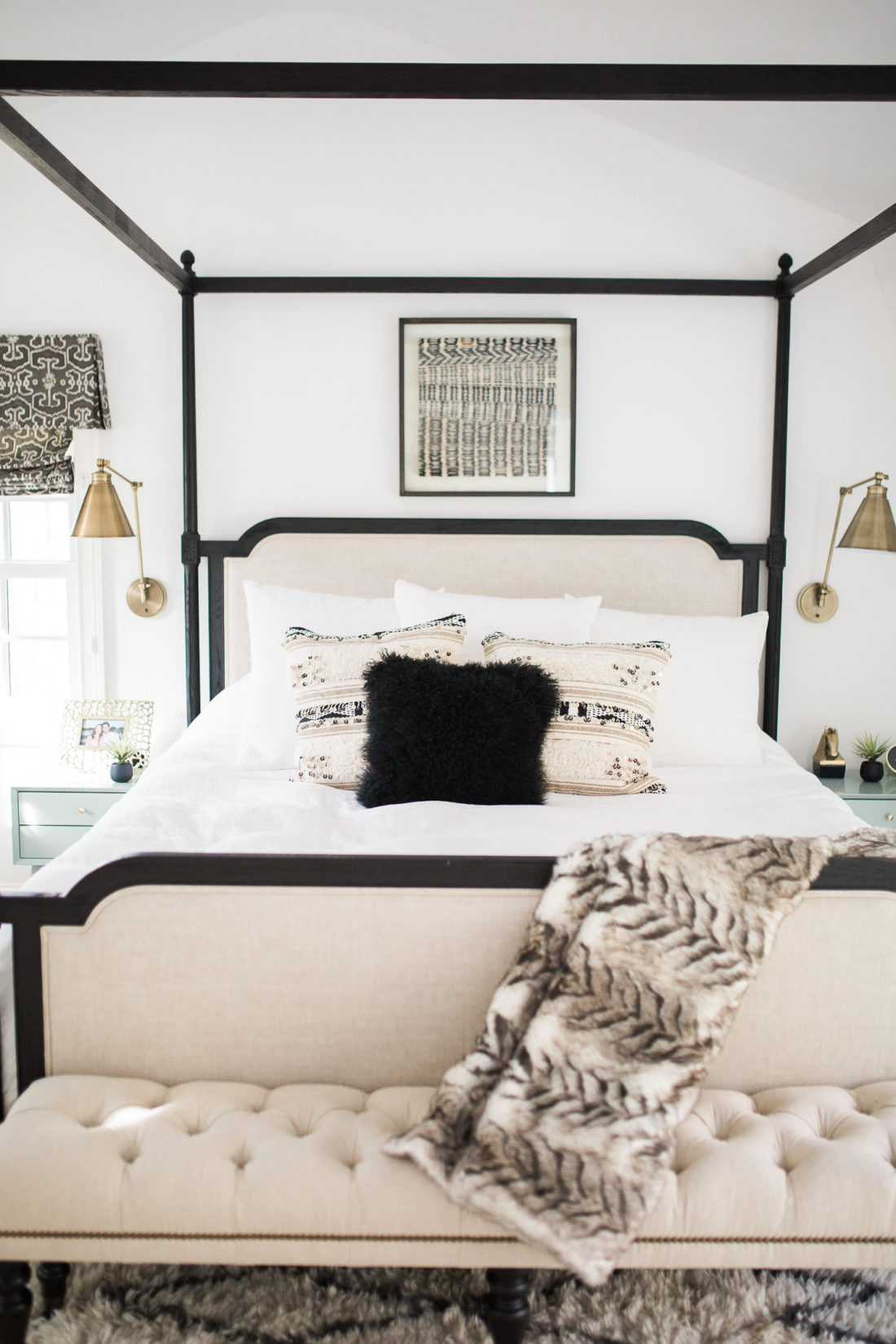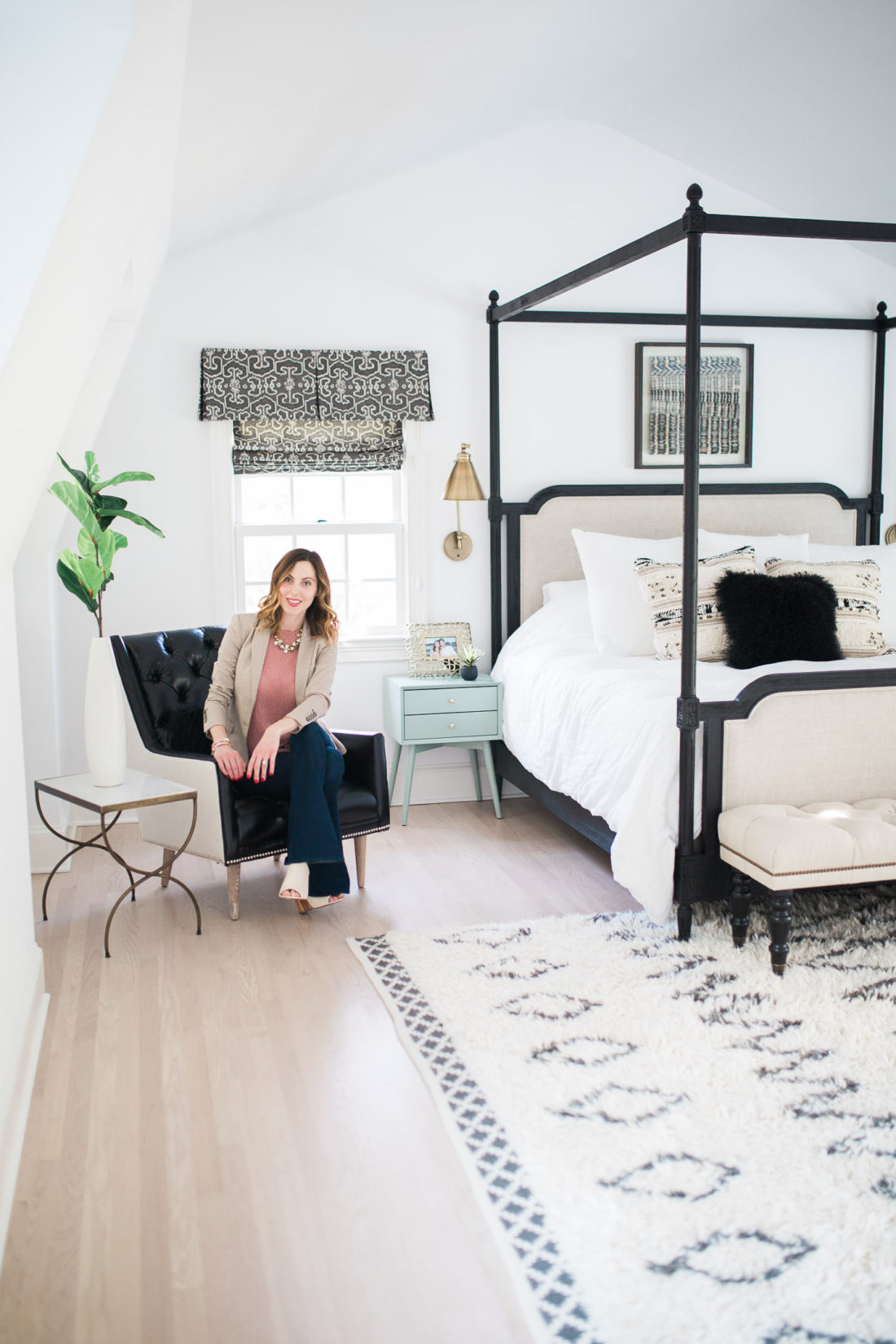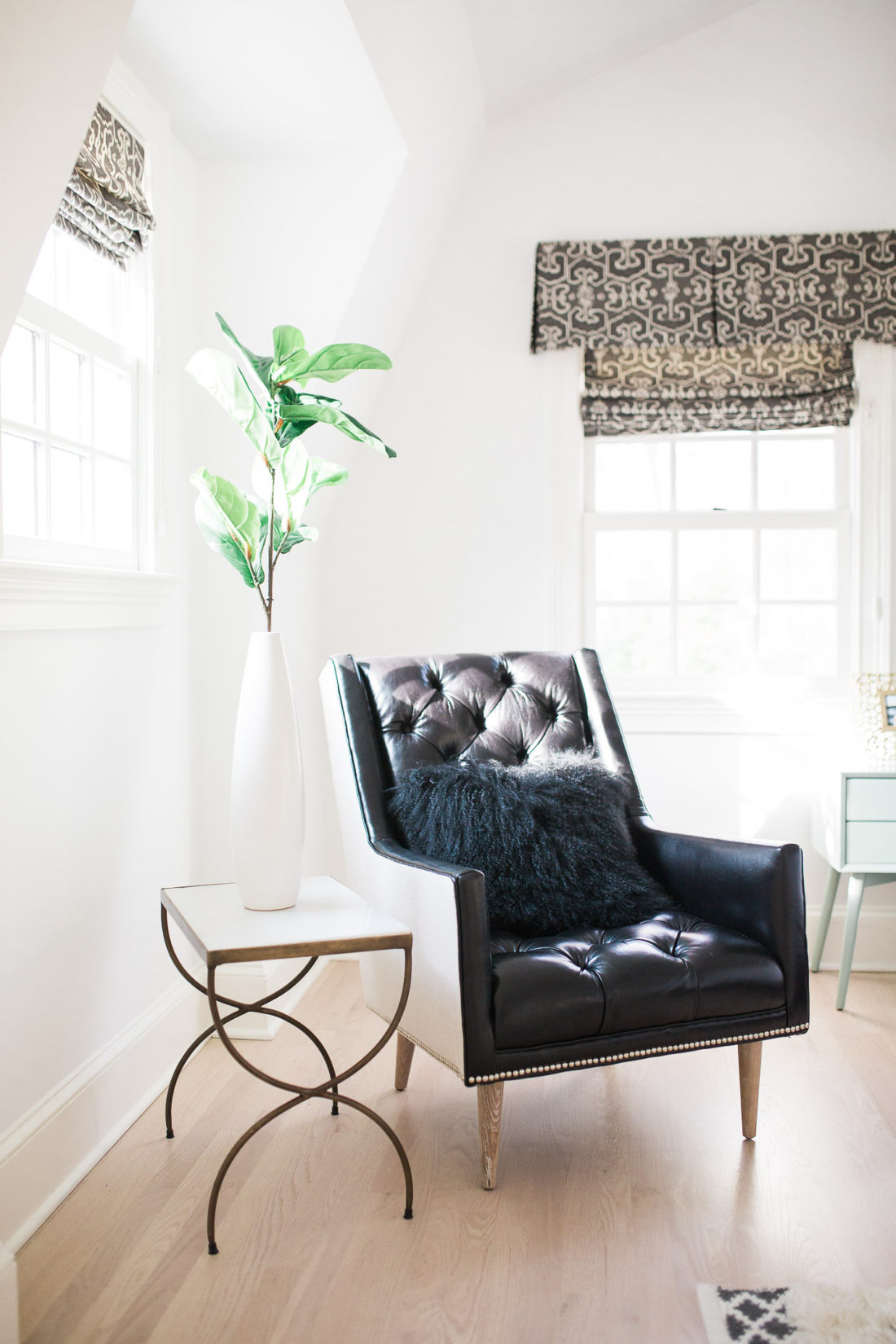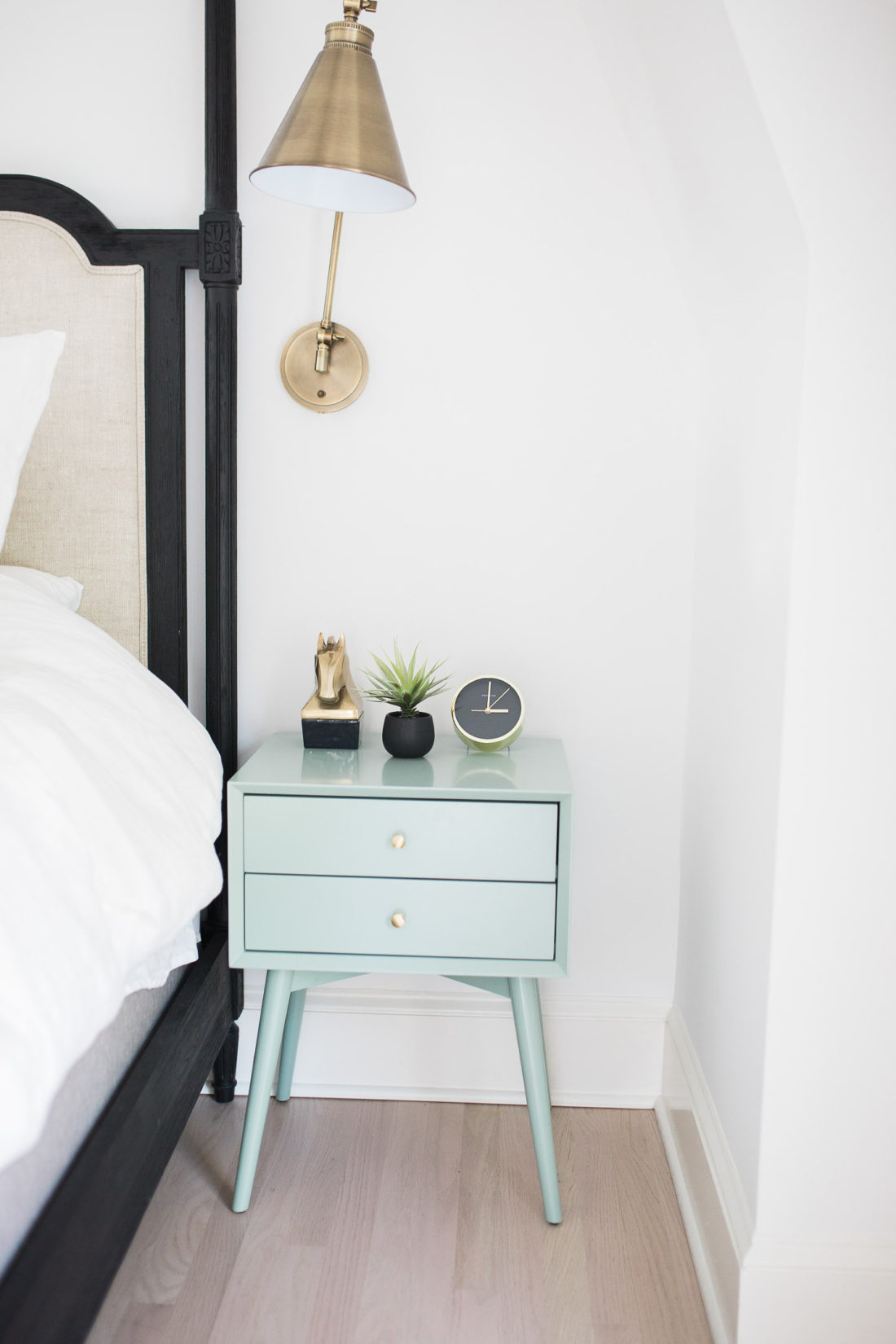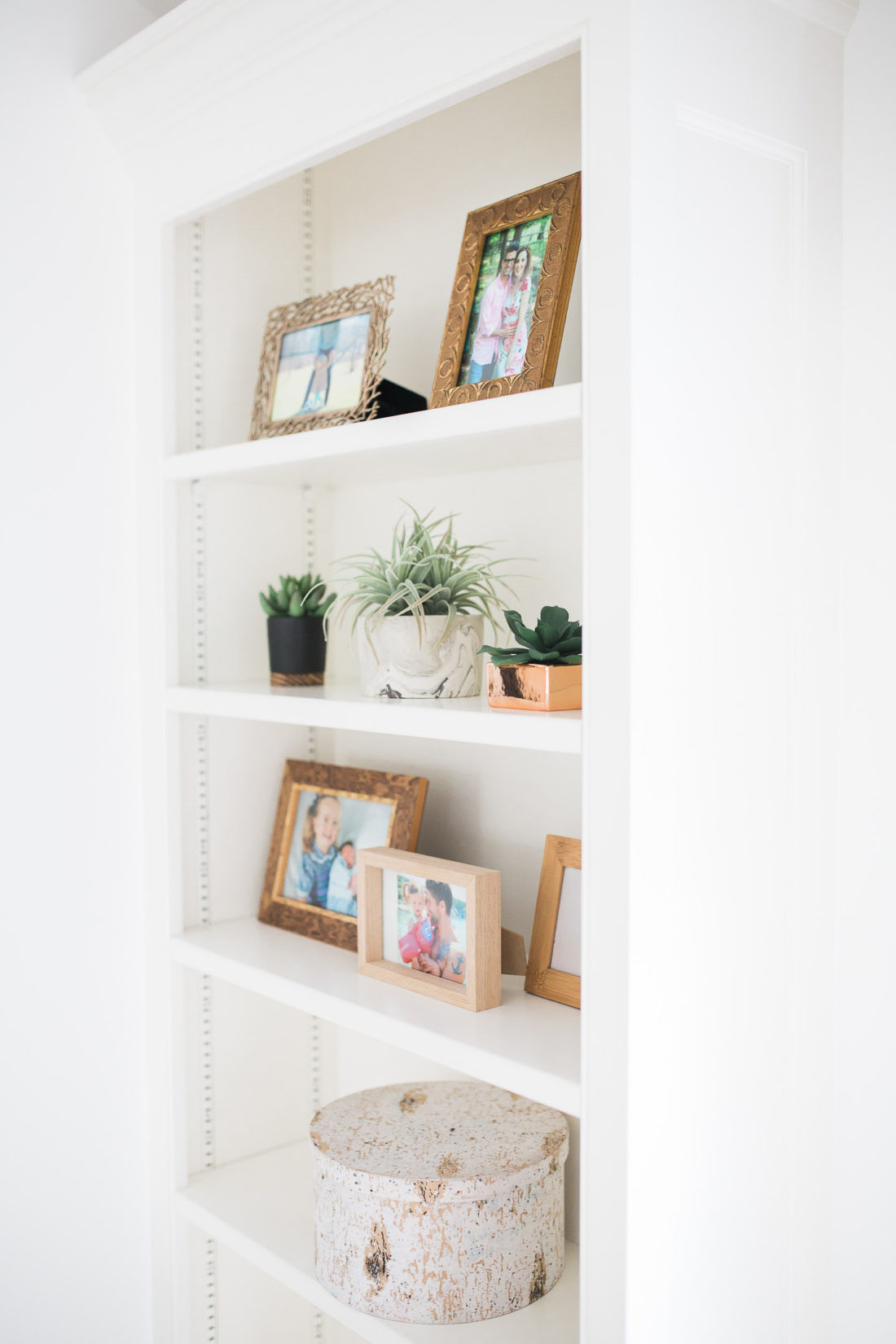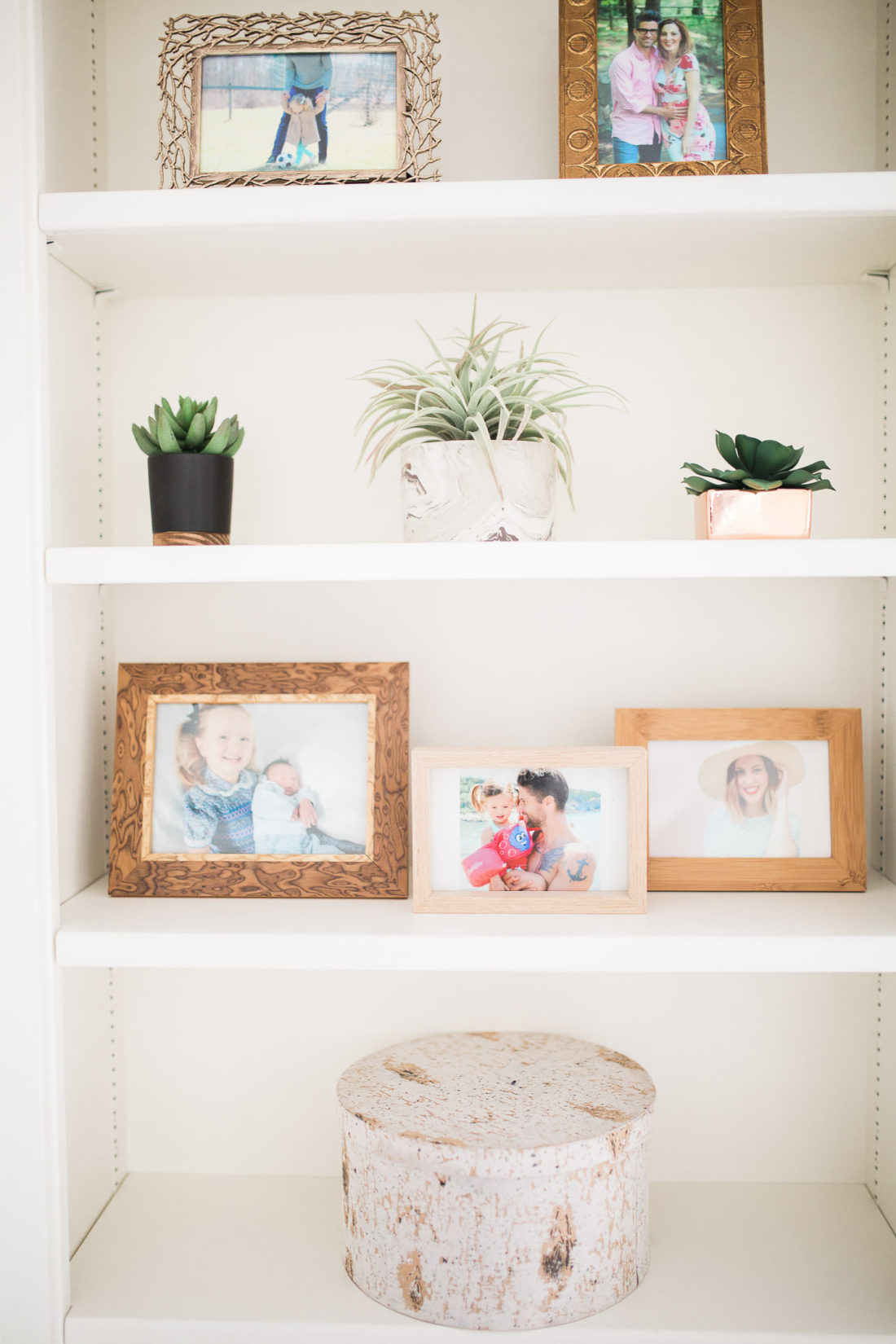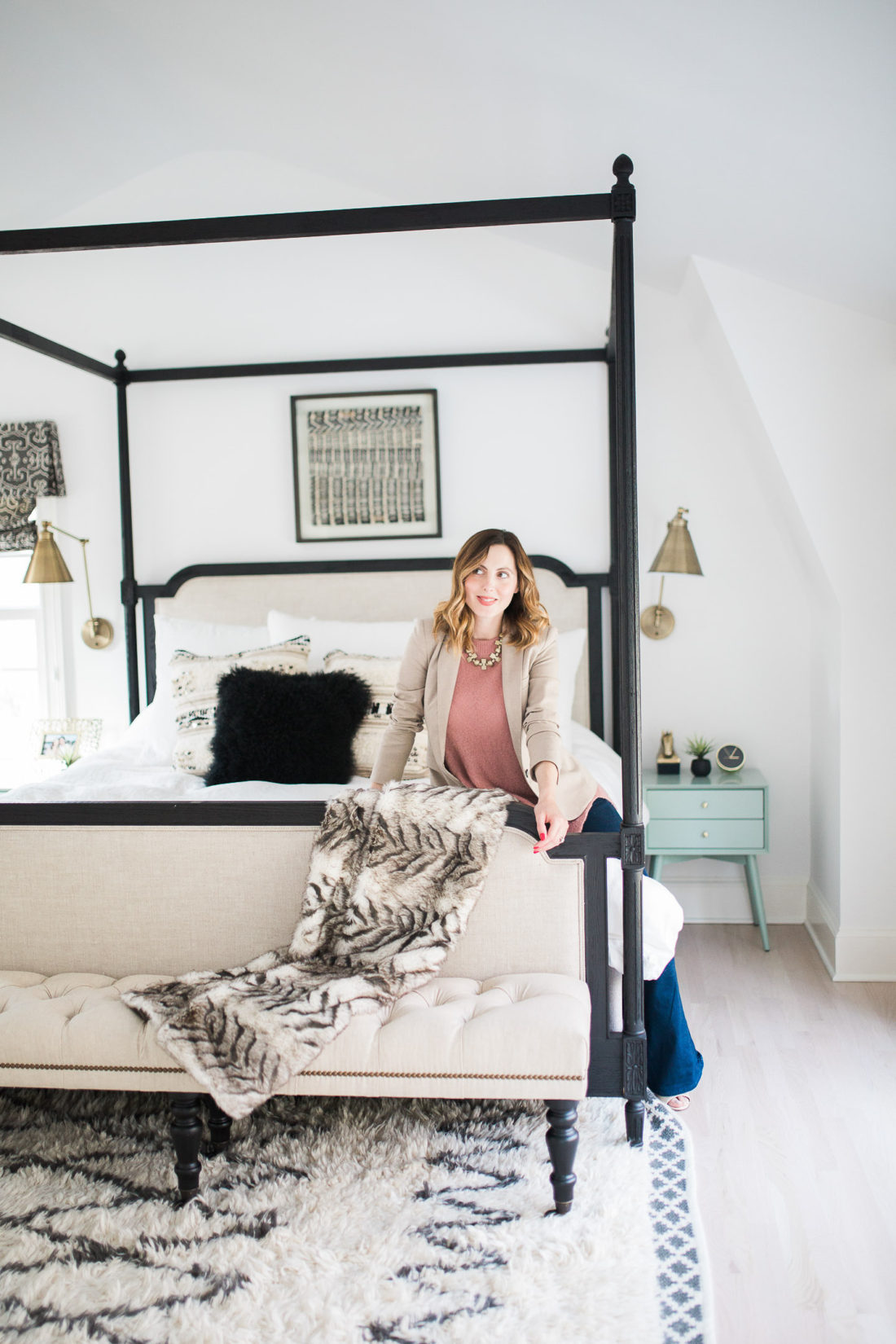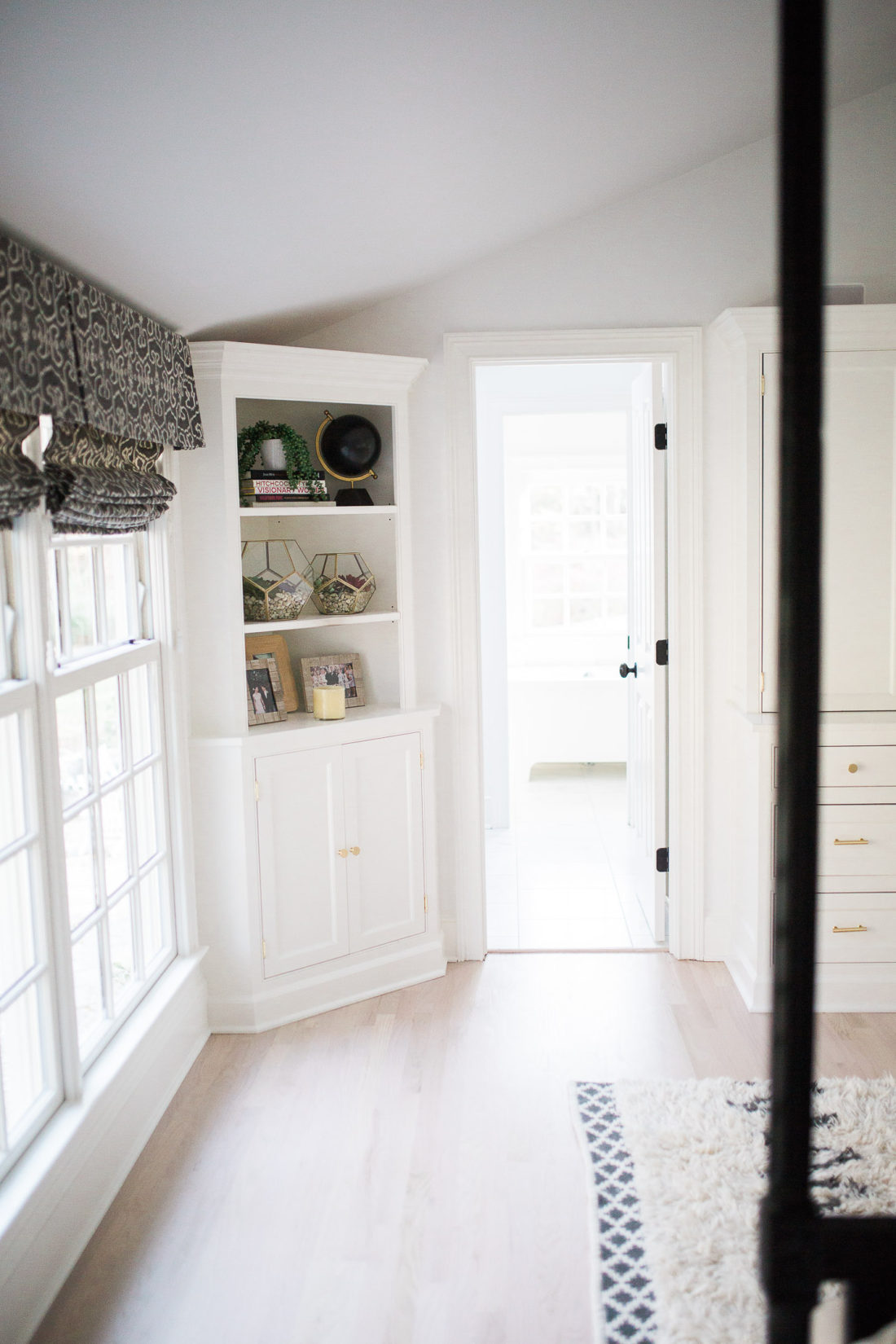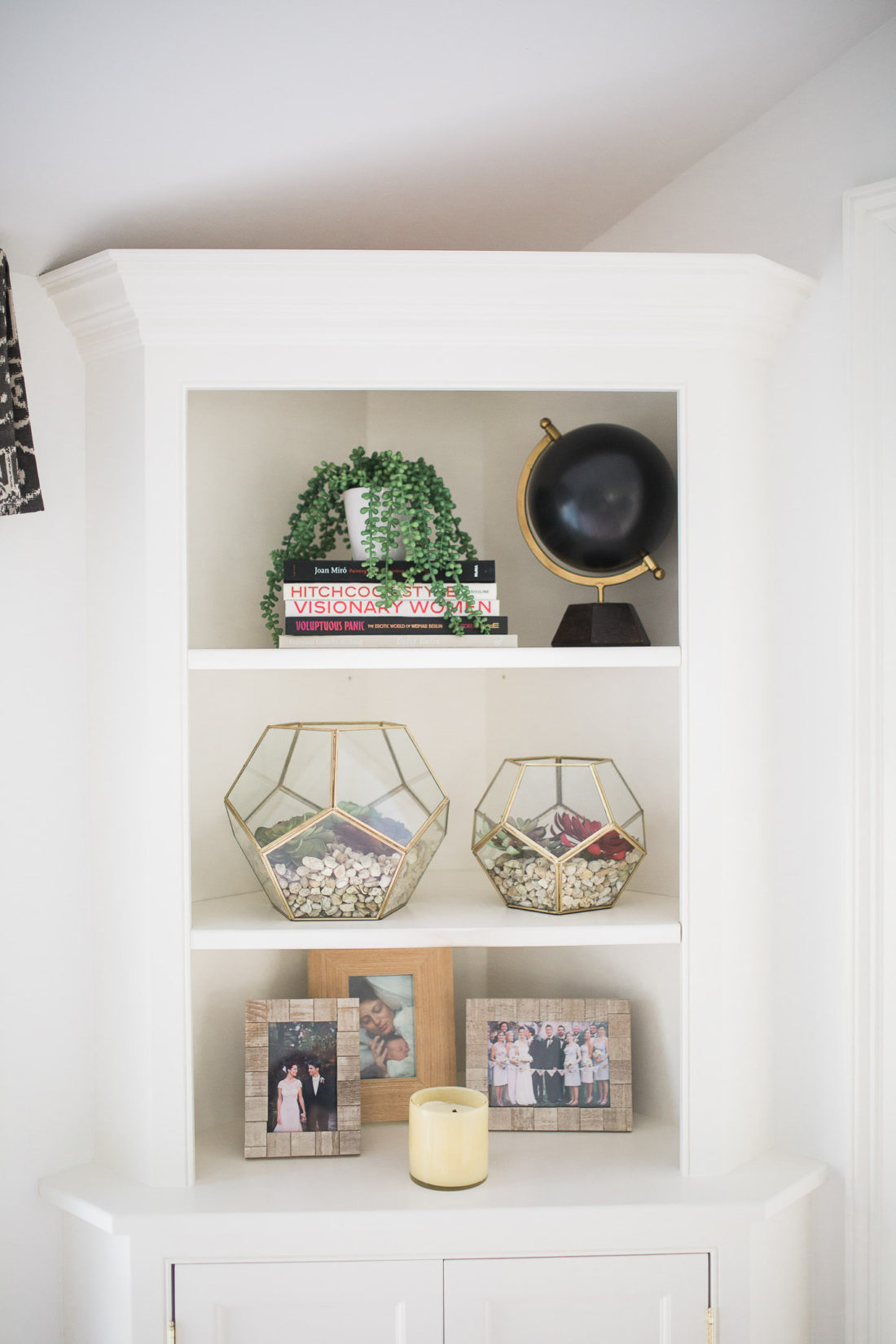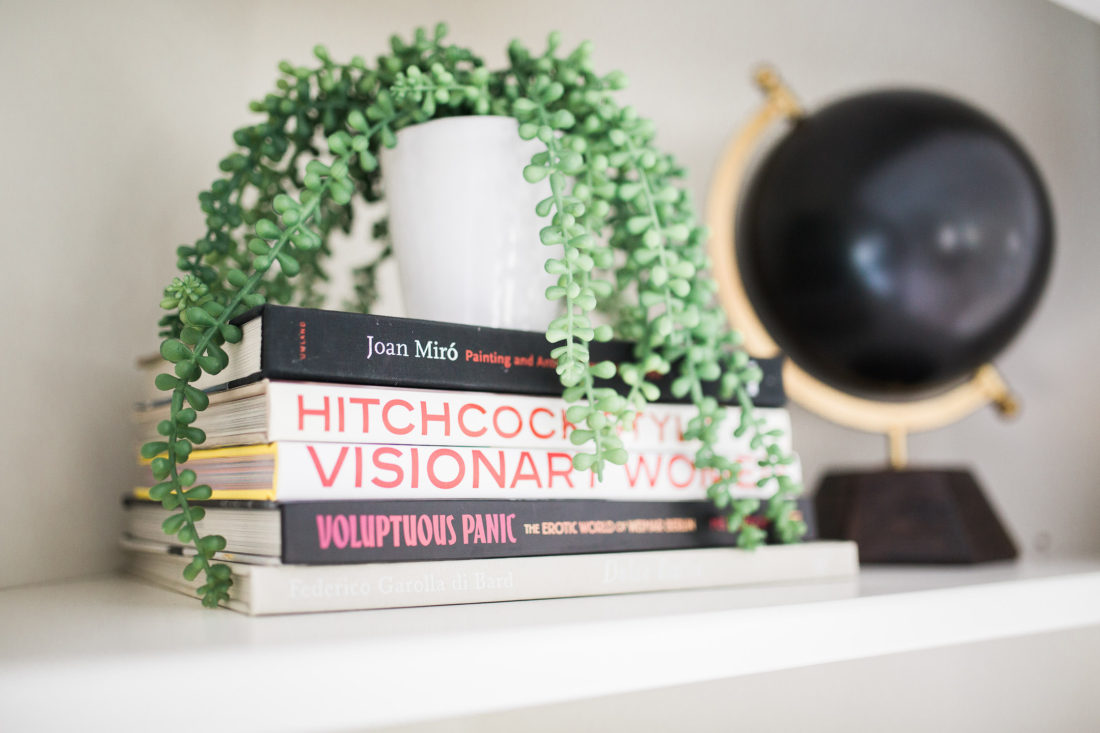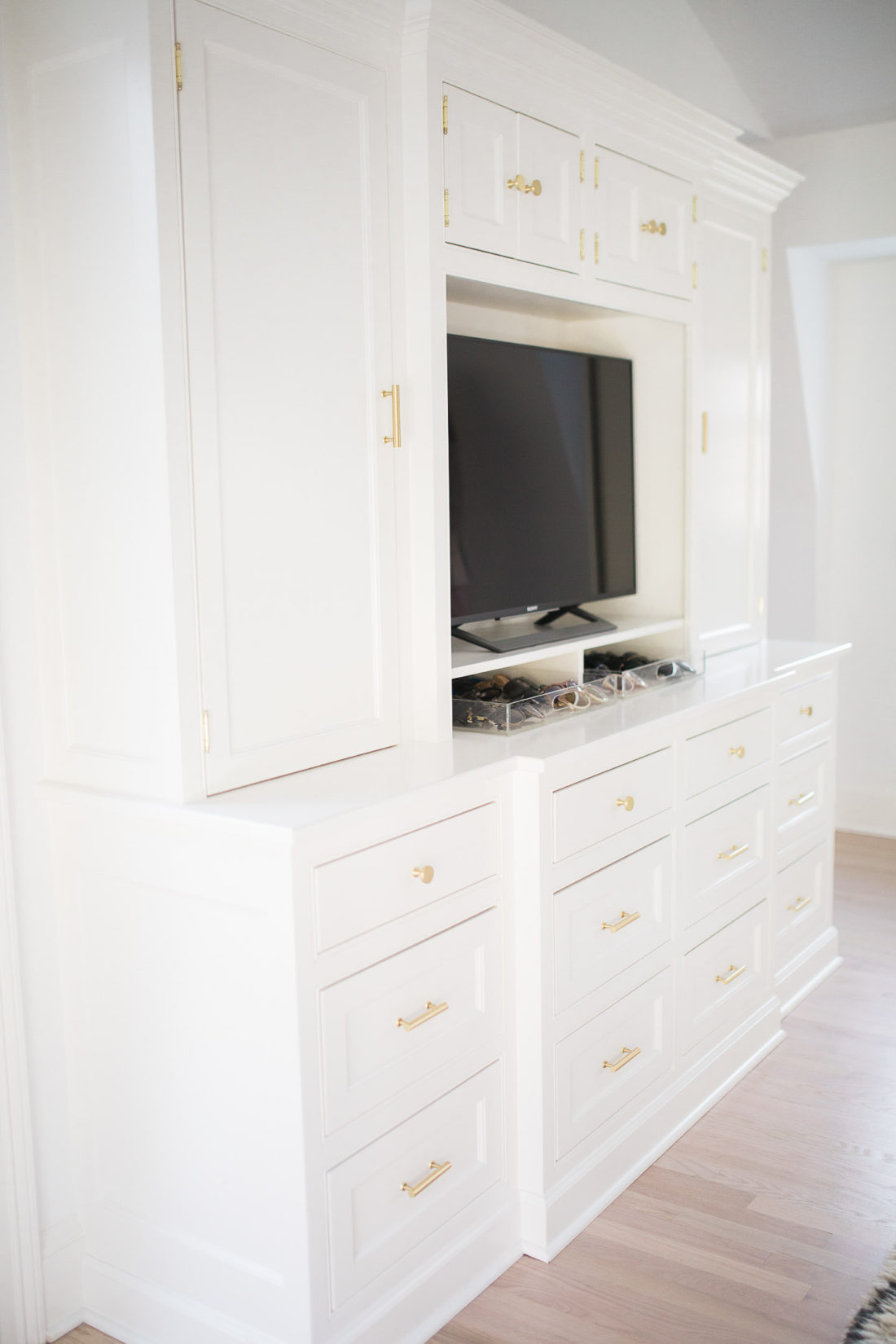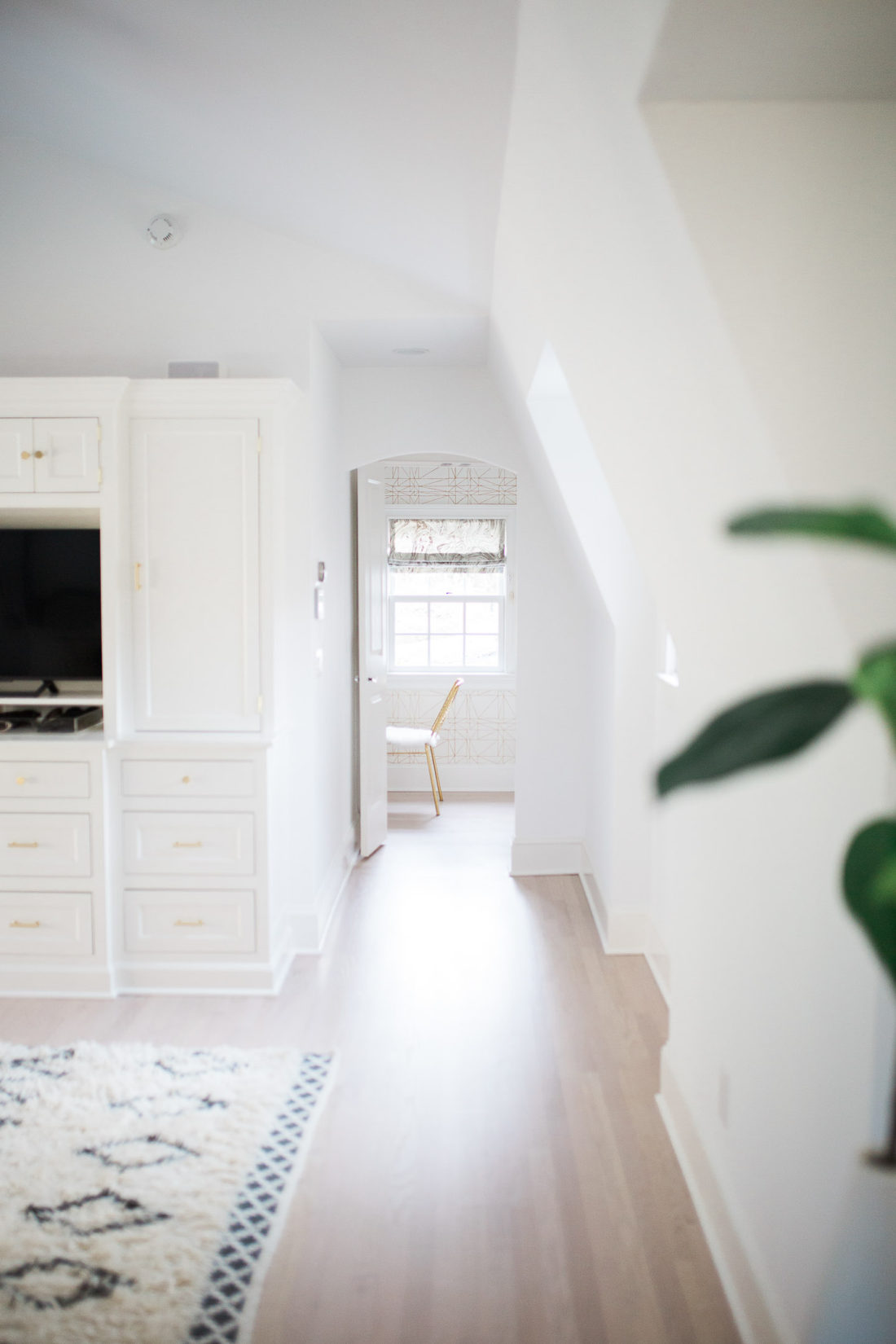 Shop the look…

Design Sources
Bed: Restoration Hardware
Rug: West Elm
Chandelier: West Elm
Bedside Tables: West Elm
Wall Sconces: Schoolhouse Electric
Framed Art: West Elm
Bench: Pottery Barn
Armchair: Anthropologie
Side Table: One King's Lane (similar)
Window Treatments: Custom by The Beehive
Bedding: West Elm
Patterned Bed Pillows: Restoration Hardware
Black Mongolian Lamb Pillows: West Elm
Faux Fur Throw: Lulu & Georgia (similar)
Picture Frames: Various, similar here and here and here
Potted Succulents: CB2, Target
Black Globe: CB2
Brass Terrariums: World Market
Brass Horse Box: CB2
Photographs by Stephanie Elliott Photography