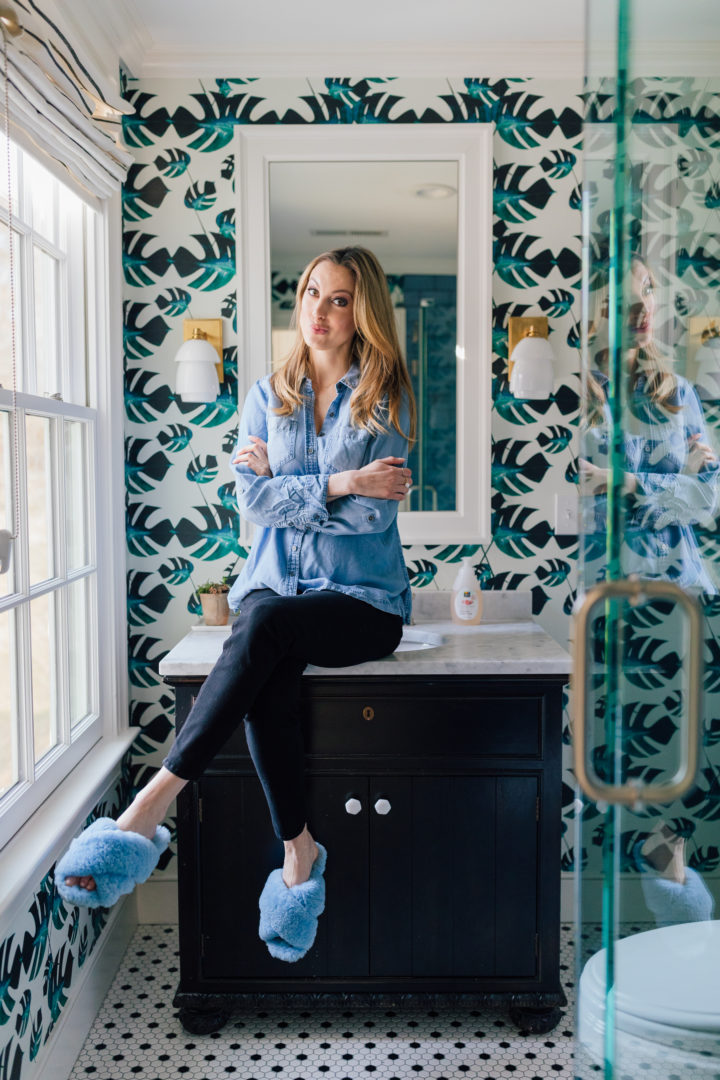 A big frustration in the journey of parenthood for me has been dealing with age-related or transition-related regressive behaviors.  Every parent has experienced them at various stages…from the dreaded sleep-regressions during that first year in a baby's life, to behavioral regressions and other bumps in the road related to emotional transitions in a child's life.  But far and away my personal least favorite has got to be the potty training regressions.  I've experienced them with both kids so far (in very different ways), and I'm currently in the middle of one with Major.  Today I thought I would share in case anybody else is going through it also! Maybe we can give each other some ideas…
When we first potty trained Major, it went really well.  He was 2.5 years old (the same age we started with Marlowe).  He broke his leg on a trampoline a few weeks after potty training started, and he actually maintained the potty training throughout the cast process– which I was extremely surprised by.  We were on top of it, and by a month in, I pulled the night time pull up and he was fully night trained as well! Of course, accidents would happen from time to time, but they were pretty few and far between. 
I had experienced a potty training regression with Marlowe, wherein about 4-5 months into potty training (after being fully potty trained previously) she started having a lot of accidents.  It almost seemed as though she was testing her own body, waiting a bit too long to head to the potty if she needed to go, and ignoring her body's signs. She even started having poop accidents, which was really alarming to me at first.  I started reminding her a lot more about using the bathroom, and we started to talk more about going pee and poop in the potty and not in her pants. The regression lasted about a month, and then luckily ended.
Towards the end of the Summer (yet again 4-5 months into Potty Training) Major started having a ton of accidents.  We had been through so much endless transition recently that I chalked it up to that (and maybe it still is!)– between moving into a new house, constant construction, Kyle and I transitioning into a new kind of relationship, and a baby on the way. There was PLENTY for him to feel emotional about, and with potty training, as a very real control trigger for kids, I wasn't surprised that he was trying to take the power back.
He started having accidents, not telling us when he had to use the bathroom, and refusing to "try" the potty when it seemed he had to go.  The accidents were only during the day, though, and only pee.  As we headed into Fall, we all made sure to remind him to use the bathroom more, and even resorted to setting a timer every hour so that he would be used to trying the potty on a schedule to get back into the rhythm.  Things improved a bit, but not completely.  It started getting especially bad if he was engaged in an activity or playing.  He just wouldn't break to go to the bathroom no matter what– and would pee in his pants.  The part that worried me the most was that having wet pants didn't even bother him! Whereas before, in the early stages of potty training, he would feel uncomfortable If he was wet– now he didn't care at all.  In fact, sometimes I would only notice he had wet his pants if I brought him to the bathroom to try the potty. 
At this point, I tried bribery. I got some dollar store little toys, and for every day that he did not have an accident, I would give him one of the toys. This actually worked extremely well. We went for two weeks with no accidents and one point. It was clear that living potty-accident-free was fully in his wheelhouse, but that he didn't always "turn it on".  Selectively Potty Trained! LOL. As soon as I phased out the toy bribe, the accidents continued.  I'm fully aware that the emotional transitions in Major's life had not stopped, and still haven't. Kyle and I have divorced, moved in to separate homes, and he still has a baby brother on the way. It's a complicated time for him, and thus I've been doing my best to really be patient with the process and know that he will move out of this phase when the time fits for him.  But it's been really intense to have to be prepared to fully change him multiple times whenever we go out or travel. Especially with a child who is otherwise very age-appropriate, if not even advanced emotionally.  It's been the most confusing juxtaposition of personality and behavior. If I'm not completely on top of taking him to the bathroom, it almost always ends with pee in the pants. 
The latest phase is him telling us he has to use the bathroom, but then realizing once we get there that he has already peed in his pants but not told us.  If we ask him if he had an accident he doesn't say yes or no.  He'll just tell me "You're the Best Mama. I love you." Way to butter me up, kid! LOL. He knows that pee "belongs in the potty" and all of that, but he either doesn't want to or can't make it there. We've had endless conversations about it, and tried to understand (from him) what's going on…but we really haven't gotten anywhere. The other strange thing is that it almost never happens at school.  It seems like this is something he saves for his family life. As I get ready to have another little baby in just weeks, I can't help but feel overwhelmed by this very extended potty regression.  Some days are better than others with the regression, but it's definitely a thing.  I'm assuming it's developmental and situational and will correct itself (I mean, he's only 3!) But I would be very interested to hear if anybody else has gone through this with potty training their child, particularly Boy Moms. 
Please share in the comments below!