The following content may contain affiliate links. When you click and shop the links, we receive a commission.
Crafting decor pieces that are seasonal, and that I can reuse year after year, is such a passion of mine. I think it's really nice to make things yourself when you can, because you end up cherishing them so much more– they become a part of our family story! I like my kids to see me making some of the decor we have also, I think it's a nice tradition to set. When the crafting is easy-ish I even involve them when possible. This Autumn, I knew I wanted to create a beautiful vase that I could use for centerpieces for Thanksgiving, as well as more casually around my home. I was envisioning something special to bring out those fall colors! I ended up settling on this super easy Maize vase. I love how festive it is, and it's perfect for an autumnal arrangement of blooms. I wanted reds and oranges for this set but I plan on putting sunflowers in here as well! These would also be super inexpensive decor ideas for a Fall wedding, party, or shower.
Check out the details below, and let me know if you have any questions. Happy Crafting!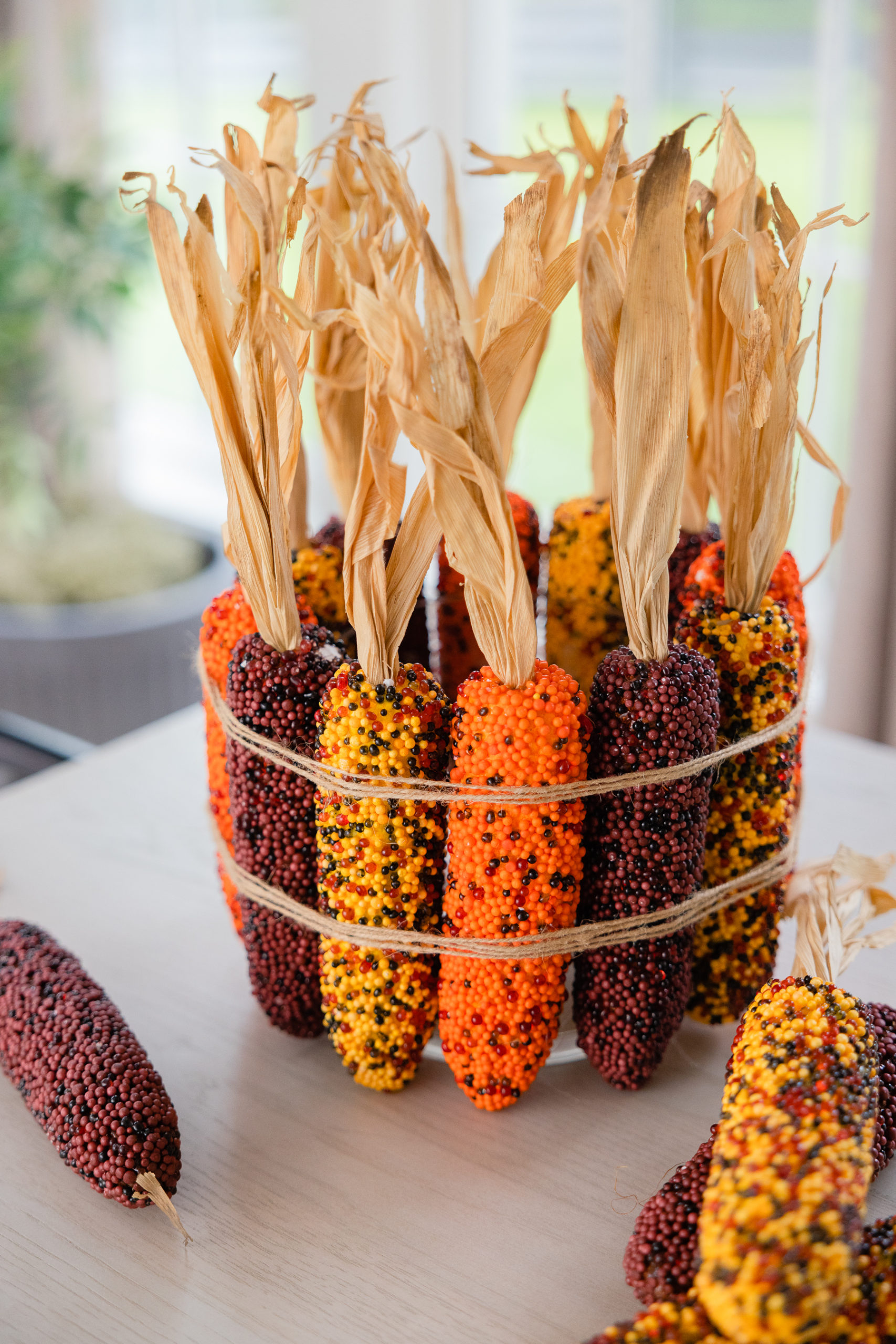 Step 1
Hot Glue the Maize
Take the maize and hot glue it around the outside of the glass vase. It is best to hot glue it in two different places, the top and bottom, to ensure it stays attached. Repeat this action until the vase is completely filled.
Step 2
Tie the Twine
Wrap the twine around the vase several times and tie off. Repeat one more time so that the maize are held tight against the vase.
Step 3
Add your floral arrangement
Once your vase is completely crafted, place a floral arrangement of your choice in it. The suggested arrangement would be a variety of real flowers but you can also go the artificial route as well!
Step 4
Enjoy your gorgeous centerpiece!
Add this gorgeous centerpiece to your Thanksgiving table top decor this year!
---
Shop the post…

Photographs by 

Julia Dags

 | Copyright © 2021 Happily Eva After, Inc. All Rights Reserved.