The following content may contain affiliate links. When you click and shop the links, we receive a commission.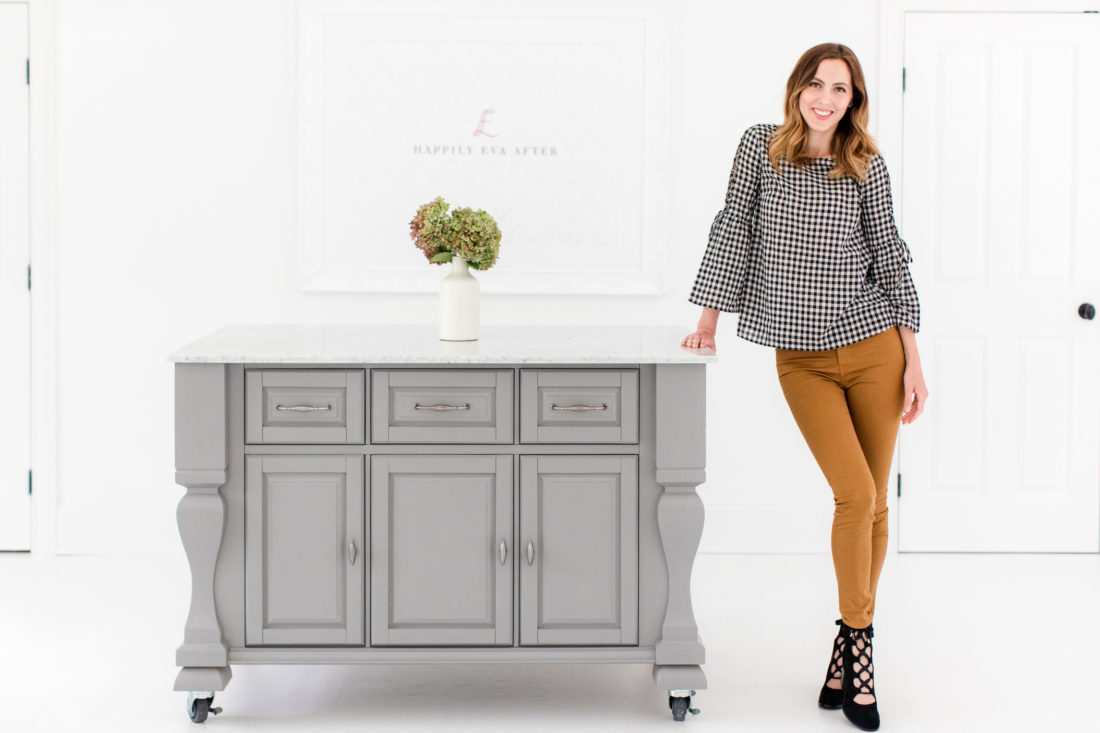 One of the most-asked questions I get via email is "I want to start a blog! Can you give me some advice? How do I get started?"  If you've been following this blog from the beginning, you know that I have always been very open about the fact that when I started Happily Eva After I had NO IDEA what I was doing.  Zero.  I dealt with a vast learning curve to even set up a website, let alone figure out how to finesse and grow my brand.  All I knew was that I had a real passion for sharing my ideas in the lifestyle space, as well as for documenting the good, bad, and ugly of my experiences in Motherhood.  I wanted to bring authenticity and imperfection to a space that– to me– often felt a little bit too focused on perfection and not enough on the differences and challenging truths of an experience that made me feel FAR from perfect every single day: raising kids!  I wanted to explore the topics that I wished I could read about– and to learn more about myself by asking myself the hard questions about life, fertility, pregnancy, motherhood, marriage, and womanhood.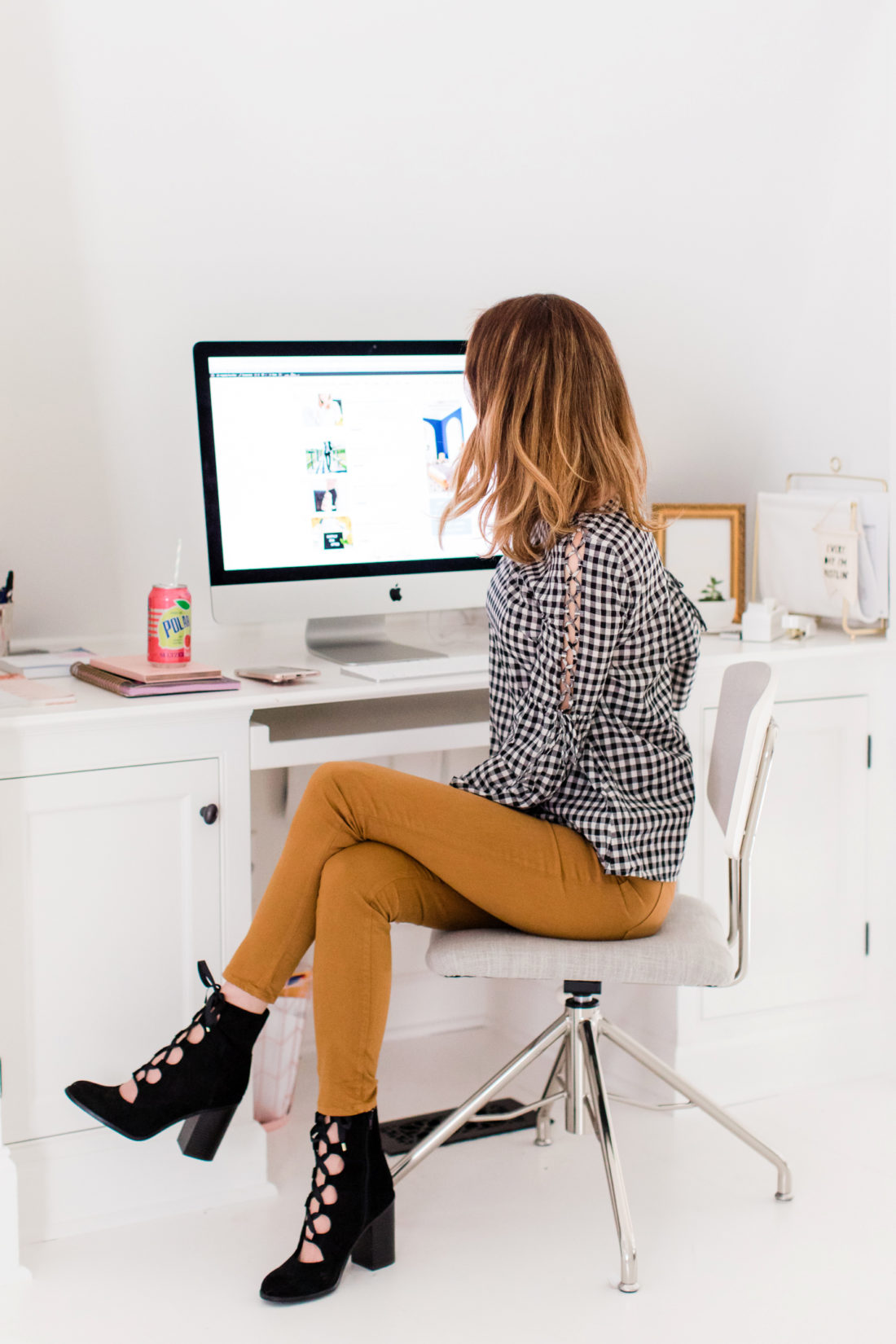 To start this blog, I ended up having to spend many, many, many long hours at a computer screen.  I suffered through lots of heartbreaking technical mistakes that left me in tears. I googled and youtubed, and sifted through hundreds of forums looking for information that might help me figure out how to use a camera, or edit images, or create collages.  It was the first time since college that I felt completely overwhelmed– and low and behold it was kind of awesome.  Because through the tears and the late, late nights of googling and watching informational videos, I figured it out.  I learned something new– and then I was able to sit down and actually write about things that were important to me, which was something that I hadn't done in a very long time.  Writing about those things led to connecting with an incredibly curious, interesting, kind, and strong readership that I'm soooo blessed to call the Happily Eva After community.  I'm constantly learning more and more about the blogging world, and by no means am I an expert– but I'm proud to say that I know a lot more than when I started all of this two years ago.  Most importantly, I've made tons of mistakes that I've learned from– and now you can too! LOL.
It's so very important to have places you can go when you're passionate about something to get more information.  Even if you have all the passion in the world, you need tools to be able to bring your dream to life– or to even explore if it is a right step for you! Since I don't have the time to write back to each and every person who reaches out to me, I thought I would start a series of posts called "The Blogger Files", where I will cover a range of topics over a period of time.  This way, the resources are here if you ever need to revisit them.  Hopefully this series can help answer some of your questions about these blogging topics.  The first topic I'm covering today is about "Getting Started" in the blogging world, but please share if there are specific areas that you'd like to learn more about.  As always, I also encourage you to use the comments section of this post to communicate with each other, offer advice, and introduce each other (and me!) to your own blogs! Blogging is best utilized as a way to grow your community–no matter the topic– to learn and to grow individually, and to inspire others.  I hope you find blogging to be as invigorating as I have!
Getting Started
One of the more head-scratching questions I get asked is "How do I decide what to blog about?"  I think if you're asking yourself what you want to blog about, you're putting the cart before the horse.  Blogging should be born out of passion– if not it is WAY too much work and you will never keep it up.  I always tell people that nobody knows what blogging entails until they try it themselves– and I include myself in that group.  Blogging is by far the most blood, sweat, and tears that I've put in to anything in my life– I often refer to HEA as my third child.  And I promise you I wasn't expecting that when I started! LOL.  The best analogy is to think of a blog as an online magazine of sorts.  We've all read a magazine, right? Have you ever gone to the credits page of a magazine and taken a look at the long list of contributors, from the Editor on down to the photographer, photo editor, models, makeup and hair artists, content producers, marketing, branding, the list goes on and on.  Blogging is taking all those jobs and doing them yourself.  It's extremely gratifying, but it's a lot.  The greatest part about blogging is that once you are doing all of these things, you are the only Boss.  You decided what your blog looks like, feels like, the content that is created, and the environment it creates for your readership.  No need for permission from anyone because that is ALL you! Does this creative freedom sound exciting to you? The blogging might just be your thing! Every single person on this planet has their own unique lens through which they view and experience the world.  Tap in to what that is, and above all be authentic.  If you try to emulate the style of a blogger you admire, you will only seem like a lesser version of them! Cultivate your own voice, your own style, and your own interests– and try not to worry about what other people think!  Now that you have a point of view that you want to share with the world, it's time to build a blog!
Your Blog Name
I wish I still had the brainstorming list I made whenever I was dreaming up my blog names– I'm sure it would be good for a laugh or two! Coming up with a blog name is a challenge, but in the end you need to go with your gut.  I think it's important to make sure that your blog evokes the vibe of your content whenever you hear it, but isn't too specific that it can't grow and change as you do.  I know a few bloggers that got a bit too specific when they began blogging and ended up having to change their blog names as they branched out as bloggers.  For example, using a blog name like Little Miss Makeup or something might not be a great idea if you think you might have kids one day and want to branch out to write about motherhood topics– or cover cooking and lifestyle verticals as well.  This probably goes without saying, but don't forget to do a thorough search of your prospective blog name to make sure it's available! If you're stumped and have a catchy name yourself, don't be afraid of just using your name as your blog name! It actually might make your life easier long term as you grow as a brand.  I can't even tell you the number of emails I get that say "Dear Happily" at the beginning of the request.  Hahaha.
I remember making my list, and Happily Eva After was one of the last ones I thought of.  I actually used to use the phrase "Happily Eva After" as a way to explain to people how to pronounce my first name since it sounds so much like "ever", and has that open sounding E at the beginning.  Whenever I shared my list with my husband and a few close friends, they all jumped straight to that blog name first.  I couldn't believe that the domain name was still available, to be honest!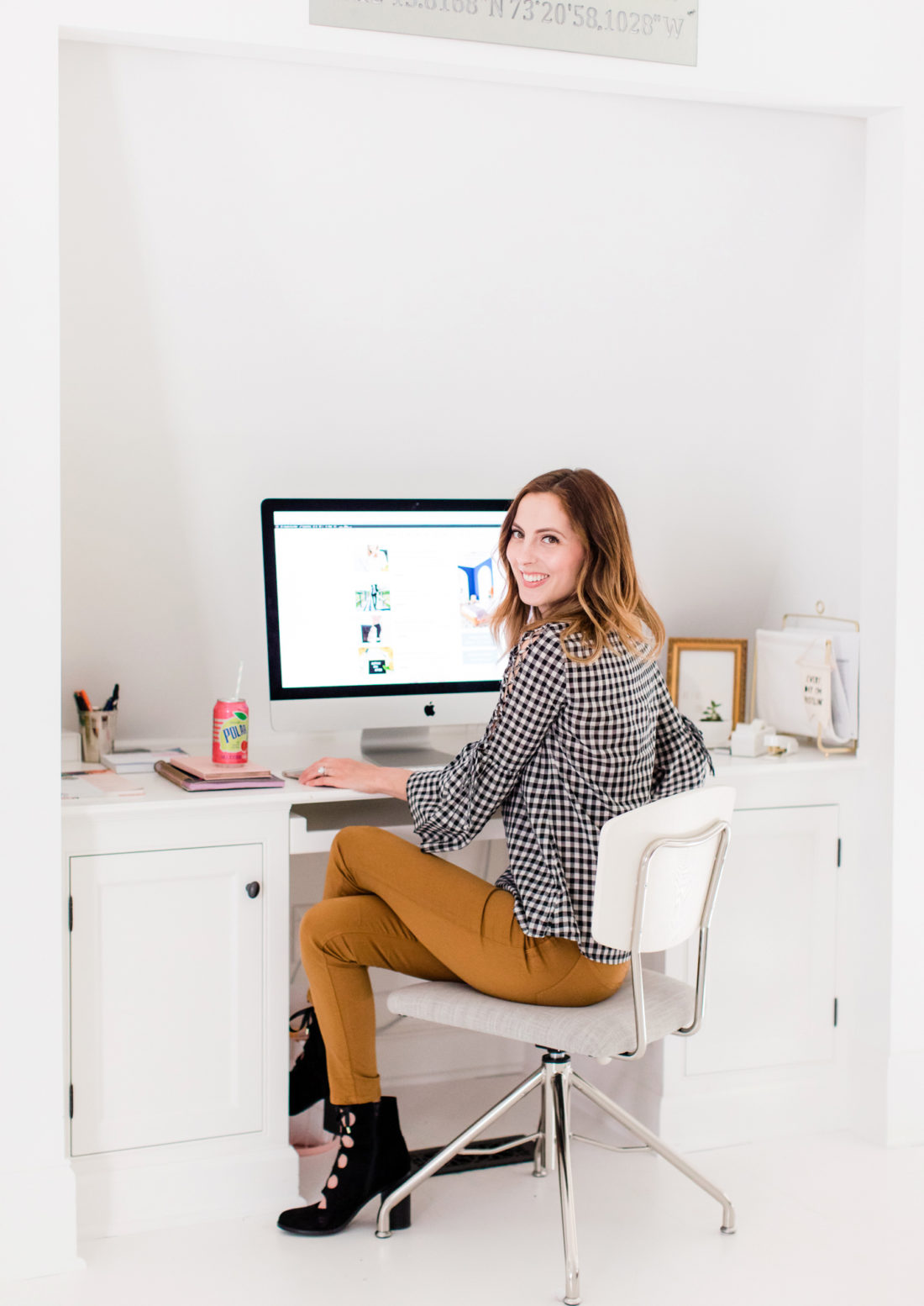 The Website
If you want to have a blog, you need a website.  There are tons of ways to do this, but what I recommend hands down is buying and owning your own domain name (your dot com).  It makes things so much simpler as you grow, so you don't have to transfer your entire site from Tumblr or something once more people start reading it. I used GoDaddy.com to purchase and reserve my domain name.  Then, I used WordPress as my content management system.  You can use WordPress to build a simple blog, or even a more complex website.  It's the most commonly used system for bloggers.  When I first started HappilyEvaAfter.com, I did not have the website you see today.  It was super basic and not all that pretty.  WordPress has basic looks (they're called "themes") that you can select from within their site– but there are other ways to make your site look more unique and pretty, such as purchasing a semi-custom WordPress compatible theme from theme builders.  You literally can google "WordPress themes" and find tons of designers who make them, but here is one site with a few examples for bloggers. Once I was blogging full-time and monetizing my blog, I went through a site redesign with a super talented website designer (Victoria McGinley Studio) who created the website you enjoy today.  A full custom website design is definitely an investment, and can come later in your blog's journey! Don't feel like your blog has to be "there" right away. Lastly, I use a WordPress hosting site called Flywheel that runs and monitors my site on the back-end of things.  My hosting site makes sure my site is super fast and doesn't crash.  It also manages security to block malware and hacking attempts.  Additionally, a hosting site can manage software updates and offer WordPress support if you need it.
Creating Content
I think it's really important to always create content around your authentic interests, and not based on trends or what you think people want to see or read from you.  Don't worry so much about churning out content piece after content piece– if there is one thing that blogging has taught me it's that one pretty, engaging, thought out blog post is way more valuable than three or four mediocre pieces that you rush out.  When I first started my blog I was way too concerned with doling out content pieces evenly among my lifestyle verticals (this is blogspeak for "categories").  I forced myself to have a different category every day, and to cover all my bases instead of just going with what was organic to my life that day, week, or month. What ended up happening was that I would scramble to put together a blog post without feeling really inspired or excited by the content.  And guess what, if you aren't loving it nobody else will! LOL.  If I'm ever stumped about content, I always check in with myself and ask myself what I'm thinking about these days. What are the topics that have me curious, or the life changes that we are going through as a family?  I normally can tell that if there is a personal passion, dilemma, milestone, celebration, question, or conflict that is taking up a lot of my thoughtspace during the day (or keeping me up at night!) that it will be something valuable to write about or explore for my readership.  I know that I am abnormally open about a lot of the more taboo topics– and you definitely don't have to lay yourself totally emotionally bare to be a good blogger! But giving of yourself and really going for it– even if that means creatively and not personally– will always set you apart.
Consistency
My greatest piece of advice about blogging next to being authentic is being CONSISTENT!! The worst thing you can do is randomly produce blog posts without any rhyme or reason to when they appear on your site.  If you can only commit to one blog post a month, pick an exact day of the month and have it post on that day.  Ditto for a weekly post.  It's so important as you build a readership that your audience knows what to expect from you, and that you deliver when you are expected to! If you haven't noticed, I post new content on Happily Eva After on Mondays, Thursdays, and Fridays every week, with "extra" or special content pieces posted on Wednesdays if I have any that week (This usually happens during busier months like the Holidays!).  This is what works for me, but you may have to start slow and build up to multiple posts a week or month.  I actually did the opposite and started with five new content days a week.  This was a huge mistake (I was already so overwhelmed as a new Mom on top of everything else) and I got majorly burnt out.  Perfect your system, and then add days if you're feeling confident!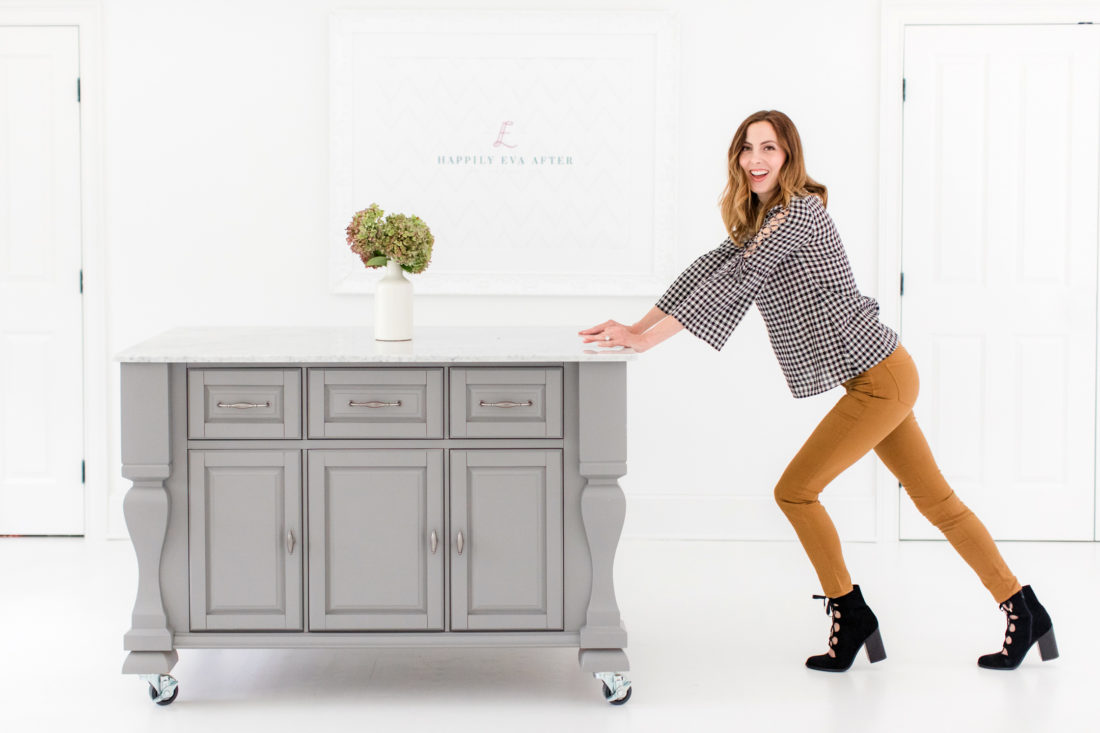 I hope these tips help you get started on your own blog!  Blogging involves a ton of trial and error, and can get discouraging at times. I still have at least one meltdown a month where I'm sure I'm the worst blogger there ever was and the only blogger who has no idea how to do whatever thing is currently frustrating me, etc.  Make sure you always come back to why you started your blog and felt so passionately about sharing your unique perspective with the world.  Write a few sentences about that passion on a post it note or in a journal to look to when you're discouraged. This little trick always helps center me when I'm feeling overwhelmed!  Good luck!
---
Save
Save
Save