The following content may contain affiliate links. When you click and shop the links, we receive a commission.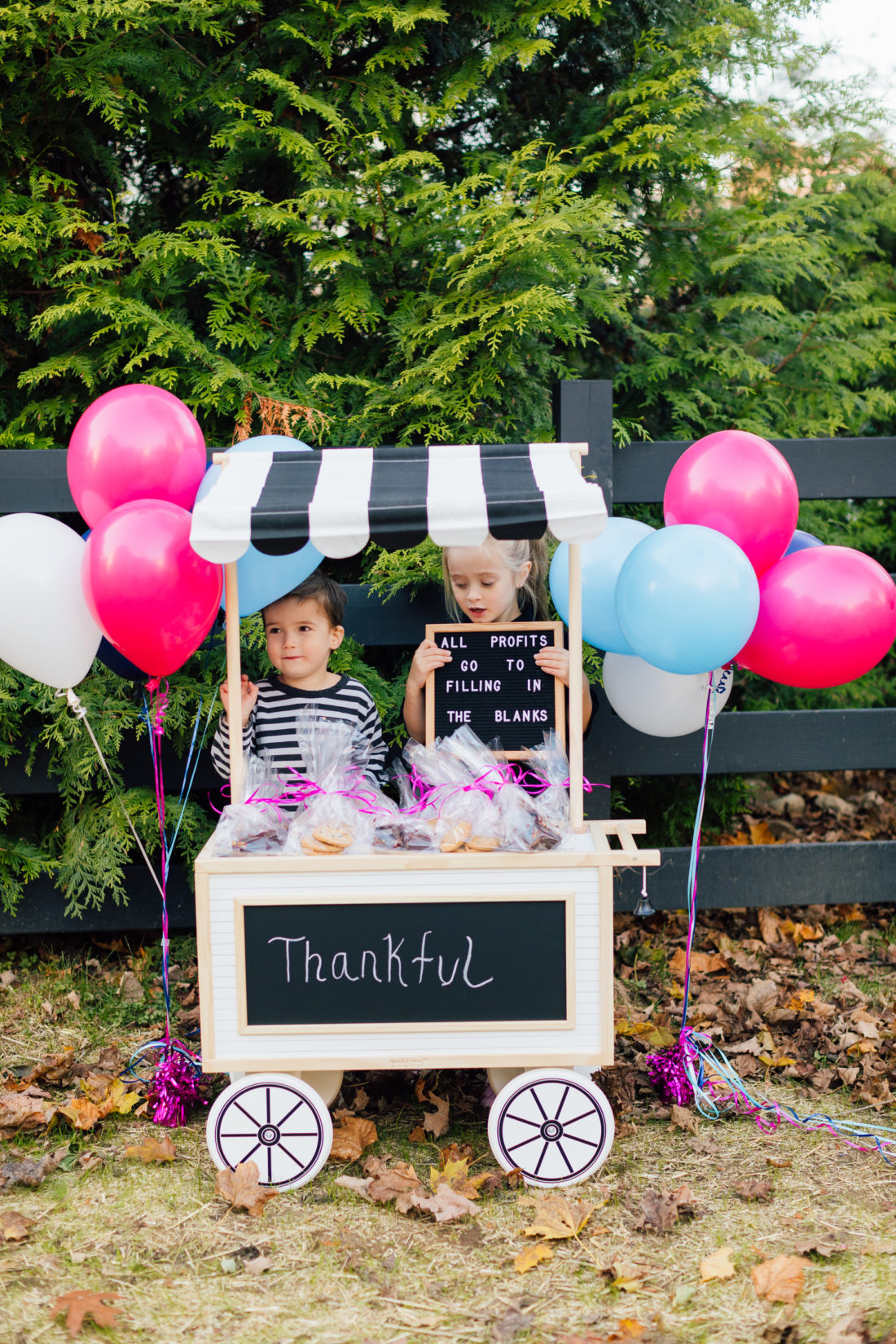 It's so important to me to focus on how we can give back as a family– year round, but especially during the Holiday season. I've talked a bit about how I try to teach my kids in ways they understand about what it means to help out people who are less fortunate than we are. I think the earlier we can all start with this, the better. I grew up volunteering with my family from a very young age, and it has remained an important part of my life. It makes me so happy to be slowly but surely introducing the topic to Marlowe and Major!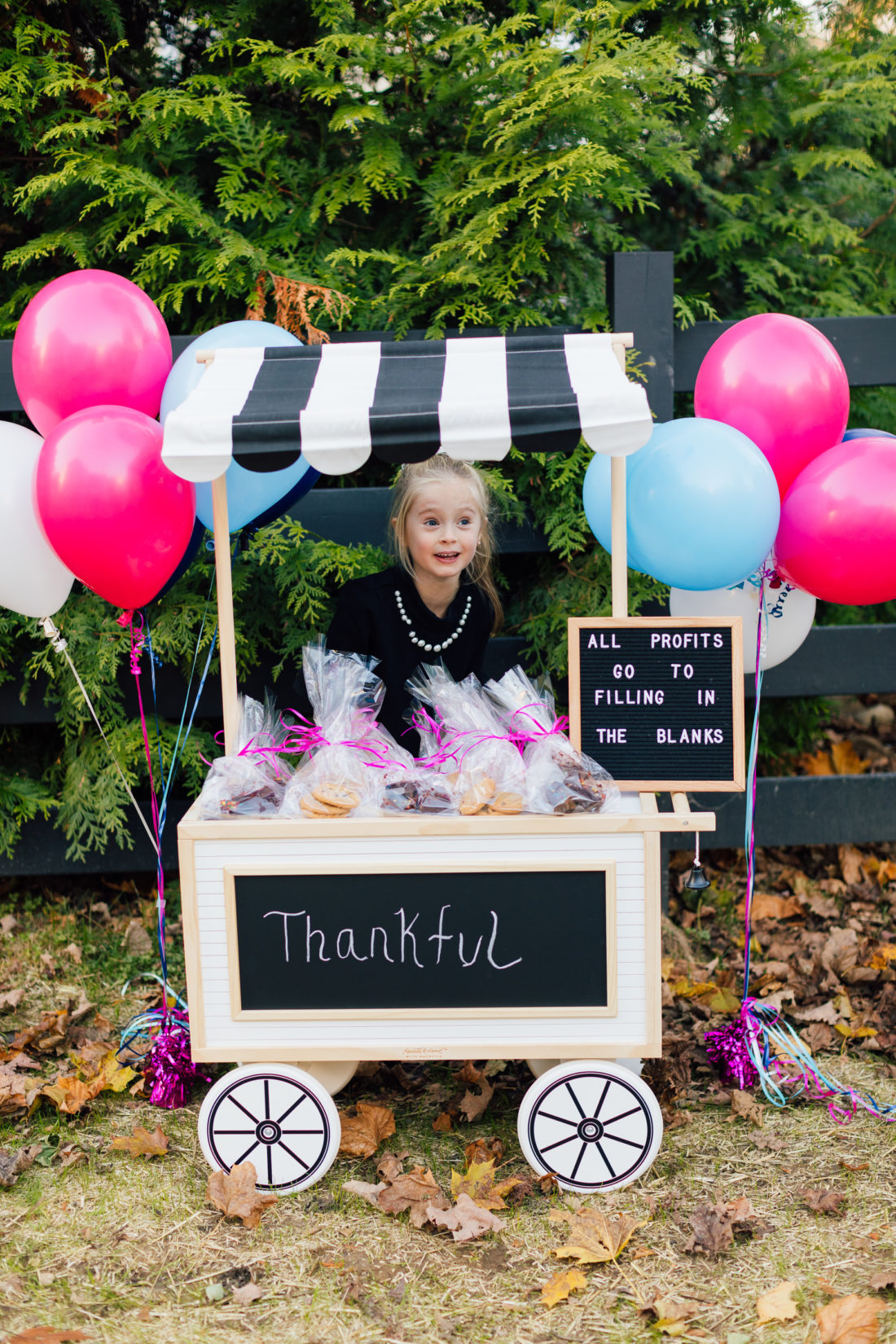 Last year I was lucky enough to attend a fundraiser for an awesome local CT organization called Filling In The Blanks. Founded by two women, this nonprofit battles childhood food insecurity in Connecticut by providing weekend meal bags for children in need to take home each Friday. They have been doing amazing work– and as a Mom who is personally horrified by childhood hunger I am so impressed with what Filling In The Blanks has done in a relatively short time. I thought it would be fun this holiday season to do a little bake sale with the kids to support the organization!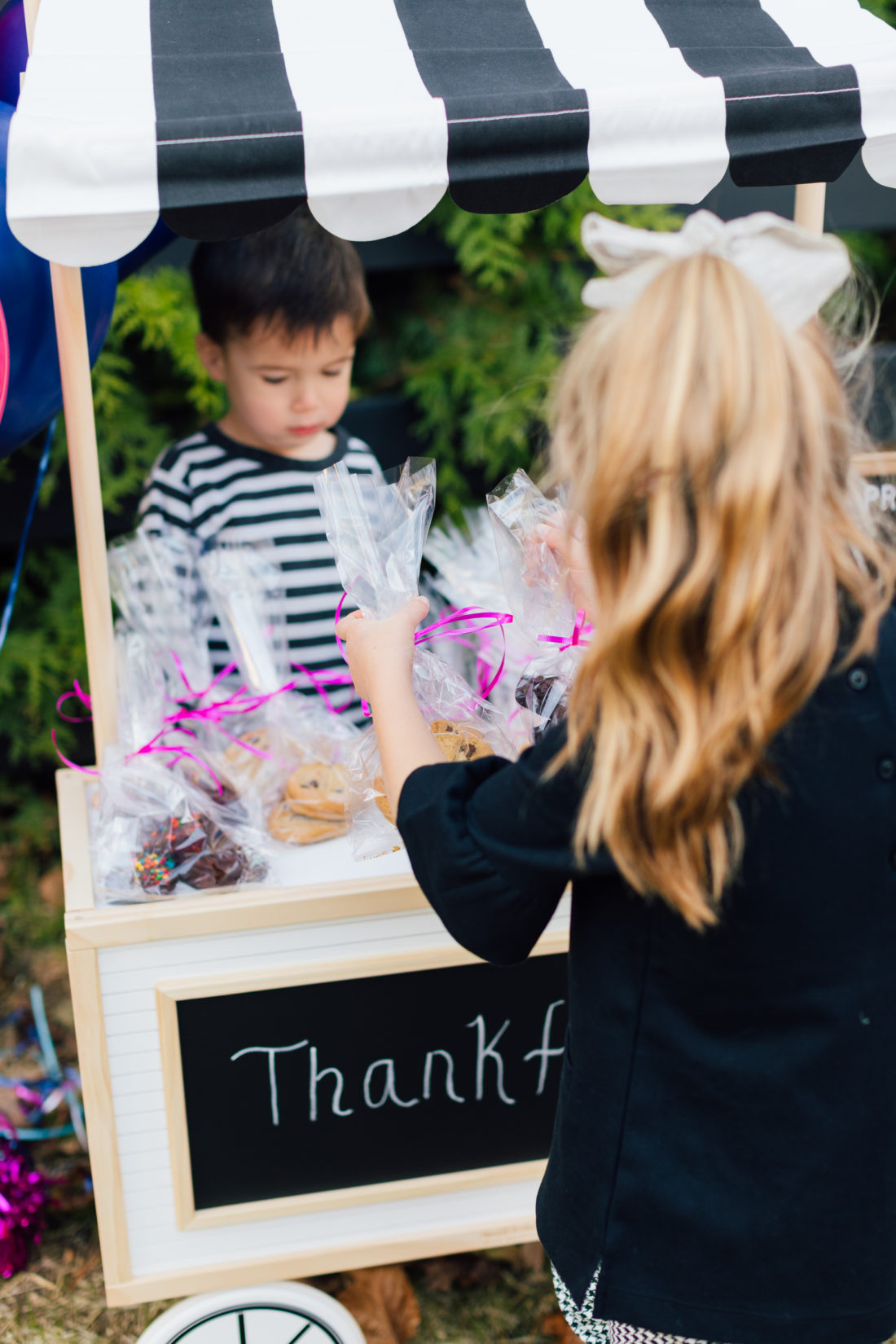 Kyle and I sold cookies, brownies and cupcakes (WIth Marlowe and Major manning the stand of course), and 100% of what we made went to Filling In The Blanks. I've even set up a Happily Eva After fundraising page on their site if you want to help me reach my 1k goal for them! The idea of kids being hungry on Thanksgiving just breaks my heart. I know we can all give even a little bit to help others this year. I would be so happy if you would share our fundraising page or contribute yourself! More on the organization is below.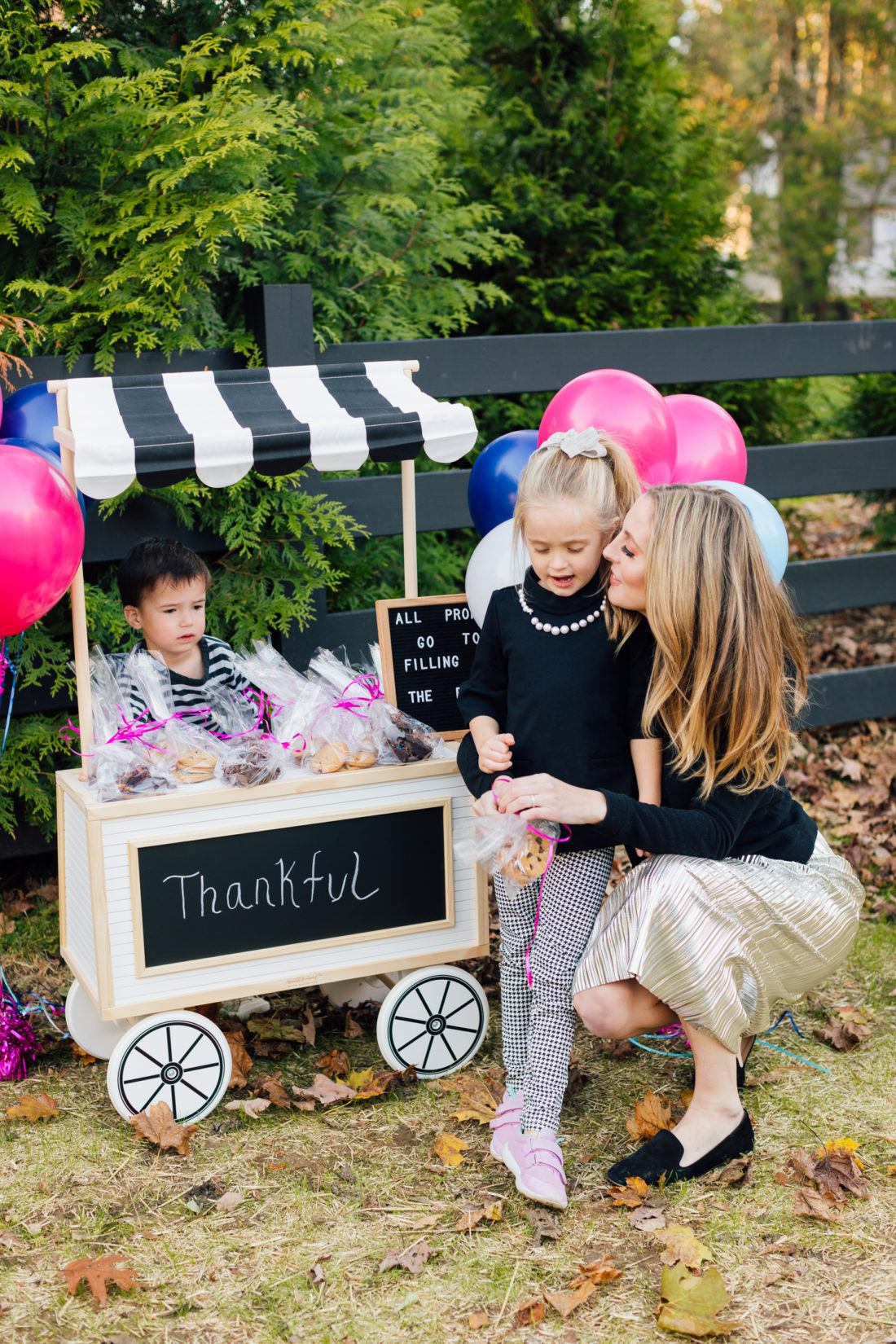 Filling in the Blanks
A Q&A with Co-Founders Tina Kramer + Shawnee Knight
Q: What inspired you to start Filling in the Blanks?
TK: As mothers, the fact that 1 in 6 children didn't know where their next meal was coming from was not okay with us! So we enlisted our own kids, whose ages ranged from 8-17 years old, along with close friends and family to take action and start feeding kids in the local community. We started with 1 school in Stamford, CT with 50 kids and over the span of six years, we have expanded to 32 schools in Greenwich, CT, Stamford, CT, Norwalk, CT, and Bedford Hills, NY. Our children wanted to be more involved in the community and there weren't many opportunities for them. We saw this as an opportunity to teach them to give back and solve a need in our community.
Q: Can you talk to us more about food insecurity in Connecticut?
SK: Food Insecurity is a real problem in Fairfield County where there are 32,000 kids who do not know where their next meal is coming from. When People hear this, they are shocked, since it's a very wealthy community…but the numbers don't lie. Our program serves 32 schools and up to 2,000 kids weekly. The weekend meal bags fill the gap over the weekend when the free or reduced priced meal programs are not available.
TK: Food Insecurity doesn't let kids focus on just being kids. It creates the stress of not knowing when they will eat next. It also impacts their physical, emotional and social wellbeing.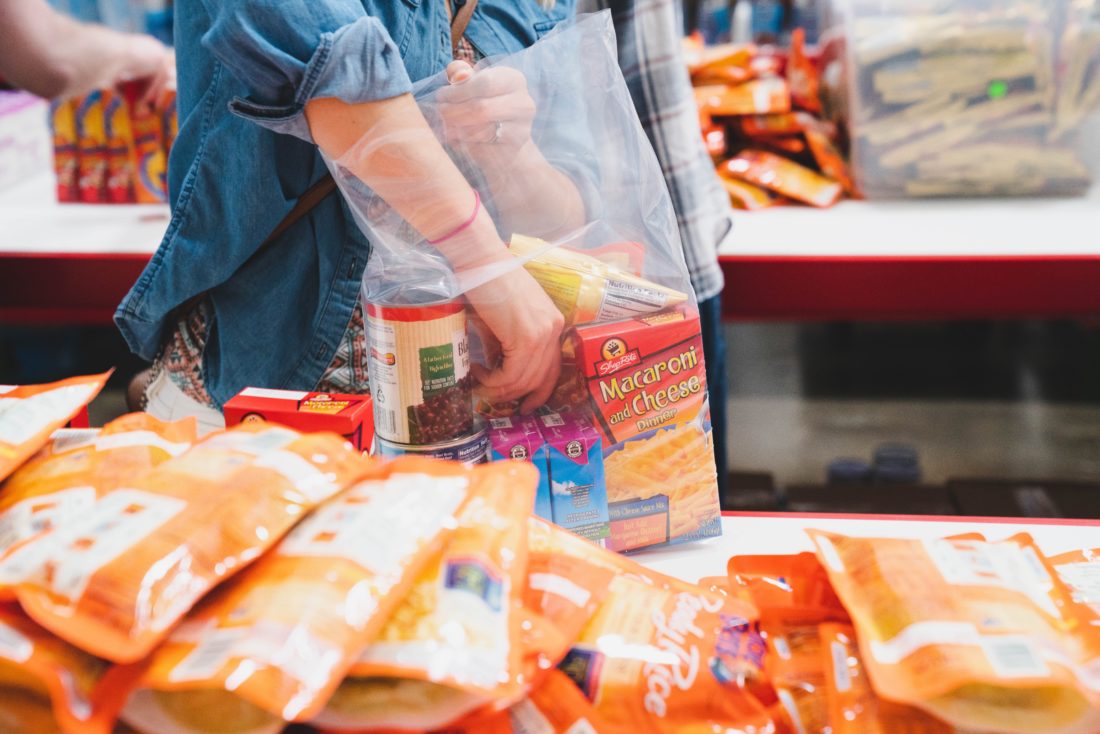 Q: What are the best ways that CT families can help your organization? Is it financial donations? Volunteering?
SK: Volunteers are the backbone of our organization. 70% of our volunteers are under the age of 18. We love how the children in our community want to help their peers.
TK: There are several ways to help Filling in the Blanks fight childhood hunger: 1.) Sign up for a packing event to assemble the weekend meal bags. 2.) Organize a food drive. 3.) Join a fundraising committee or create a fundraising event such as a lemonade stand or a crowdfunding opportunity on your own social media channels. We purchase 99% of our food with the exception of food from drives or small donations from vendors, so every dollar counts. The cost to feed a child for the weekend is $5.25, and to sponsor a child for an entire year is $250.
Q: What would you say is the best way to get kids involved in giving back to their communities?
SK: Exposing your children to a hands on approach to giving back is the most effective way. For example, organizing a food drive lets children help with the process from start to finish, beginning with choosing the charity they'd like to support, creating signs if needed, reaching out to friends and family to participate in fundraising efforts and then presenting what's been collected or raised to the charity.
TK: It's amazing to see the different fundraising efforts that the kids have done over the past six years. Our favorites have been selling slime, an American Girl Doll production of Frozen, and our little volunteer who collected books in lieu of birthday presents.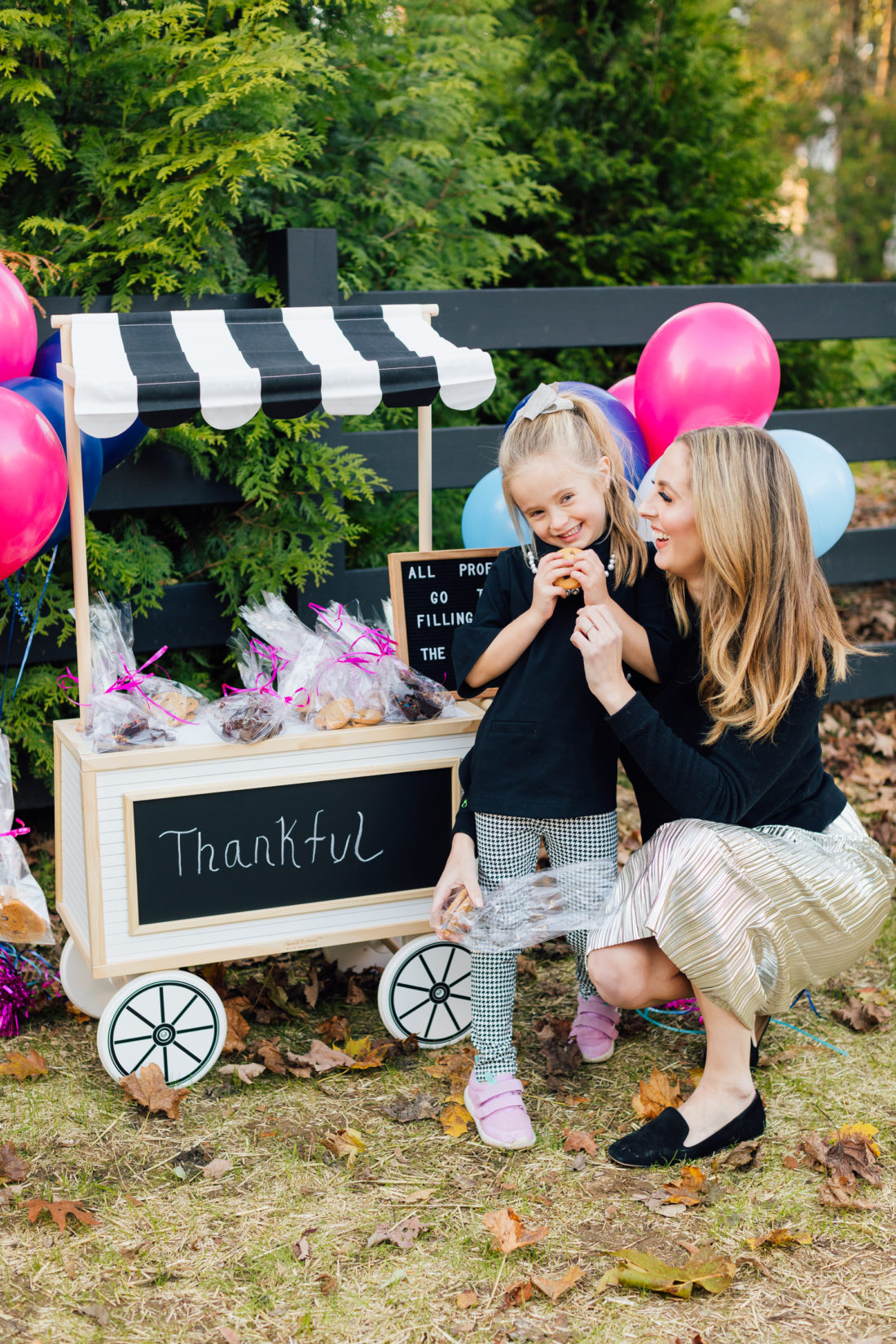 Also, I'd love to create a collection of information about local grassroots organizations! Please leave a Comment below with great local nonprofits in your area that you love! Extra points for ones that kids can participate in! Thank you so much in advance.
Photographs by Julia Dags