The following content may contain affiliate links. When you click and shop the links, we receive a commission.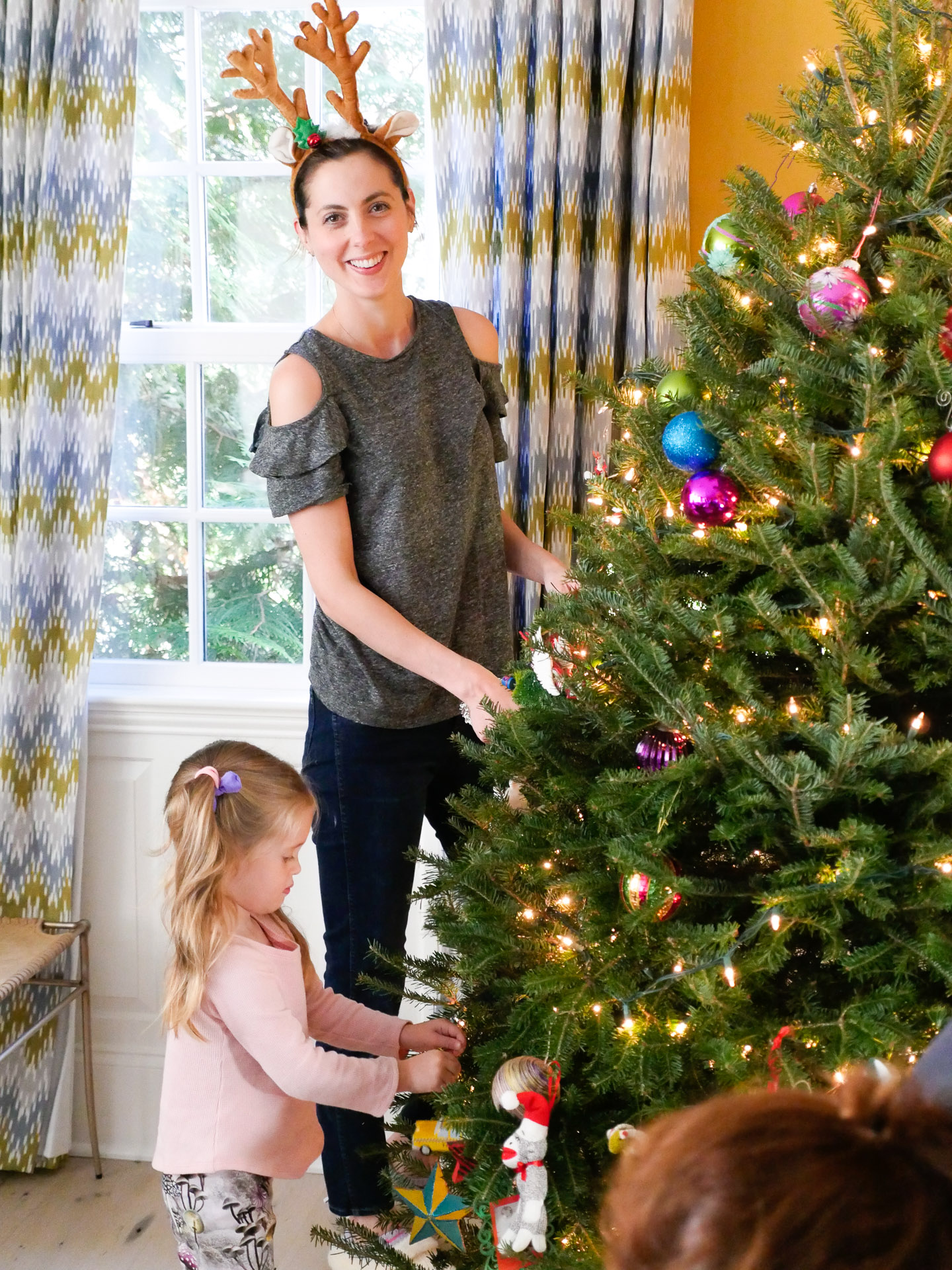 This blog post was originally published on December 14th, 2017.
Now that I have a third child, and we are gearing up to have a VERY "cozy" winter mostly at home thanks to the Pandemic, I've been revisiting so many of the traditions that I plan to show Mateo for the first time this year. It brought me to this post, where I shared some really personal and special Christmas traditions that I grew up on! I still continue these every year with my kiddos, and I noticed reading through them that all of them are COVID-proof! It makes me happy to know that we can still continue doing a few things just as we used to. I'll just make sure that any donated toys sit in quarantine for a couple of weeks before passing along. You never can be too safe! Stay tuned for a blog post all about a brand new tradition I'm going to start this year with my kids! I'm SO excited about it!
For me, the magic of the Holiday season has so much to do with Tradition.  Ever since I became a Mom, the magic of Christmas has felt fresh to me again, and I love experiencing everything through my kids' eyes.  Christmas memories still remain some of my favorite from my own childhood, and there are a few things we did around the holidays growing up that I have been so excited to replicate with my own family.  Today I thought I would share the 5 Christmas traditions I'm continuing with my own kids! I hope that Marlowe and Major grow to appreciate these traditions, and maybe even continue them with their own families one day! Now let me get on with it before I start crying…LOL…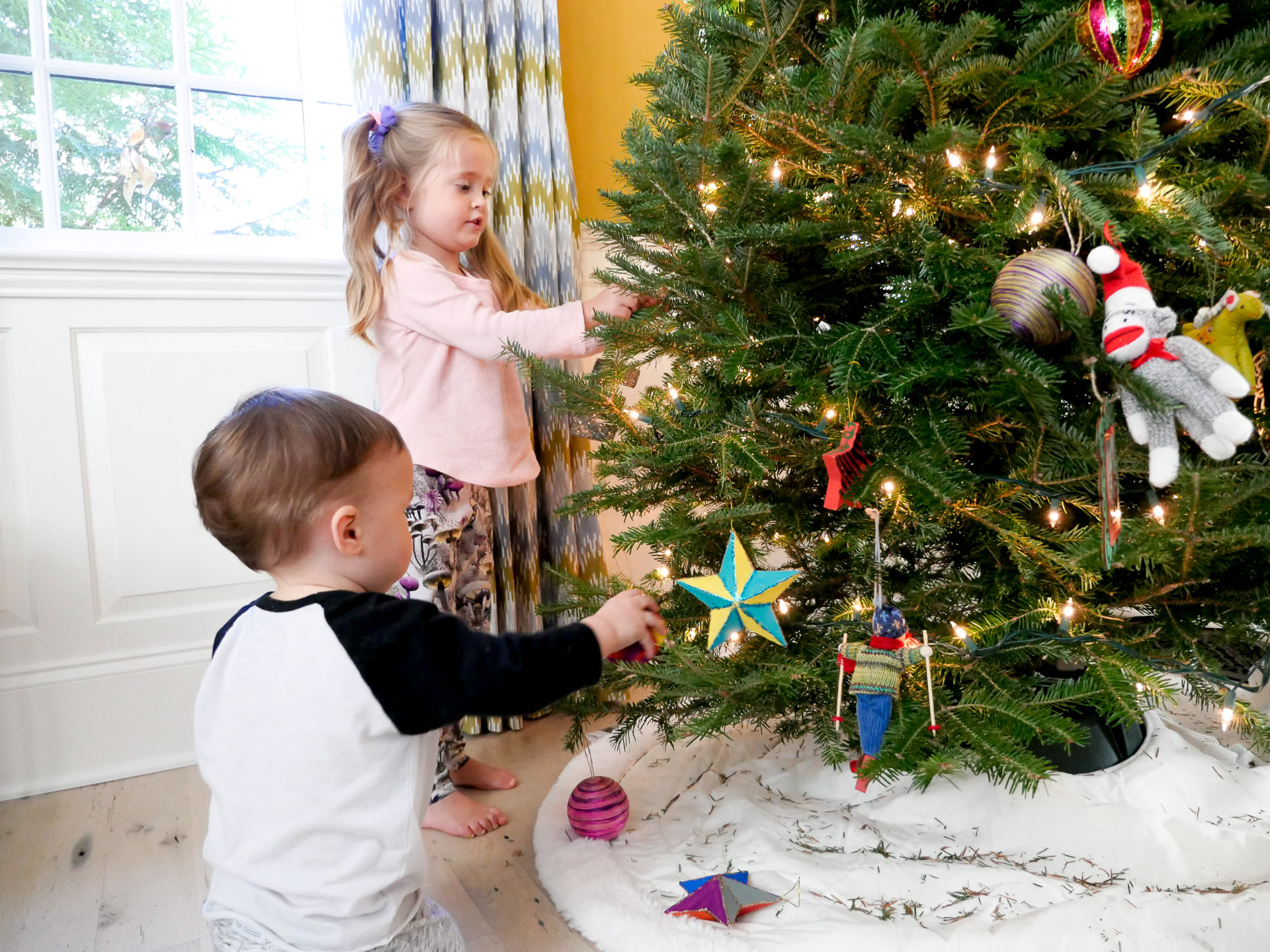 1.  DECORATING OUR TREE THE DAY AFTER THANKSGIVING
This is a tradition that started early for us growing up.  We used to go away a lot for Christmas itself, so we always decorated our tree super early! I just love the coziness of "officially" setting off the Christmas season the day after Thanksgiving, and there's always lots of family members around to help decorate! This year was the first that Major got to participate as well, and as you can imagine, my heart was totally bursting watching my daughter and son continue on with this! Major was also surprisingly good at hanging ornaments! LOL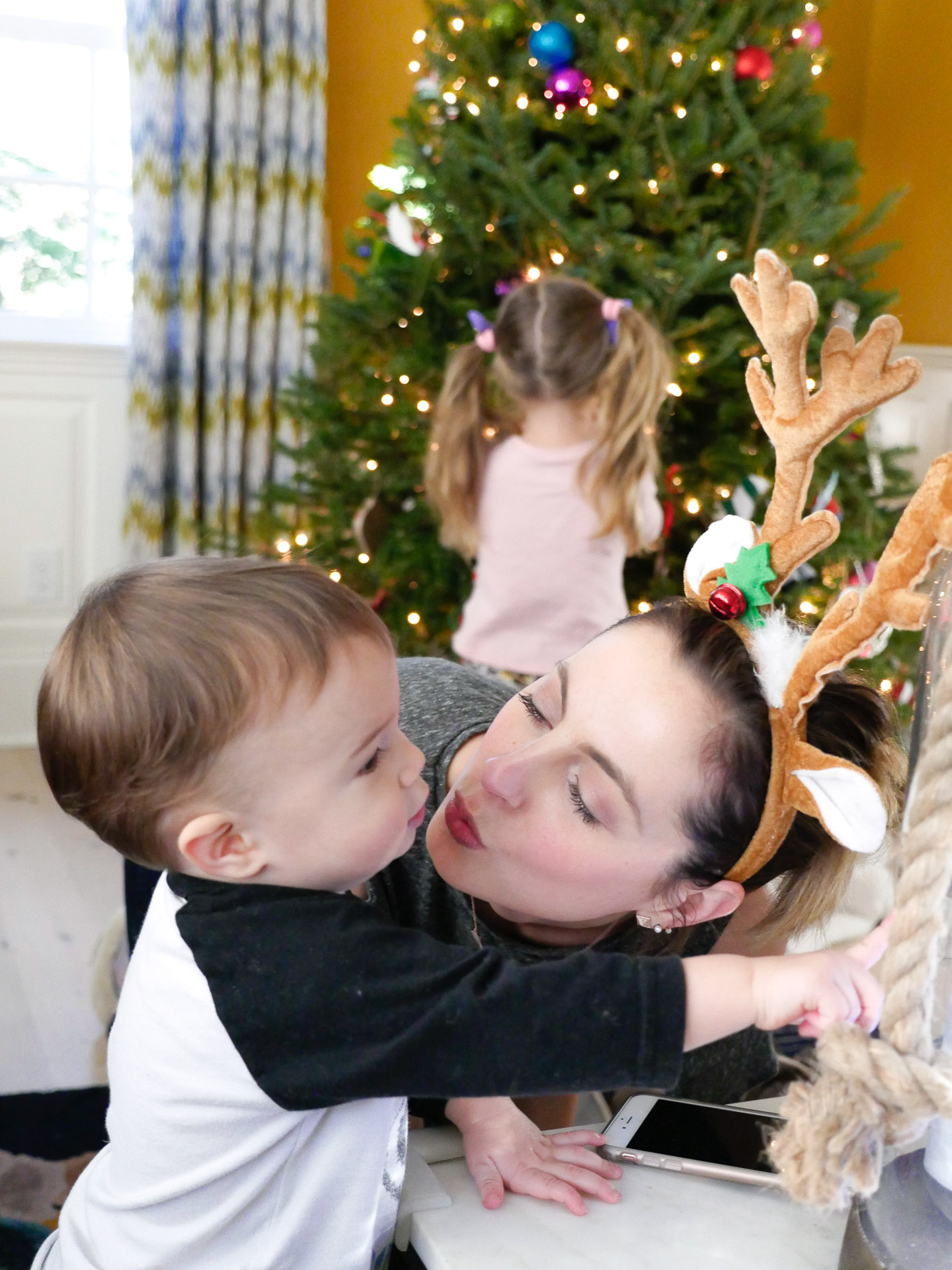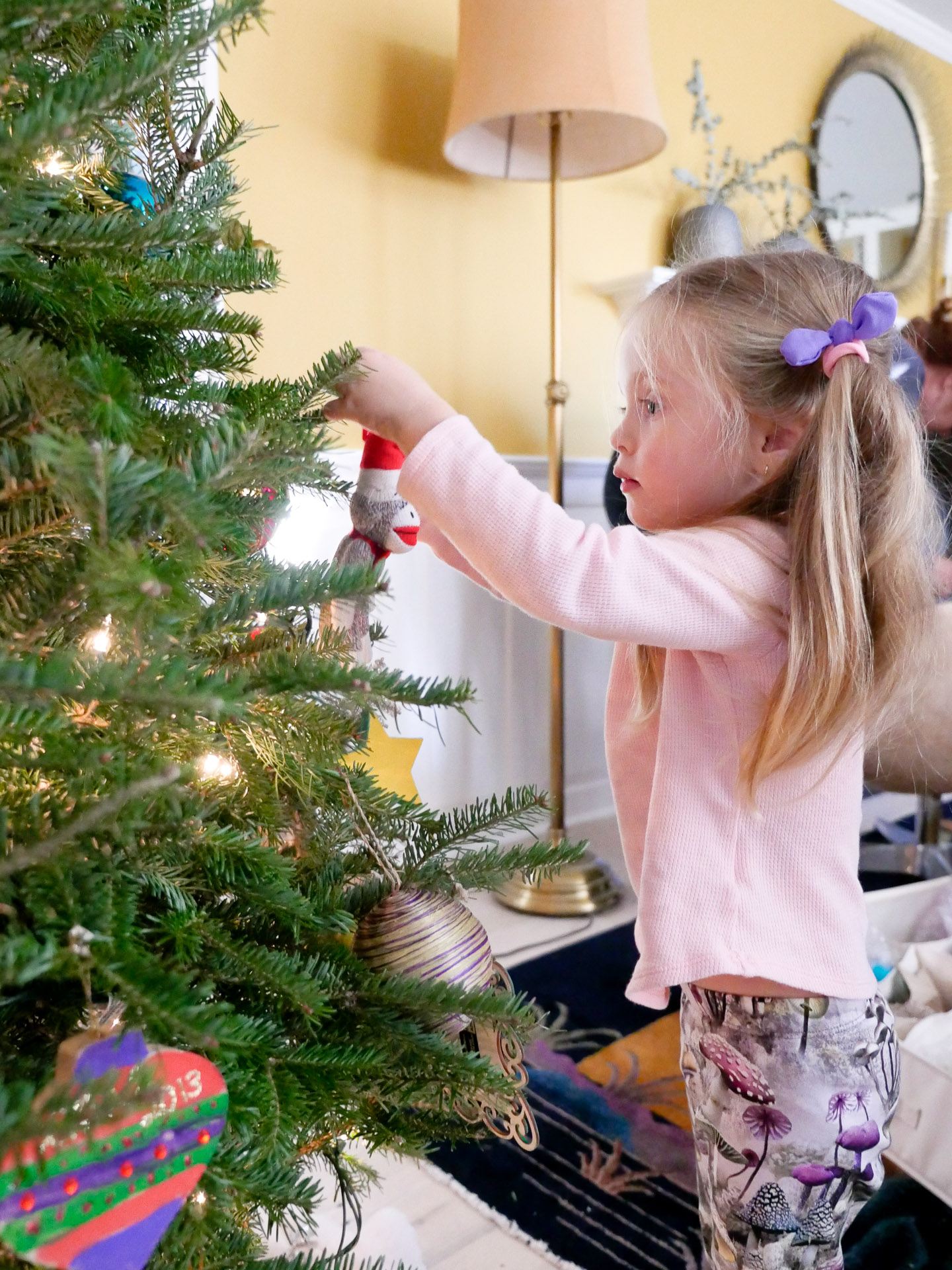 ---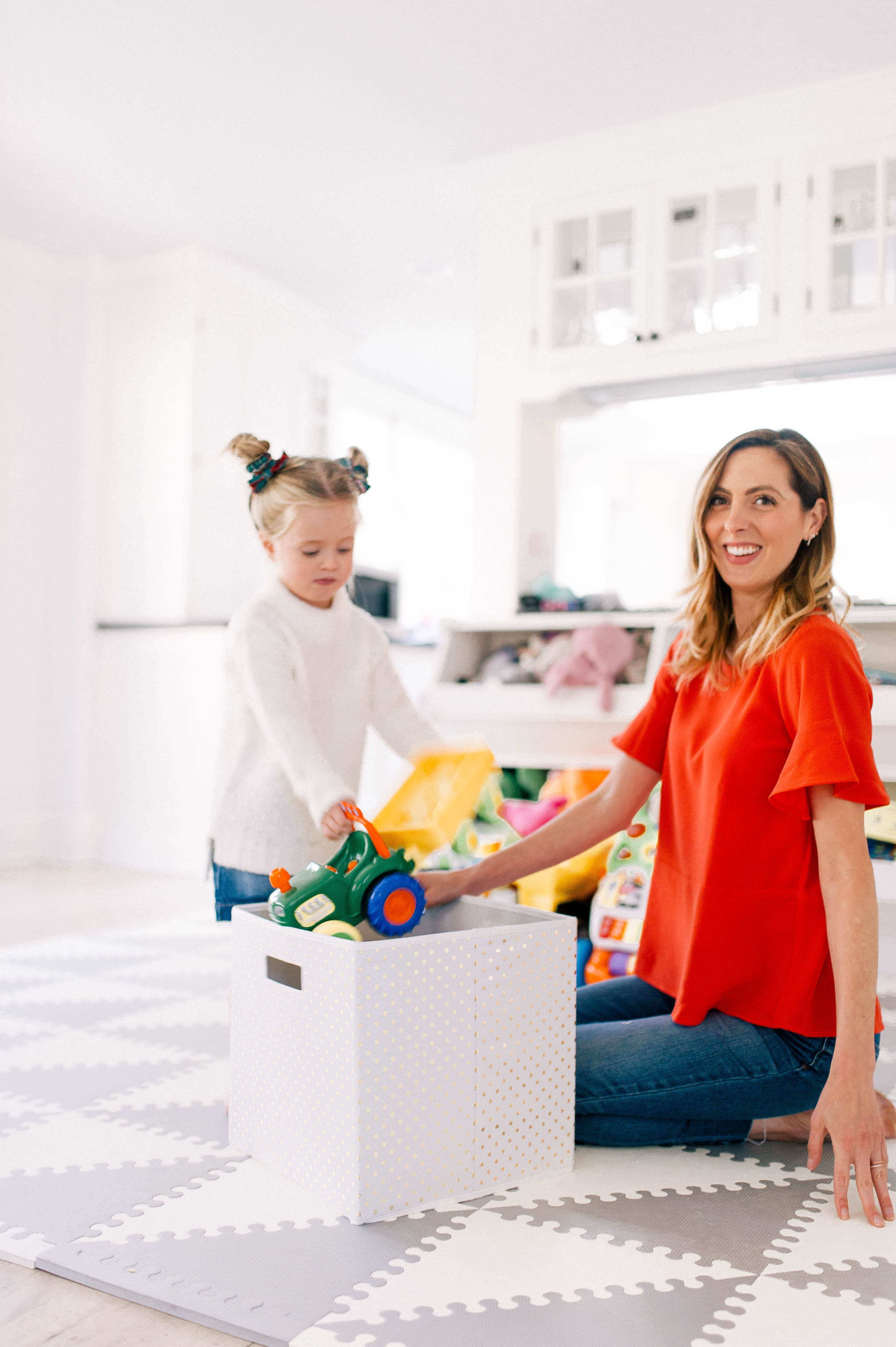 2.  SELECTING TOYS TO GIVE AWAY TO CHILDREN IN NEED
There was always a huge emphasis on giving back when I was growing up, and the holiday season was no different! Each year around Christmas, my Mom would have us go through our clothes and toys and choose some to donate to less fortunate children.  They always had to be in tip-top shape as well—nothing broken or worn out! This was a great way of placing focus on the true meaning of Christmas, while also clearing out room for the gifts that Santa would bring.  I love this tradition, and now each year I have my kids select 5 toys each to give away! Marlowe got to choose some from Major this year, but next year he will participate himself! (NOTE: Don't tell, but Mommy also chooses a few herself.  We always end up with mountains of stuffed animals, and lots of them sit there untouched! I always "re-home" quite a few at Christmastime.)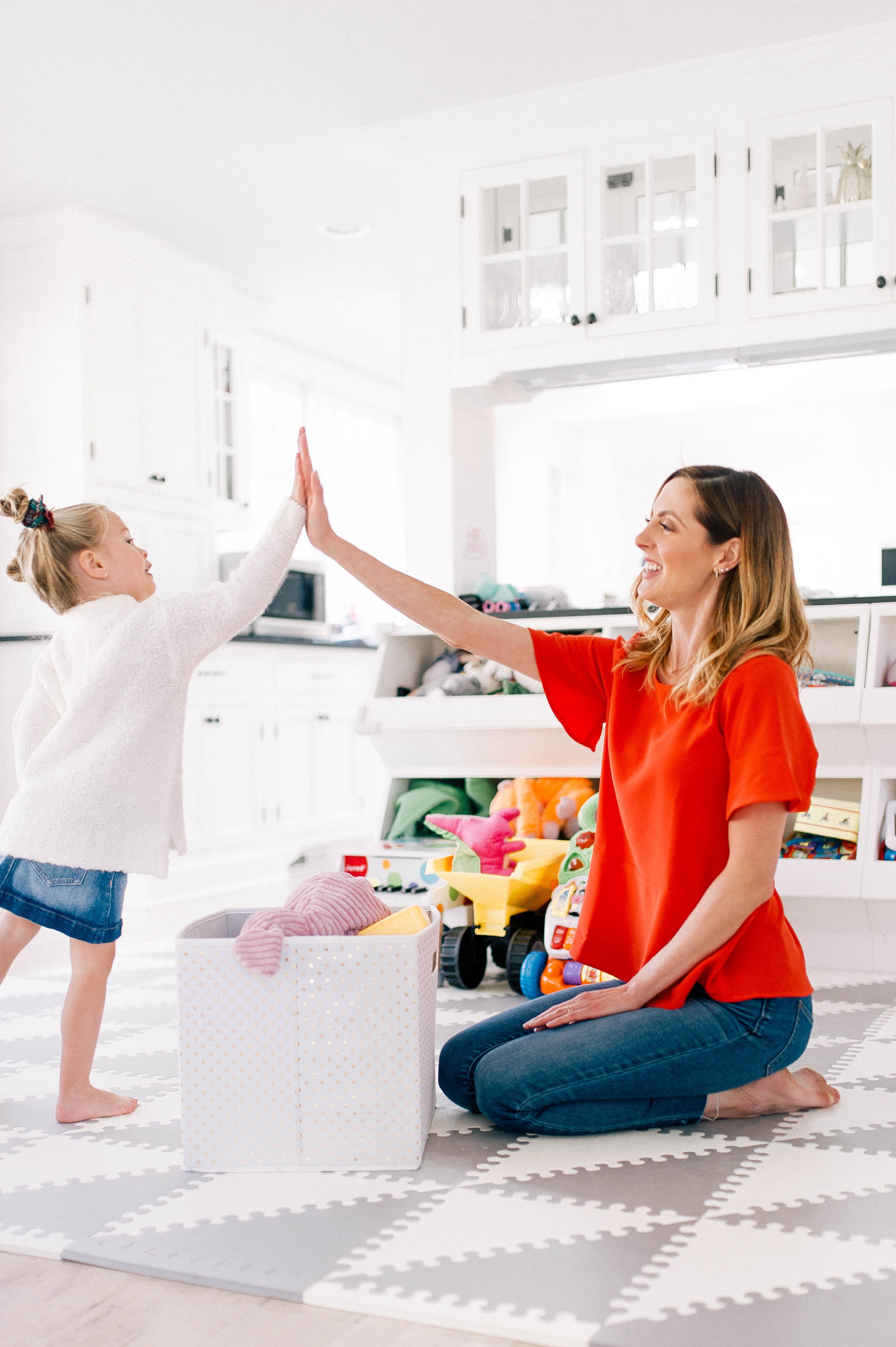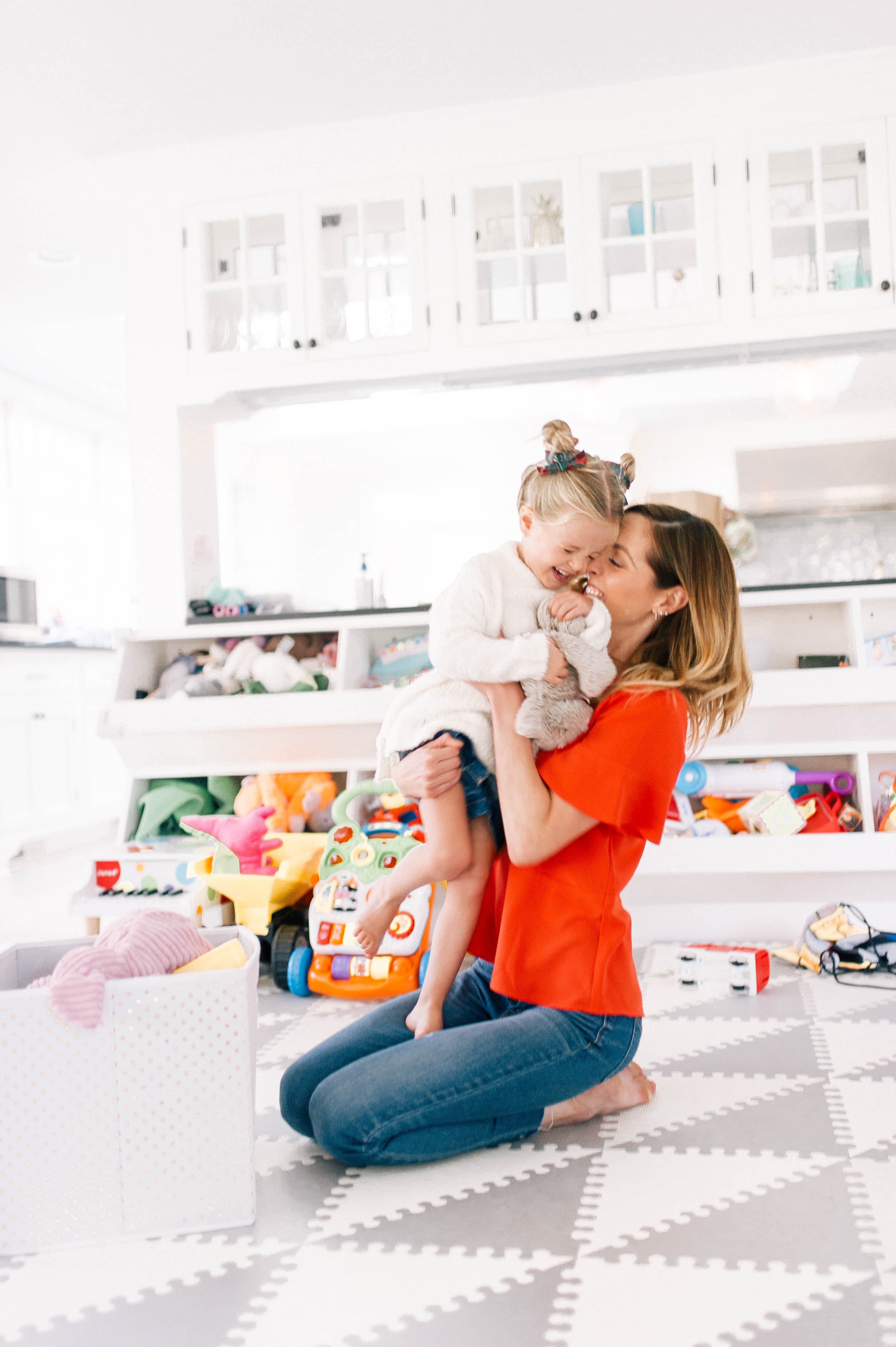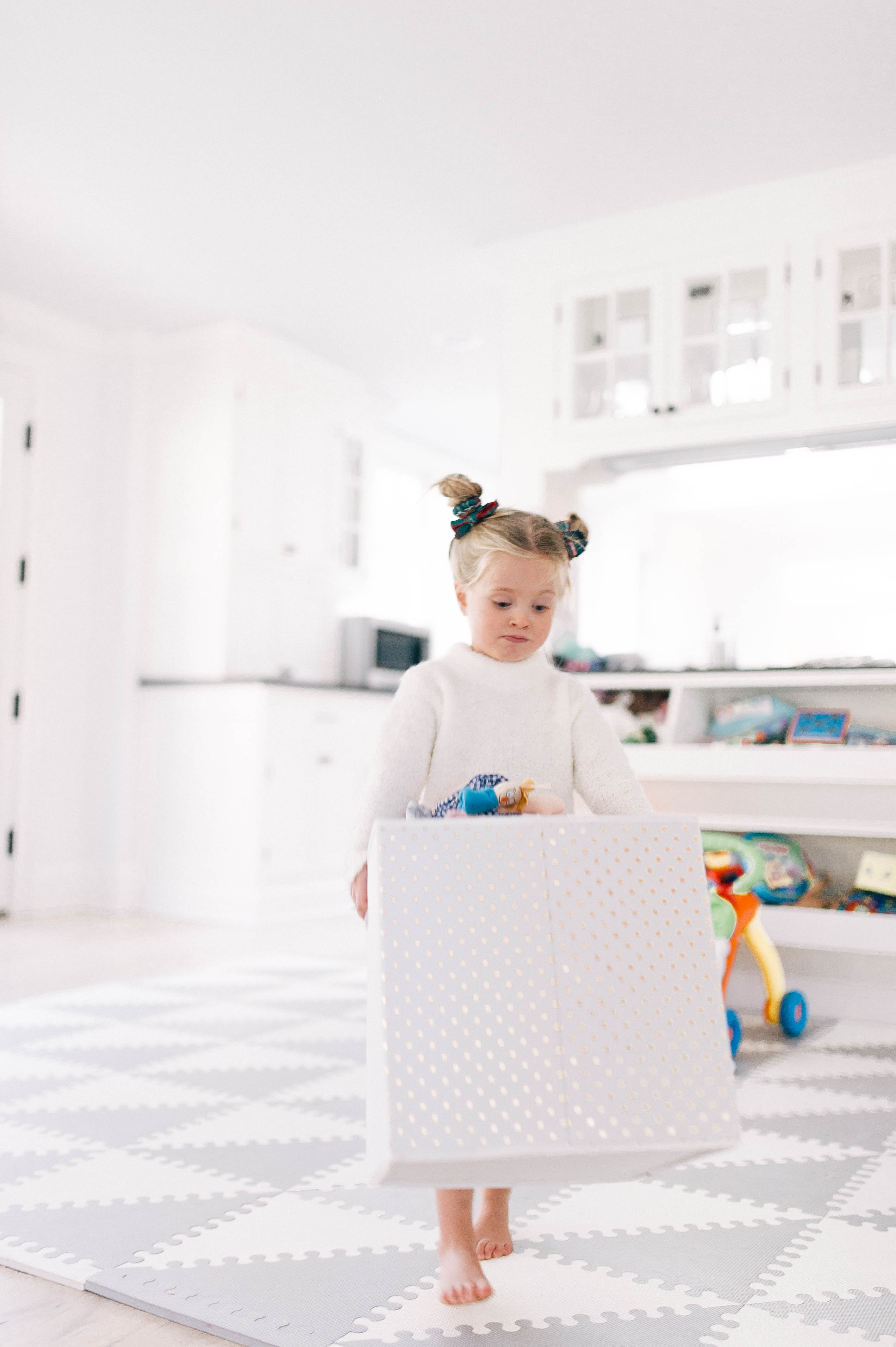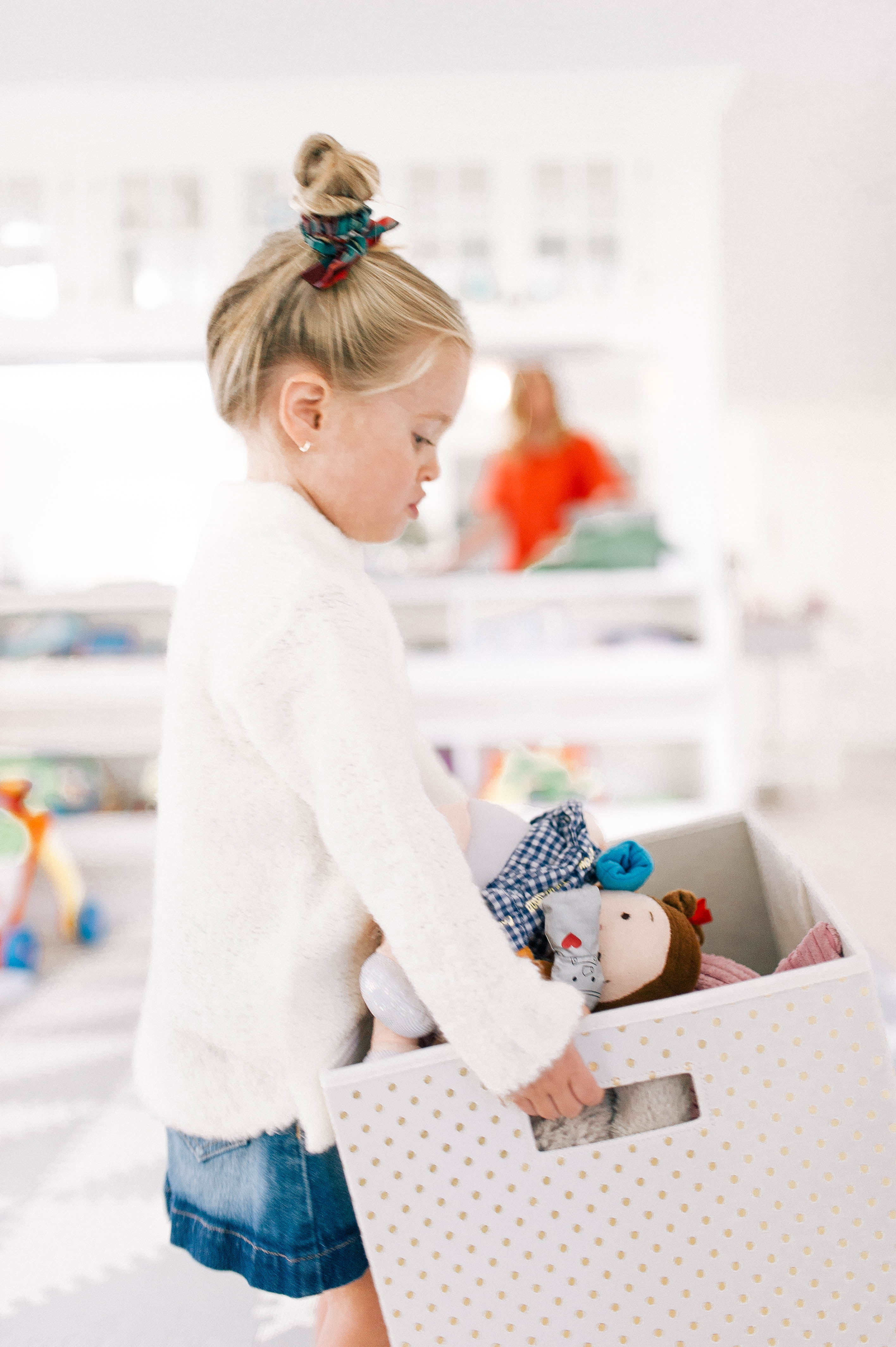 ---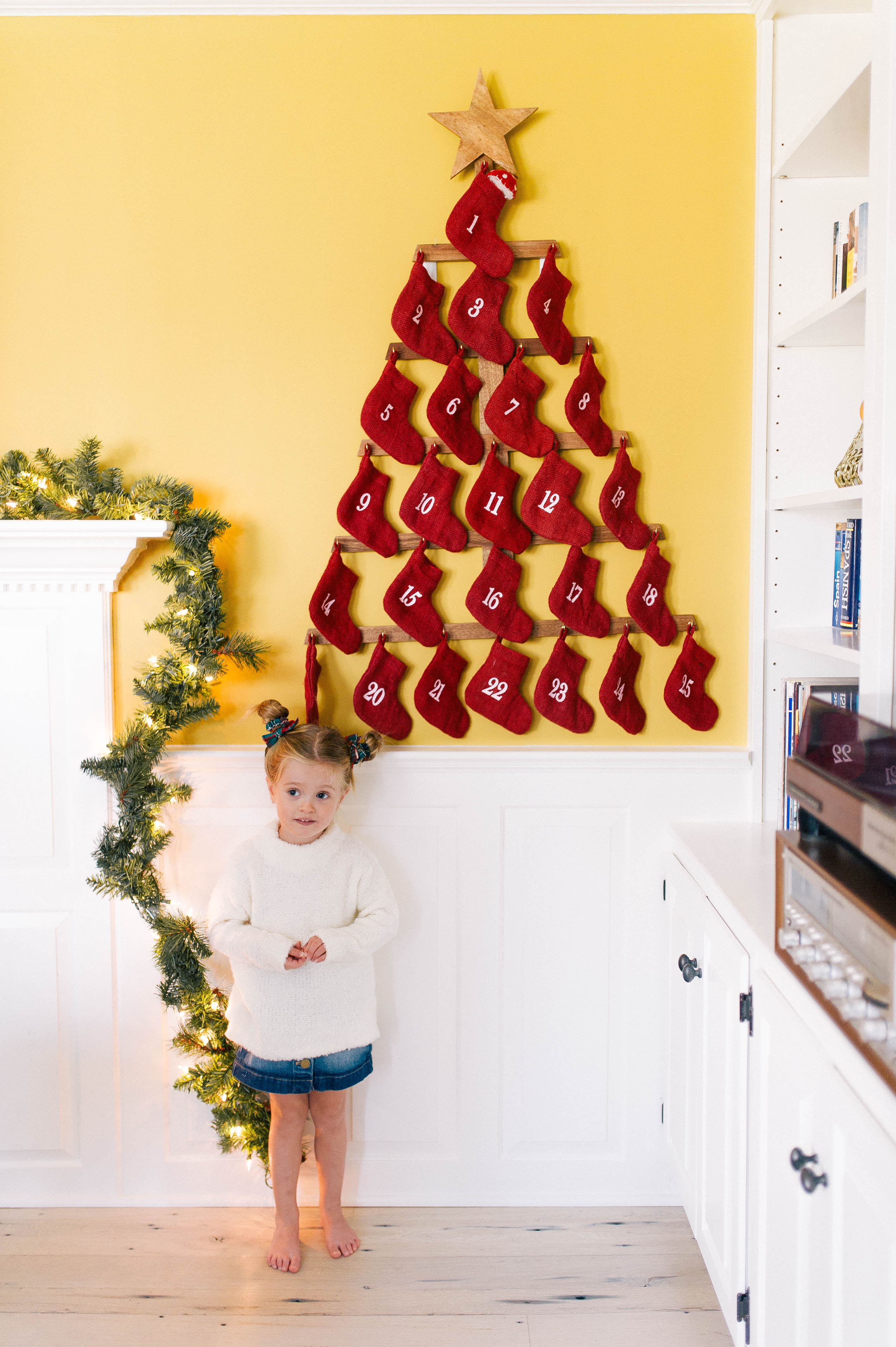 3.  ADVENT CALENDAR
Our family advent calendar was always a HUGE part of our Christmas buildup when I was a kid! We had a wooden Christmas Tree one filled with tiny wooden ornaments, and every day in December we would open one drawer and hang the ornament on our tree.  As you can imagine, there were a few instances of fighting between the three of us over who would get to hang it.  Just a few instances.  LOL.  I wanted to continue with the Christmas tree theme now that Marlowe is old enough to participate, and I found this fabulous hanging advent that is perfect! I love that I can fill the little stockings with everything from little chocolate medallions to ornaments and even small toys! Marlowe has been SO into it this year.  And since Major still doesn't care about it at all, there hasn't been any fighting! Stay tuned for next year, though. Ha! I've also made my own Advent Calendar in the past which turned out really cute, and was a fun project!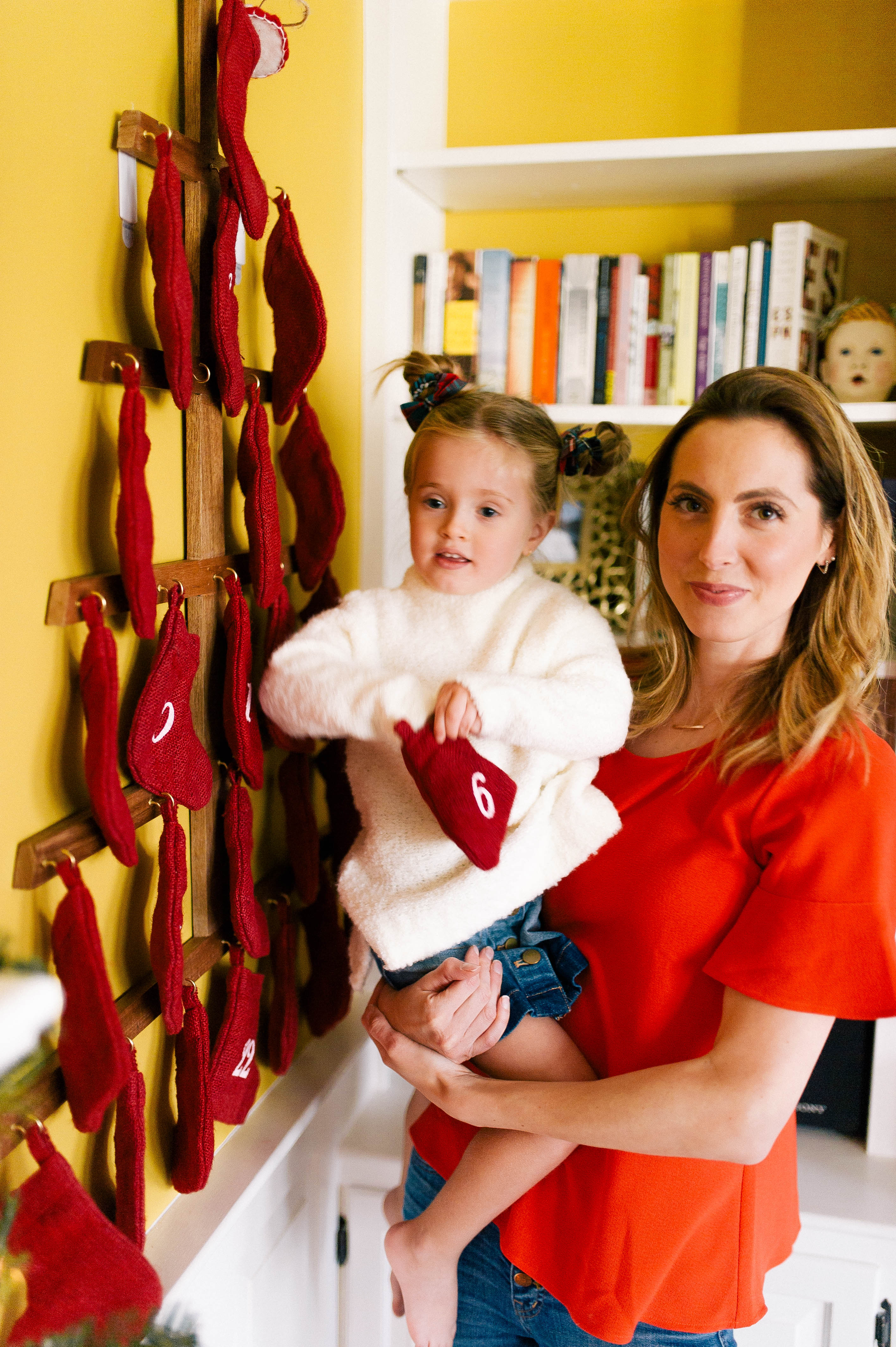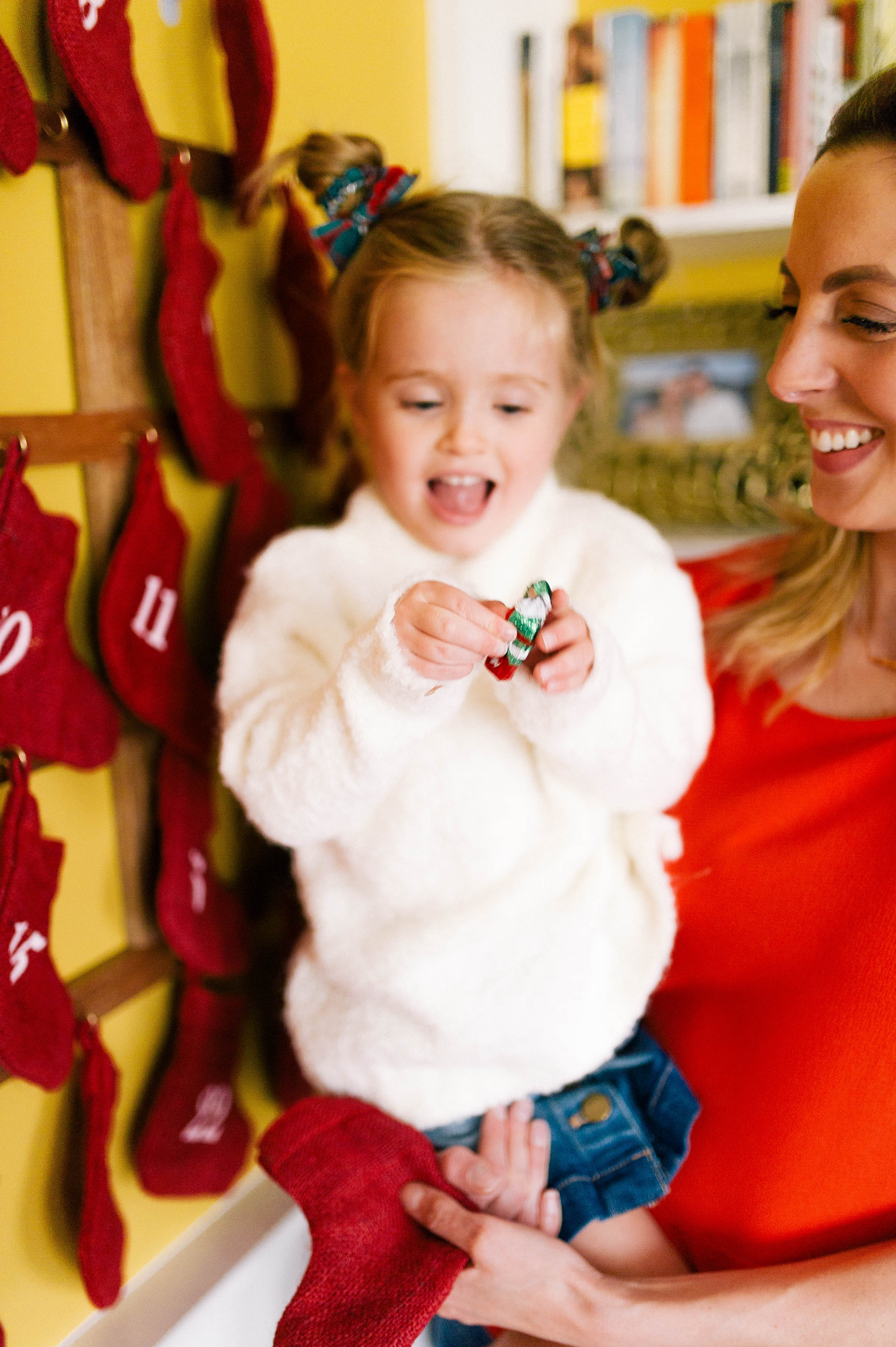 ---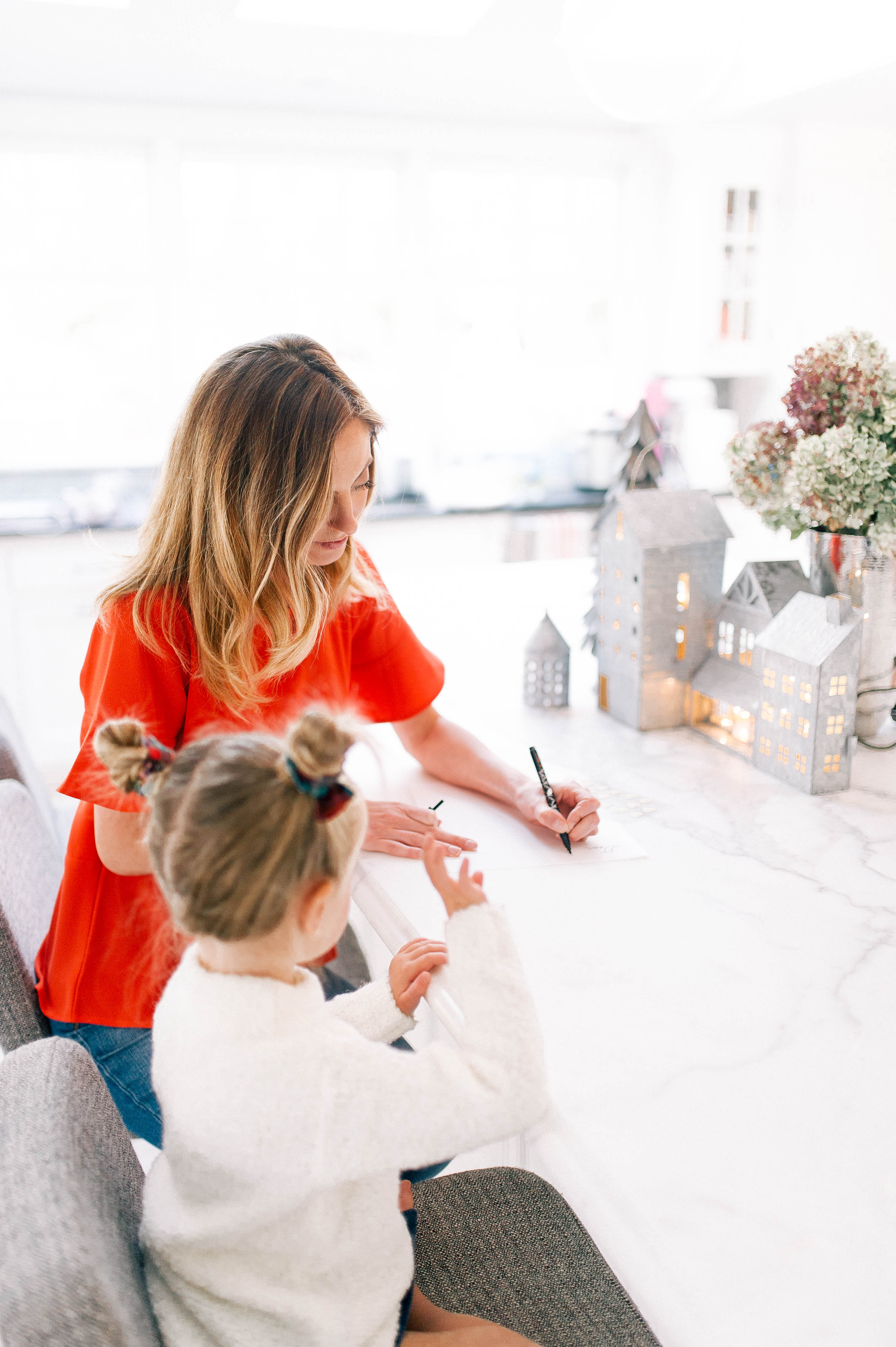 4.  WRITING A LETTER TO SANTA
A  couple weeks before Christmas when I was a kid, I would ALWAYS write a letter to Santa! The letter would of course include some tips about what I wanted for Christmas, along with a strangely lengthy number of questions about his reindeer. I was always a lot more interested in Santa's reindeer than in Santa himself! Ha! I continue this tradition with my own kids now.  I sit down and write out "Dear Santa" and then Marlowe takes over to "write" her letter.  Then she decorates it with stickers and we put it in the mailbox together addressed to the North Pole.  I'm absolutely positive it gets hand-delivered to Santa himself in record time…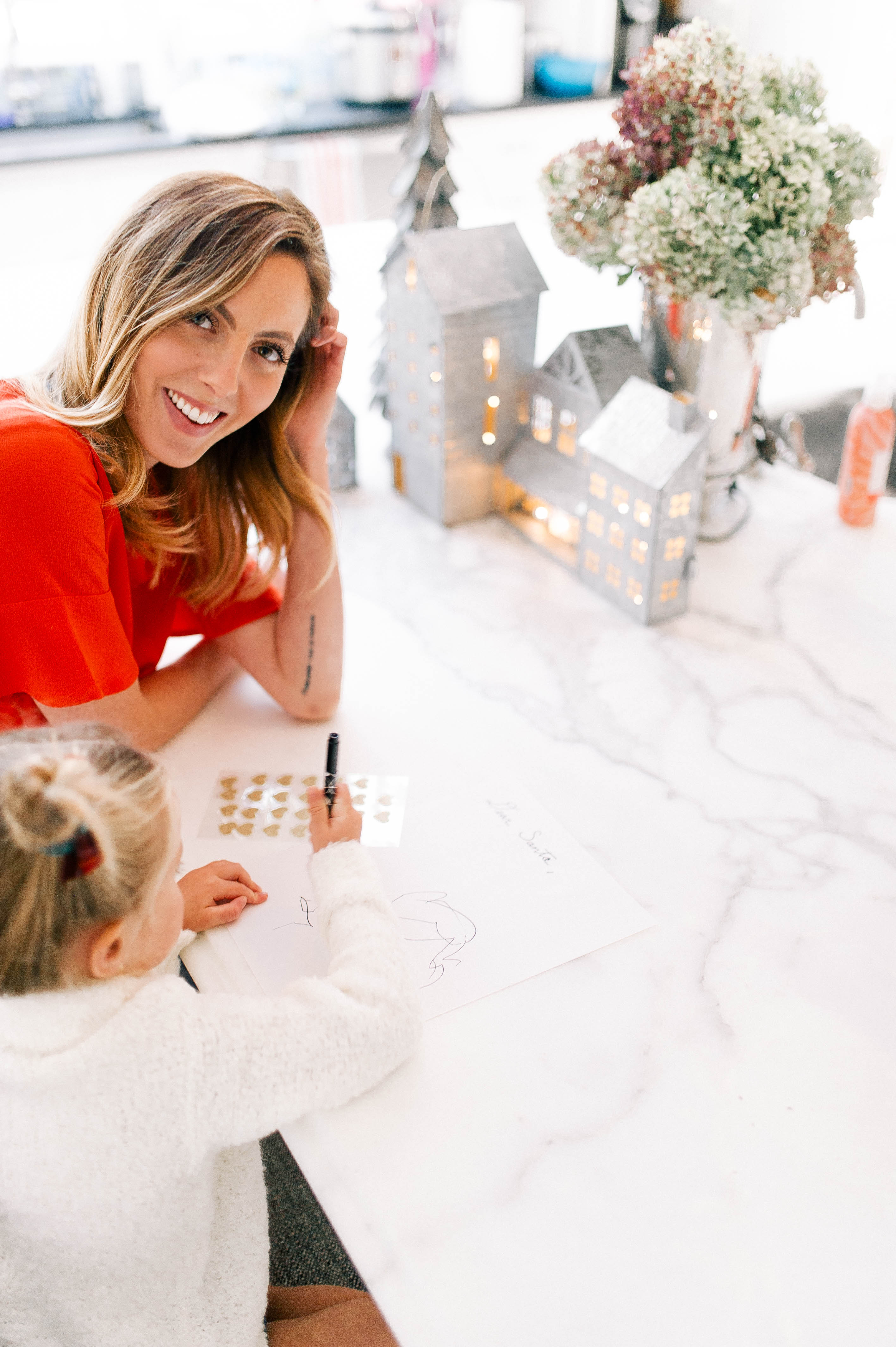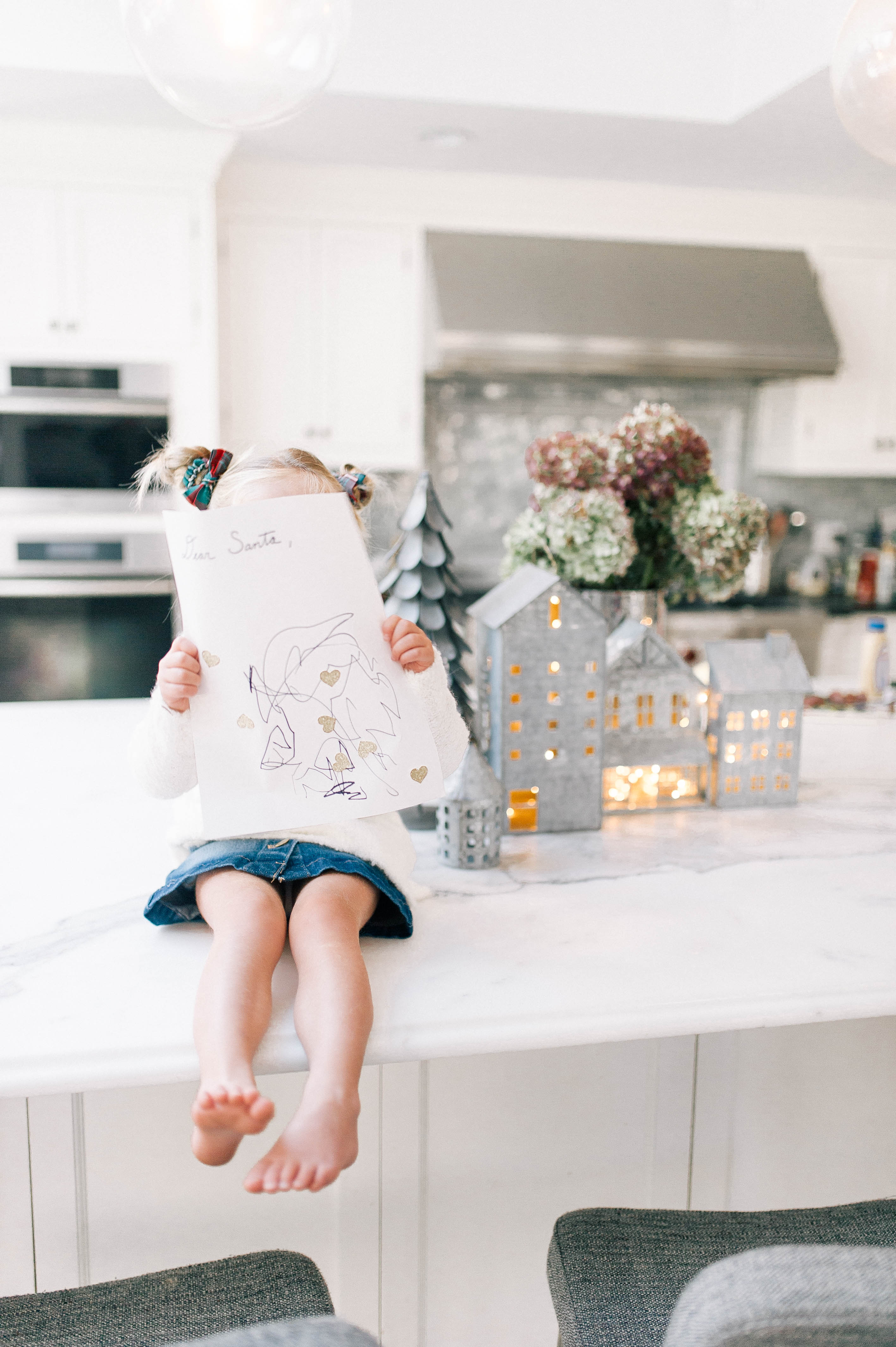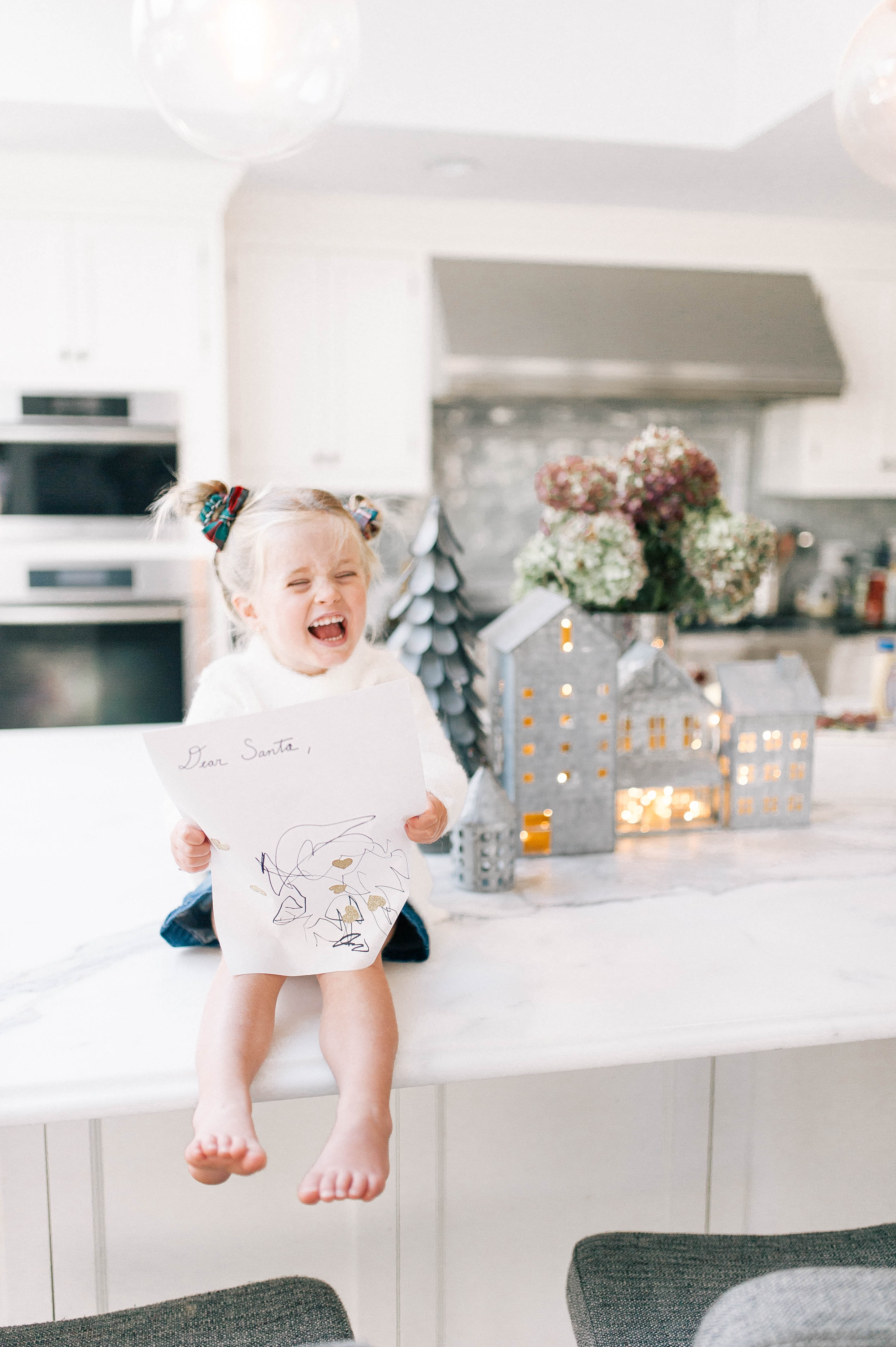 ---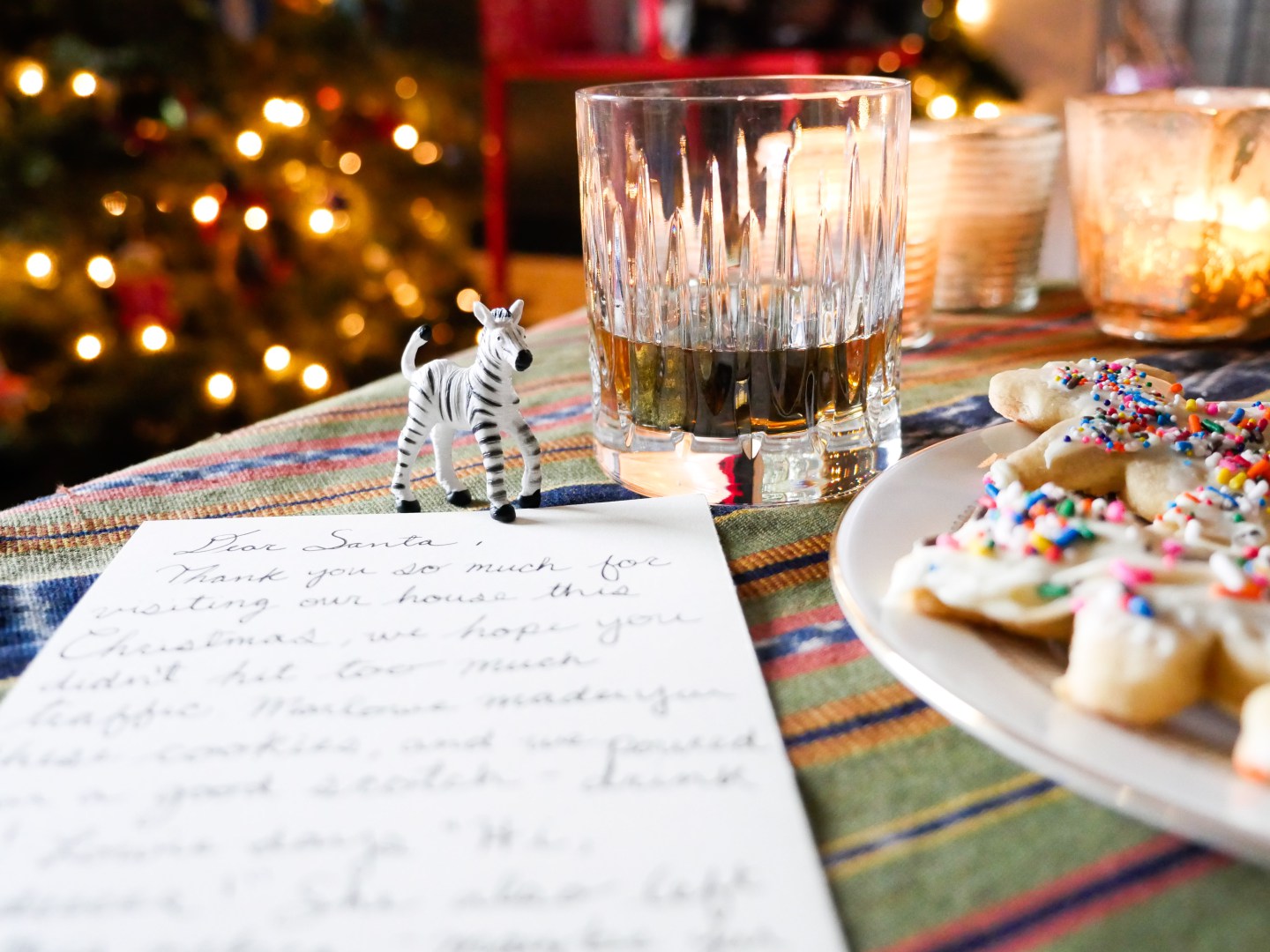 5.  BAKING COOKIES FOR SANTA ON CHRISTMAS EVE
We had a tradition of leaving out cookies for Santa on Christmas Eve my entire childhood…with a glass of milk AND a cocktail waiting for him! LOL.  We didn't bake the cookies then, but with my kids now, we always bake and decorate sugar cookies to leave for our number one Jolly guy! We leave a little note thanking Santa for visiting our house, a glass of milk, a glass of whiskey, and some veggies for the reindeer.  Marlowe is insisting this year on leaving Zucchini for Rudolph.  I'm not sure why she's so adamant about this vegetable choice, but I better make sure I have some zucchini on hand on Christmas Eve! Ha!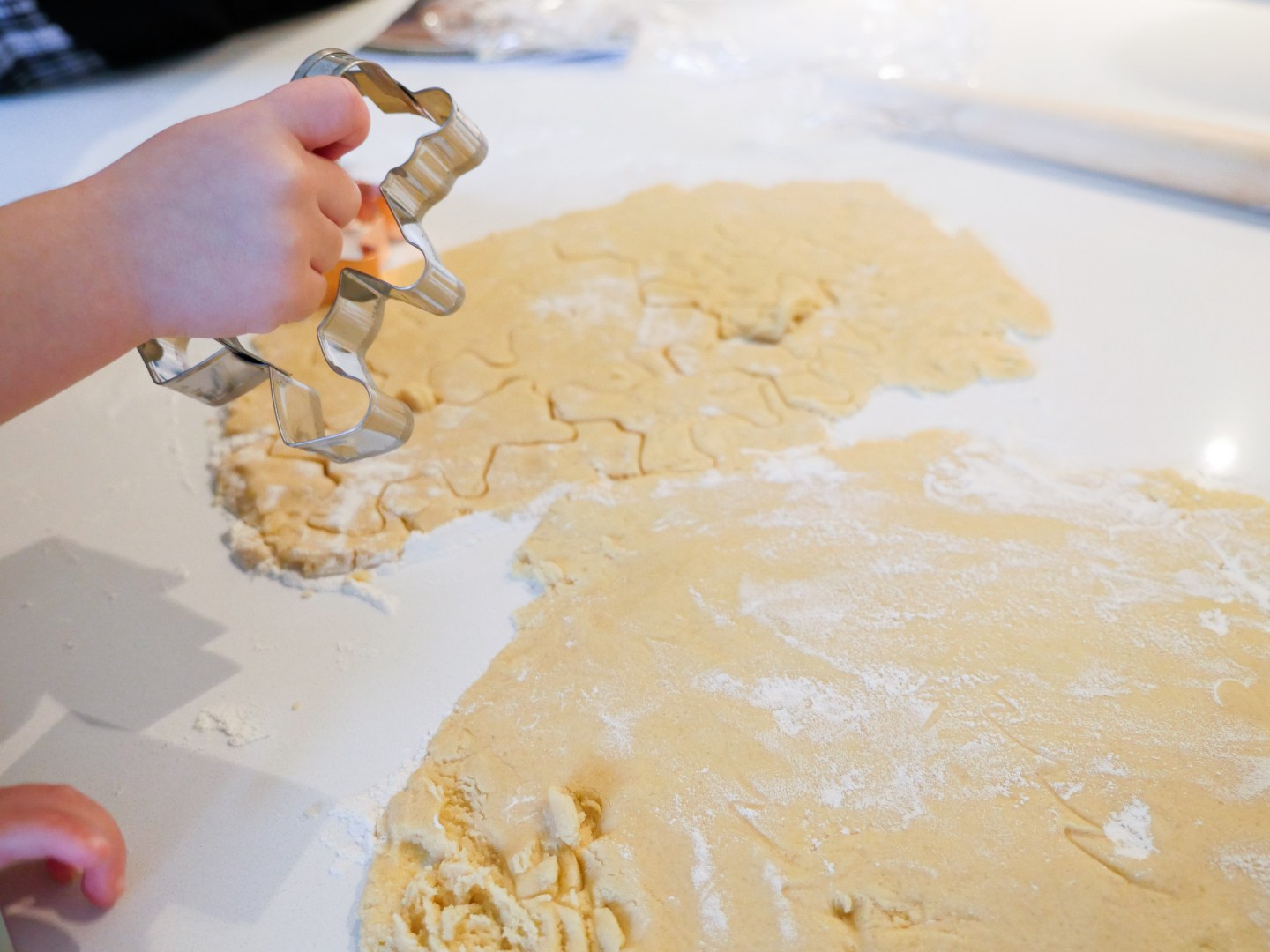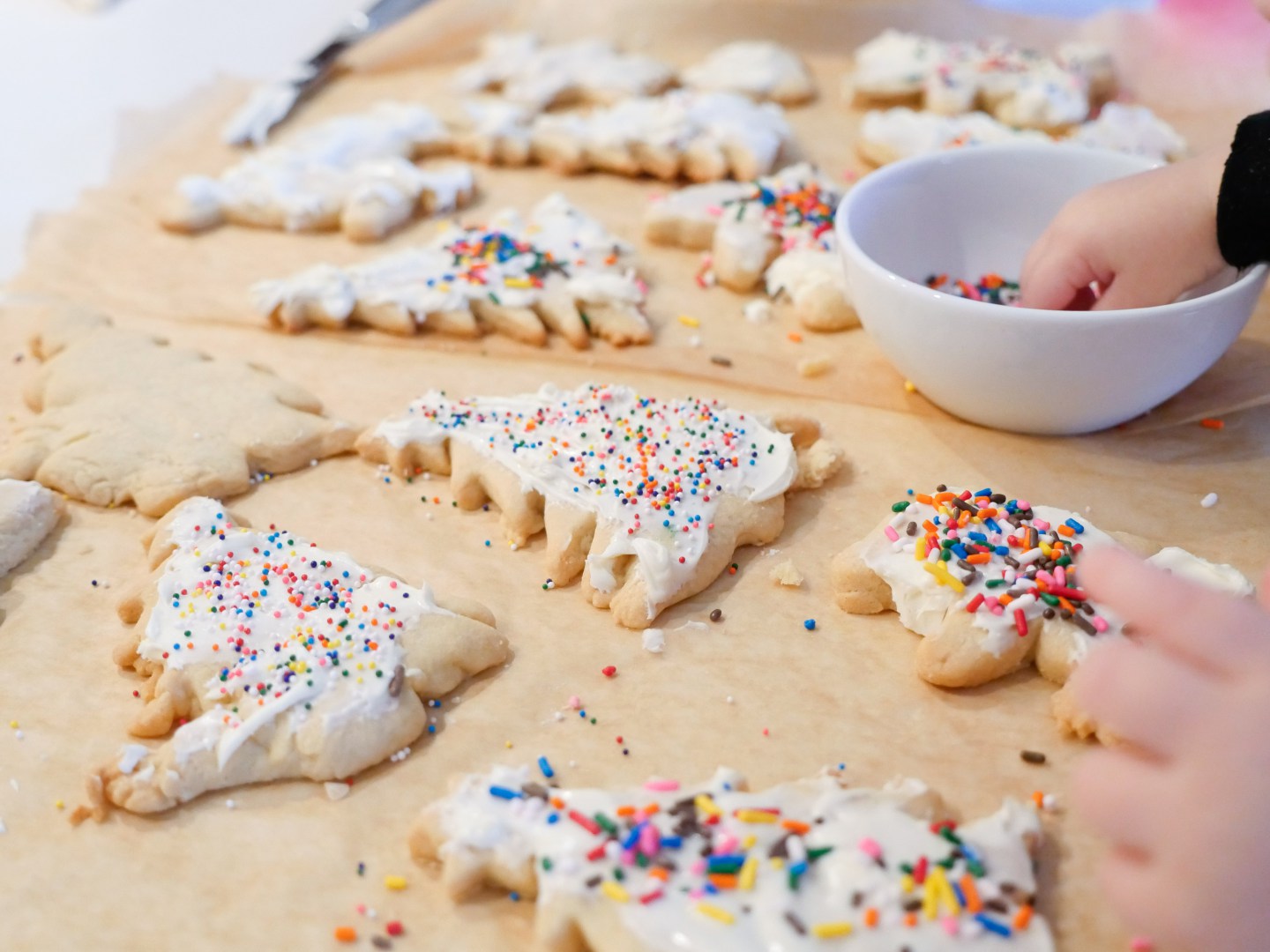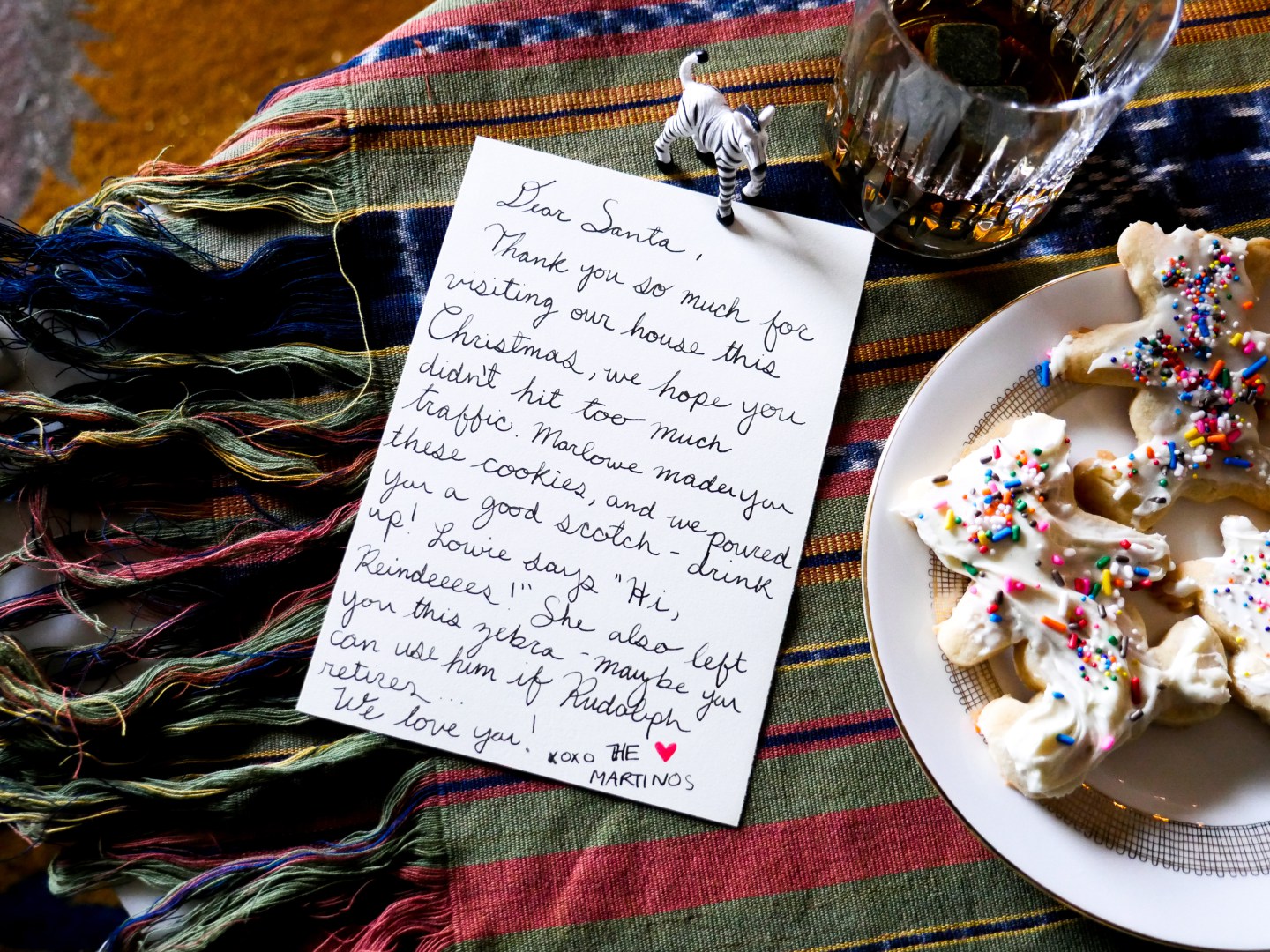 ---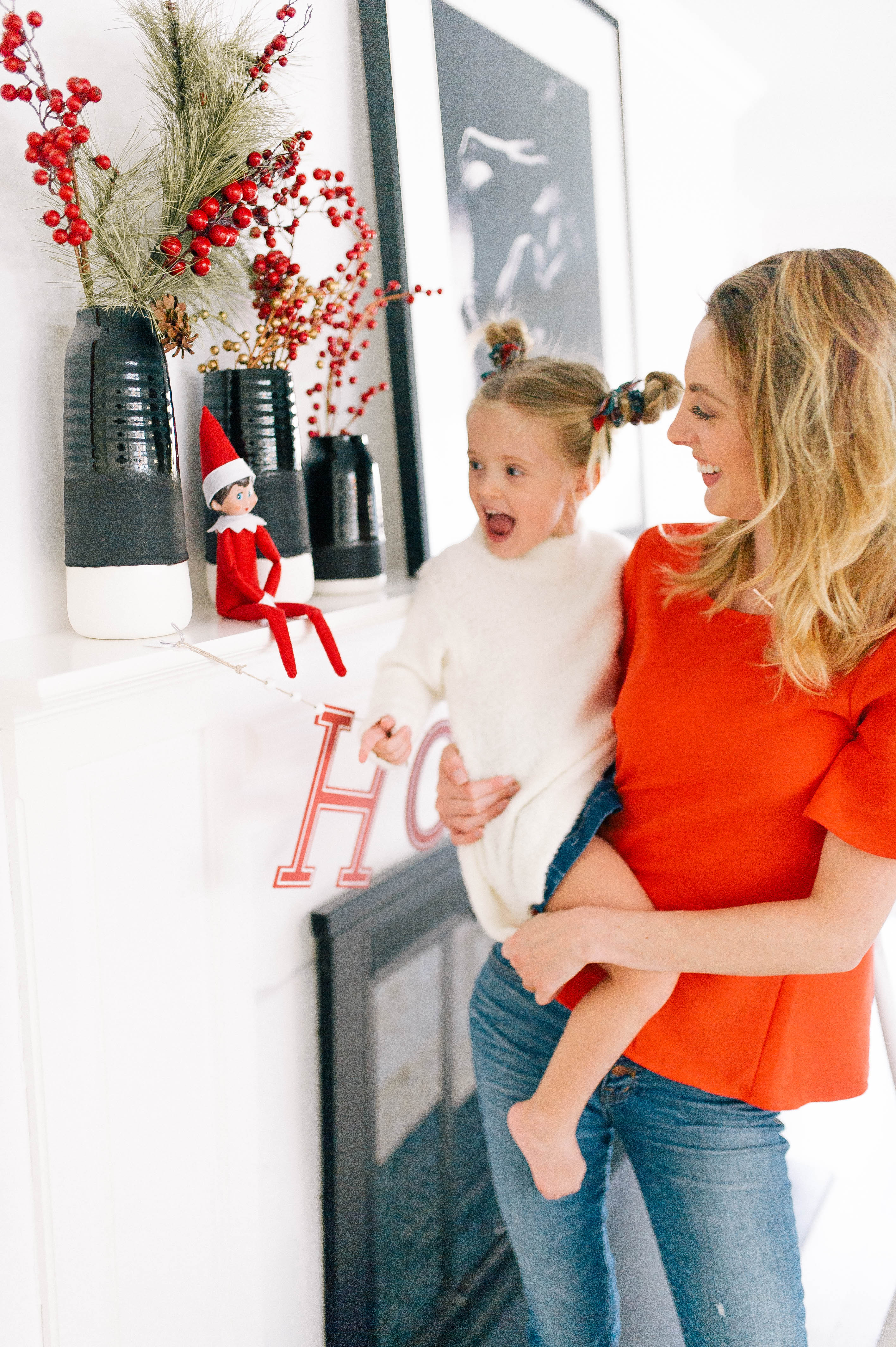 AND NEW TRADITIONS, TOO!
Meet "Berry" our Elf On The Shelf! We never had one growing up, but I can't help but love this adorable Christmas tradition– and my kids do too! It's fun to come up with creative ways for our kids to find Berry in the morning, and I gotta say I ADORE having a little bit of a positive-Christmas-behavior-reinforcer who sits on my mantle every day threatening my kids. LOL.  Berry has only been with us a few weeks and already she has stopped multiple tantrums mid-scream.  If that's not a Christmas miracle, I don't know what is!
What's your favorite Holiday tradition from your own childhood that you've continued with your own children? Please share in the comments below!