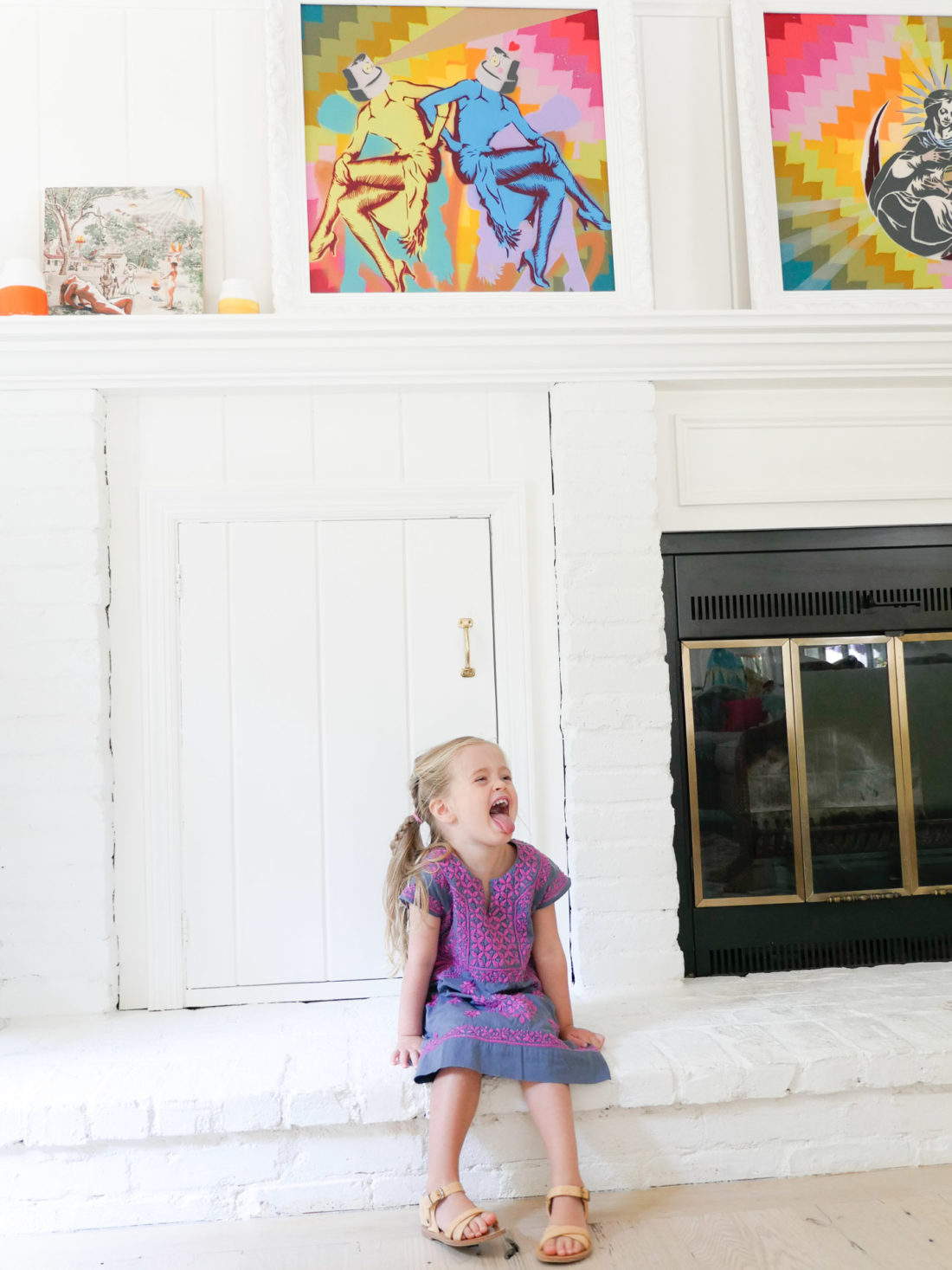 A question I get a lot from readers of the blog (and viewers of my social media) is how I manage to keep my toddler "under control" and well behaved a lot of the time.  It's a longer answer, so I wanted to write a post about it, and share my own method for creating a structure of expectations and discipline in our home that really works for us.  Like with anything I share, this parenting strategy is what works FOR US– but it is by no means the only "right way".  I'm a big advocate for doing what feels right and gets good results within the structure of your own family.  I do think that hearing about the parenting methods other people use can be really great tools for figuring out what speaks to you personally (or not).  Like with anything on this site, take the parts that speak to you, and ignore the rest!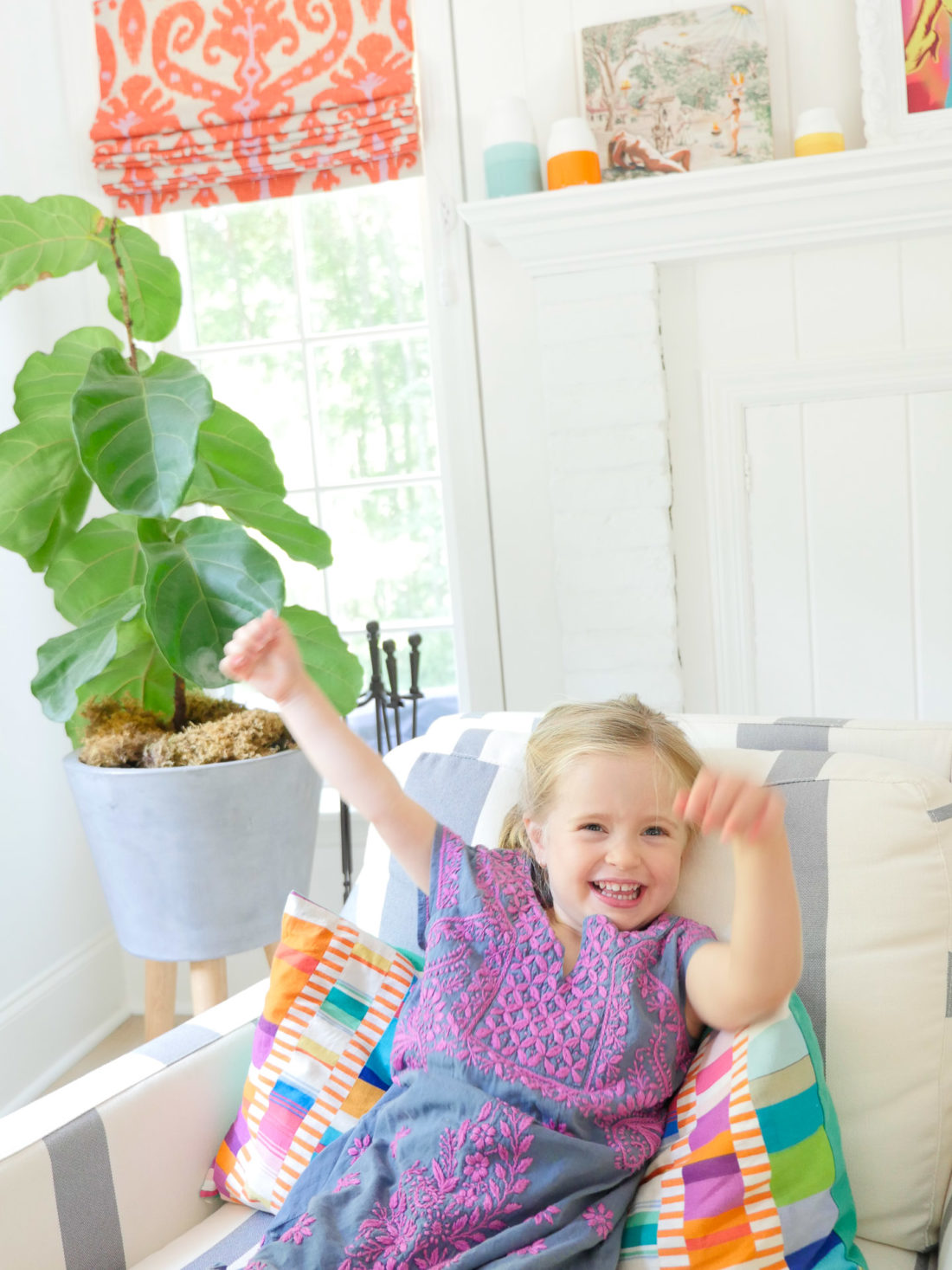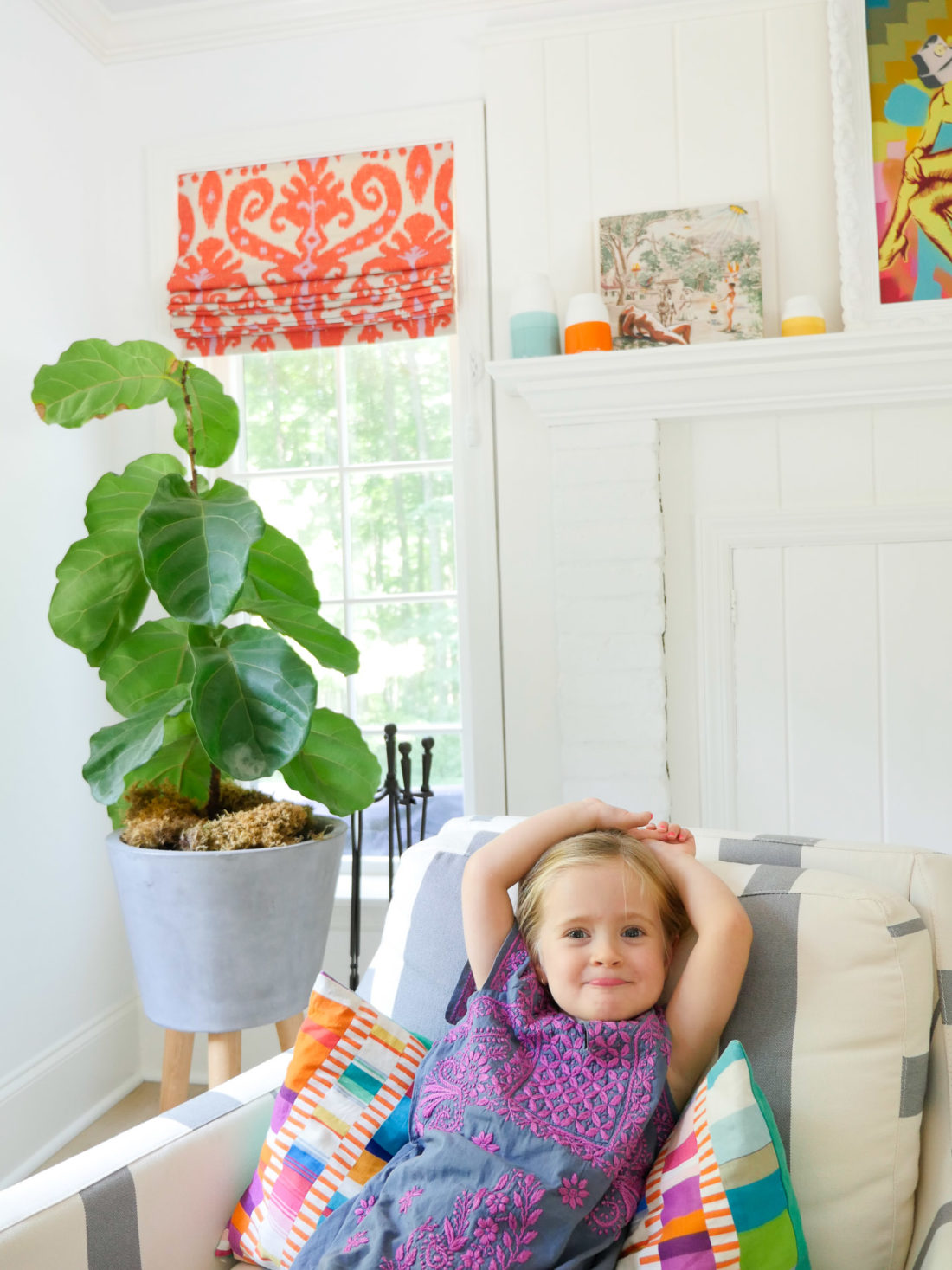 When I was pregnant with Marlowe, I read a book called "Bringing Up Bébé" that I absolutely loved– and that ended up being a cornerstone for my parenting strategy going forward.  The American author wrote about her parenting experience in France– learning and watching the way that Europeans parent their children.  Ultimately, she explores this idea of "the well-behaved" and well-adjusted child, and what the catalysts are for that.  Having grown up half in the United States, and half in Italy, I could really relate to a lot of what she was talking about– but more than anything the parenting "vibe" that she was describing really spoke to me.  It's definitely worth reading the book if you're interested (I'm not going to paraphrase the entire thing here) but I absolutely loved the idea of trying to raise kids that enjoy all the wonders and excitements and wildness of being children, but that are also polite, structured, and well-behaved members of society.  The author argues (and now that I have two children I tend to agree) that this combination is completely possible, but takes a lot of structure, resilience, strength, and a total lack of laziness on the part of the parent.  If you build it, you can achieve it.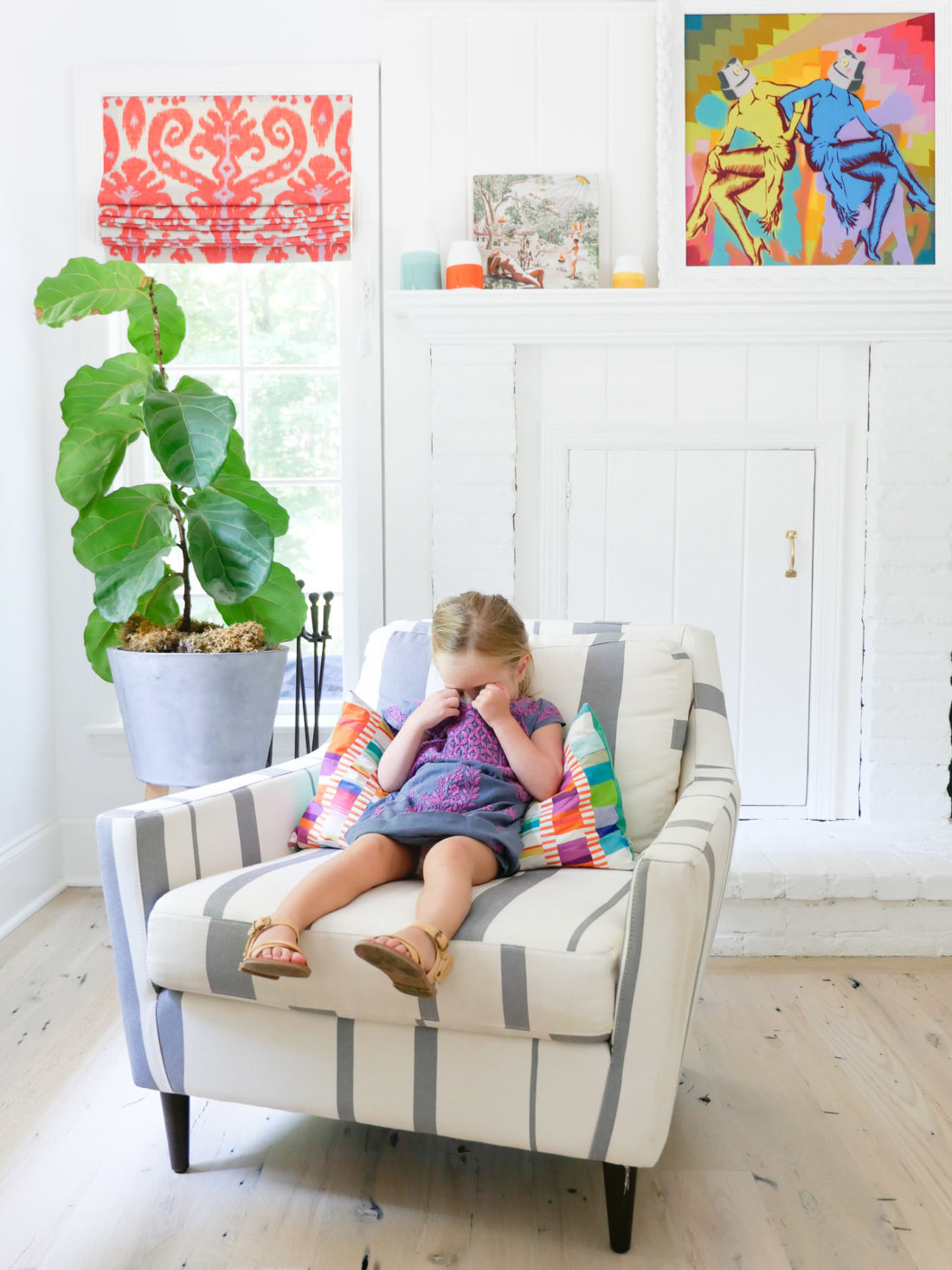 As Marlowe grew from a baby to a toddler, I thought a lot about structure and discipline.  About the dichotomy of allowing our children to be children, but also having behavioral expectations that they are aware of in order to create a structure that allows them to blossom and mature and learn. I am IN NO WAY a perfect parent.  No waaaayy.  But one thing that I'm proud of is that I've really stuck with the objective I set out with before I had kids: that Kyle and I make the rules, our kids know it, and they listen. Period.
Part of this has been identify what the rules are.  A really valuable tool that I got from "Bringing Up Bébé" is the idea that kids can only identify and respond to rules if there aren't too many of them.  Decide what the four or five absolute deal breakers are, and stick to them.  These are the "NO's". Outside of that, you can use more encouraging language like "Let's not do that right now," or "I don't think that's a great idea." But those agreed upon list of NO's illicit a sharp "NO!" immediately.  Outside of that, the French call childish behavior "betises" (which roughly translates in to "little foolish things")  Marlowe does A LOT of betises.  She challenges me, looks me right in the eyes while she does things that make me nervous, teases me, talks in a loud voice, is sneaky, stomps around, tosses things in the air, says provocative things, etc.  And I let her do them.  Because she and I both know that the ACTUAL important things I care about will get a big "NO!" if she goes there.  It's a give and take of power that kids really respond to.  I like that I'm not constantly saying "NO, Marlowe, No Marlowe, No Marlowe" like a broken record.  And I like that she gets to play around with her own boundaries while also knowing that if she goes too far I will reel her in. Of course, as kids grow, your list of NO's changes.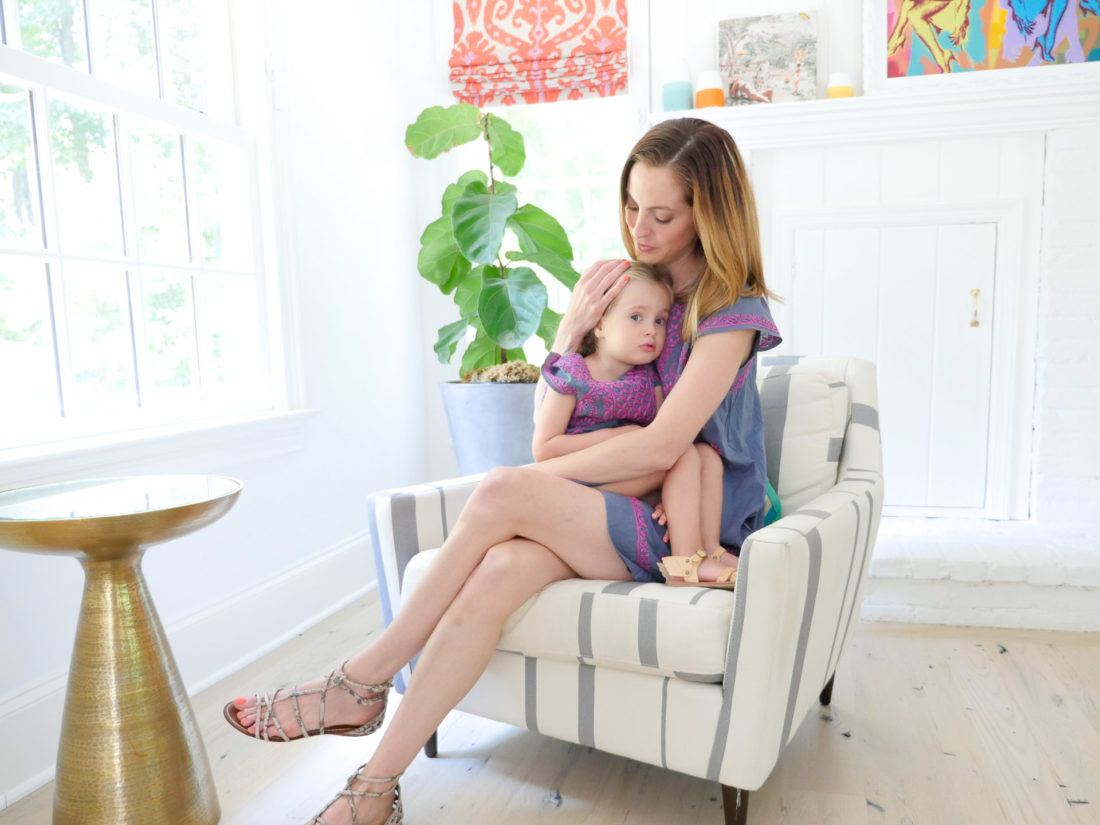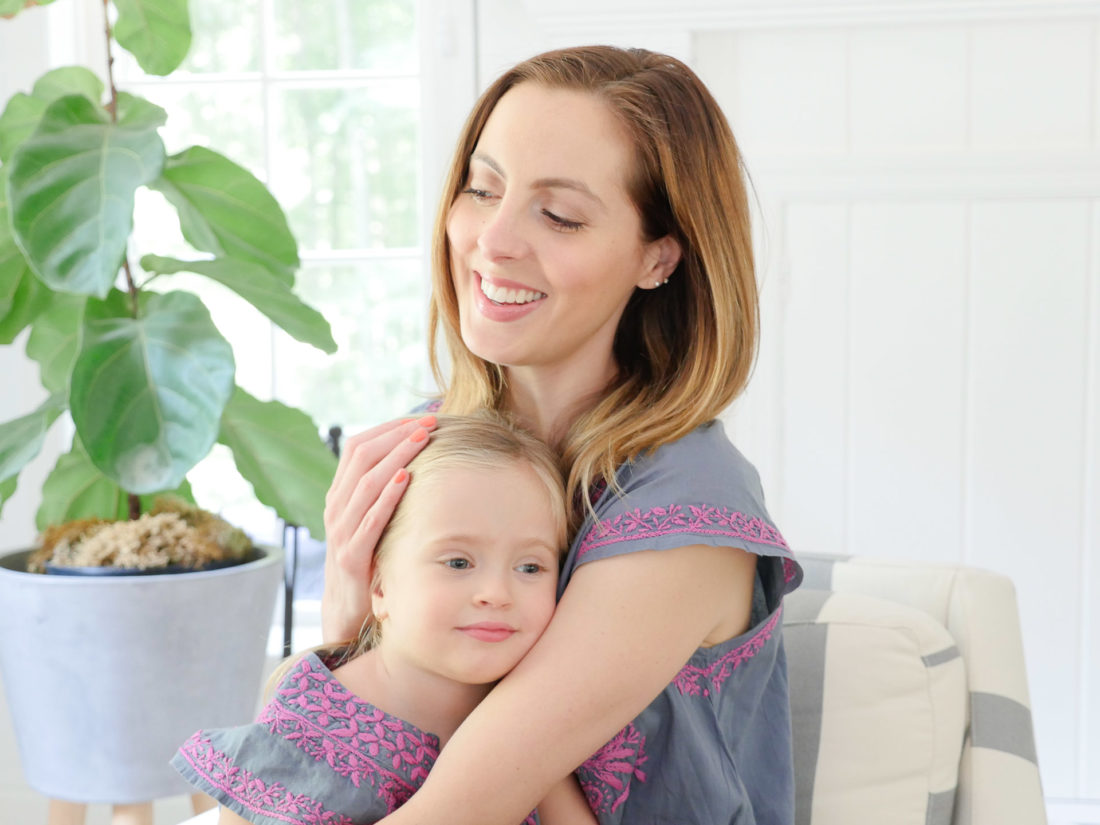 For example, when Marlowe was around 9 months old, Kyle and I decided what our list of No's would be.  We agreed they would be: 1. Purposefully harming somebody (hitting, biting, kicking, etc) 2. Grabbing an electronic cord of any kind 3. Putting a small object in to her mouth 4. Approaching stairs 5. Touching the Television or cable box (at the time it was on a media console low-ish to the ground). Any time she would do one of those five things, she would hear a firm and sharp "NO".  Not yelling, but a different voice that she normally hears.  A NOT-HAPPY VOICE.  Sometimes I think a mistake a lot of people make is saying the word "No", but in a sing song voice or a voice that is not clear that the indication of one of negative behavior.  Unless I say "No" in a voice that means business, I never say that word.  I think it makes for less confusion.  "No" should never sound like Maybe! LOL. She learned very very quickly.  Since this was in place, it made discipline a lot easier whenever we had to start that when Marlowe became a toddler.  Any time that Marlowe did something that she wasn't supposed to do, we disciplined her with a Time Out.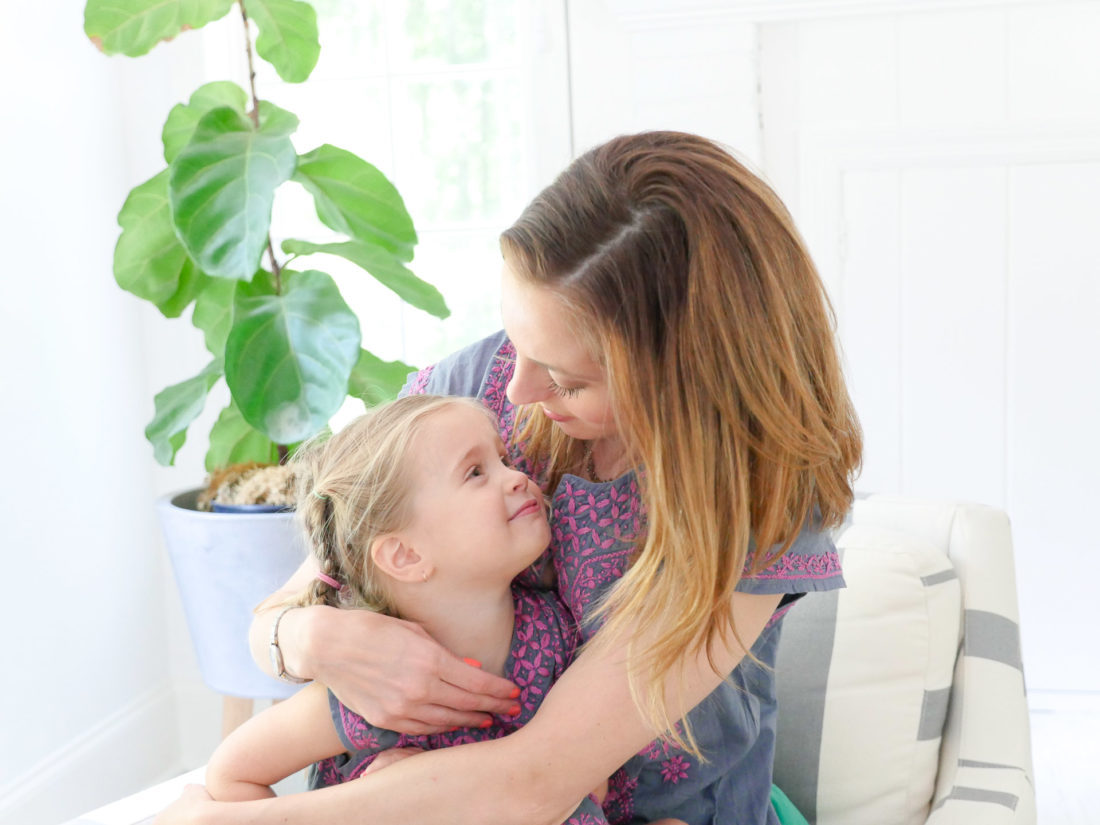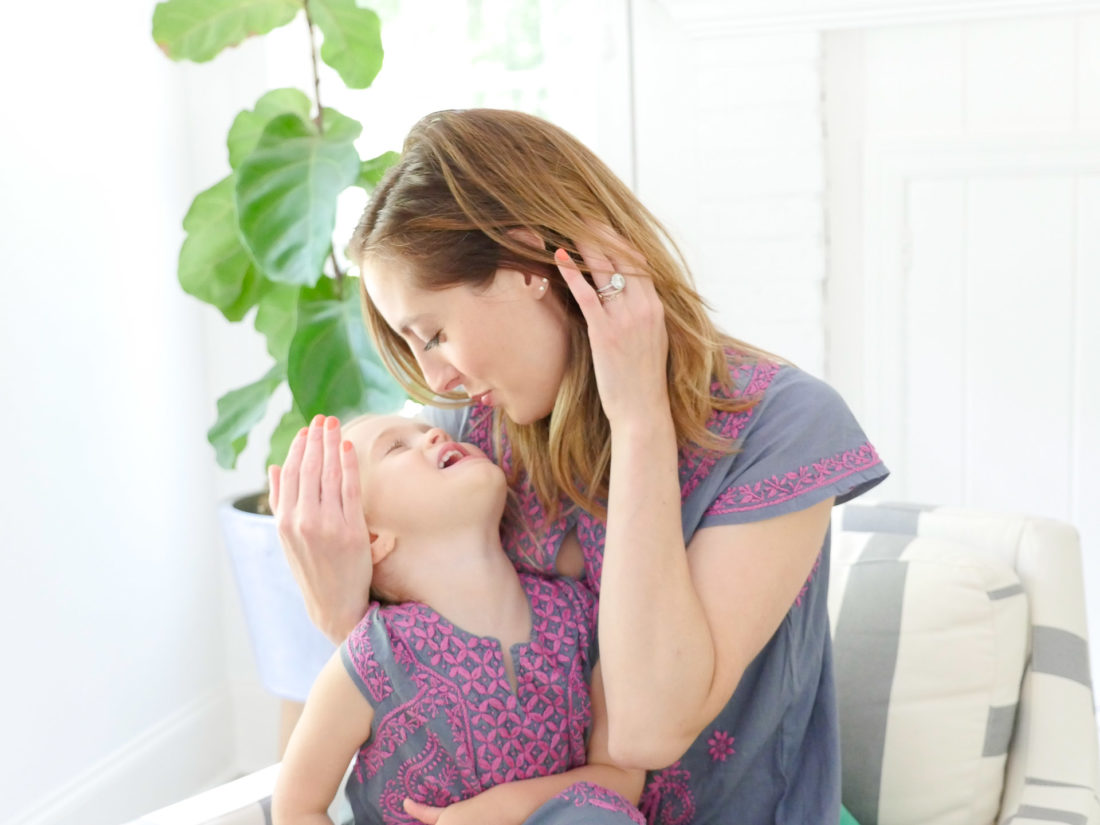 I've learned that Time Outs are somewhat controversial these days (and yes I've read up on it, no need to write the fine points of the argument in the comments section), but all I can say is they REALLY work for us.  They're a simple consequence that for some reason (?) children want to avoid like the plague. I love them.  I had expected to start Time Outs somewhere around Two years old, but I actually ended up starting them around 22 months because Marlowe went through a seriously testy phase around then.  I could tell that she was with it and aware enough to understand Time Out, so I decided to try it.  I developed my Time Out tactic at this time, and it's remained relatively unchanged ever since. My approach was giving 1 (ONE) warning, and if she did it again, I would put her directly in time out.  NOTE: Clearly unacceptable behavior, such as harming another person, would land her in time out without a warning.
How I give a time out…
Give one warning in a calm but firm voice.  Not one and a half, not two, not three.  ONE. (I put this reminder here because Kyle has been known to give a warning for Time Out…and then another…and another…and another…LOL) Follow-through is key if they are going to ever take you seriously. Example of a warning: "Marlowe, if you throw one more toy at the window, you are going in to Time Out."
If the warning is not heeded and the behavior continues, calmly and without talking about it remove the child immediately from where they are and gently place them in the "Time Out Spot".
The Time Out Spot: I highly recommend choosing a corner of the room, on the floor, preferably on a rug (in my experience, they tend to flail and tantrum A LOT in the beginning of using Time Outs).  Our Time Out spot in this house is in a corner of the kitchen/playroom area where I can keep an eye on her during her time.
Set a timer, and tell them they are in Time Out for (blank) minutes.  Example: "You are in Time Out for two minutes".  One minute for each year they are old.  We recently graduated to three minute Time Outs, and Marlowe has definitely noticed the upgrade ("Mom, I've been in here FOREVER! Did you set the alarm?" LOL)
During the Time Out, do not talk to the child.  At all.  Ignore.  They might cry, they might thrash, they might scream, they might say a litany of horrible things to you (you should hear the things that come out of Marlowe's mouth during time out these days), but do not under any circumstances Bite the proverbial Worm. This is their process. Keep an eye on them out of the corner of your eye, but just ignore them.  DEFINITELY don't try to use this time to drive home the point about why they are in Time Out.  Just ride it out.
If they leave Time Out during this time, calmly and without talking return them to Time Out.  Just pick them up and carry them back. Reset the timer.  If they are not experienced enough with Time Out yet to know you are doing this, calmly tell them "You left Time Out so I'm resetting the timer now".  If they leave again, repeat again.  Repeat forever until the child completes the full time on the timer.
When the timer alarm goes off, calmly approach the child.  Calmly and firmly ask them to please look at you in your eyes.  You make have to repeat this a few times before they do it sometimes, especially with older kids.  When you have eye contact, create a resolution.  It is three steps and goes like this: 1. Tell them in the simplest terms why they are in Time Out 2. Tell them that the behavior is unacceptable, and why 3. Ask for an apology.  Example: "Marlowe, you are in Time Out because you threw a toy at your brother.  That behavior is unacceptable because toys are hard and you could really hurt him. Do you understand that? (wait for acknowledgement) Please say you're sorry."
When they say sorry, give them Love.  After Marlowe apologizes, I wrap her in a big hug and say "Thank you, I love you." The positive reinforcement after they have served the consequence reminds them that they are loved and shows that even when you're being tough that it is in their best interest.
Move on– literally and emotionally.  Don't beat a dead horse.  After a kid has done Time Out for something, you don't have to remind them of their bad behavior all day long.  Everyone can move forward…until the next thing! LOL
NOTE: Issue and complete Time Outs REGARDLESS OF WHERE YOU ARE.  I don't care if we are at a birthday party, in a crowded store, at the zoo, on Mount Everest.  If she acts out, she gets a Time Out in a secluded area and the whole thing goes the same way– no matter what. And she knows that.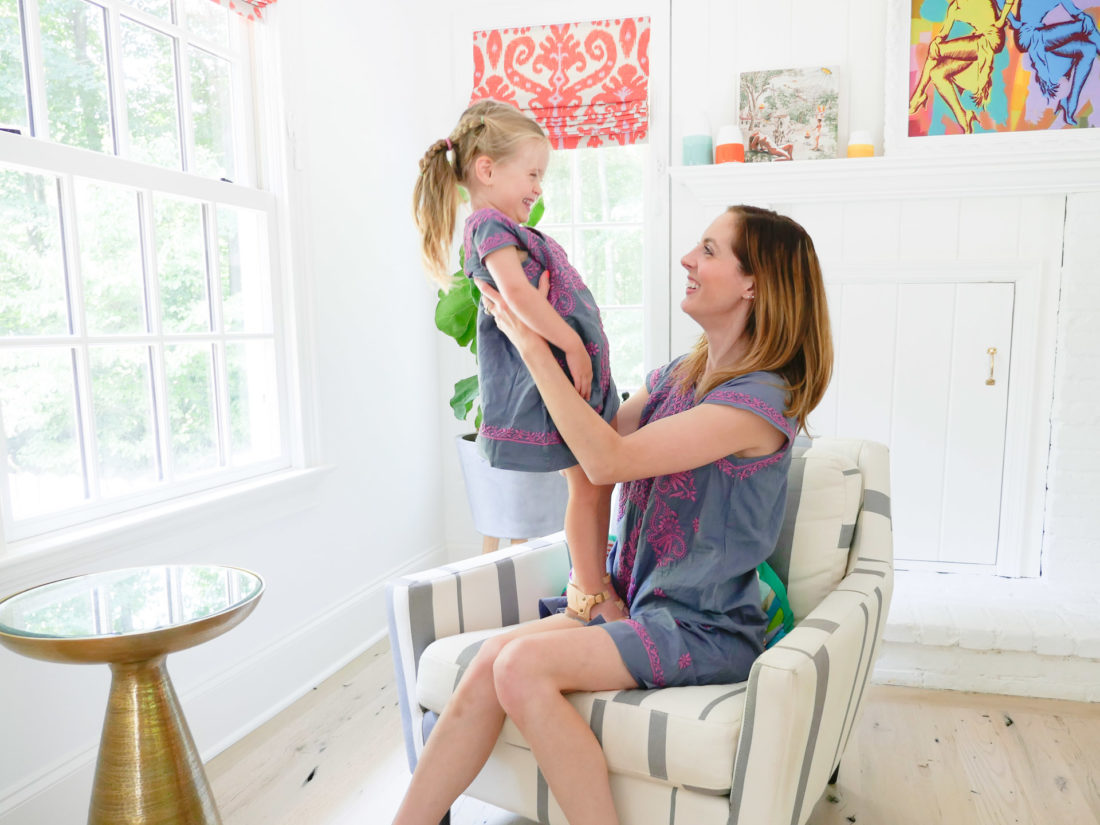 At first when I started Time Outs with Marlowe, it was a mess.  I had to bring her back to the corner a few times each Time Out, restart the clock, etc.  She would kick and thrash and scream, and on and on.  But pretty soon, she started using it as the time when she would get all her angst out.  She would get put in Time Out and cry and cry and sob the whole two minutes, until the alarm would go off and she would immediately quiet down and wait for me to approach her for the resolution.  After about six months of Time Out, she would offer ME the reason why she was in Time Out, instead of the other way around.  I've watched her grow and mature so much as she begins to understand consequences.  Now when she misbehaves, she starts wandering over towards the Time Out corner herself! So much so that I will see her near there with a guilty look on her face and will flat out ask her what she did wrong: "I just drew on the wall a little with a marker Mom…I'm going to Time Out myself!" LOL.
Once the broad strokes of behavior were under control, we began fine-tuning and working on the more subtle aspects– like Manners.  I find that once your kids know that you expect a certain class of behavior from them, it is easier for them to understand expectation for manners and the way that you interact with others.  I'm very particular about manners, and expect Marlowe to always say "please" and "thank you"– and "Excuse me" if she would like to interrupt somebody when they are talking. If she misses it, I ask her to repeat it.  Every single time.  I also reinforce that she must say "May I please be excused?" (and wait for an answer) before she leaves the table after meals.  She is far from perfect with all of this, but I'm really proud of how great she's been with her manners lately. I think we've had success with her with this because we are also courteous with HER.  If I ask her to do something, I always say please and thank you myself.  Kyle and I say please, and thank you, and excuse me to each other around her, too.  You can try to get a child to be polite until you're blue in the face, but unless they are looking at you and seeing you exhibiting the same behavior they will never really learn. It's been a great excuse for Kyle and I to try to treat each other with a lot more politeness as well– a nice exercise to do when you've been married for a while, I think! Ha!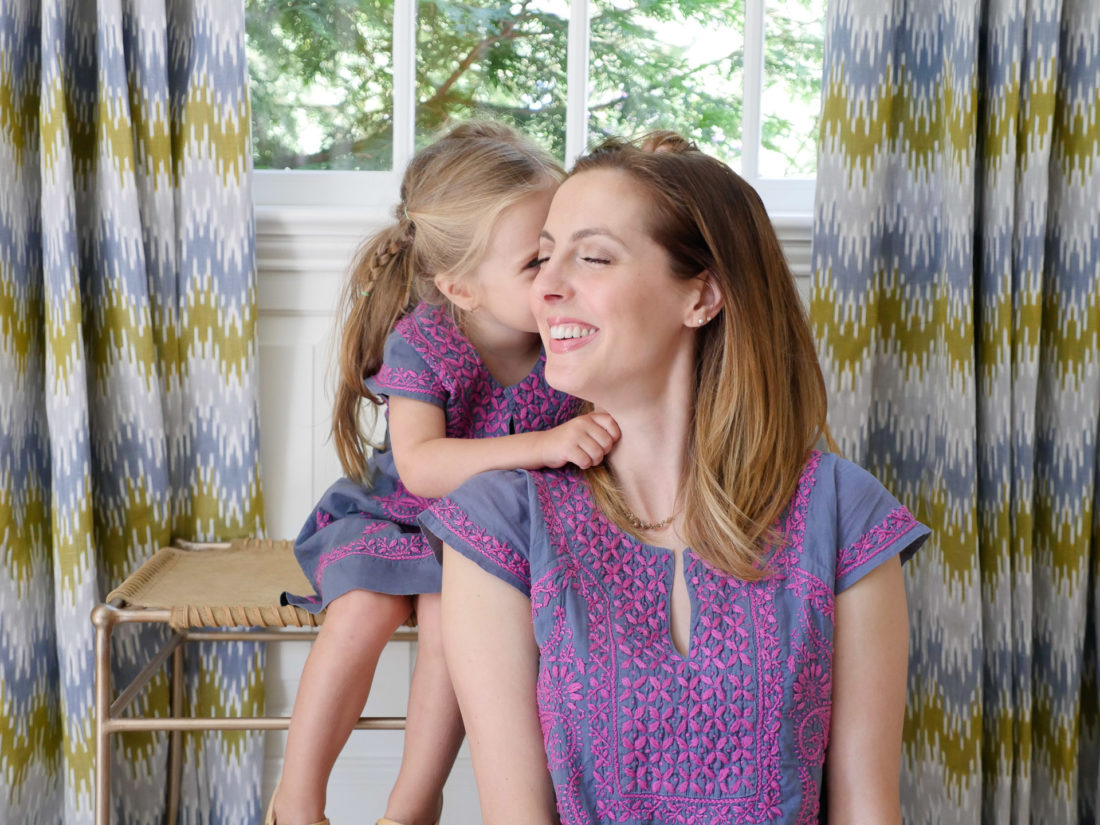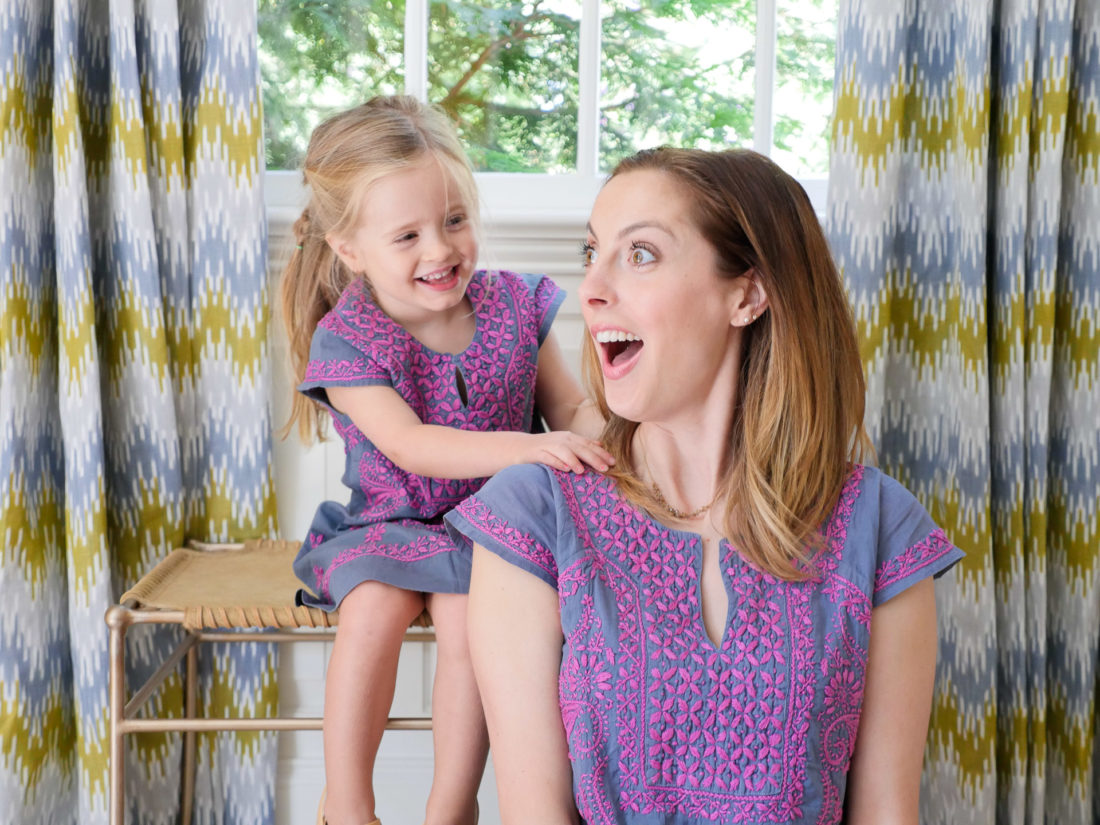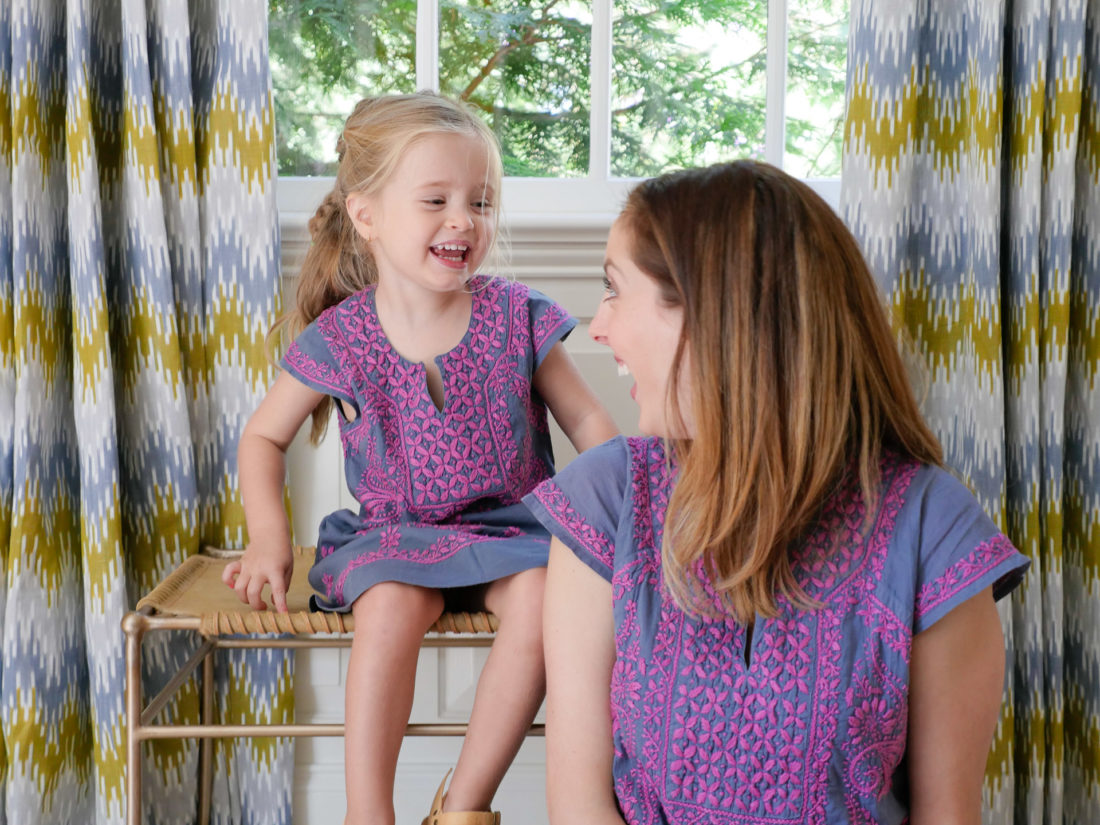 My parenting style is always evolving, and changing through trial and error– but creating a structure of expectations and discipline in our household is really important to me.  I hope that by upholding this, while also celebrating the goofiness, playfulness, and spark of our daughter, that she learns how to be herself while also being a respectful and courteous member of society.  We have to raise the change we want to see in the world!
How do you deal with discipline and behavioral boundaries in your household? I'd love to hear your take in the Comments below!