The following content may contain affiliate links. When you click and shop the links, we receive a commission.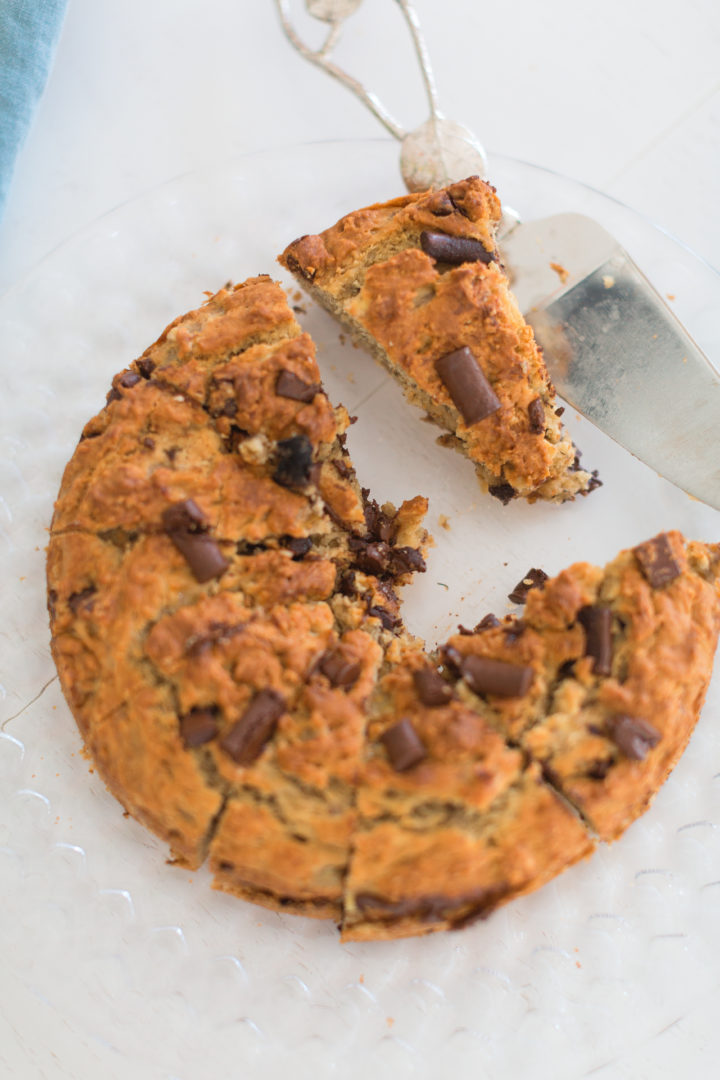 Admittedly, I'm not the best baker.  I once heard a chef say that you're either a cook or a baker, and that people are rarely good at both.  Whether that's true or not, I've decided it's the reason that I almost never bake.  LOL.  The other reason is probably because I am allergic to cow dairy! I've had a cow dairy allergy literally since birth, and at this point I'm used to it and it doesn't bother me at all.  As a result, though, I don't eat many sweets.  It's not that I don't like sweets, in fact I love them! It's just challenging to find treats that aren't packed with cow butter or milk or cream (I CAN eat sheep and goat dairy.)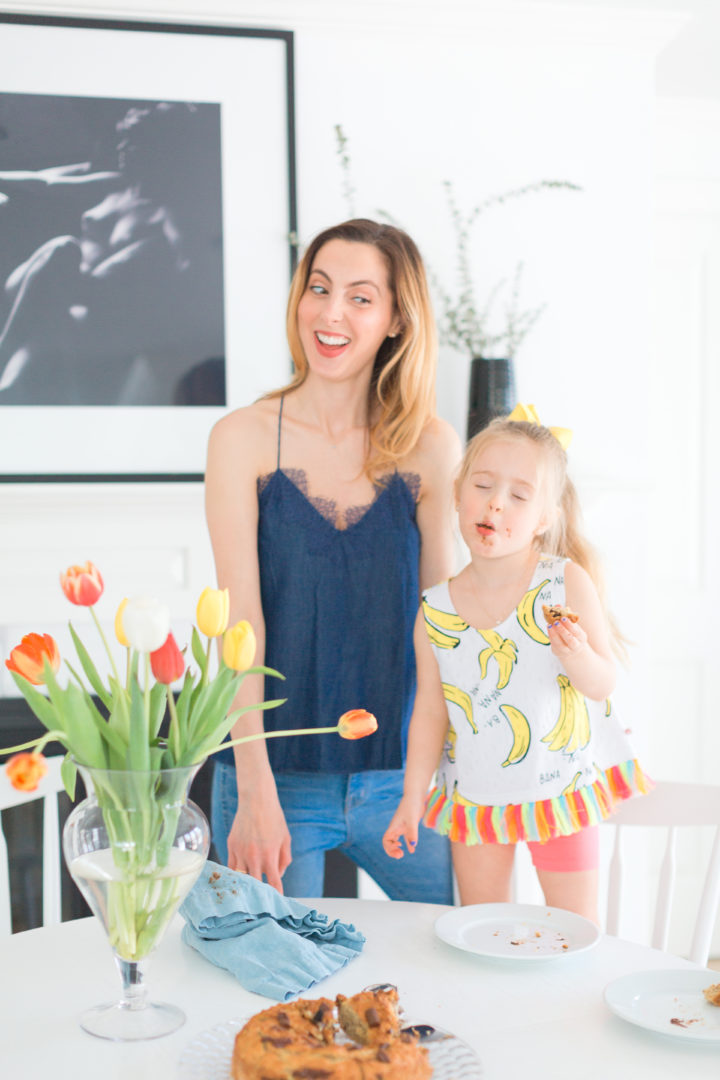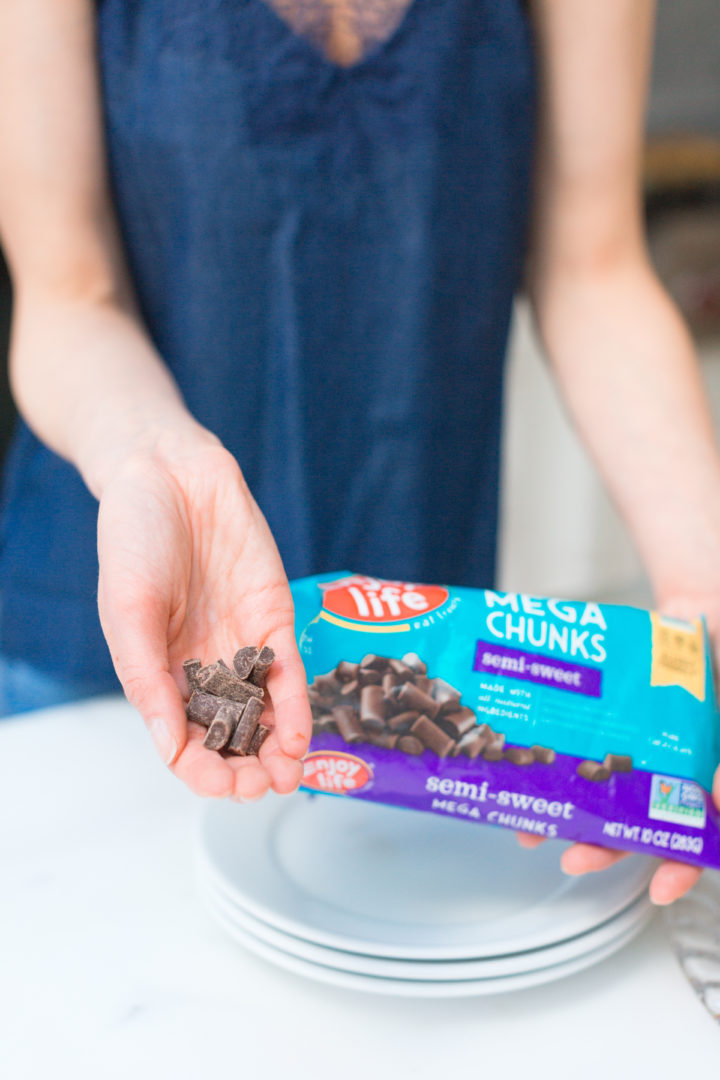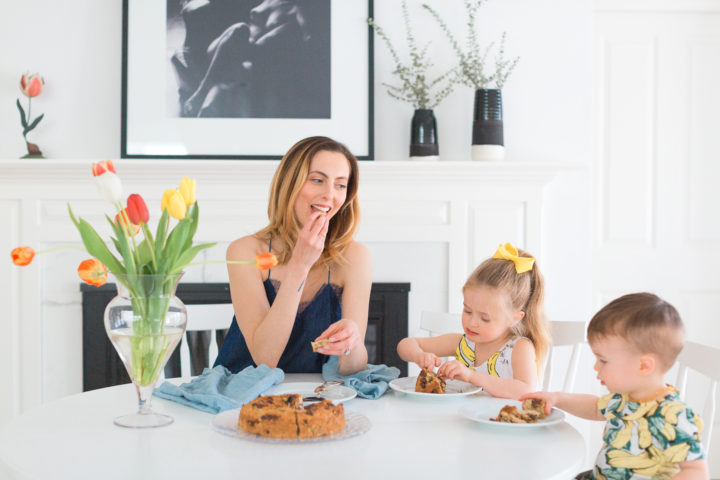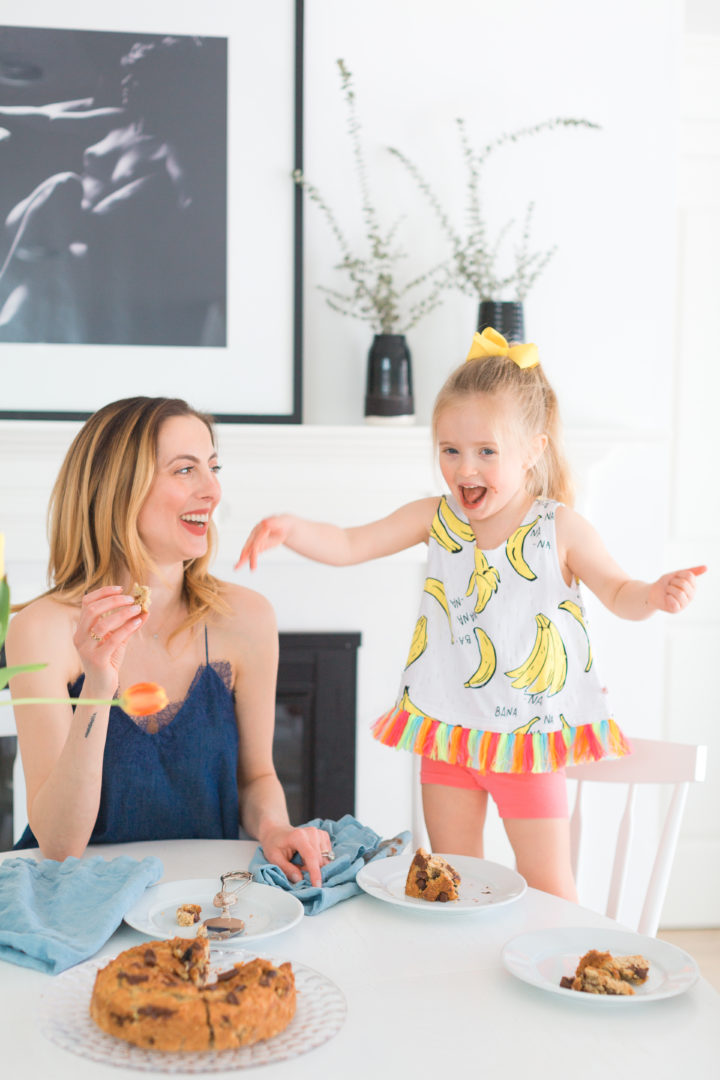 Sometimes, I'm just craving a bit of chocolate and sugar– and I like to whip something up! But the recipe must be EASY. My go-to is this yummy Dairy Free Chocolate Chunk Banana Bread! I love it because I can convince myself that it's healthy-ish (hello, there are TWO bananas in the batter!) and I can convince my kids that it qualifies as a dessert! We both win.  I'm actually kind of underselling how much my kids love this banana bread…they FLIP for this banana bread.  It's so easy to make that I end up whipping up a batch every couple weeks.  I prefer to bake this in a cake pan because I love to slice banana bread in to triangular slices– I think it stays more moist– but you can also make it in to muffins if you so desire.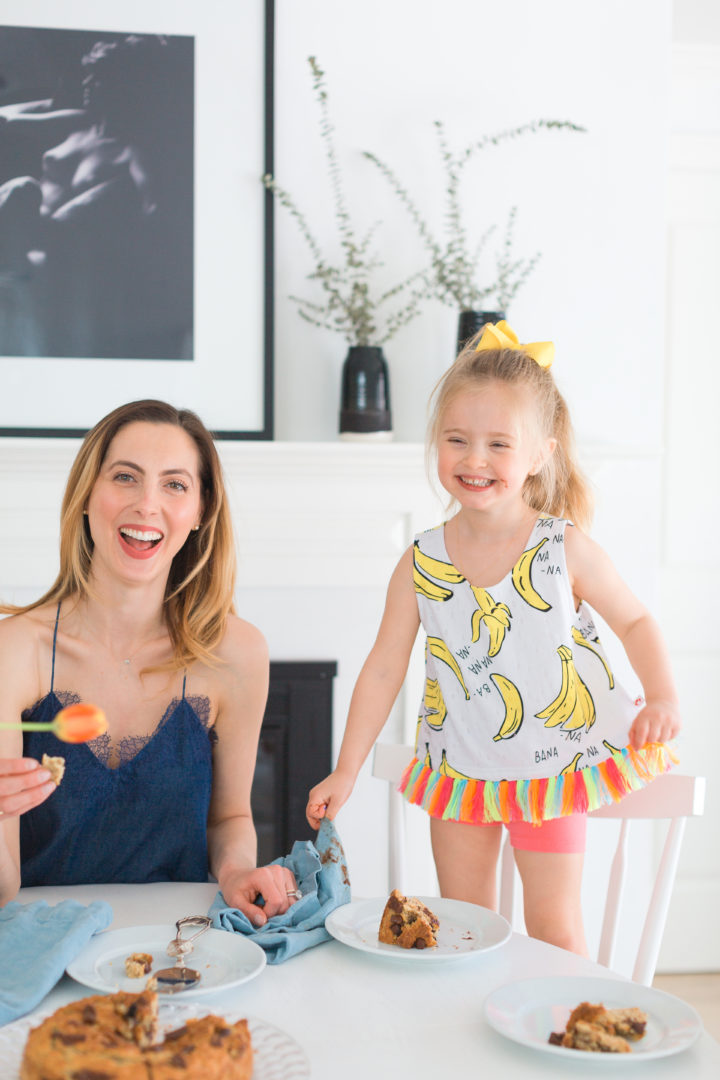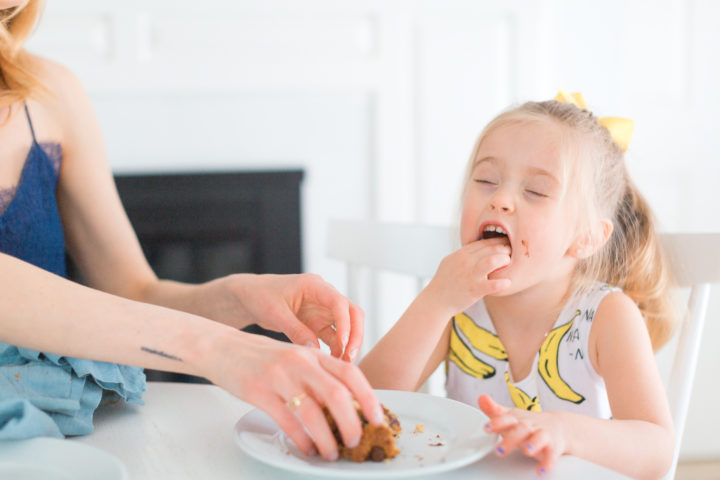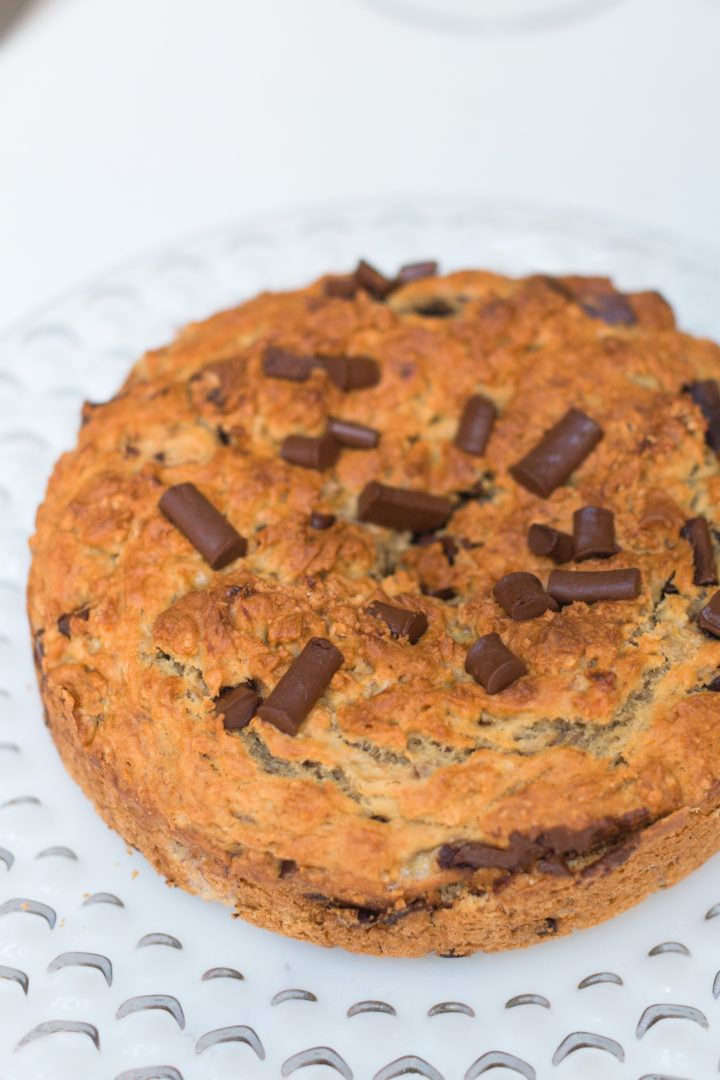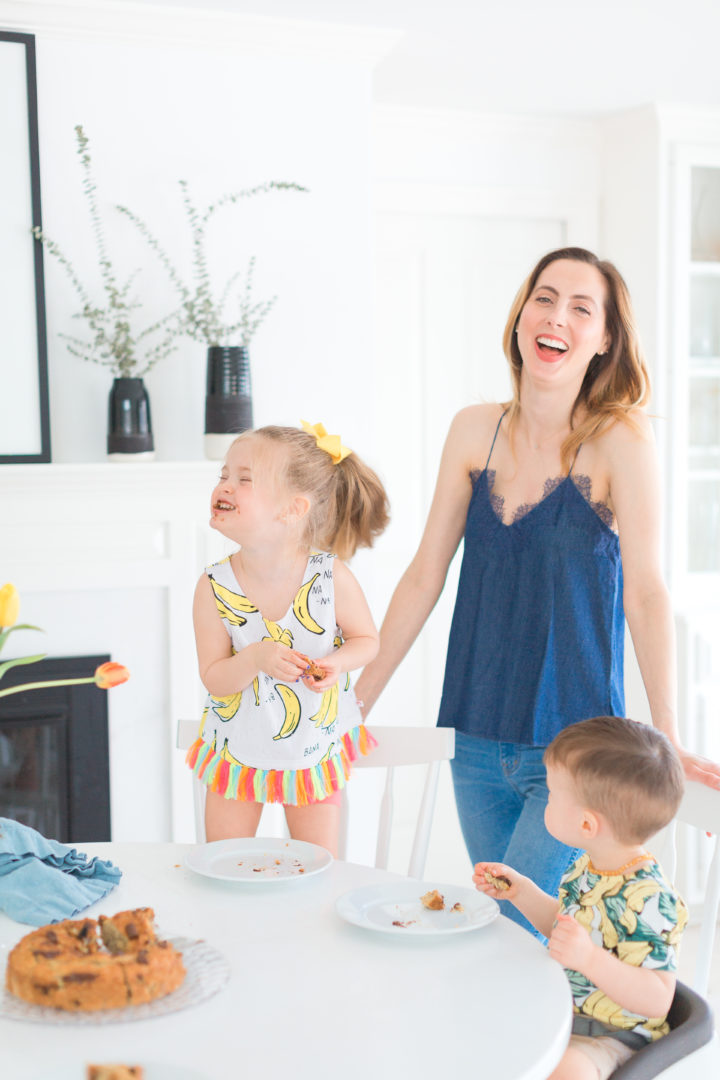 It's also worth mentioning that this recipe does not have to be dairy-free.  You can make it with regular butter and chocolate chips if you prefer that.  Just thought I would throw a bone to my other dairy-free homies! And when it comes to feeding my kids sugar, I do what every good Mom does– dole it out enthusiastically and regret it immediately.  Sugar High Police, arrest me first!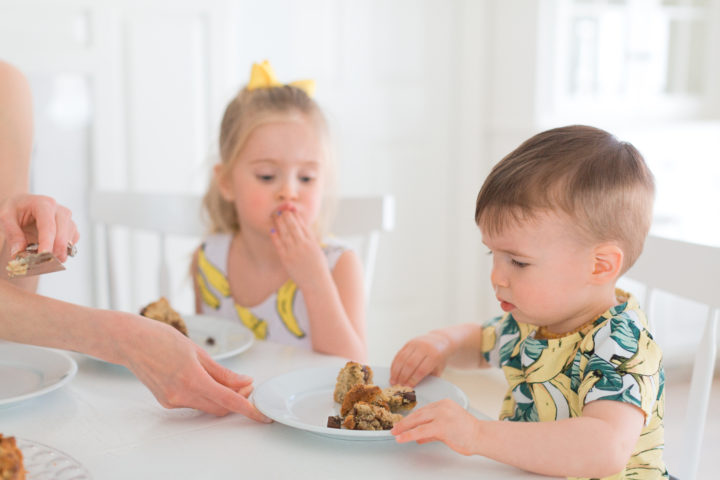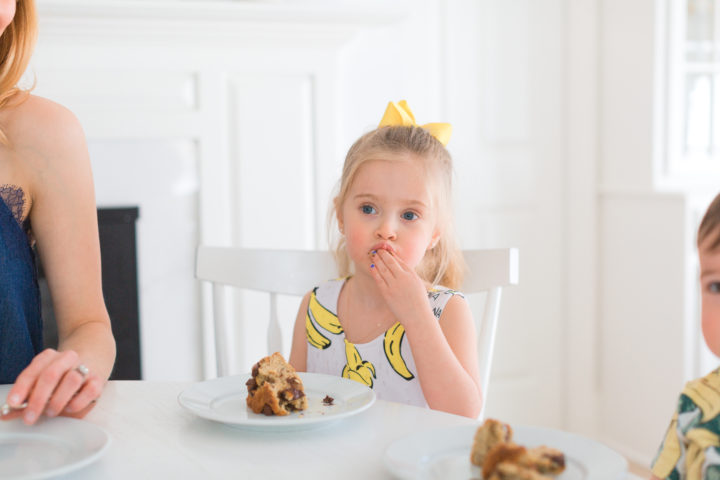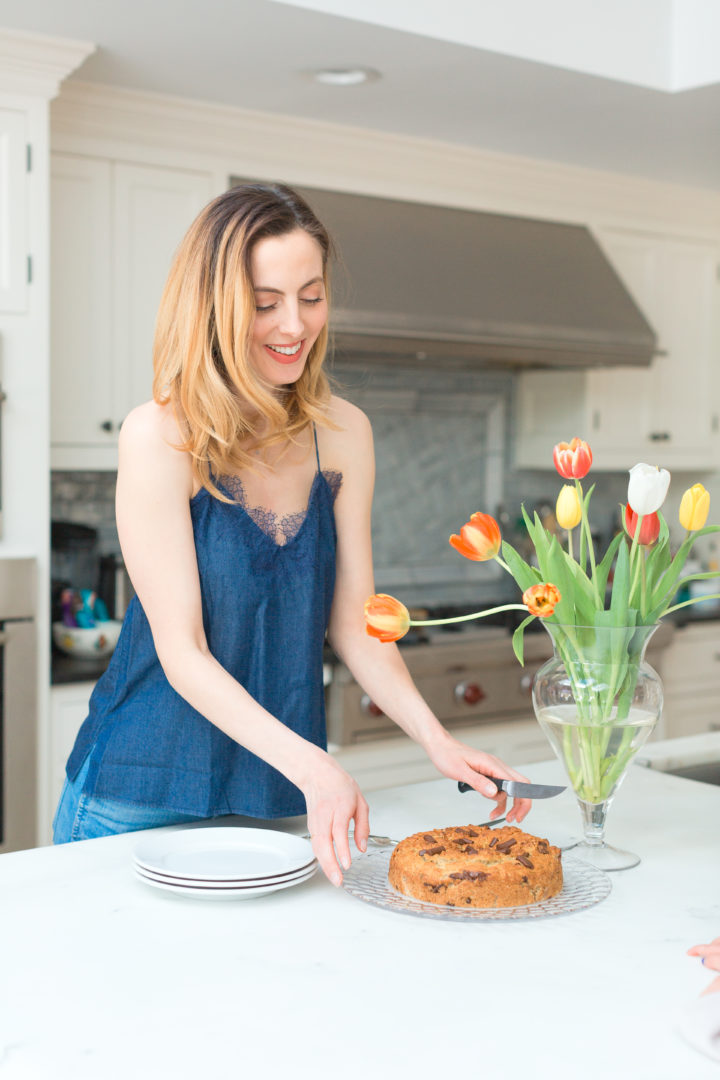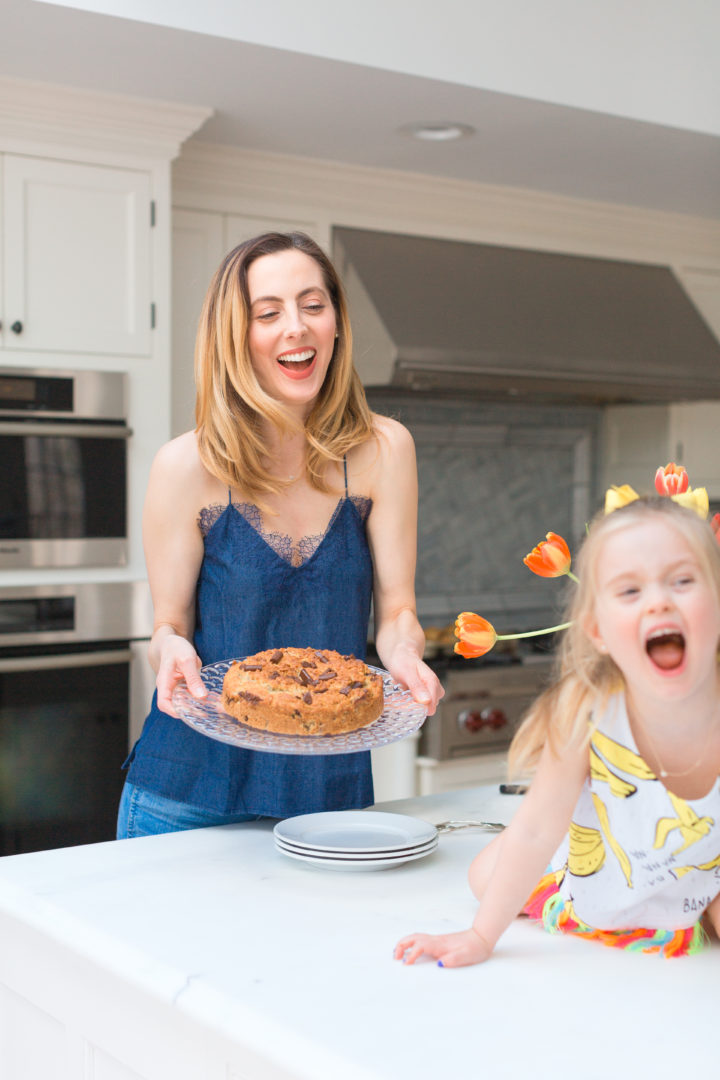 Ingredients…
2 overripe bananas, smashed

2 cups All Purpose Flour

1 Teaspoon Baking Soda

1 pinch of Salt

1 Teaspoon Vanilla Extract

1 Cup Brown Sugar

1/2 cup Earth Balance "butter", melted

2 Eggs, beaten

1 cup chocolate chunks (I use Enjoy Life dairy free Mega Chunks)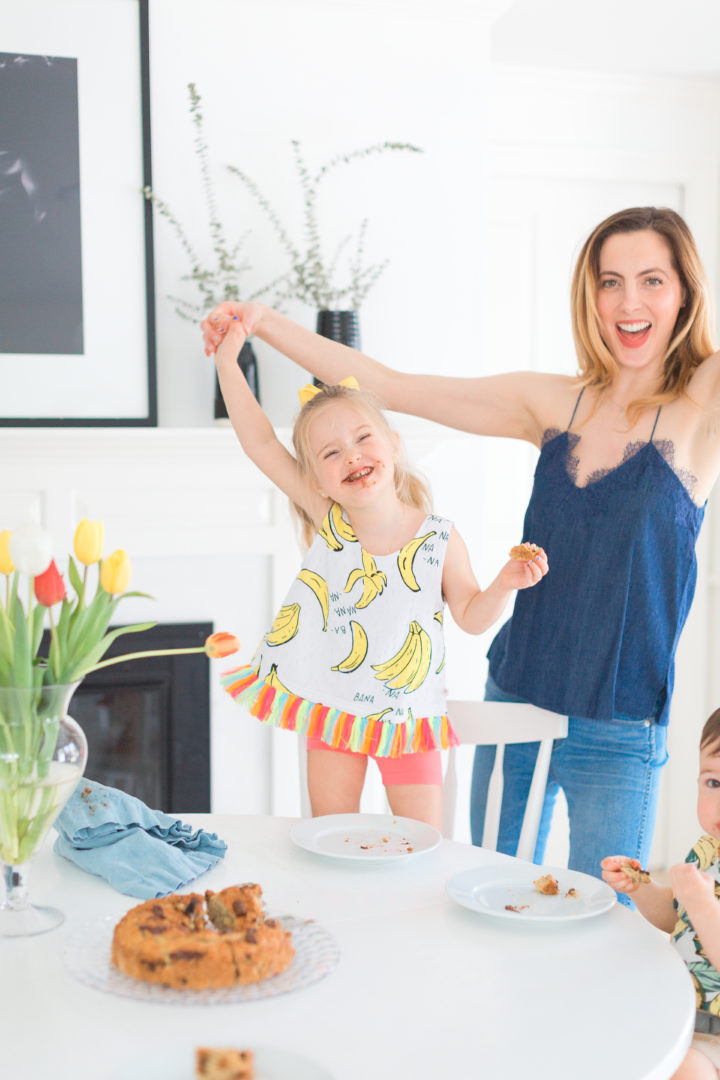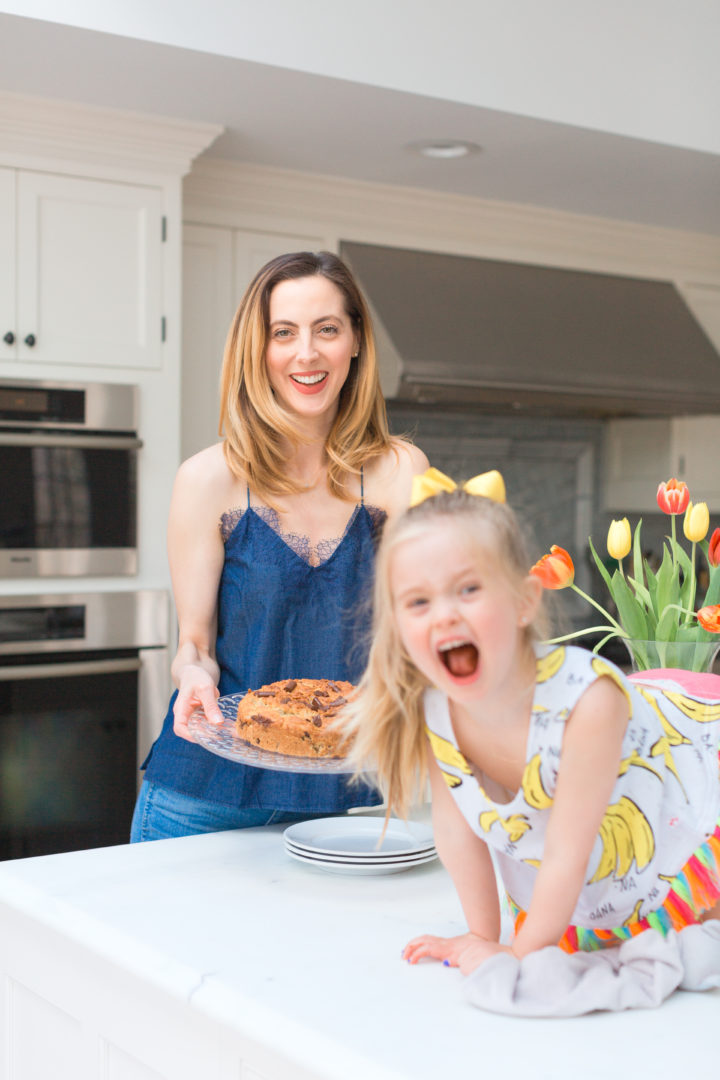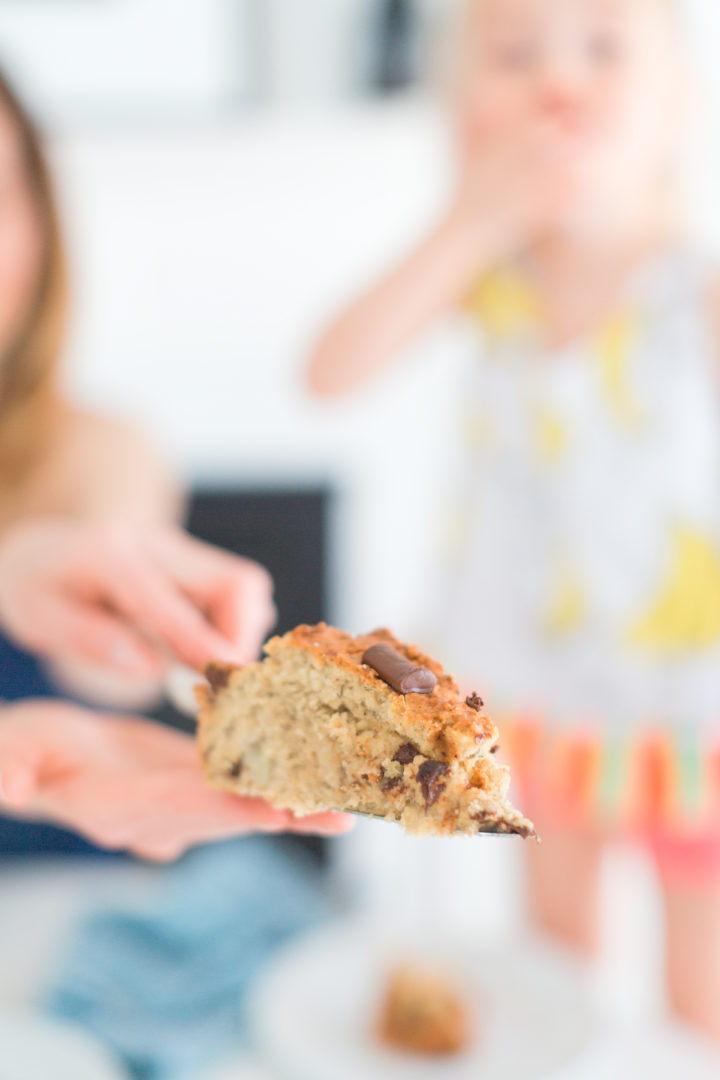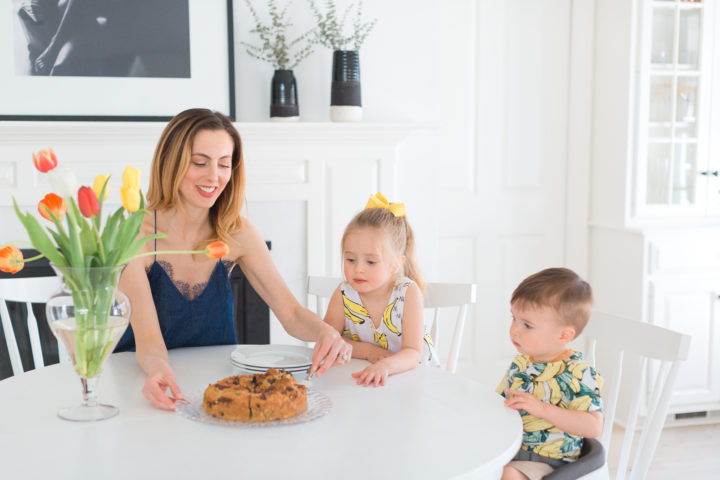 Preheat oven to 350 degrees, and lightly grease your cake pan, then dust with a bit of flour.  In a large bowl, combine the flour, baking soda, chocolate chunks and salt.  In a separate bowl, cream together the Earth Balance and brown sugar at medium speed.  Then add the smashed bananas, vanilla, and eggs to the sugar mixture until well combined.  Carefully add the banana/brown sugar mixture in to the flour mixture, stirring until just combined.  Do not over-mix!  Pour your batter in to your cake pan and sprinkle a few more chocolate chunks over the top.  Bake in the oven for approximately 40 minutes or until a toothpick inserted in to the middle of the banana bread comes out clean.  Allow to cool for 15 minutes and then dump it out of the pan and allow to cool on a wire rack.  Enjoy! This bread will keep for 2-3 days in plastic wrap, but good luck keeping it around that long 🙂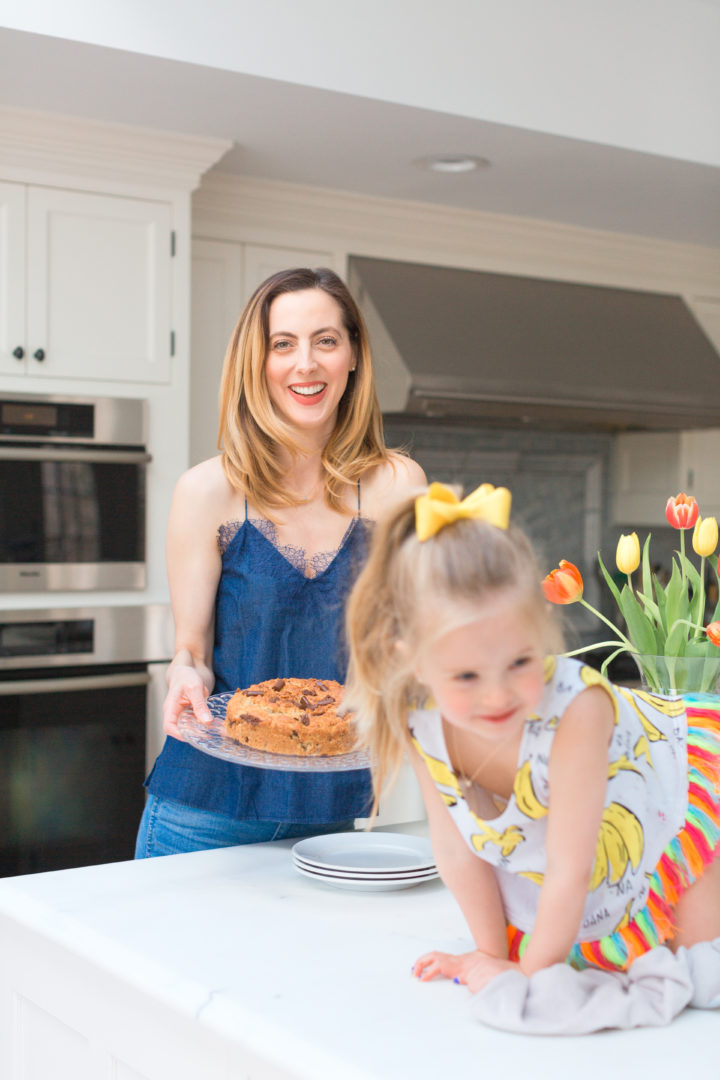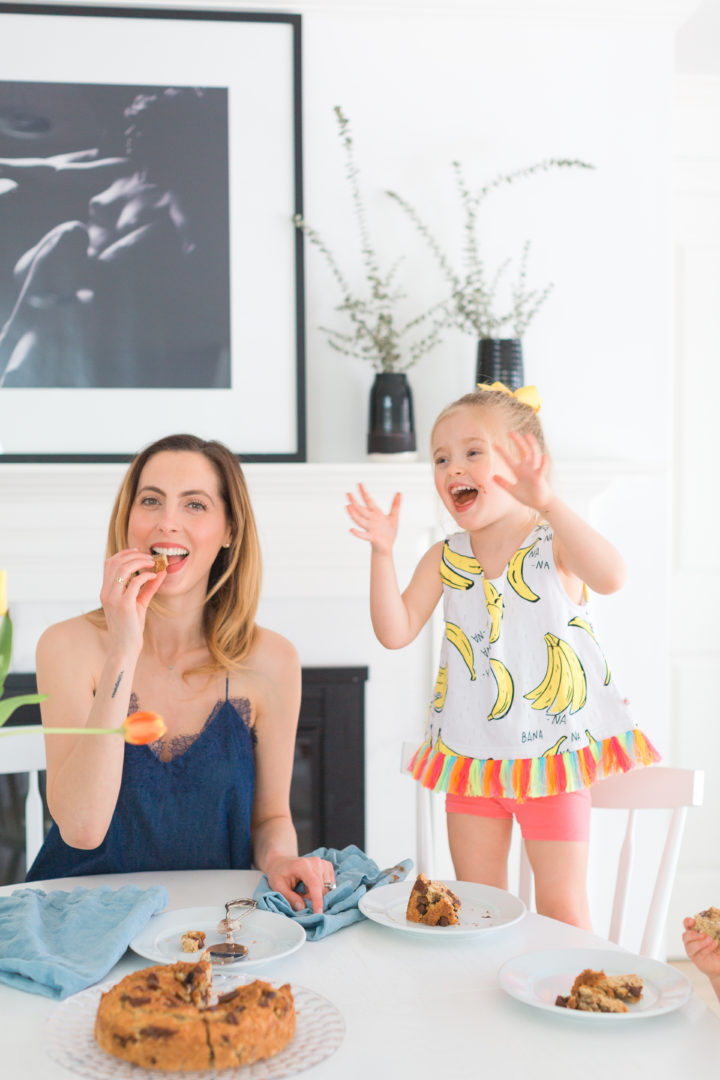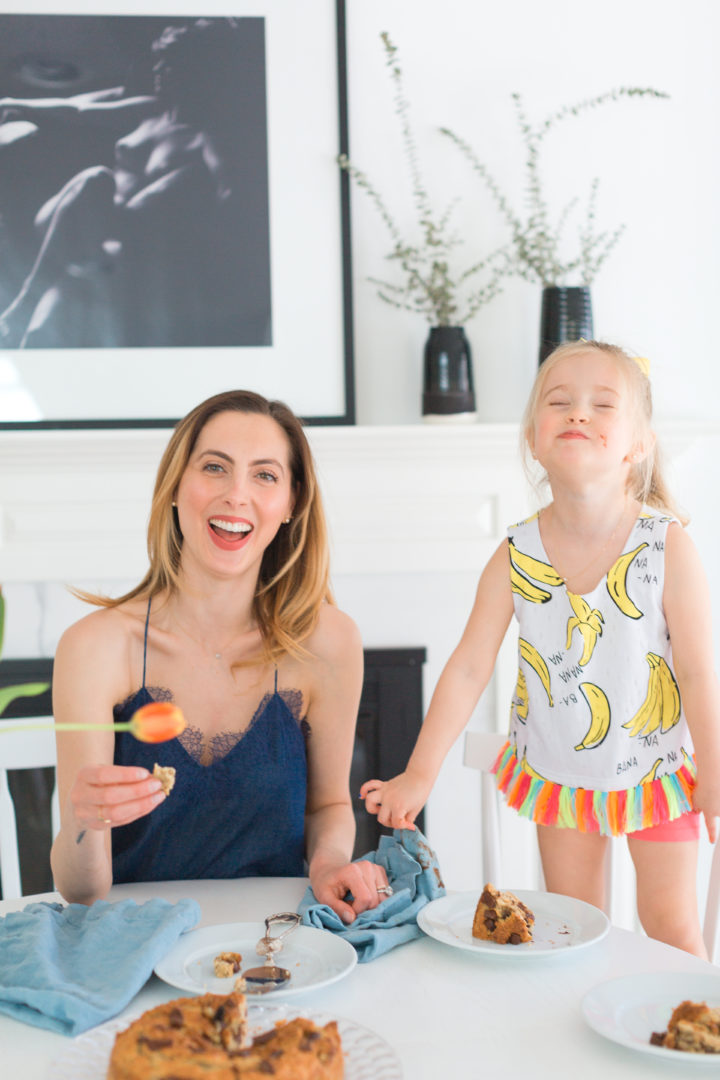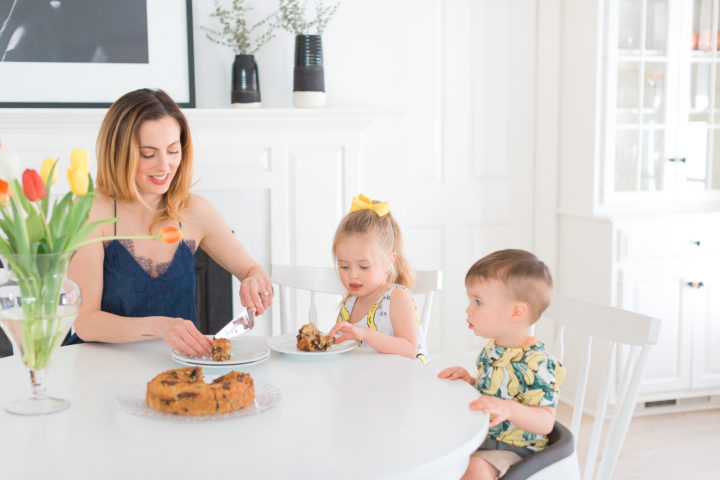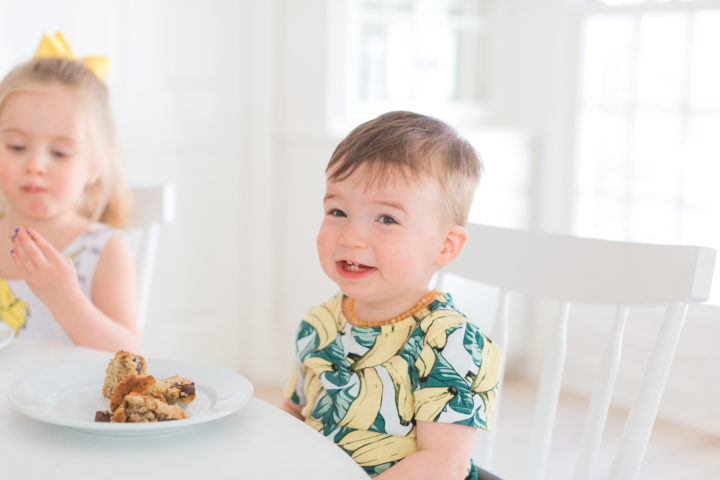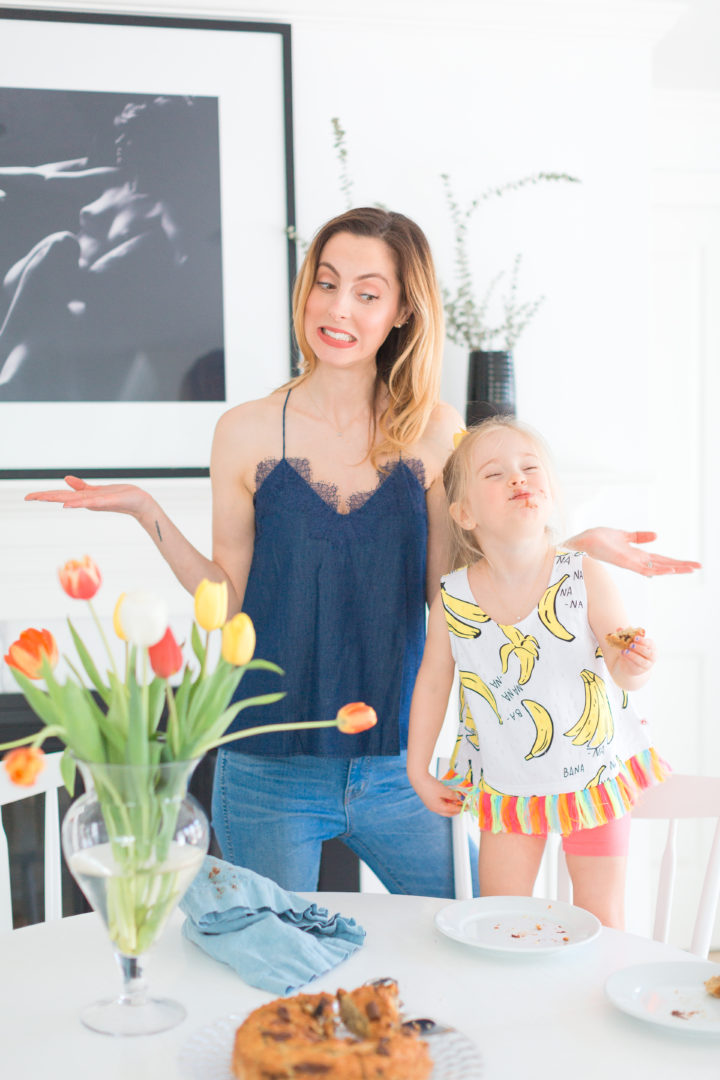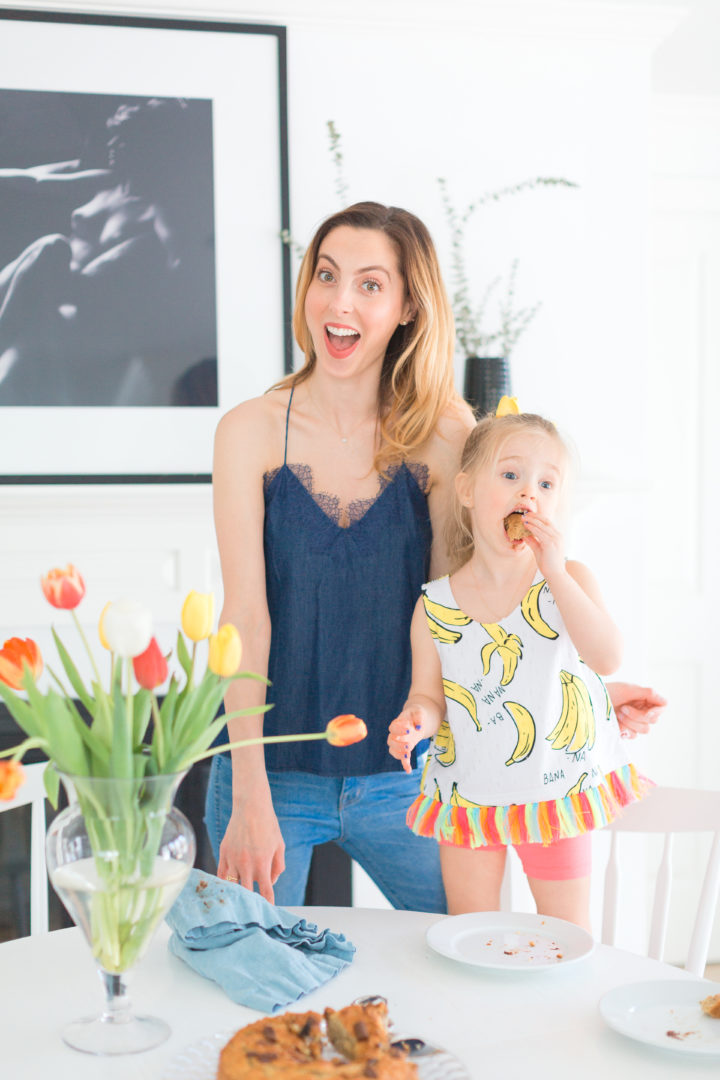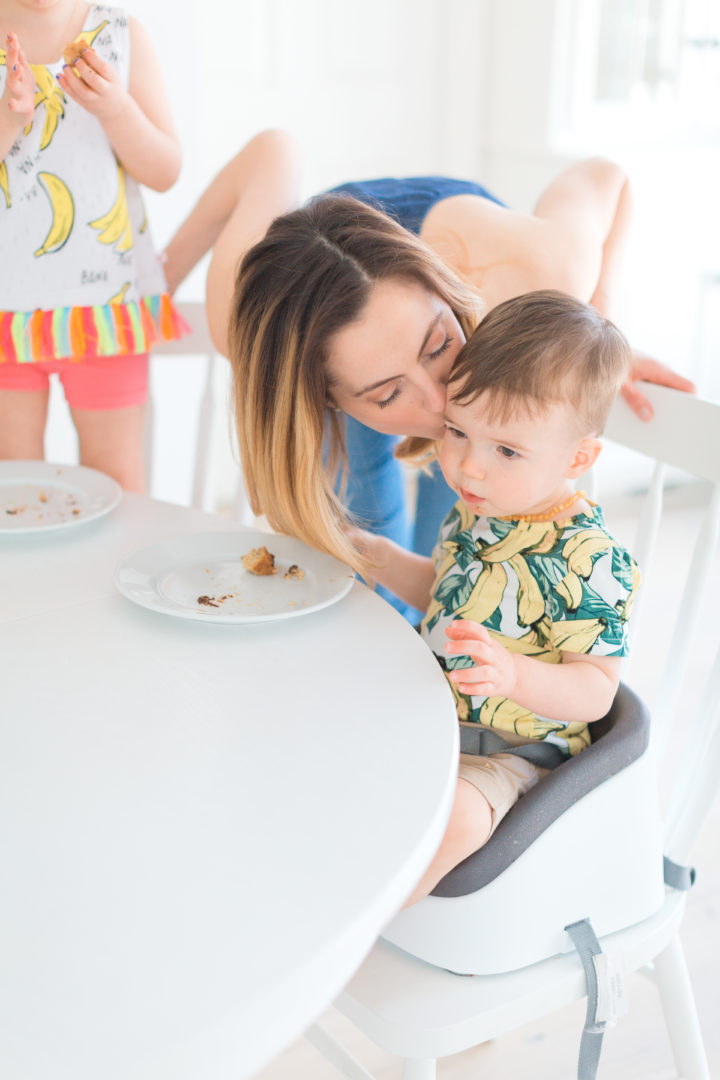 Shop The Post…

Photographs by Julia Dags.