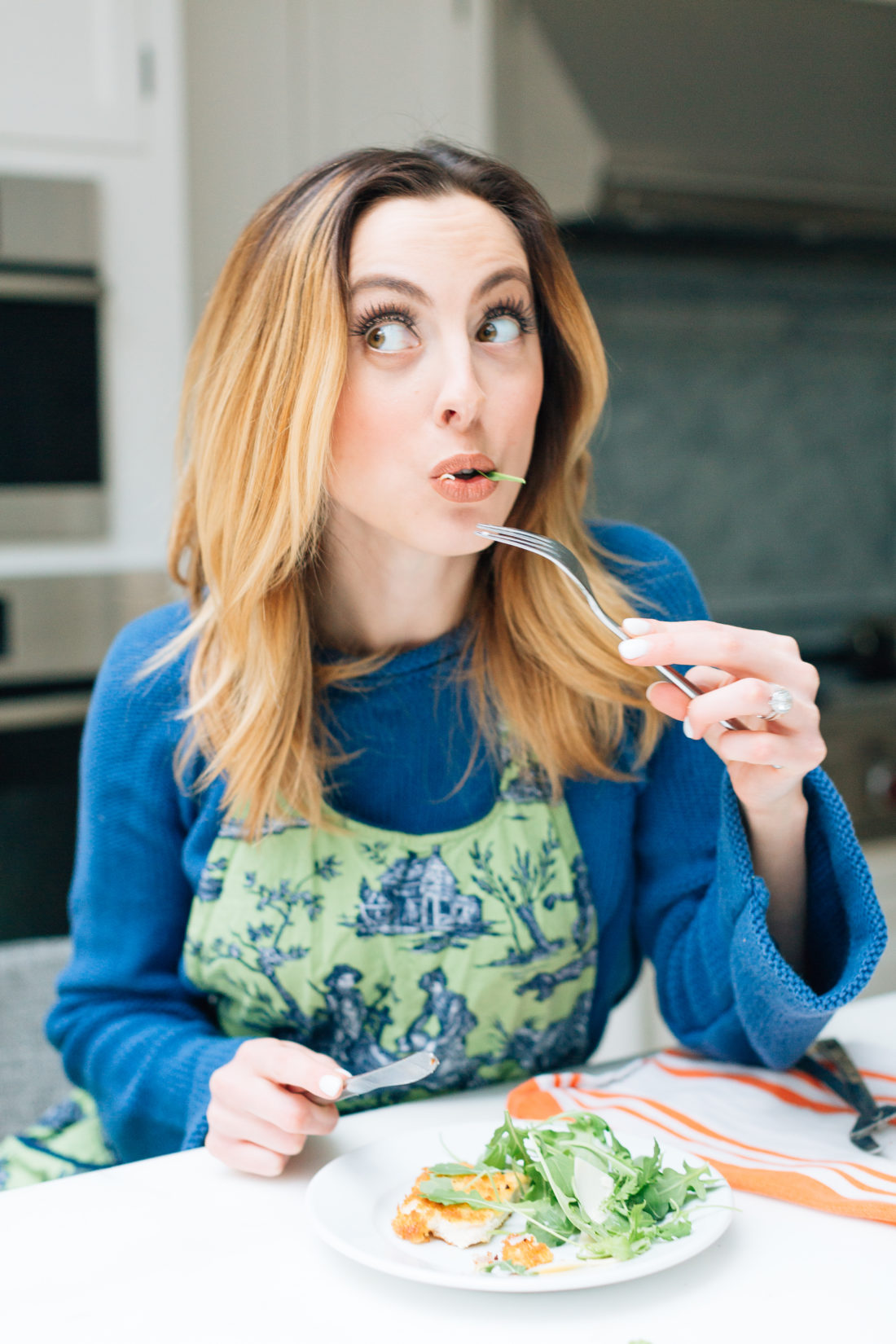 Chicken Milanese is a classic Italian comfort food dish– a tummy pleaser that is also super simple to make and totally kid-approved.  This is a recipe I learned how to make in Italy from my Italian roommate (I did University there for a bit) and when this dish is dressed up with some tangy arugula and some shaved Parmigiano Reggiano sprinkled on top, it is so pretty looking that it's even dinner party worthy!  I like to serve this as a main course for family dinner, or as a second course to pasta when we have people over.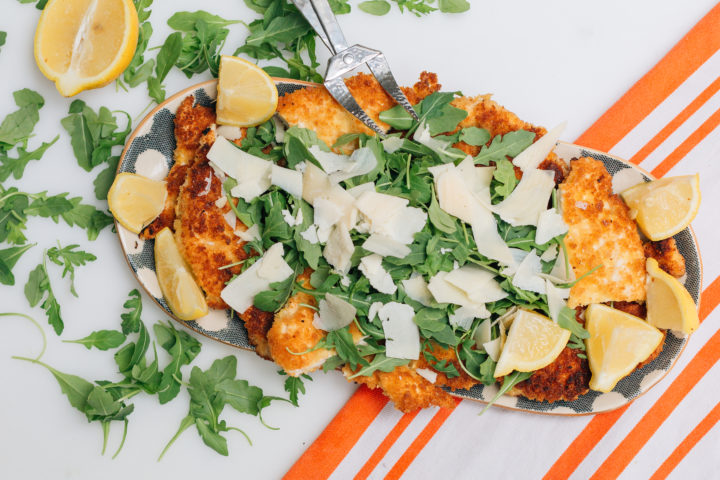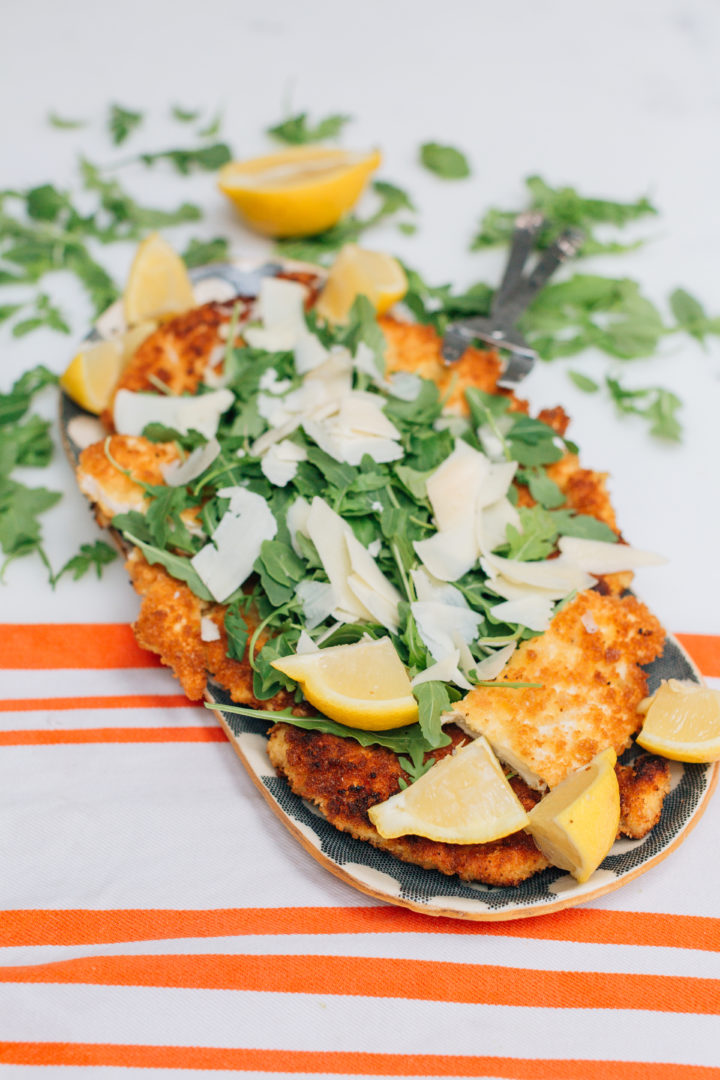 Funny story: I once had a boyfriend with an extremely difficult Mother– I hosted the boyfriend's birthday party at my house, and invited his family (Saint Amurri, let me tell ya. LOL) and I made this dish to serve family style.  Well I don't know if it was the Chicken Milanese or the Fudgie The Whale ice cream cake I picked up for dessert, but this woman was all of a sudden VERY nice to me for the remainder of my relationship with her son (which was not much to write home about).  Call it a Milanese Miracle! Ha! I can't say that this recipe is DEFINITELY a mother-in-law relationship saver, but give it a whirl and see! The below recipe serves 4
Ingredients…
4 Boneless skinless Chicken Breasts, pounded to 1/4 inch thickness (if you have a nice butcher they can do the pounding for you, otherwise, I put the breasts between doubled up sheets of wax paper and use a mallet to pound them down.

1 cup all-purpose flour

2-3 cups Panko breadcrumbs

1/4 cup finely grated Parmigiano Reggiano cheese

1/2 cup shaved Parmigiano Reggiano cheese

2 Eggs

3 Tablespoons Vegetable Oil

1 Tablespoon Kosher Salt, 1/2 tablespoon ground black pepper

4 cups Arugula, tightly packed

1 lemon, quartered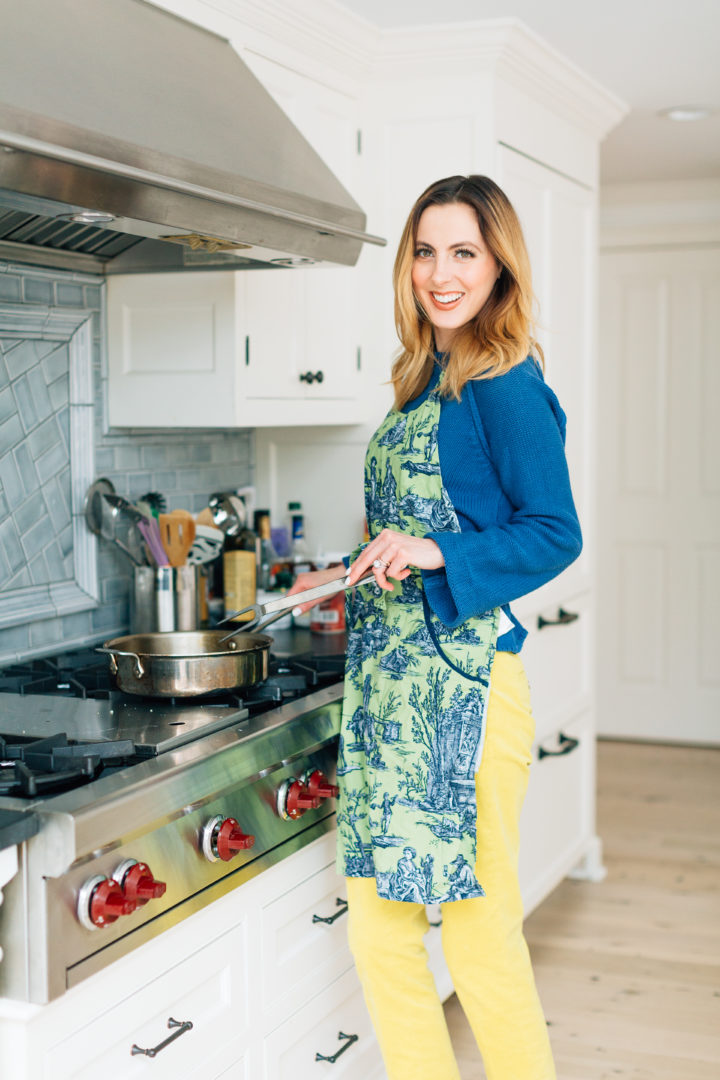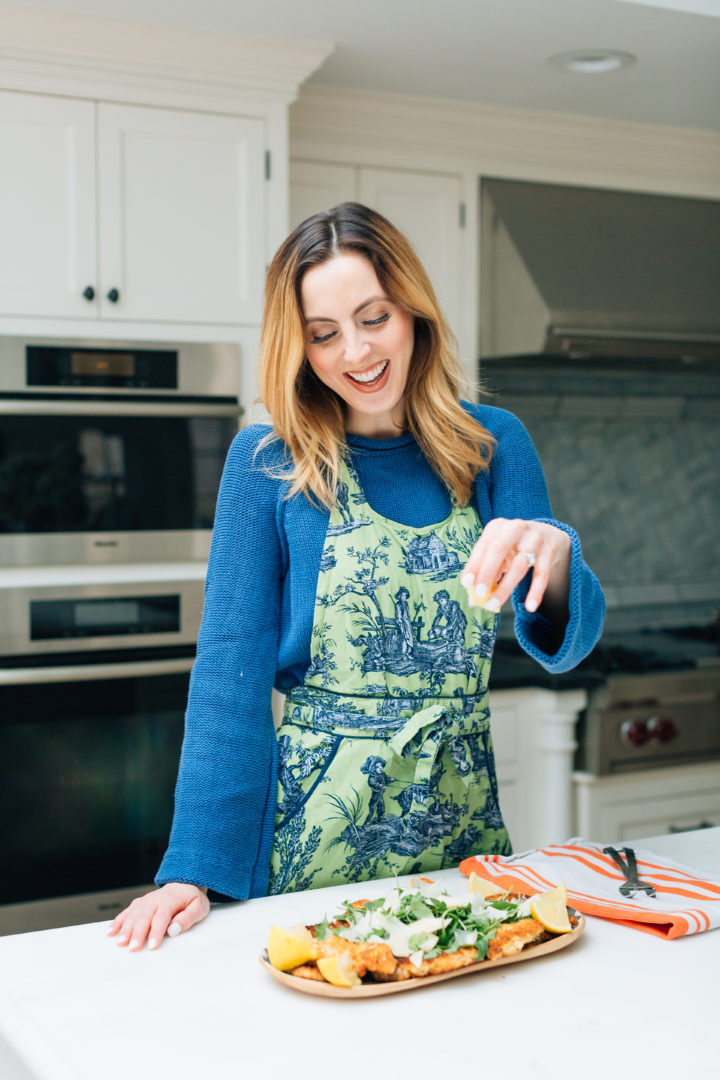 Begin by setting up your dipping stations.  Beat the 2 eggs in a wide, shallow bowl and set aside for your egg dip.  Put the all-purpose flour on a large plate, mix with the salt and pepper, and set aside.  Put the panko breadcrumbs on another large plate, mix with the finely grated Parmigiano, and set aside.  Take one more empty large plate and set aside.  Take a chicken breast, coat in the flour mixture, and shake off excess, dip in the egg mixture, and allow excess to drip off, then coat in the panko mixture.  Set the prepared chicken on the clean plate.  Repeat with the other 3 chicken breasts.  Heat the vegetable oil in a large pan (preferably with raised sides) on medium high heat until hot.  Put chicken breasts in the pan making sure not to crowd them– they should not be touching.  You may need to work in batches.  Fry on one side until browned and crispy, but not burnt, approximately 4 minutes.  Flip over once, and cook until browned and crispy.  Transfer to a clean plate with 3 pieces of paper towel on it to absorb oil.  Repeat with all chicken breasts until cooked through.  Dress with arugula and and shaved Parmigiano Reggiano, and squeeze liberally with lemon slices.  Enjoy immediately!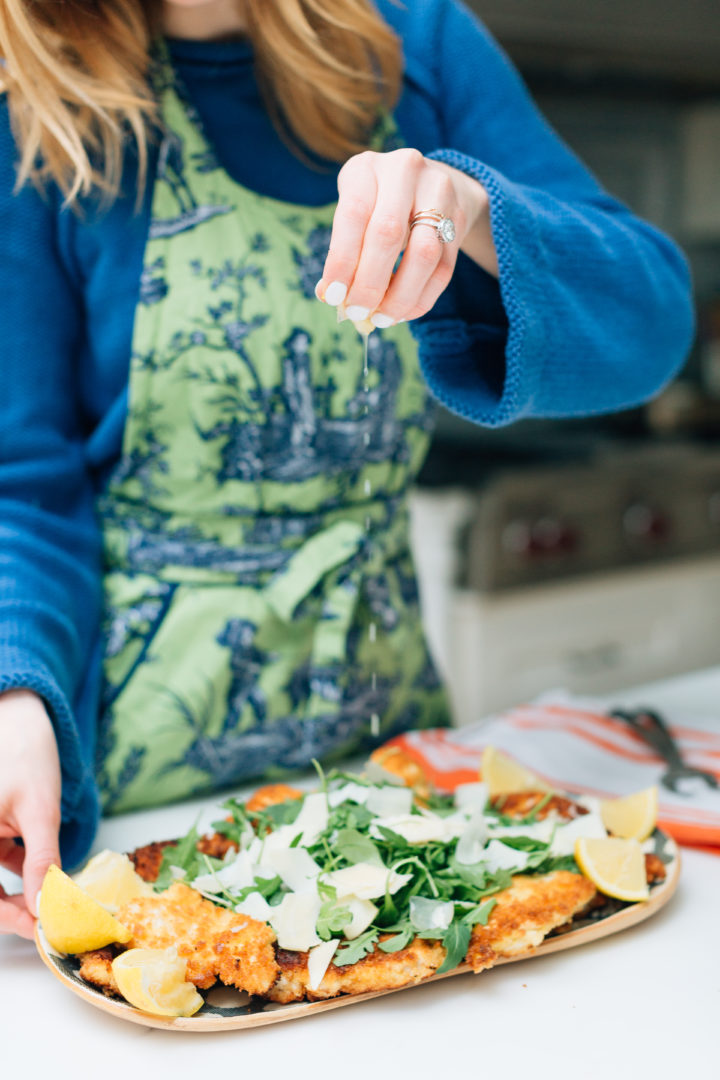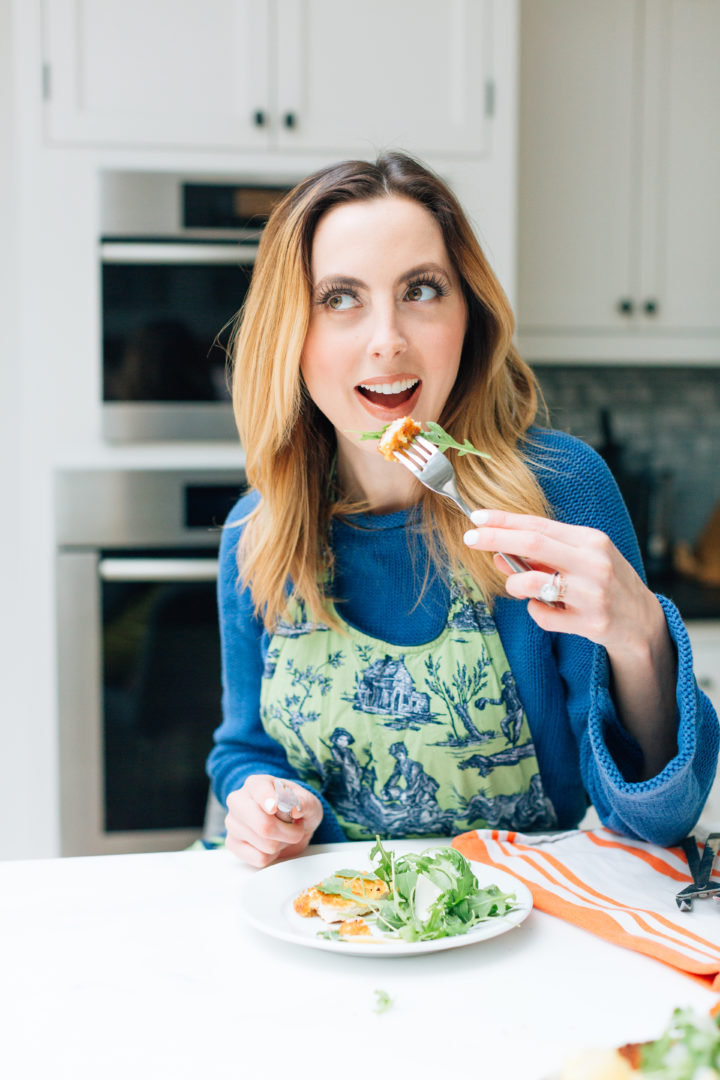 Shop The Look…

Photographs by Julia Dags