The following content may contain affiliate links. When you click and shop the links, we receive a commission.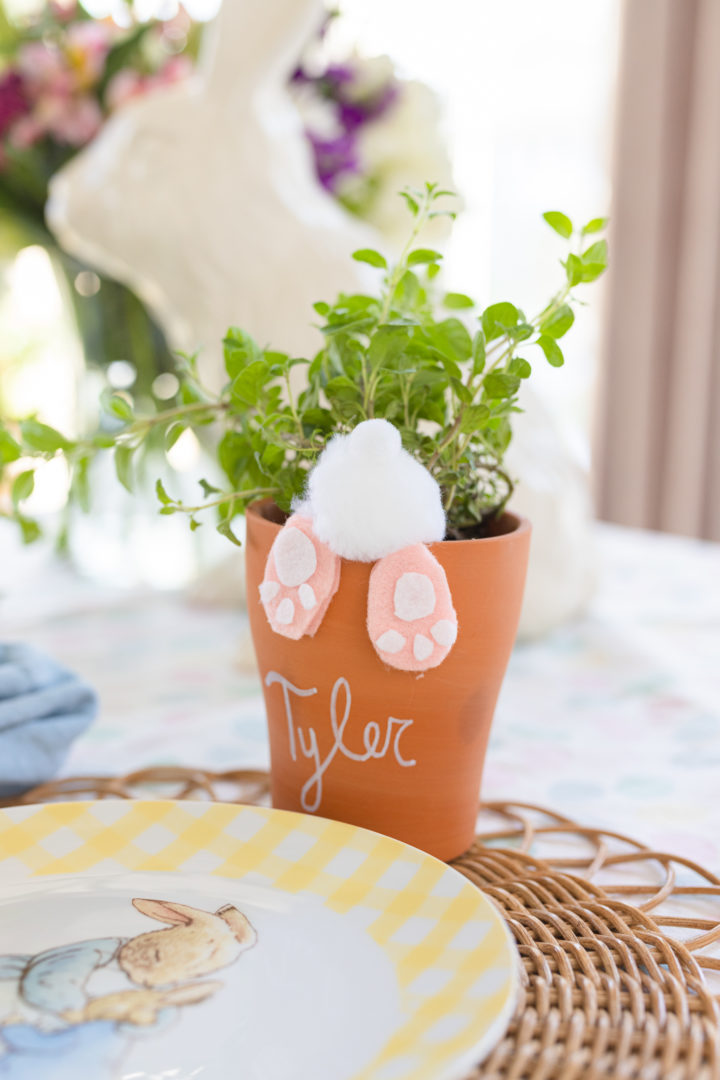 I've shared it before, but Easter is a big holiday in my household ever since I was a kid. Thanksgiving and Easter are my Mom's favorite holidays, and so we would always gather with family and have a lot going on to celebrate. Easter in particular would always involve a big meal, and our Easter baskets were such a high point for us. We'd look forward to them all winter long! I still love celebrating Easter, and it's really special for me when I have the opportunity to host a formal dinner or lunch to mark the occasion. It feels so full circle for me, as I continue traditions I enjoyed as a child.
This year, I'm going to have a little kids' brunch for a few friends, and decided to go with a curious bunny theme. I have these adorable plates from a few years ago, and decided to make sweet place cards that doubled as a favor. I love how these potted herbs can go home with each child, and continue to bring Spring cheer to their families! A little crafty DIY adds just the right amount of cuteness to each pot, and continues the bunny theme.
Check out the video below that shows the process in detail…
I absolutely love how these Curious Bunny Place Cards turned out, and I can't wait to celebrate with them in just a couple short weeks. These could be a super cute baby shower place setting as well! Nothing like a little fluffy bunny booty popping out of a flower pot. LOL.
I also wanted to note that you can play around with the colors of your bunny! A brown or black bunny would be super cute for this craft as well, or maybe even a mix of the three colors!
Step 1
Plant your Herbs
Start by placing your potted herb in a planter with a name written on it.
Step 2
Create Bunny Feet
Hot glue the bunny feet (made of felt) onto the edge of the pot.
Step 3
Create Bunny Booty
Glue a tiny White Pom Pom onto a large White Pom Pom to create the bunny booty.
Step 4
Add Bunny Booty
Glue bunny booty onto the rim of the pot above the feet.
Step 5
Complete
Your place card potted favor is complete!
Shop the look…

Photographs by Julia Dags | Happily Eva After, Inc. © 2021 All Rights Reserved