The following content may contain affiliate links. When you click and shop the links, we receive a commission.
This blog post was originally published on May 3rd, 2019.
If there's anyone who is going to TGIF with a margarita, IT'S GONNA BE MAY! Lol, ok whew, now that I've gotten that out of my system: margaritas are a crowd pleaser cocktail. They really are. And that's why when I entertain I find myself creating different spins on the marg to water my guests. I've been loving drinking green juices recently, and I sometimes love the idea of cocktails made with veggie juice. I mean, the Bloody Mary is the most famous among them! When we went to Flora Farms in Mexico, I swooned over the vegetable juice-based cocktails– and I totally channeled them when I whipped up this Cucumber Margarita with Chili Salt!
This cocktail is so yummy and perfect for Cinco De Mayo– you can make them in a big batch or one by one. If you don't like salt on the rim of your glass (I mean can we even be friends?) that's fine, but if you do– this chili salt is the bomb! I like having these margs with girlfriends at Happy hour with some chips and guacamole nearby…and my grilled tuna steaks for dinner! So delicious. This recipe makes 1 cocktail.
Ingredients…
Begin by prepping your glass. Take a lime wedge, and rub it around the rim of your cocktail glass. Mix your Maldon salt and pinch of chili powder on a salad plate, and place your glass upside down on top of the salt to create your chili salt rim. Next, cut up the half cucumber, and toss it in a blender or food processor with 1/2 cup of water. Blend until smooth. Strain through a mesh strainer or nut milk bag into a cocktail shaker. Add the tequila, juice of 1 lime, and simple syrup. Add ice. Shake well in the cocktail shaker. Fill your cup with ice, and strain your cocktail into the glass. Garnish with a slice of lime. Enjoy responsibly!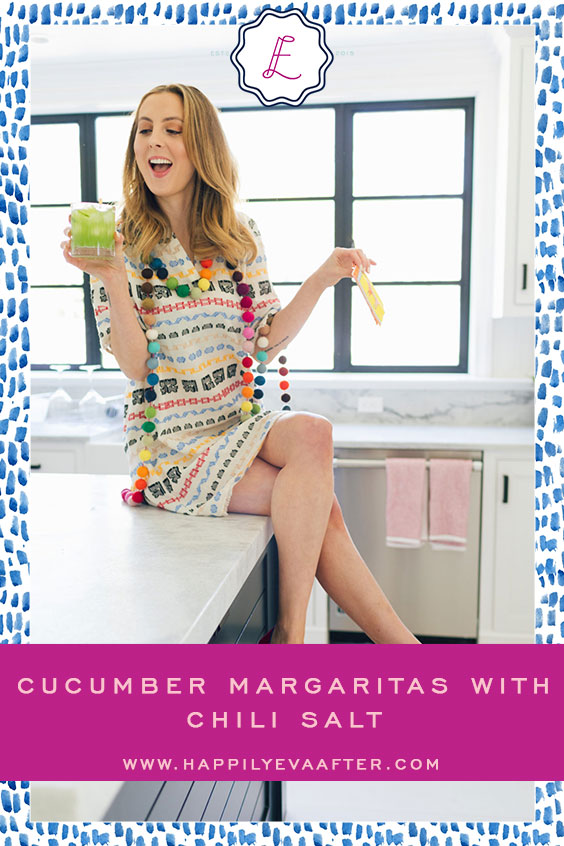 ---
Shop the look…

Photographs by Julia Dags | Copyright © 2022 Happily Eva After, Inc. All Rights Reserved.