The following content may contain affiliate links. When you click and shop the links, we receive a commission.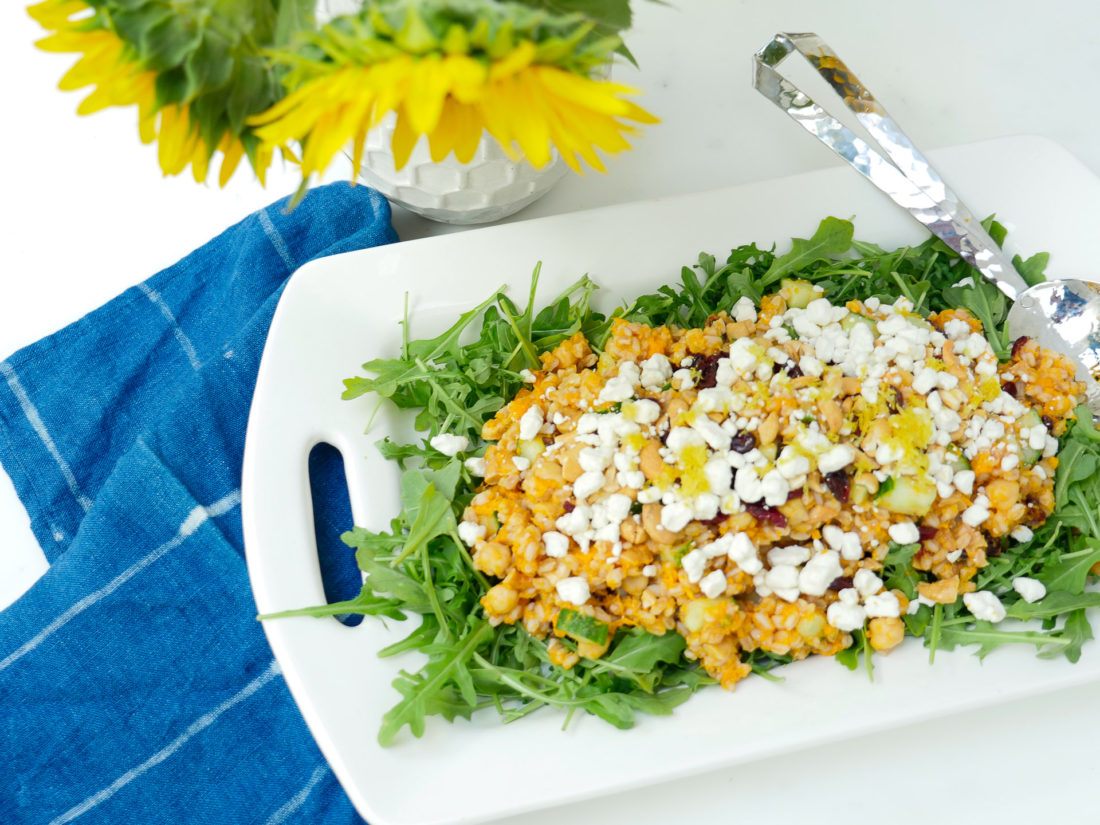 With Summer coming swiftly to a bittersweet close, I've been looking to Fall and all of its amazing flavors.  A few of you have been asking about some of my favorite healthy and/or vegetarian recipes that I like cooking for my family.  Today I wanted to share a super hearty, delicious, and very healthy Autumn-inspired Farro salad that my whole family loves! Farro is an amazing grain to use because it's packed with tons of protein– and fiber! This dish is Vegetarian, and definitely provides enough protein for a substantial meal– but you can always add a little grilled chicken or salmon on top for an added protein boost!  This meal is also about as healthy as it gets.
Healthy, Time-Saving Tip:
Make a bunch of this to eat over a few days– it's excellent as a work-desk lunch as well! Just fill a mason jar 1/3 of the way with arugula and fill the rest of the way with this Farro Salad.  Screw the lid on, and store at work in the fridge or in a cooler bag.  Top with an extra squeeze of lemon before eating!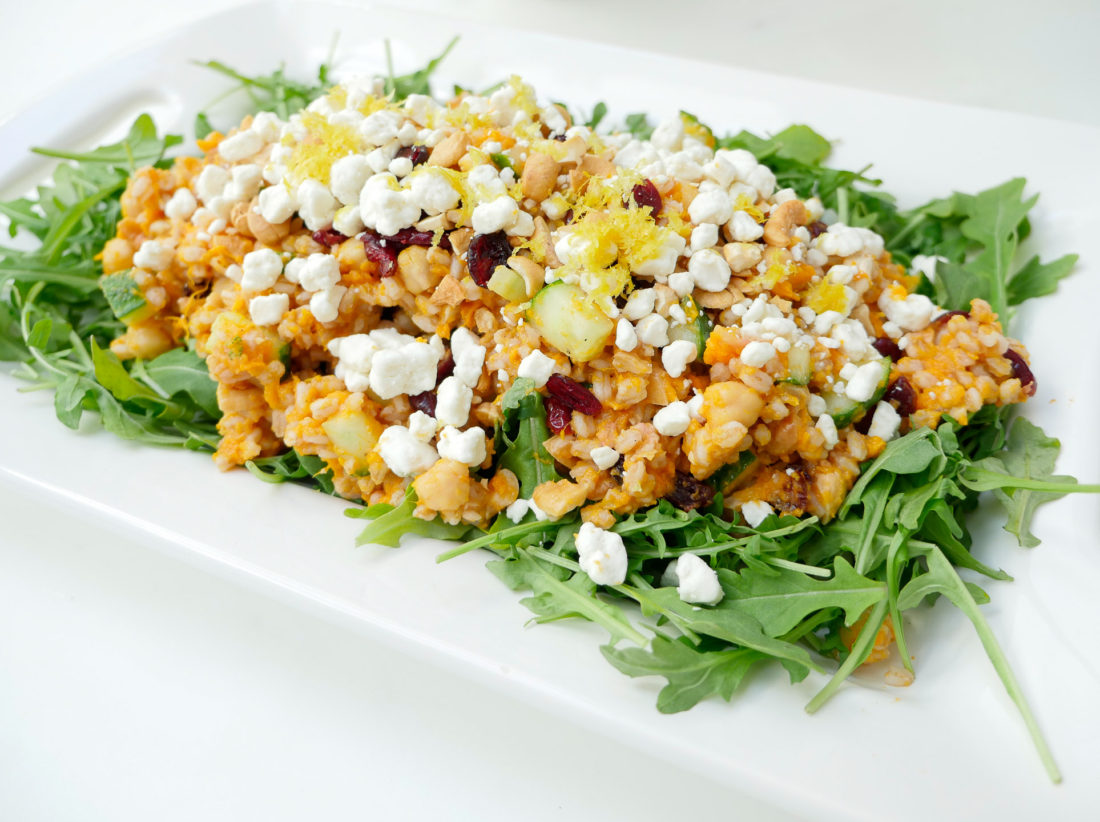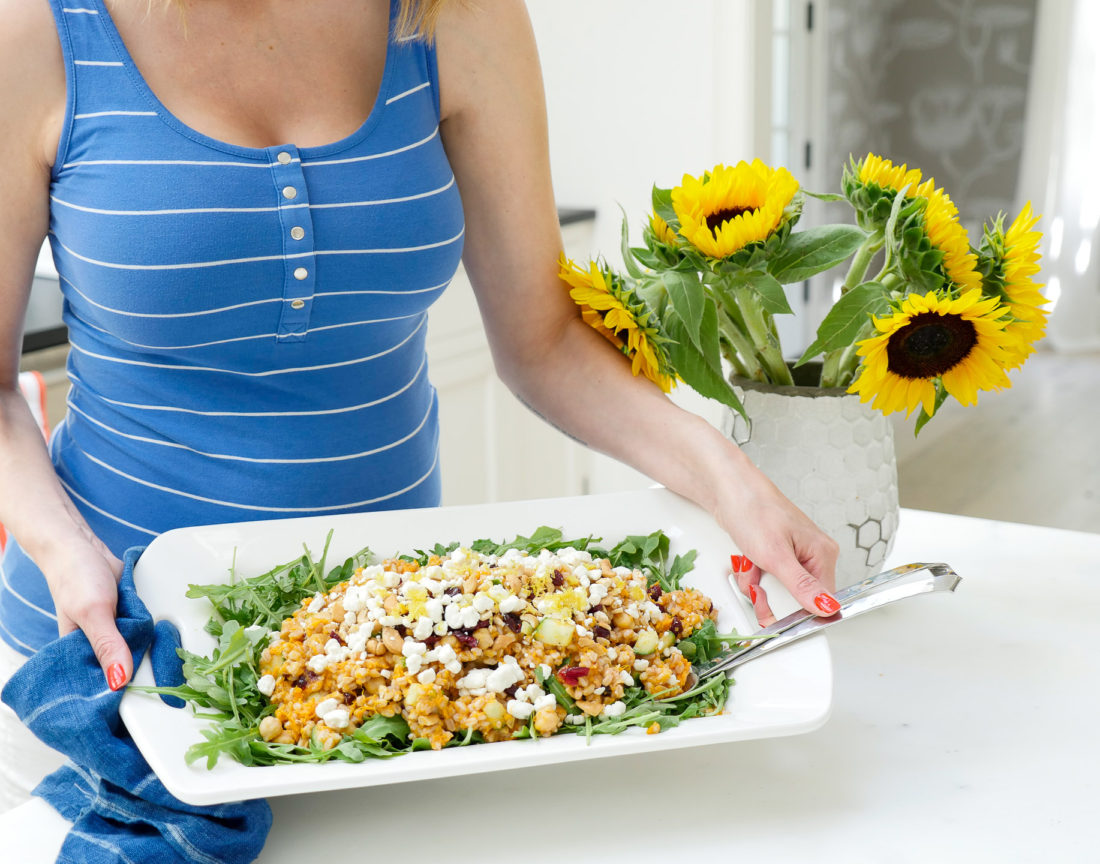 Ingredients…
1 Cup Farro
1/2 large Cucumber, chopped
1 cup Chickpeas
1/2 cup Dried Cranberries
1/2 cup roasted salted cashews, diced
1/2 cup Goat Cheese Crumbles
1 Medium sweet potato, roasted until very soft
Zest of 1 Lemon
Juice of 1 Lemon (use the lemon you just zested)
1/4 cup Extra Virgin Olive Oil
3 Tablespoons Red Wine Vinegar
Sea Salt & Pepper to taste
4-6 cups Arugula (optional)
Begin by cooking Farro according to package directions.  Meanwhile, combine the rest of the salad.  In a large mixing bowl, add the cucumber, chickpeas, cranberries, cashews, and goat cheese, and mix well.  When ready, add the Farro.  For the dressing, combine the inside of your roasted sweet potato, the lemon zest and juice, Extra Virgin Olive oil, and Red Wine Vinegar.  Whisk briskly until creamy and combined well.  Toss the salad with your lemony sweet potato dressing.  Add salt and pepper to taste, and serve on top of a bed of arugula.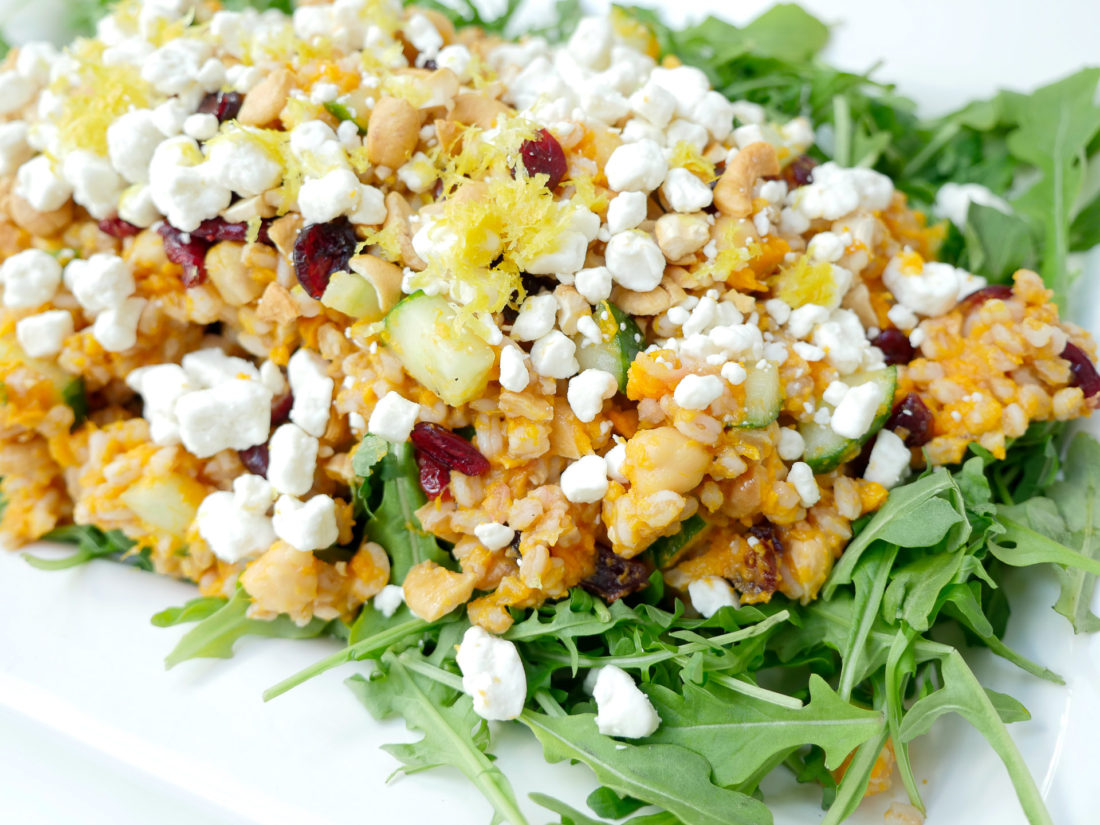 Save