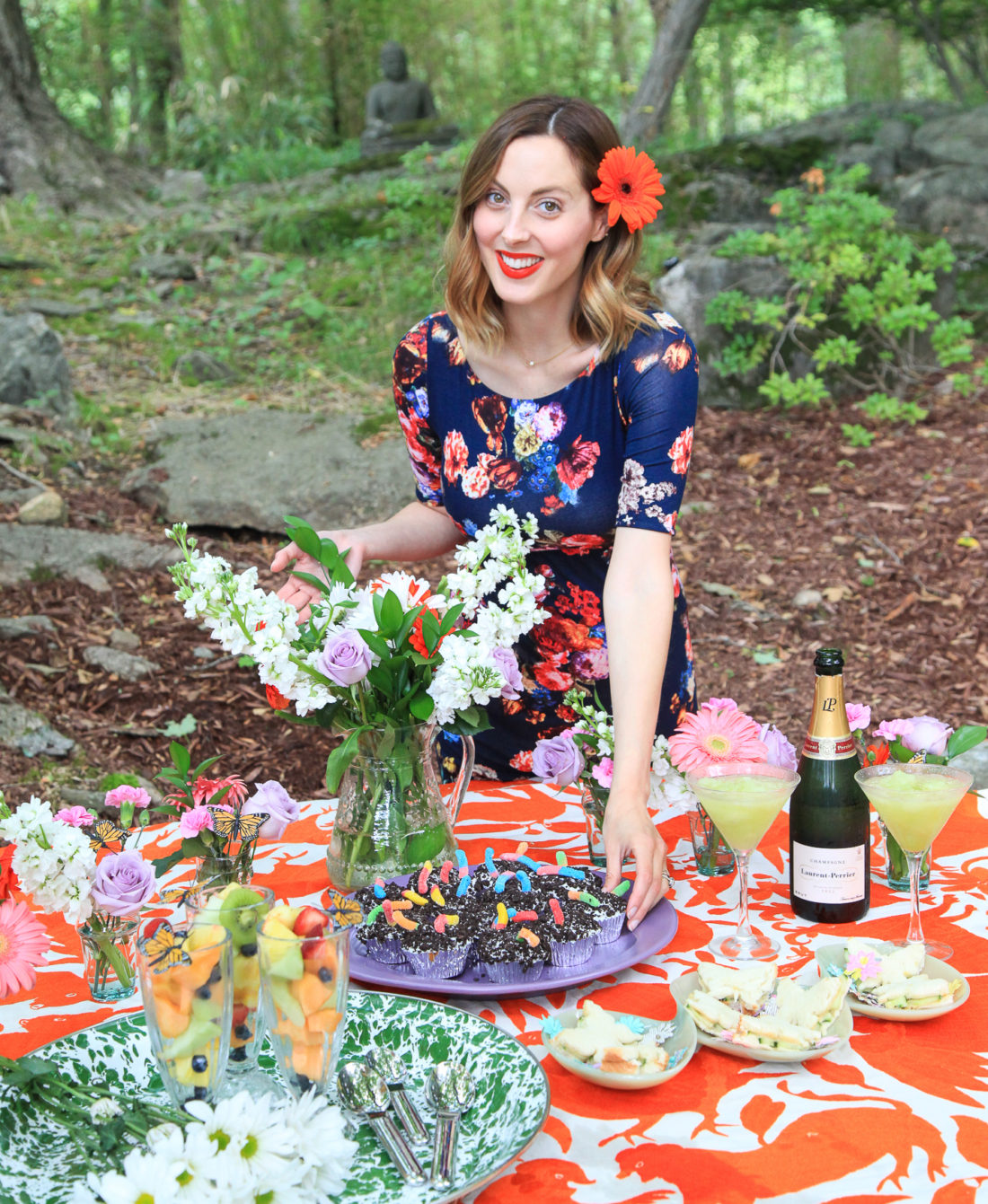 I absolutely love having parties, especially parties that are meant for kids to enjoy! I find that it's much more fun to let your imagination run wild and to dream up something that will leave the Littles in your life totally spellbound.  Today I'm sharing my idea for a colorful and whimsical Garden Party especially geared towards Kids! It's the perfect party idea for these warm Summer months. And don't worry, Mama, there's an excellent seasonal cocktail recipe in there too…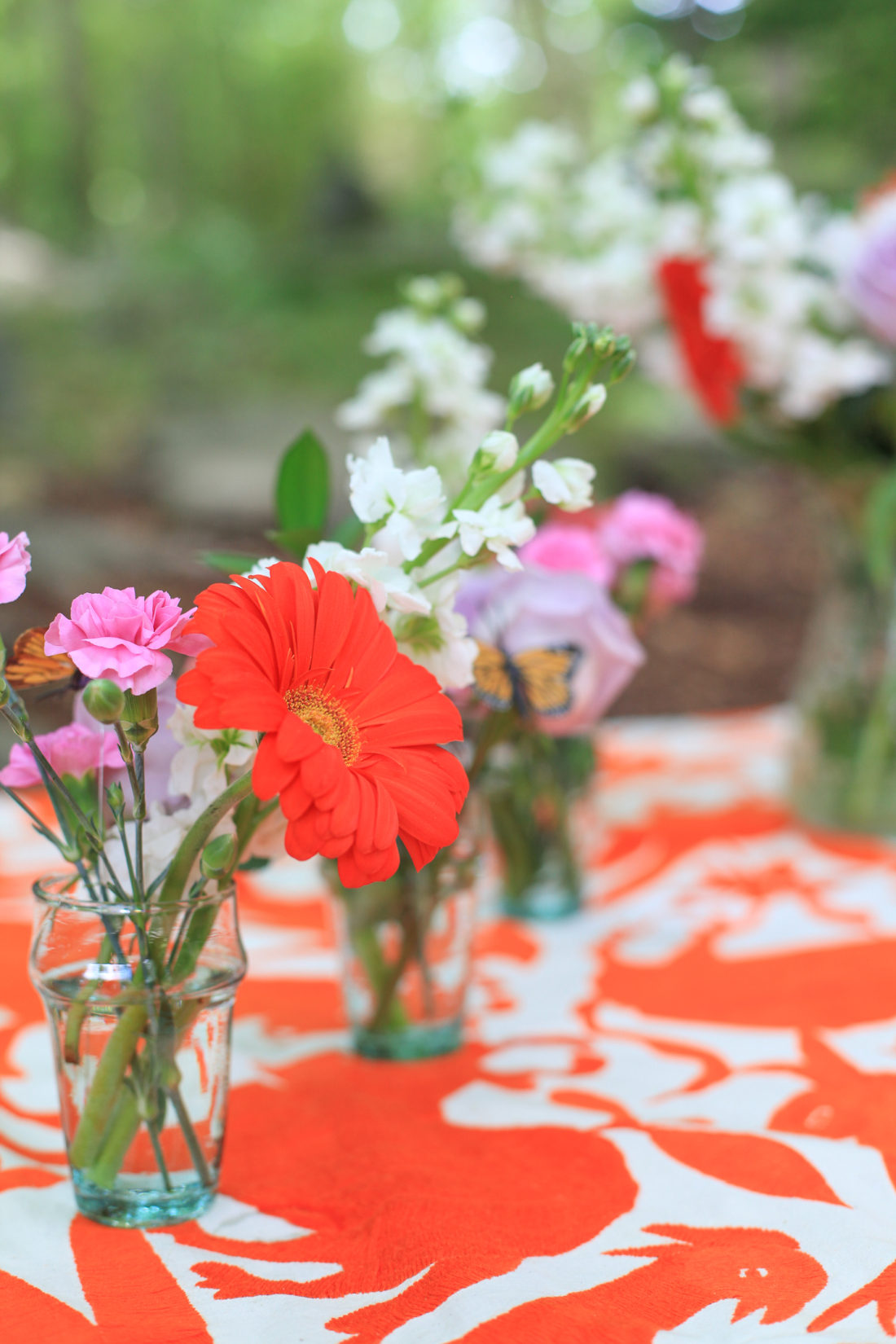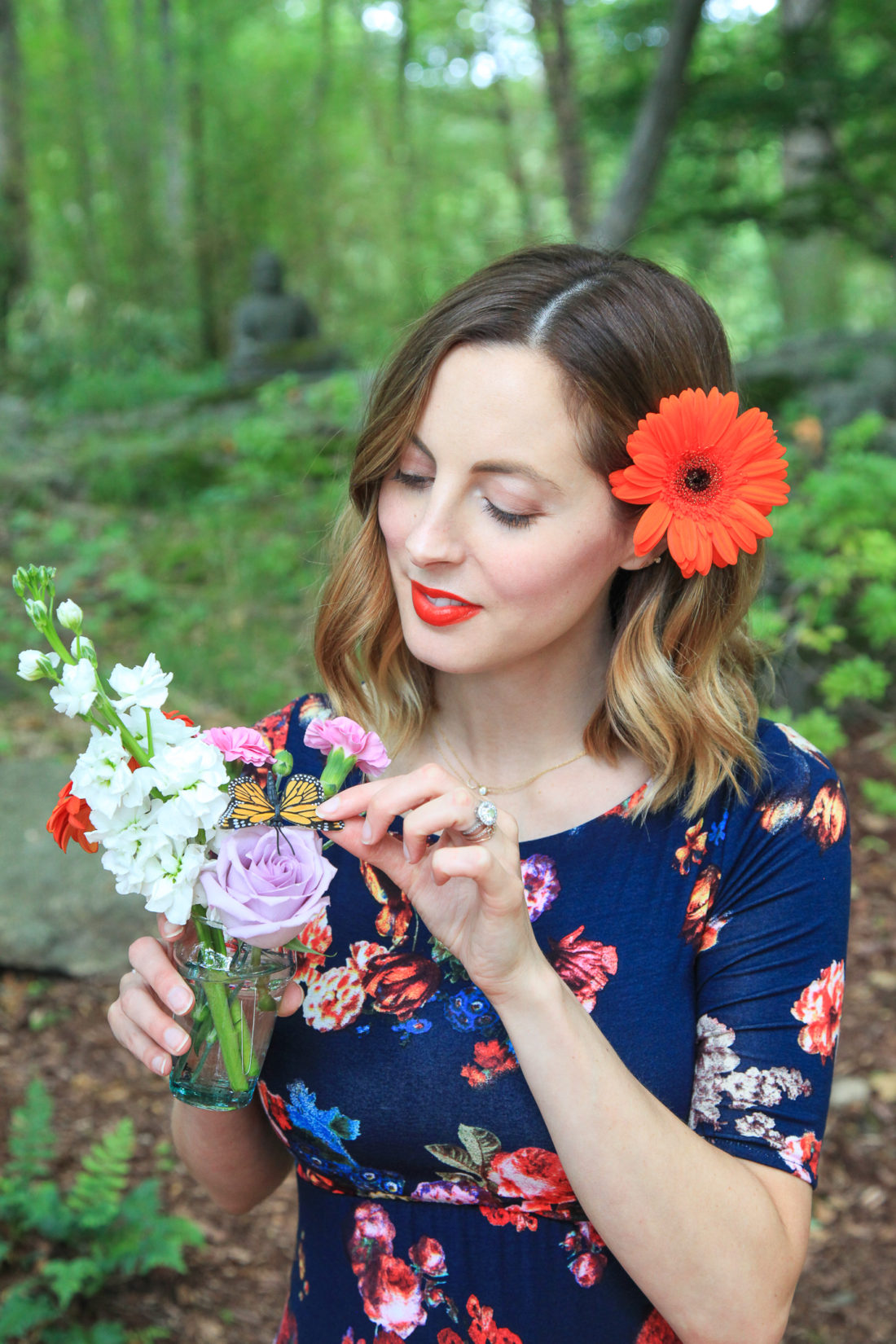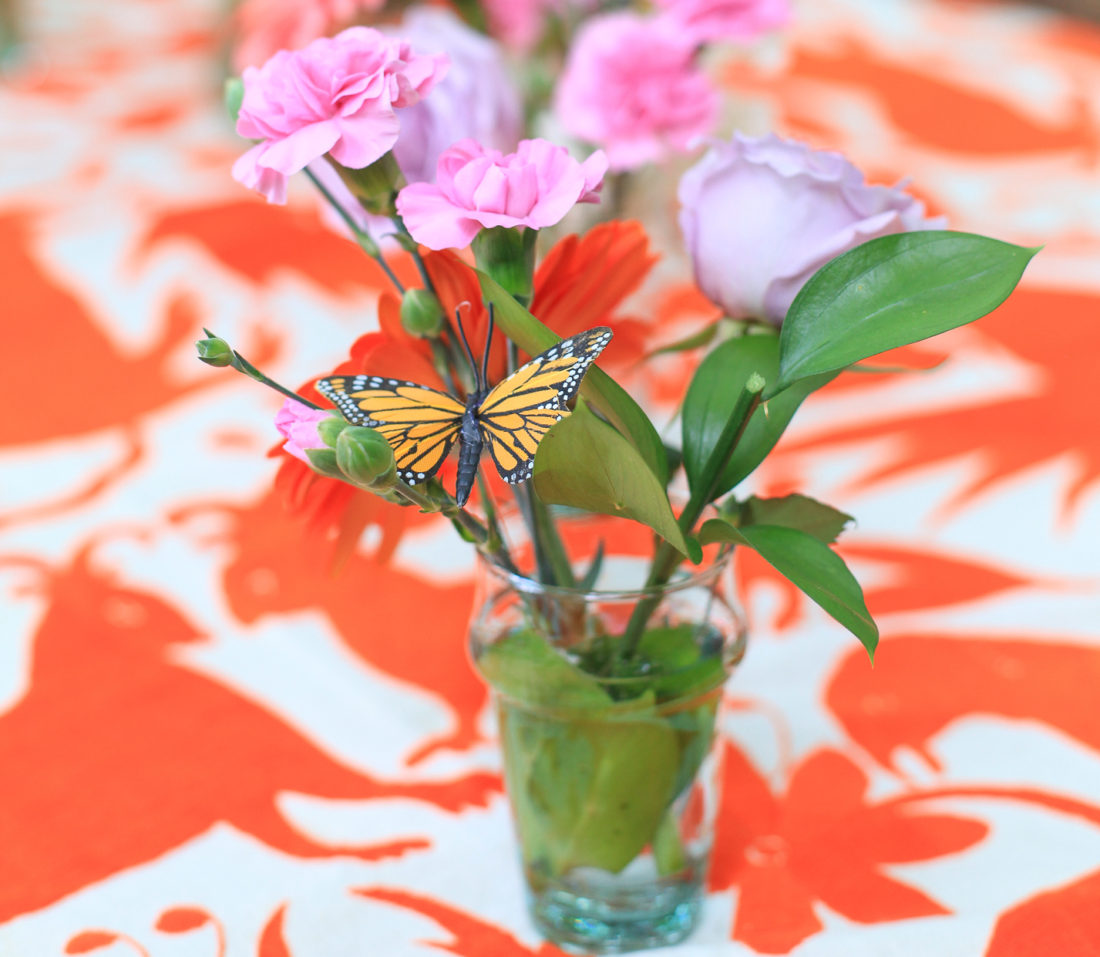 Set the scene…
Just a few colorful blooms in small glasses evoke the mood of a vibrant garden when grouped together.  Choose bright colors like Purple, magenta, orange, and green.  Add some feather butterflies from the craft store to each arrangement to make it extra magical!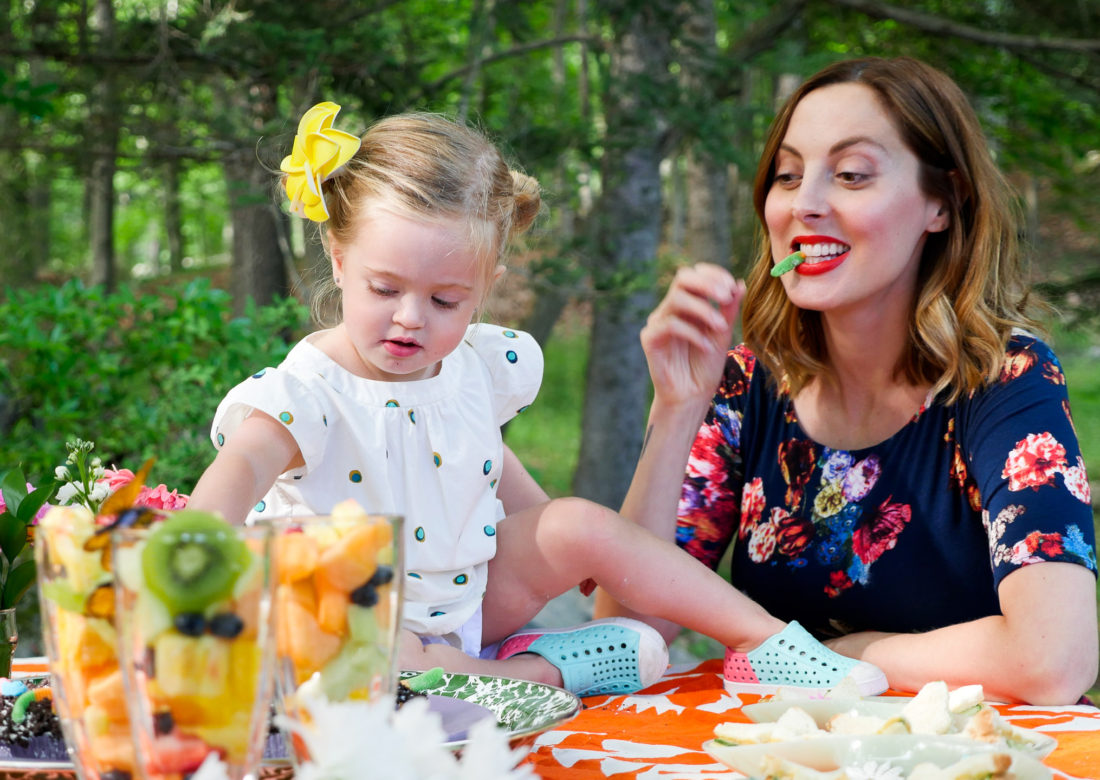 Prep some festive food…
Themed little bites are so perfect at a Kids' party! For this one, I loved the idea of a light "Tea style" spread to evoke the charm of an English country garden.  I made butterfly-adorned Fruit Cocktail Cups, Cucumber & Hummus Tea Sandwiches, and candy worm-infested Cookies and Cream "Dirt Cakes" for dessert! Marlowe especially loved the Dirt Cakes, and I can't say I blame her– those little sour gummy worms have been a favorite of mine since I was her age!
Hostess Tips:
Use a cookie cutter with a garden-inspired shape (I chose this butterfly) to make your tea sandwiches extra special.
Pour 2 Tablespoons each of Fresh orange and peach juice over your Fruit Cocktail cups for an yummy flavor boost!
After baking and icing your cupcakes (I like vanilla cake with vanilla frosting), dip the top in to a shallow bowl of crushed oreos.  Then make a couple of half inch deep holes in the top of each cupcake with the eraser end of a pencil.  Push your gummy worms in to these holes so they stay put in their dirt cakes!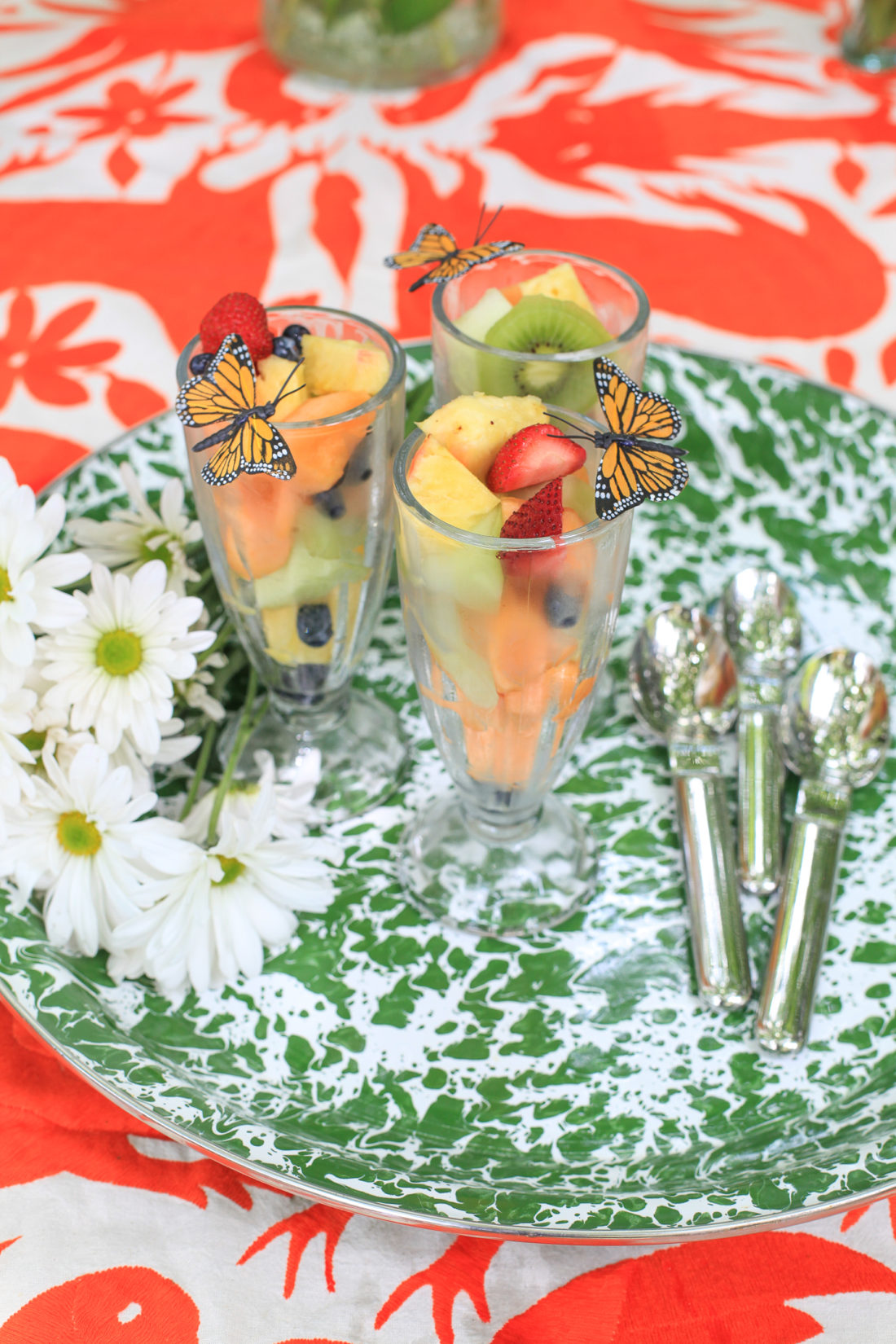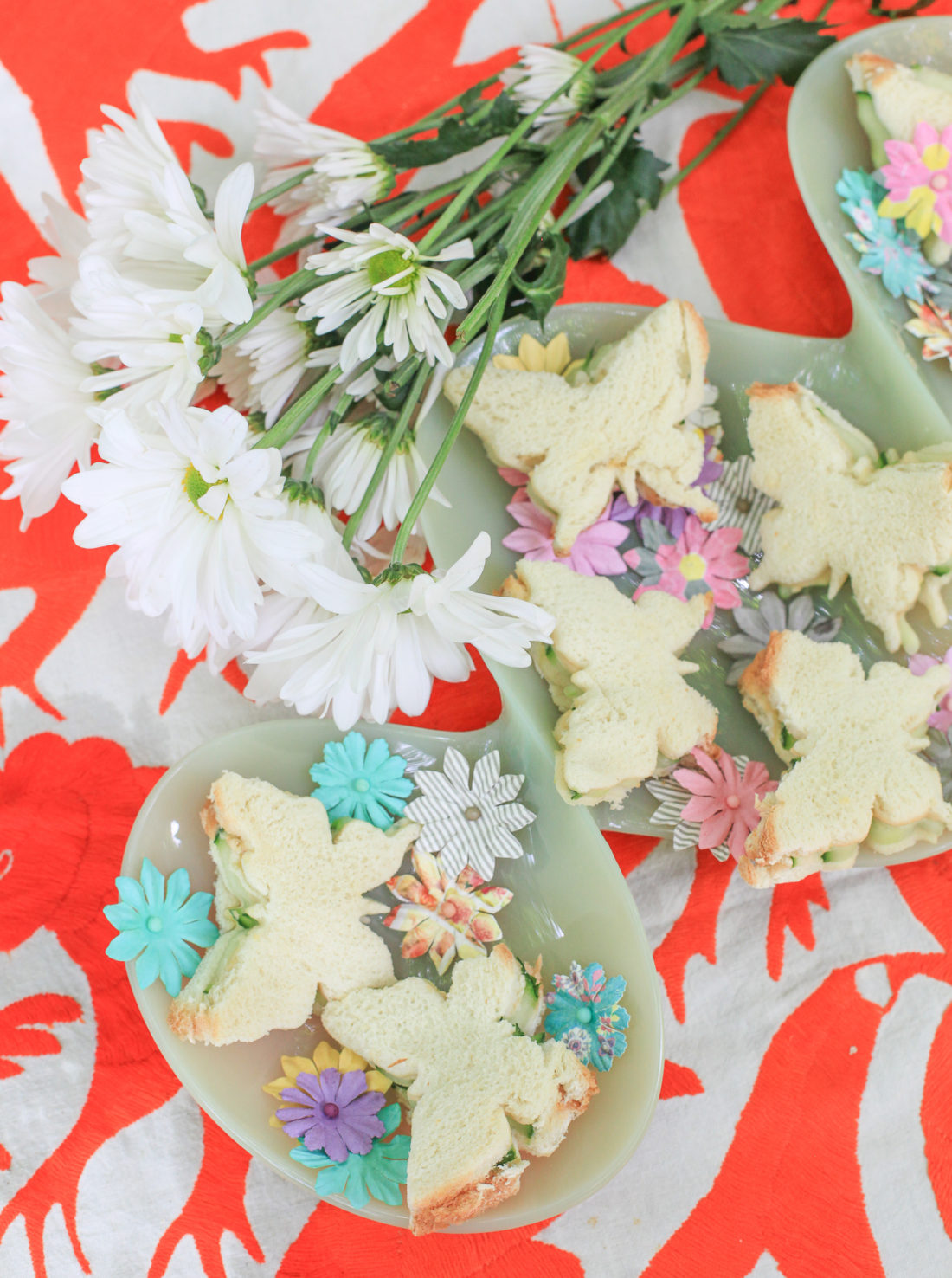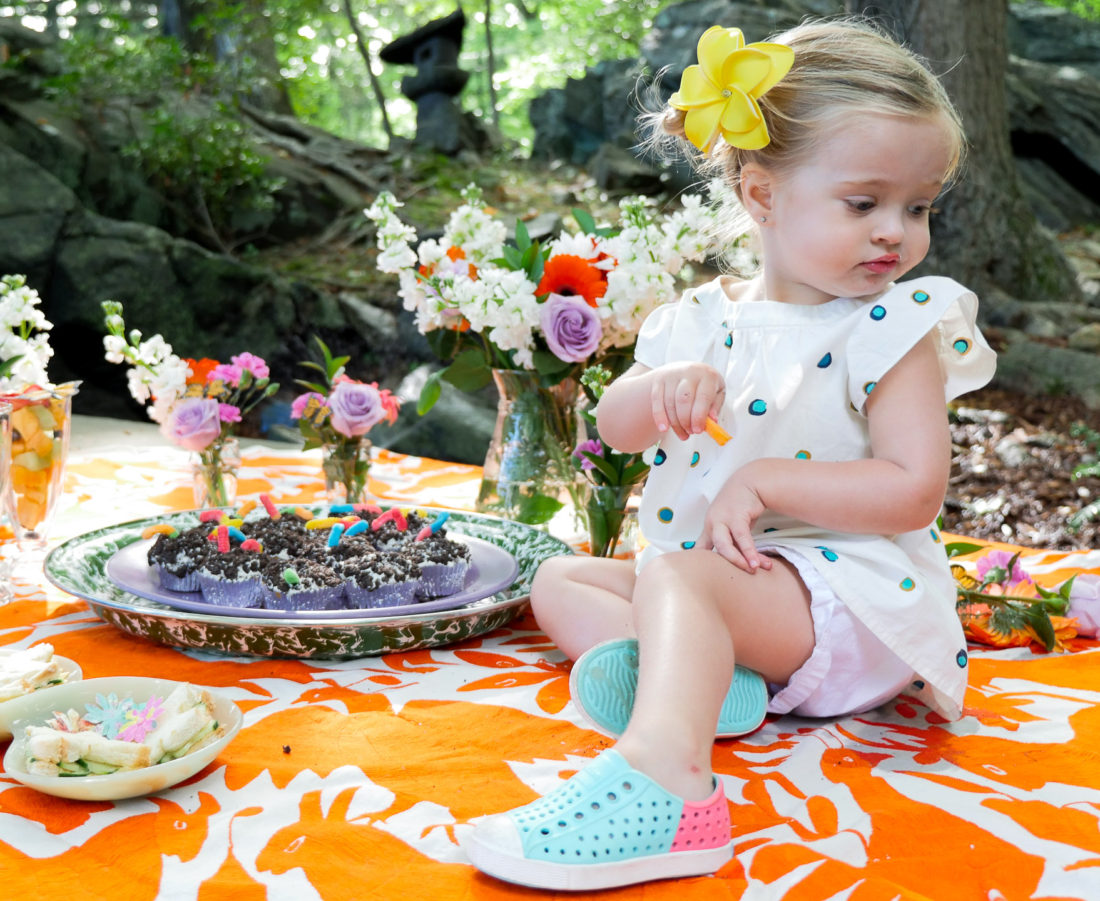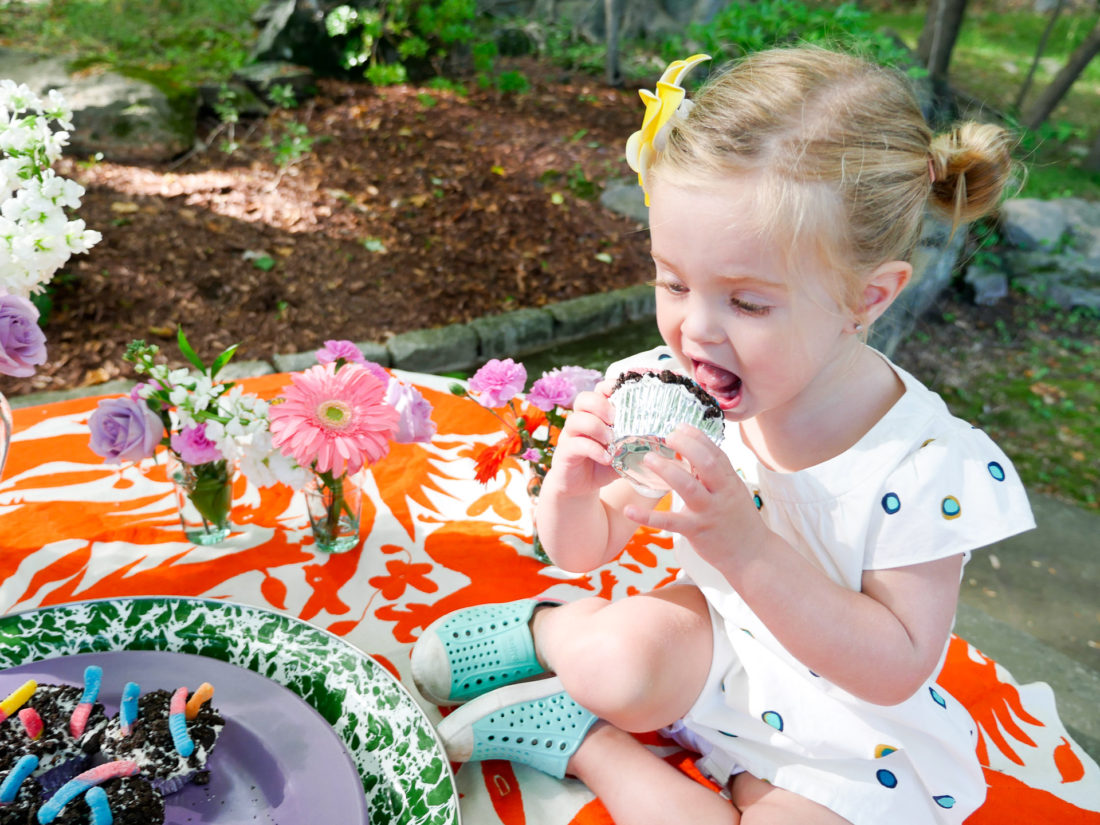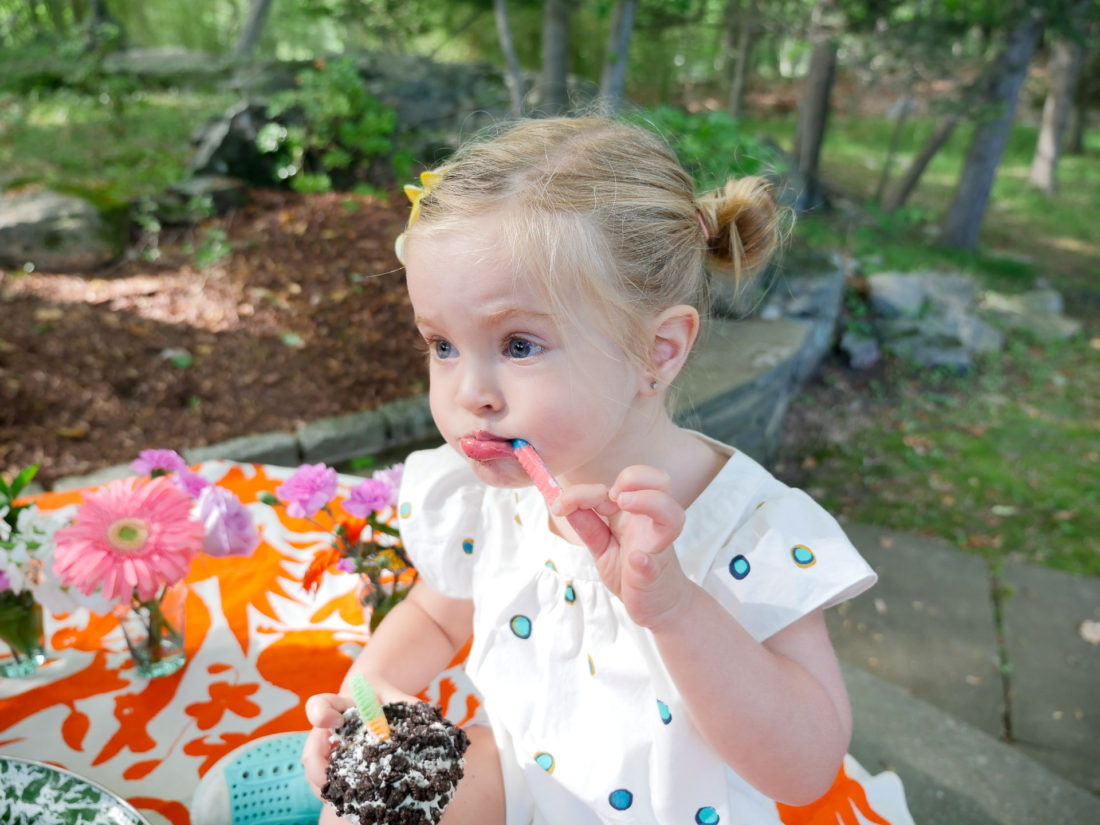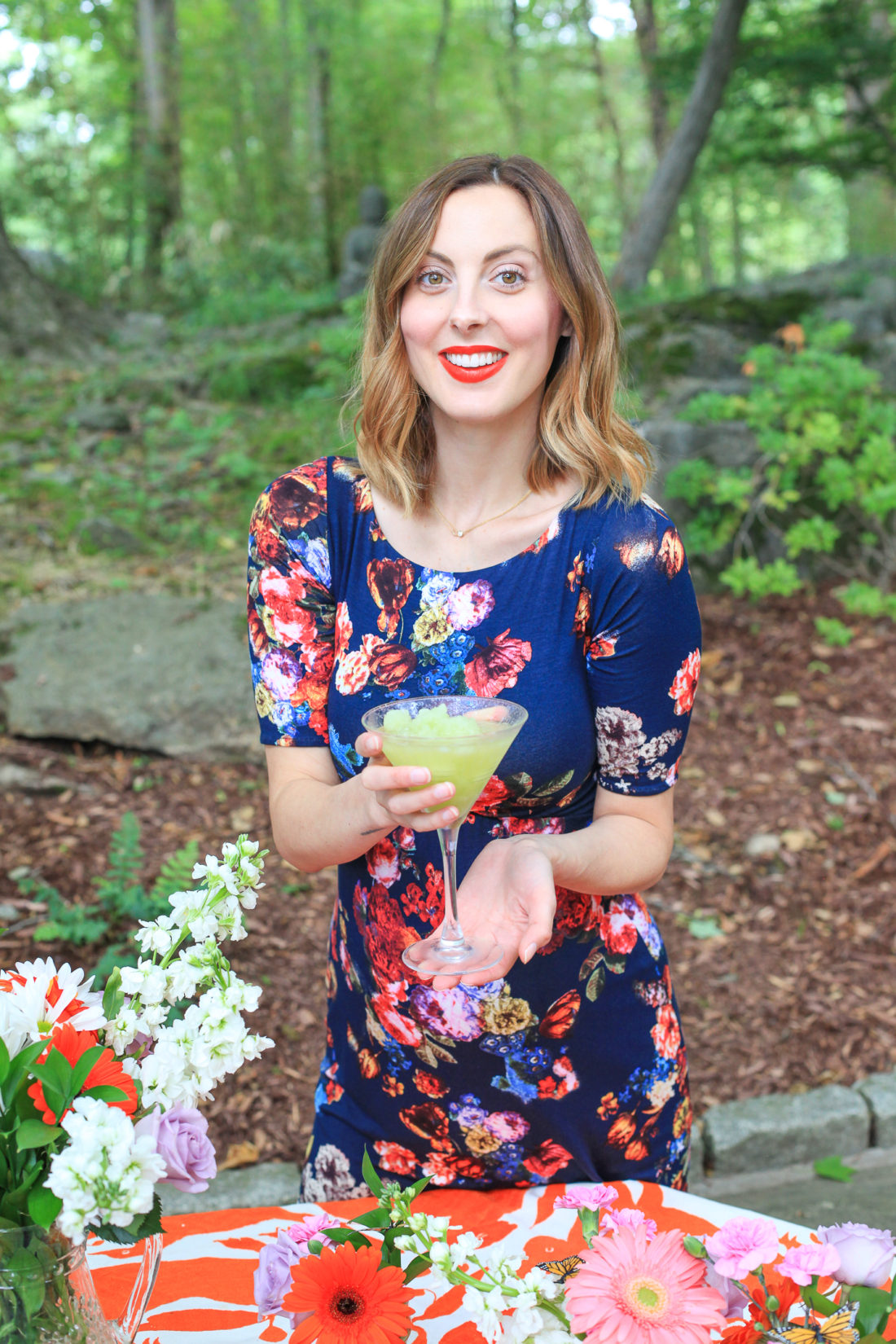 Mix up a flexible signature cocktail…
Kids come with parents…and parents appreciate a seasonal signature cocktail! For this party, I wanted to create something that would be just as delicious when served "virgin" so that the kiddos could enjoy it too! In the recipe below, just sub out the champs for club soda to wet the whistles of the Mini party people.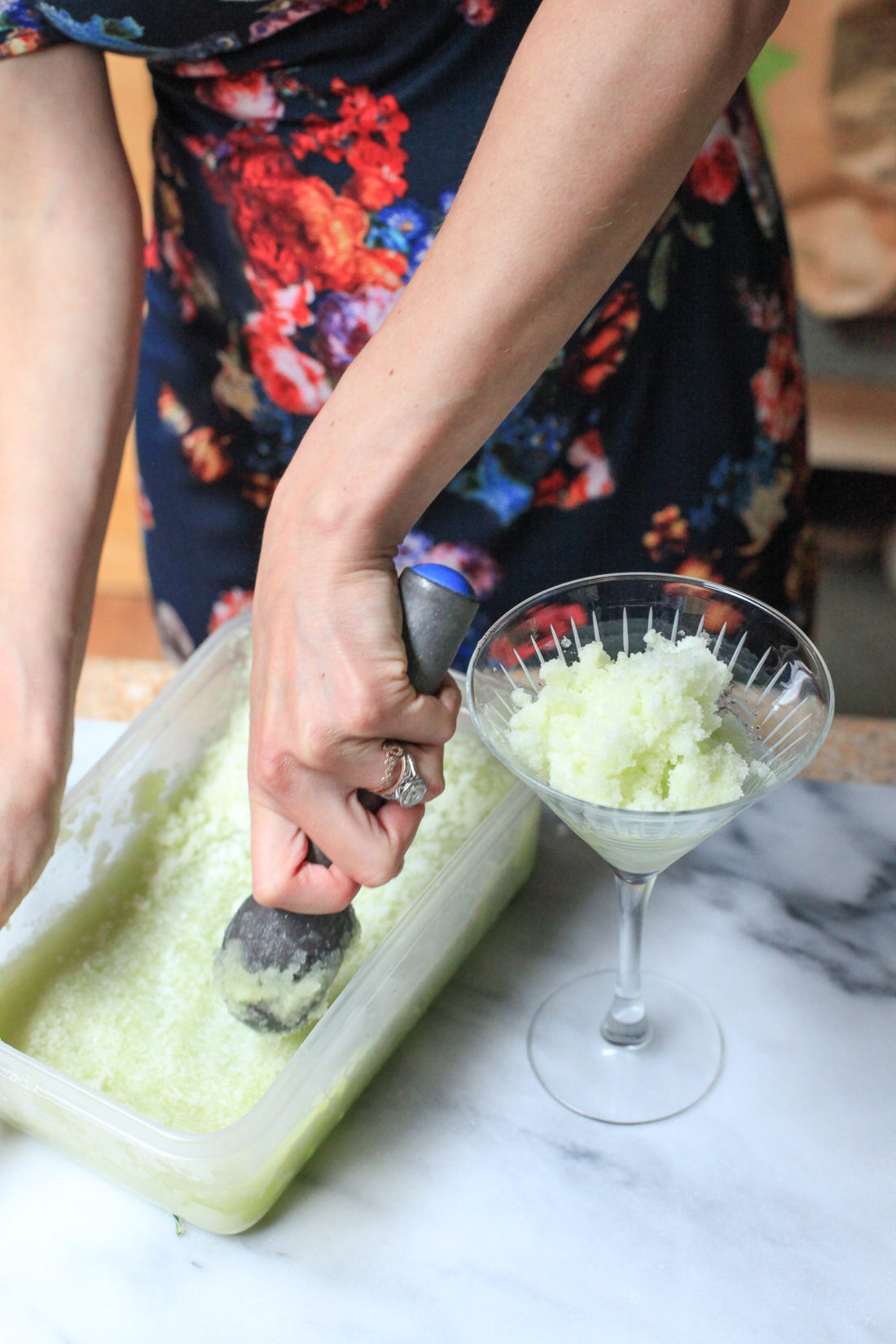 Cucumber & Melon Granita Fizz
1 Cucumber, peeled, seeded, and chopped
Half of a honeydew Melon, seeded and chopped
1 Cup Water
1 Bottle Of Champagne (or 1 Bottle of Club Soda), very chilled
Place your Cucumber, Melon, and Water in a blender and blend on high until very smooth.  Pour the granita mixture in to a tupperware container, and freeze overnight.  When ready, remove the frozen granita "block" from freezer, and scrape the surface repeatedly in one direction with a metal ice cream scooper until a mound of shaved Granita ice is formed.  Scoop this Granita ice in to the bottom of a martini glass. You will want it to be a rather large ball, almost to the rim of the glass.  Top with chilled champagne (or club soda) and enjoy!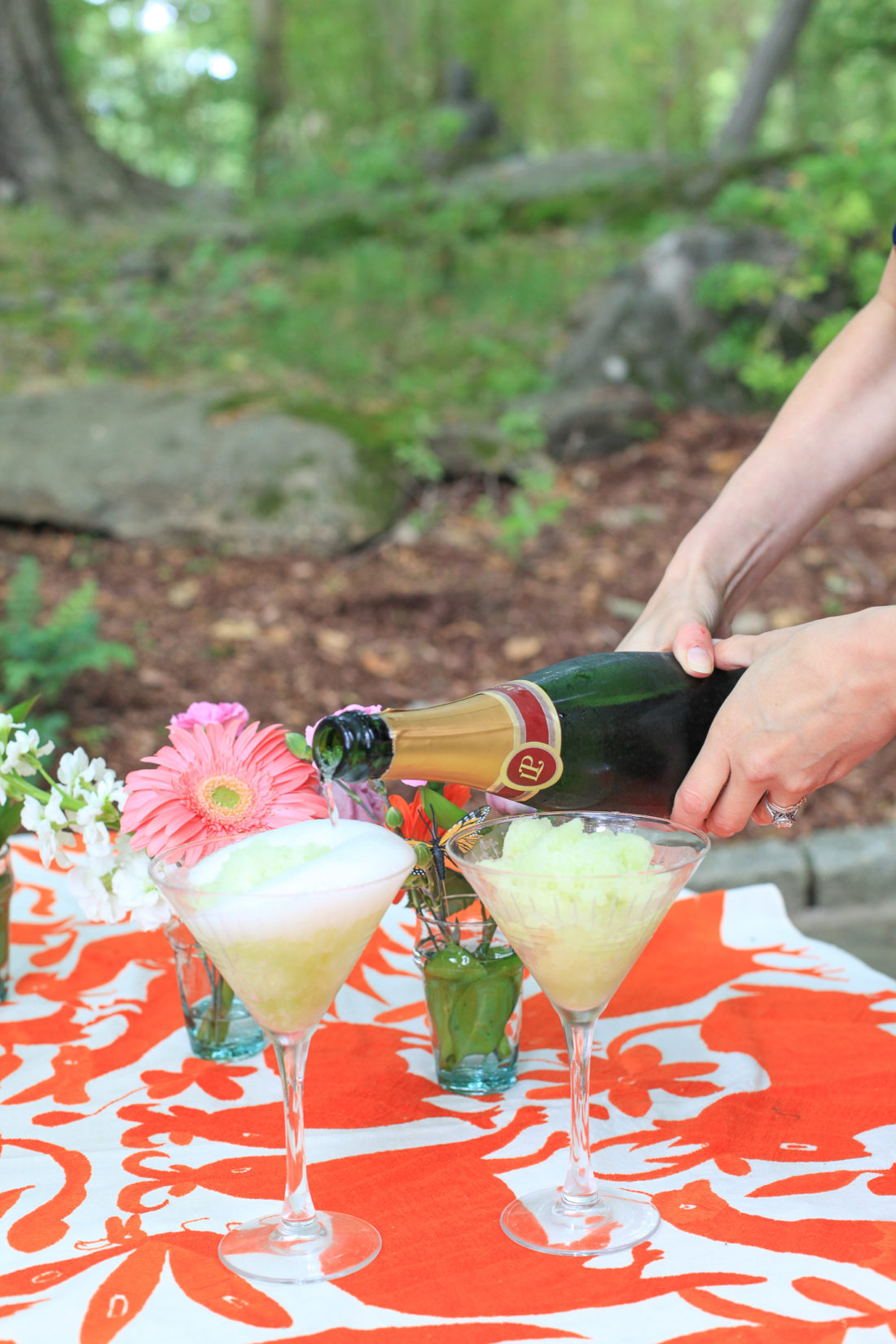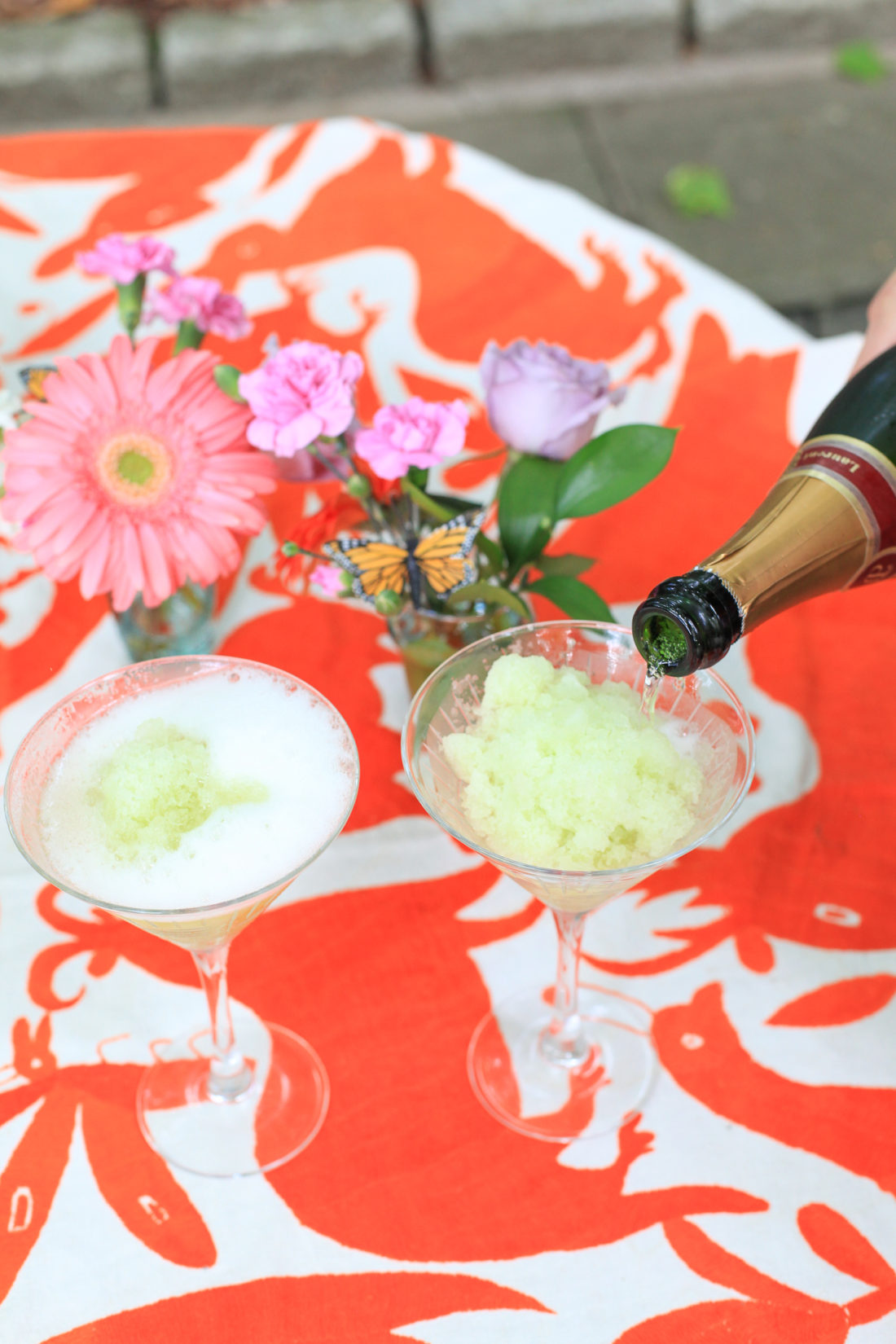 Shop The Post…

Save
Save
Save
Save