The following content may contain affiliate links. When you click and shop the links, we receive a commission.
A clambake has always been a summer bucket list party for me. I LOVE the idea of a clambake, from the low-key but chic vibes, to the delicious seafood spread. What's not to like?! But for me, a clambake has always seemed like an event that seemed too complicated to pull off. How exactly do you cook all the clambake foods? I've loved lobster all my life, for example, but after googling and YouTubing I still felt like I didn't have a hand on the best way to cook it. This Summer I thought it was finally time to try it, and it ended up being the most fun time ever!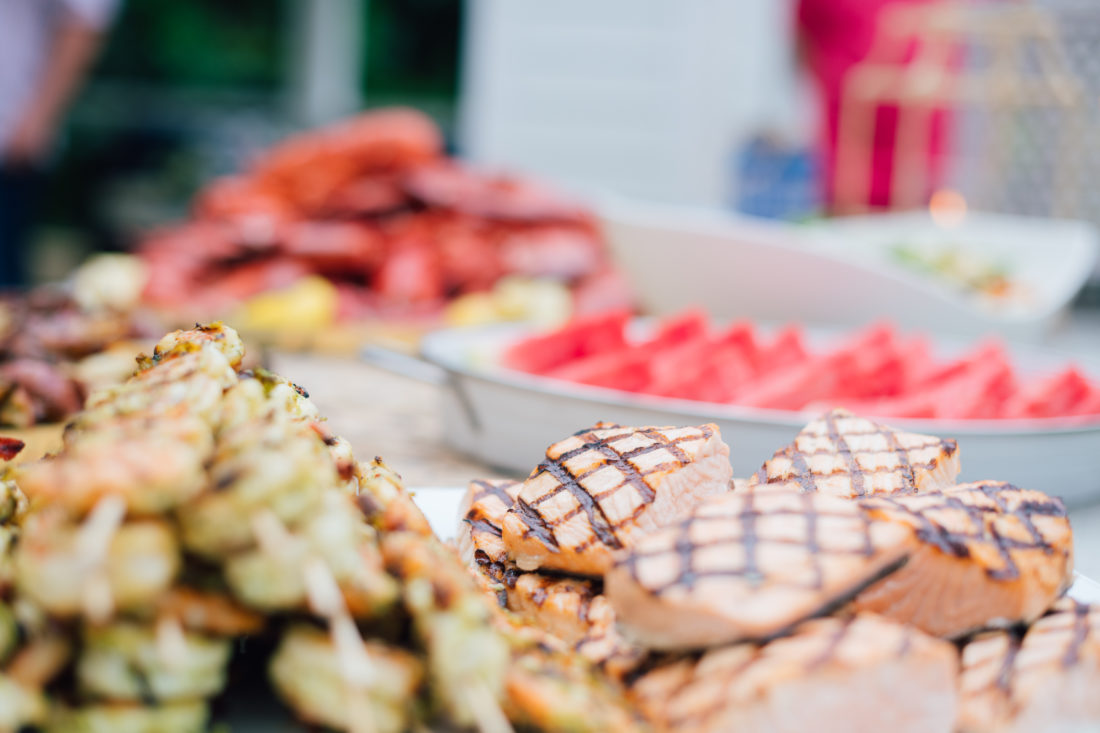 I'll start with the food, since I am definitely no expert when it comes to Clambake food, I thought I would create a learning experience for myself– and learn from the best! I partnered with my favorite local fish market, Fjord to teach me (and all of you!) about the best of the best Clambake food! They made the most gorgeous spread of lobsters, clams with corn and sausage, crab cakes, pasta salad, and lots of delicious sides and appetizers. They are famous for their fish dip, and after trying it I can see why! I ate about a pound of it I'm not kidding. For cocktails, I served canned sparkling wine by Babe, and Moscow Mules as the signature cocktail. I always love a Moscow Mule, and I think they're a great accompaniment to a seafood spread.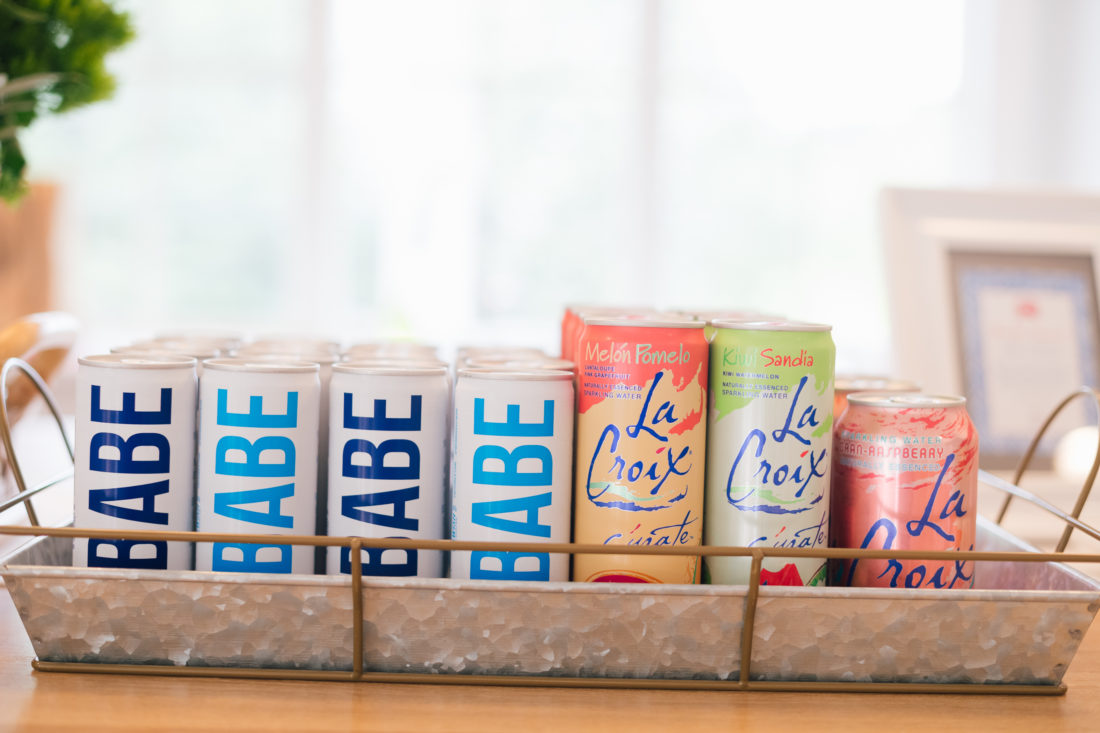 For decor, I wanted an elevated nautical vibe, but nothing too kitschy. I put together a color palette of off-white, tan, navy, and pops of mixed metals. I loved all the different textures on the table, and finished off the napkins with a really simple twine knot. Serena and Lily had the prettiest pieces that fit perfectly with our nautical theme– even down to the outdoor woven chairs, which I got for my own outdoor dining space. And of course, I had to have great conversation as well! I thought the party would be best as a fun girls' afternoon– so I got some of my fave ladies together. It was such a nice way to have a festive Summer lunch– and it would be a perfect way to celebrate The Fourth Of July!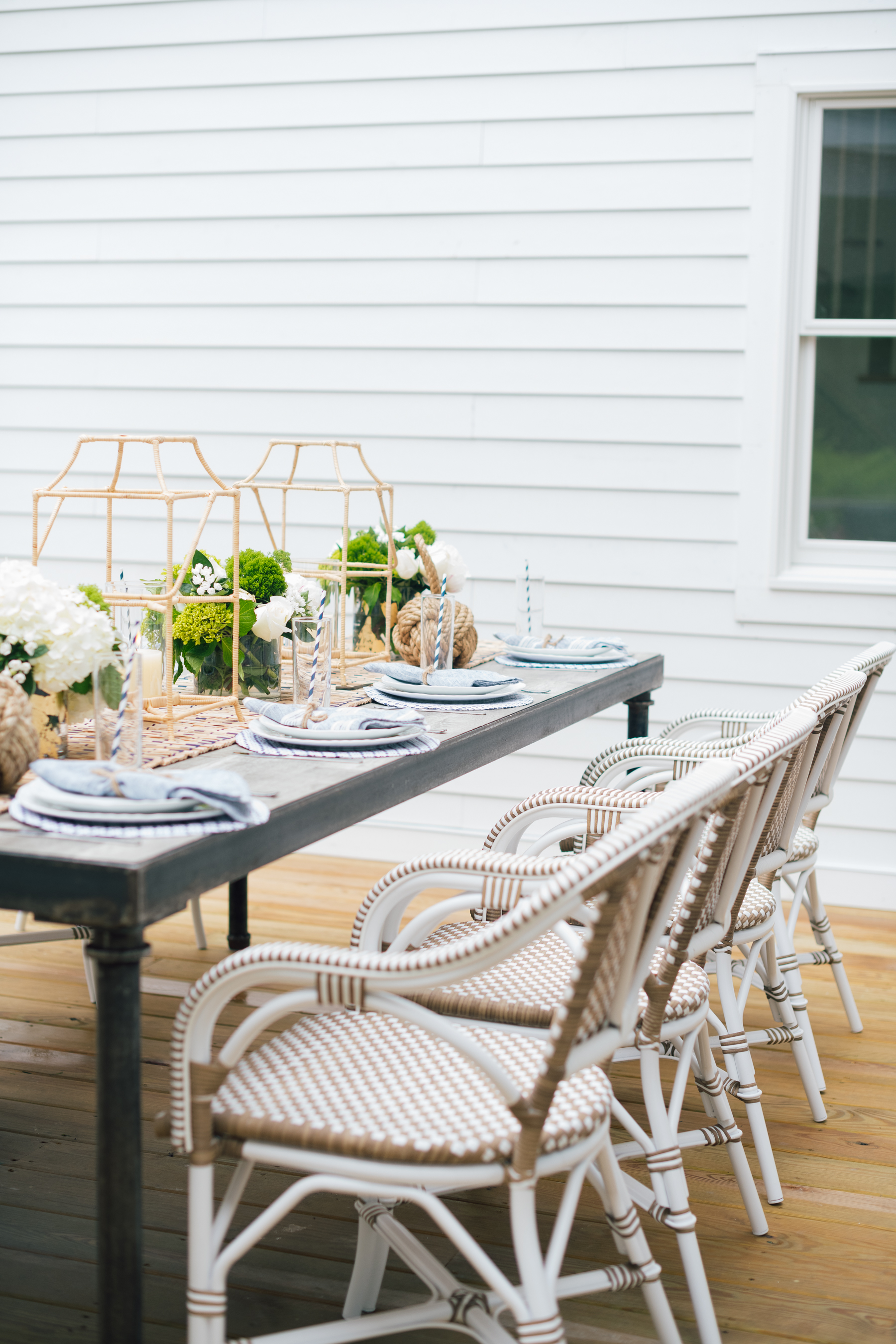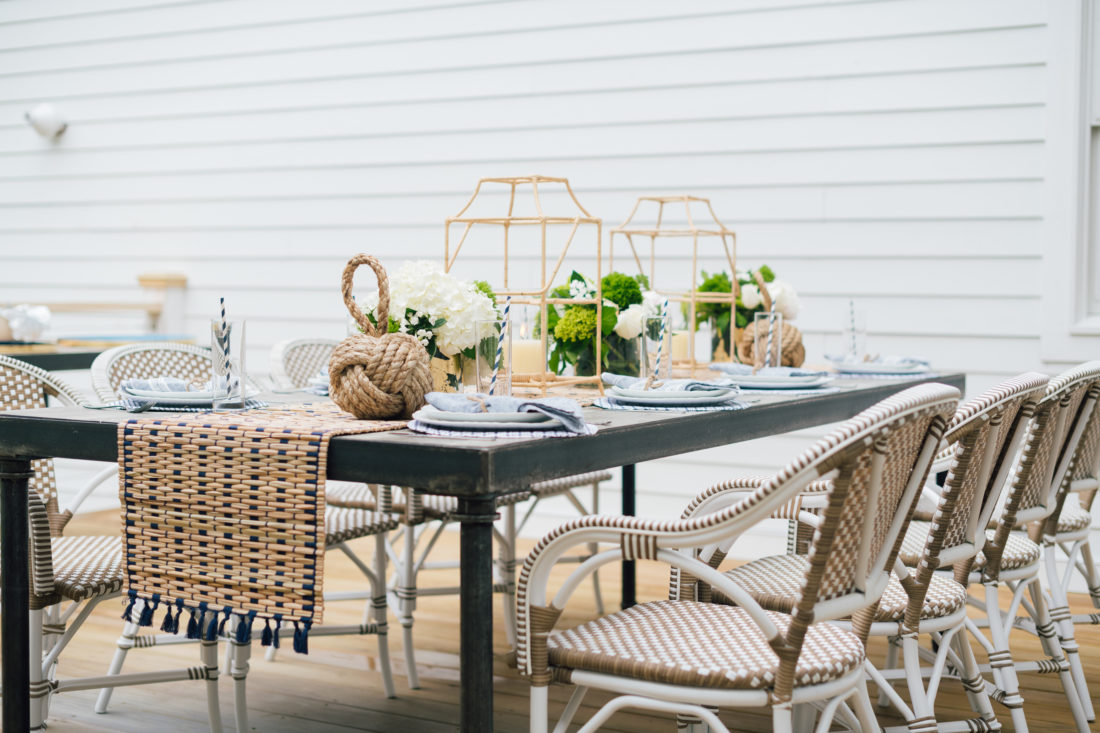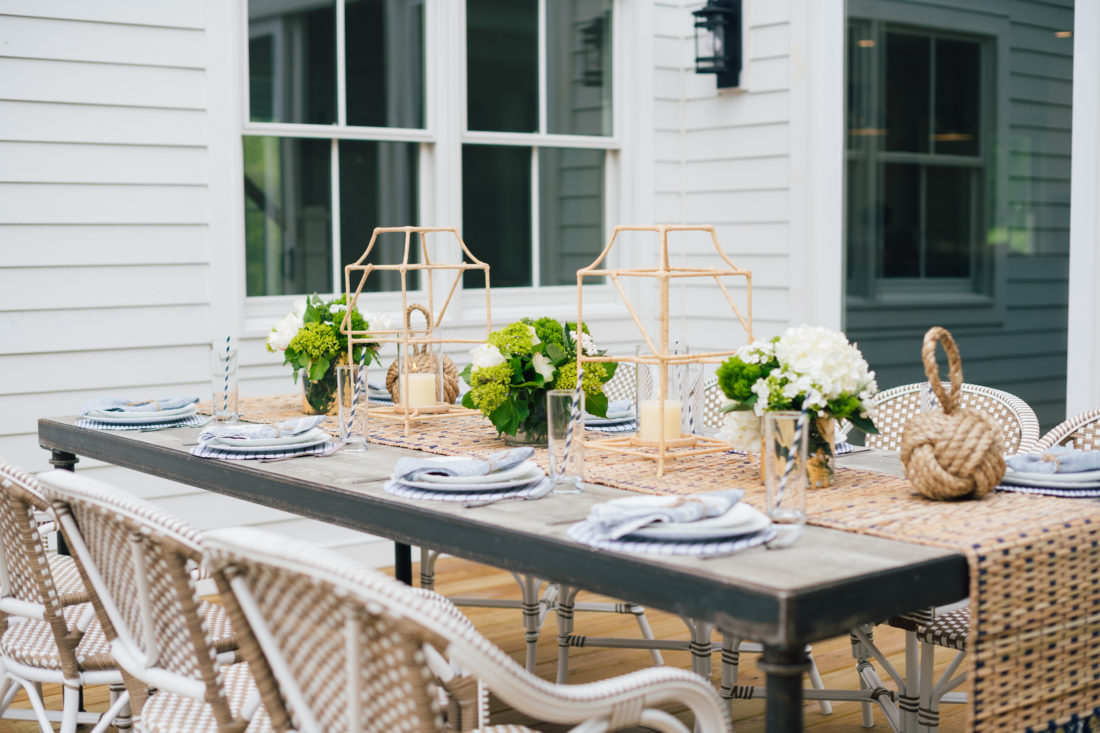 One of the most fun parts of the afternoon was having the party at someplace really special: a brand new GORGEOUS home in Westport! OLiving Experience, who is currently renovating our home, built this house as a new construction in one of the most ideal neighborhoods in all of Westport. Since they are just putting it on the market, Chris O'Dell (contractor extraordinaire! Ha!), suggested I have my event there since it has the most beautiful, open entertaining space and the perfect patio. I went to look at the house and just about died. It's too amazing! I can't say enough great things about it, and I'm so excited for whoever gets to buy it– the house even has a wraparound porch just like the one we are putting on our home! You can tell from the pictures how gorgeous it is, but it truly is such a great family space. (ps- they are doing an open house this Sunday from 1-3, and I am linking HERE if any of you want to check it out for yourself. Bring a napkin for drool. LOL) Chris and his team, and the amazing architect, did such a great job. It's the family home that dreams are made of– Super impressed.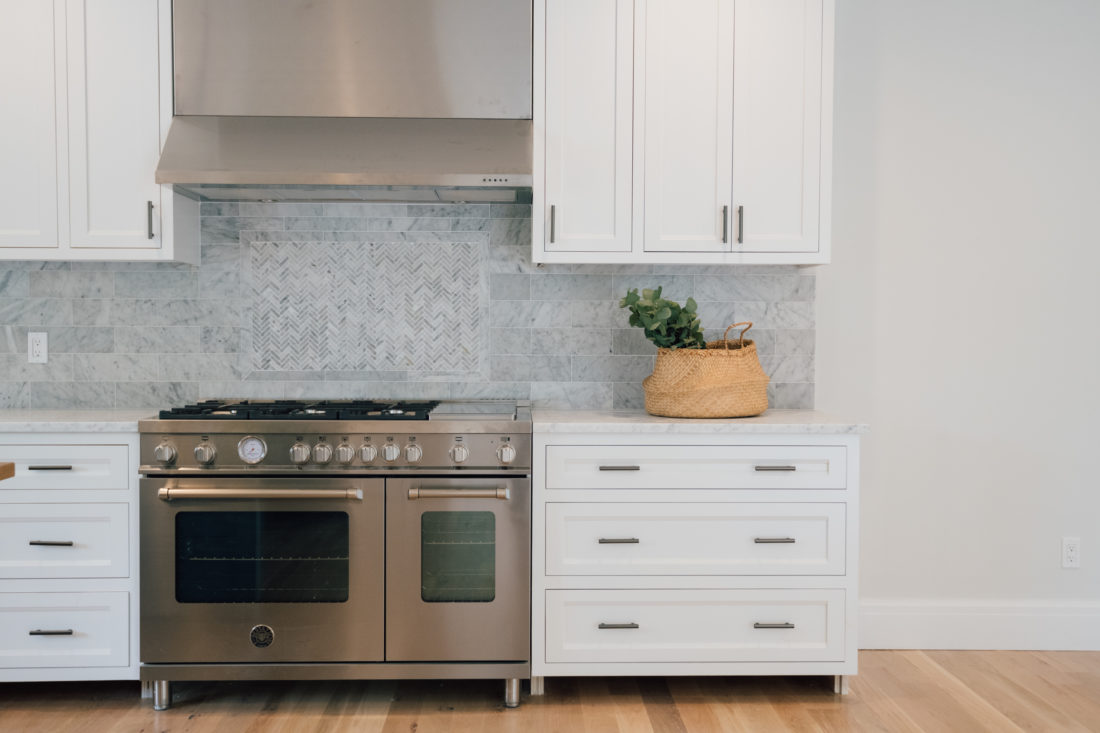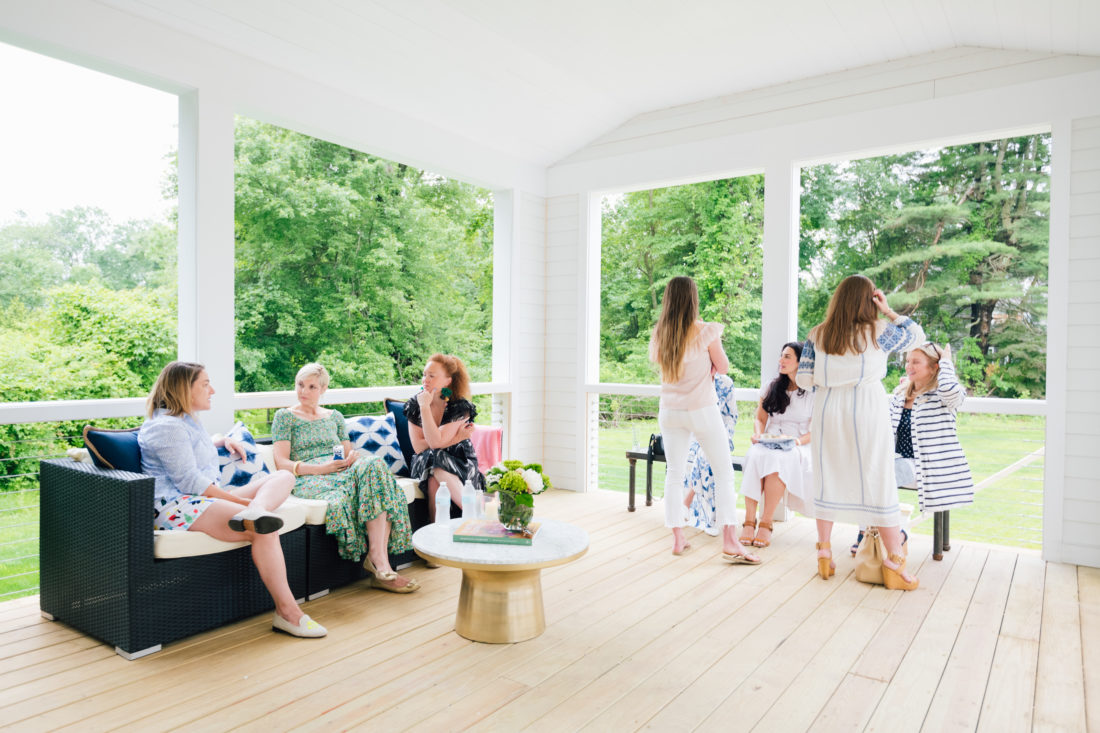 See below for the how-to on cooking a lobster perfectly from Fjord, as well as their clams recipe! I've also included a basic Moscow Mule recipe.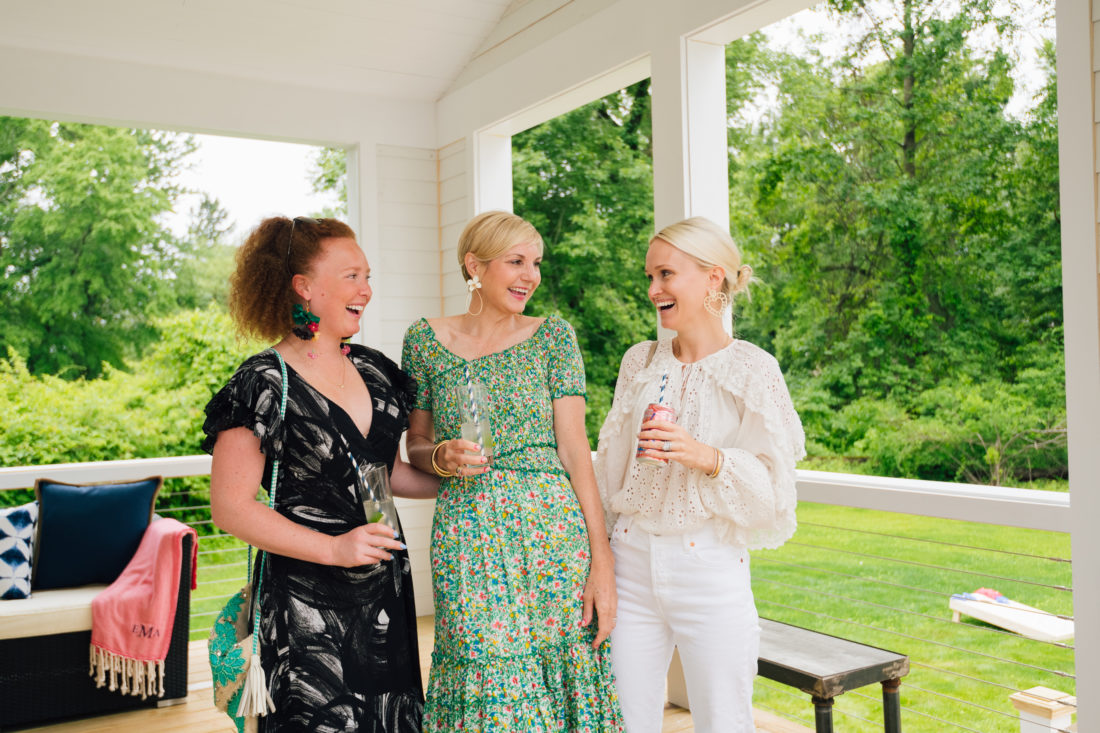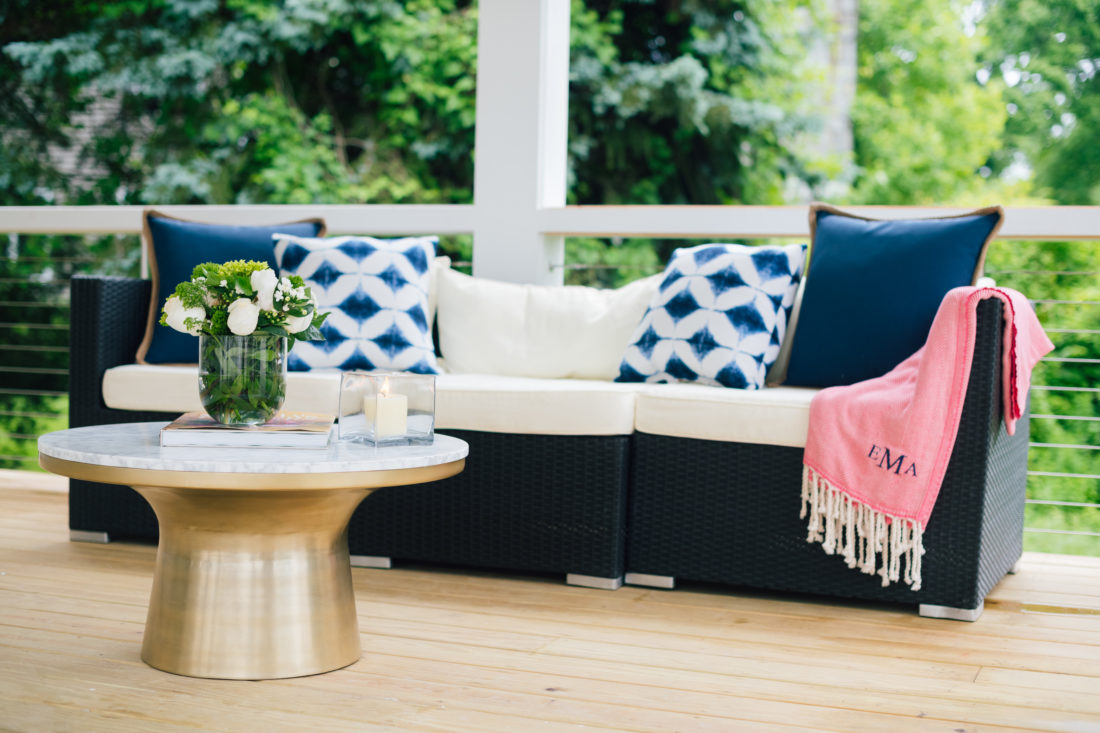 I'm including the info for the builders of this house as well in case you have Renos to do!
7 Belaire Drive, Westport, CT Listing – Bross Chingas Bross at The Riverside Realty Group
Recipes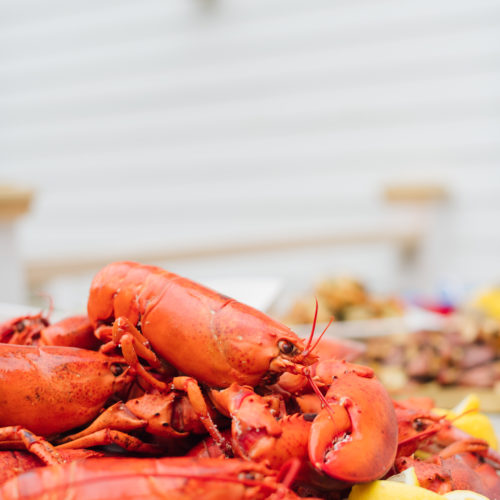 How To – Boil a Lobster (1 ½ Lb. lobster)
Make sure you have a big enough pot so lobsters aren't crowded, an overcrowded pot will cause inconsistent cooking. A 19 quart pot is good for about 5-6 lobsters.
Ingredients
2

lobsters

,

1 1/2 pounds each
Instructions
Fill the pot about ½ full and bring to a light rolling boil. (Adding salt to the water is optional)

When water is ready, add the lobsters to the water using a long metal tong to avoid splashing.

Cook lobster roughly 8 minutes per pound, about 12 minutes for 1 ½ Lb. lobsters. DO NOT overcook as lobster meat can become tough and stringy.

When lobsters are ready, remove with long metal tongs.

(If you are cooling the lobsters to make lobster salad, make sure to put cooked lobsters in an ice bath to stop the cooking process. Lobsters will continue to cook once they are removed from the water)

Splitting the Lobster: Place the lobster on a large cutting board belly down. Using a clean kitchen towel, hold the lobster down from the back and place the tip of your chef knife at the top of the tail where it meets the body. Press in firmly with the knife and push the knife straight down towards the cutting board, splitting the tail in half completely. 

(Lobster tails may have ROE, which is a firm red egg sack, and a light green colored TOMALLEY which is visible when you split the tail. You may want to run the tail under warm water to rinse these out. Although not harmful, it is neither pleasant to look at nor eat).

Cracking the Claws: Using lobster crackers, lightly squeeze the crackers about midway through the claw slightly cracking it but keeping the claw intact. 

Serve with warm drawn butter and lemon wedge. ENJOY
Nutrition
Nutrition Facts
How To – Boil a Lobster (1 ½ Lb. lobster)
Amount Per Serving (1 lobster)
Calories 194
Calories from Fat 18
% Daily Value*
Fat 2g3%
Cholesterol 320mg107%
Sodium 1066mg46%
Potassium 504mg14%
Protein 42g84%
Calcium 212mg21%
Iron 1mg6%
* Percent Daily Values are based on a 2000 calorie diet.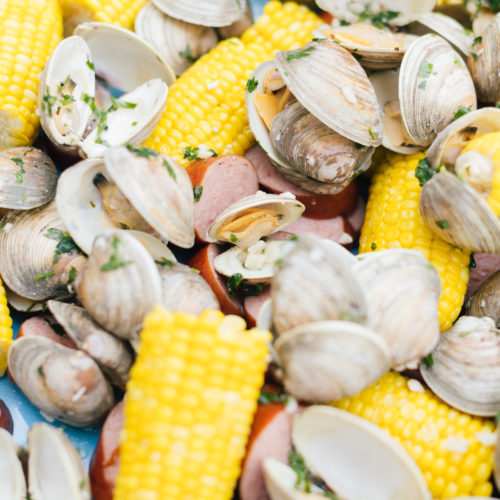 Steamed Clams & Corn
Instructions
In large stock pot, add garlic, butter & white wine and bring to a boil.

Add in corn & clams and cover pot.

In 5 Minutes, add the kielbasa and cover.

When all clams are completely open (about 8-10 minutes total), the pot is done.

Toss in chopped parsley and stir.

Transfer to a large bowl. Enjoy!
Nutrition
Nutrition Facts
Steamed Clams & Corn
Amount Per Serving (8 oz)
Calories 440
Calories from Fat 297
% Daily Value*
Fat 33g51%
Cholesterol 83mg28%
Sodium 1069mg46%
Potassium 349mg10%
Carbohydrates 6g2%
Protein 18g36%
Vitamin A 200IU4%
Vitamin C 5mg6%
Calcium 42mg4%
Iron 2mg11%
* Percent Daily Values are based on a 2000 calorie diet.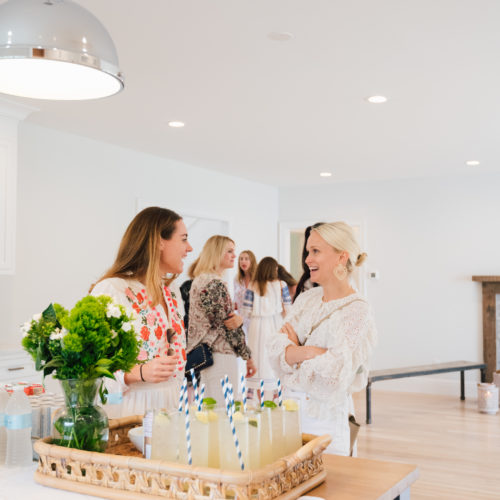 Moscow Mule
A classic cocktail for any gathering!
Nutrition
Nutrition Facts
Moscow Mule
Amount Per Serving (4 oz)
Calories 152
Calories from Fat 9
% Daily Value*
Fat 1g2%
Sodium 5mg0%
Carbohydrates 6g2%
Protein 1g2%
Vitamin C 2mg2%
* Percent Daily Values are based on a 2000 calorie diet.
Shop The Look…

Photographs by Lauren Anzevino