The following content may contain affiliate links. When you click and shop the links, we receive a commission.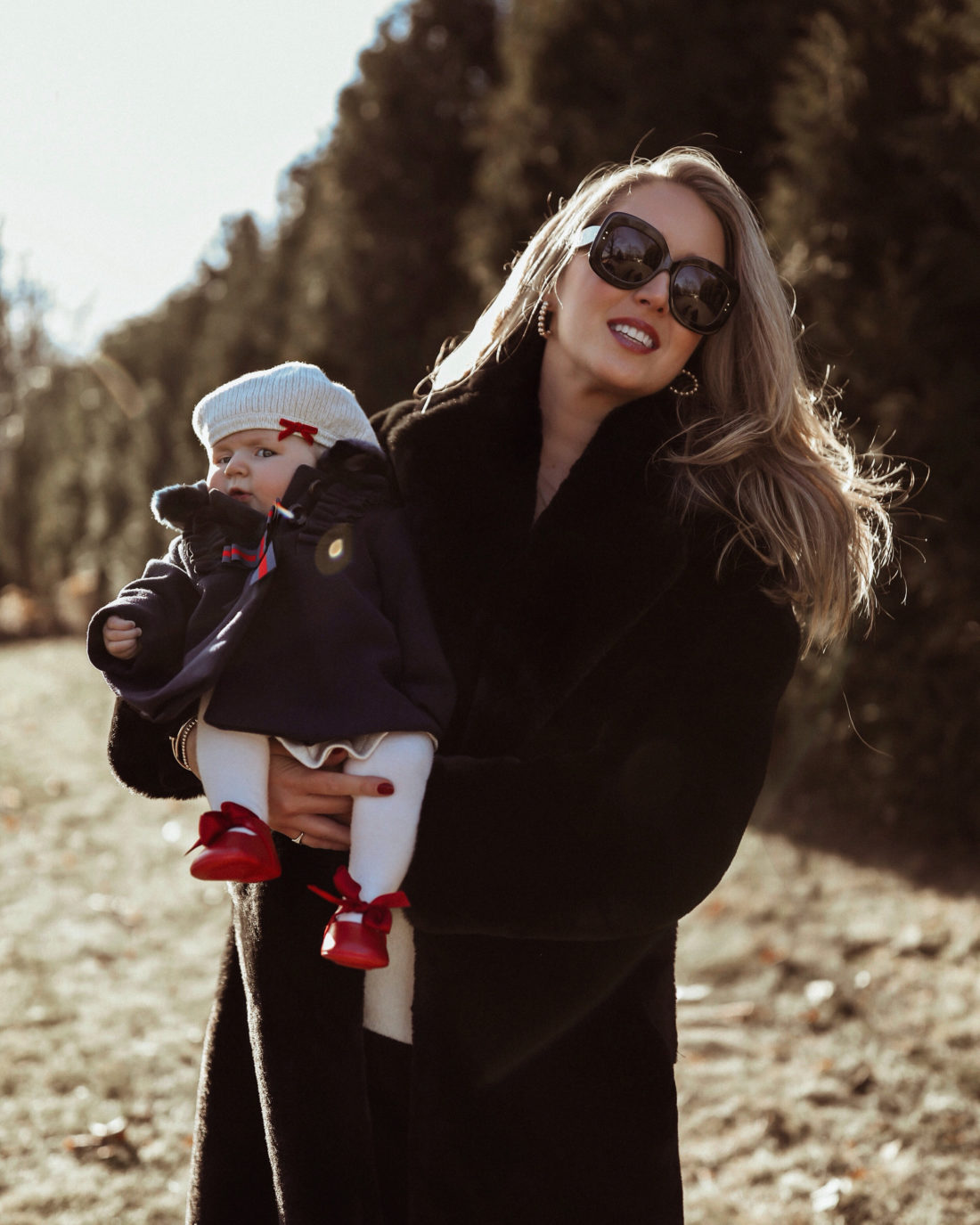 by Mary Orton, founder of the blog Memorandum
Hello Happily Eva After fam! I'm Mary Orton of Memorandum.com, a site that's all about fashion and lifestyle for the modern, working woman. In addition to my blog, I run a technology startup in NYC and almost exactly six months ago, I added another to-do to my list: my baby girl Colette. As many working moms can attest, the adjustment and learning curve is STEEP those first six months. Today, I'm thrilled to join Eva to share some of the tips that have really made an enormous difference while adjusting to life as a working mom to a newborn… attempting to keep everything afloat!

When I had my baby, I did not take maternity leave (much like Eva her first two times around!), so I had to learn quickly how to make everything work. To be 100% clear, this involved finding a part-time nanny (bless her), so I did have some help. Apart from the few hours each day my nanny was with me for the first five months, I primarily worked from home and learned that there are a few smart, time-maximizing tips and tricks every new working mom needs to know: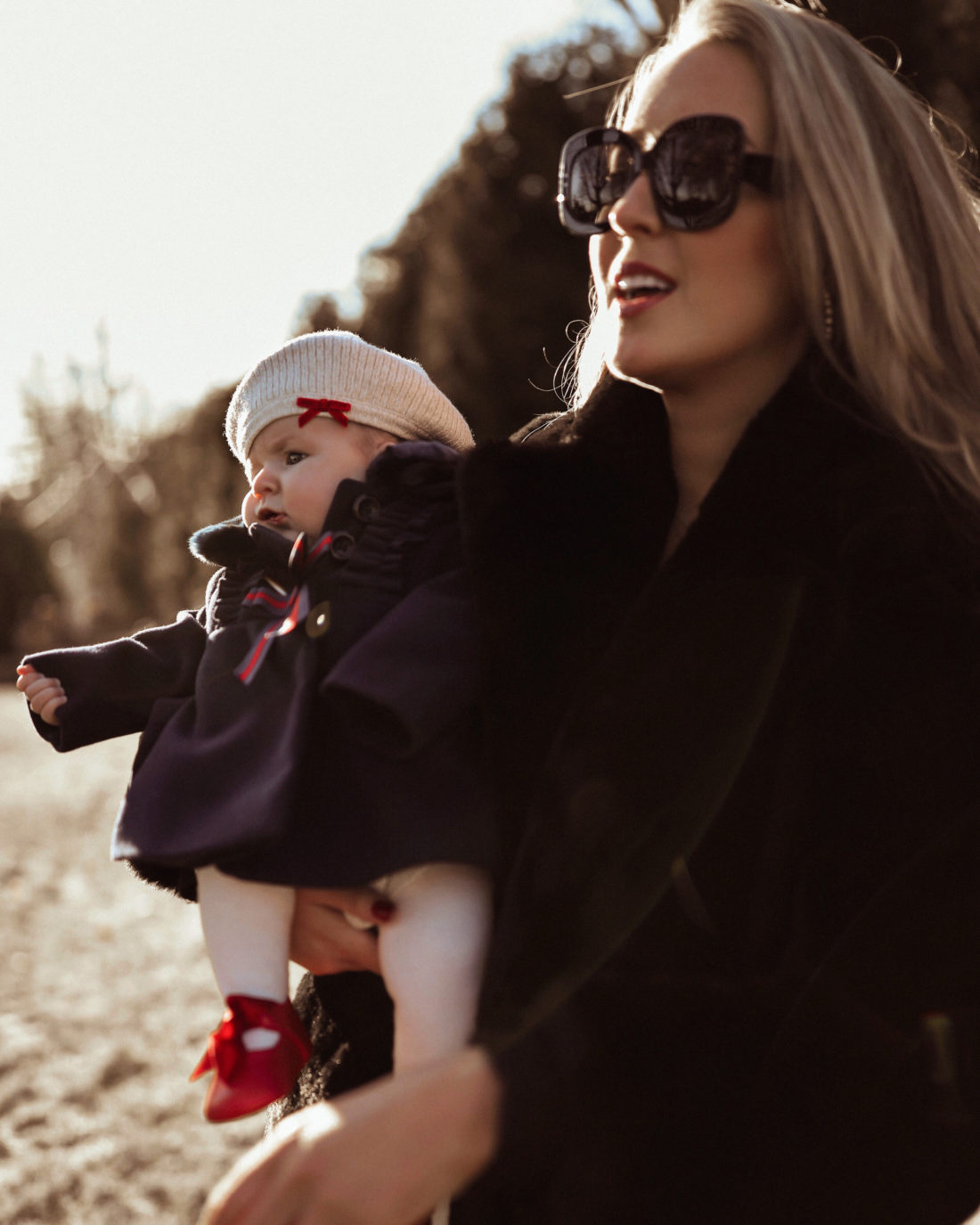 1. Ask For Help
We hear this a lot, but it really can't be reiterated enough. Whether you're able to get childcare, have help from family and friends, or simply split duties with your partner, know that you simply can not do it all, and that's OK. During the first few weeks of my daughter's life, my motherly instinct to do absolutely everything for the baby myself was intense. Thankfully, my husband was a very strong presence, always suggesting that he change a diaper, get up with her in the night, or handle a feeding, etc. It took a few weeks, but I started to let go and understand that my physical and mental health required me to accept help. The sooner you internalize this, the better.
2. Portable Pumping
If you choose to breastfeed and have established a good flow/supply, I highly recommend finding a good hands-free breast pump, so that you can multitask while pumping. Otherwise, you'll likely miss pumping opportunities because work and life get in the way. And, when you miss pumps, your supply starts to suffer which starts a vicious cycle of guilt and frustration. I used the Willow whenever I needed to be hands-free, but I have also heard great things about the Elvie and BabyBuddha. 
3. Time Blocking
Multitasking, while amazing when it comes to pumping, can often be the enemy of efficiency in other areas of your life. You'll find that you're less productive when you try to do lots of things at once than if you eliminate distractions and tackle to-dos one at a time. One hour of work isn't going to be effective if you've spent it half tending to the baby. If you have work to do and have someone else to watch the baby, you need to go to a coffee shop or go into another room, shut the door, and put in earplugs—fully committing yourself to the tasks at hand. That way, you'll bang out that hour or two of work and when it's time to be with your baby, you'll be fully present. I have an entire post about time management here, and its core principles have really helped me remain efficient since my daughter was born.
4. Prioritize
News flash: Your sleep and health are more important than laundry and dishes and dusting your living room. Triage those chores! Understand what's most important in-the-moment, and know that everything else can wait—because there's nothing more important than time with your baby. You can organize the linen closet when she goes to college. Kidding. Kind of.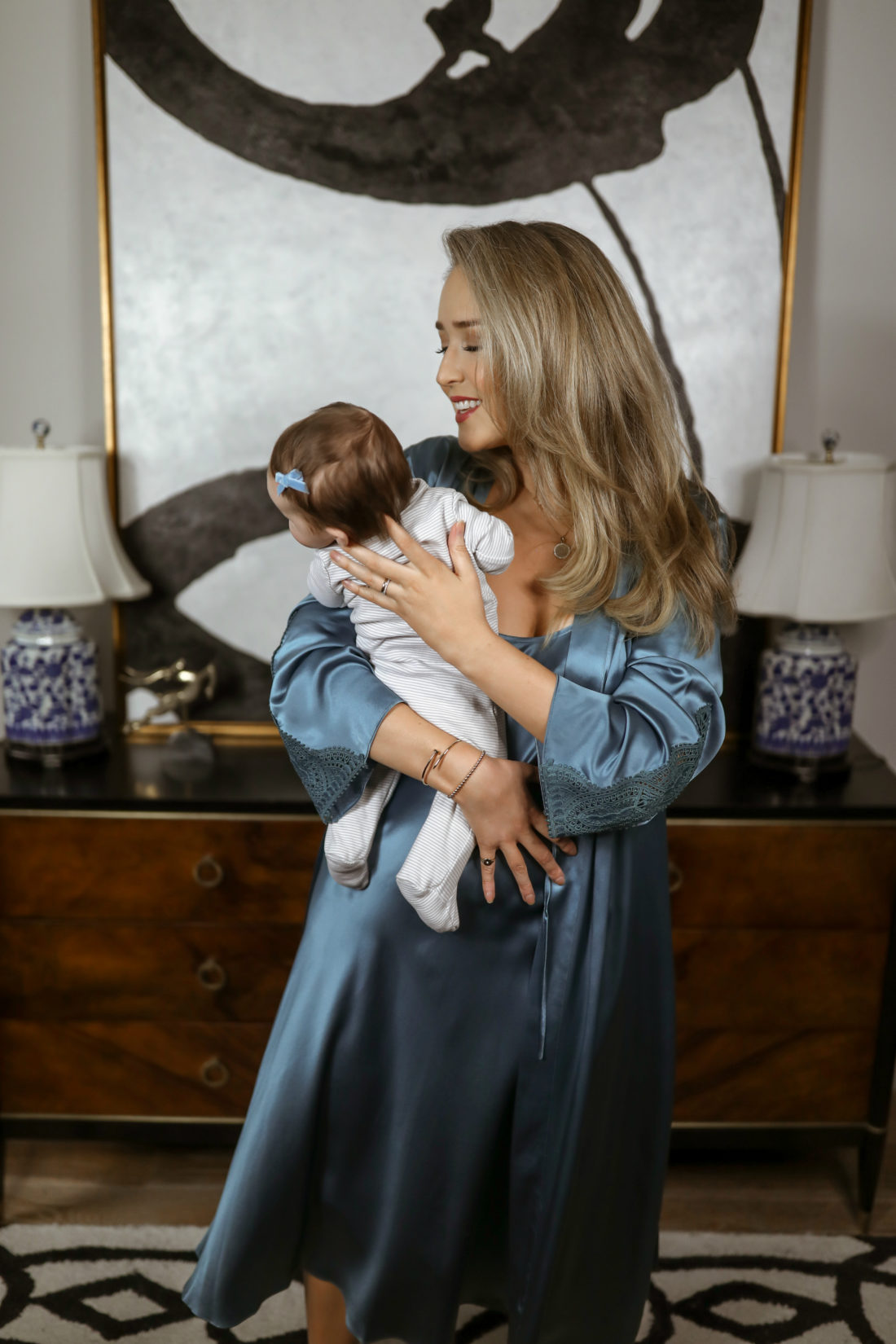 5. Hack Your Old Habits
Similarly to prioritization, when you have a baby, you kind of have to forget the old habits you used to have and the way you used to prefer to do things. For example, I used to love grocery shopping on Sunday during the late afternoon, getting everything I needed for the week ahead. Sunday nights were often about meal prep and watching Netflix. Once we had a baby, these old routines went out the window. I signed up for Home Chef so that grocery shopping and meal prep is essentially outsourced. (I also love Good Stock Soups, Daily Harvest, and Sakara Life — there are so many great ones to choose from if you go this route.) For additional groceries and household items, I use Instacart, Fresh Direct or Amazon Prime. I even had our laundry sent out to a laundry service for the first several weeks of Colette's life, so that all I had to wash at home every day was a load of the baby's things. I delegated cleaning responsibilities in a similar way. There are so many affordable services and resources that can help new parents delegate tasks that claim too much time. The key is to find what works for you and your budget so that you can recover and make the most of your time with your baby. Remember, it's all temporary. Soon enough, the baby will be sleeping through the night and you'll have a handle on your new life and schedule. 
6. Exercise
It's not about "losing baby weight," it's about making exercise a priority for your health and strength. Your baby will grow quickly, and you need your physical strength for long hours of bouncing, holding, lifting, etc. Exercise should be prioritized above cleaning the bathroom, writing timely thank you notes, etc.
7. Release The Guilt
There can be a lot of guilt that bubbles up for new moms. It's important to do everything you can to drop-kick it out of your mind. I know that for me, working makes me a better mom. I'm not only setting a strong example for my daughter, but working also allows me to support my family and step outside of our home life so that when I re-enter, I'm able to approach it with more love, gratitude, and energy. I know my daughter feels this. I'd rather have a slightly shorter amount of high energy, highly engaged, fully present time with the baby than be with her 100% of the day drained, depleted, exhausted, and stressed. Make a conscious effort to rid your mind of those negative, guilty thoughts.
8. Pace The Visitors
One of the most stressful parts of the first few weeks of Colette's life was the overwhelming number of well-intentioned friends and family who wanted to come to our home and meet the baby. Of course, I was beyond excited for everyone to meet her, but between physical recovery, sleep deprivation, and work, the thought of entertaining guests was, at times, too much. In addition to the stressors of "OMG my house is a mess and I have no refreshments to offer them," a newborn eats every 1-3 hours so people need to get in and out quickly (something that so many people don't realize). So, I have two pieces of advice here: First, say no to everyone you can possibly say no to, and be honest! Tell them you can't wait for them to meet the baby, but scheduling right now is really difficult and that you'll reach out in a couple of weeks once things are more manageable. Second, to the people you say yes to, manage their expectations —especially regarding feeding times. For example, text them ahead of time with something like, "Does 4pm work to come by? Unfortunately, she has to eat again at 5, so it will have to be a quicker visit today, but I'm so excited for you to meet her!" That way they are forewarned that this is not going to be a three hour hang sesh.
9. Think Big Picture and Say No
Say no to literally everything and everyone you can. There's a massive perspective shift that comes with having a baby and you simply don't have as much time as you used to. When invited to do something ask yourself: Will this event invitation, social outing or work opportunity matter a year from now? If the answer is no, politely decline. Everything I'm doing right now needs to be long-term productive, or it can most certainly wait.
In sum, having a baby and working at the same time is a lot, but I've found that these shifts and strategies have made things so much more manageable, and put me in a far better position to devote my attention to my new favorite to-do item, ever. I think I can hear her demanding wails affectionate cooing as we speak.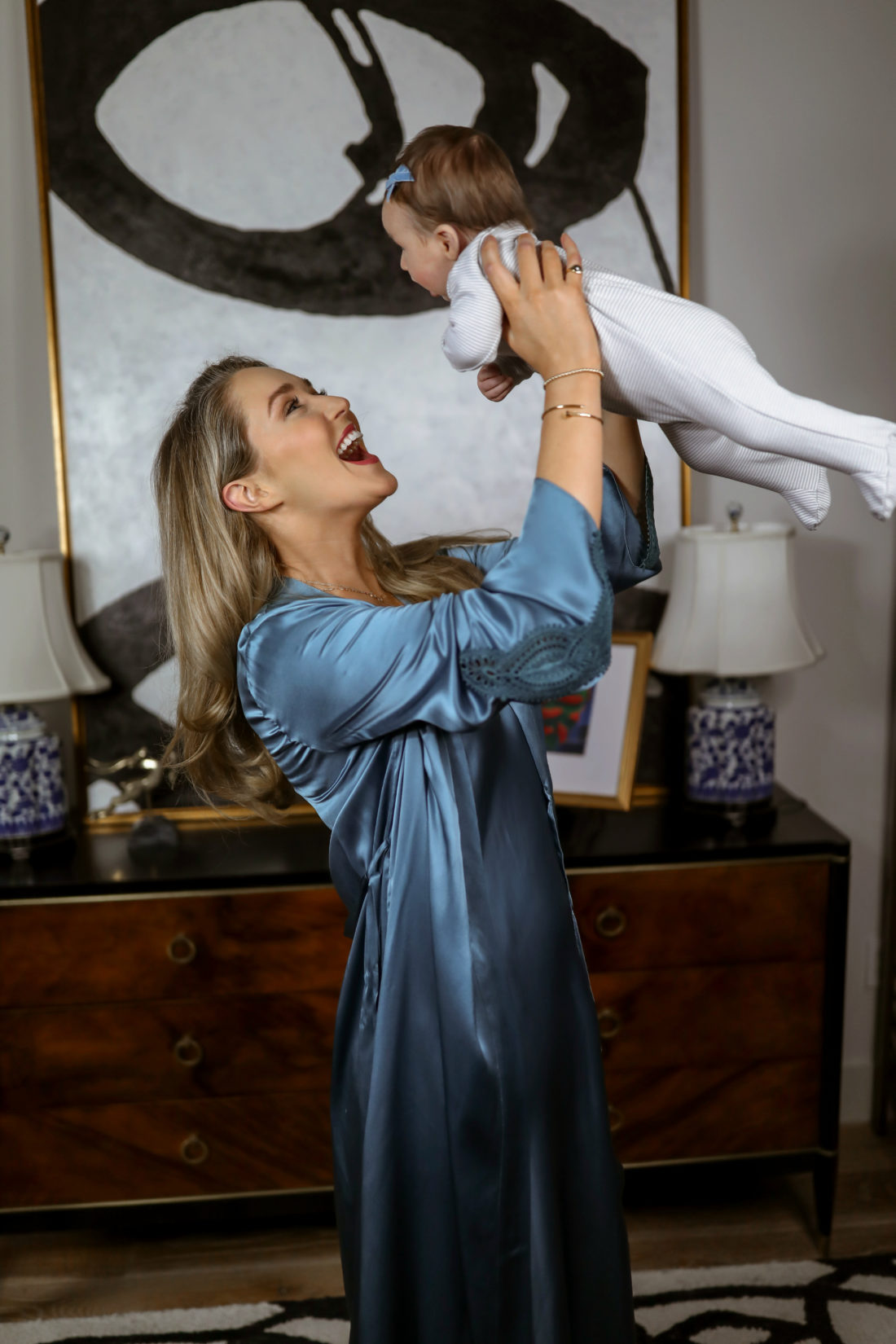 Photos courtesy of Mary Orton