The following content may contain affiliate links. When you click and shop the links, we receive a commission.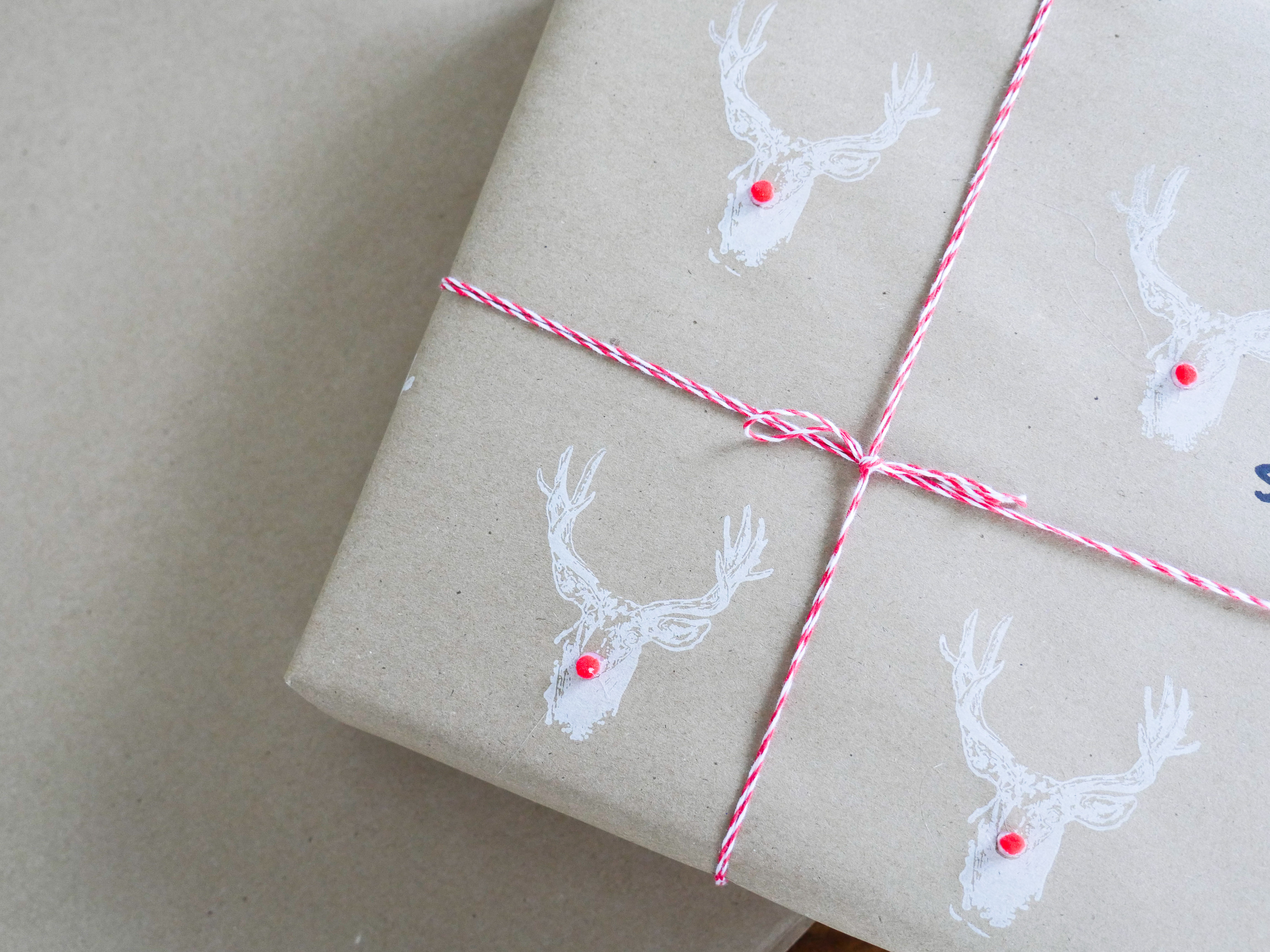 This blog post was originally published on December 7th, 2015.
It seems that this time of year there are twenty million things to wrap and send off in the mail (or even place under the tree!) Nice wrapping paper, gift bags, and tissue paper can really add up! I wanted to find an inexpensive and charming way to wrap my gifts this year. Kraft paper to the rescue!
You can buy it in large rolls, and use a few inexpensive tools to dress it up again and again! Here are 4 kraft paper gift wrapping ideas that I love!
STAMPED RUDOLPH
Materials…
Directions…
Use the reindeer stamp and the white ink pad to create a rustic pattern on your kraft paper.
Use a hot glue gun to place a small dot of glue on each deer's nose, topping it off with a tiny red pom-pom.
Finish with a bow (I love festive baker's twine), or leave it as is for an effect that's just as charming!
Shop the look…

---
HOLIDAY DOTS
Materials…
Directions…
Use the eraser of a new pencil to stamp dots with stamp ink on the kraft paper.  You can either make them uniform, or mix up colors in a scattered pattern as pictured!
Make sure if you're using more than one color to finish up with each color individually before cleaning the eraser and moving to the next color.
Shop the look…

SPARKLY WASHI TAPE
Materials…
Directions…
Apply washi tape in stripes across your wrapped package. (You can do the entire box, or just a few on one side, as pictured.)
Top it off with a gift tag with sparkly letters!
Shop the look…

CRAFTY SNOWFLAKES
Materials…
Directions…
Use a hot glue gun to dot the back of the paper snowflakes.
Then press down on to your wrapped package.
Space them evenly, or overlap as pictured for a modern look.
Add some baker's twine, and voila!
Shop the look…

---
Are you guys fans of kraft paper? I just discovered it and LOVE it! So many possibilities and it's great to lay over my dining table to protect the wood while I craft with my kiddos!
How do you use kraft paper?
Happily Eva After, Inc. © 2020 All Rights Reserved