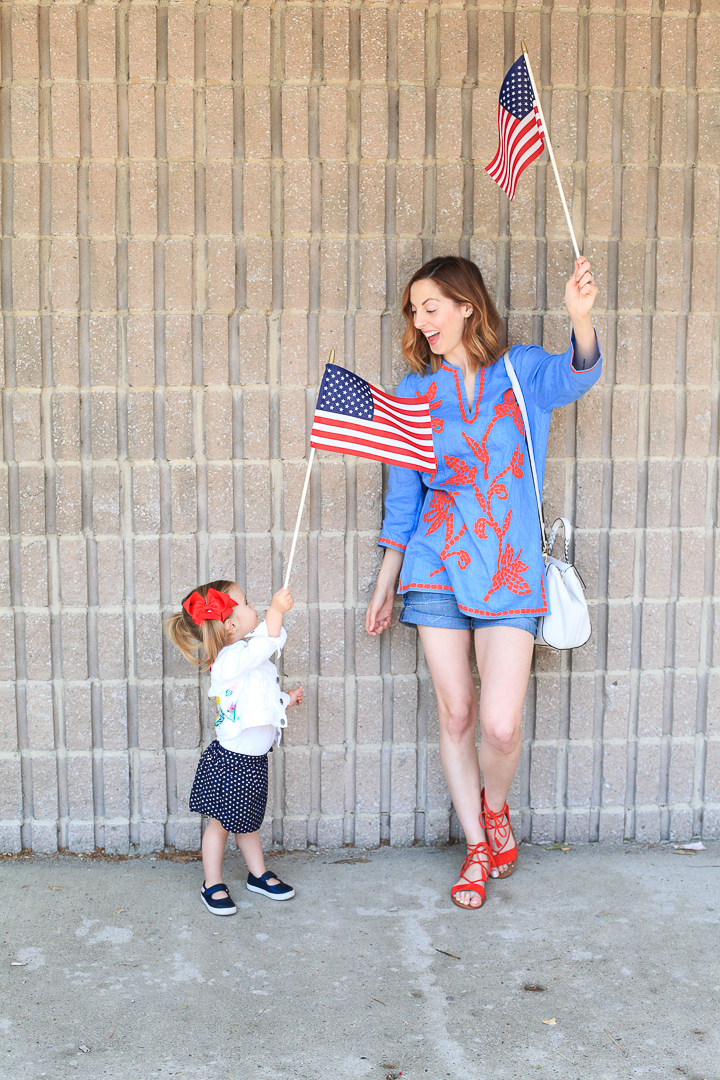 The Fourth Of July is just around the corner, and we are getting prepped and ready in the Martino household!  Independence Day has always been one of my favorite holidays– I just adore Summer in general, and celebrating this special day in our history always brings back such fond warm-weather memories from growing up and beyond.  I love the flag colors (red, white, and blue are such a bold and beautiful combination), I love the traditional barbecue food (Hotdogs 4 Lyfe), and I really really REALLY love Fireworks!  Since we are living in a small little town this Summer, I'm getting especially revved up to celebrate the holiday locally and create some fun and exciting homegrown memories that Marlowe can cherish for a lifetime.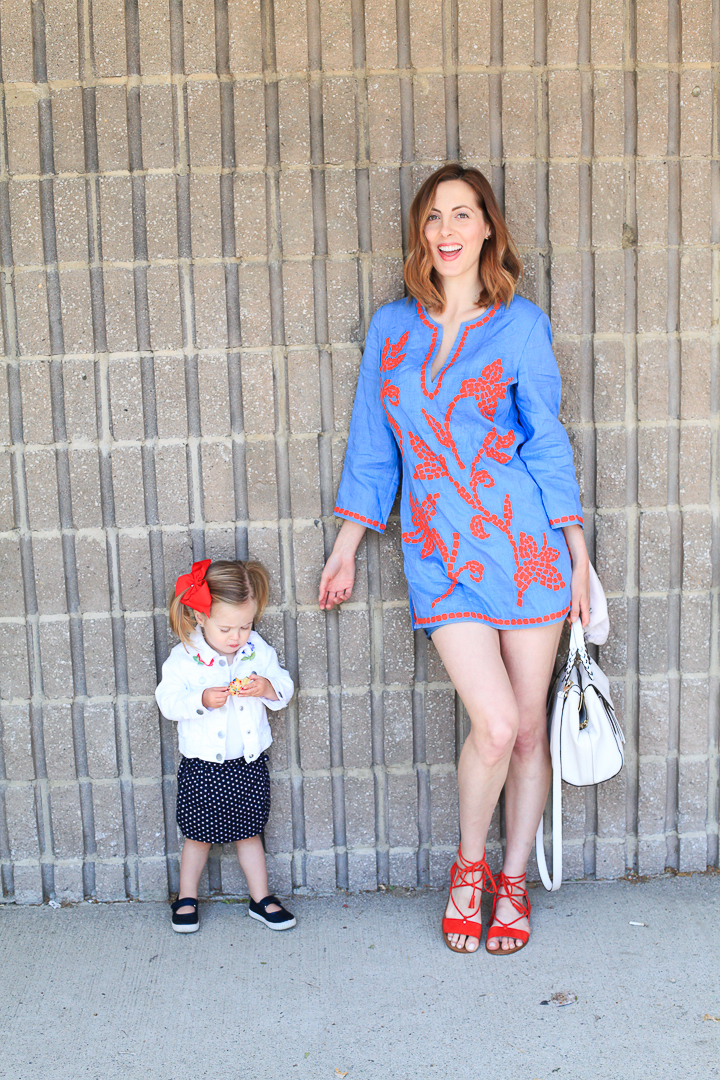 I also recently saw the Broadway show "Hamilton", and it ignited a fresh interest for me in our Nation's history and the incredibly rich tapestry of our Country's momentous beginnings.  If only Lin Manuel-Miranda could write Hip-Hop Musicals about the history of everything else!  It has really inspired me even more to celebrate the efforts of those men and women at the birth or our Nation– who gave up so much and fought so hard because they believed that their lives could be better.  They wanted to live in a Country they could stand behind, and that was a fair and democratic place to live and raise families.  The beginnings of this Country were about strength, perseverance, and unity above all– and those tenets must still hold true today.  This Independence Day I'm thinking about what I can do better to make my voice heard for those who cannot be heard, to stand up for what I believe in, and to fight always for a better future for my children and for all the children of this Nation.  I'm really looking forward to celebrating the Fourth Of July with a newfound perspective this year!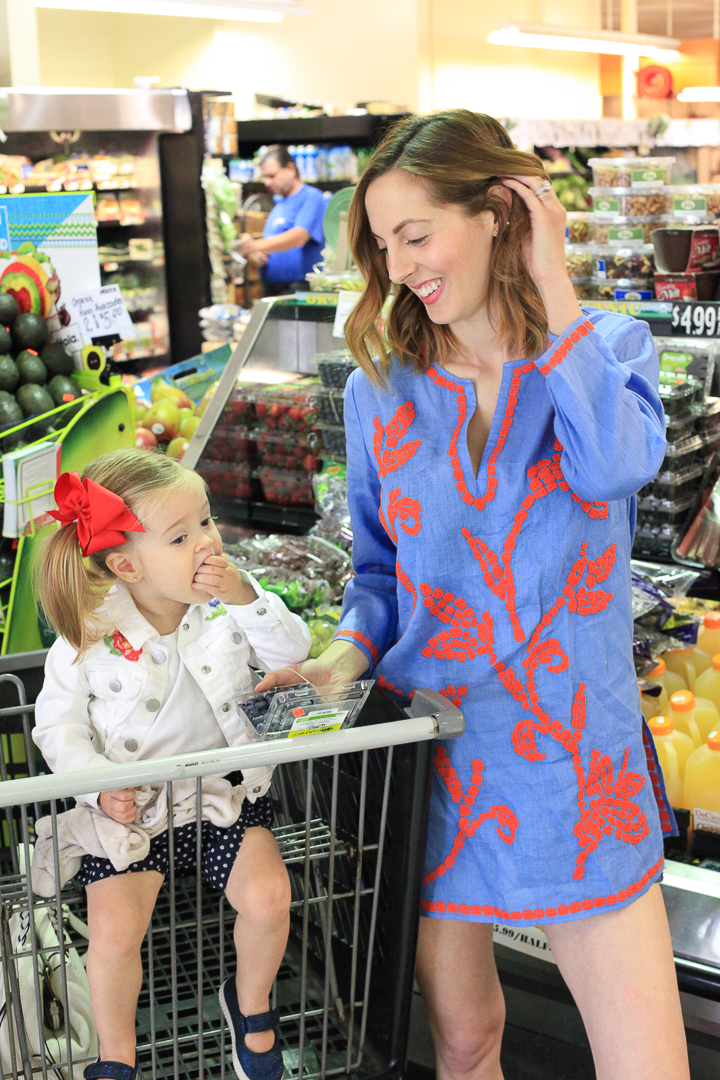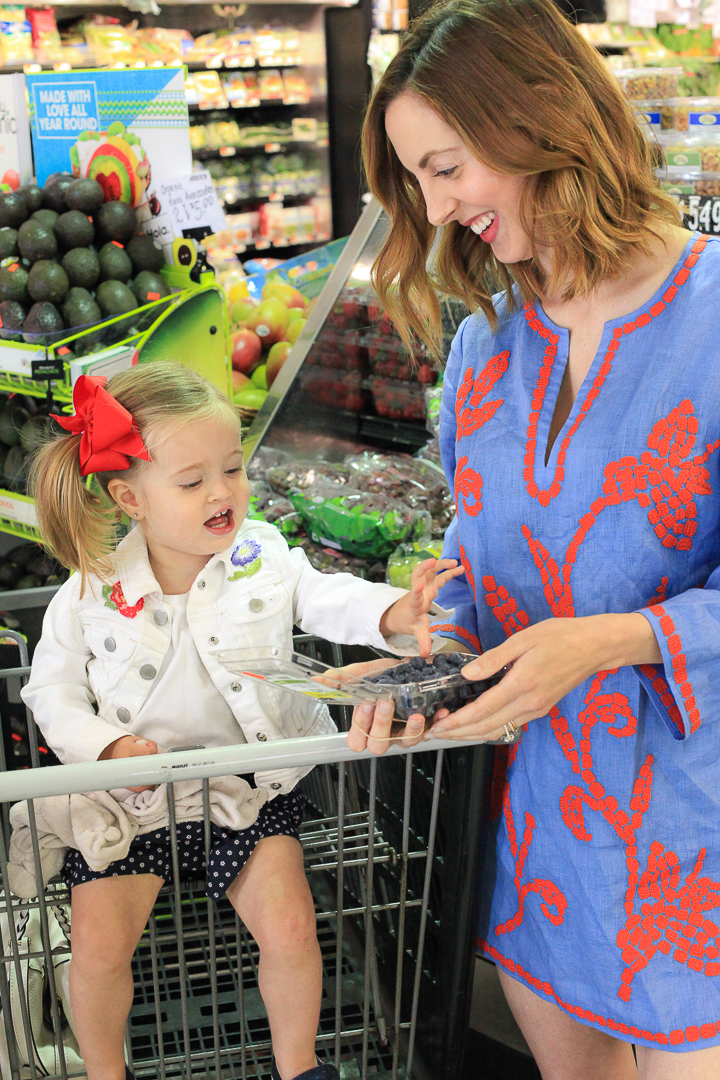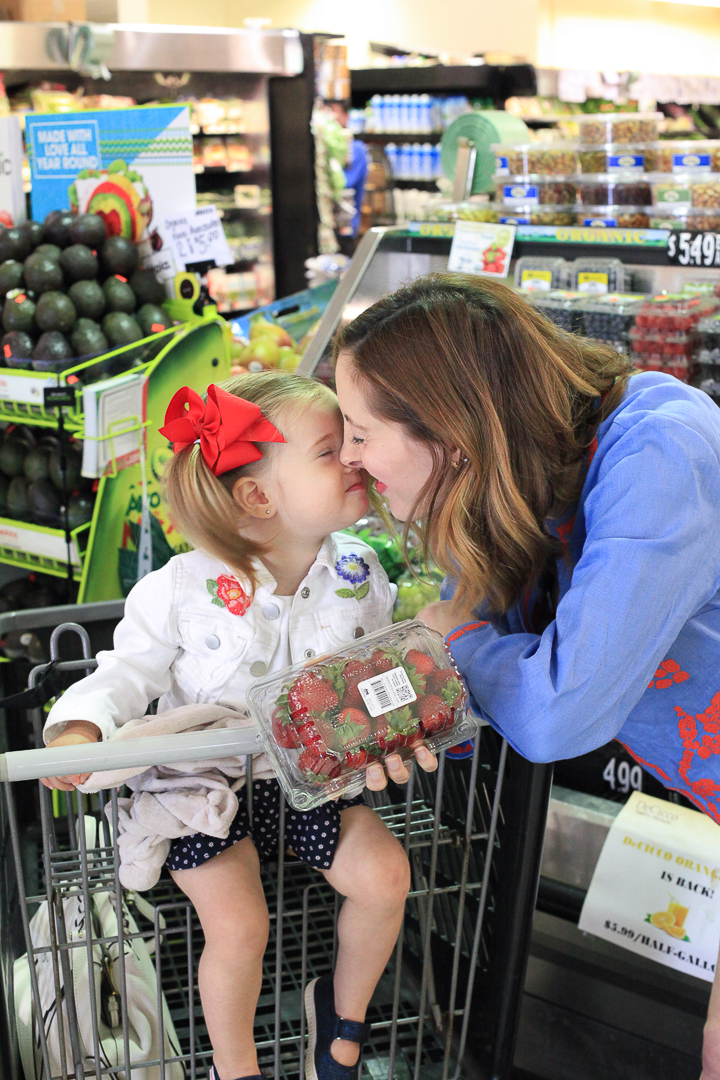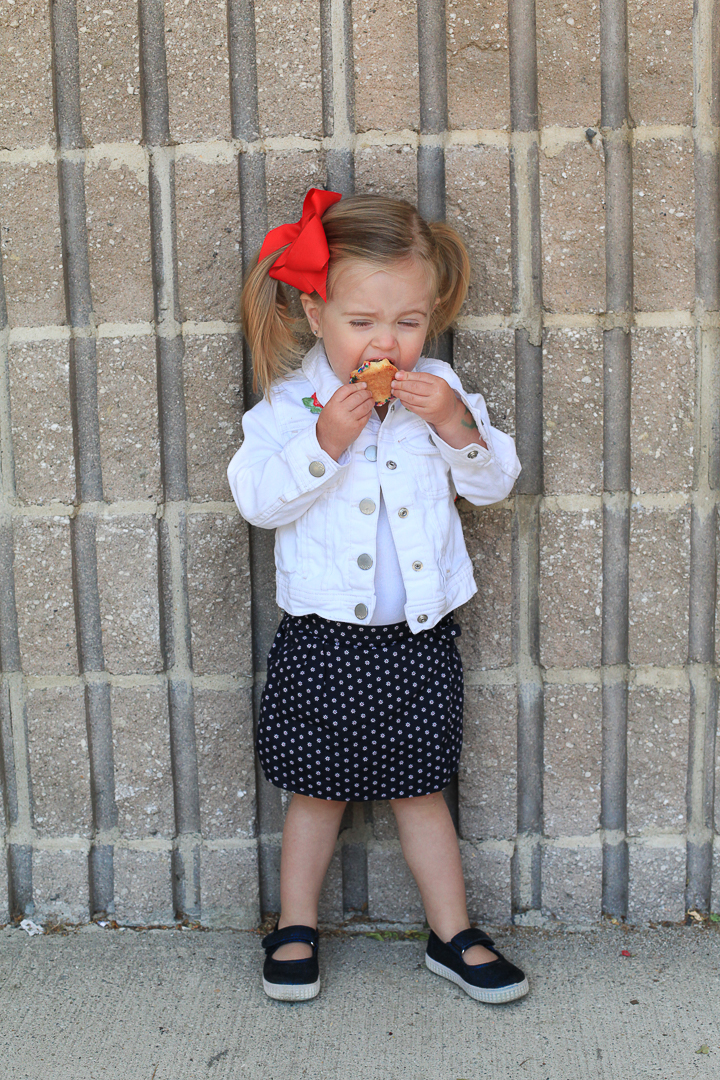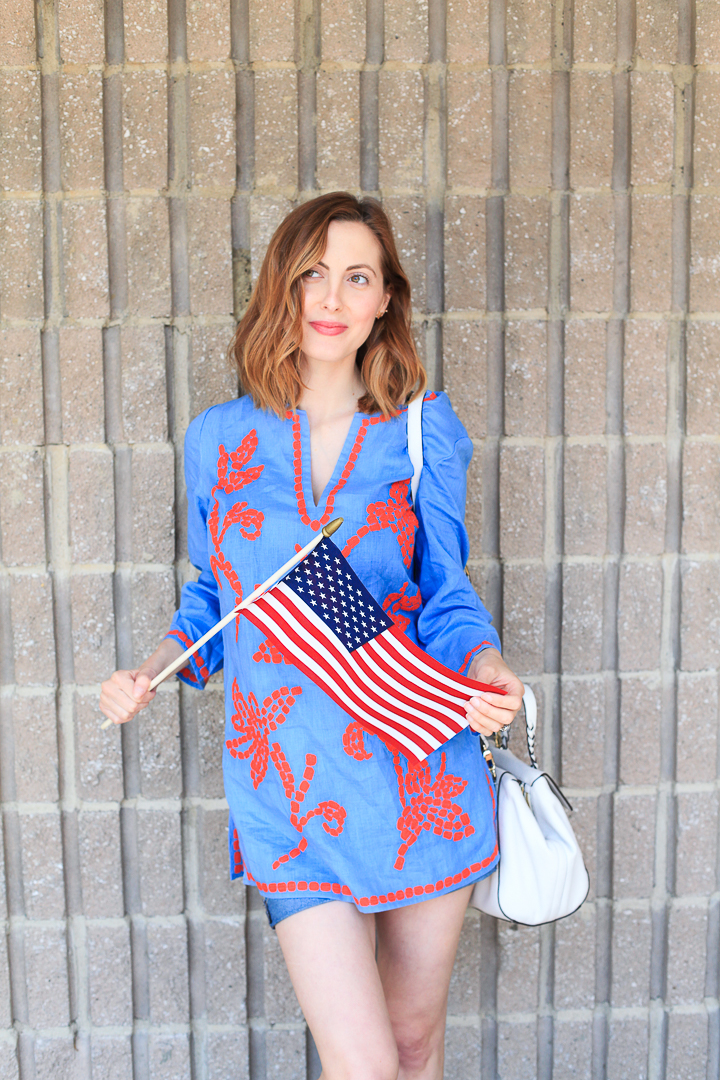 To mark the occasion, I'm keeping it super simple and traditionally festive.  Our town has a really cute parade that we'll bring Lowie to watch, and then there are local barbecues all over that culminate with an incredible fireworks show in the Town Park.  All the families bring blankets and lawn chairs, and lay out under the stars to watch the colors pop, fizz, and sparkle as they rain down over the crowd.  Besides dressing in red, white, and blue, I decided to get festive by baking a Berry Flag cake!  I wanted to make something that would be a great hands-on activity for Lowie and I to do together.  The cake is pretty self-explanatory, and you can do it with almost any kind of cake as long as the icing is white on the top.  I prefer a simple vanilla cake myself, with white frosting.  There's something about the simplicity of vanilla cake that brings me back to my childhood and makes the holiday feel even more nostalgic.  Marlowe absolutely loved shopping for the ingredients and decorating the cake with me! She actually may have preferred the berries and frosting (dipping fingers!) more than the actual cake.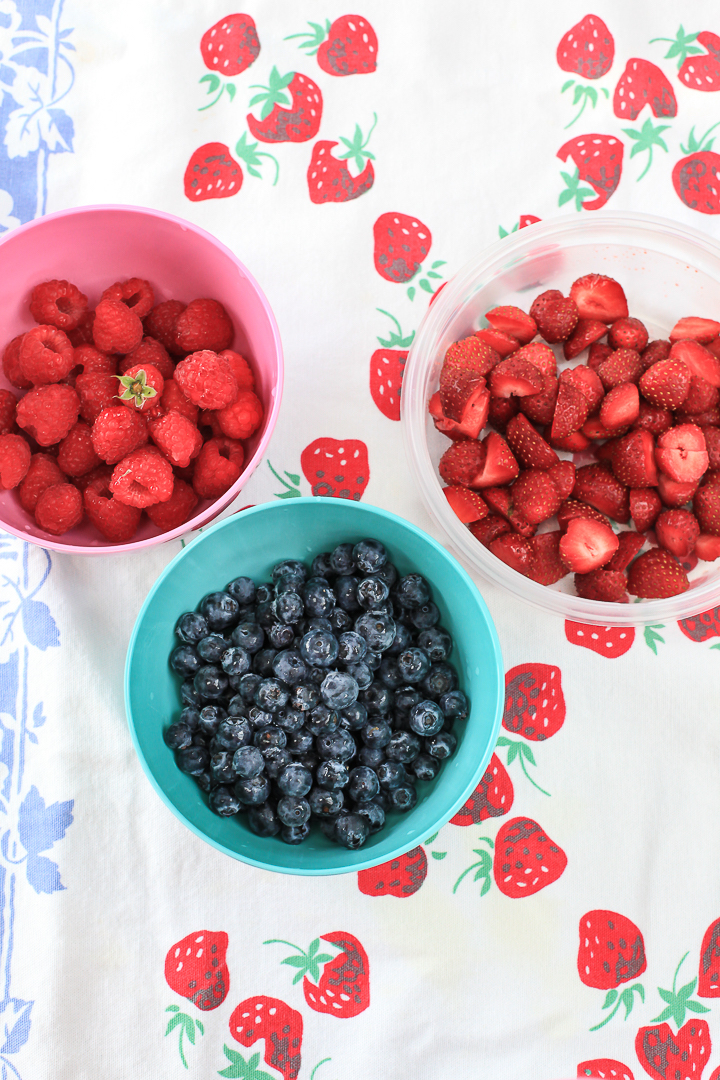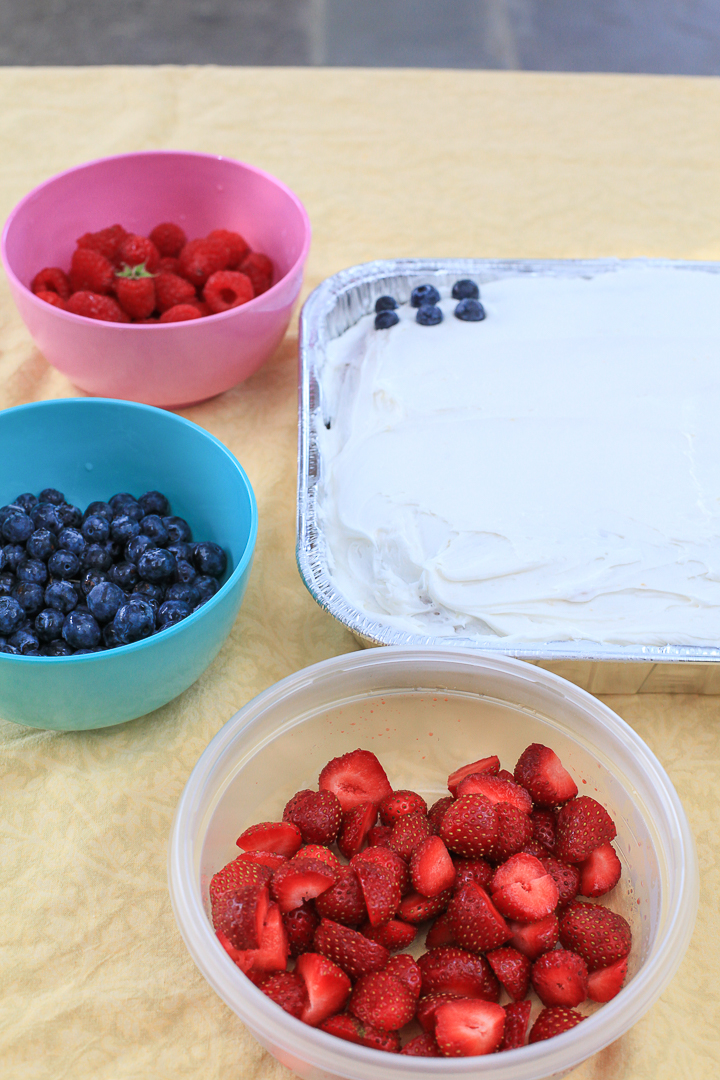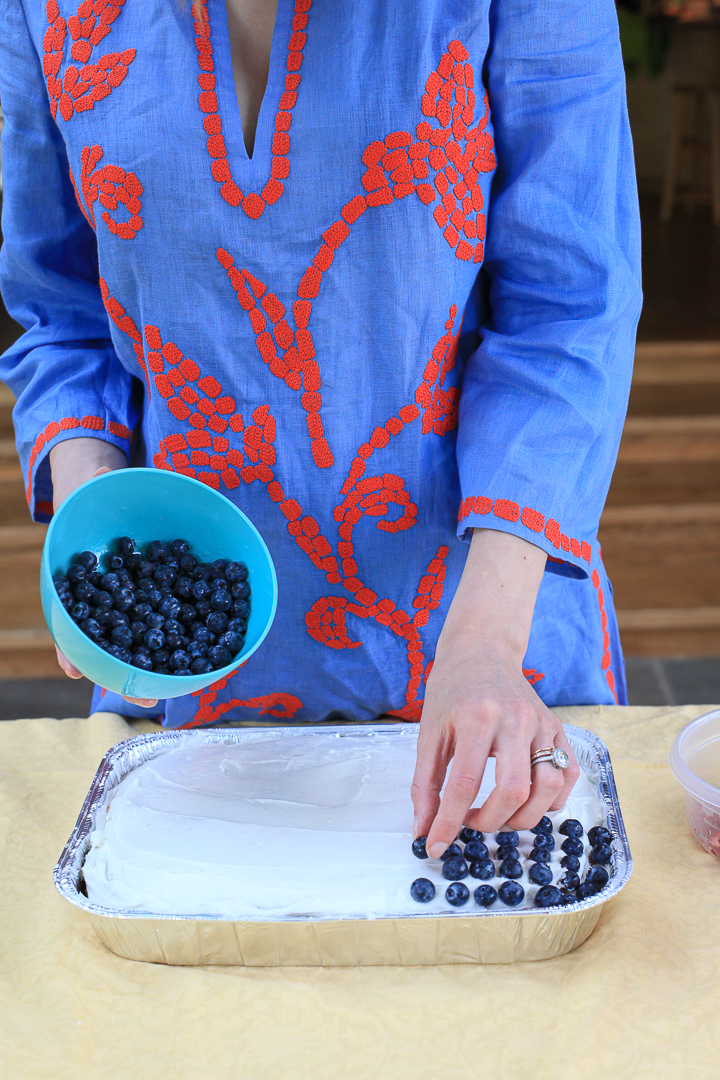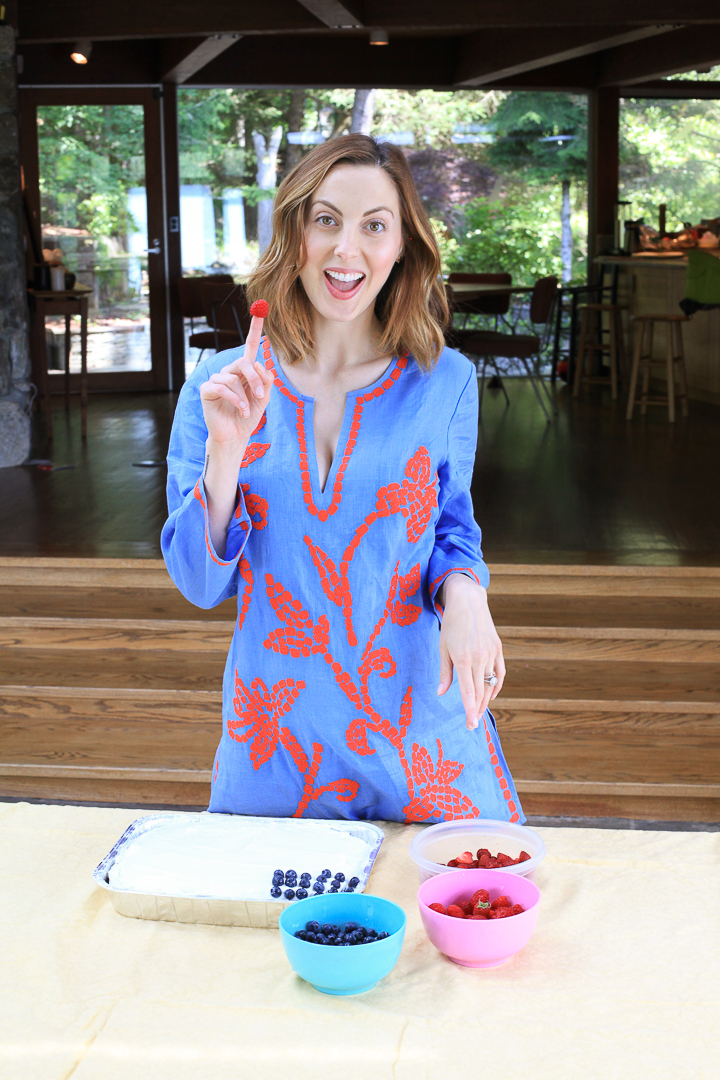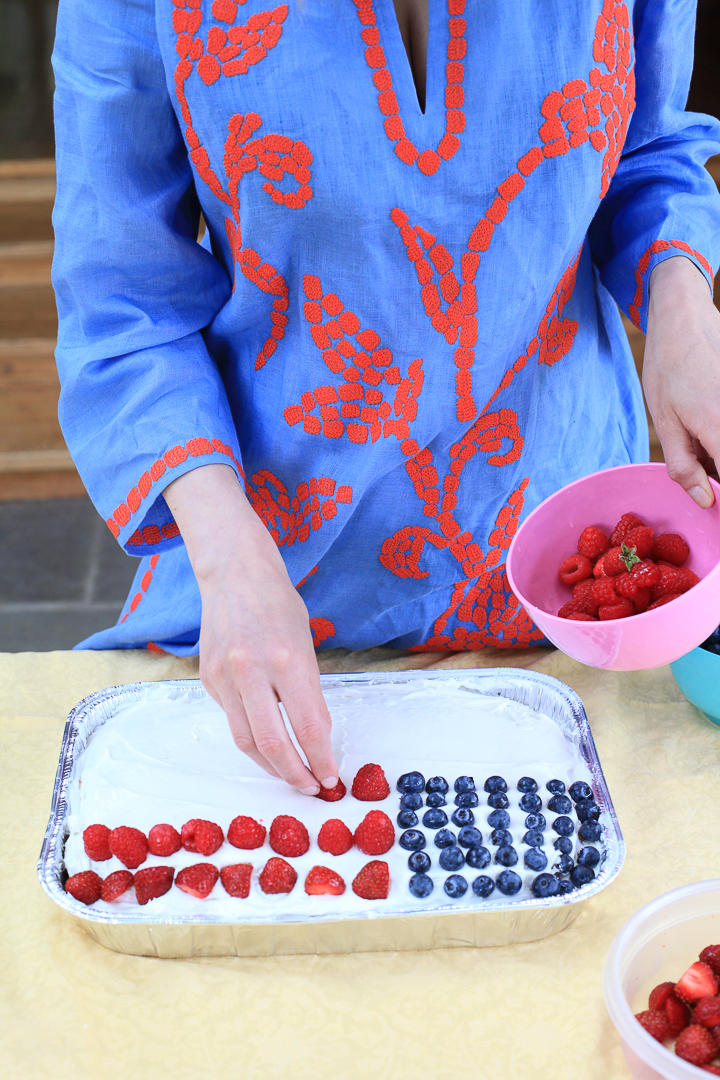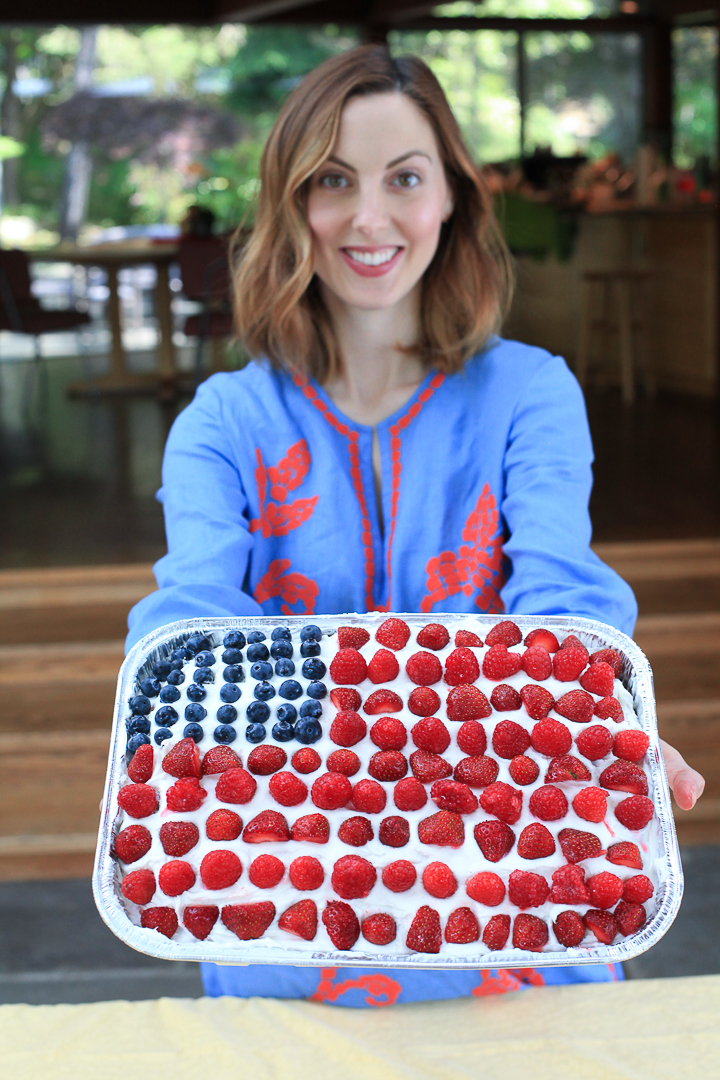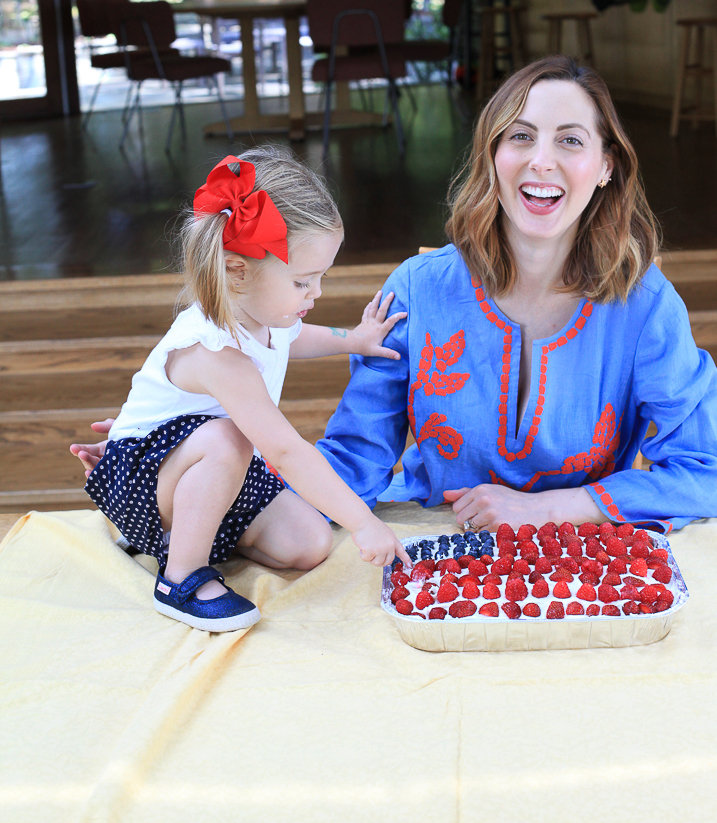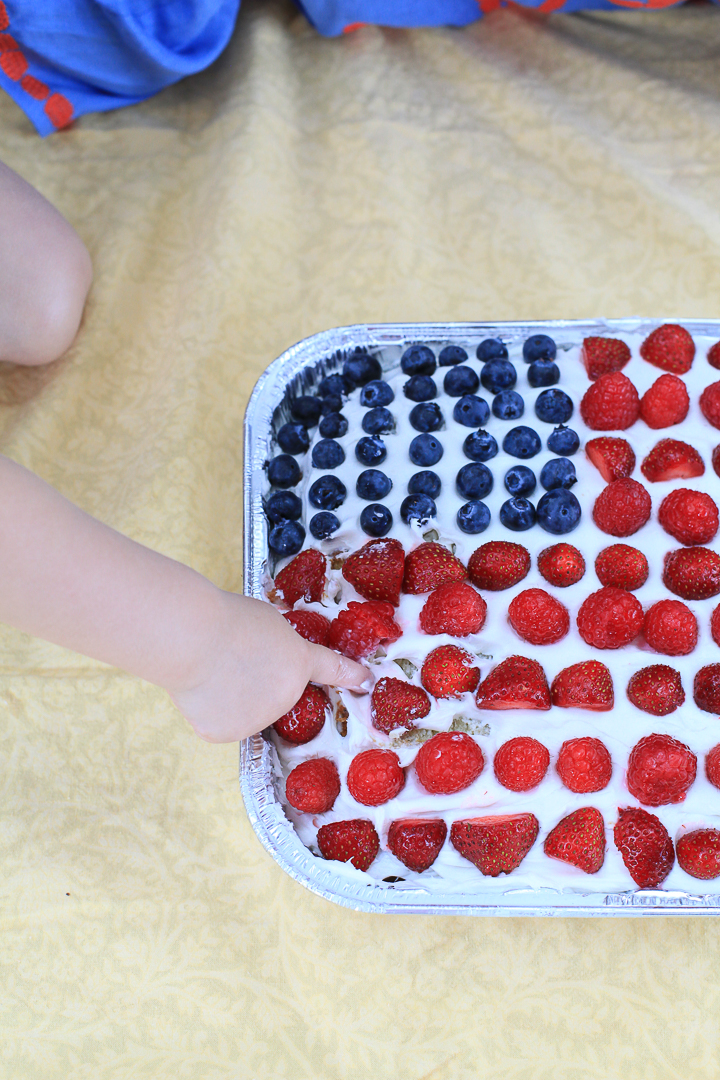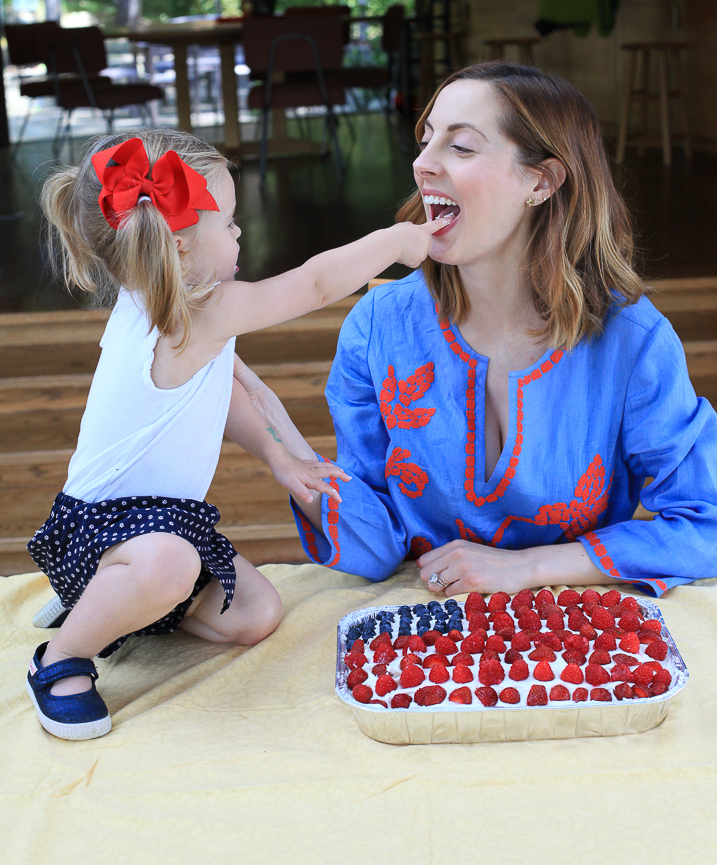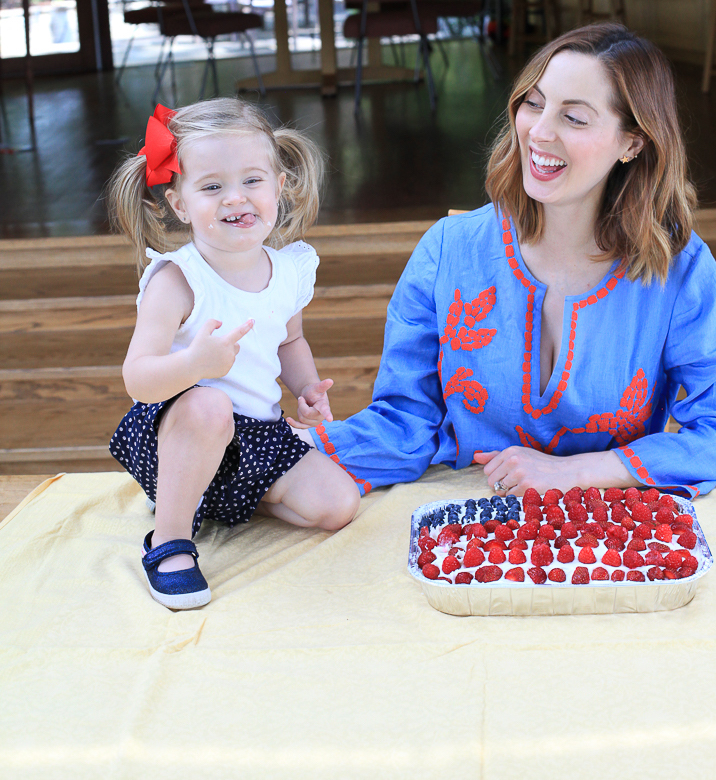 It makes me feel good to start simple and fun traditions with my daughter that we can continue for years to come.  How are you planning on spending your Fourth Of July this year? Let me know in the Comments below!
SHOP THE POST
Photographs by Anel Dzafic
Save