The following content may contain affiliate links. When you click and shop the links, we receive a commission.
When people think about high-end natural stone (the gorgeous, buttery marbles and granites in kitchens or bathrooms that make you drool on your Instagram feed), the odds are they immediately think of Europe. Italy, France, you name it– their mind wanders to far off places. But the magical secret of natural stone is that some of the most gorgeous marbles and granites on the planet are right here in our own backyards. Yep, American natural stone is where it's at! I bet you didn't even think that was an option– I for sure didn't. And now, a few months in to our home renovation, I am finding myself more intrigued by– and in love with – natural stone than ever before. And it all has to do with the journey of learning that our historical home set me on, and the awesome way it's connected me to the history of our country!
Let me back up a bit. Our new home in Westport was built in the mid 1800's. As you'd imagine, we had some updating to do, but we were super excited– and one of the most exciting parts for both of us was really making an effort to stay true to the home's roots. Through all our architectural meetings and design meetings, Kyle and I made sure to work with brands who had some base locally– and a passion for what is so special about the unique history and landscape of the northeast. From the moment we walked in to our home, it has had such great energy, and we wanted to build off of that, and honor the home's local flavor.
When we began to think about building materials, I started to wonder about the best way to go about sourcing with a similar mindset. And I was SO lucky to be introduced to Polycor! Polycor owns and operates some of the most impressive natural stone quarries in our country. And they've been doing it for hundreds of years. Some of the most important landmarks in our country's history are made from Polycor marble. How cool is that?! When I chatted with them on the phone, it was clear how passionate they are for the long history of natural stone in our country, and for the often-overlooked quality. When I first laid eyes on their product, I couldn't believe how gorgeous it was, and wondered why I had always assumed that fabulous marble had to be European.
They could hear my own passion for keeping our project hyper local and national when possible, and celebrating the deep roots of our forever home. And a partnership was born! Little did I know that this relationship would spark a new real passion in me, and also teach me something TOTALLY new to me that still inspires me daily! I thought you guys might be interested to see a bit behind the scenes, since we really do seldom think about the backstory of those gorgeous slabs of stone that have come to be associated so closely with luxury.
We are using Polycor stone in our kitchen, and in my bathroom and Kyle's bathroom. It was so fun to pick out the colors and textures! We ended up using White Cherokee marble with a honed finish in our kitchen– as the kitchen island, and for the surrounding countertops. We got Pearl Grey Marble with a honed finish for my super femme bathroom, and a really cool Saint Henry Black granite with an antique finish for Kyle's bathroom. I'm dying to show you guys how stellar these stone picks look in the respective rooms (reveals coming soon!) But my real respect for how gorgeous the Polycor stone is came through learning so much about their history and process.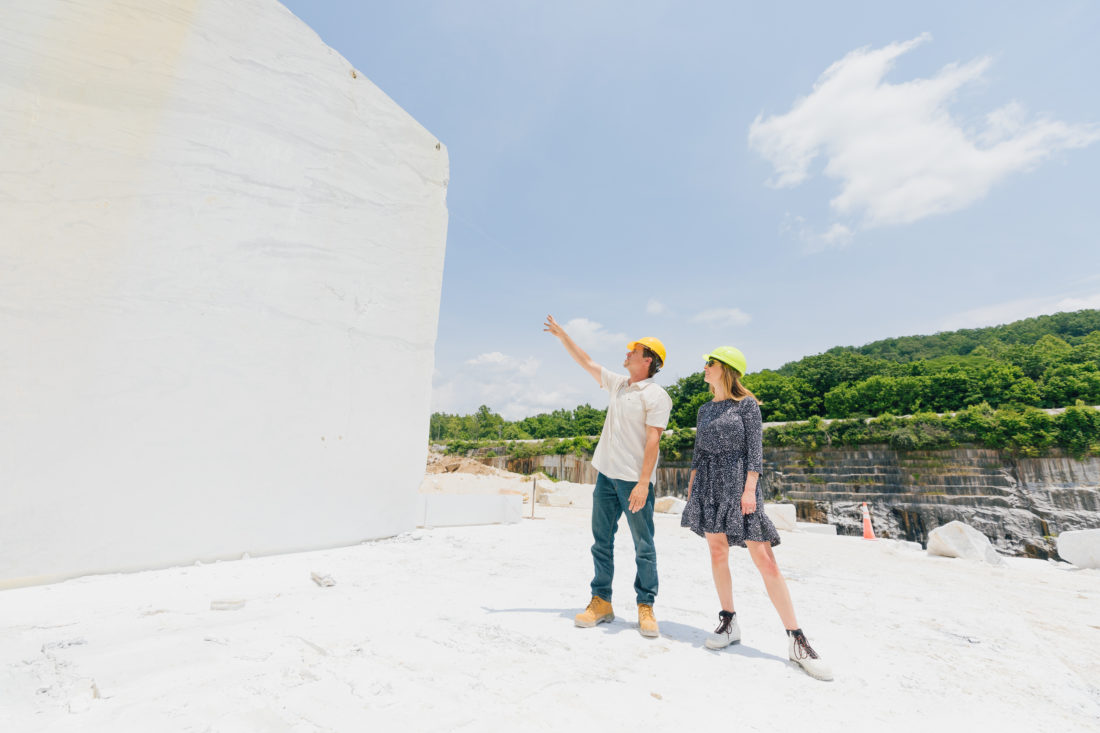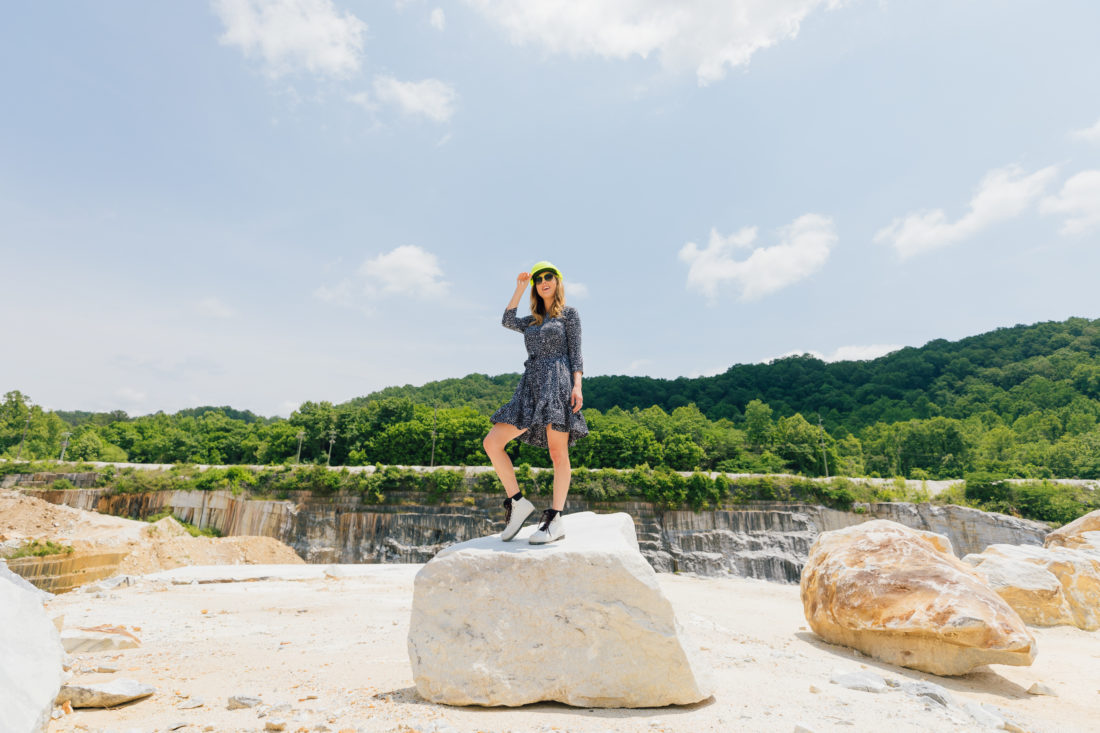 About a month ago, I was able to go down to Georgia to visit the Polycor marble quarry there. It was definitely a once in a lifetime experience. Steve Schrenk from Polycor was able to accompany us and teach us so much about the history of the quarry, the extraction and refining process, and so much I didn't know about the prominence of Polycor stone in the design of our great nation! For example, the National Monument is created from White Cherokee marble from the very quarry that my kitchen marble is from. And this marble was used in statues and buildings central to the design history of the United States. In other words, I have a piece of American history in my kitchen! I can't stop thinking about how cool it is that natural elements, that were carved and polished to represent the story of the place I was born, shared a home and were mined from the same hill that has now become a part of the history of our family. It's pretty wild to think about.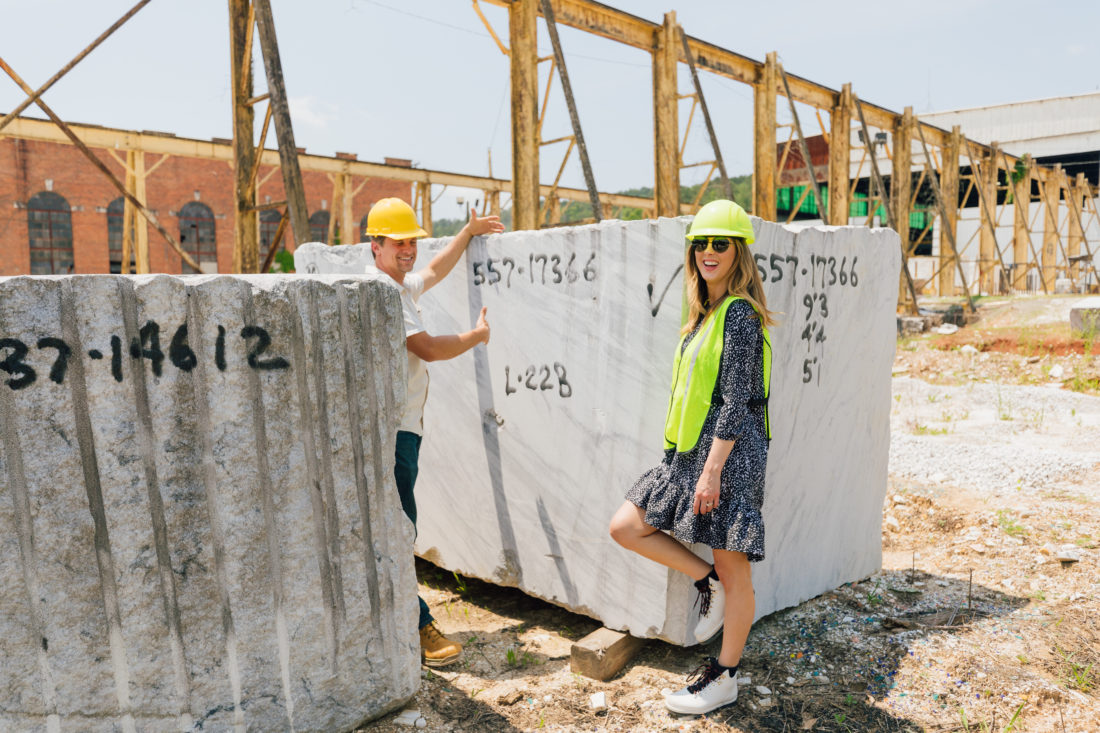 Learning about the marble was super eye opening, and the landscape of the quarry was just breathtaking. I loved seeing how the slabs are cut out of the rock beds, and selected. It was also really cool to see slabs of marble absolutely everywhere, like it was nothing! I kept on reminding everyone that I would totally take home gorgeous "rejects" that were sitting collecting dust and overgrowth in the corners. LOL. Sam, an employee of 40 years, who took us around the Polycor quarry, still had such a passion for sharing the history and process of the stone– it was really moving actually. I felt like I wanted to just sit and ask him questions all day long.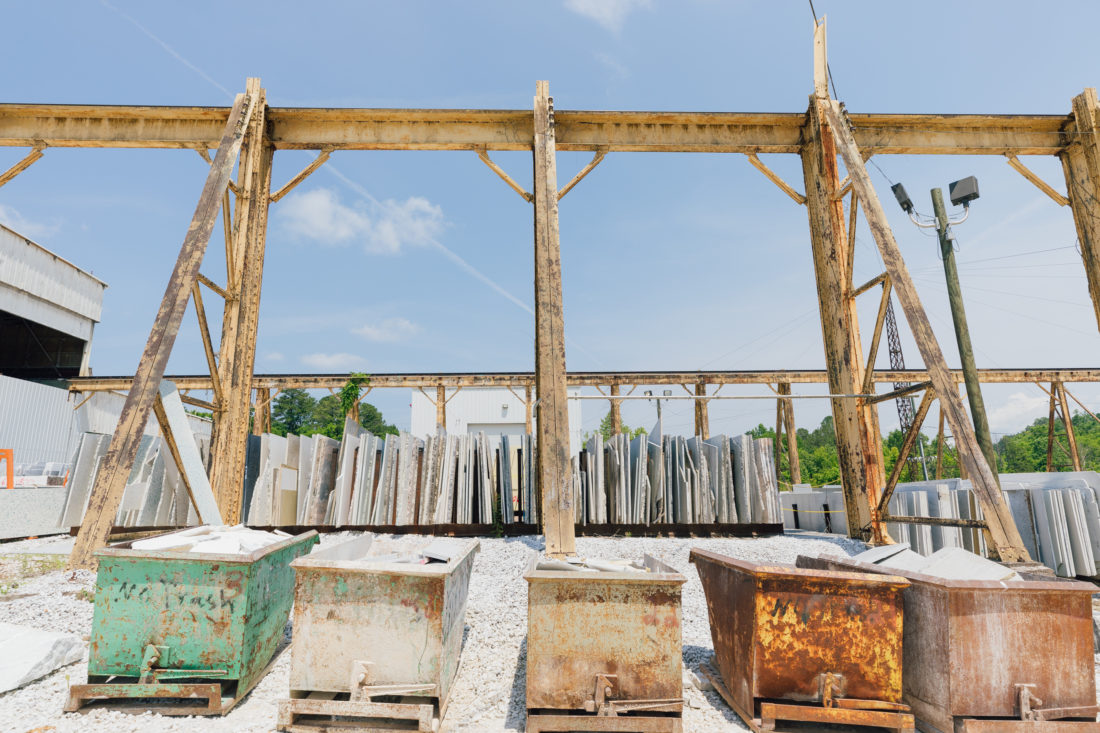 Once the marble is extracted and prepared, it gets shipped to stone yards where the consumer can go to select specific pieces. It was really fun to go with Prudence (our interior designer) to choose which areas of the stone we wanted for each place in our house. I feel like I look at natural stone so differently now. I mean, of course the luxury aspect of marble or high quality granites is beautiful and special– but I feel that installing a beautiful piece of natural stone in your home is almost like taking the history and energy of something that spans generations and centuries– and giving it a place of honor. I hope that our energy as a family– the laughter, the tears, the late nights and early mornings– permeates the natural stone in our home and enriches it. I hope it mixes up with the history of that stone, and the history of our new, old house– and creates an even more vibrant story.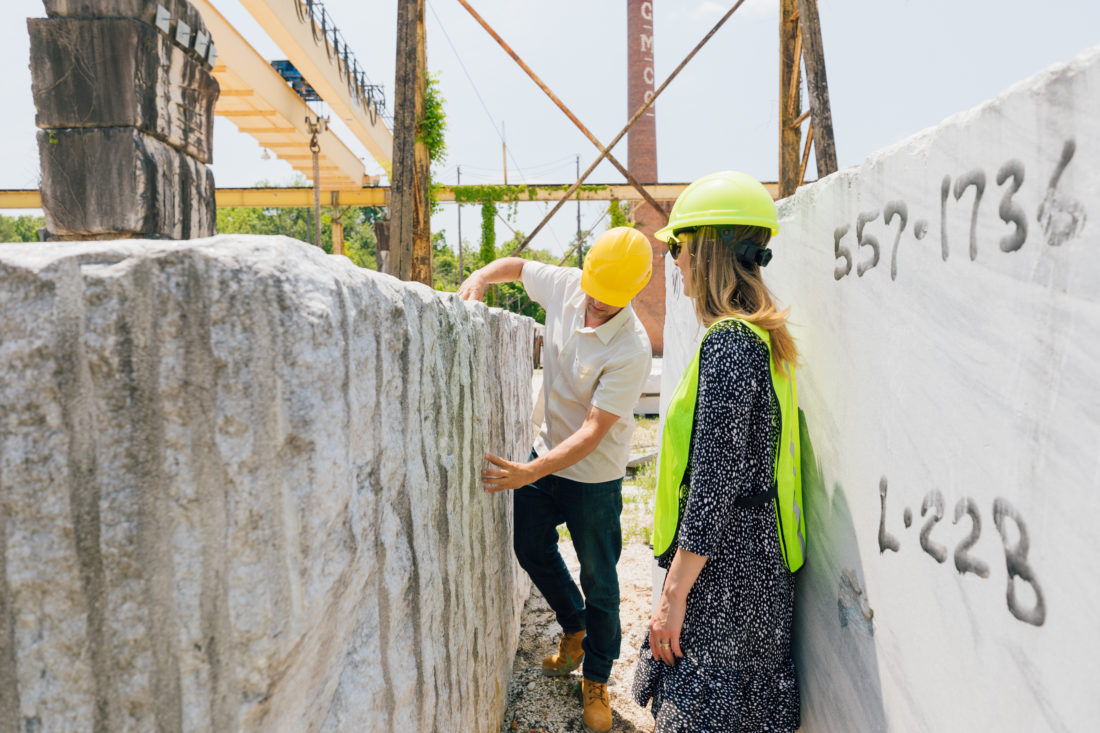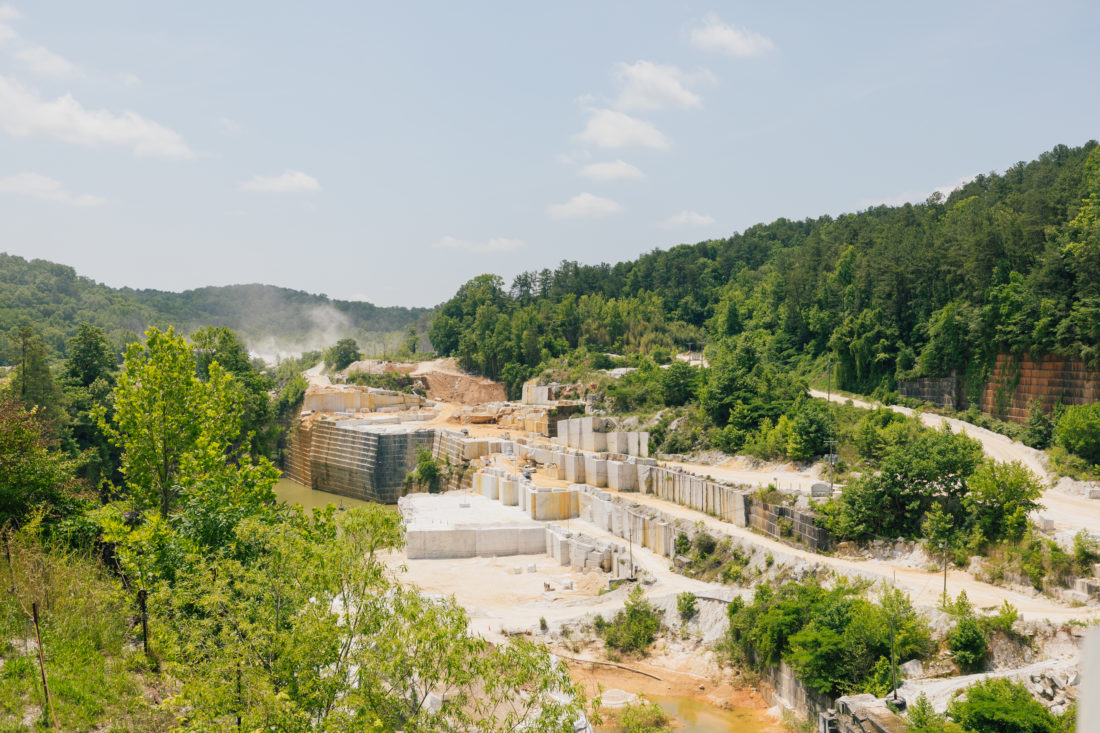 Since Steve is so knowledgeable when it comes to natural stone, I thought I would share a little Q&A here with him to answer some questions I had and found interesting. Take it away, Steve!
From the moment I began my partnership with Polycor, the company's love for natural stone and its place in the history of our country has been so evident. Can you explain that passion and what it's born out of?
There's a deep connection to natural stone that's a common thread shared throughout the company with all our employees, whether in the quarries, our production plants or working with designers, architects and homeowners. It's both a physical and conceptual connection related to a greater narrative. Stone provides an awareness of our existence here on earth, our relation to geological time and the massive forces of nature that were at work creating the stone well before we arrived. Native Americans and early settlers realized the utilitarian advantages of using stone as a building material – it was locally available, at or near the surface in natural outcroppings, and was extremely durable. It is also aesthetically appealing in a way that other materials are not. We instantly identify with the textures and patterns in a stone, making us want to touch it and experience nature's artwork firsthand. Stone is like a fine fabric used to make a designer suit, in the end you focus on the suit, but the fabric that's stitched together helps make the suit into the luxury item it is. These North American quarried stones literally helped build American history through the iconic landmarks that have withstood the test of time and are part of the fabric of our heritage. The fact that we are continuing that legacy with our modern day operations in the same quarries gives a feeling of pride for future generations to experience as well.
I recently learned that Polycor stone was used to build or decorate some of the most recognizable cultural landmarks in our country! What are some of your favorites?
I would say the Lincoln Memorial in Washington, D.C. carved in White Georgia marble is the most emotionally moving experience – the scale, the setting, the symbolism and message contained in the marble makes it look like it's living and breathing.
Another favorite is Grand Central Station in NYC clad in Indiana Limestone – the way the modern city buildings have built up around it over the years, yet it still stands proudly in its historic Beaux Arts style lending a bit of that old Manhattan glamor from days gone by. It witnesses so many people passing through its doors every day, just as it's done every day for the past 148 years.
Also, being that I'm a huge fan of the arts and sciences, the Smithsonian National Museum of Natural History on the National Mall in D.C. is amazing! The gigantic fluted columns at the entrance, carved in Bethel White granite from our Bethel, Vermont quarry, make you feel tiny when you walk up the front steps. The scale reminds me of being back in the quarry walking among the big blocks and looking up at the sheer granite cliffs.
What are some misconceptions about using Natural stone in homes?
That it's impractical, fragile and delicate. That's how the "engineered stone" companies like to paint it in their messaging which couldn't be farther from the truth. When you take into consideration these monuments and buildings that have stood in pelting rain, freezing ice and snow and scorching heat and even fires over the years, you name it – they continue to be the last thing standing when all else has failed. In fact, when the original Stock Exchange building burned down in the New York fires of 1835 the architects discovered the marble survived unscathed so they reconstructed the building in Georgia marble that still stands to this day. Hot pans from your oven placed on your stone countertops will not be affected like other engineered products made from glues and resins that burn and blemish. If you apply these methodologies to other consumer goods and products you'd realize that we'd all be driving Hum V's if we were worried about getting a scratch on our Lexus. Stone will outlive us many times over.
Is Natural Stone high maintenance as a material? What's the best way to care for and preserve it?
Natural stone is not high maintenance by any means. My feeling is an ounce of preservation is worth a pound of cure. You wouldn't want your kids skateboarding on your wood floors, or laying in their muddy soccer uniforms on your living room couch. Stone is no more maintenance than that. Keep up with a regular routine maintenance program of wiping up after yourself, using simple dish liquid soap and water, and you'll be fine. Seal the countertops with a good quality impregnating sealer once a year and they'll provide years of resilient performance.
What should a customer look for in a high-quality piece of marble?
Feel the surface of the slabs with your hands and inspect them up close for any pits or fissures. Oftentimes inferior marbles will have areas that have been extensively filled with either clear or colored resins to consolidate the surface and make it more even. It's natural stone after all, so some of this is to be expected to an extent, but more out towards the edges of the slab or generally minimal amounts overall. Standing far away from the slab and looking at the overall pattern is important as well. Uneven distribution of veining (or too heavy or lack of veining) impacts the value of the material too.
Do you love marble?! And did you know that we have such a rich national history with marble in the United States?! I would love to hear your thoughts below!
---