The following content may contain affiliate links. When you click and shop the links, we receive a commission.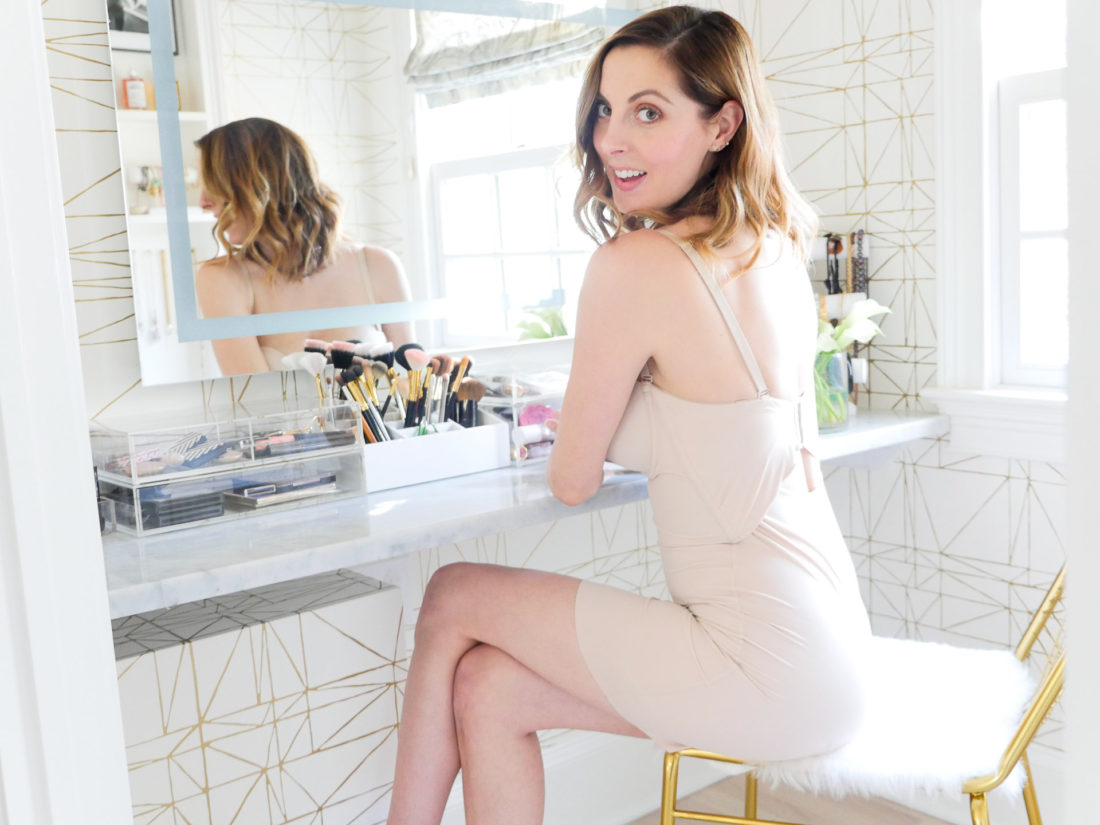 It's officially Party Season! There are articles, posts, and advertisements everywhere for that super glam holiday makeup and those chic party outfits– there's nothing better than feeling like a million bucks at a fab Holiday fête! But for me (like most of my fellow women), feeling great isn't just about hair, makeup, or a designer label– but also about how flirty and fit we feel in our party dress.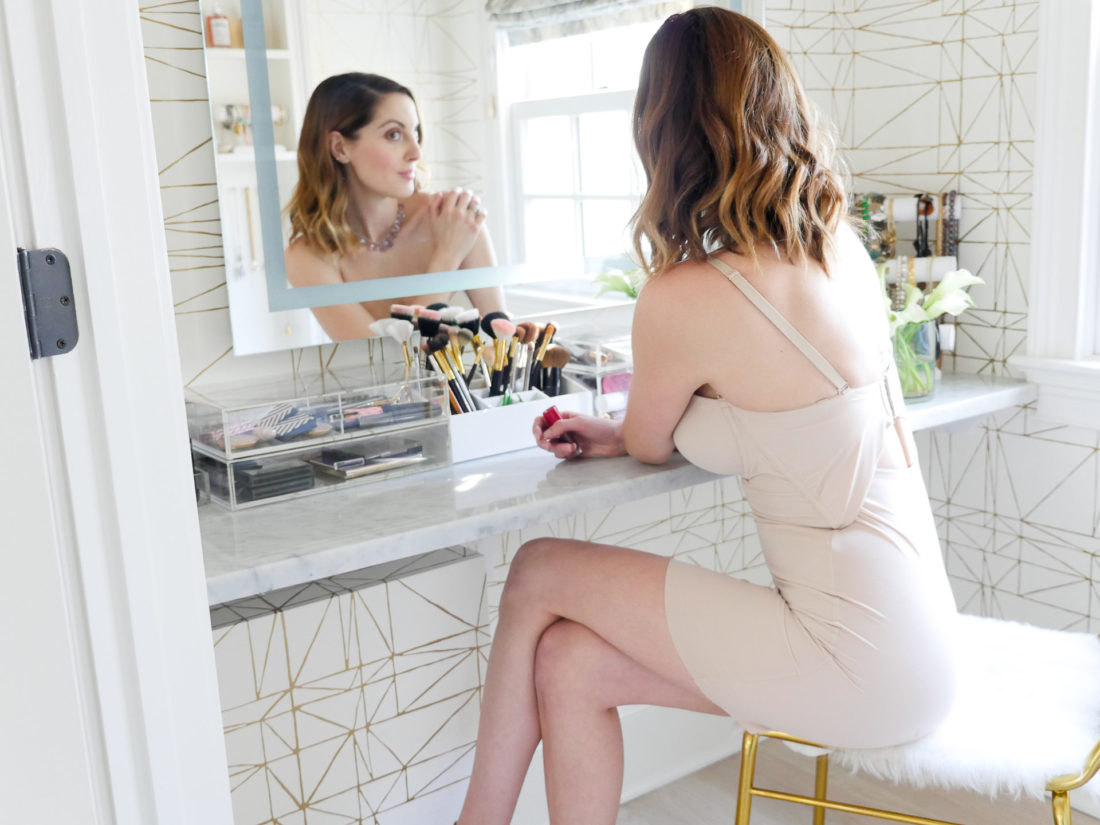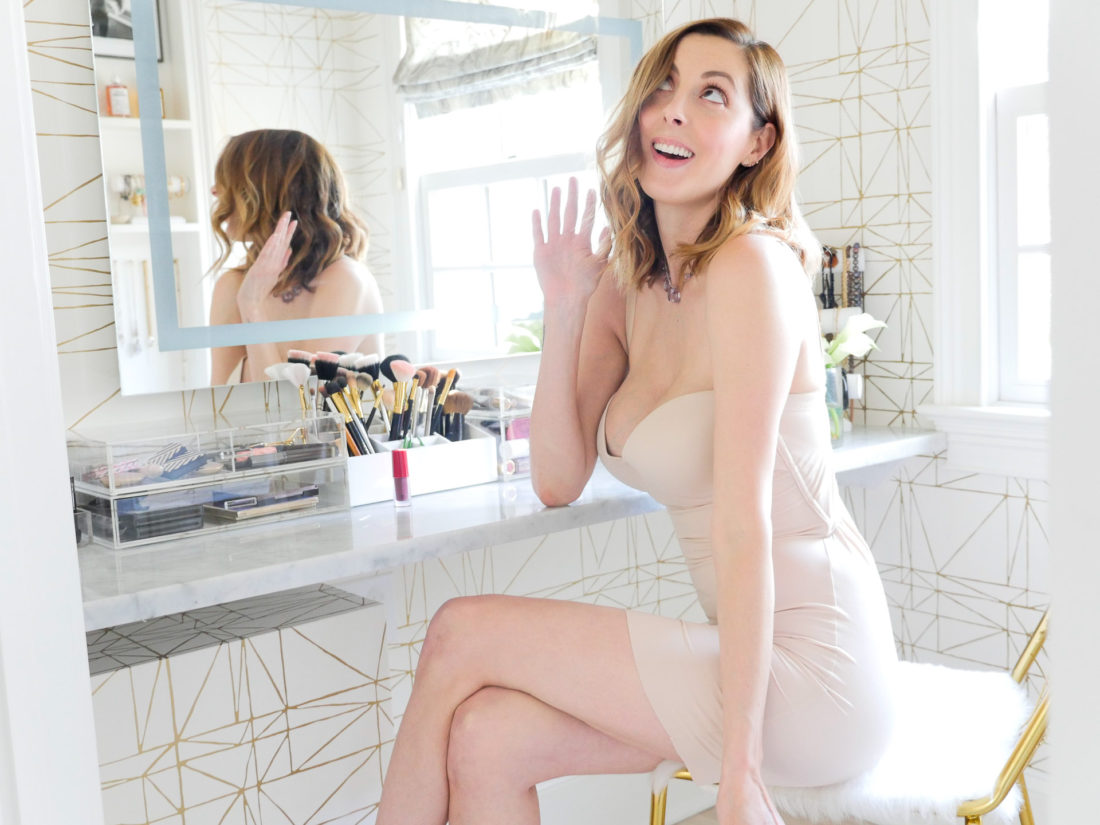 Welp.  I just had a baby six weeks ago.  And though I've been working at shedding my "Baby Body" in a healthy and natural way, I still don't feel completely like myself.  If I'm honest, my clothes don't really fit the same either.  Since Major is my second child, I'm dealing a lot more with droopy skin, jigglyness, and other not-so-fabulous-feelings after this pregnancy.  And like any woman, I struggle a lot with wanting to love myself with every new curve, and also wanting to feel like my pre-baby self.  I want to feel empowered in my form no matter what my body is going through, but sometimes we all need a little extra help on that mission.  This year I'm getting my Holiday Season mojo back with Maidenform Shapewear! I can honestly say that I'd never really worn shapewear before– I just imagined that it didn't really work or that it would look strange underneath my clothes.  Boy, was I wrong.  And now I'm HOOKED.  Maidenform is one of the oldest and most lauded shapewear and undergarment companies– that has been perfecting its products for decades.  Not only does Maidenform know a woman's body better than anyone, but they are creating a fabulous product that is available at a really affordable price point.  And I am majorly down with that.  Let's enable all women to wear shapewear if they want to, for Pete's sake!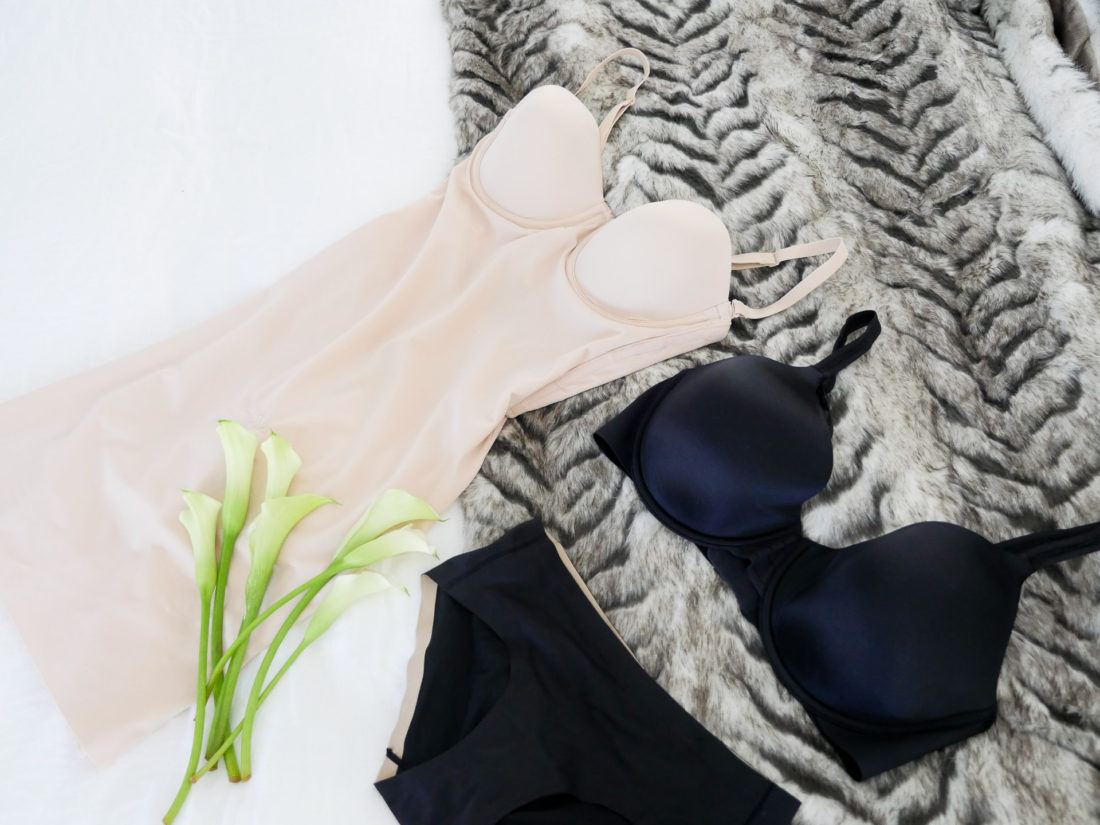 My favorite Maidenform shapewear pieces are the Luxe Back Smoothing bra, Smooth Seamless Hipster, and the Endlessly Smooth Foam Cup Slip. When I first put on my Maidenform Smooth Foam Cup Slip, it's how I imagine Wonder Woman felt when she first slipped on that cape.  All of a sudden, my sass was back! In spades. I felt like I was standing taller, that my body was stronger– and that I looked MORE buxom actually, not "skinnier" per se. It's that "Boom, Boom, POW" we are always chasing. I just felt like a Woman again– and for somebody who has been covered in spit-up and diaper cream for the past six weeks, that is a pretty big deal.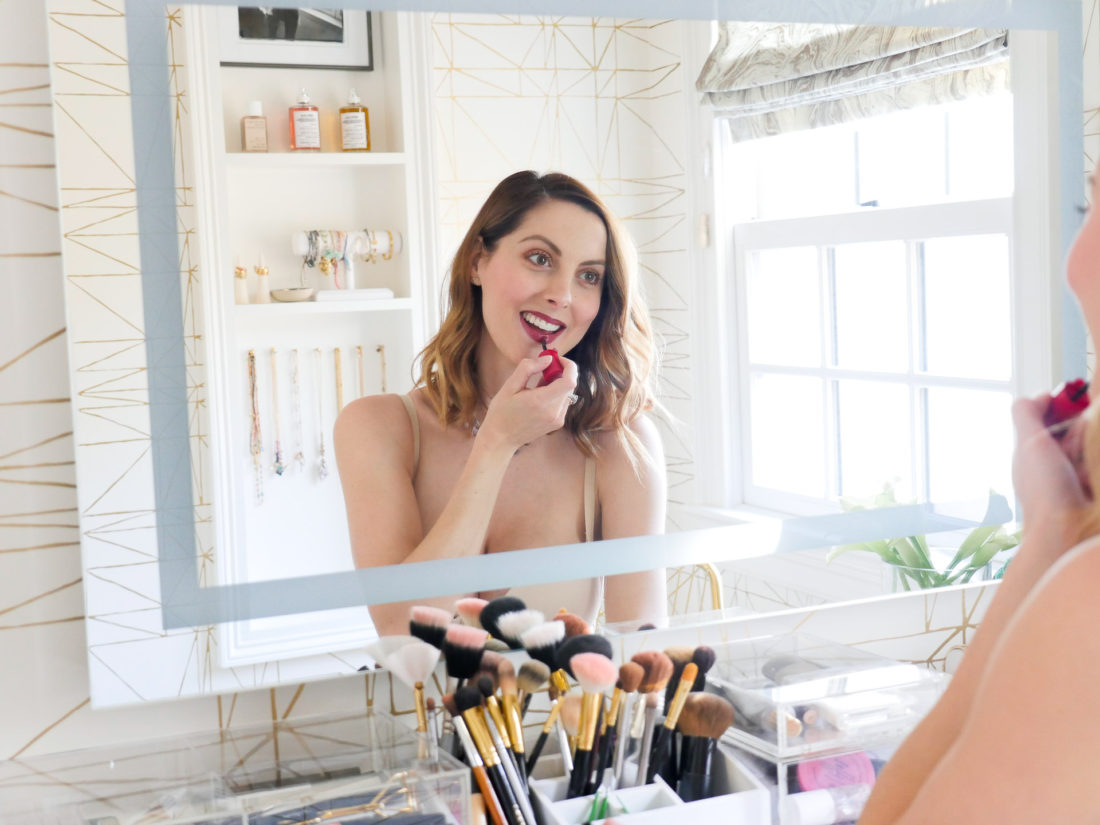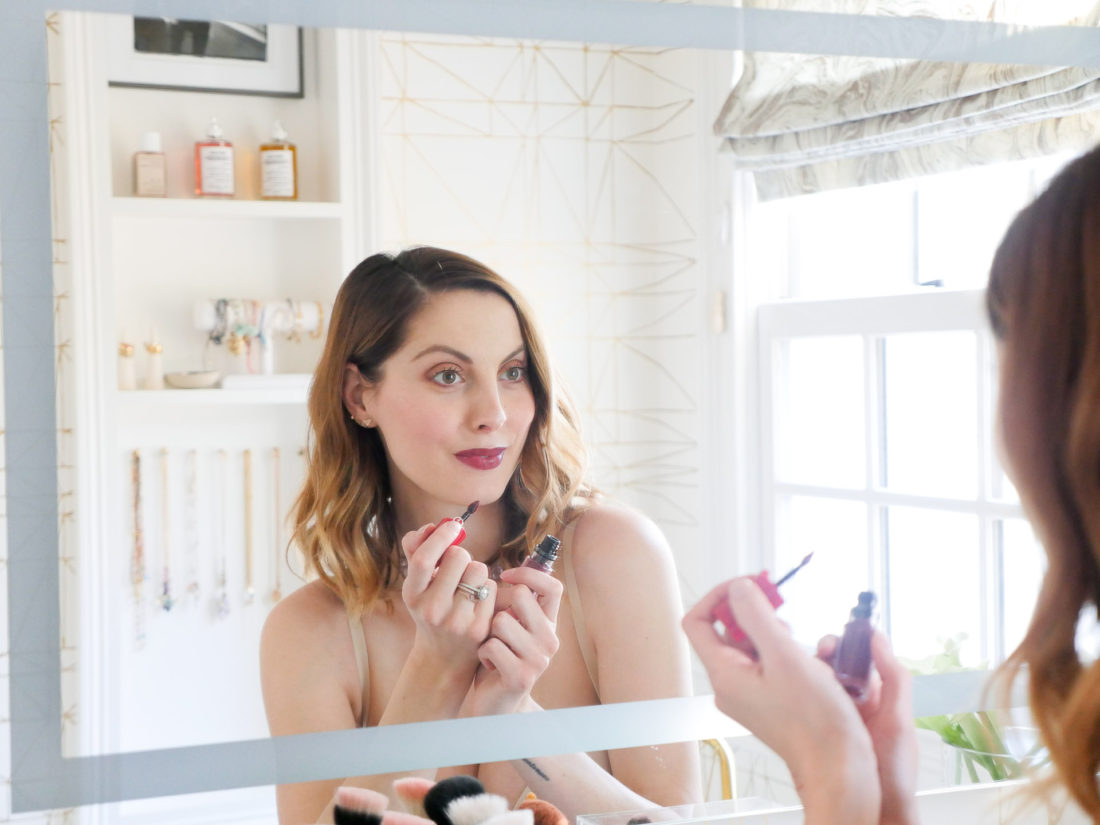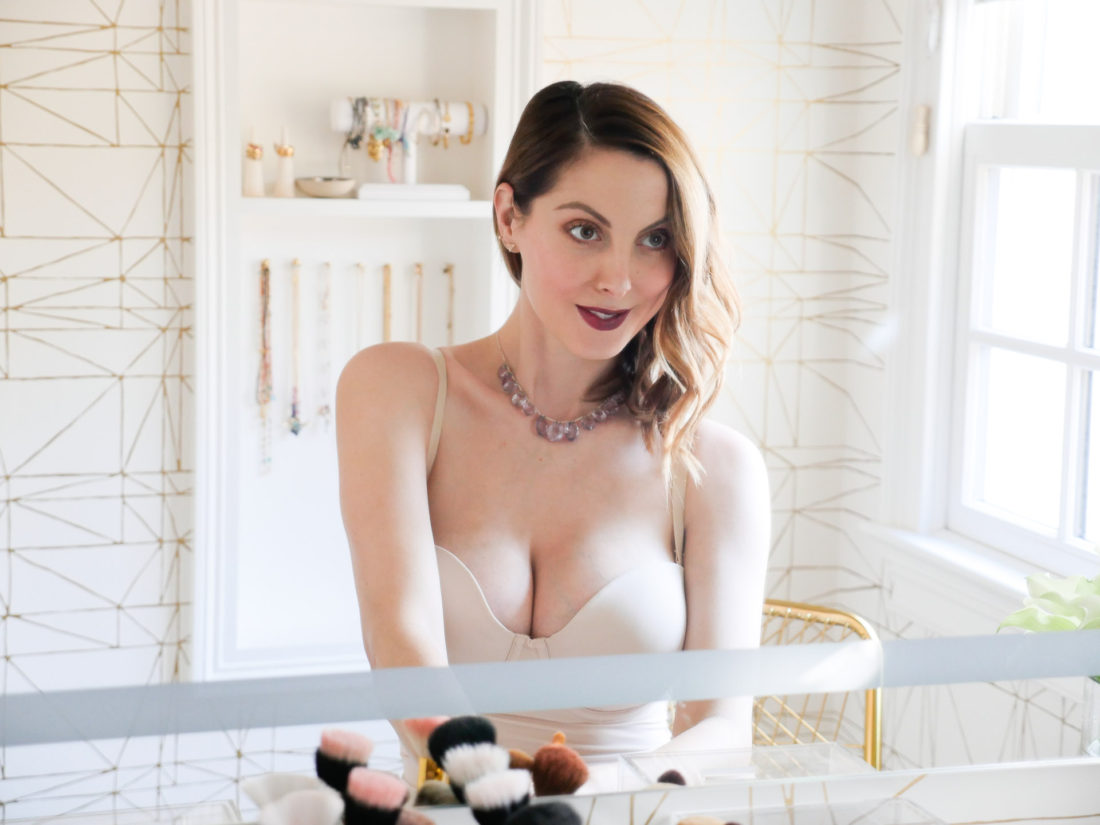 The slip is so comfy, but has enough firm pressure in its stretch to feel like it is holding you in a totally confidence-boosting embrace.  No jigglyness here, fellas.  More than anything, I just love that it gives me the poise to stand tall and let my personality shine at all those Holiday parties.  Kind of like when you're walking in to a work meeting and know for sure that you have perfectly minty-smelling breath, that your hair is on point– and that your biz presentation is even better. THAT feeling.  The slip also has a built in underwear part that is so genius, making it impossible for the slip to ride up under your dress or skirt. Additionally (and importantly), I seriously applaud the lift and separation the top part gives my post-baby boobs (which will gladly take all the help they can get), and the straps that allow you to manipulate the top to correspond with any type of dress or blouse.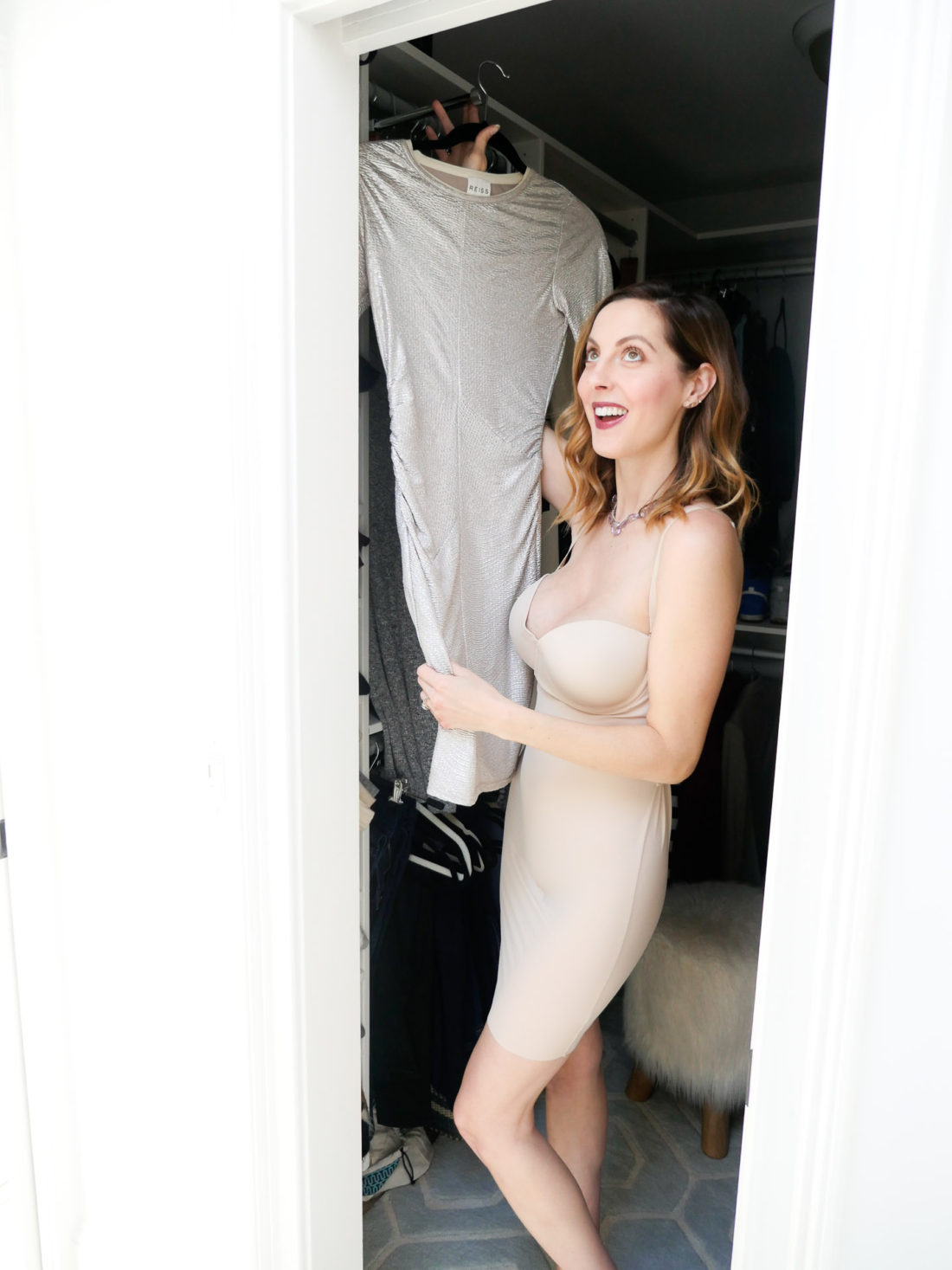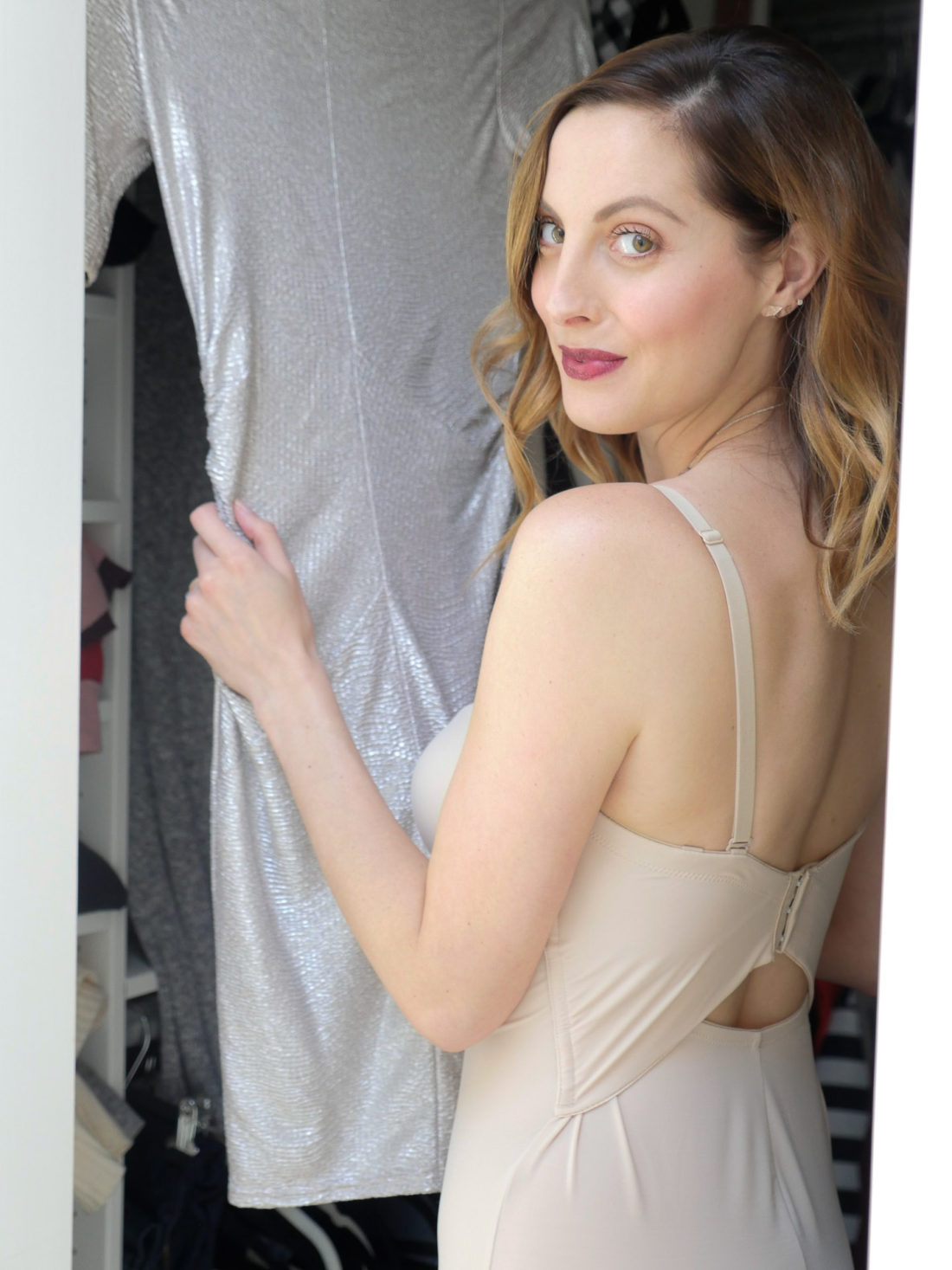 I as soon as I put on my new Foam Cup Slip, I instantly knew the dress that I wanted to pair it with: a stunning, silver body-con sparkler that I had worn to Holiday parties pre-kids– but that always looked a little "not right" ever since.  I knew that this shapewear would be just the ticket for getting me back in to one of my favorite pre-baby Holiday favorites in style.  I felt so retro and glamorous getting my hair and makeup ready in my sassy little slip.  My husband actually walked by my Glam Room and said "Wow, that's a sexy dress!" Ha! I'm sure if he had it his way I'd have one in every color and wear them to dinner.  After applying my hair, makeup, and jewelry, it was time for the moment of truth…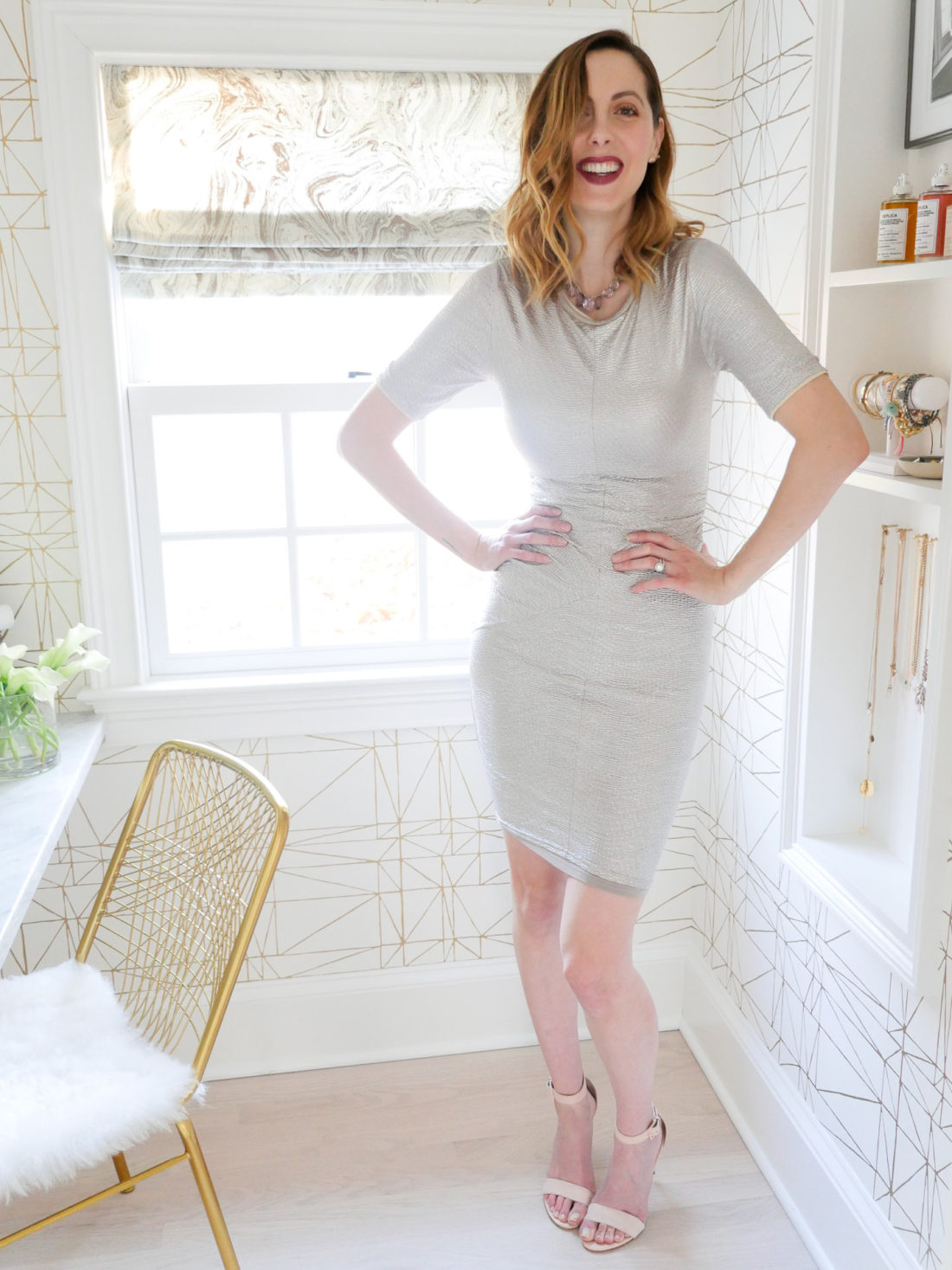 …And my old dress fit! I loved feeling my new, womanly curves poured in to one of my favorite clothing pieces.  I did have a little chuckle thinking about how different my life was the last time I had worn this dress.  Am I old enough that I can call it vintage? Ha! I love that with Maidenform Shapewear I now have a super fabulous tool in my arsenal to help me shine through this fun, festive season– inside and out!  Because when I'm feeling confident, my happiness shines out of every part of my face like high beams.  And as my favorite Audrey Hepburn quote so appropriately states, "Happy girls are the prettiest girls."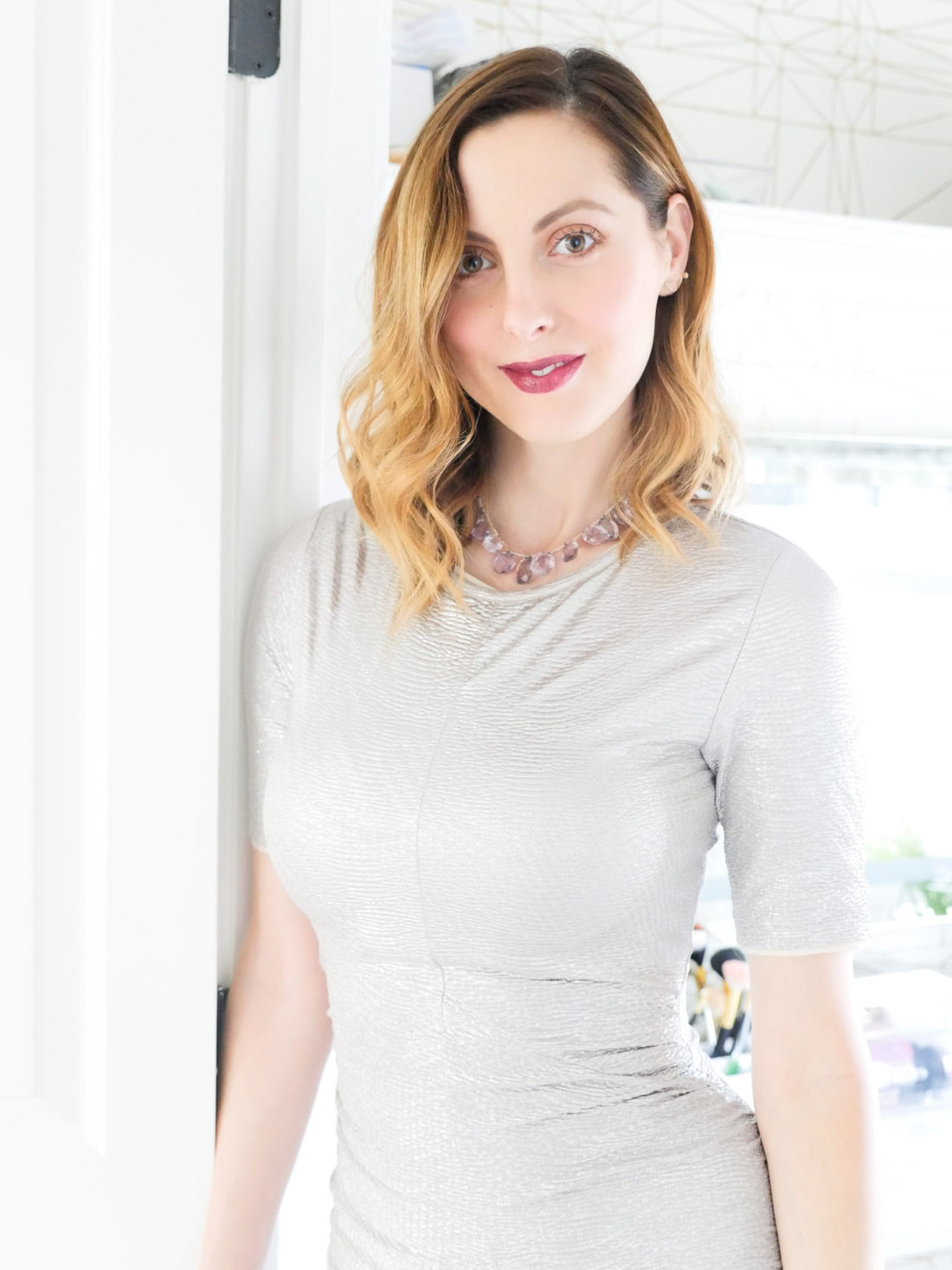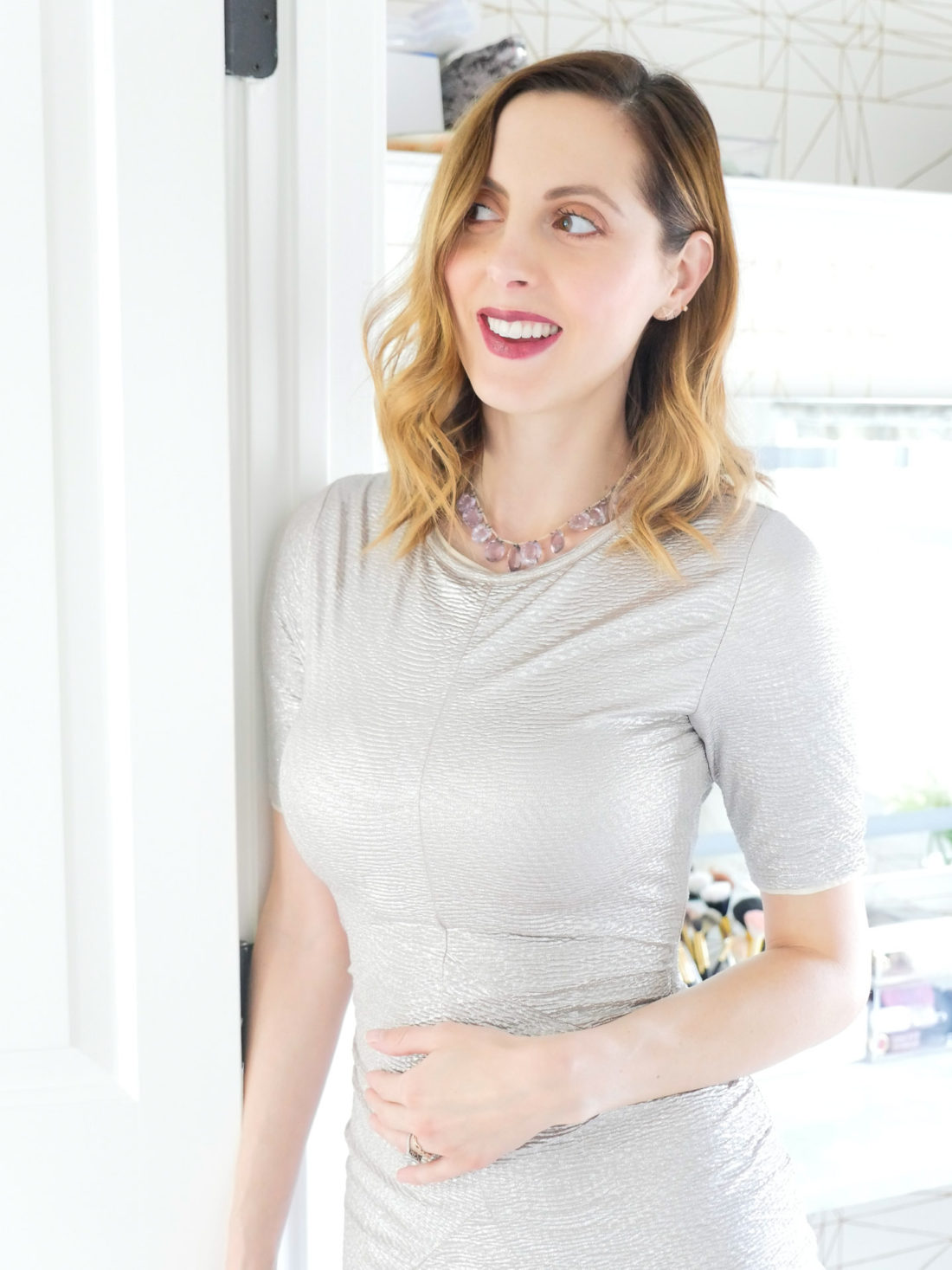 Since I'm all about hooking you guys up with perks whenever possible, I am doing a giveaway of my fave Maidenform Endlessly Smooth Foam Cup Slip right here, right now!!
TO ENTER:  Comment below telling me (and the Happily Eva After community) what you love and celebrate most about your body! Say it loud and proud! I will choose a winner, and Maidenform will ship your slip straight to you– just in time for the Holidays.
I hope you love this super sleek confidence-booster as much as I do!
update:
Congratulations to Sava, who won the Maidenform Smooth Foam Cup Slip!!   I wanted to say how extremely moved I was by all of the entries below.  It brings tears to my eyes to hear so many women taking the time to illuminate a physical feature (or more than one!) that they are proud of and to share it loud and proud.  There were so many inspiring stories, and it was impossible to just choose one.  I'm brainstorming now to see if there's a way to make this kind of sharing a more active part of the Happily Eva After community, because it really is what makes this all worth it.
If you shared below THANK YOU from the bottom of my heart! Things like this are more than just winning Shapewear, they are about empowering ourselves and each other and knowing it's OK to want to feel good about ourselves as Women and Moms! I salute each and every one of you, and I'm so appreciative to have your voice on my site.
xoxoxoxo EAM
**Many thanks to Maidenform for sponsoring this post! As always, the thoughts and opinions expressed below are entirely my own.
Save
Save
Save
Save
Save