The following content may contain affiliate links. When you click and shop the links, we receive a commission.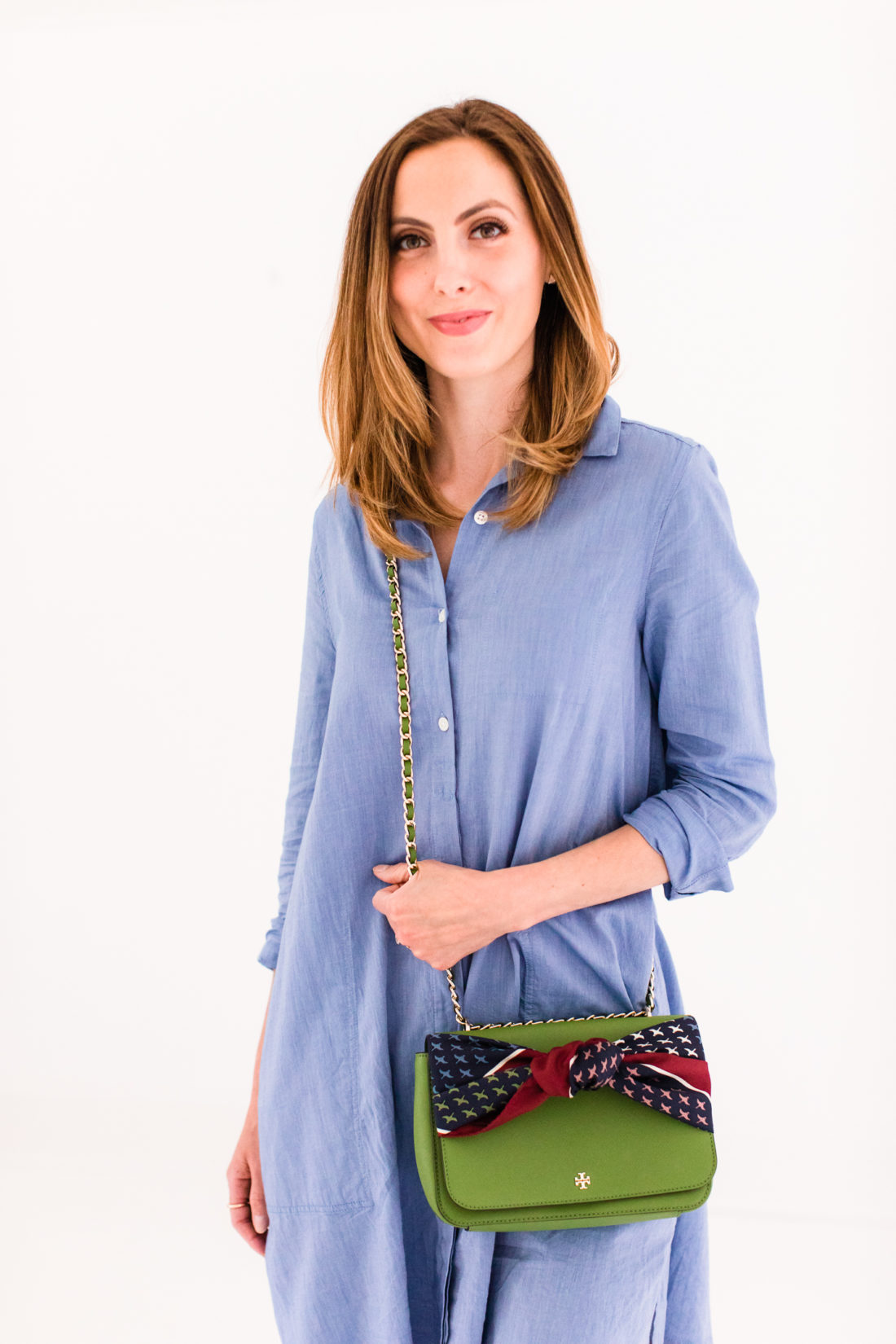 Silk scarves are having a major moment– but how do we style them? Where to start? Today I thought I would share seven of my favorite ways to style a silk scarf!  A little collection of pretty silk scarves are such a chic and elegant addition to any wardrobe.  I'm a print lover extraordinaire and I always swoon over a beautiful print on a gorgeous silk scarf.  Silk scarves are also one of those items that are even more special when vintage! Go dust off those beauties in your Grandmother, Aunt, or Mom's closet and put them to use.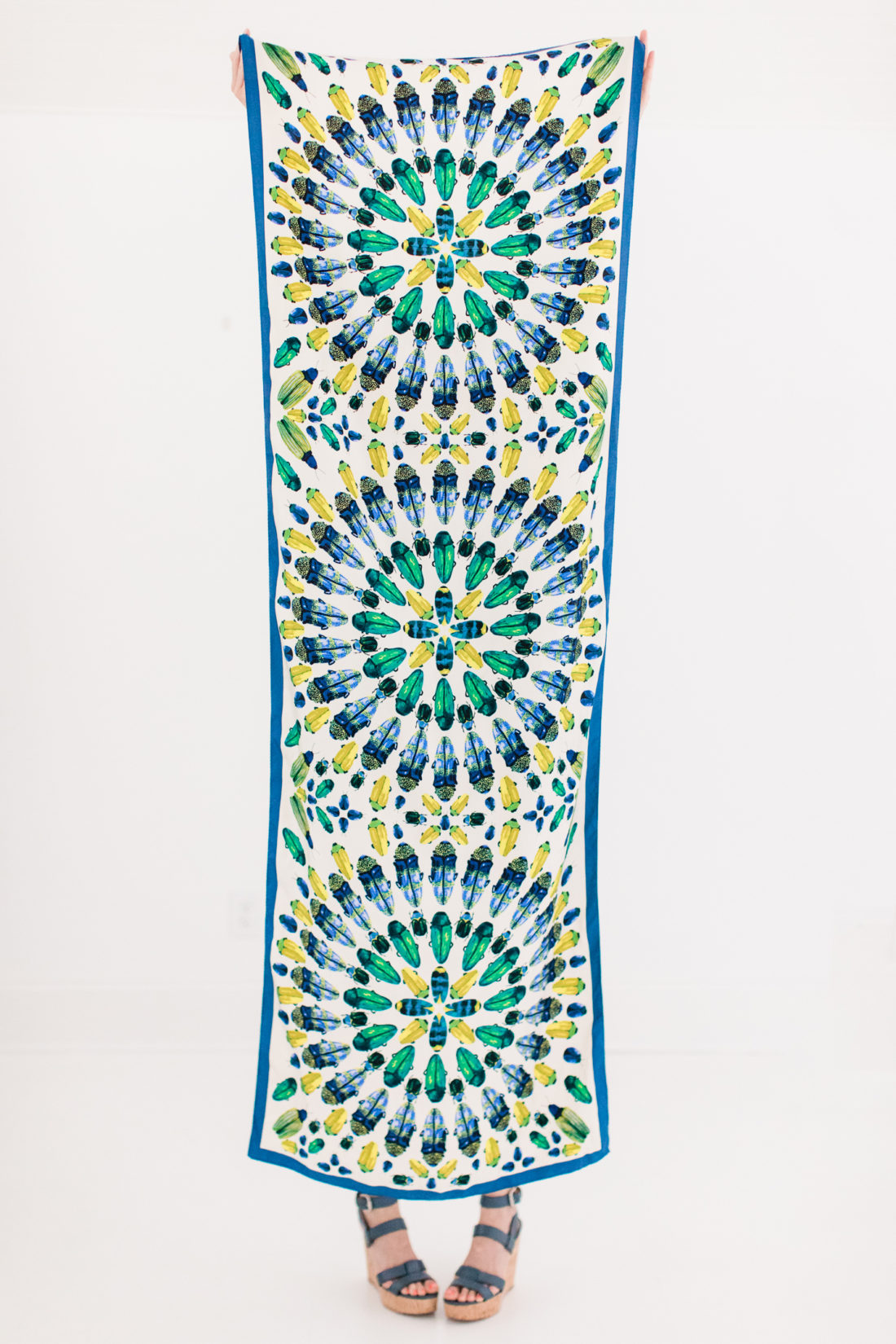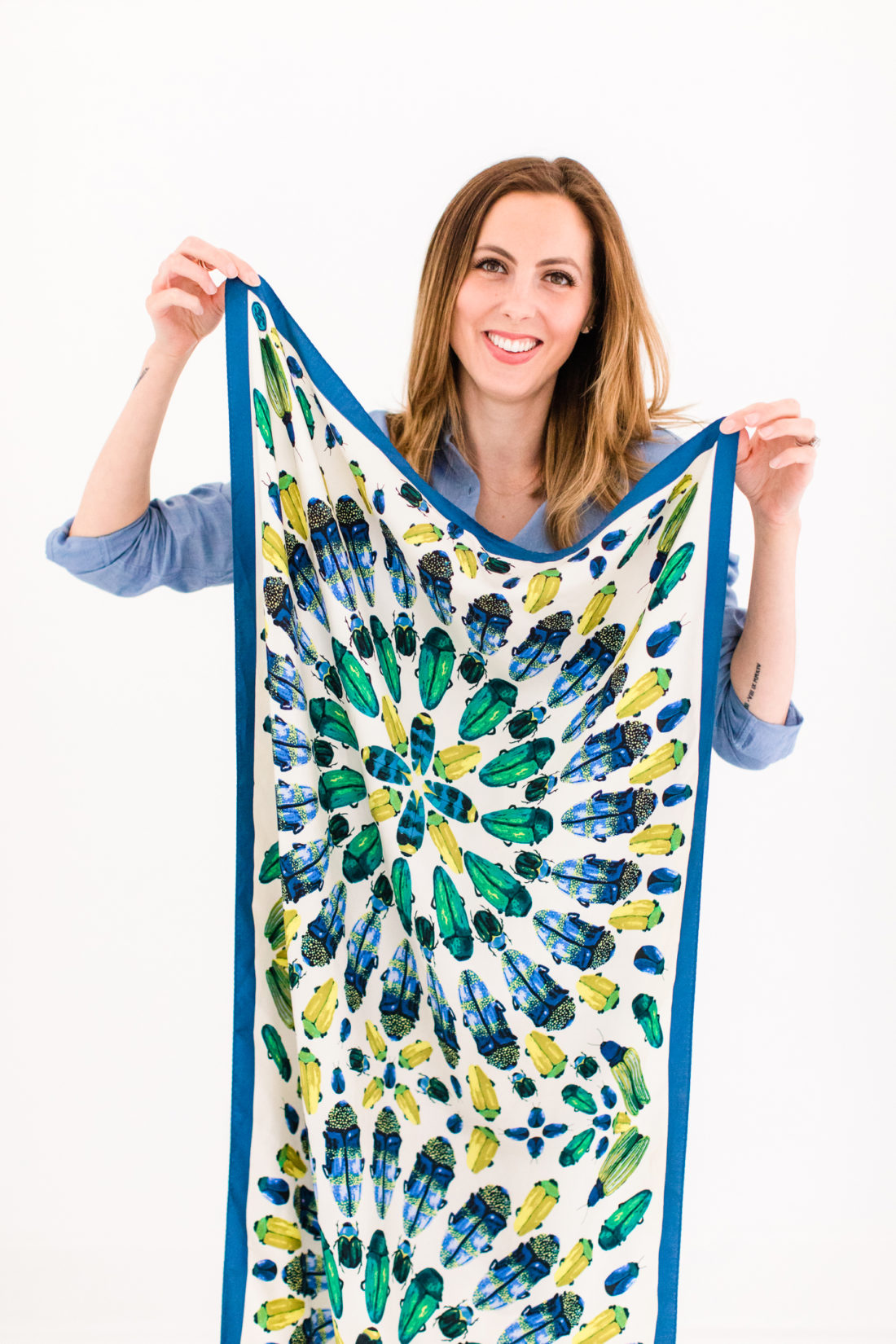 1. The Necktie Knot
This tying method utilizes a large, long rectangular scarf is one of my faves to pair with a collared shirt or shirtdress.  It's especially cute with a blazer layered over for fall. To begin, fold the scarf along the widest part of the scarf to make a long, skinny scarf that is about two inches wide. Then place around your neck, and tie as you would a necktie.  I'm assuming you know how to do this (should I write a post about it?) but if not here is a video that can help you! This look is perfect for the menswear-inspired styling we have been seeing everywhere the past year.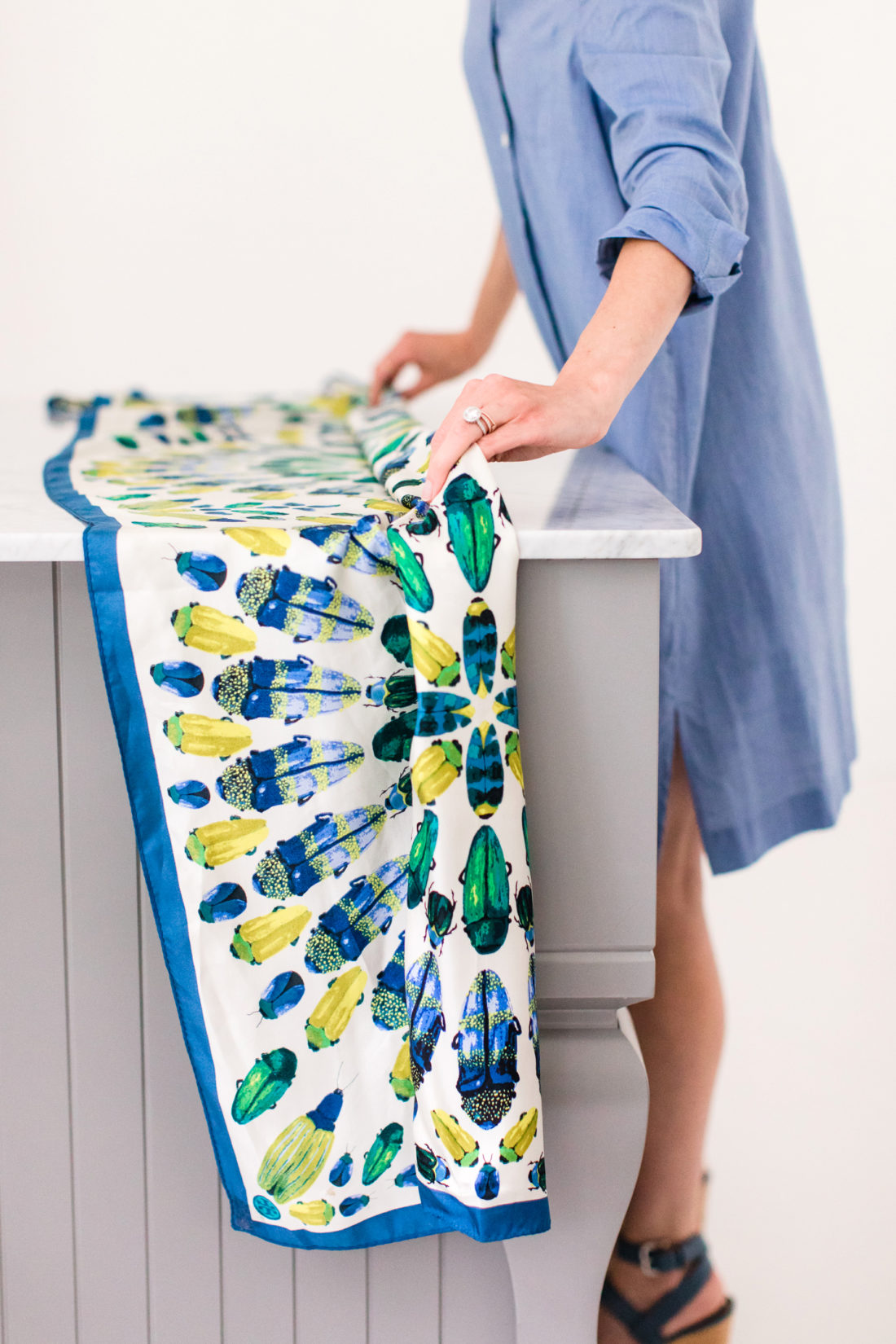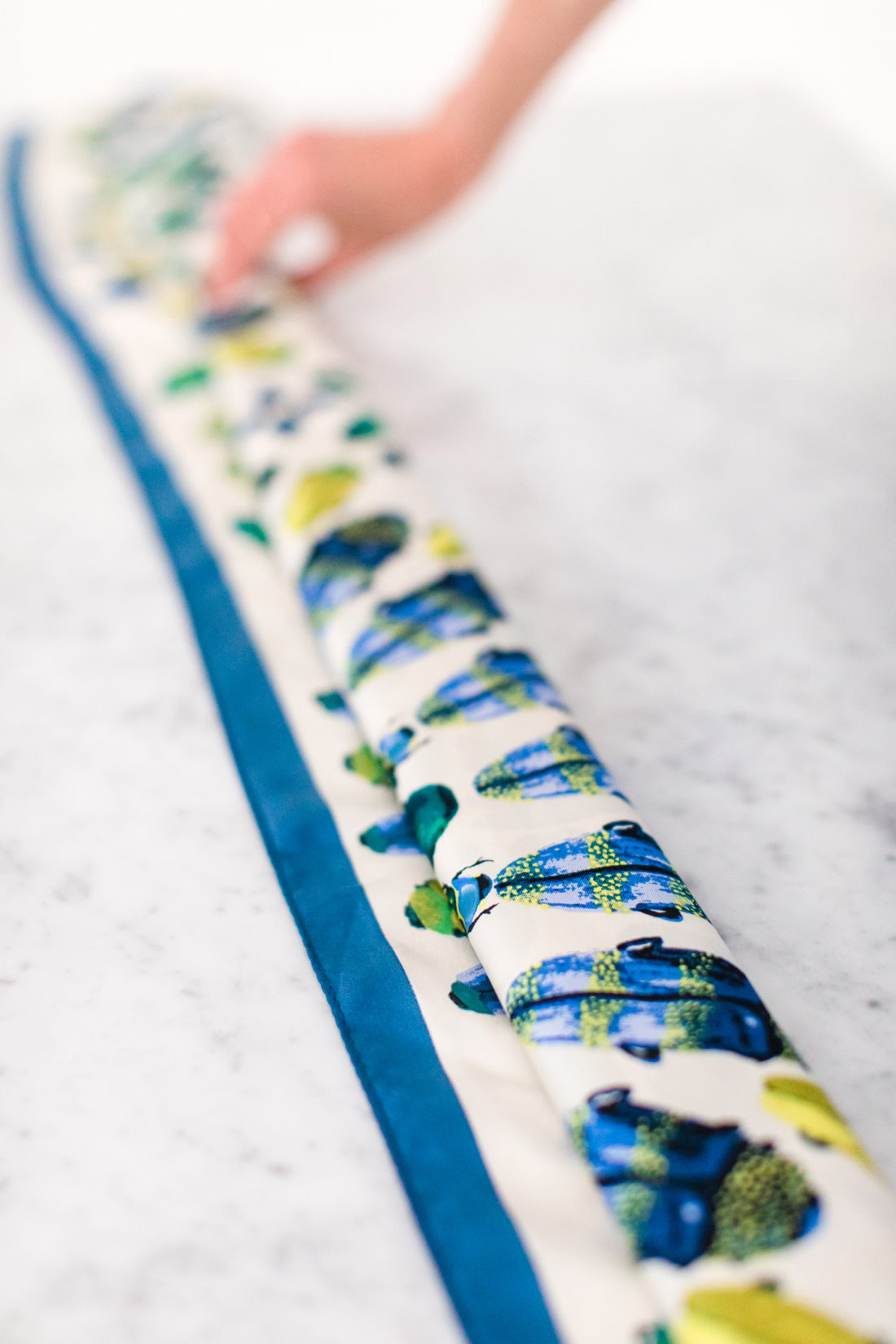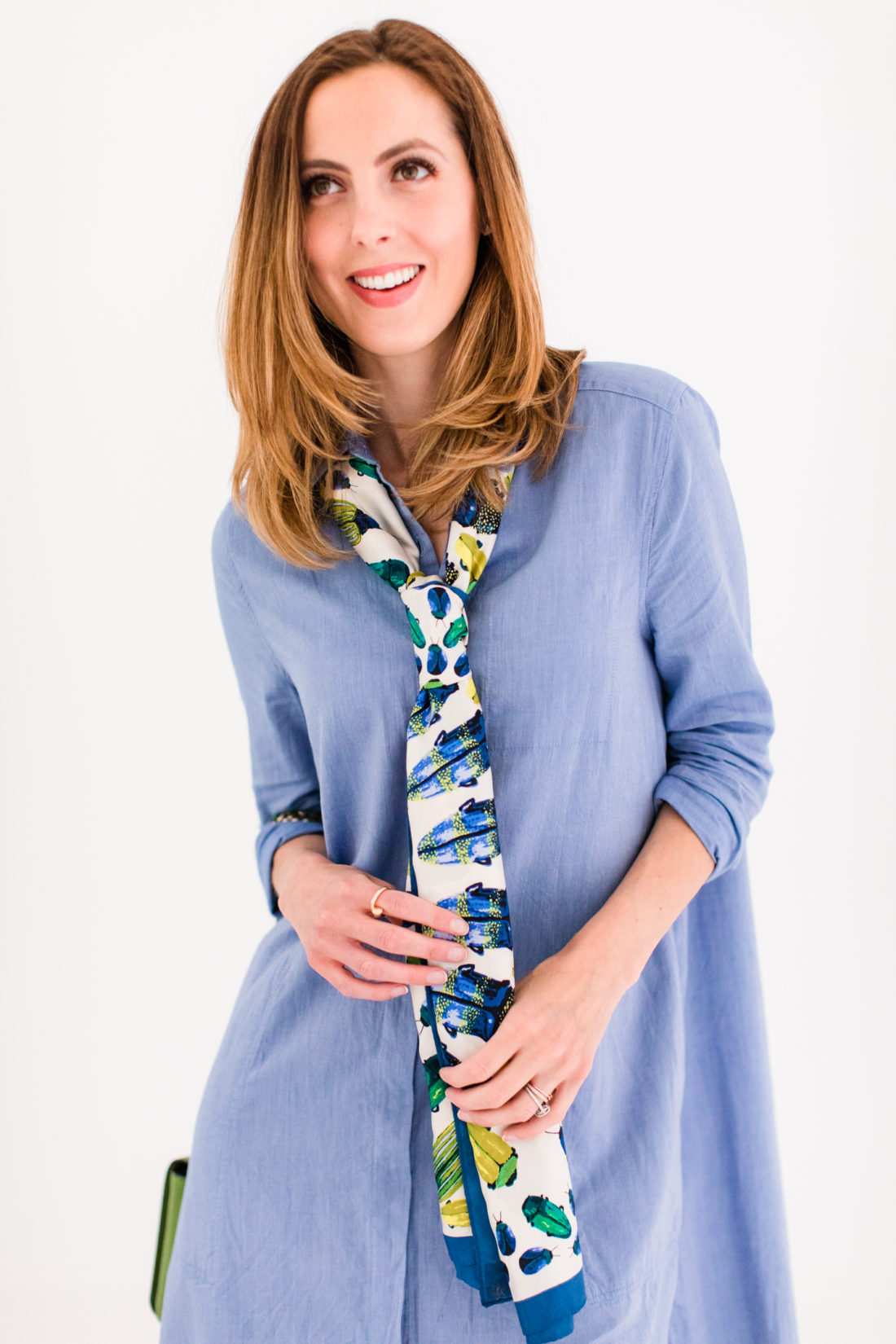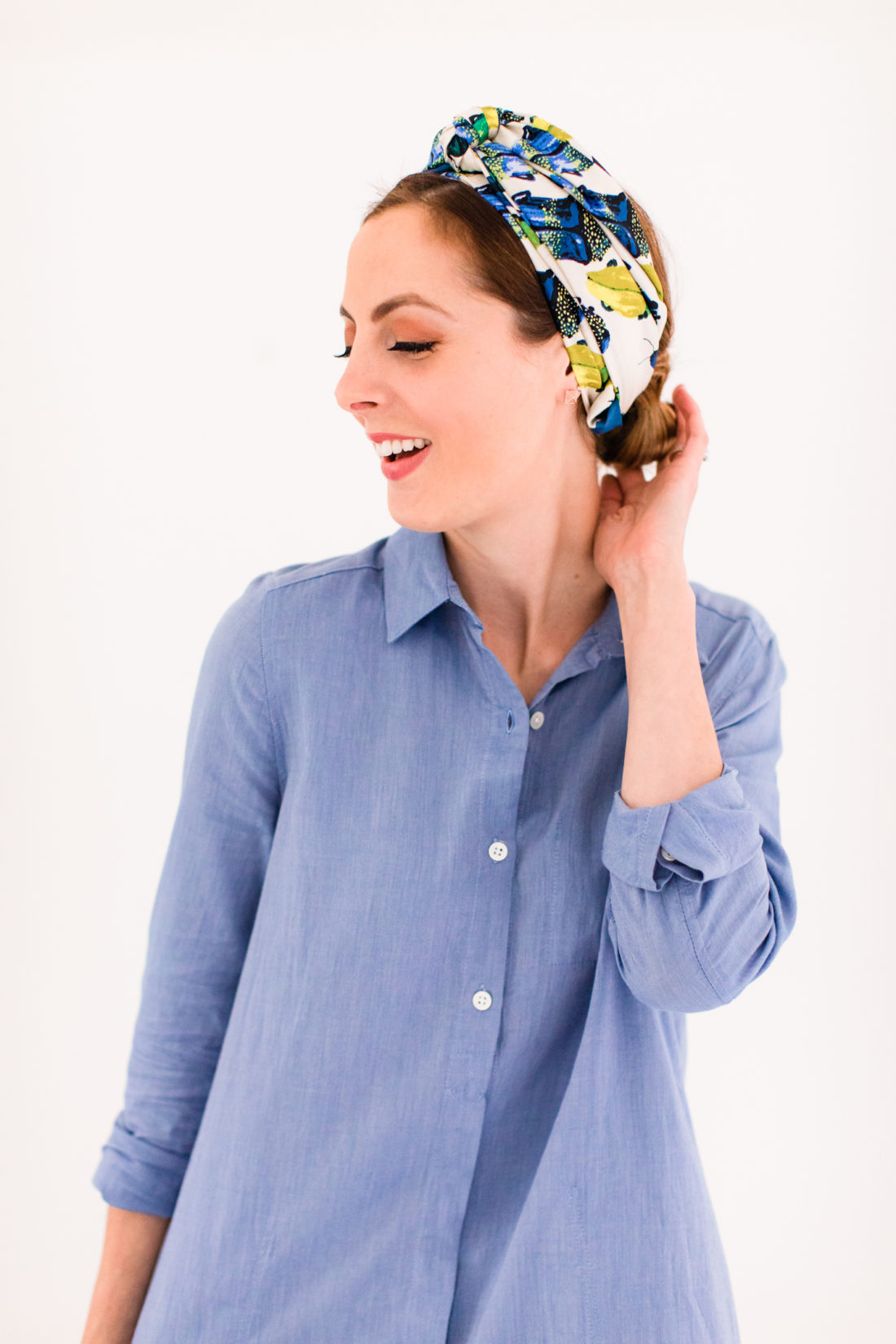 2.  The Turban Head Wrap
I think this is my all-time favorite way to wear my hair when it's in that dreaded "third-day" phase after a blowout.  It look so chic, with absolutely minimal effort– like something out of a Fellini movie! Just make sure that the rest of your look is pulled together to keep it chic and not sloppy.  To begin, just pull your hair in to a low or high bun.  With the scarf folded about 2-3 inches think to resemble a long skinny rectangle, place it on top of your head about 2 inches back from your hairline.  You want an even amount of scarf on either side.  Pulling firmly, cross the ends down at the nape of your neck, and then bring them back up to knot at the top of your head.  Make sure when tied that it feels very snug around your head since the knot will loosen naturally over time due to to the silk fabric.  Double knot the scarf (triple knot for an extra large turban knot!).  Now tuck the ends underneath the flat band to the sides of the knot so the ends are no longer visible.  p.s- Lipstick ALWAYS looks killer with a turban head wrap!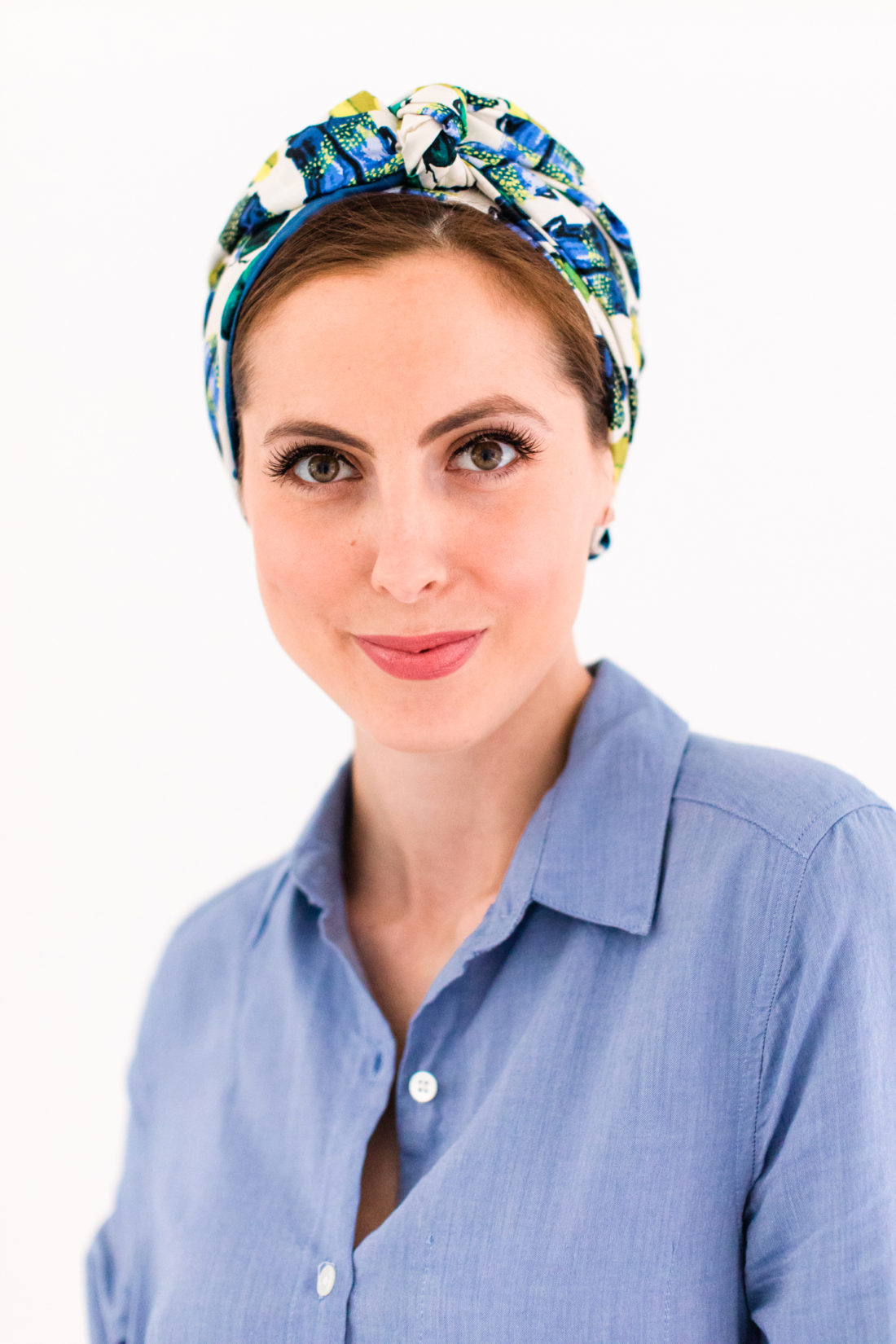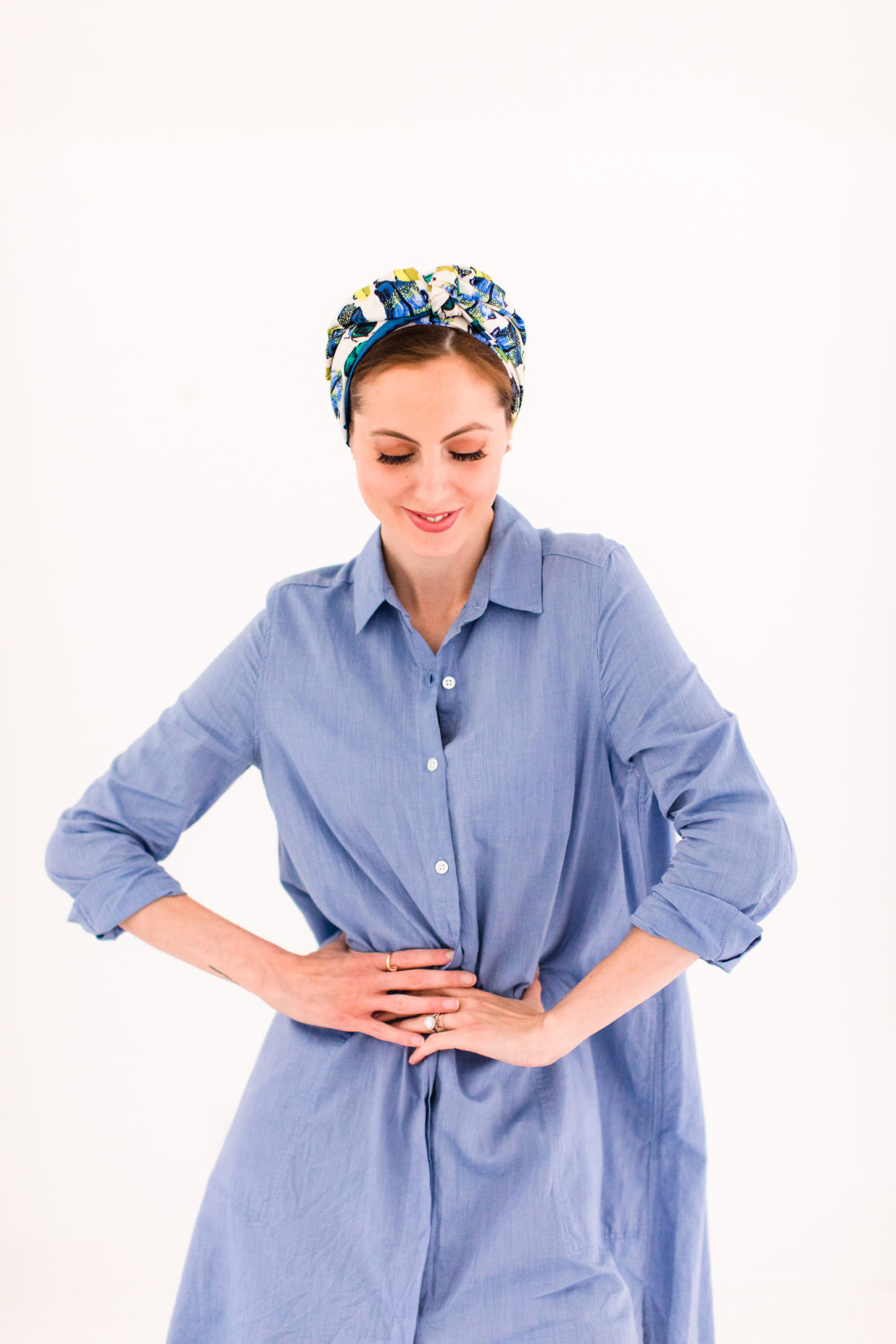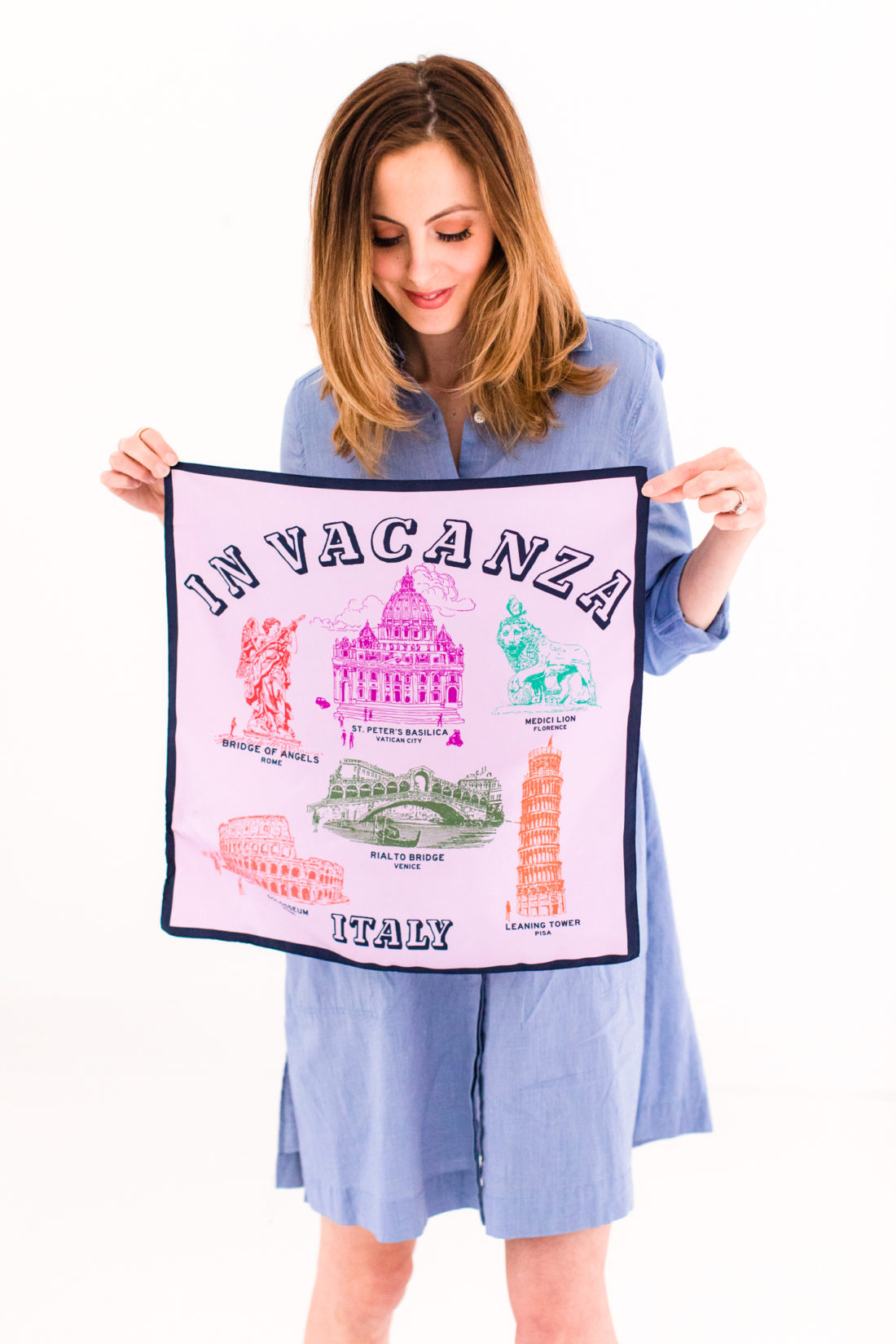 3.  The Kerchief Choker
Gah! I die for this one! The silk kerchief choker is such a sexy way to style a square silk scarf, in my humble opinion.  It looks amazing with a button down shirt unbuttoned to where you dare, as well as with a silk camisole or slip dress– or even a simple bodysuit.  Layer with a denim jacket or bomber for ultimate street cred. To start, fold once in to a triangle.  Then fold down starting at the widest part, and leaving a 1-2 inch triangle at the bottom.  Place the triangle facing out at the front of your neck, wrap the ends around your neck once, and then tie in the front.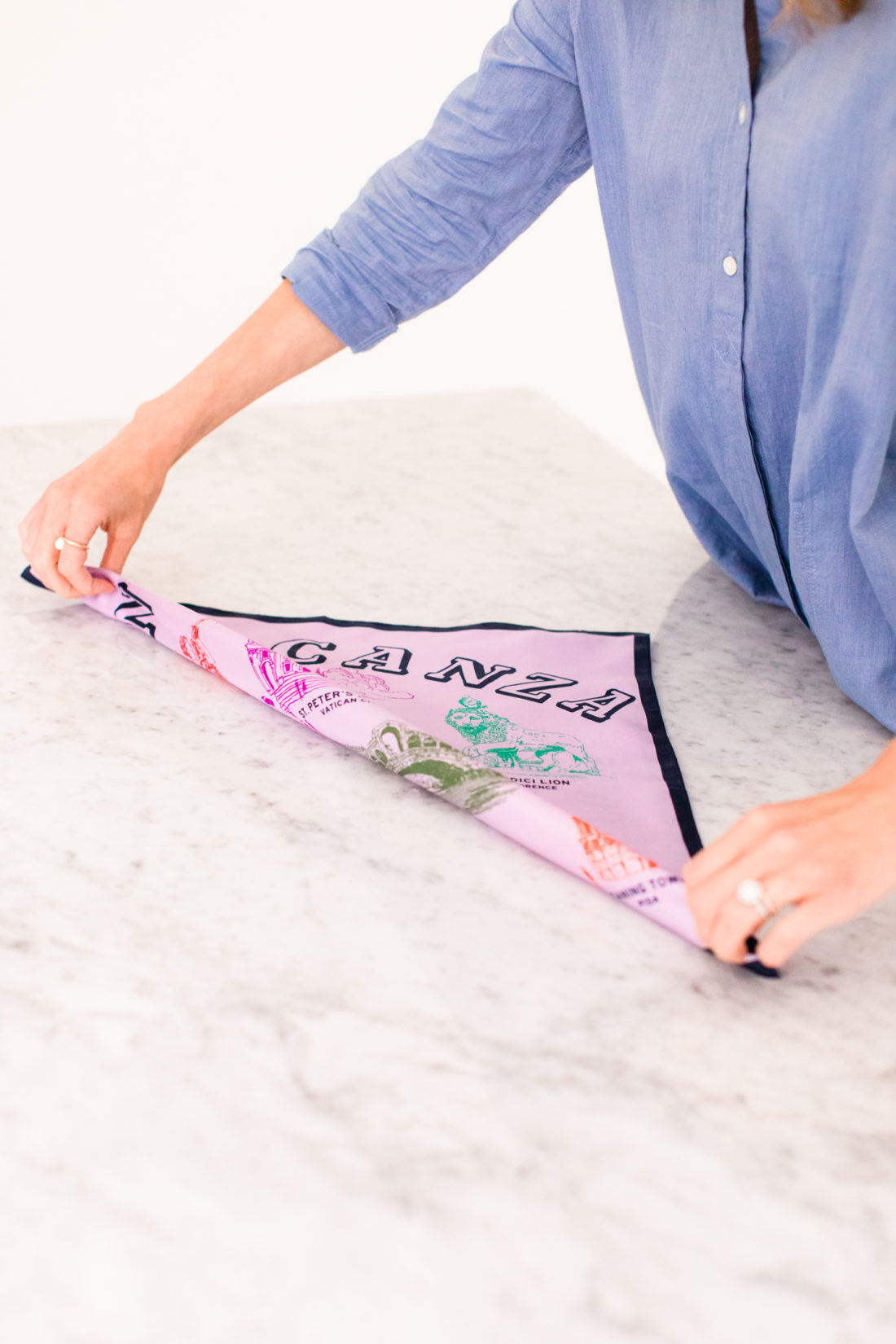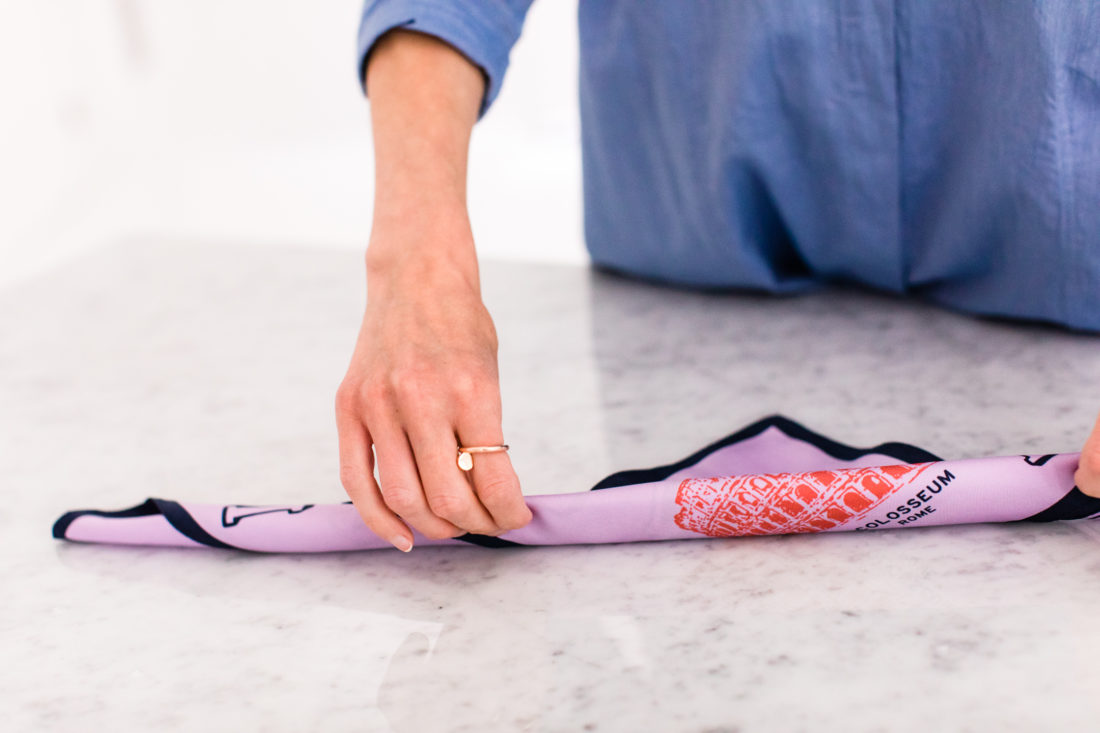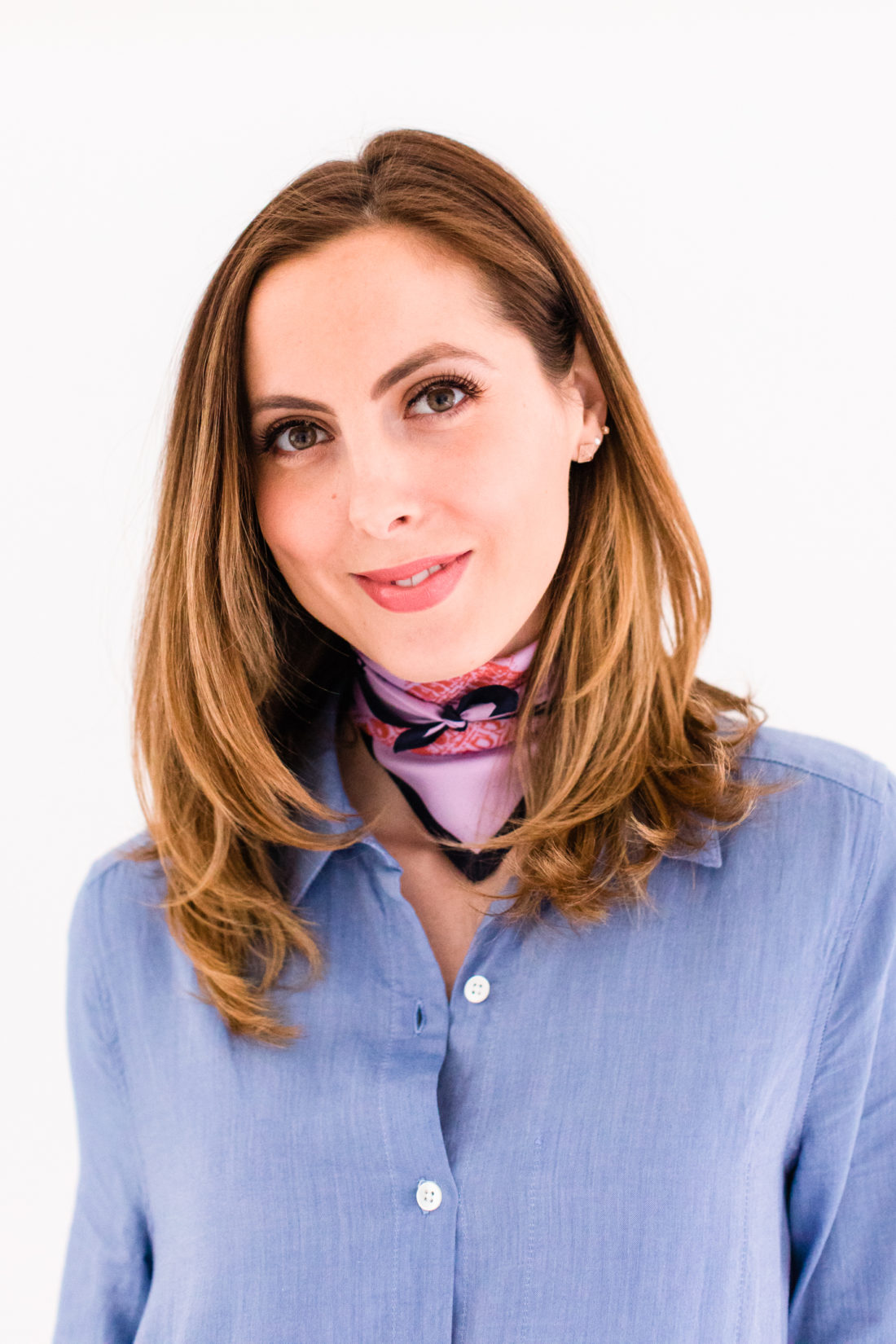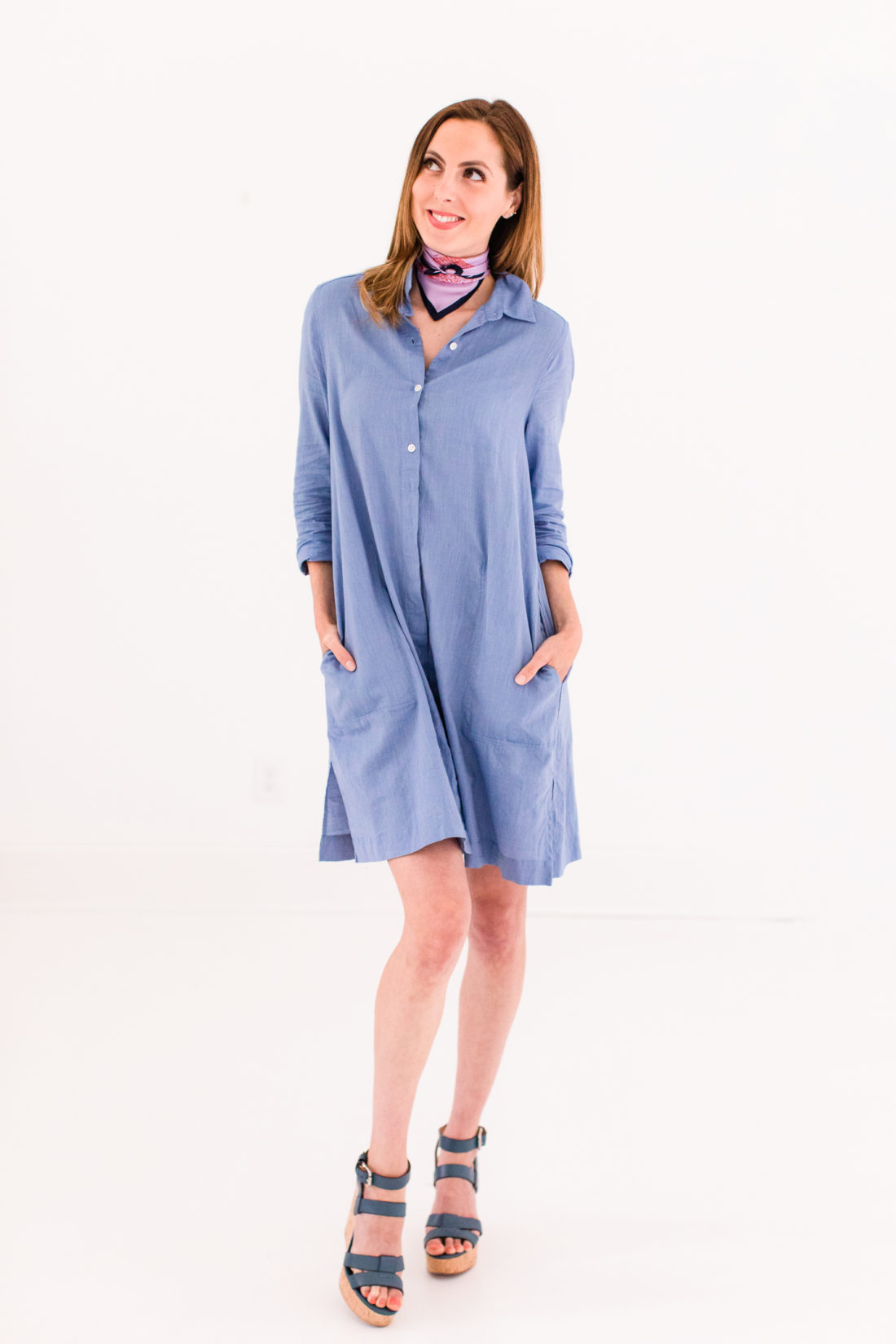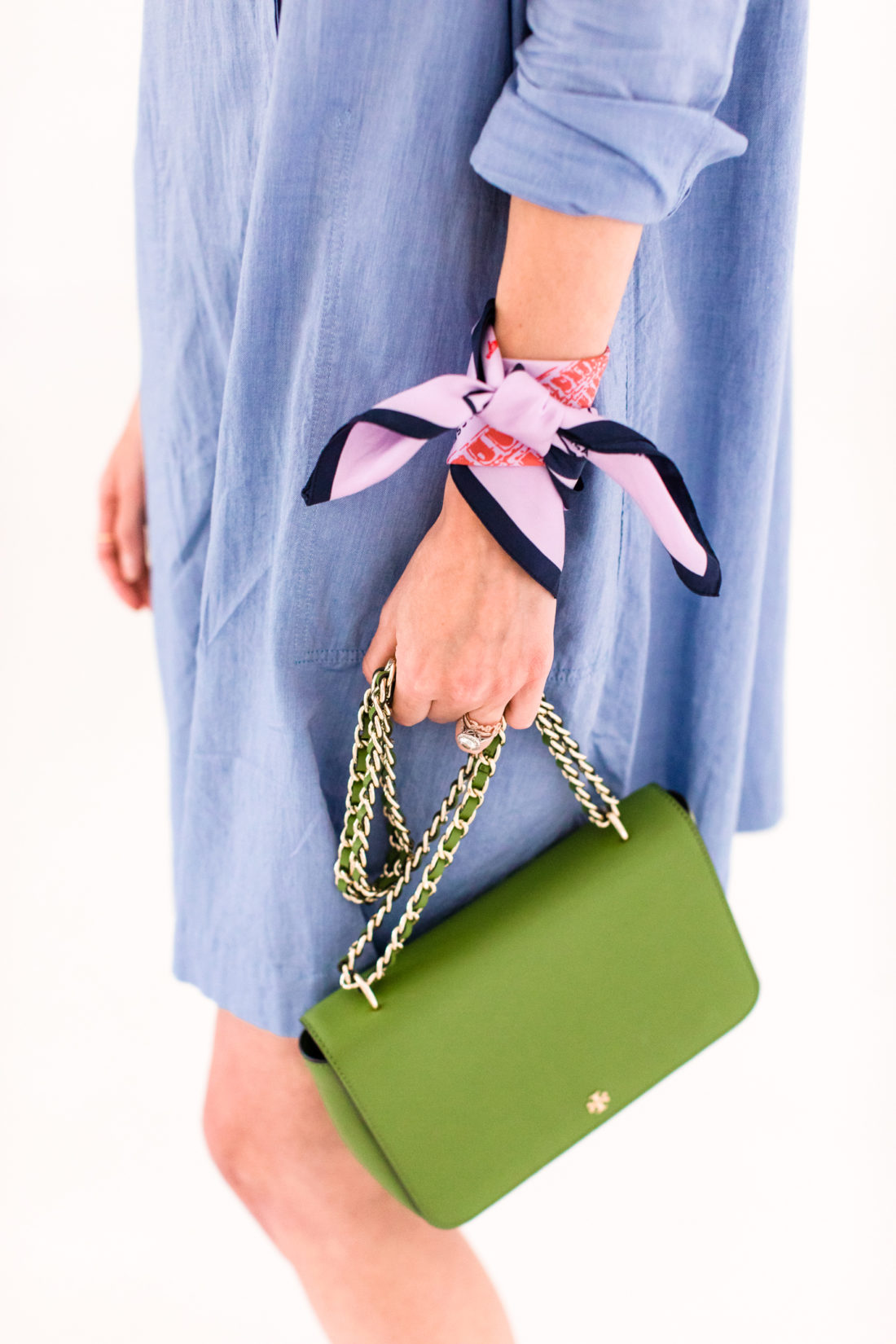 4.  The Wrist Wrap
I love this cute accessory! Keep the silk scarf folder as in #3, and just wrap it around your wrist! This look is so cute as pictured with a structured shirt dress, or even with a great pair of jeans and simple white Tshirt.  Dress it up with a bright lip!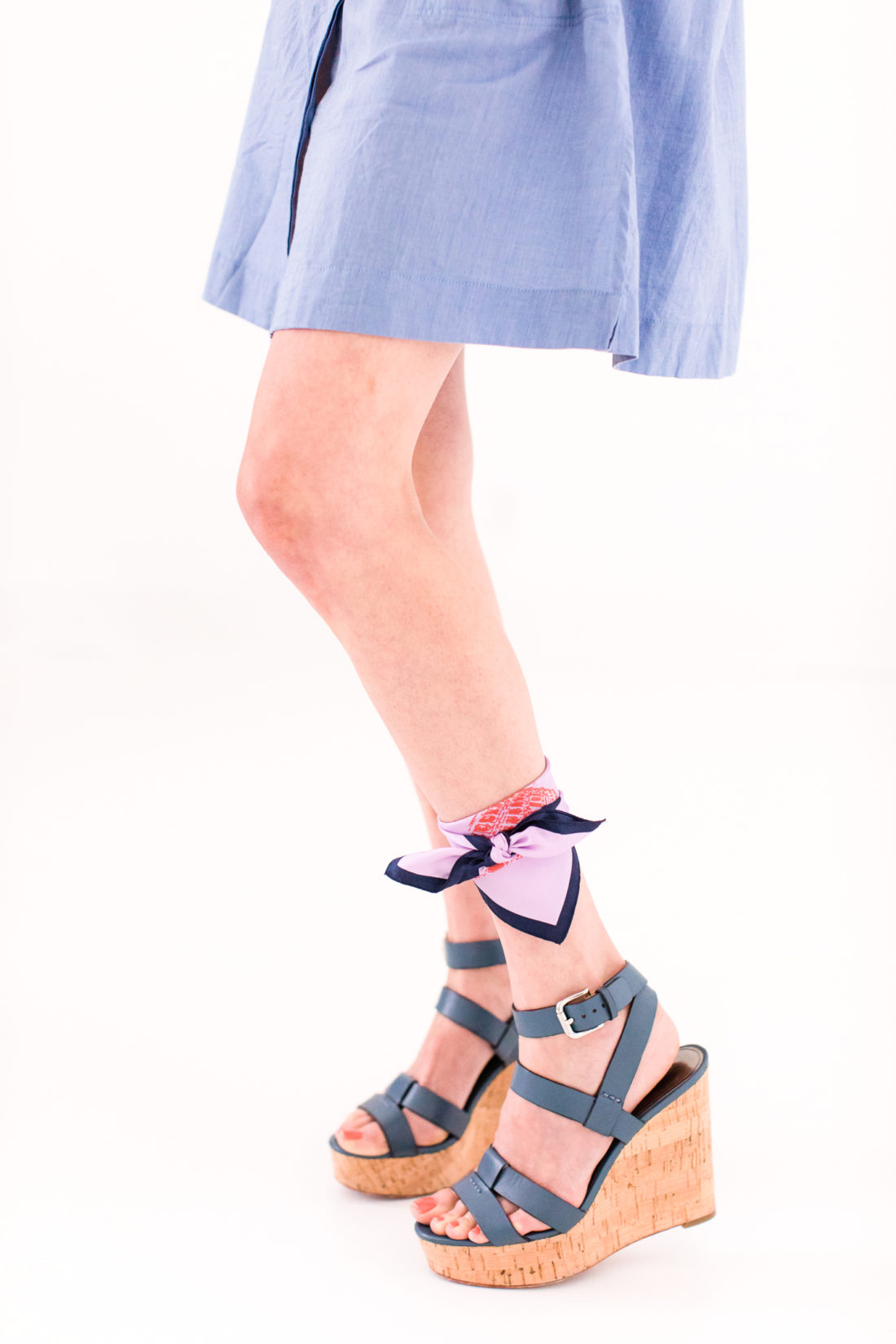 5.  The Ankle Wrap
Bring some street style to your Fall fashion game! I absolutely adore using silk scarves as an ankle accessory! This is especially fabulous with the cropped pants that are on trend right now– but look great with a flirty dress as well! The perfect way to make a pulled together look feel a bit more cool and young. Just tie as you did with the neck kerchief and wrist wrap!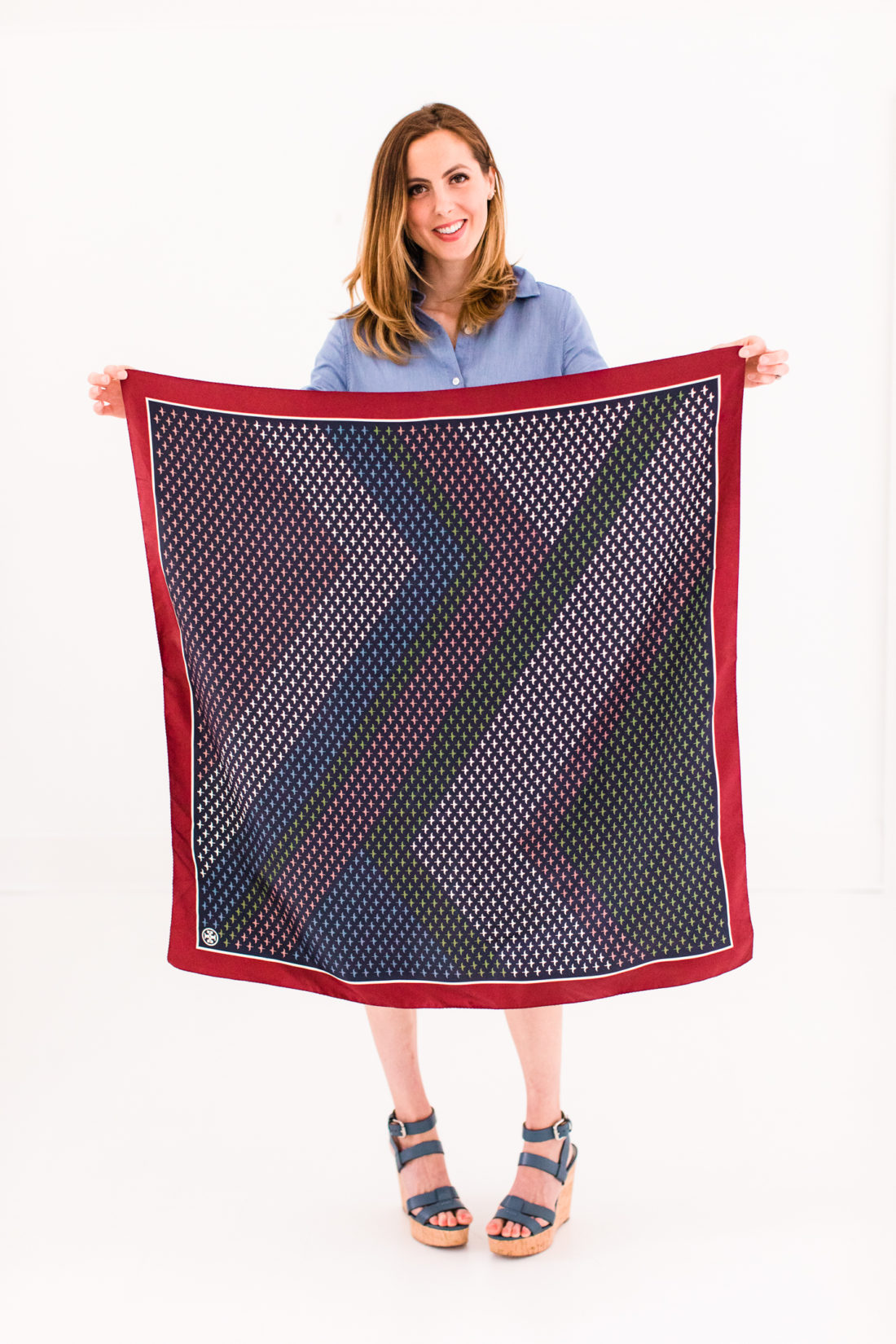 6.  The Purse Turban
A really chic way to tie a silk scarf is on your purse! This is perhaps the most "classic" way– but my favorite way to do it is a little outside the box.  Enter the purse turban! I just love the classic twist that this gives to a simple handbag.  All you have to do is make sure that your purse has a flap that opens and closes and you are set to tie!  I start with a large square silk scarf.  Fold it in to a large triangle, and then fold it across in to a thin strip starting at the long side of the triangle.  It should be about 2-3 inches wide depending on the size of the purse flap.  Next, place the strip across the back side of the purse flap, with equal length ends on either side.  Now, tie the scarf in the middle of the front of the purse flap. Create a knot.  Now take the leftover ends, and cross them back underneath the purse flap and tie on the back side to secure.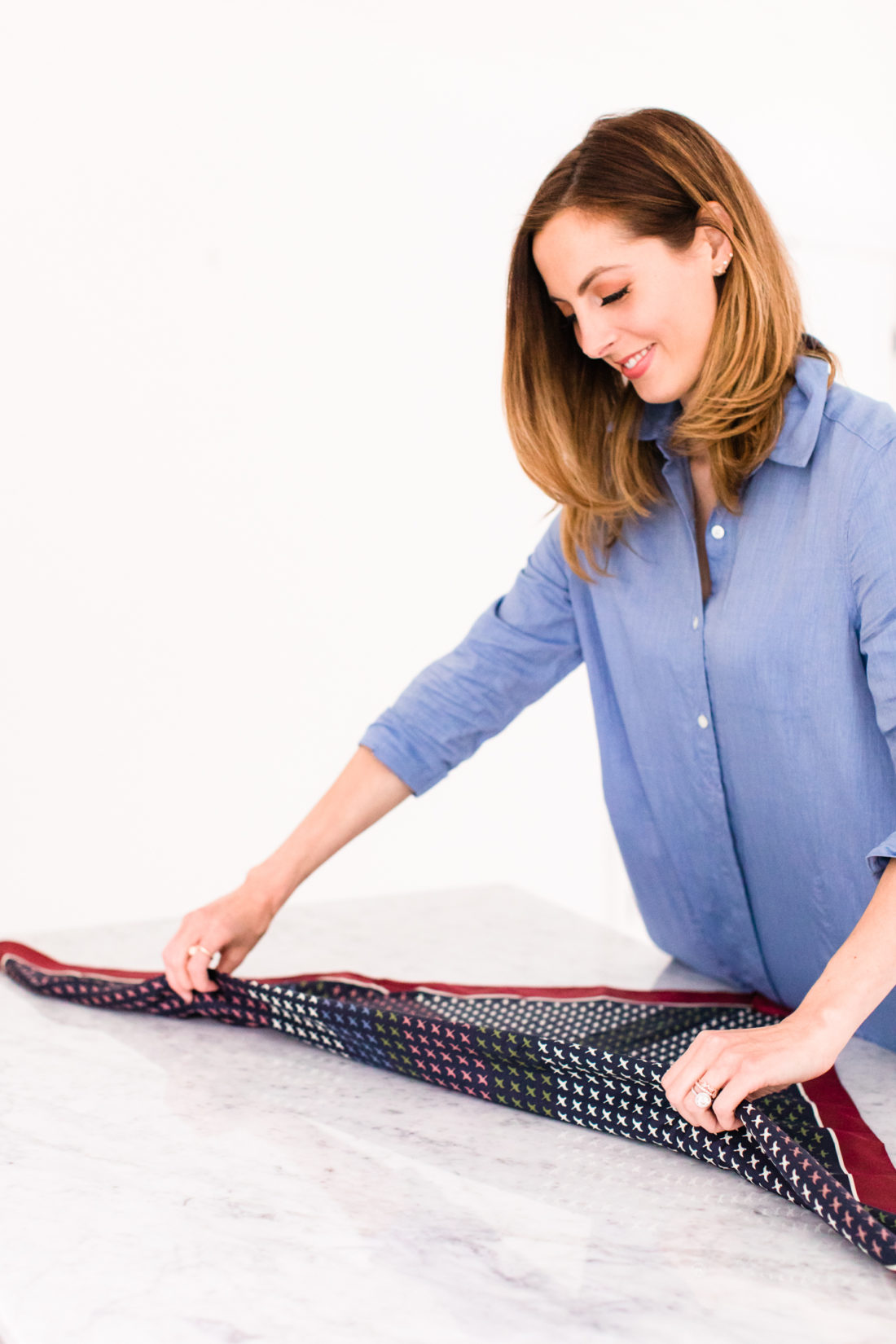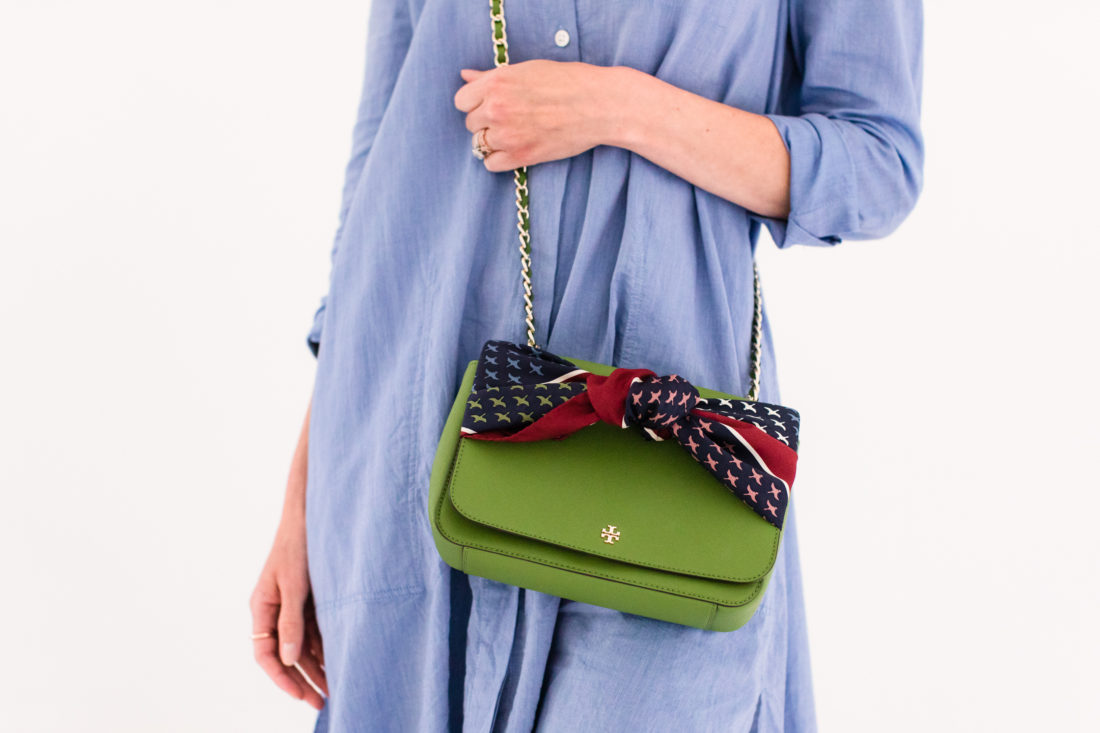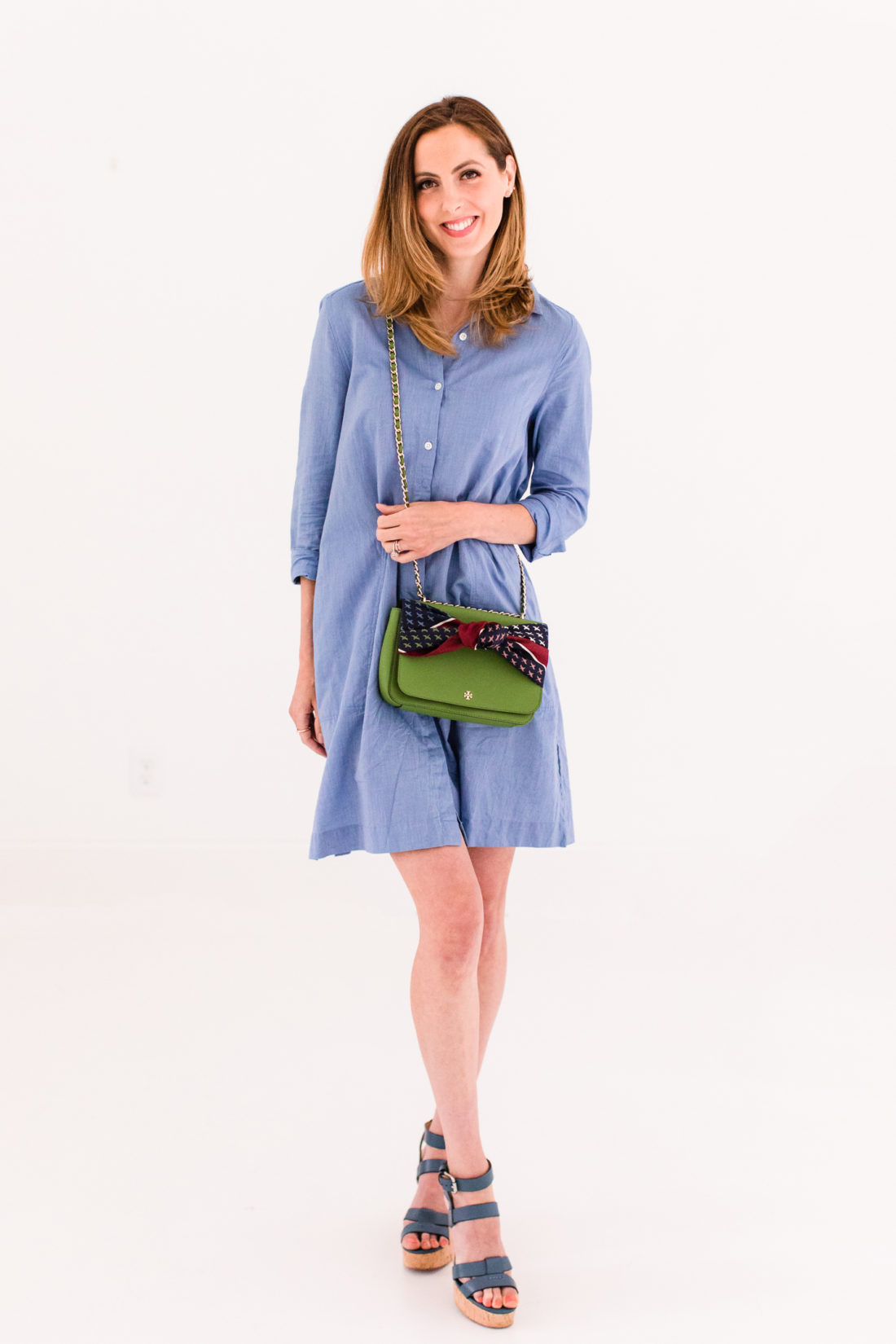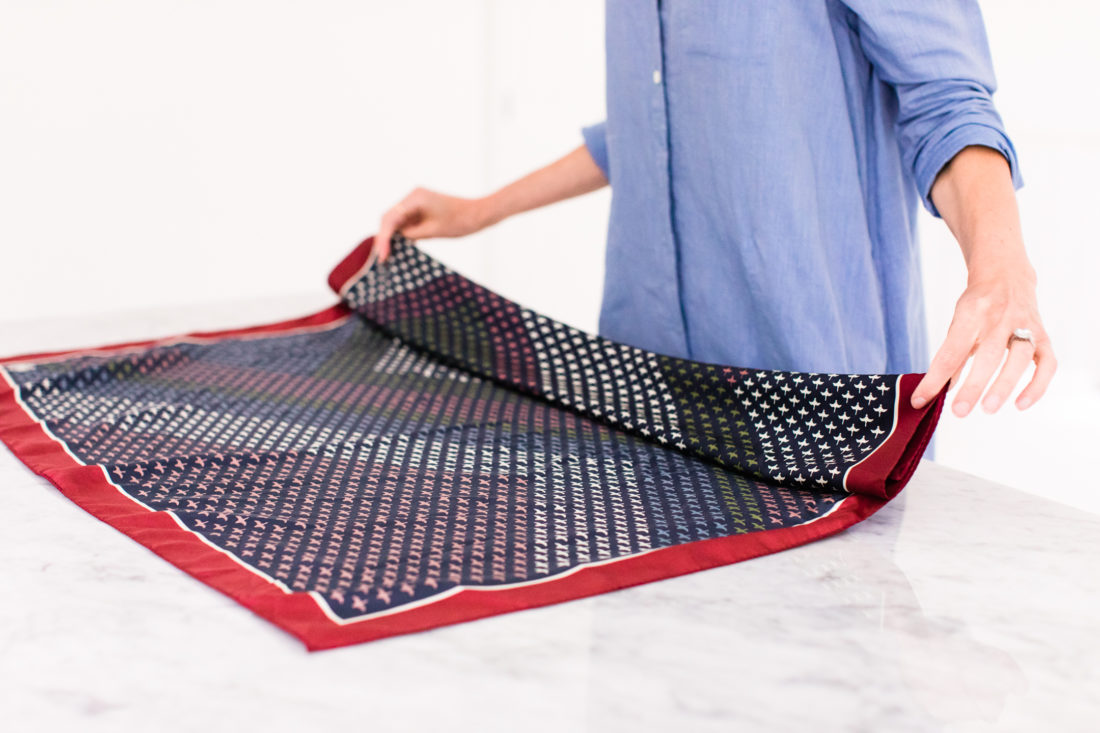 7.  The Classic Bag Scarf
This is perhaps the most classic way to tie a silk scarf, and it still holds up! I love the simple elegance of this method– it's the perfect way to dress up a purse at a special event like a wedding, shower, birthday brunch, or work event.  Simple fold the square silk scarf in to a long thin strip, approximately 2 inches wide.  Tie the scarf just once, around the strap of the purse.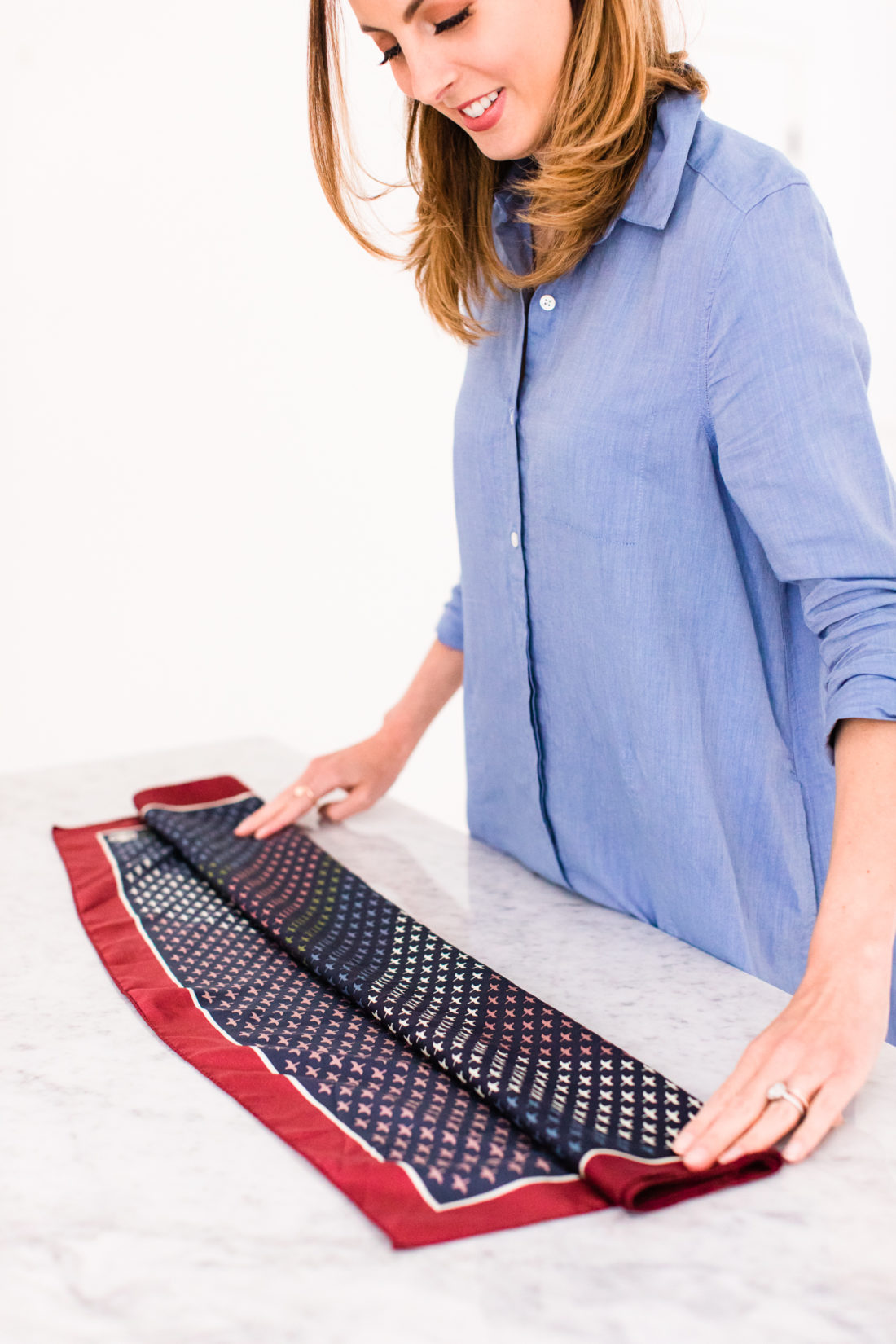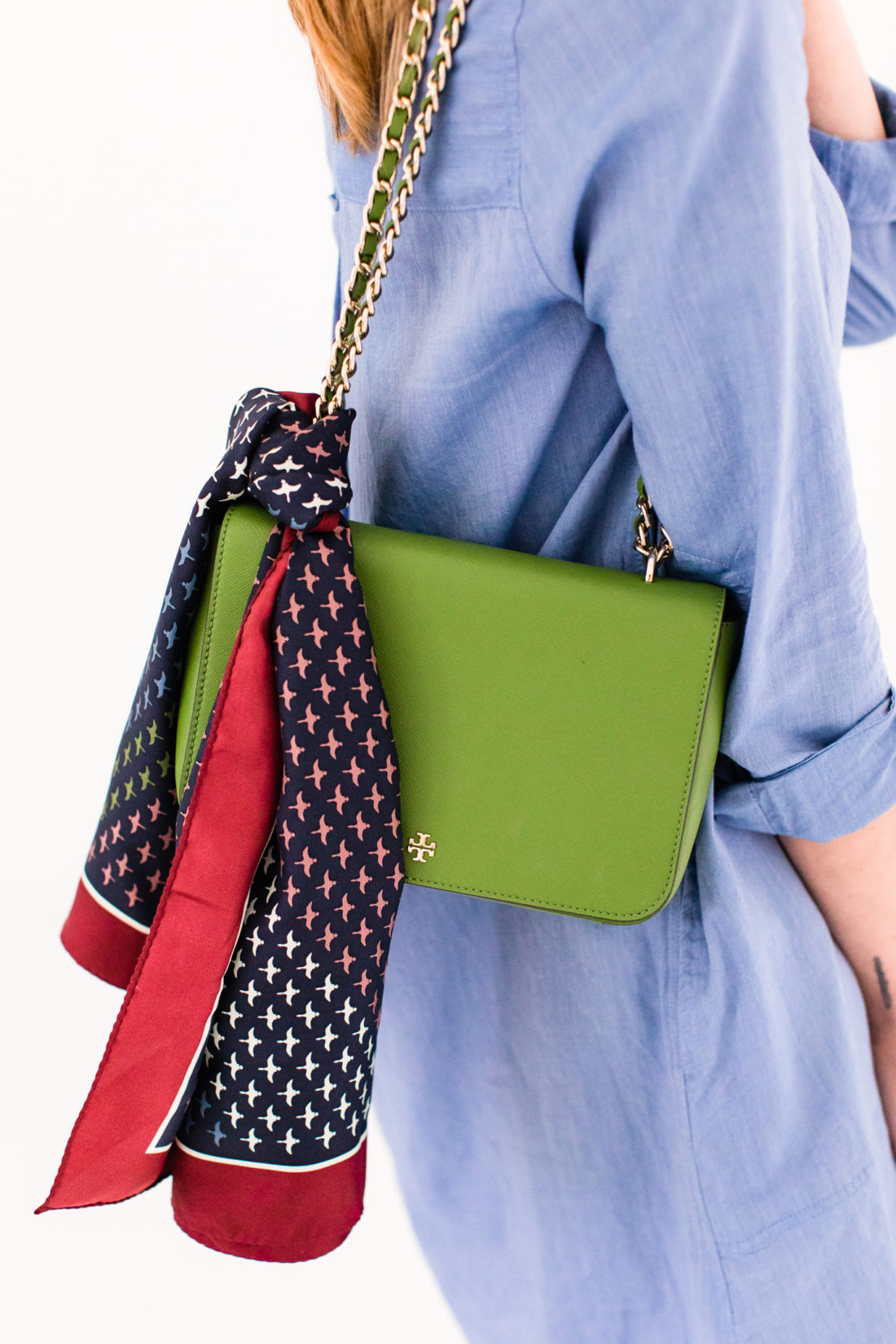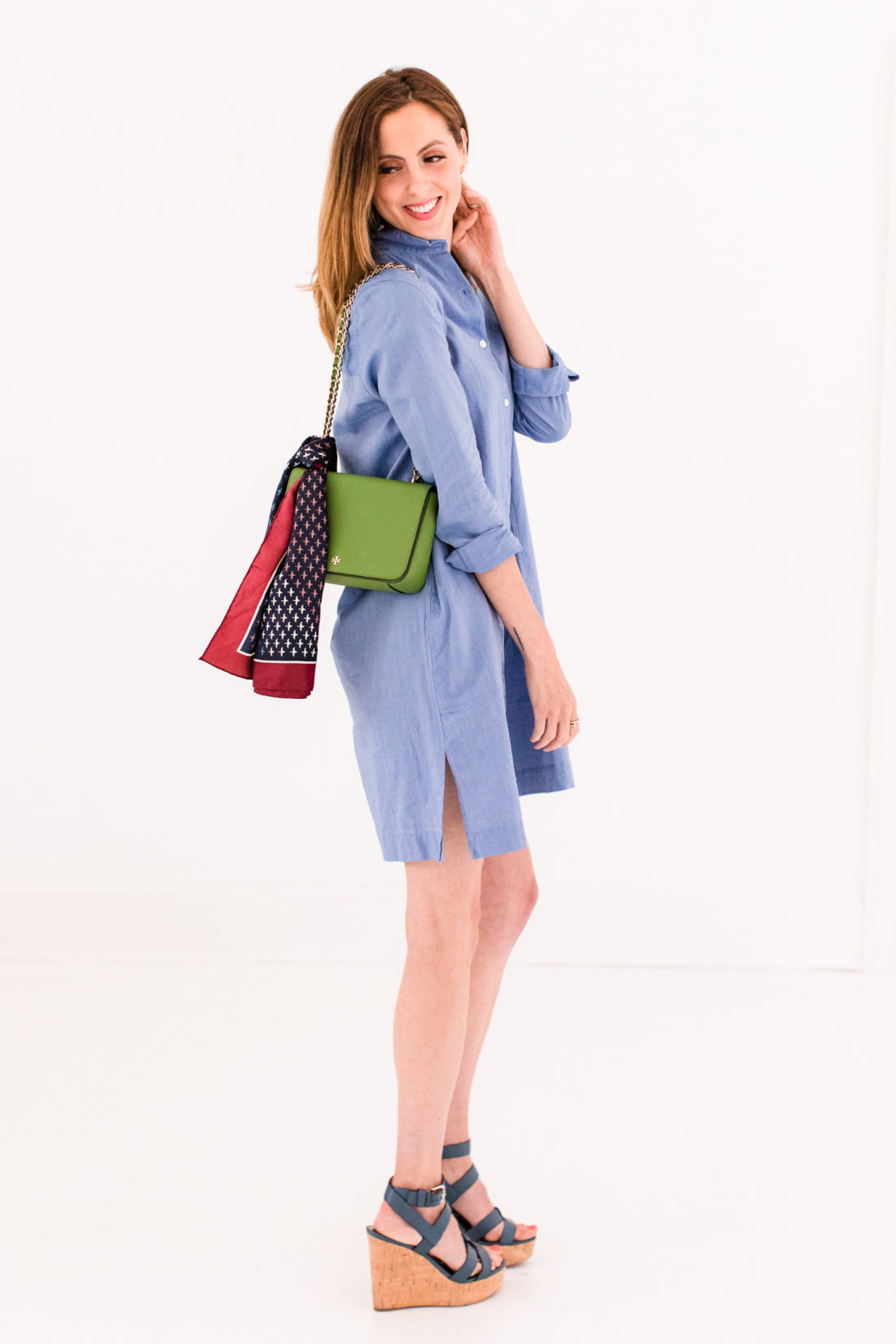 Shop the post…

Photographs by Courtney Ann Photography
Save
Save
Save