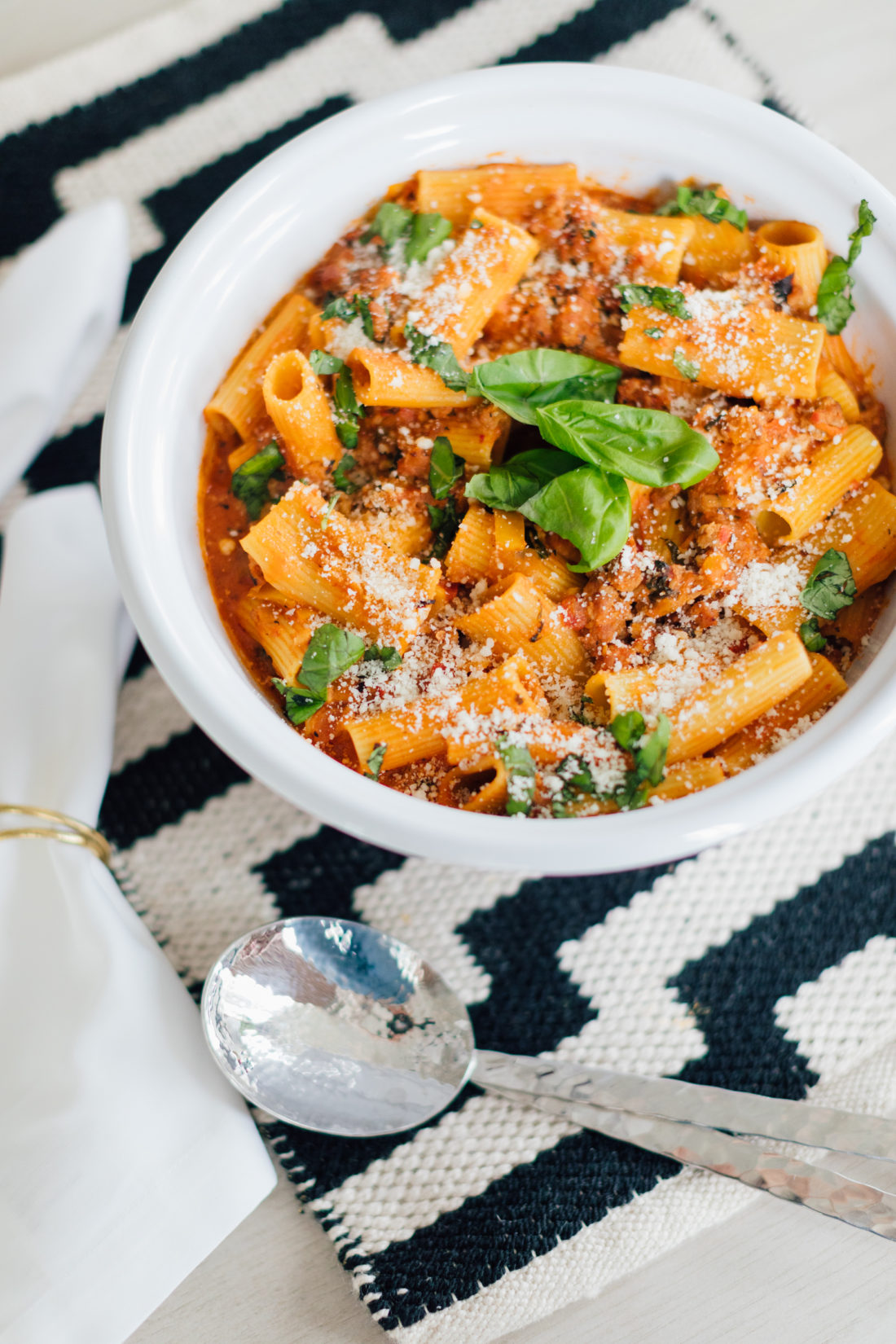 Nothing a busy parent loves more than a delicious one-pot pasta recipe! We at Team HEA are obsessed with easy weeknight meals, and after testing out a few, took elements from each and created this yummy, creamy one-pot sausage and pepper rigatoni.  It is hearty and filling, but so simple that it'll feel like you barely had to lift a finger.  I like to double it and create leftovers that I can either freeze or feed the kids for lunch the days after.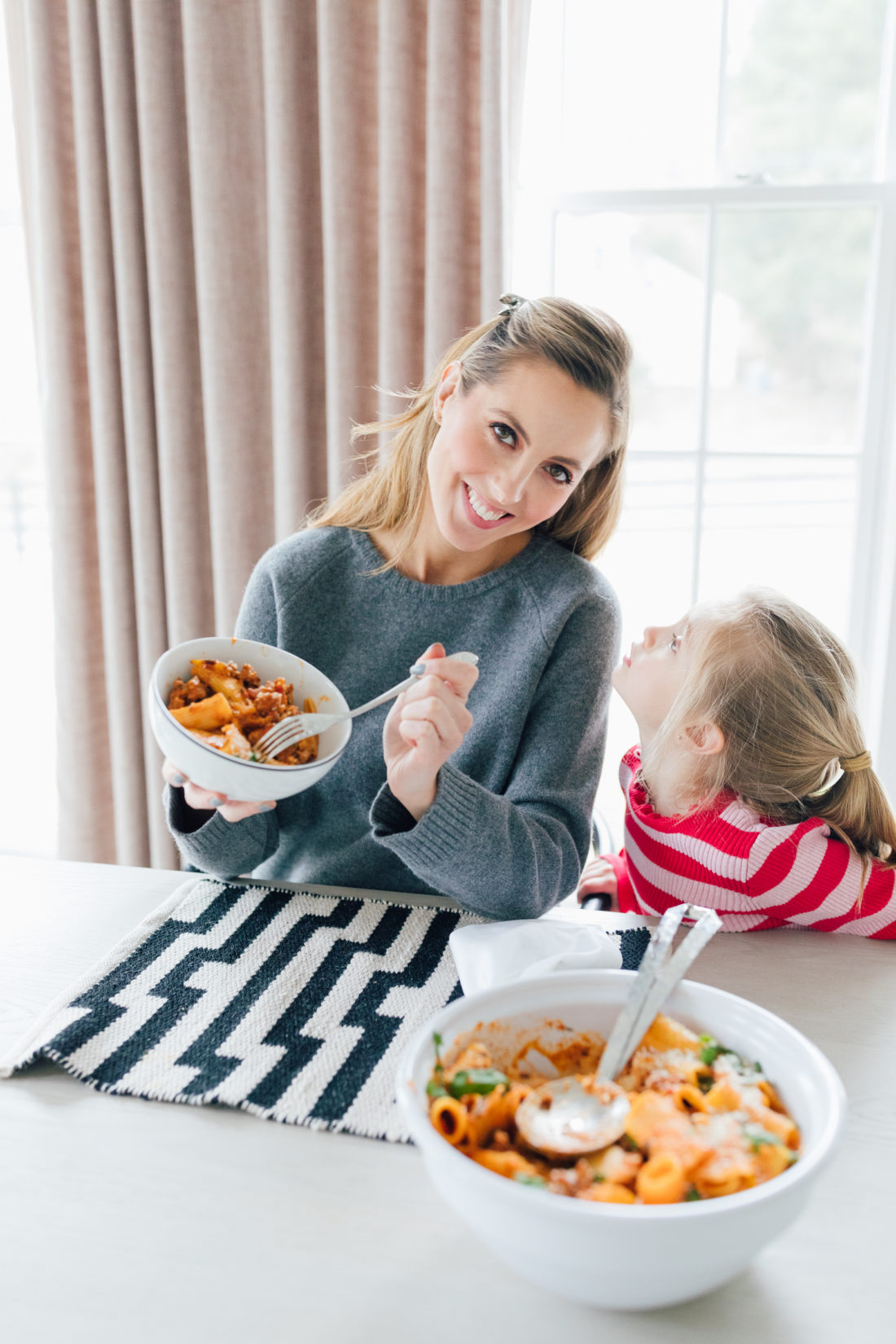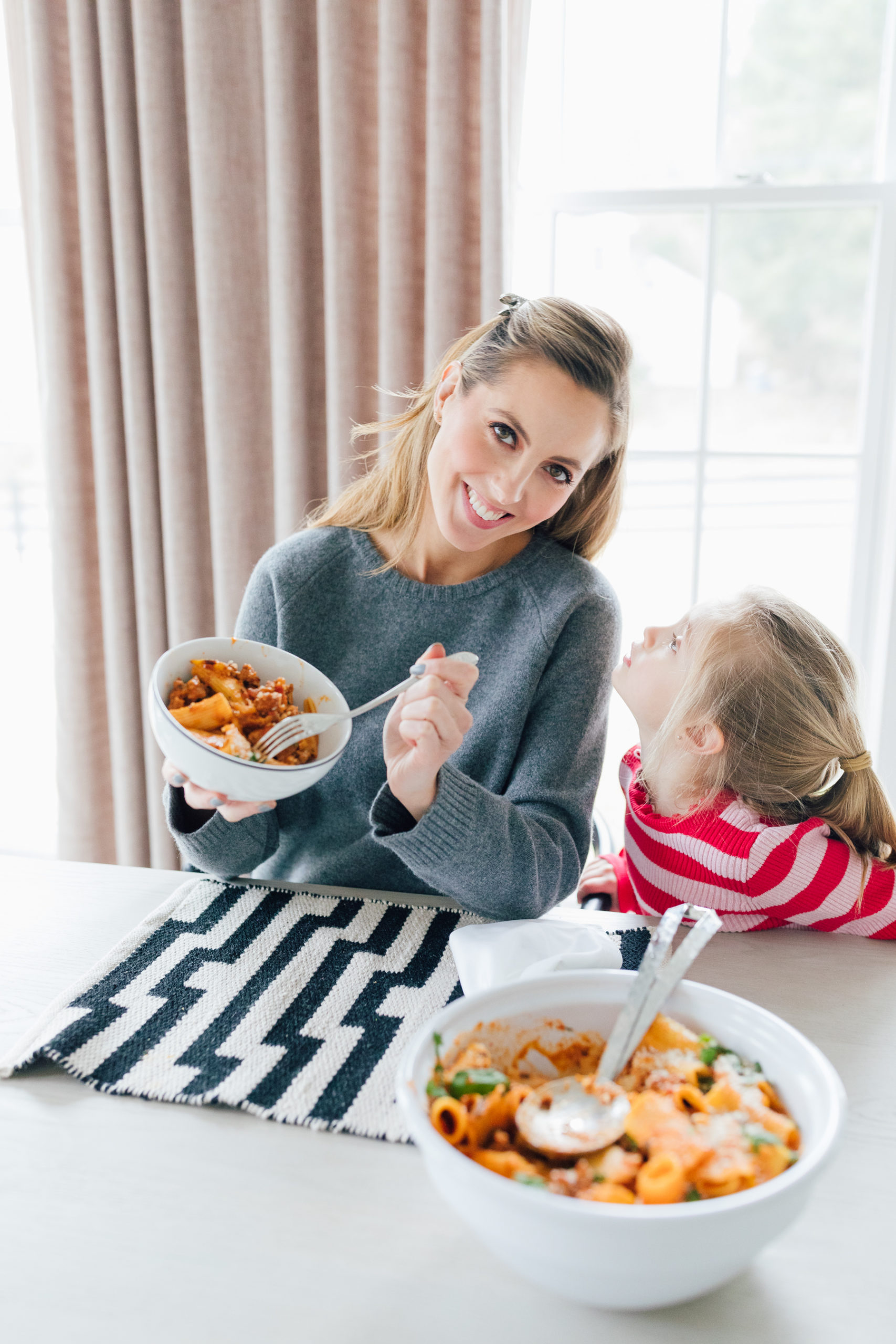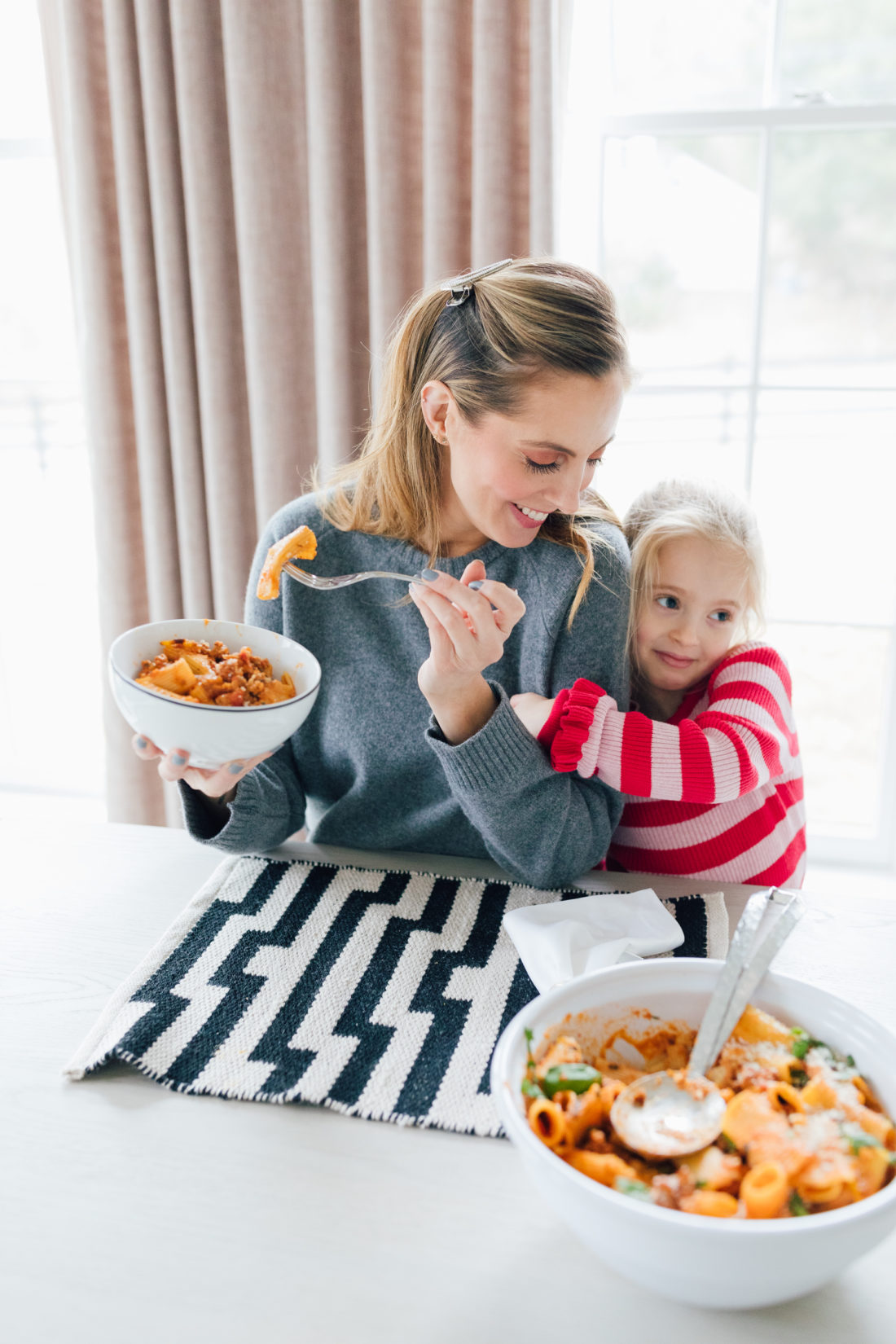 As I wait on baby boy, I find myself craving that cozy nesting energy with comfort foods to match.  I also have been ravenous, which I feel like is this little baby trying to pack on the pounds before he makes his grand entrance! Hahaha.  It's so surreal that he'll be meeting us so soon.  I hope you enjoy this recipe as much as my family has!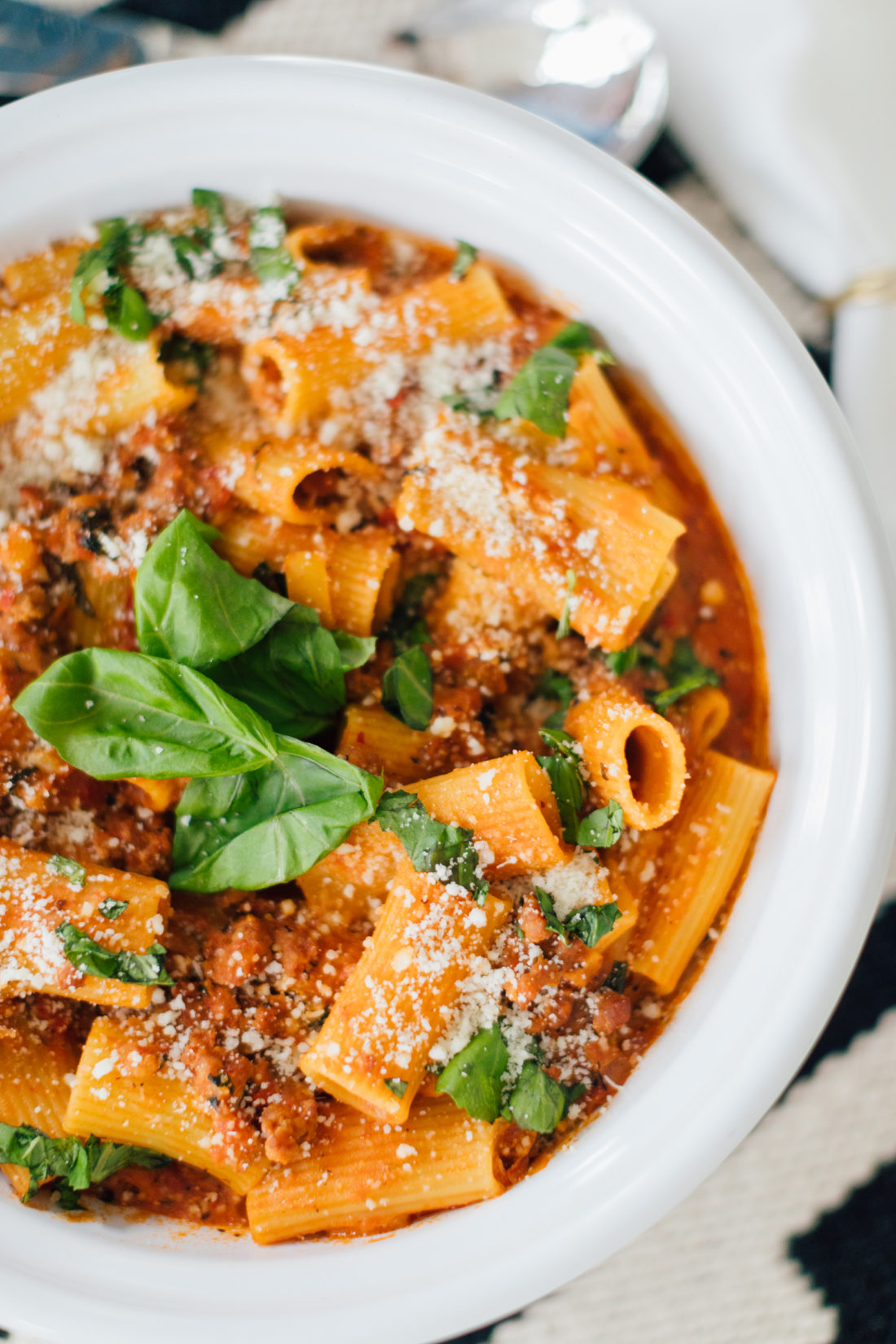 Ingredients…
2 tbsp of Olive Oil
1 Yellow Onion, chopped
1 Red Bell Pepper, chopped
4-6 cloves of Garlic, minced
1lb Uncooked Spicy Italian Sausage, crumbled (you can also use Sweet Italian Sausage if you don't enjoy spice)
16oz Marinara Sauce
1 log of Goat Cheese (or if you eat cows milk, 8 tbsp of Half & Half)
1/4 cup of dry White Wine
8oz of Rigatoni
1/2 cup of Parmigiano-Reggiano
1/2 cup of fresh Basil, chopped, and more for garnish
3 cups of Water
A pinch of Red Pepper Flakes
Kosher Salt and Black Pepper for taste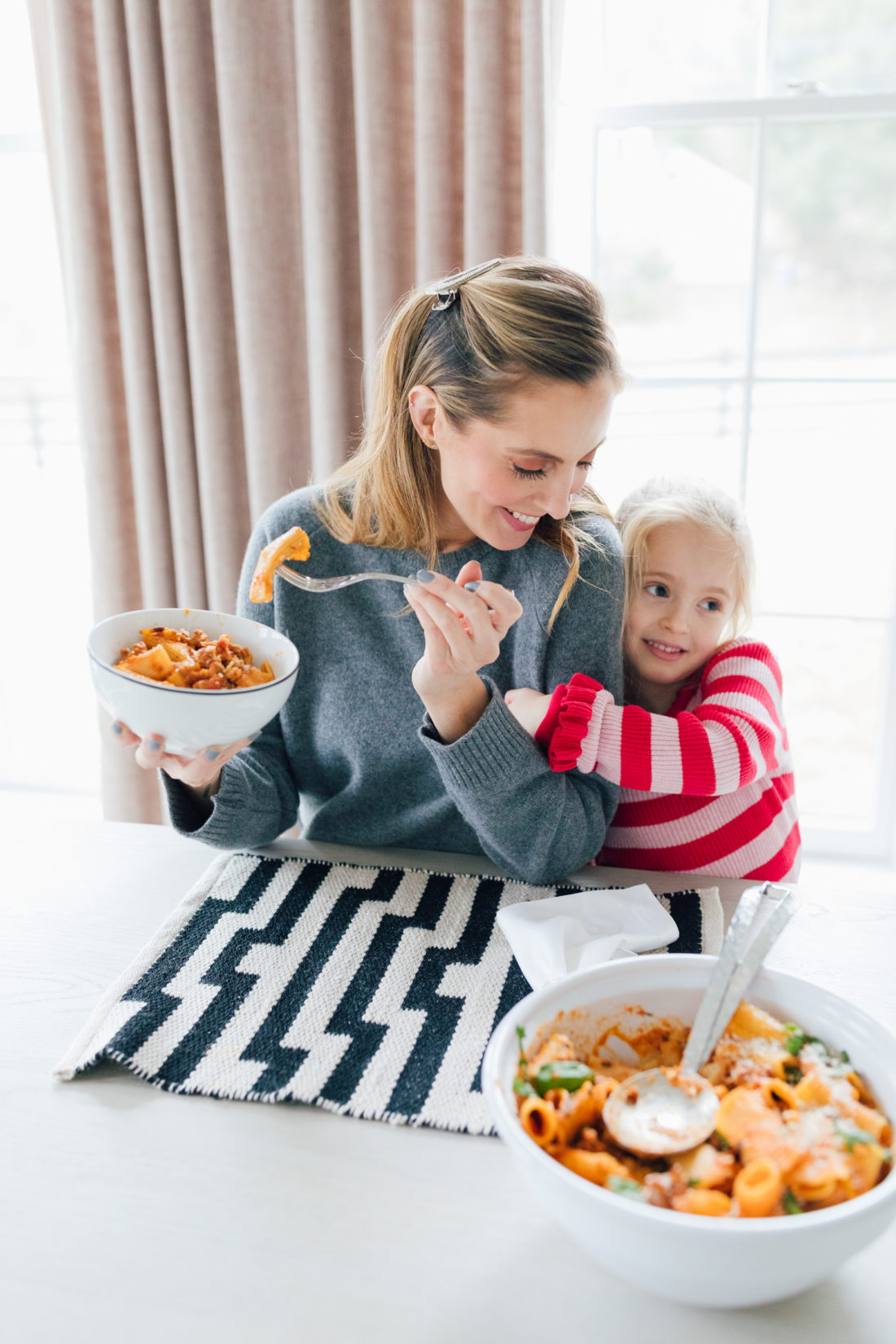 Instructions…
For this recipe, you will need a large sauté pan with a lid. (This 5oz Greenpan is my favorite and it's on MEGA sale right now!) If you don't have a sauté pan, you might be able to use a dutch oven, but I haven't personally tested it this way. If anyone decides to try this with a dutch oven, let me know how it turns out and any adjustments you made in the comments below!
In a large sauté pan, heat the oil over a medium-high flame and add the chopped red peppers and onions, stirring frequently for 8-10 minutes, or until they are softened and the onions are translucent.
Add the minced garlic, a pinch of red pepper flakes, and salt and pepper to taste, and stir to combine.
Add the sausage to the pan, breaking it up with a spatula as it cooks, until the sausage is brown, about another 8-10 minutes. The better you crumble the sausage, the faster and more evenly the sausage will cook, so putting in the elbow grease here will pay off!
Once the meat is well cooked through and there is no pink left, add the white wine and stir until the wine is mostly evaporated, lifting up anything at the bottom of the pan with your spatula.
Add the marinara sauce, 3 cups of water, and the rigatoni to the pan and stir to combine.
Bring the mixture to a boil, reduce the flame to medium-low and cover with a lid.
Let it simmer for about 15 minutes, stirring every few minutes to make sure the pasta doesn't stick to the bottom of the pan. If the liquid is evaporating too quickly, you can add another 1/2 cup of water to loosen it up and reduce the flame to low. Around the 12 minute mark, test the pasta to make sure it's not overcooking or getting soggy.
Once the pasta is cooked al dente, keep the pan on the flame but remove the lid. Add the Parmigiano-Reggiano, the chopped basil, and the goat cheese to the mixture, 1 oz at a time, until it's as creamy as you'd like it to be. (For reference, I used 4oz.) If you're using half & half instead of goat cheese, add that instead. Stir to combine.
Continue to heat the mixture on medium-low for another 2 minutes, stirring periodically, then remove the pan from the flame, add some salt and pepper for taste, and let it rest for 5 minutes.
Serve with some additional basil on top, and enjoy!
Click here for the printable recipe!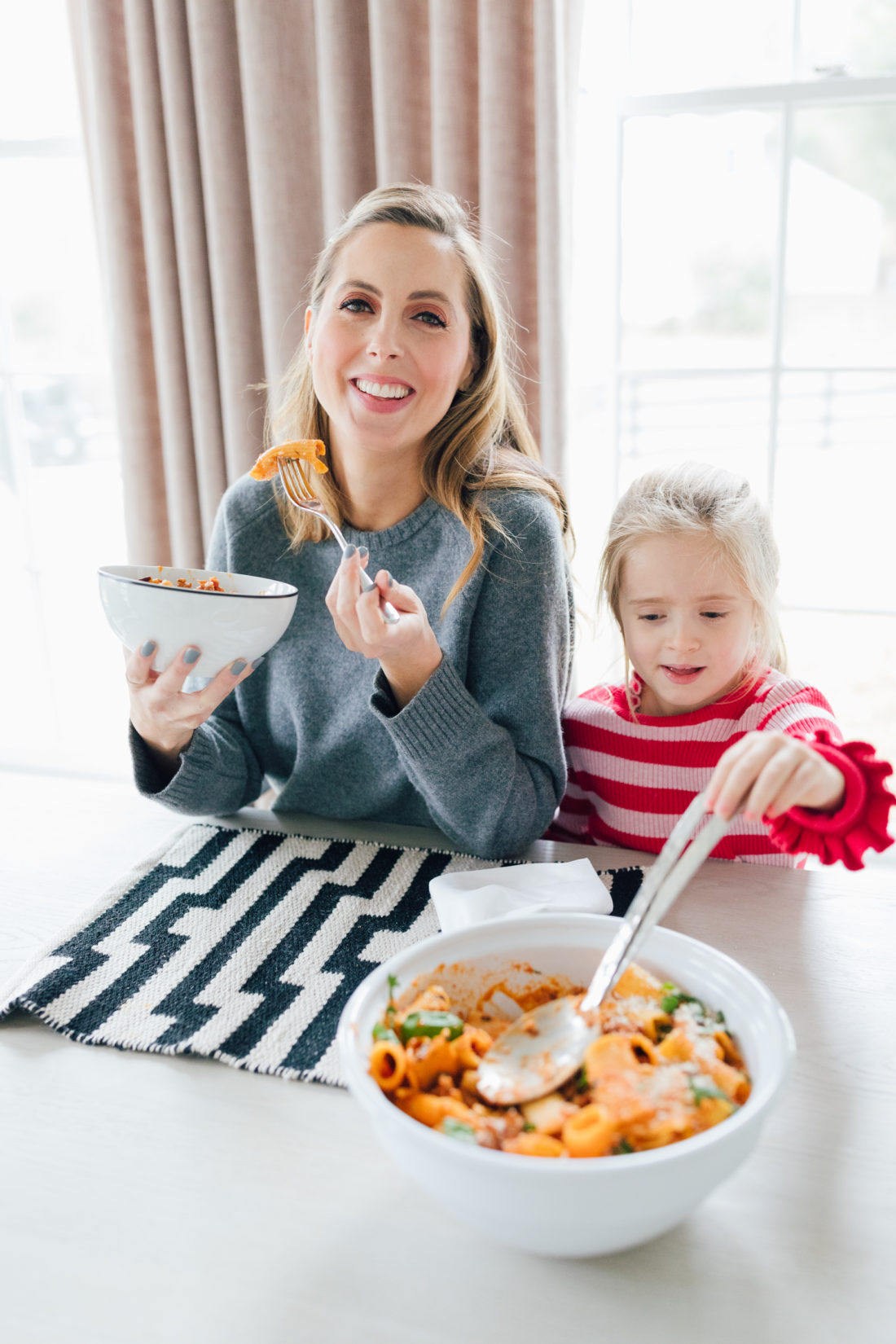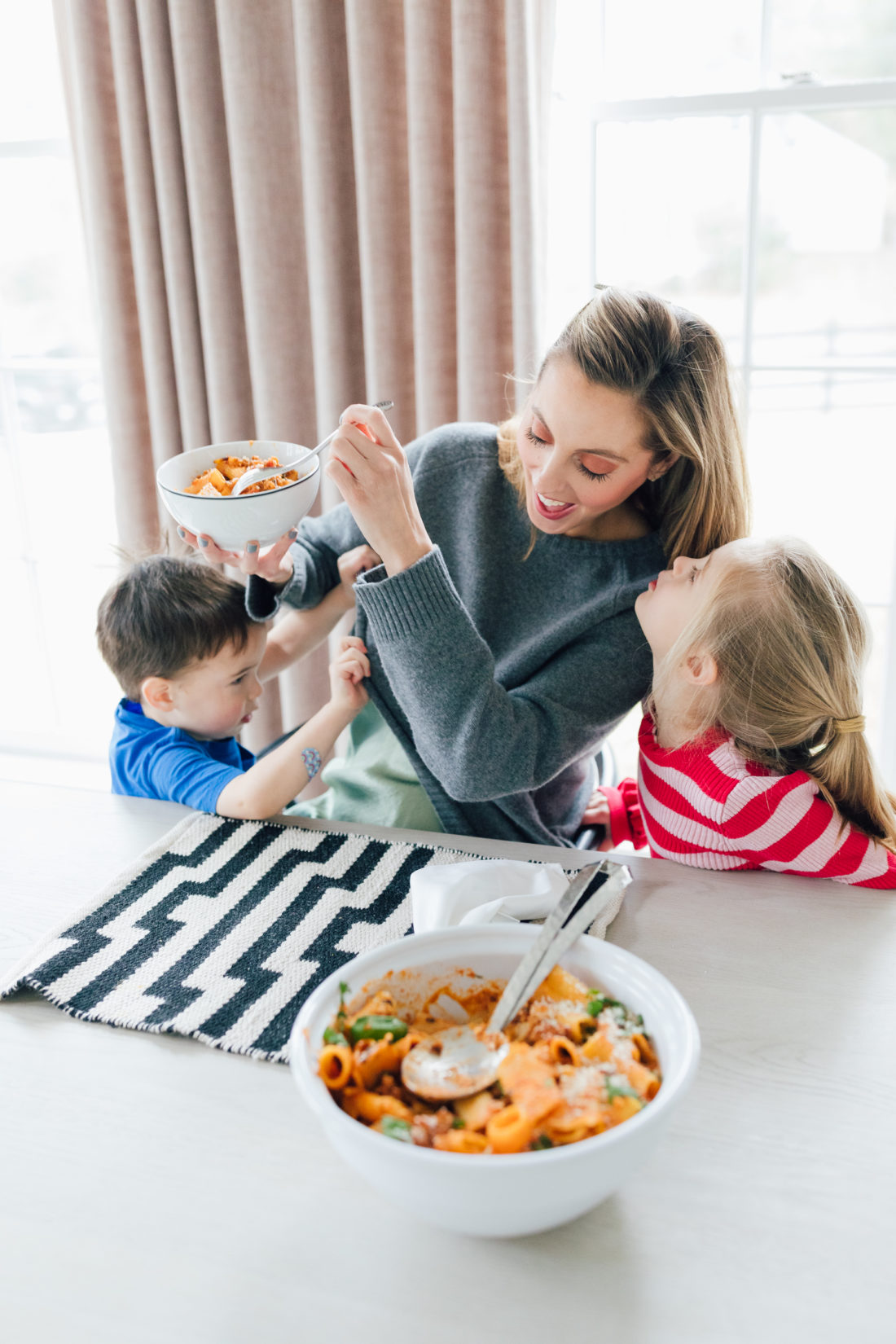 Shop the look…

Photographs by Julia Dags