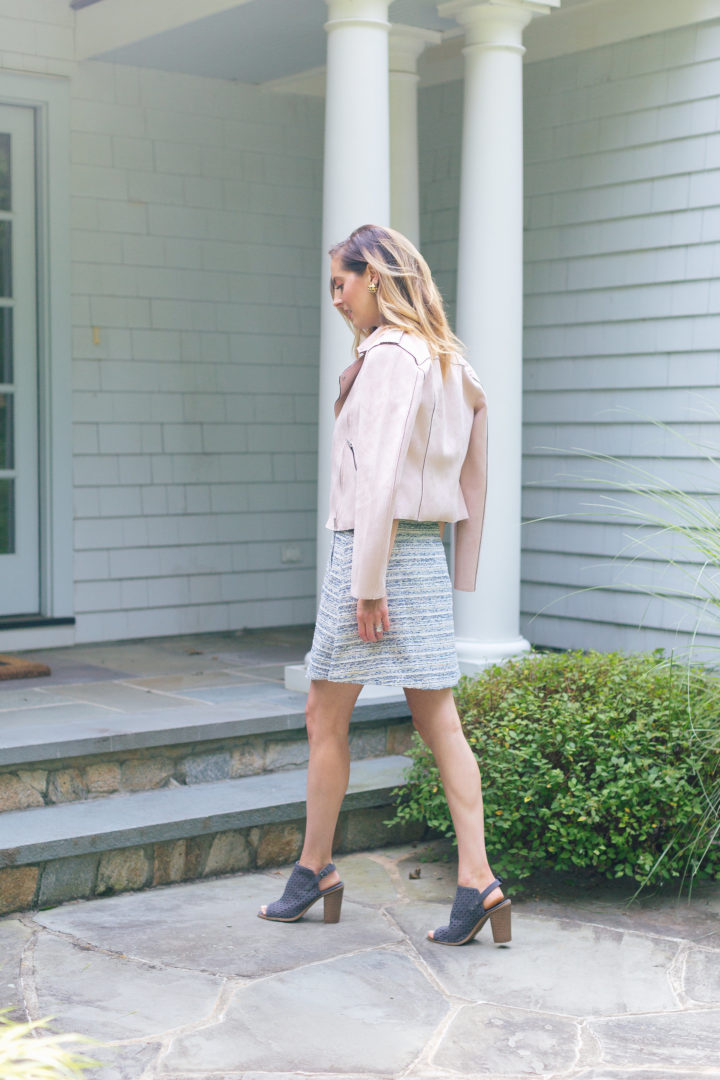 I can't be the only person who is sweating just walking around the aisles of clothing stores recently.  Even looking at the heavy sweaters, wool, and outwear makes me feel like passing out! How can I think about buying any of that right now?! Last Fall was super warm– I remember my kids were playing in our yard in their underwear a week or so before Halloween! This year looks like it could be similar, and maybe even hotter than last Fall.  I think this shifting weather pattern calls for a shifting perspective on Fall Fashion as well.  Today I thought I would share some of my essentials for this weirdly warm fall we are gearing up to have.  It's definitely not your typical Fall must-haves list! But everything I chose is great for layering and for bringing that fun Fall vibe without the heaviness.  Let me know which pieces are your faves!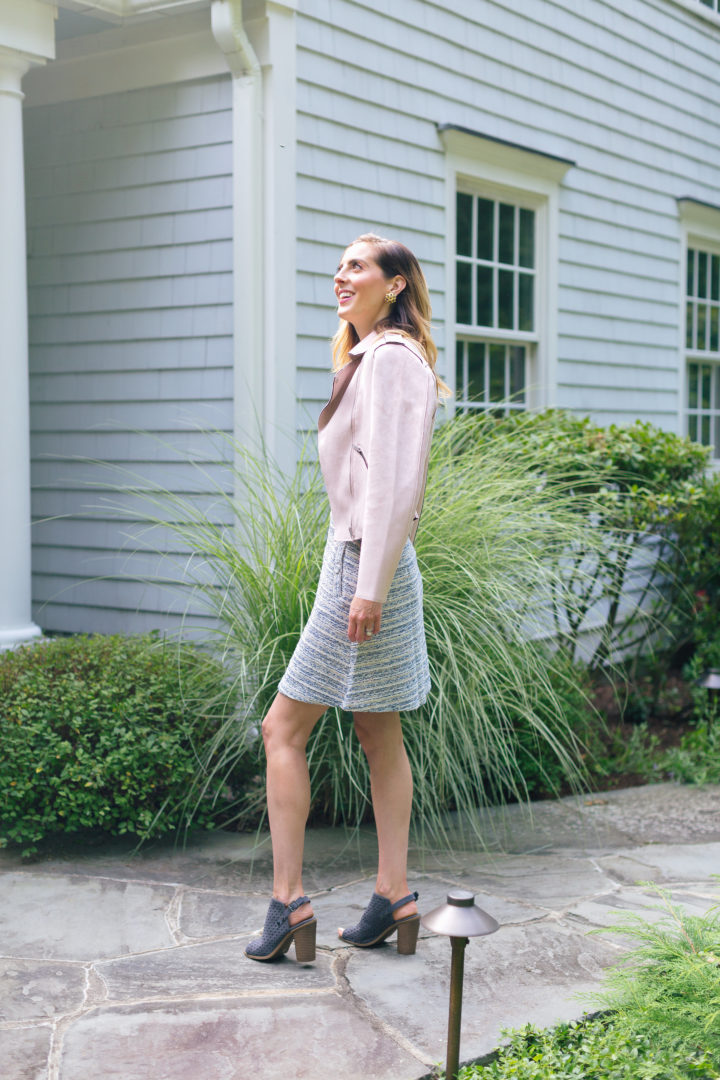 1. Slingback Flats
Slingbacks are a big trending item for fall, and I love this flat white version.  They can look super chic with jeans or even paired with a dress or skirt and a jacket.
2. Lightweight Plaid Blazer
I love that this blazer is plaid for some Fall vibes, but isn't made from a heavy fabric.  It's great for this warm Fall weather!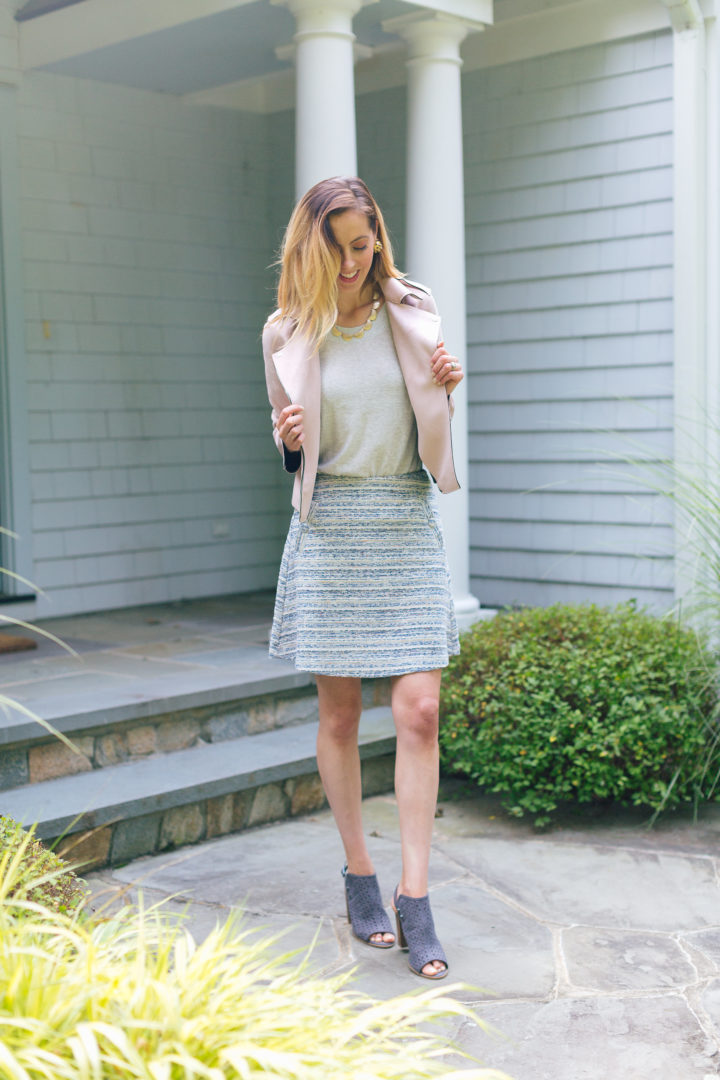 3. Wide Leg Crop Jean
Madewell jeans are my fave, and this higher rise style is so flattering.  I love that the wash is dark for Fall, but the crop adds some breeziness to the look!
4. A-Line Denim Skirt
Another amazing transitional piece! It can be paired with a t-shirt or a sweater, and with sneakers or tights and booties!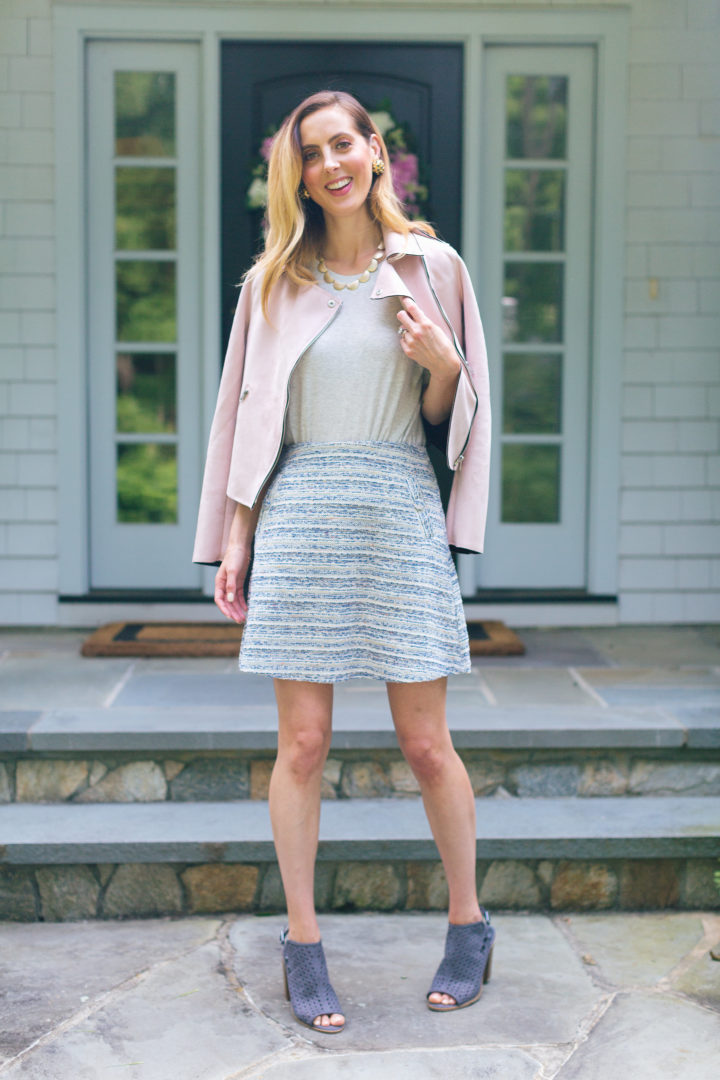 5. White Dolman Sweater
This sweater is so soft and thin, and is great for layering!
6. Peep Toe Bootie
I love a bootie for Fall, and this peep toe version makes it a little more accessible for warmer weather.  Plus I love the color!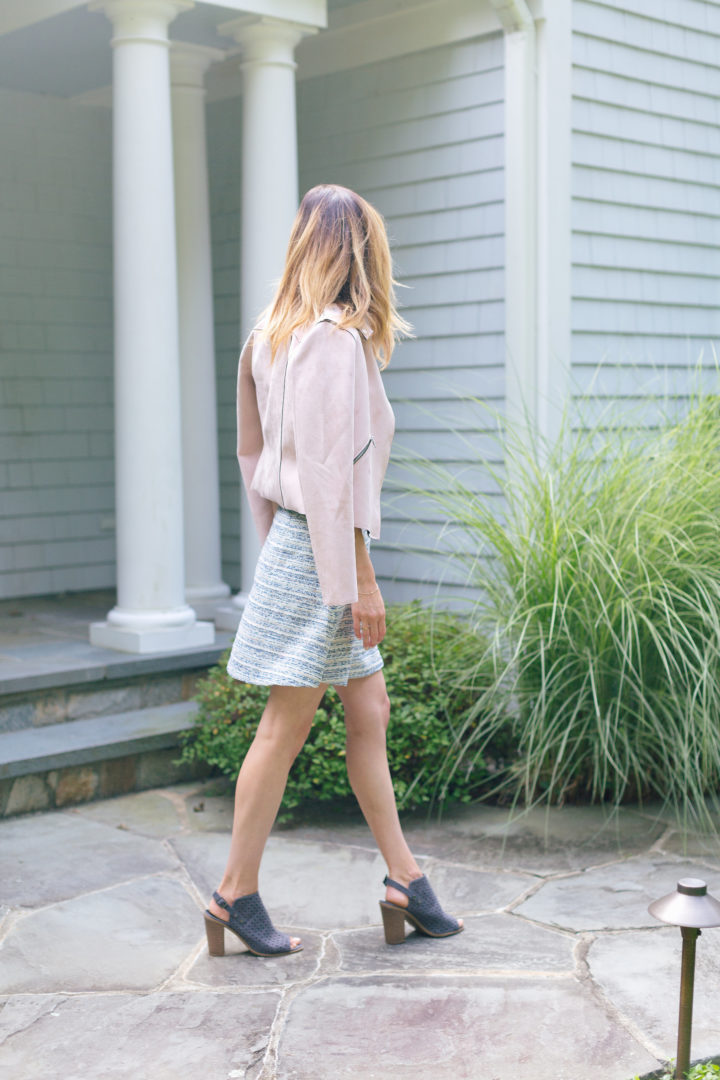 7. Faux Suede Biker Jacket
I love how lightweight this jacket is– easy to layer over a flowy dress for warmer days or thick sweaters for chilly nights. And the blush color is so fab!
8. Easy Tweed Skirt
I just love this skirt because it's casual enough to wear with a t-shirt and flats, but you can totally dress it up with a pretty blouse too!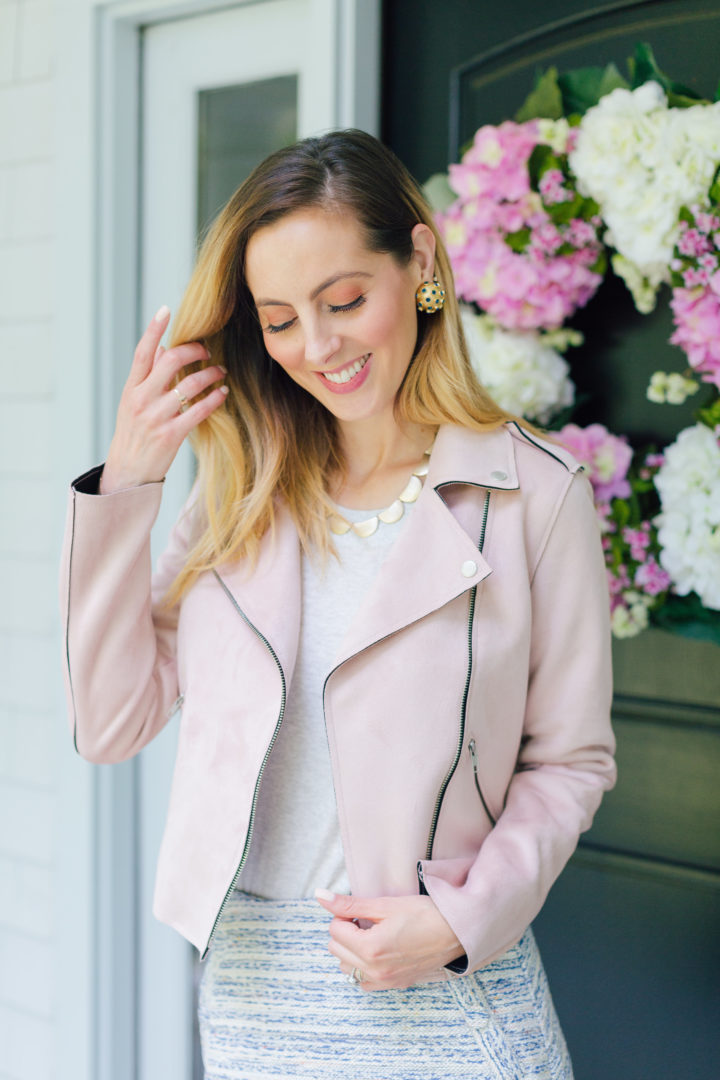 9. Shortie Pajama Set
This is the cutest pajama set, and I love that it has gorgeous fall colors but is nice and lightweight for warm nights. 
10. Velvet Headband
This velvet accessory is a great piece for a warm Fall since you can add a bit of drama to a pulled back hairstyle.  I love parting my hair in the center, pulling it back in to a low bun and adding a headband for a sleek, chic, and ultra easy style.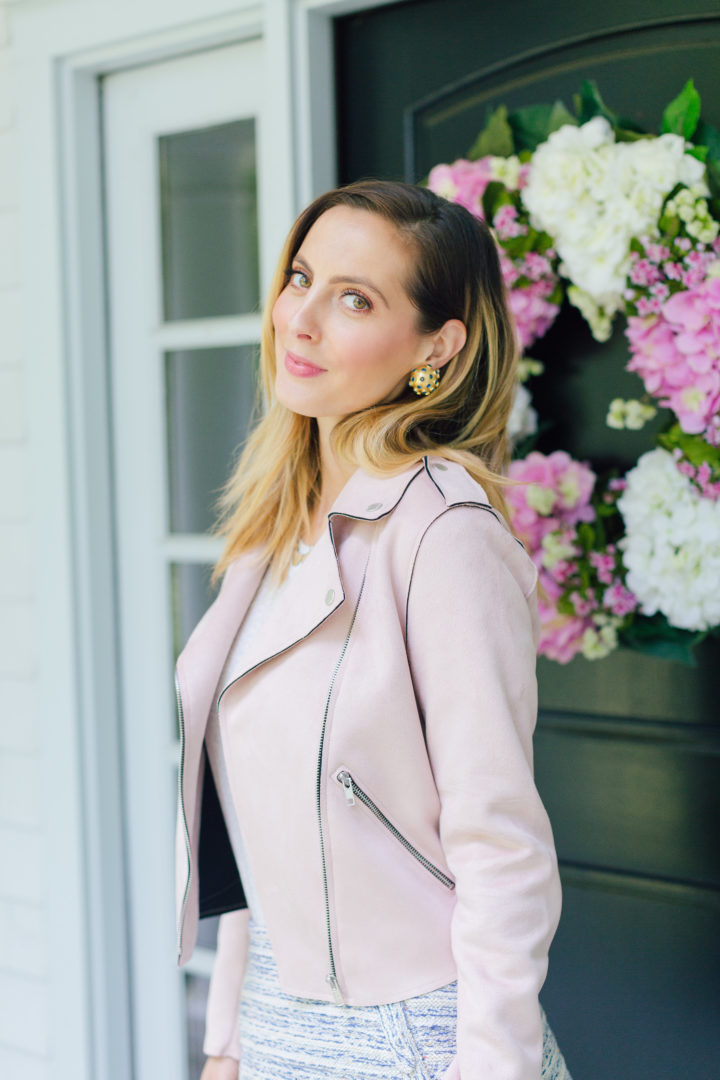 11. White Boho Blouse
This top is so versatile.  You can wear it with a midi skirt, jeans, or even some velvet trousers and a jacket when the weather gets colder.
12. Flowy Dress
I just love this gorgeous floral dress, and it's a great transition piece.  You can layer it with a sweater for chillier days, and add a bootie!
13. Blush Sneaker
I love a blush sneaker for Fall, and this one with the feminine bow ties are just too pretty!
Shop the Look…

Photographs by Julia Dags.