The following content may contain affiliate links. When you click and shop the links, we receive a commission.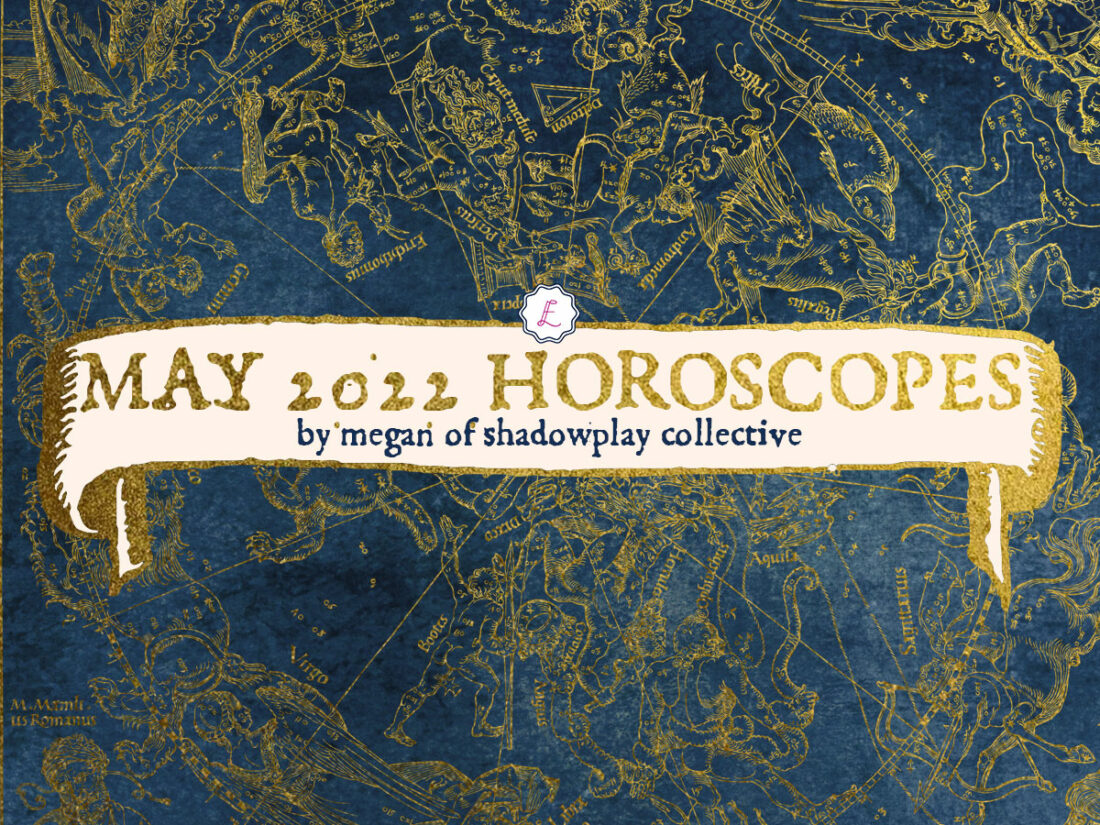 Meet Megan of Shadowplay Collective
---
---
Happy Birthday, Taurus! This is your season to shine and show the rest of the zodiac how to charcuterie, rest and leisure! The main themes of the month for you are all about passion, art, attraction, growth, and expansion with a dash of luck. Taurus this season your sign will be feeling the effects of the Black Moon – Solar Eclipse that lands on 4/30. All I can say is- EXPECT THE UNEXPECTED FRIENDS! Eclipses are known to create quick change, forward movement, and new opportunities all on a whim! Your word of the month is Flow, and I can see why you got that card this month. You will be asked to go with the flow friends. Events that happened for you back in November-December 2021 might be coming back around in an expansive way. In May I see there's a passionate new beginning brewing for you! This could come in the form of a work collaboration, a get-together with friends, or anything else that sets your soul on fire. There's something here that you're not ready to let go of, if anything you want to put in work with whoever else is involved in this situation. You see the potential for growth and harmony and feel there is unfinished business here. You might start off the month avoiding making some kind of big decision, this could be about a relationship, work, or home. Even though you may not want to, the need for forward movement will be so great you'll feel motivated to take control and make some moves. This could be a literal move of some kind, but for most this will be consciously making the decision to move on and get your mind/body/spirit to a better place. For some of you, there might be someone you already know that tries to come toward you- they won't make their true intentions known at the time so stay aware Taurus! Other than that, I foresee a good time in your future, full of friends you can laugh with, trying new things, and letting your guard down long enough to enjoy yourself! Believe in miracles Taurus, expect change and expect growth!
MESSAGES FROM THE ORACLE CARDS
RECOMMENDED CRYSTALS TO WORK WITH THIS MONTH
RECOMMENDED CANDLE
---
Gemini friends! In May I see the main focus will be on work and your financial stability. You're not ready to change or let something go just yet- I see you putting in the work because you know your persistence is going to pay off even if at the moment you're not being recognized you know the time will come. Maybe you find yourself with a lot of responsibilities you take care of and provide for, you don't have time for conflict or drama. You refuse to start anything new because you feel it will veer you off your current path and in return might jeopardize the work you've already put in. Whatever is keeping you from trying something new Gemini, just know that staying within these mental parameters is keeping you from gaining new information or knowledge that can lead to expansion. You might find yourself doing the same thing but expecting different results but I see that in doing so, this might be keeping you from repeating a past cycle or pattern. You have the power to break away from this restriction Gemini! The eclipse on 4/30 is expected to bring about change that will line us up with our destiny, try to be open-minded about what that change would mean for you Gemini! Your intuition is trying to guide you and help ease you through any fears of the unknowns. You have so many options as to which way to go, let your inner voice guide you away from those things that are no longer serving your highest good. This could be away from people, places, things, and even a way of thinking that is not fulfilling you. Lean into your intuition and check out these crystals below to help ease you through this moody and emotional time.
MESSAGES FROM THE ORACLE CARDS
RECOMMENDED CRYSTALS TO WORK WITH THIS MONTH
RECOMMENDED CANDLE
---
Cancer friends- your May is looking to be a little intense when it comes to work or something you're currently working on in your life. You may find yourself feeling emotionally, physically, and mentally exhausted when you think about something from the past. Don't let these uneasy memories mess with your current vibe Cancer. You have something good going here, but there may be something from the past that is clouding the experience for you. There's a lot you don't know and that's OK, don't let the fear of the unknown hold you captive! I'm seeing you being hard at work, but there's an absence of joy in the process. You may find yourself fighting to keep going through this difficult stage, beware of your own attitude and negative self-talk during this time. I'm sensing negativity will try and get the best of a lot of you in May. If you find yourself being in this mindset, remind yourselves my dear Cancer friends- difficult as it may be, you have the power to break free of any toxic behaviors and situations that are not healthy for you. This energy has held you captive, away from your growth and feeling powerless for way too long. Now is not the time to try and manipulate any situation to get your desired outcome Cancer! This may have worked for you in the past, but this isn't the way to move forward. You're so stable and reliable to those that depend on you, I see you showing up to your everyday life and responsibilities with stoic strength and commitment. You'll continue to do so in May but underneath there's a part of you that doesn't feel like you're in power and in control. You feel you've been kept waiting for something that never materialized and now you may be wondering if it ever will. You may not get that question answered in May, but I do see you choosing to drop conflicting thoughts and if you found yourself in any heated conversations with others at any point- I see you choosing to drop it and no longer ruminate over who said what.
MESSAGES FROM THE ORACLE CARDS
RECOMMENDED CRYSTALS TO WORK WITH THIS MONTH
RECOMMENDED CANDLE
---
Leo, your biggest focus in May will be YOU! You'll be choosing love for yourself over anyone or anything else and that's not a bad thing! You may be looking at all your options and wondering which one you should go for. You want partnerships that are reciprocated, fair and balanced. Some of you could be dealing with a Libra this month. You've made up your mind- you want a love that's going to feel like home. You may even find yourself getting lost in your own thoughts and daydreams, there's a feeling of nostalgia that will make you feel safe and loved. Leo, it seems like you're going to be master of your mental realm- but outside of your thoughts, it doesn't look like you're taking much action. You may come up with plans, but they don't seem to stick long enough to create movement. For some of you, legal paperwork, contracts, or agreements of some sort will have to be looked at. With Mercury Retrograde coming up from 5/10-6/2, make sure you're double-checking any binding contracts that you need to sign or if you're initiating new projects during this time make sure to read the fine print! Leo keep in mind, Exes and other past situations tend to come back around during Mercury Retrograde- make sure you're ready to act accordingly based on what you learned last time you dealt with them.
MESSAGES FROM THE ORACLE CARDS
RECOMMENDED CRYSTALS TO WORK WITH THIS MONTH
RECOMMENDED CANDLES
---
Virgo, in May I see you realizing that without the proper push and commitment for the long haul, the lack of progress is hindering your growth. You may be realizing that your boundaries need to be set in place and you shouldn't be the only one carrying some of these burdens and responsibilities you've been dealing with. The issue that a lot of Virgos will be facing is that even though you know it's not fair to be the one that is carrying all this weight, it's also hard for you to give up the grasp and control you currently have! By undertaking all the tasks yourself and keeping a hold with a tight grip, you know they're getting done the right way! At the same time, by using up so much of your energy you may be unknowingly keeping the current cycle open and preventing an upgrade to your life from coming in. There's a lot of fear of the unknown when it comes to your home life and stability- as the month goes on I see you releasing a lot of the conflicting thoughts you've been having. You're getting ready to take a leap and create forward action in your life, you're ready to elevate your stability and commitment. This comes along with an ending that has to happen in order to create space for the new. You'll find yourself feeling trapped in your thoughts at times, just remember that whatever negative story you've been telling yourself cannot be trusted. There is no truth in fear and this is keeping you from being able to heal emotionally and get to a place where you're feeling better. Not everything is lost, if anything Virgo this is part of your level-up journey!
MESSAGES FROM THE ORACLE CARDS
RECOMMENDED CRYSTALS TO WORK WITH THIS MONTH
RECOMMENDED CANDLE
---
Sweetest Libra friends! The main focus I see for you in May is surrounding an important foundation in your life- for most of you, this is something surrounding your home and family. Something isn't feeling very stable at the moment- there could be disharmony within your home that's causing unhappiness. You're aware of where the problem is and I see that you have been manifesting a change when it comes to this, but there's still something you're not ready to let go of. It's been difficult to get past the disappointment of what's happened but Libra- it's important to remember that by not communicating about it, you're repeating a cycle that's not helping you progress. I know that it feels like you're avoiding stress by avoiding conversation- but I'm being shown this is a past pattern that's kept you in a loop. This month Mercury will go retrograde and issues with communication will arise, so when you do decide to speak be extra clear with what you're saying. I know you're feeling loss and sadness, but I'm here to remind you that as you let go and release your heartbreak- you'll gain clarity and understanding that you didn't have before. A truth will be revealed to you, even if this comes from within, you'll have a new way of thinking about your situation. It may be hard in the moment, but try to remain positive. Someone here will be independent, choosing to go solo and working hard to take care of themselves but the surrounding energy isn't happy about this. There's negativity that's coming from somewhere, for most this will be related to a family dynamic. Take a deep breath Libra and remember that whatever it is you're putting your thoughts behind- those are the things that are coming to life.
MESSAGES FROM THE ORACLE CARDS
RECOMMENDED CRYSTALS TO WORK WITH THIS MONTH
RECOMMENDED CANDLE
---
Scorpio- the lack of structure a lot of you are experiencing just isn't cutting it for you! In May, unfortunately, you'll be feeling the effects of Mercury Rx. Trying to gain progress or make moves to get ahead might feel tedious. You may find yourself facing resistance or an overall lack of direction- which you do not like! You might be forced to get out of your comfort zone and ease up on some things- again territory you may not like. This may leave you feeling powerless or out of control in some way. You need structure to feel stable and whatever situation is lacking that right now, is being felt. You may feel like work or a friend is being opportunistic when it comes to you and you may find your needs are being put on the back burner if you're not careful. Your home and stability are your priority, just make sure you're still looking out for yourself and not kept waiting for it to get better- you may have to be the one that makes it better for yourself. By the end of the month, I see you celebrating with friends and family, there's a lot of joy being highlighted and an overall feeling of happiness and security around those that are the most important to you. Listen to yourself especially this month Scorpio! A lot of you will be receiving informative downloads through dreams, thoughts, and feelings in the upcoming weeks. The Full Moon + lunar eclipse is on 5/16. This eclipse lands in your sign- you will be feeling it the most! Be your own light during this time Scorpio.
MESSAGES FROM THE ORACLE CARDS
RECOMMENDED CRYSTALS TO WORK WITH THIS MONTH
RECOMMENDED CANDLE
---
Sagittarius, it looks like you have your hands full in May! A lot of you may be very busy at work, possibly feeling a little spread thin and weighing your current options. There's an energy of imbalance- like something doesn't seem fair. There's also a lack of consistency somewhere, I'm being shown that without it things just won't progress the way you'd like. A lot of you might find yourselves hiding how you truly feel about the situation. There's an acknowledgment that this is definitely not the healthiest of situations and you're trying to break free from it in some way. I don't think you'll be sharing that with the people around you, this might be part of what you're hiding. Beware Saggies- if you find yourself doing a lot of negative talk, it might just make you feel worse! The venting might be making you hold on to the pain and disappointment this situation caused you. If you find yourself detached and not wanting to deal with this and possibly even bored of the situation, this is a reminder that this is also not helping you heal from this. Towards the end of May, I see a lot of you keeping to yourselves! Head down and focusing on work- or really trying to be, it feels like it might be hard to focus on your tasks as you're trying to release the surrounding tension. Be kind to yourself this month Sagittarius, we'll be dealing with eclipses and Mercury Rx which is notorious for affecting communication!
MESSAGES FROM THE ORACLE CARDS
RECOMMENDED CRYSTALS TO WORK WITH THIS MONTH
RECOMMENDED CANDLE
---
Capricorn, you are hard at work in the month of May! You'll be leading by example, for some of you that might literally be leading a team of some sort. On the outside, you're a strong confident leader who's sure of your actions. But there's something within that is making you wonder if you have what it takes to face whatever challenges arise. There may be a point where you question if you still have any fight left in you, it's been tiring defending and fighting to keep the upper hand. The good news is there is a truth that will be revealed to you! This will bring about clarity, new thoughts, and maybe even love for some of you. Someone very passionate and creative is emerging- this could be you or someone around you- the energy will feel really good! There's love shared here. You'll be willing to put in the work necessary on any projects or endeavors that come up, just be mindful that you're not over-giving while you wait for things to take off. I don't see you communicating too much with people about your plans or ideas, you'll be going within and tuning into your own intuition instead of seeking outside counsel. Just be careful Capricorn when it does come to communication. Mercury will be retrograde for most of the month and I do see there might be something stressful that comes up for you when it comes to communication or an incoming message. Have faith and trust that a new journey is awaiting you, it might just be a little slow coming in right now!
MESSAGES FROM THE ORACLE CARDS
RECOMMENDED CRYSTALS TO WORK WITH THIS MONTH
RECOMMENDED CANDLE
---
Dearest Aquarius, you're coming into May pumping the breaks on any movement forward! You're holding back from making new moves or communicating with someone, but at the same time, I have to mention that in doing so you're ignoring your own intuition over the matter. This has the potential to leave you feeling emotionally drained and overall not feeling the best about it. You're standing strong in your position, even as chaos tries to ensue your month, you are standing strong. You might have to decide how to approach an unforeseen situation all on your own this month. For some of you, this could mean breaking away and being "single" or being financially independent in some way. Either way, you'll have a slow and steady plan for how to proceed! For some there might be a feeling inside of you pulling you in the opposite direction of where you're currently sitting, this is your intuition and higher self trying to get your attention and guide you! Your energy in May might keep you fantasizing about your options and not moving any of them out of a dream state. For a lot of you, this looks like a pattern that is repeating and keeping you in a loop without a breakthrough. There's something here that isn't working and until you break ground and create change, you may find yourself in the same situation further down the line. There's a lot of love showing up towards the end of the month! So much understanding and empathy are being shown. There's a beautiful soul mate energy that will be around you (this doesn't have to be romantic)- for those of you who this applies to, children could be involved. There's an overall feeling of youth, nostalgia, and reunion ending the month. Don't be so hard on yourself Aquarius! Take accountability where you can and create the change you want to see. Take it easy this month, it's eclipse season and Mercury is going retrograde- things will be moving slower and needing our patience now more than ever.
MESSAGES FROM THE ORACLE CARDS
RECOMMENDED CRYSTALS TO WORK WITH THIS MONTH
RECOMMENDED CANDLES
---
Pisces friends! In May a lot of you will choose to go into full-on hermit mode and keep to yourselves! You have things on your mind and know this is something for you to figure out on your own. There's something going on that's blocking you- quite literally communication could be blocked in some way- and you might start to feel impatient as you begin to question where you've been investing your time, love, energy, money, and has there been a return on that investment yet? There's something deeply rooted here, this goes back years and it's been keeping you held down in some way. I have the feeling there was potential here, but promises of love or progress to come could have lost their validity as time went on. This has been on your mind for many nights over the years but even so, there's a resistance to letting this chapter come to a close. You may feel like this isn't over yet. Pisces in May you will continue to give and provide in this situation but I'm seeing your energy will be detached with an "it is what it is" mentality. This is keeping you from having a new emotional beginning- finding joy again in your heart surrounding this area of your life. There may be someone around you that's not showing up confidently or consistently in your energy. They seem emotionally younger than you- or there could be kids involved- and bring the energy of tension- a feeling I can relate it to is like you have to compete for their attention. This in return affects you negatively! This other energy that's showing up is a counterpart of yours in some way- your current dynamic together is showing up as toxic and a restrictive connection for a long time. Pay attention to your intuition Pisces! You'll be guided to get away from the drama if you choose to follow your own advice.
MESSAGES FROM THE ORACLE CARDS
RECOMMENDED CRYSTALS TO WORK WITH THIS MONTH
RECOMMENDED CANDLES
---
Dearest Aries! In May I see you using a lot of your energy to keep control and keep a tight hold on something in your life. For some of you this could be related to home, work, money/spending- whatever it is you're keeping contained, this might have taken priority over your well-being. Make sure you're still taking care of yourself and your responsibilities this month- pay special attention to your spending. We're all tempted to treat ourselves during Taurus' birthday season but just make sure you're keeping up with where your time, money, and energy are going this month! There's a new journey showing up for you in May. This new start will require your dedication to put in the work and the focus needed to get going. I do see a lot of you will be feeling resistant to letting a chapter close or you just might feel like there's unfinished business before you can fully take this leap of faith into the unknown. The decision will be yours, Aries! In May I see you moving forward independently, taking care of yourself, and managing everything beautifully. There might be a situation that arises that leaves you feeling conflicted- for some of you it could possibly stem from a conversation with someone else. You may feel like you have to hide your true intentions as to what you're working on manifesting in your life, hiding your true feelings about what it is you're calling in for yourself. Whatever it is you are manifesting Aries, it feels so loving and nostalgic making me think this could be something related to your past or a strong soul connection you feel. Take care of yourself and don't forget it's ok to let loose and have some fun!
MESSAGES FROM THE ORACLE CARDS
RECOMMENDED CRYSTALS TO WORK WITH THIS MONTH
RECOMMENDED CANDLE
---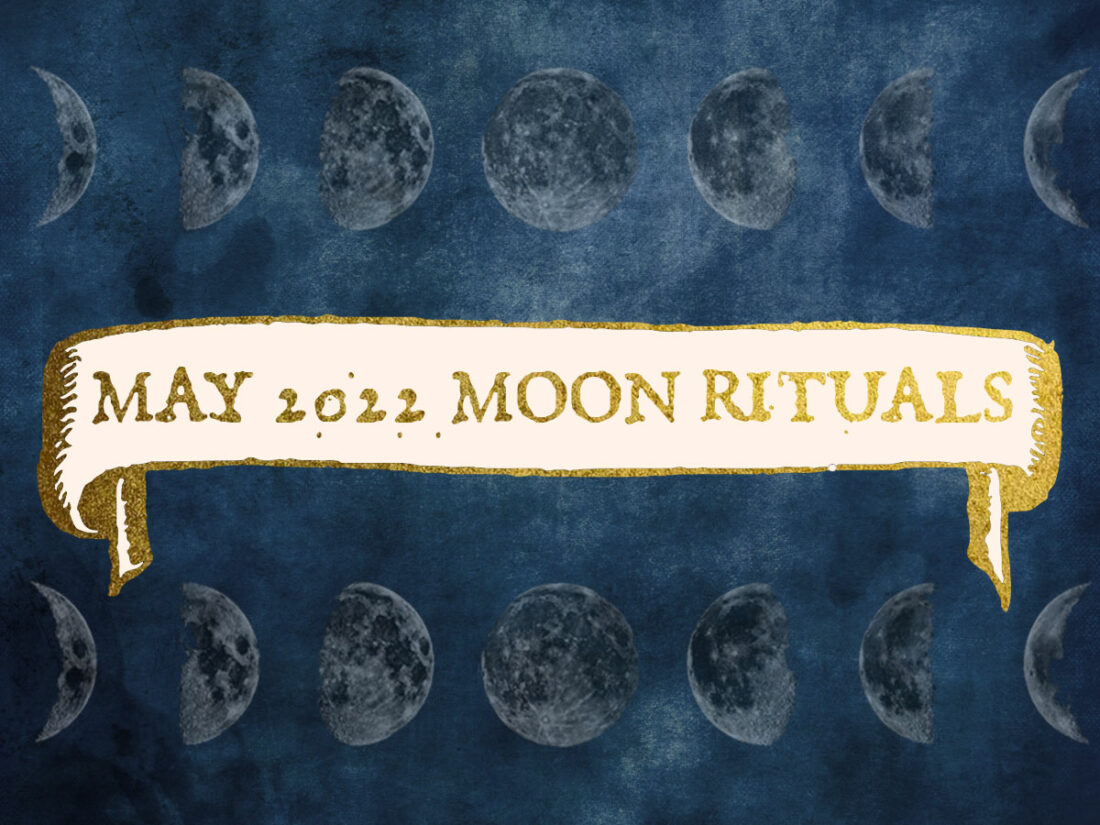 There is SO much going on in May!
Let's start by talking about the Black Moon which is technically in April (4/30), but is here to humble us in May nonetheless. So…What's a Black Moon? This is basically a wild day where it just so happens to be a New Moon + Solar Eclipse all at the same time! Friends. When I say this is some serious shake-up energy- EXPECT THE UNEXPECTED! Eclipses come to shake things up, crumble anything that is wobbly. It'll be a time to pivot and rebuild! This eclipse in particular will be felt most strongly by people with Taurus, Leo, Scorpio, and Aquarius placements. Keep in mind this eclipse is continuing the story from the eclipse season back in November 2021. Think back to this time, was there anything big that happened during the surrounding weeks? What is it here to teach you?
Another important cosmic date to keep in mind is the Full Moon Lunar Eclipse on 5/16. This eclipse lands in Scorpio, meaning it's a water sign and will more than likely have all of us feeling pretty watery with emotion! If you're a water sign- strap in friends and get the tissues ready. Be kind and patient with yourself and others. Not everything will be about emotions- there will also be a lot of new partnerships and bonds that are made during this time!
But wait! We're not done yet! In case that wasn't enough- we'll be getting hit with good old Mercury Retrograde from 5/10-6/2! If you don't know what this is, this happens when the planet Mercury takes a rest and puts itself on a little time out by going in a different direction. Since Mercury rules all things communication, electronics, tech, travel, etc- what you can expect during retrograde is a lot of frustrating delays. Traveling will require extra time, attention, and patience. Communication will be wonky, reading the fine print will be a necessity as you won't want to accidentally bind yourself to any contracts that will have to be relooked at later. Mercury Retrograde isn't the best time to launch new projects but we're all human and life happens, the show must go on but just remember to plan accordingly, add extra time to everything and remain patient if things aren't flowing as easily as you'd like. What else can you expect? A possible WYD message from a certain someone from your past! Exes LOVE to come back during Mercury Rx!
A note about manifesting during the moon cycles in May…
People have varying opinions about this and I'm here to share 2 important points so you can make your decision as to how you want to use the power of these New Moons.
Some people believe this wild eclipse season is unpredictable enough and it may not be the best time to initiate new manifestations during this time. The main reason being that eclipses naturally bring endings and new beginnings, shake-ups, breakups, and unexpected changes. Making some feel there is no need to add our own manifestations into the cosmic mix and find it best to let the cosmos do their thing and realign us with our destiny without interference.
There are people that want to amplify their manifestations with the superpower of this Black Moon! Feeling this is a time of great potential to create the change they want to see happen. There is great energy to work with during this time and using it to supercharge your intentions and calling in your manifestations is definitely one of them.
Personally, I will be sitting this one out and letting things naturally unfold! Leave us a comment below and let us know if you're manifesting this month or taking a break 🙂