The following content may contain affiliate links. When you click and shop the links, we receive a commission.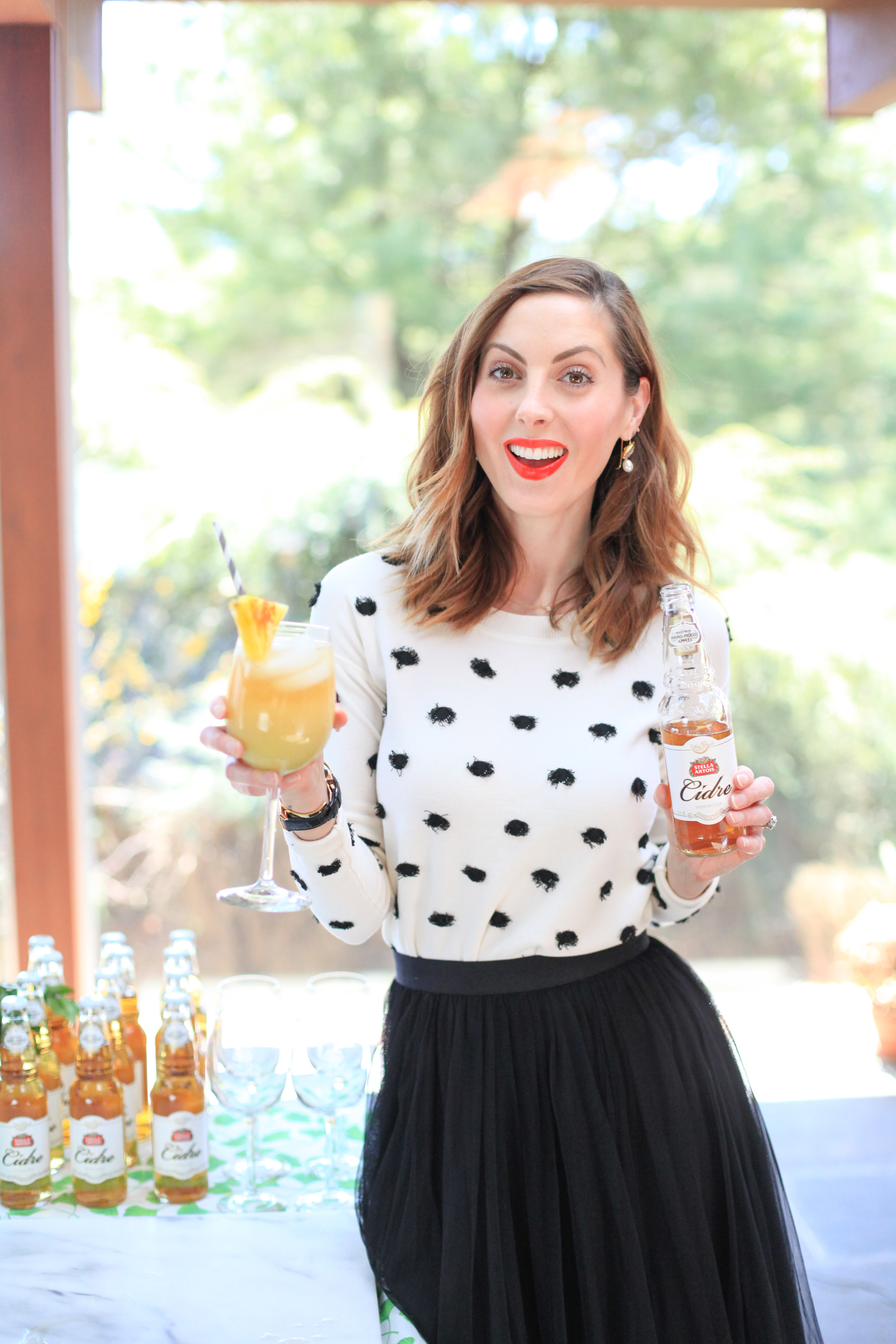 Happy (almost) Derby Day!! The Kentucky Derby has held a special place in my heart since college.  One of my close college girlfriends grew up in the south, and every Kentucky Derby we would get together at my apartment, mix some delicious cocktails and (mostly) watch the race while reminiscing about the weekend, our childhoods, and past boyfriends– and laughing hard about it all.  Since Derby Day falls on the weekend, we always planned to get homework done in between the races– but you can probably imagine how often that happened.  Whoops.  This year I wanted to throw a party for the Derby again to recreate those good times that I remember so well.  I've partnered with Stella Artois Cidre, the brand's new (gluten free!) delicious sipping cider, to bring my guests a slew of cocktails and a Derby Day that are as unexpected as they are delicious!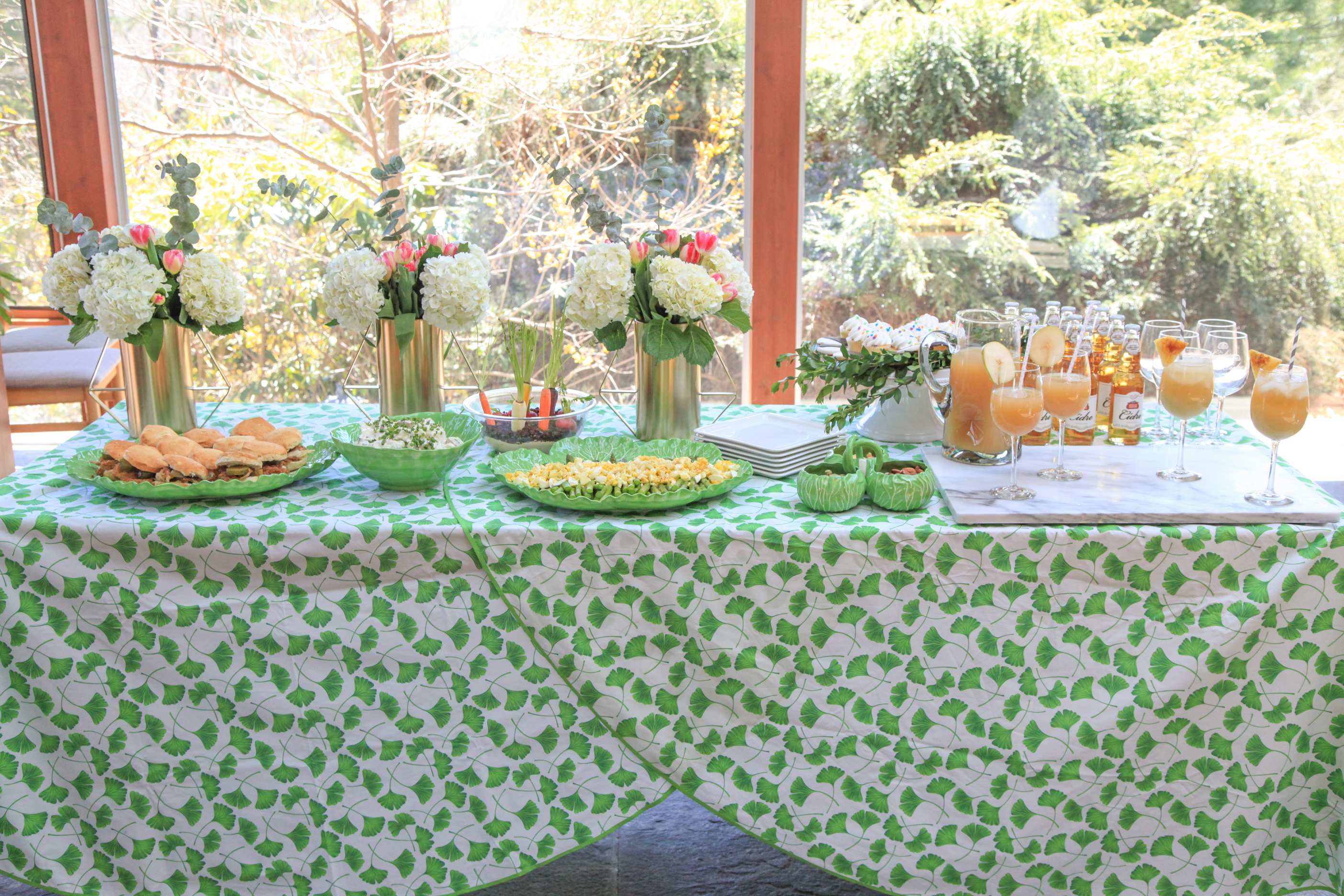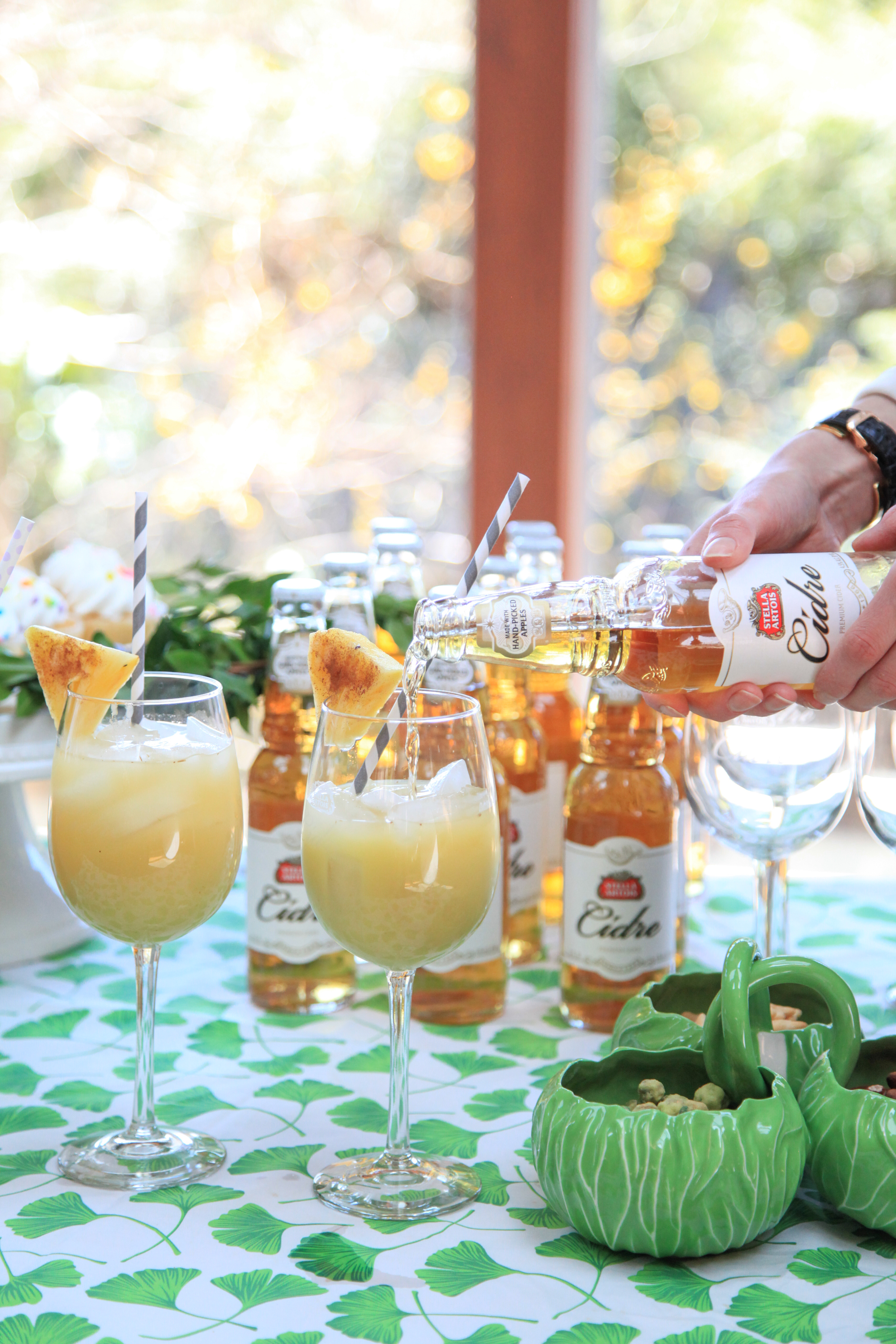 Stella Artois Cidre is a dry, balanced cider made with handpicked apples from wine-growing regions. It's meant to be sipped as you would a wine, and is great to swap out with your normal glass of white wine or rosé in the warmer months! I thought I'd serve a couple Stella Artois Cidre cocktails alongside my food for a fun twist on Derby drinking.  Even though I couldn't participate in the drinking this year– pregnancy spoils all the fun– my mouth was absolutely watering while I was creating the cocktails for the party to serve my guests.  They all just looked so crisp, cool, and refreshing.  Perfect for a fun party, relaxing by the pool, or a lazy summer evening on the porch.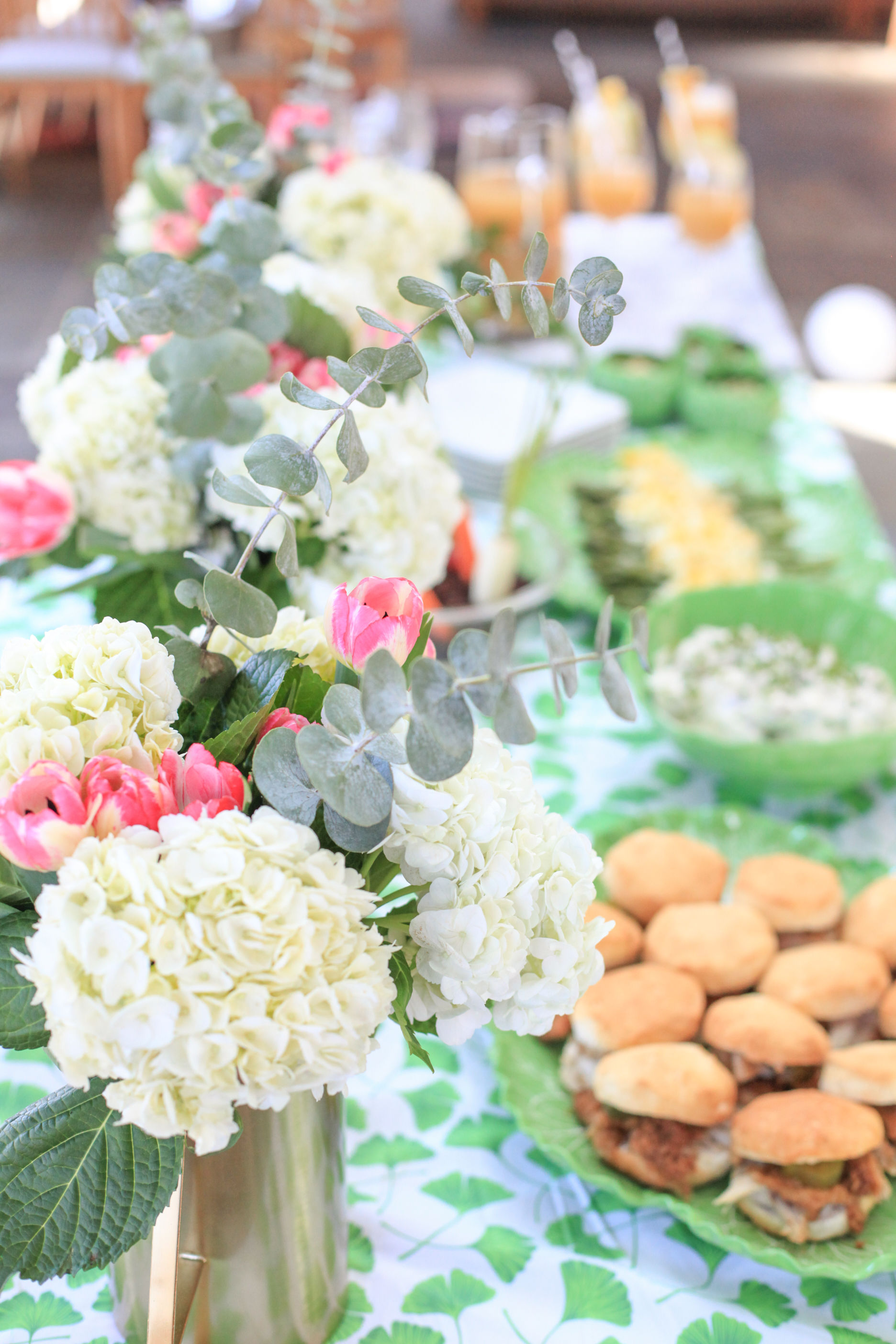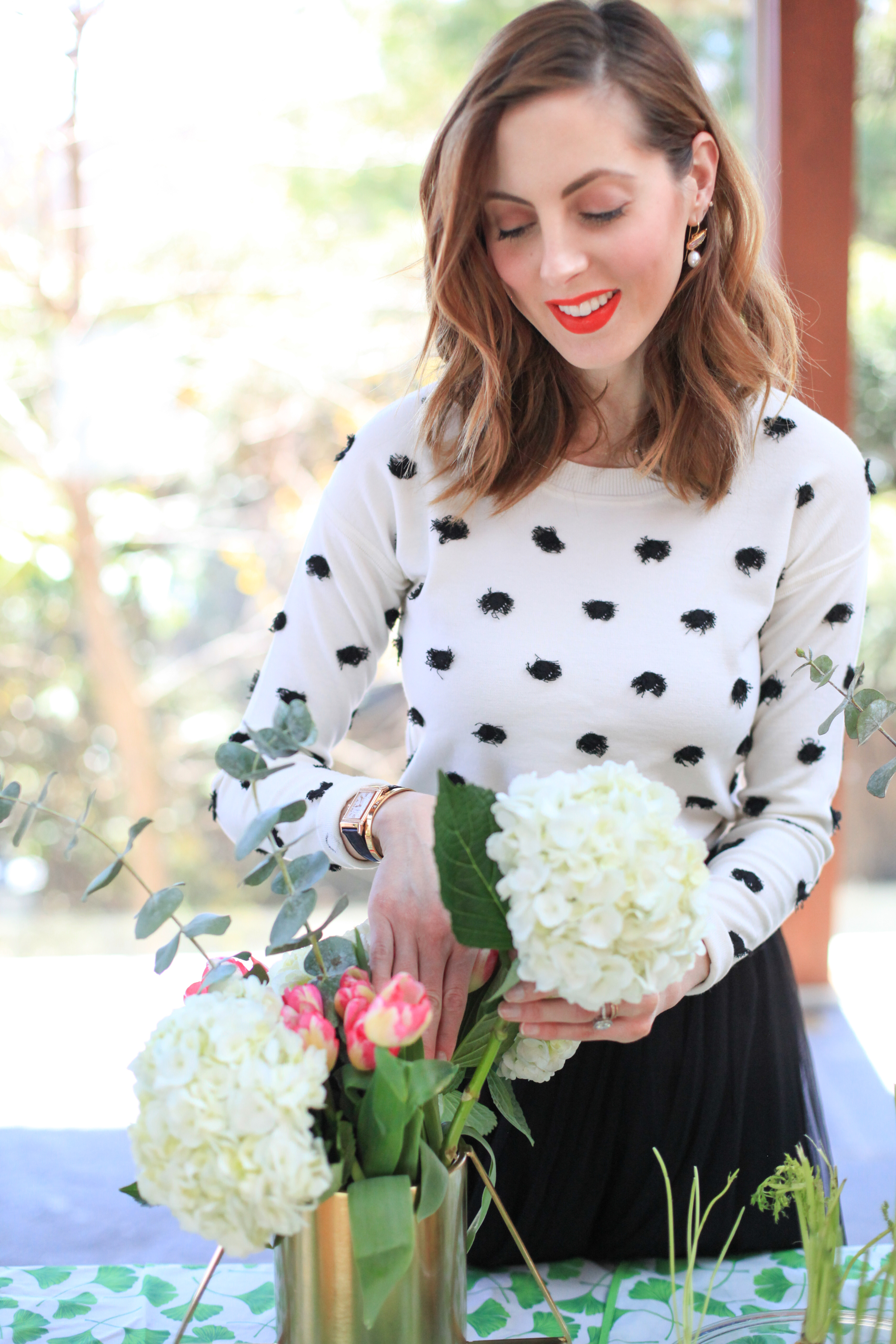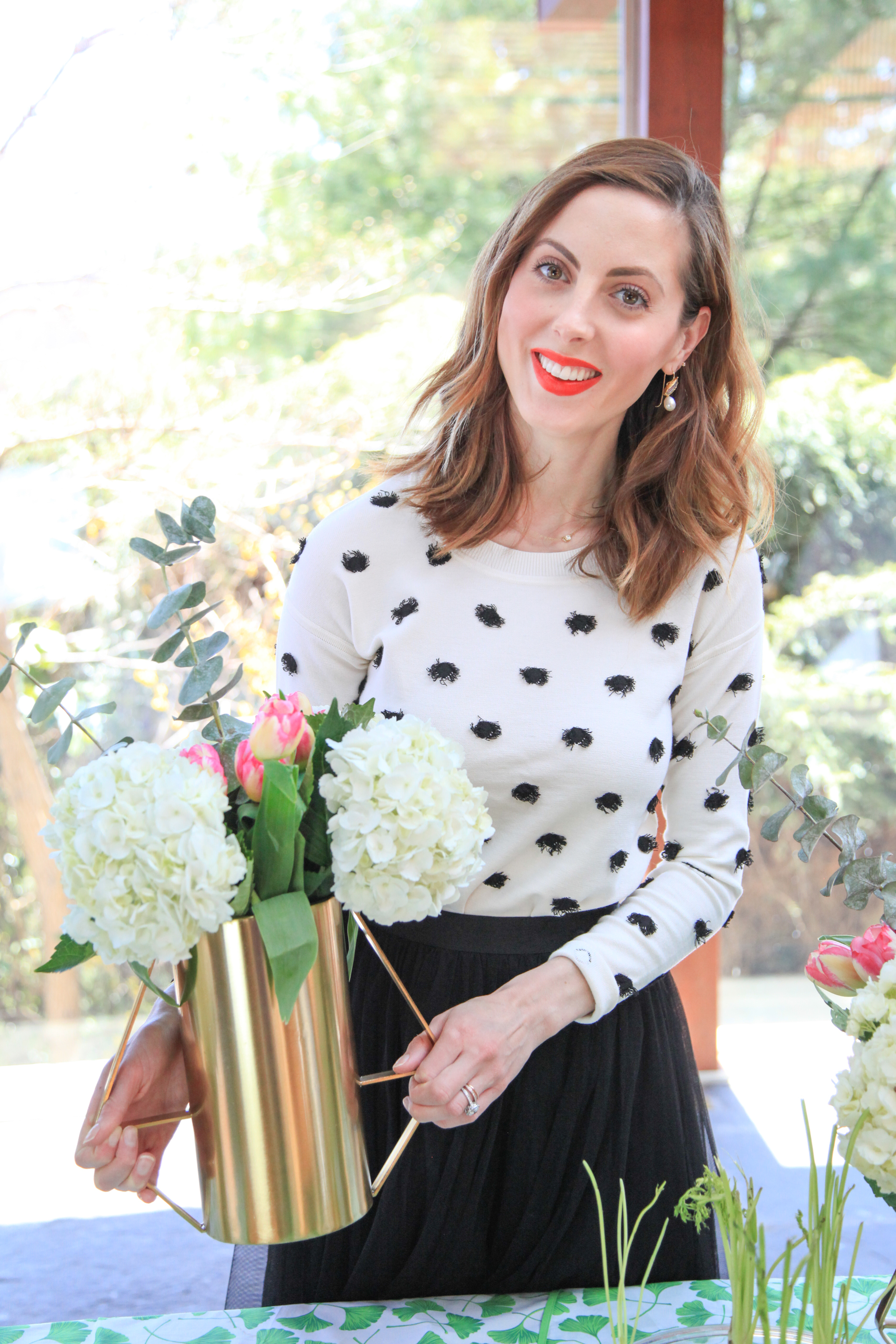 For my Kentucky Derby Party this year, I went with a green, white, and gold theme to pick up the gold of the cider and of the Derby trophy– and to evoke the green of four leaf clovers which bring luck to all the betting men and women hoping to make a few bucks on the race! I'm so obsessed with the Tory Burch home collection, especially her collab with Dodie Thayer.  The lettuce serveware just makes me crazy with its throwback chicness! I couldn't wait to use all of it for my party!  Of course one of my parties just isn't complete without florals– and I managed to find these awesome modern gold vases at Target that were super affordable.  They reminded me of trophies and looked so pretty with white and green flowers, and hints of pink in the tulips!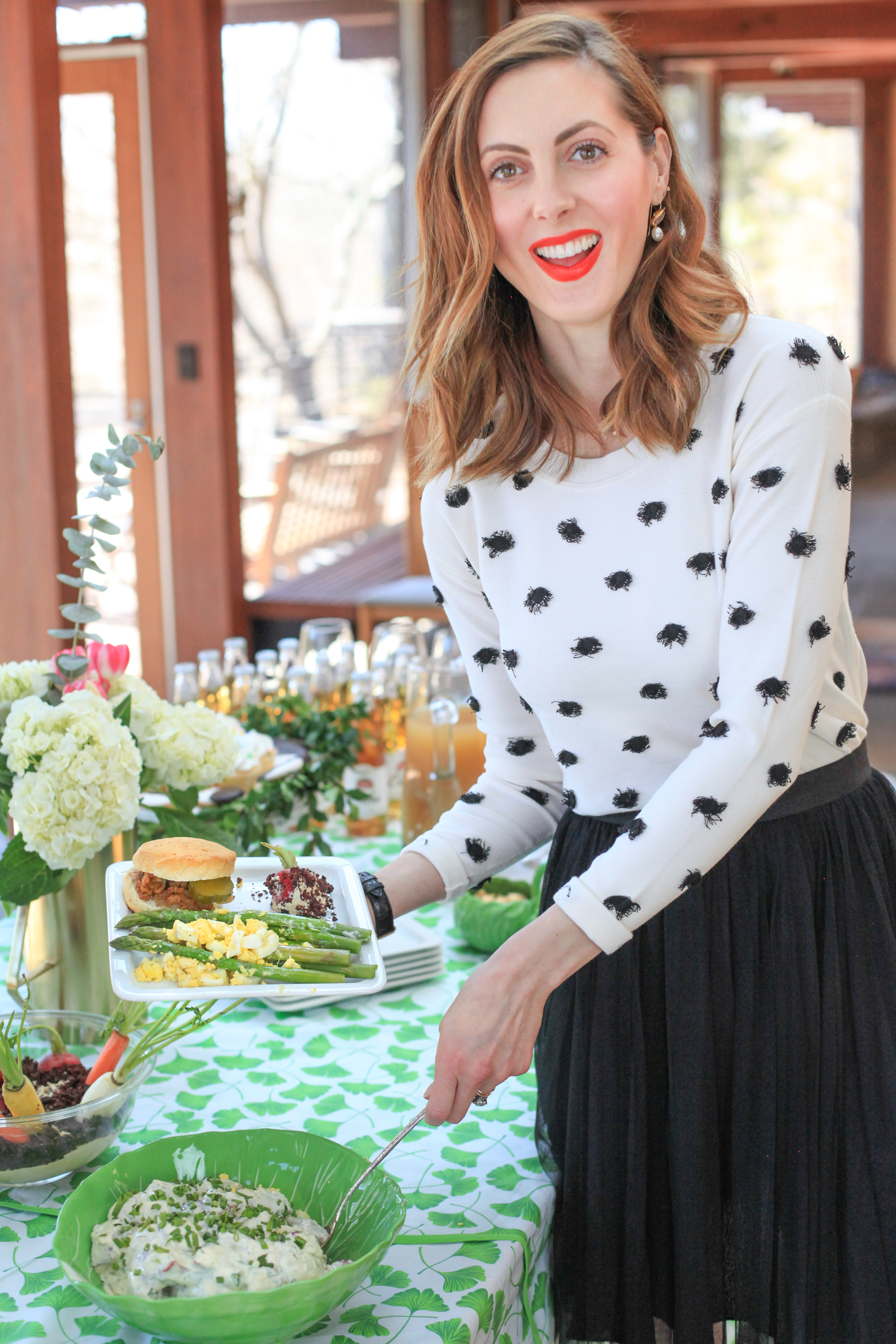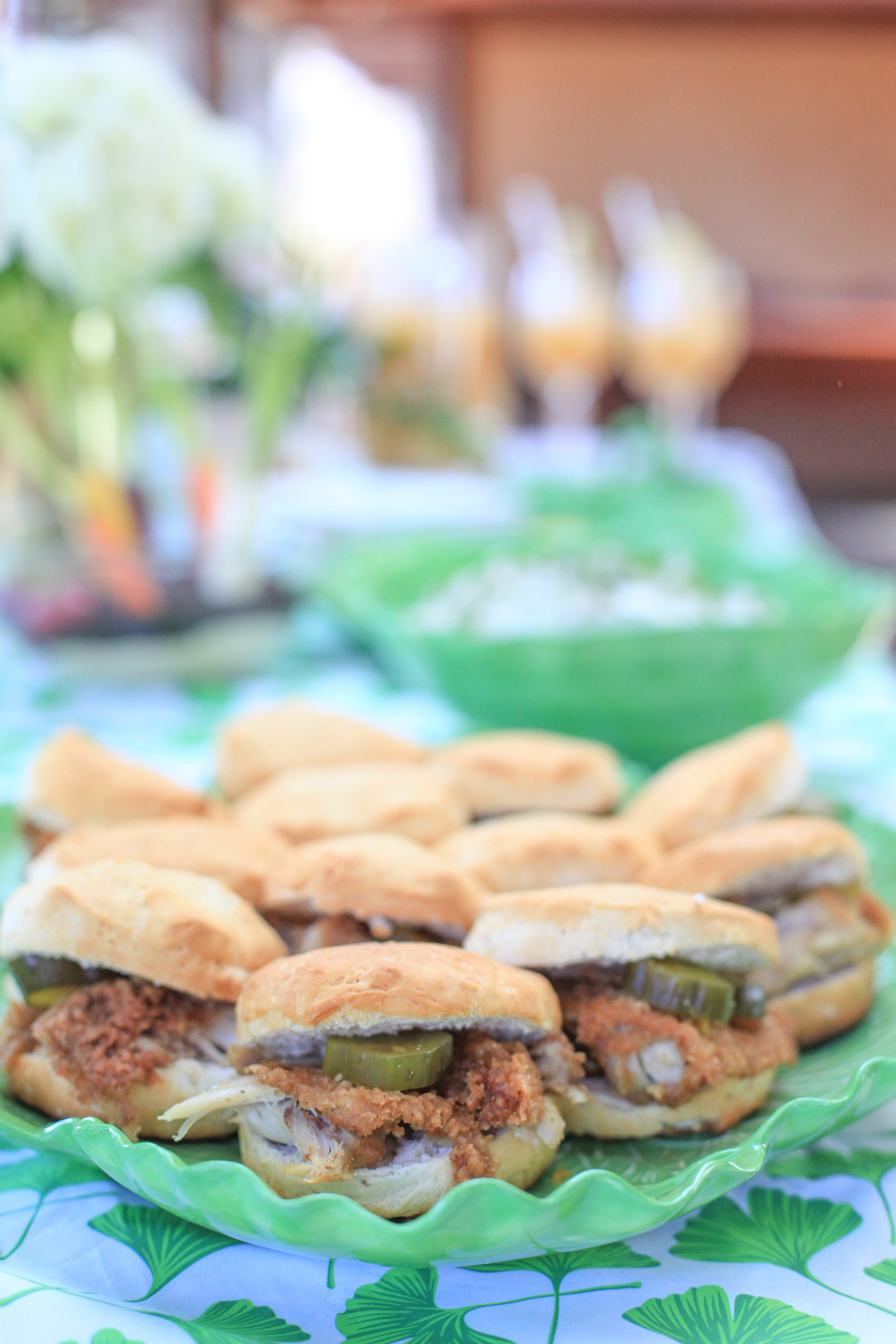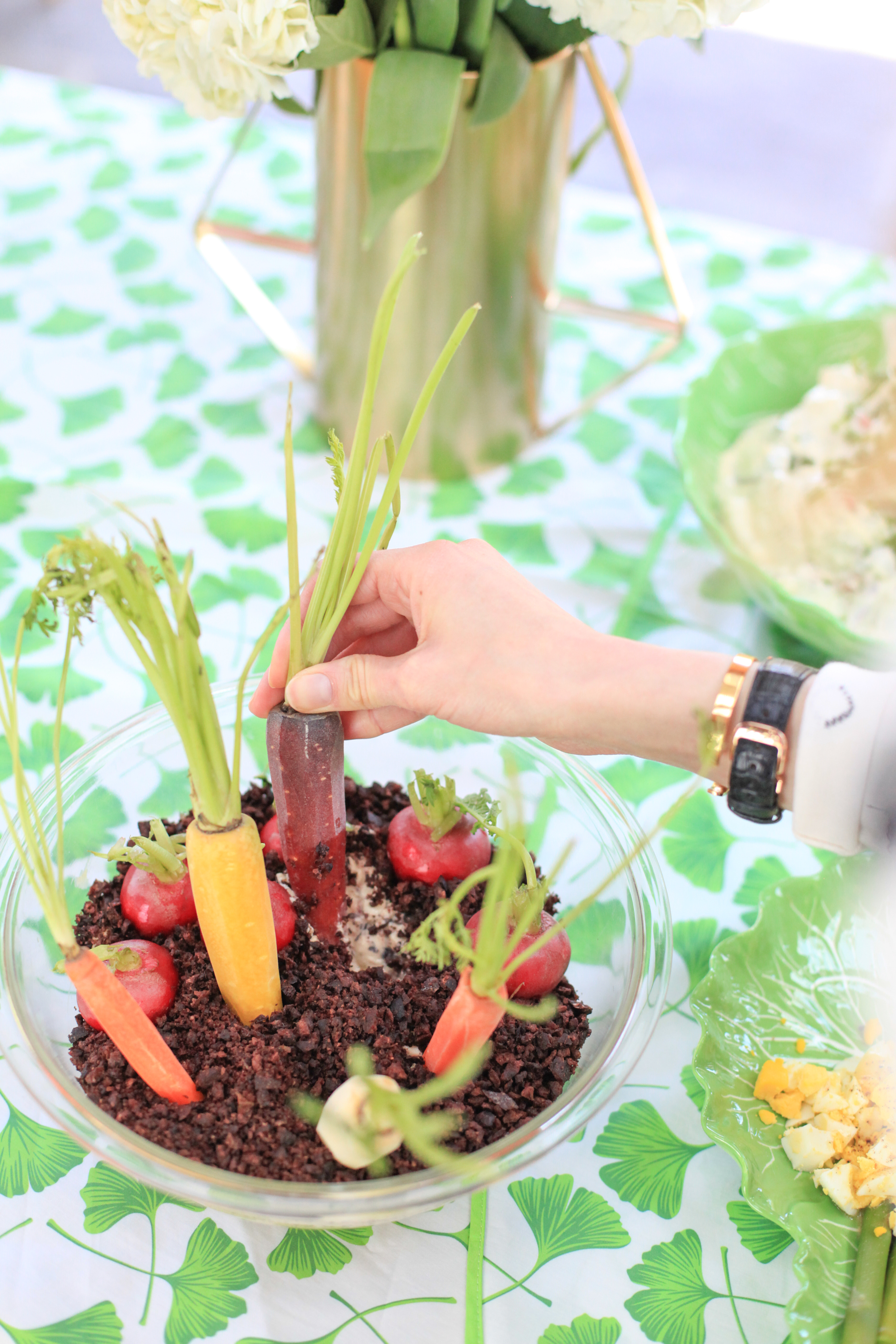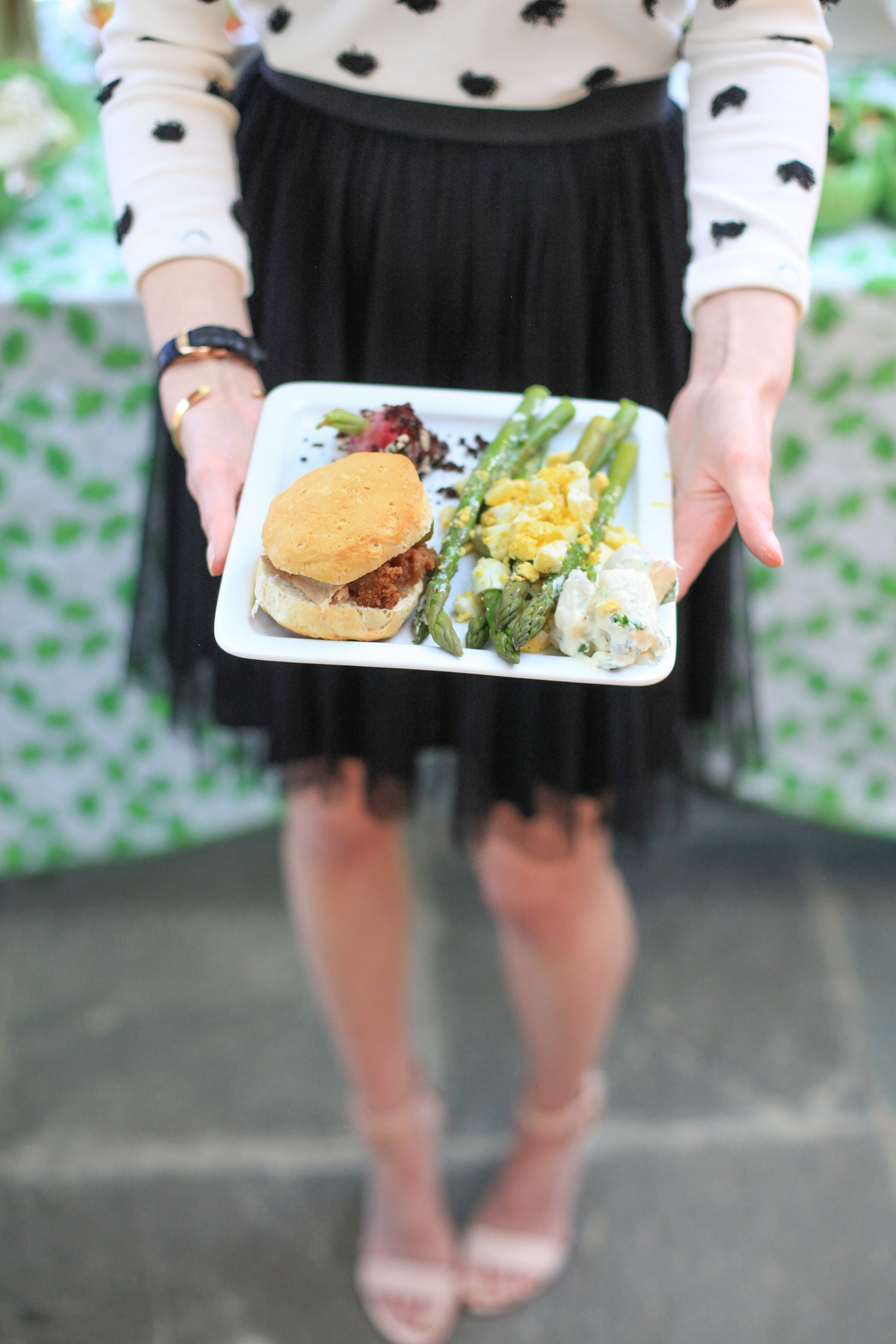 For the food, I decided on some Southern favorites:  Fried Chicken Biscuit Sandwiches,  Good Old Fashioned Potato Salad, Asparagus Mimosa Salad, and a little whimsical crudité of vegetables resting in a hummus "garden".  It may look like dirt, but those carrots and radishes are sitting in hummus with dried and pulverized kalamata olives resting on top!  So perfect for Spring.  And you can't forget the dessert, of course! I wanted to give a nod to both the Southern roots of the party and the "Yankee" in me with southern buttercream cupcakes served alongside New York's finest famous Black And White cookies!  The cookies also matched my outfit, which I'm not complaining about.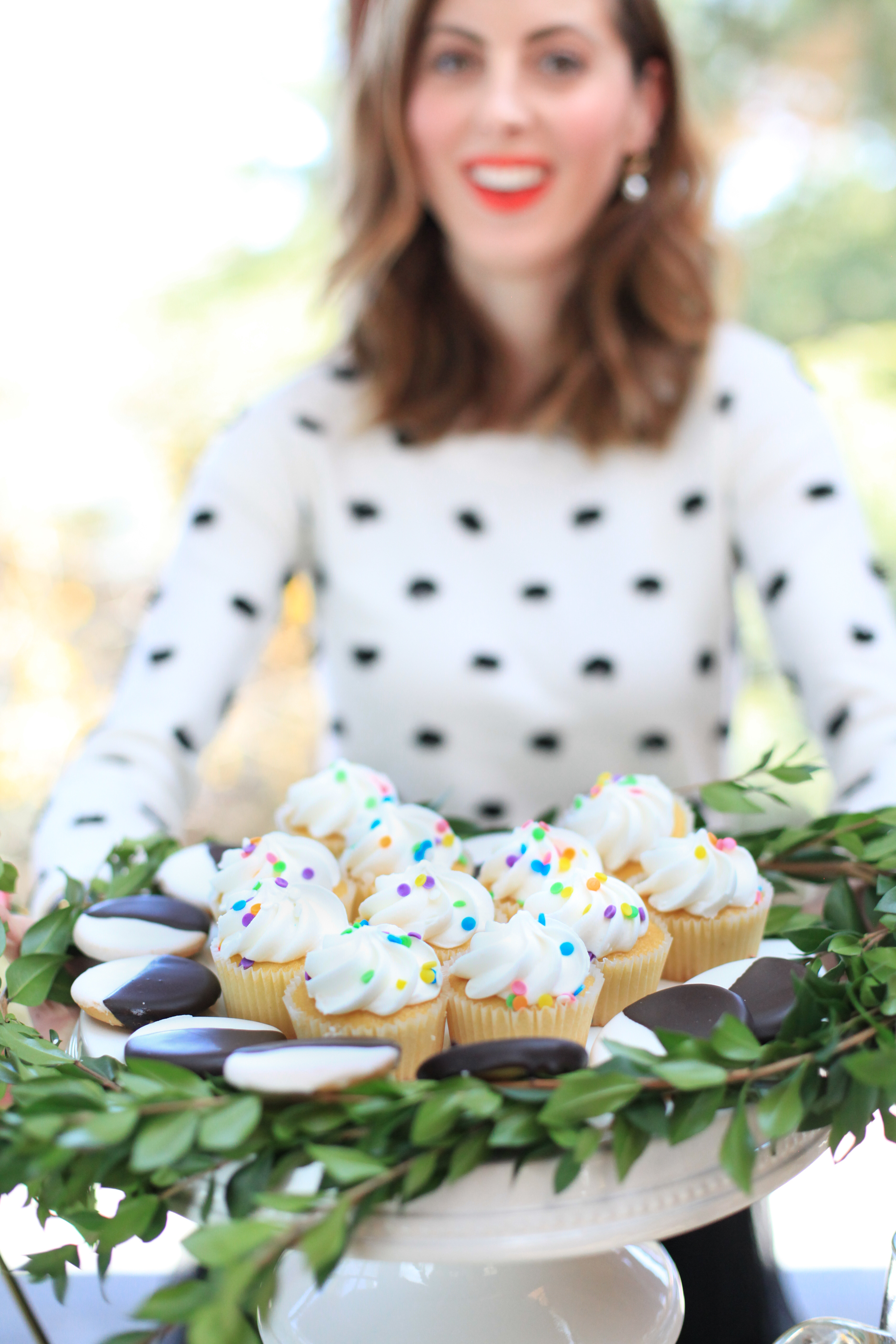 I just love getting dolled up for Derby Day!  I always go for an outfit with feminine flair– but since it's been freezing in my neck of the woods lately I've needed a little more warmth.  I'm also contending with an ever-growing baby bump! This year I decided on a fun and stylish sweater with black polka dots, and an easy breezy black tulle skirt.  I hiked it up over the baby bump, which I also realized is an excellent method of hiding a baby bump– you know, if you're in to that kind of thing.  My favorite red lip pulled it all together– and I even tried on a wide brimmed hat for some traditional Derby drama.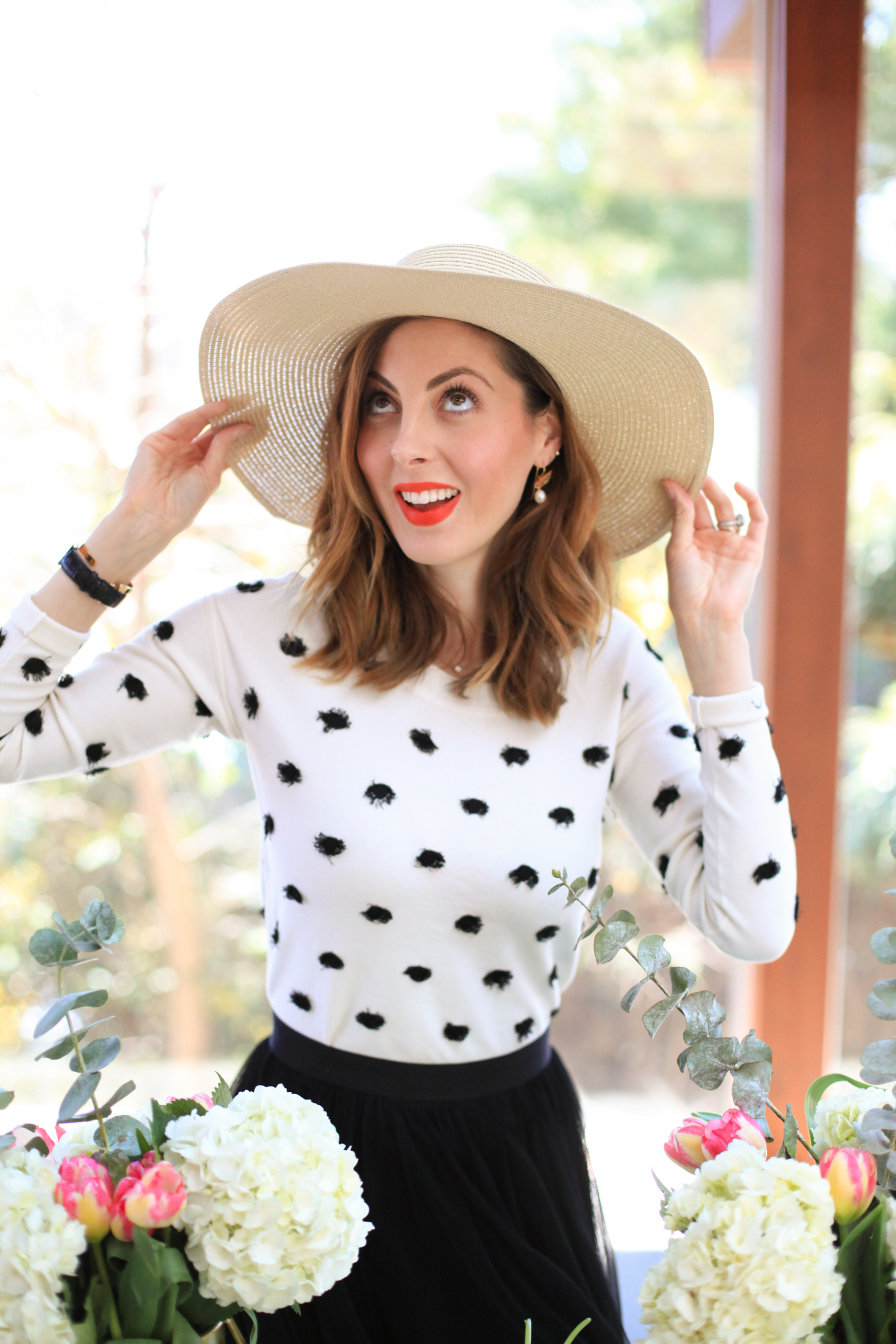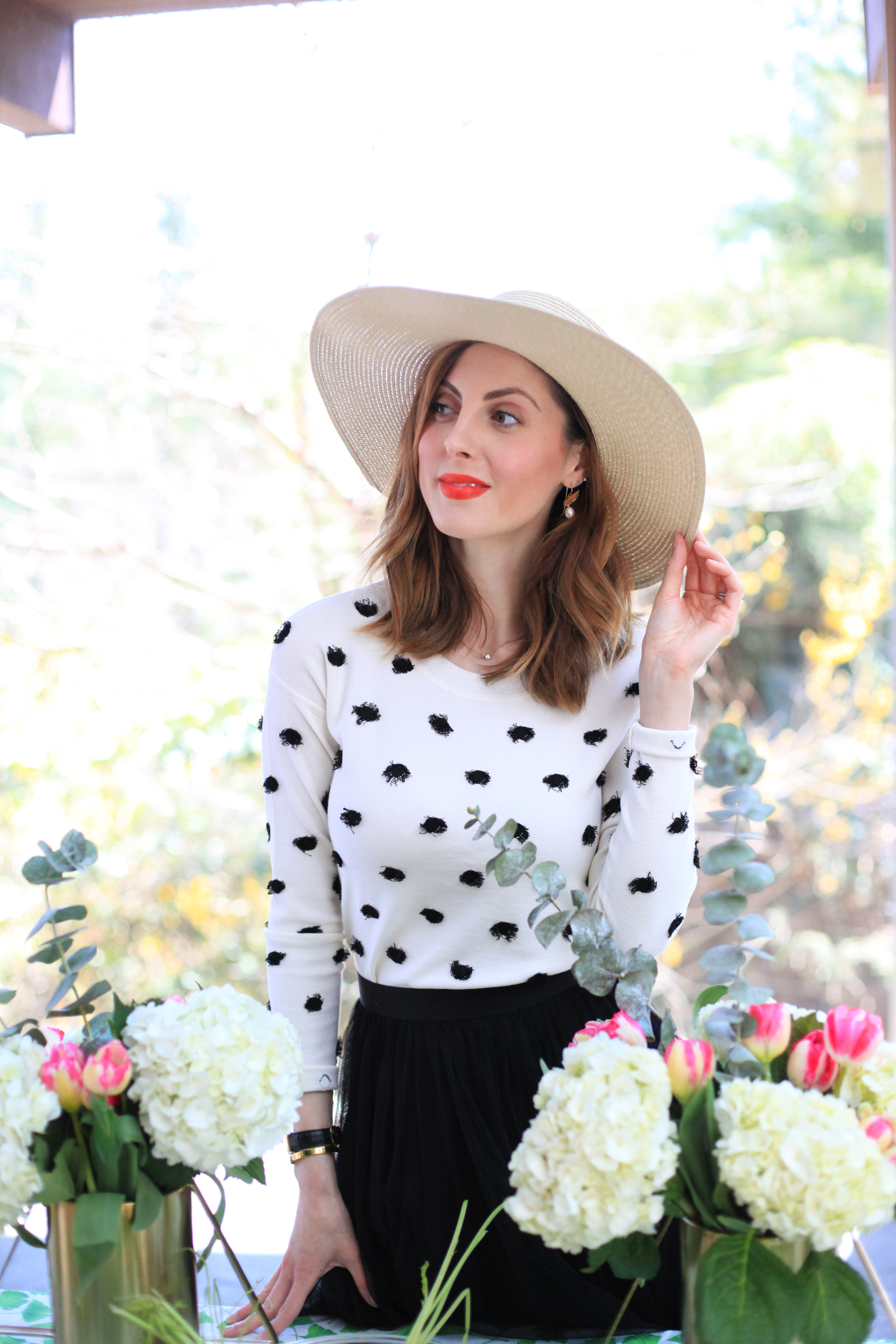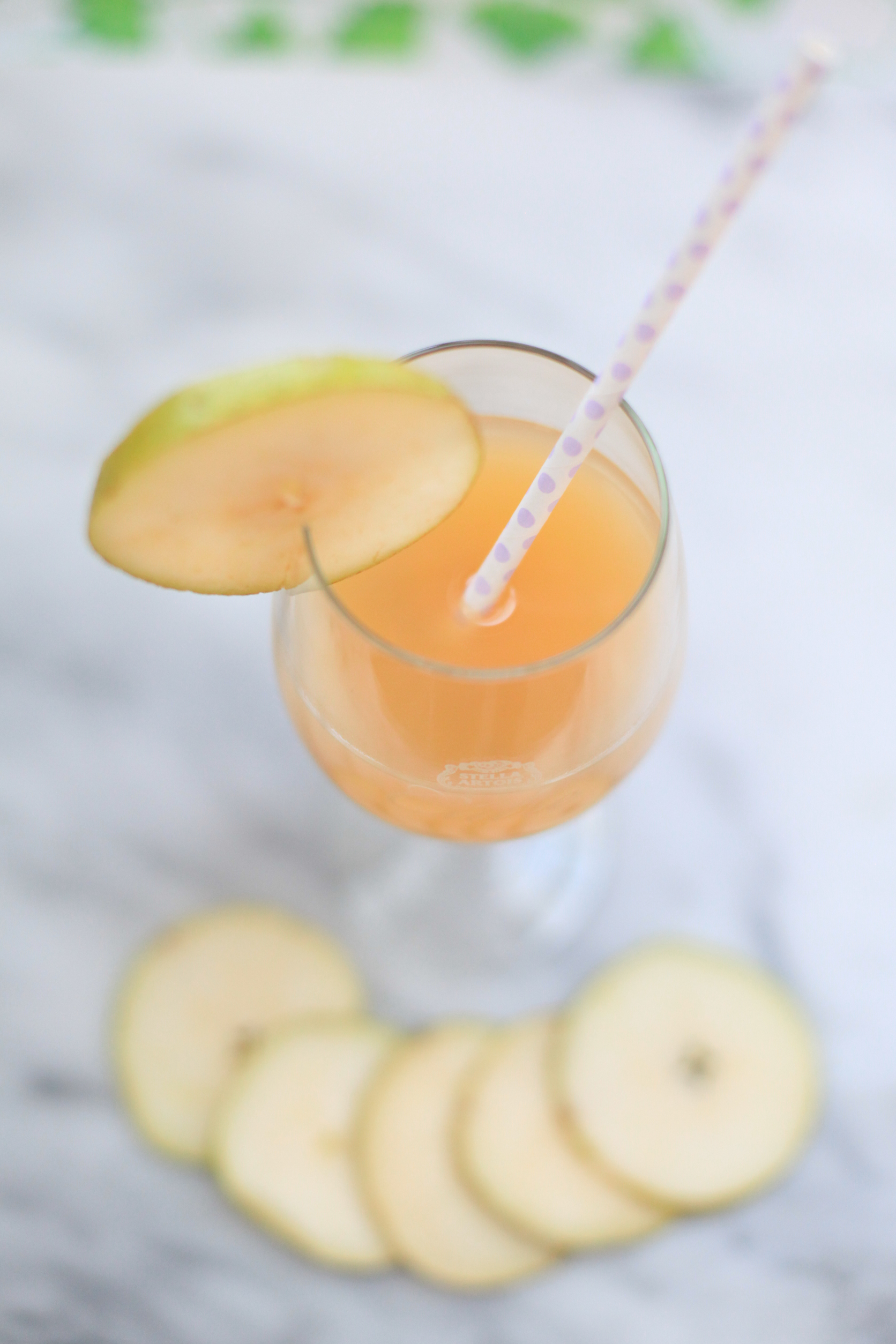 Cidre Pear & Vanilla Bellini (makes 1 pitcher)
16 oz. chilled Stella Artois Cidre
10 oz. chilled Pear Juice
3 drops vanilla extract
Combine all ingredients in a large pitcher and stir gently to combine.  Serve cold and garnish with a round of pear!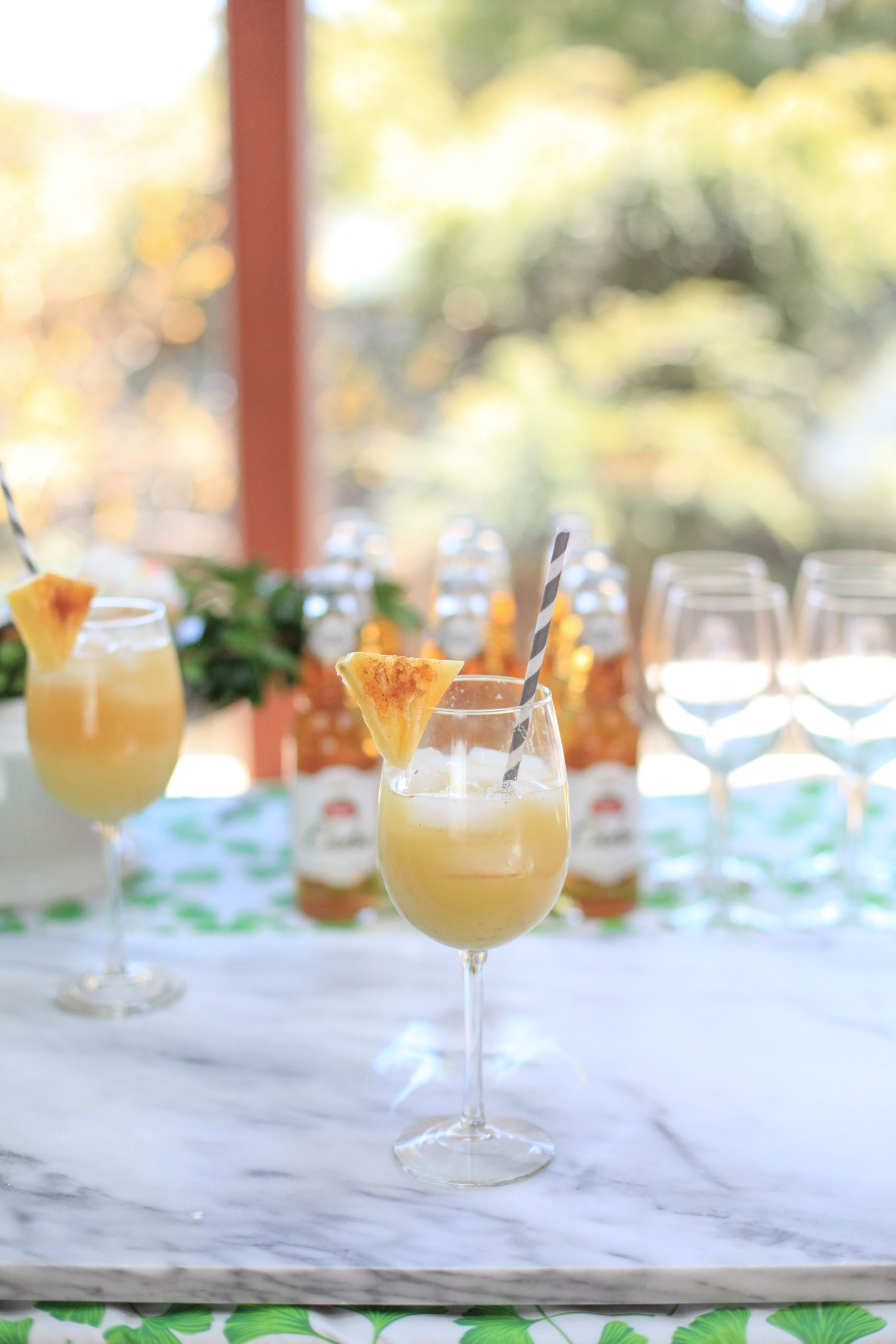 The Ananas Artois (makes 1 cocktail)
This recipe was developed by Joann Greenwood, the bar manager of The Sage Rabbit in Kentucky.  She knows her Derby cocktails!
3/4 oz pineapple jalapeño juice (see recipe below)
A scoop of ice
Mix the ingredients together in a double old fashioned glass. Top with Stella Artois Cidre and stir. Garnish with a skewered pineapple slice dusted with nutmeg.
For the Pineapple Jalapeño Juice
2 whole pineapples
2 fresh jalapeños
Olive oil
Ground nutmeg
A pinch of sea salt
Stella Artois Cidre
cup of raw sugar
Remove the pineapple's skin, top and bottom. Slice into 1 inch thick discs and cut the jalapeños in half lengthwise. On a baking tray or platter, drizzle of the pineapple slices and the jalapeños with olive oil and add a dusting of nutmeg. Grill on medium heat for 8 minutes per side until the jalapeños' skin is well blistered and it has softened significantly. Place the pineapple, jalapeños, a pinch of salt and 1/2 bottle of Stella Artois Cidre in a food processor and purée. Strain the mixture 2-3 times. While the juice is warm, stir in the raw sugar until dissolved. Garnish with slices of the remaining pineapple.
*Can be made up to 4 days prior to serving and stored in an air tight container.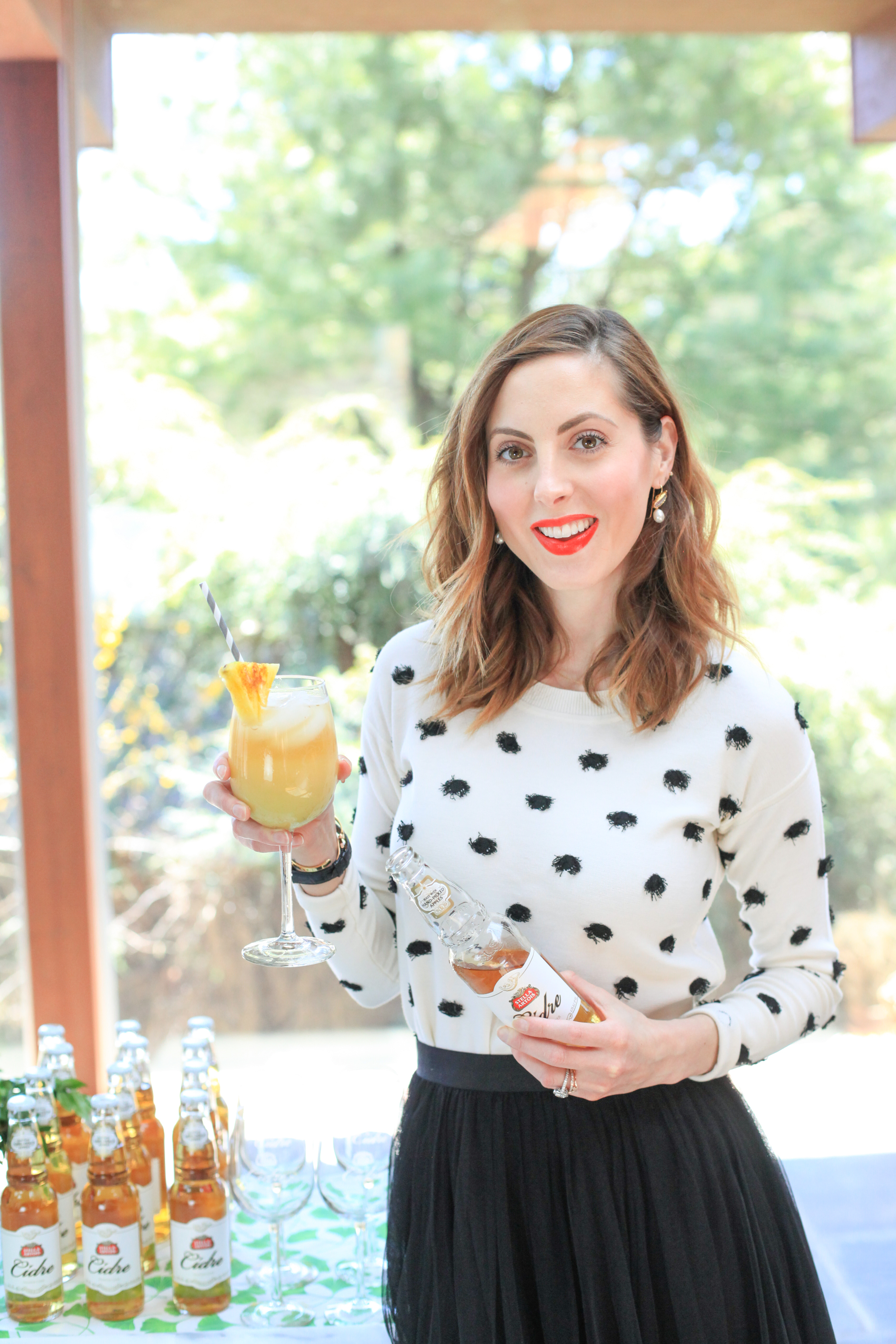 Now all that's left to do is sit back and enjoy the race!  Well, that and the amazingly hilarious and creative names of all the horses.  If they don't inspire some funky baby names I don't know what will.   Have an amazing Kentucky Derby Day!
Photographs by Anel Dzafic
SHOP THE POST

** Many thanks to Stella Artois Cidre for sponsoring this post!  As always, the thoughts and opinions expressed above are entirely my own.