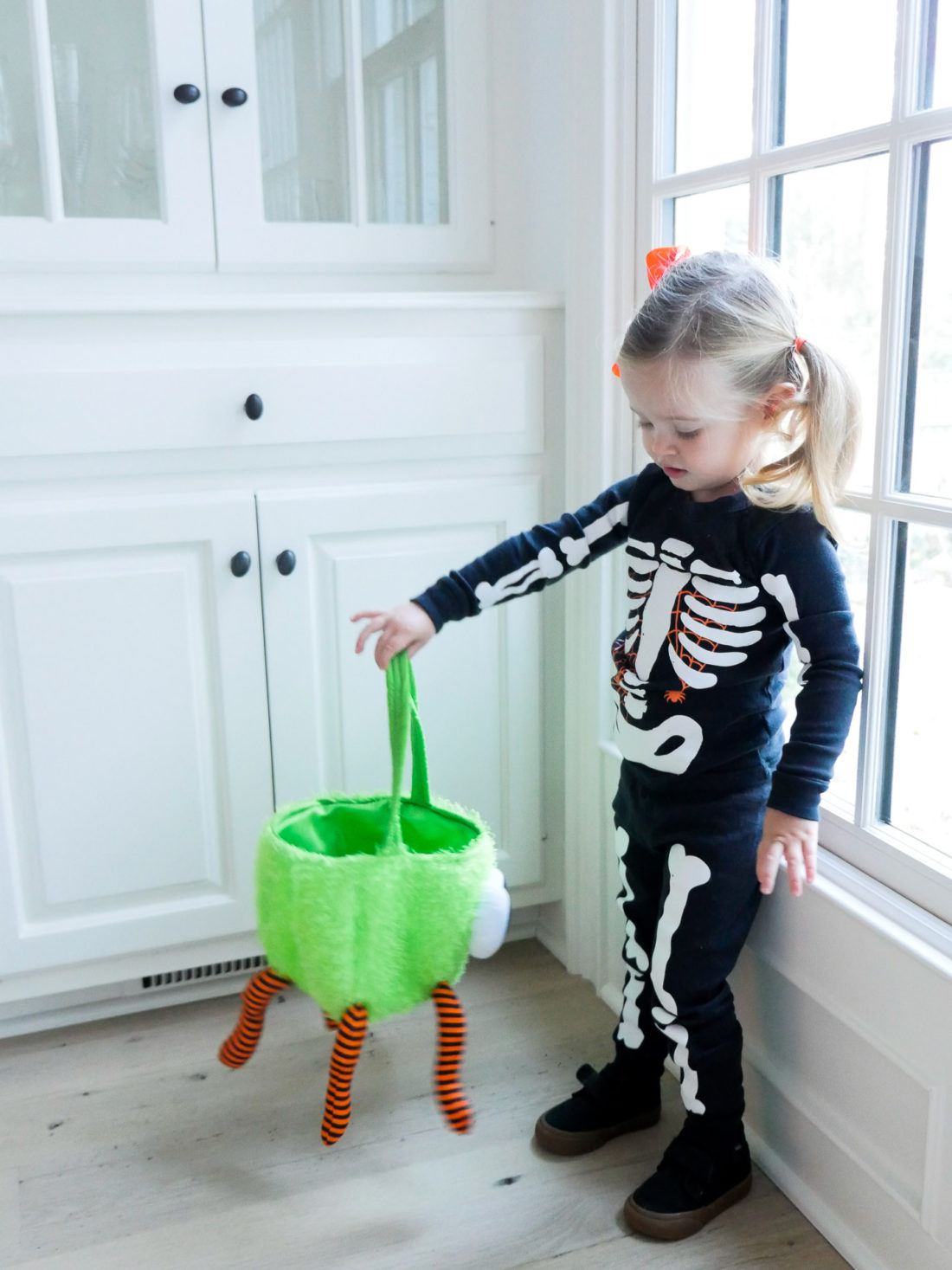 Halloween 2016– our first with TWO kids! I must say, I was especially grateful that Major made his appearance before the holiday, since I had been planning an assortment of family costumes since August! Ha! Marlowe has been loving Dress-Up recently (those Actress genes perhaps…yikes) and so it was no problem getting her to make costume change after costume change. Even though I told myself I wouldn't "push it" this holiday since I gave birth so recently, we did still end up having a super jam packed day.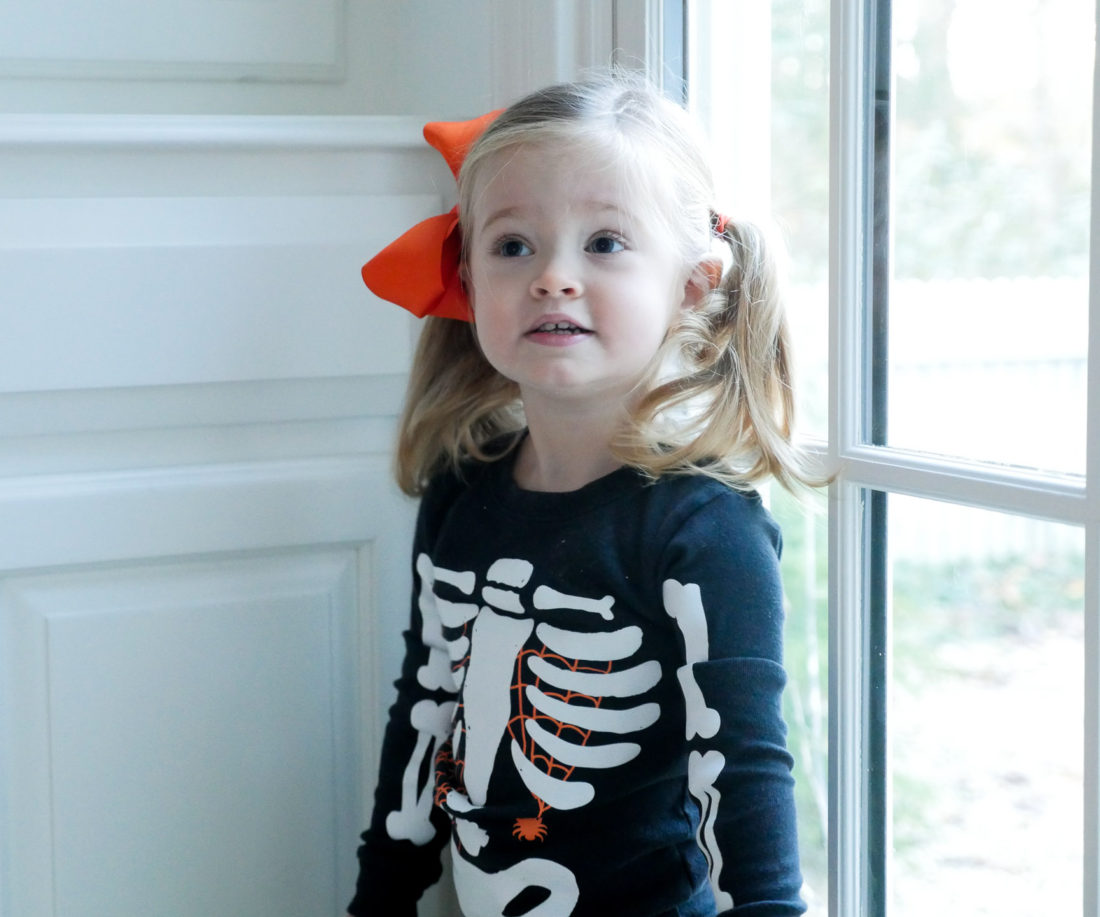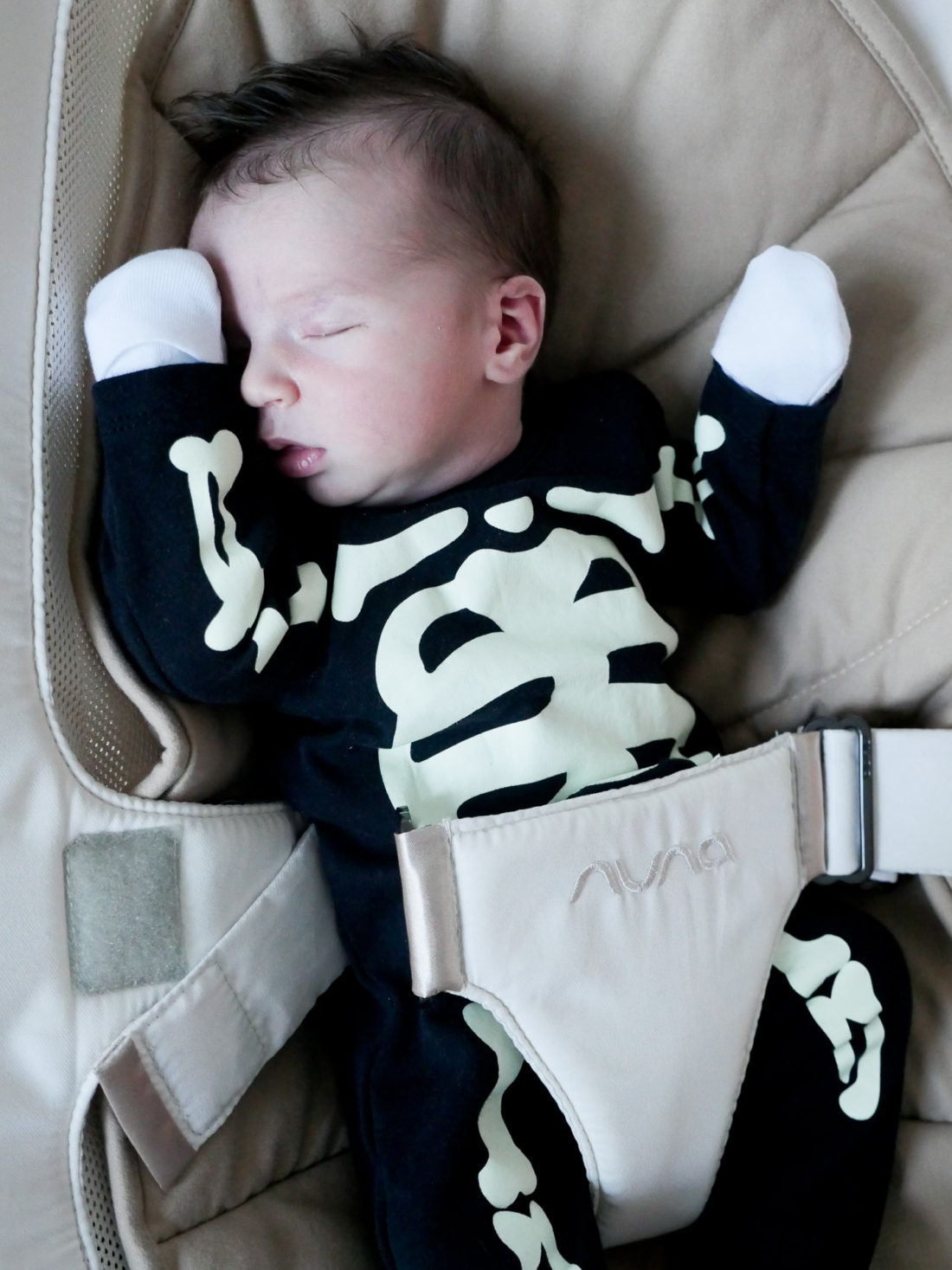 The morning started off with all four of us (yes, even Major) in Skeleton outfits! Marlowe's school had planned a really fun "Trunk-Or-Treat" party and I (like the crazy overachiever that I am) had signed up to be one of the "trunks". I'm sure you're asking yourself why a ten day postpartum Mom would ever sign herself up to decorate a car's trunk and hand out candy at a preschool with a newborn in tow. Well…hormones, folks! I had told Marlowe's (super understanding) Headmaster that I wouldn't be able to participate since I was due any day with Major. She was like Uh yeah, you're about to have a baby– definitely don't worry about participating. Of course then I gave birth, had a surge of hormones and emotions, and ended up sobbing to Kyle that I just had to do the Trunk-Or-Treat party or else Lowie wouldn't know that I still loved her and would never forgive me. How's that for hormonal? Cut to me, last weekend, limping around Michael's trying to scour the aisles for any leftover Halloween decor as quickly as possible so I could rush home to feed my newborn. Did I mention how crazy I am? Aaaaanyway, I ended up going with a Day Of The Dead theme, Skeleton costumes included, and the event was a TOTAL blast. I'm so happy our whole family could participate and be there to support Marlowe. She was just beaming, and was so excited to have us at school with her. Hashtag Worth It! It was also really fun to introduce Major to everyone at her school, and Marlowe was the proudest Big Sister: "This is my brother, Majey Boy. He's a funny little baby!" Too cute. Unfortunately, it was a freezing cold morning, so we were only able to get a shot of Kyle, Marlowe, and I together in our costumes. It was way too chilly for the baby to venture out, and there was no way our Girl Skeleton was going to come inside for a photo op! Major stayed all tucked up in the teacher's lounge, intermittently snoozing and watching the Today Show on the TV. I think he had more fun than anyone.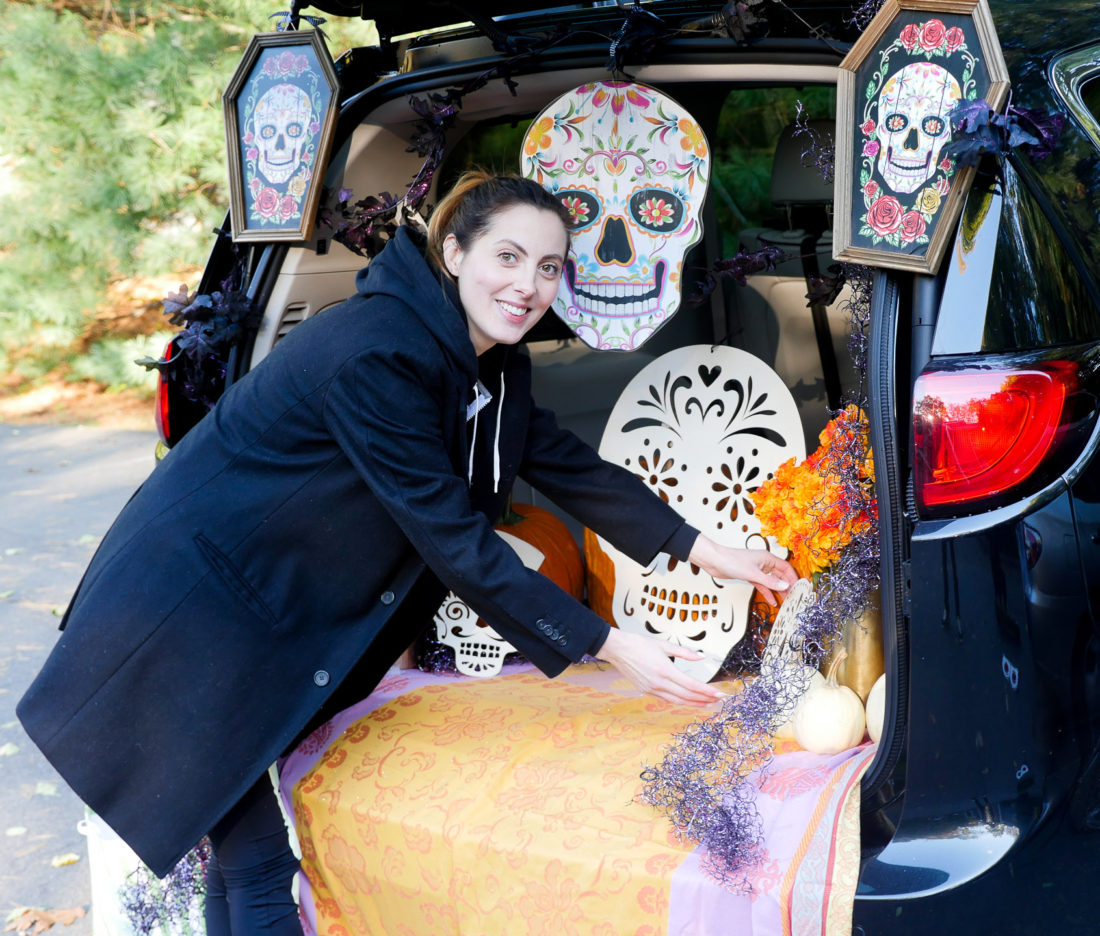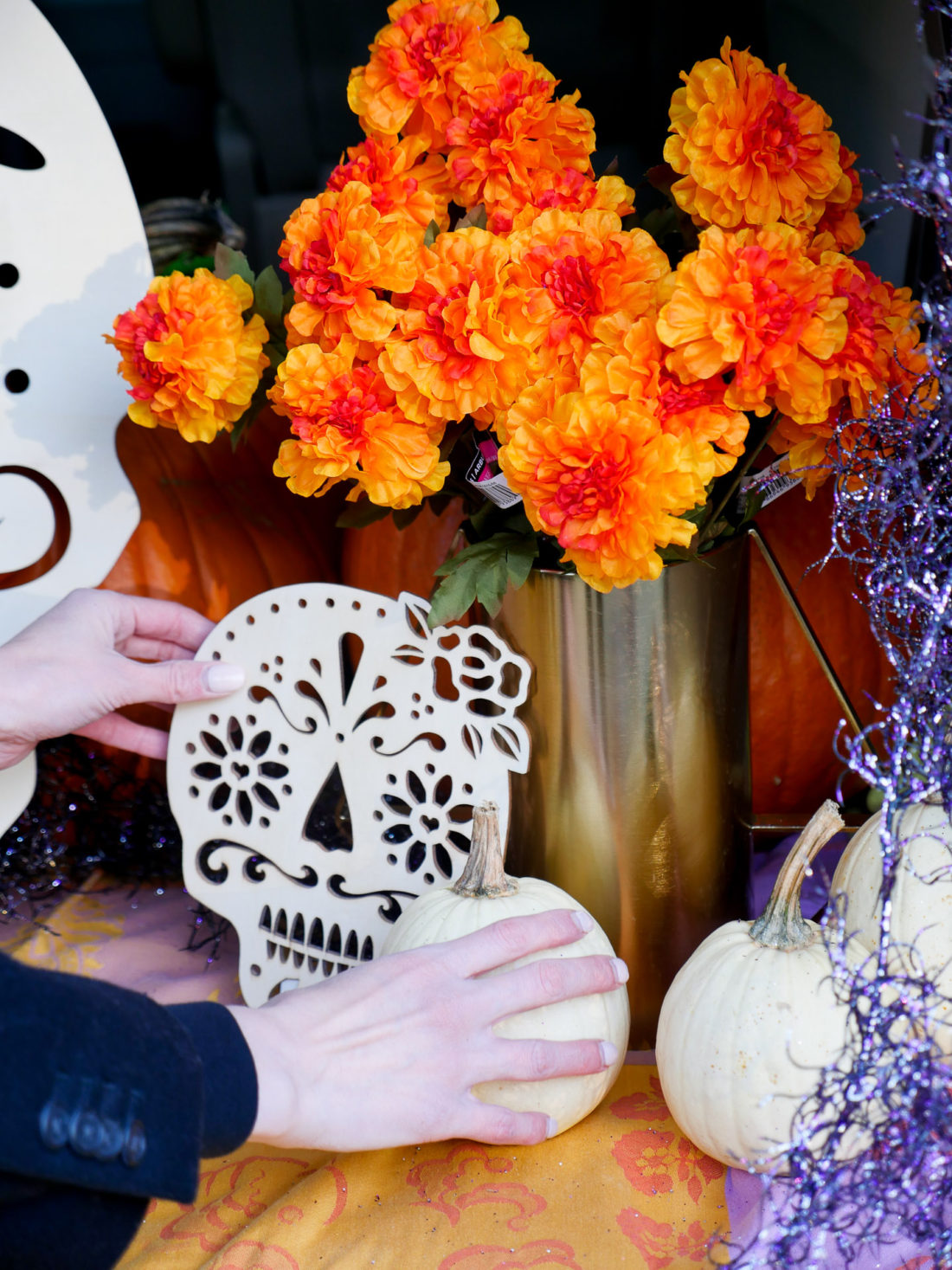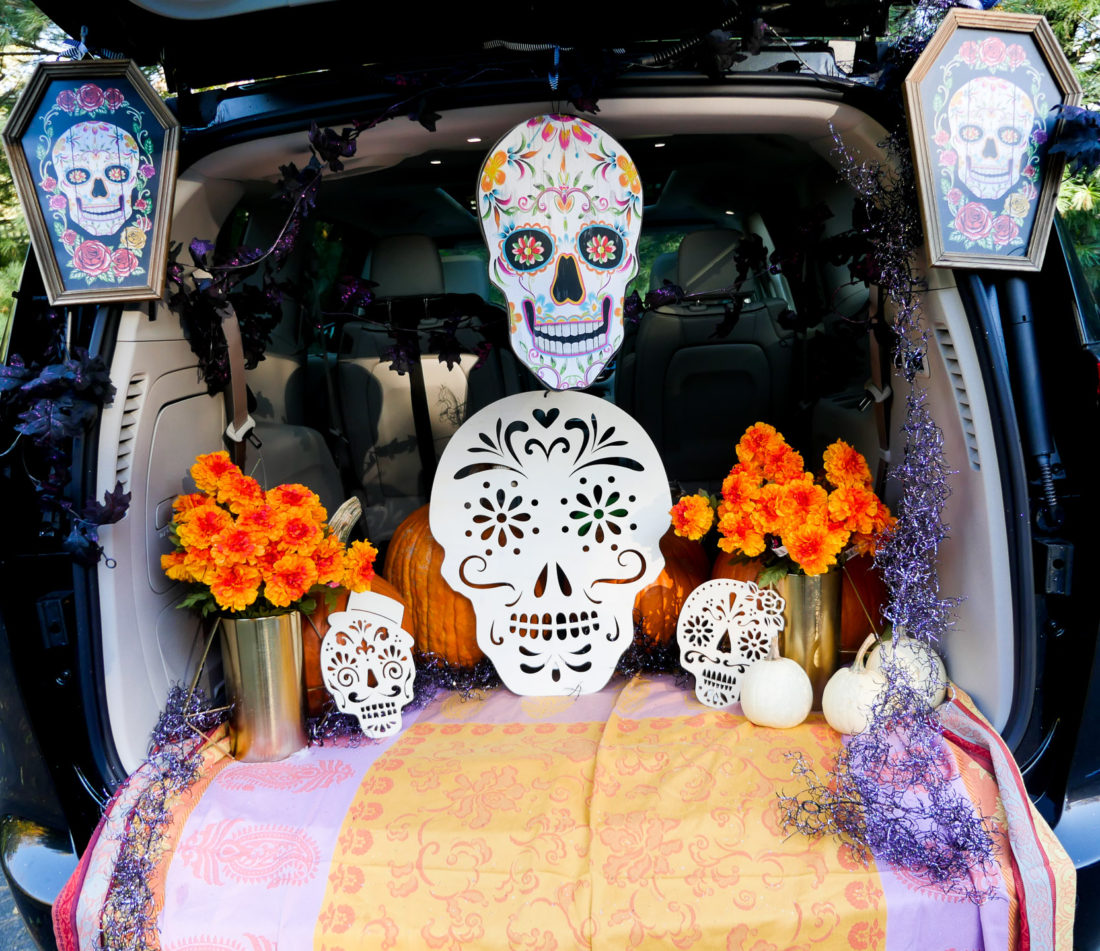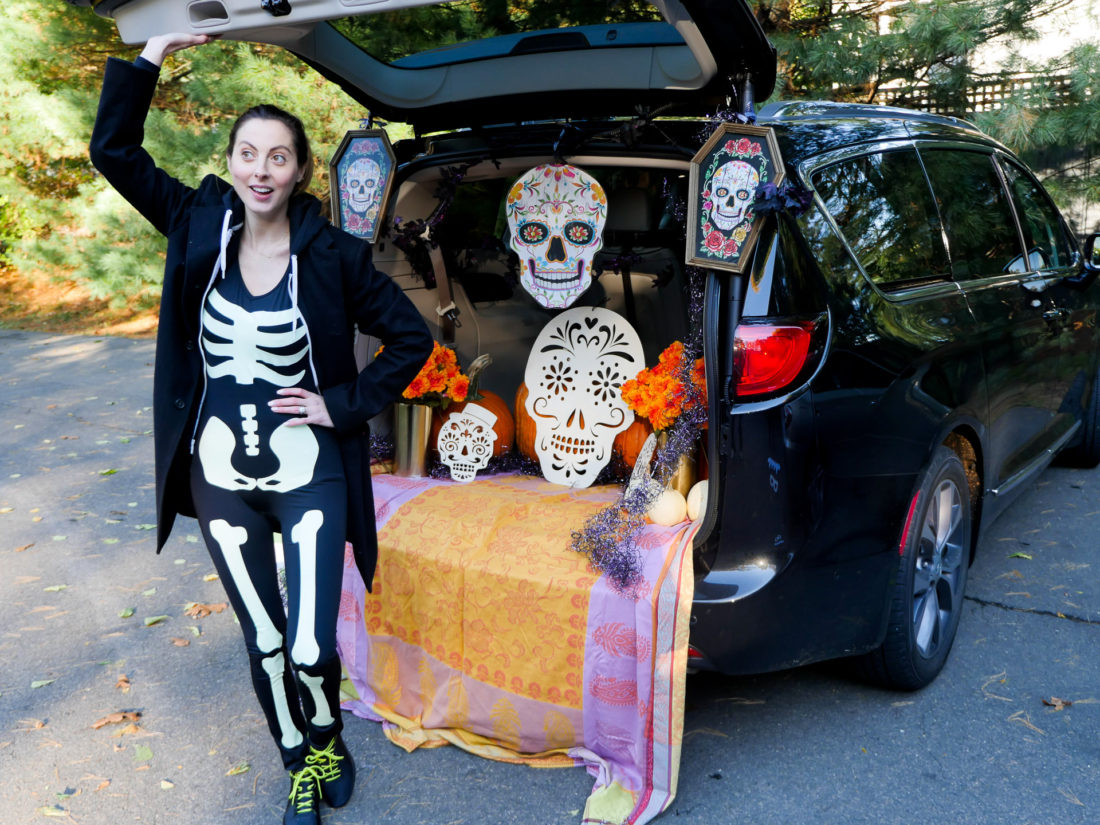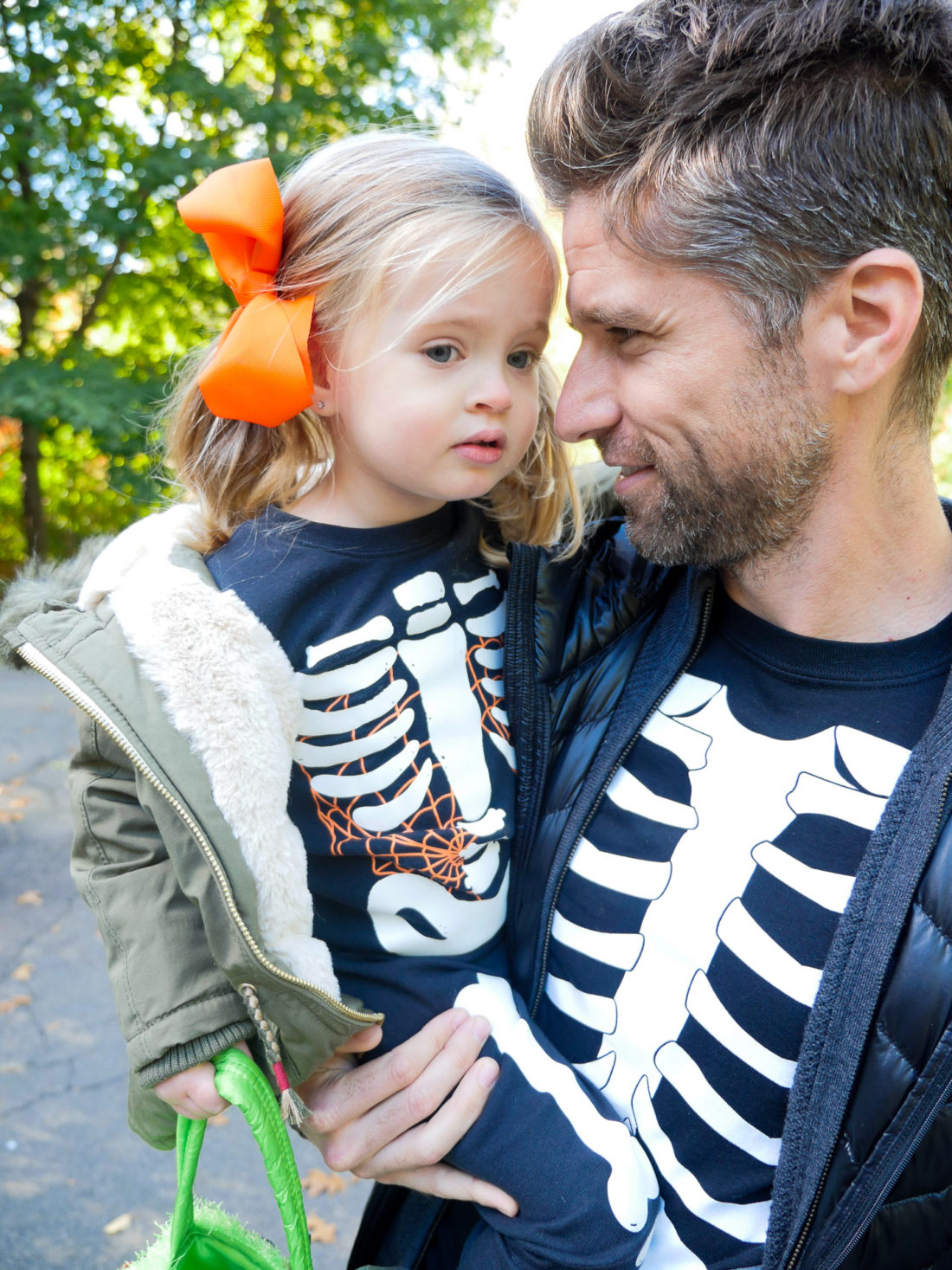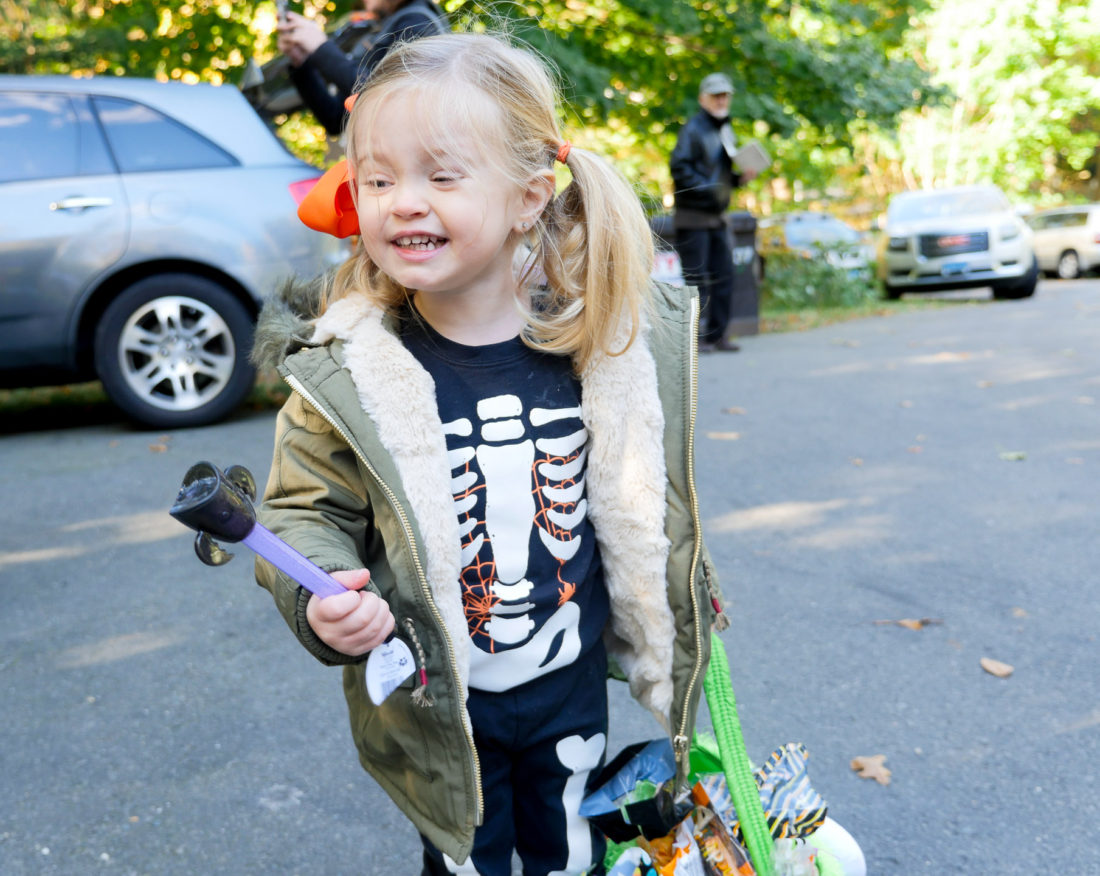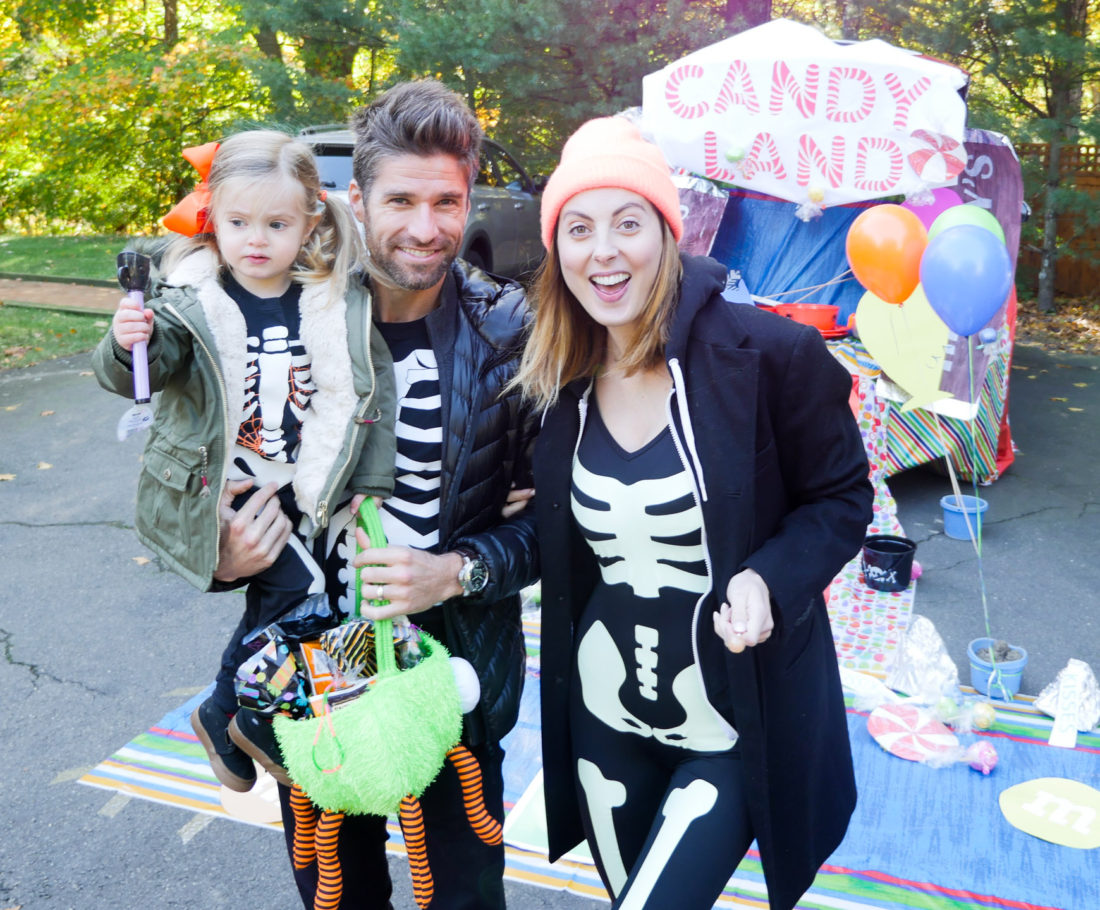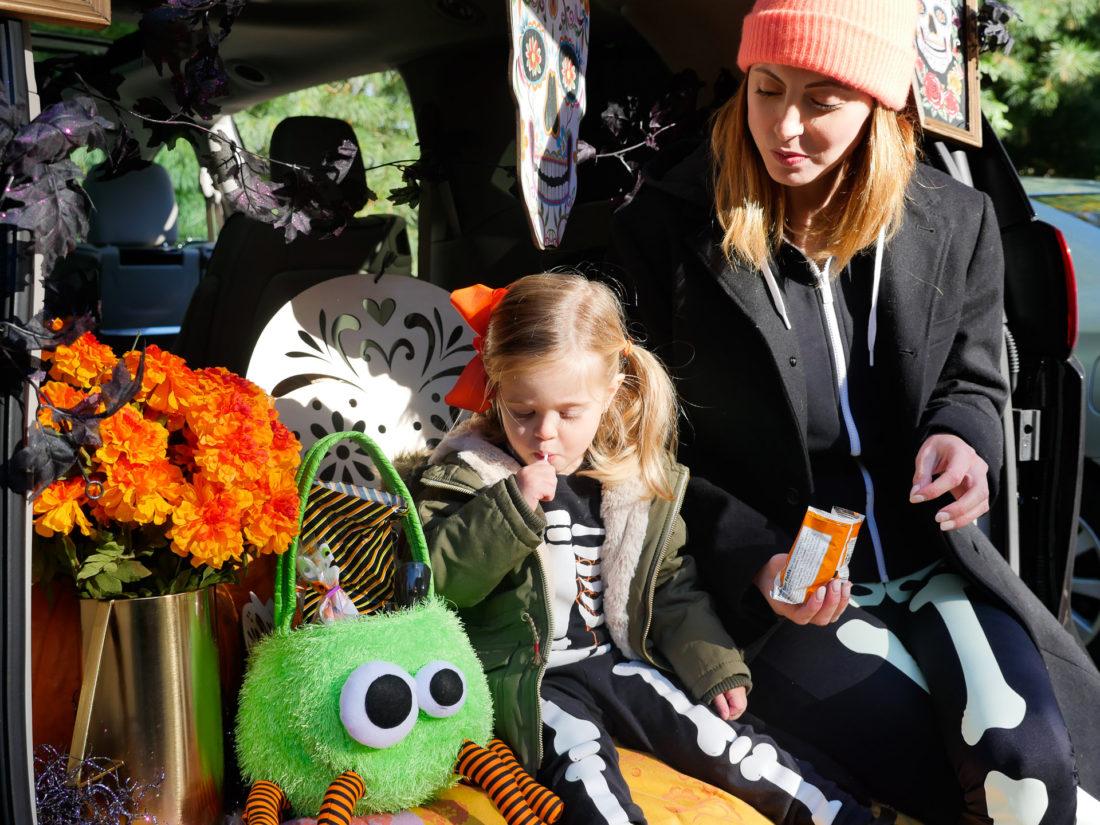 After Lowie's party, I took Major to a pediatrician appointment. I had planned to have time to change out of my costume, but saying goodbye to Marlowe took longer than we expected and long story short– I was that crazy Mom in a costume at the pediatrician! They were super cool about it at the office– at least to my face. I wouldn't blame them if they all had a really good laugh at my expense the second I left. Also, by the way, breastfeeding in a catsuit involves a lot of interesting adjustments. Let's just say I was basically topless in the office for a good half an hour. Trick or Treat! In other news, Major is already nine pounds– up from his eight pound three ounce birth weight– in under two weeks. The boy can eat!
When Marlowe got home from school, she begged to put on her matching Halloween costume with Major. She had decided that she wanted them to be Ariel and Flounder about six months ago and had been nonstop talking about it. She was SO excited to finally see Major in his Flounder outfit. I'll admit that it brought tears to my eyes to see her so happy to share in something with him, even if it was just a themed outfit. I got a flash in that moment of all the Halloweens to come, and watching them go Trick-or-Treating together. I know they won't be Best Friends every moment of every day, but the fact that they might be Best Friends for any moment at all ever just explodes my heart in to a fountain of puppies and rainbows. It really is amazing how your heart just doubles in size when the second baby comes along. As if I needed any more emotion swirling around in me than I already had! LOL.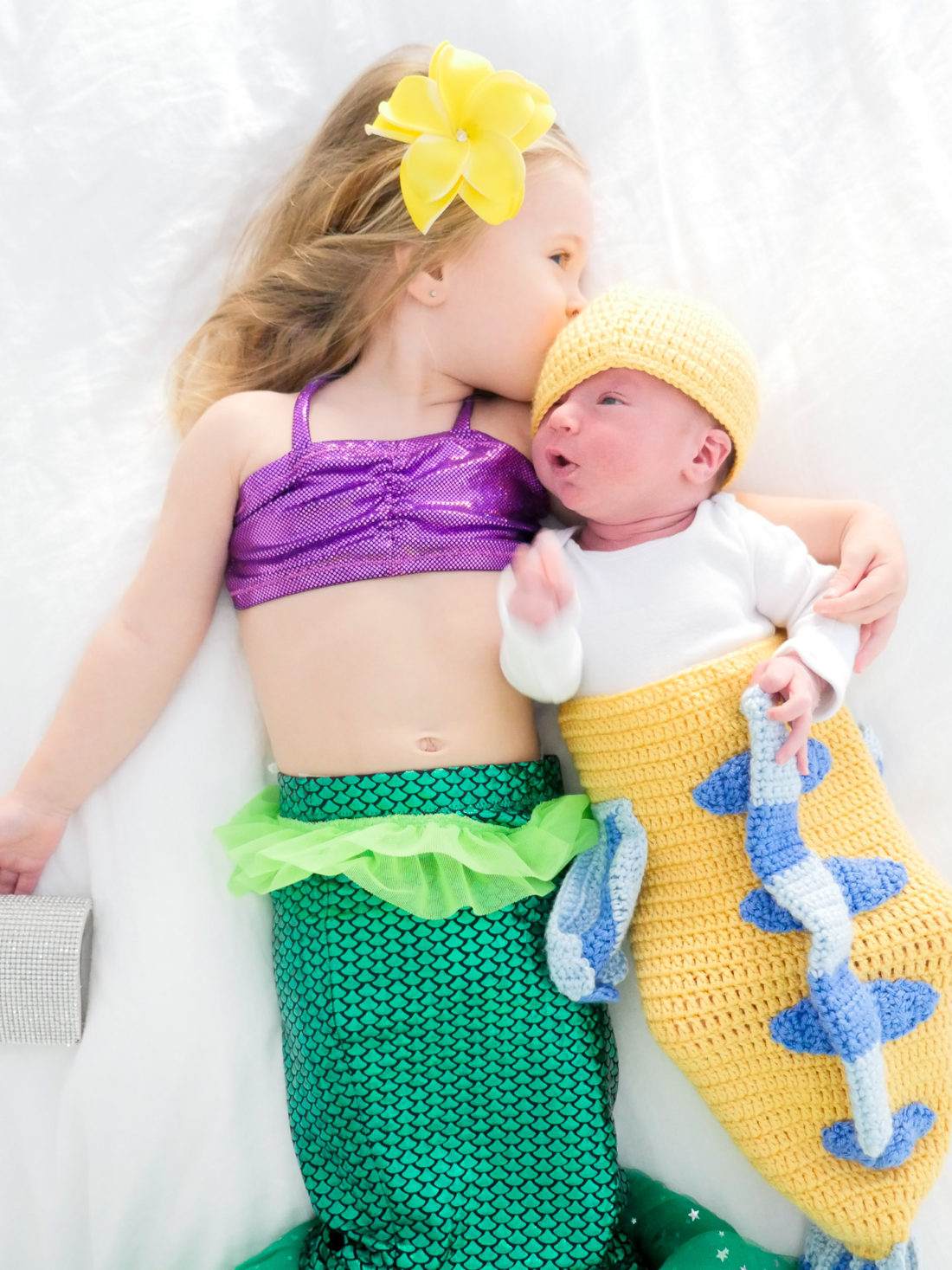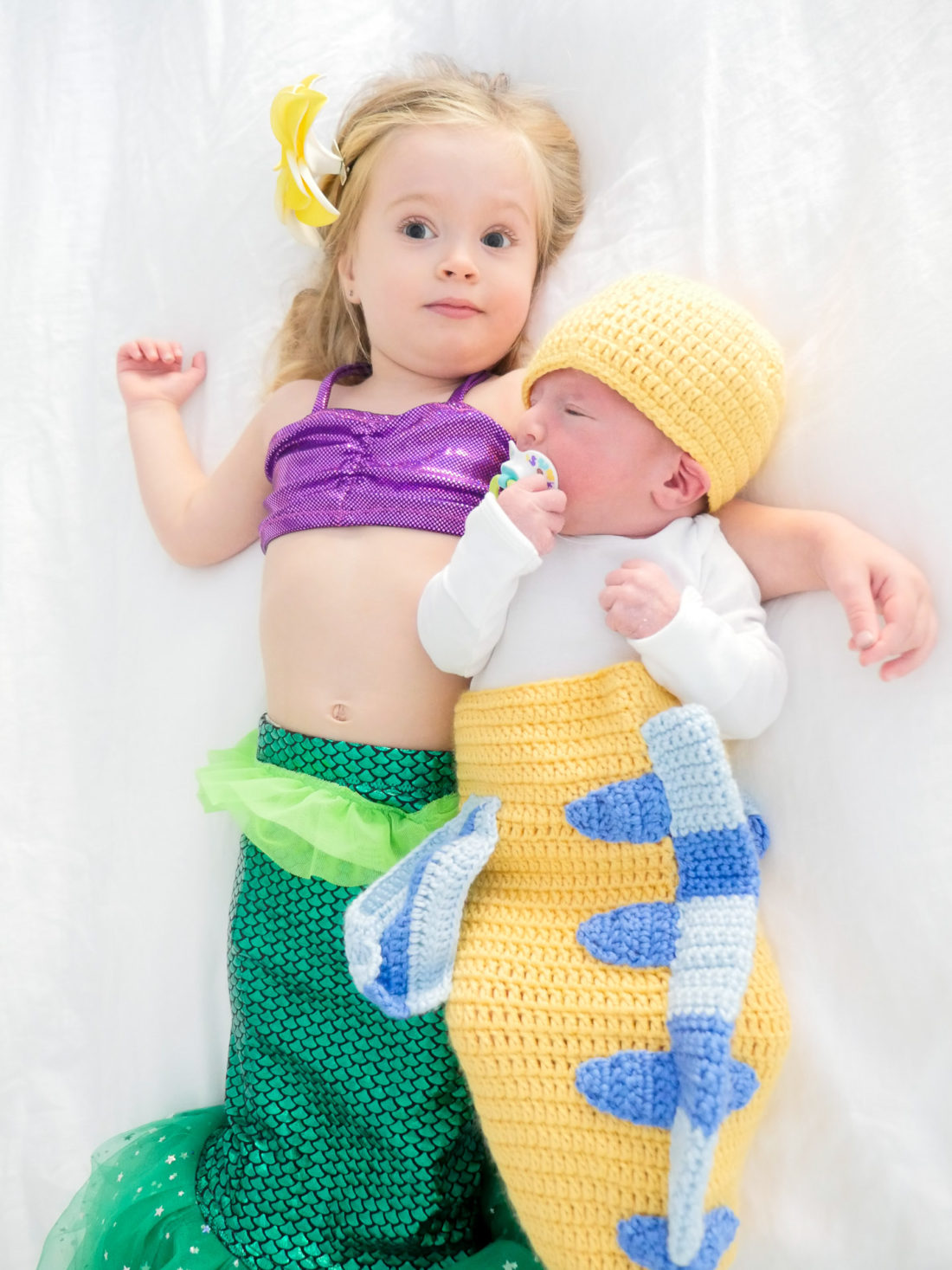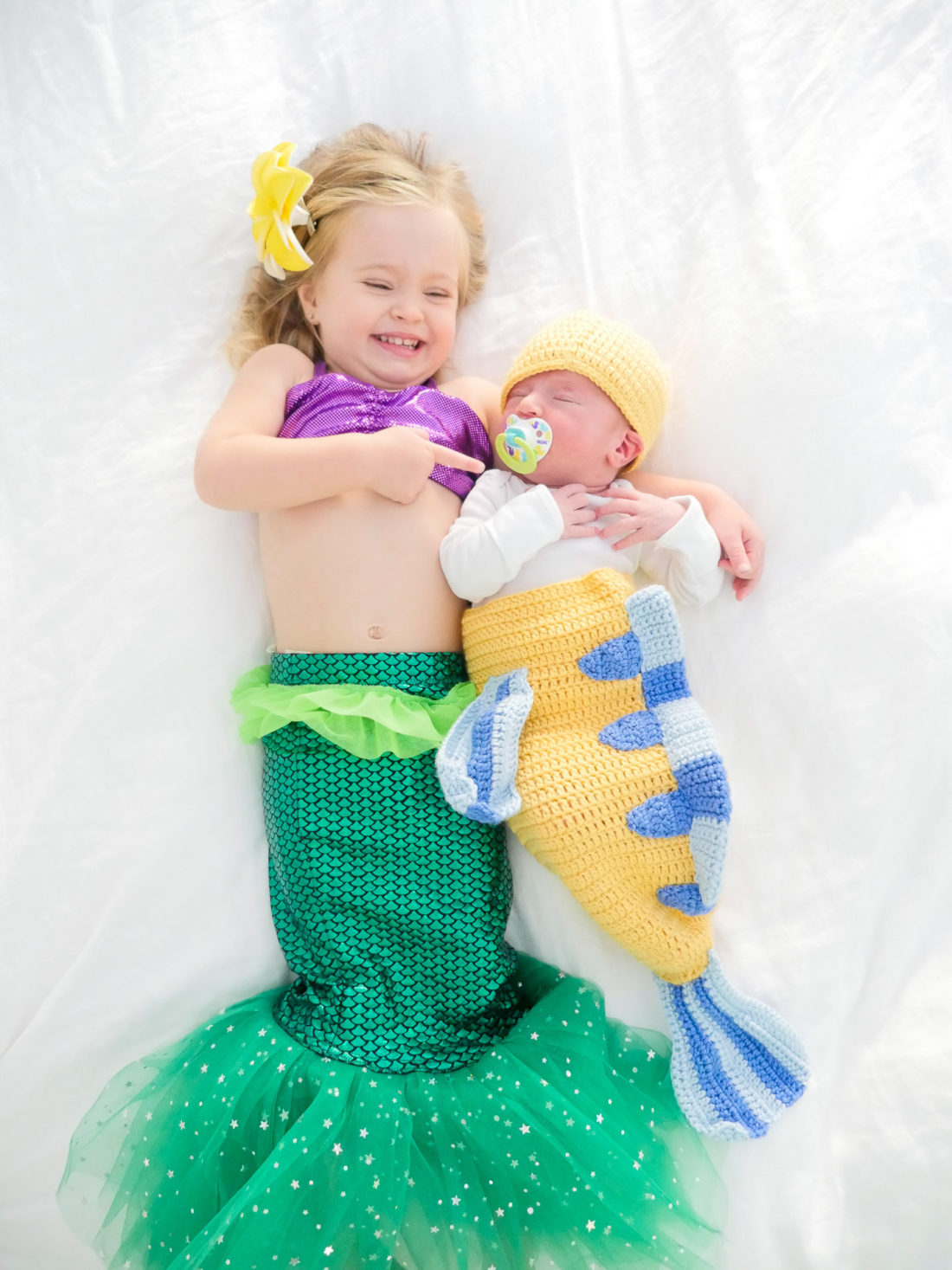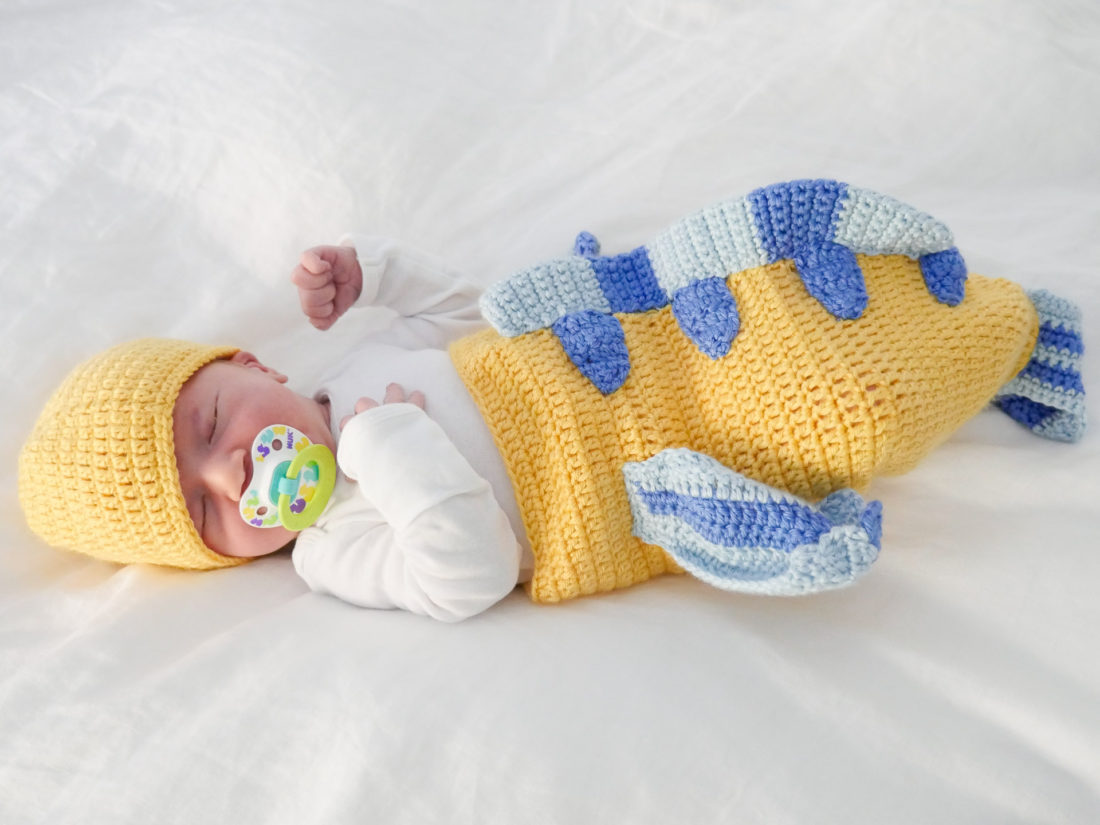 Because Marlowe's Ariel costumes was the tiniest bit…ummm…inappropriate for the cold East Coast Halloween night, she made yet another costume change for Trick-Or-Treating with Daddy! My Mom had gotten her the coolest Astronaut outfit while visiting Florida this Summer and she was so excited to wear it for Halloween! We loaded layers on underneath it, and Kyle dressed as an Alien to accompany her. I actually also had an alien costume picked out, but I was feeling too exhausted and shaky to go out with them. It had already been a pretty big day for me. It was nice for Kyle and Marlowe to get a little special time together, though. To go search for candy, Kyle took her to the street in Westport, CT where he grew up! They ended up running in to a bunch of his old neighbors who were still living in the area, and it was so special for him to take his daughter Trick-or-Treating in his old stomping grounds. I wish I could have been there to see them together, but I'm sure we'll end up returning next year– hopefully with Major walking and carrying his own candy basket! I feel so unbelievably lucky to have both my precious babies with me this year on Halloween, it's such a surreal feeling! I'm counting my lucky stars these days for sure.
Hope you all had a fun and fabulous Halloween this year!