The following content may contain affiliate links. When you click and shop the links, we receive a commission.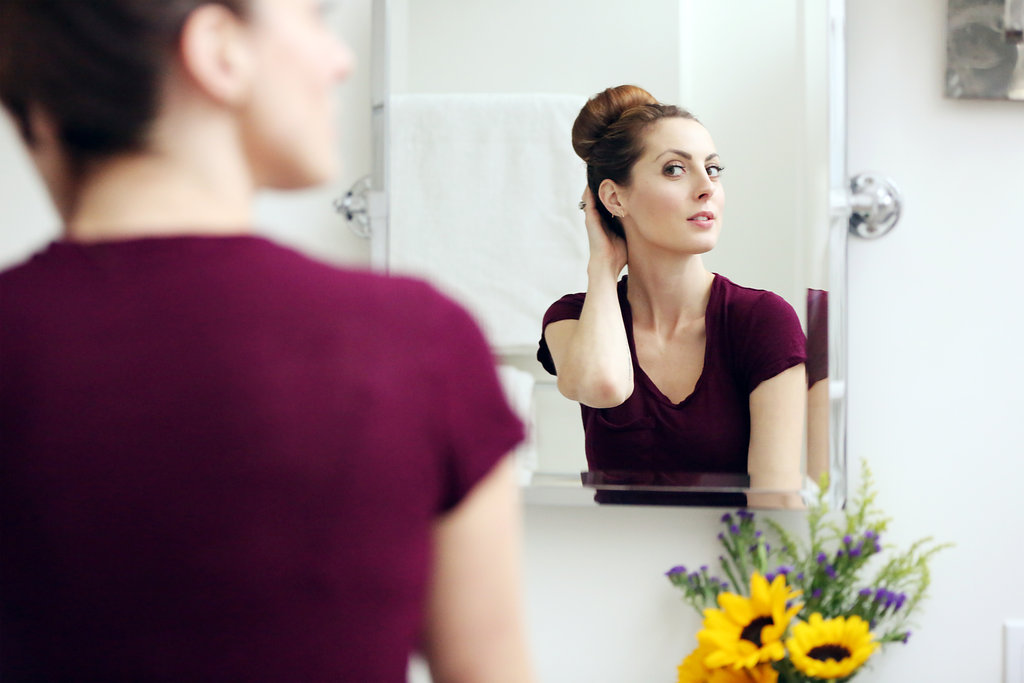 My first Hair Tutorial! And I can't think of a better inaugural subject than my Tried-And-True Sock Bun! I love a creating a Sock Bun on myself because it is the absolutely easiest way to look pulled together in just a few minutes.  I usually do this hairstyle on 3rd-day-hair when it needs a washing but I'm trying to draw my blow-dry out another day.  You only need a few simple items to achieve this look, and once you get the hang of the technique you'll have a perfect little ballerina bun in no time!
If you're anything like The Los Angeles Martinos, you lose a sock in the wash on an average of around once a month (too much).  This is a great way to re-purpose your lonely socks and do something great for your hair all at once!
What You'll need.
1 sock (crew style or ankle style)
1 pair scissors
2 u-shaped hair pins (I like the big ones)
6-8 bobby pins
Step One.
Take the sock and cut off the tip of the toe, creating one long "tube".  Then roll it over on itself to create a rolled up donut shape.  I find that the tighter you can get this roll, the better your bun will turn out.
Step Two.
Create a tight and secure ponytail in your hair.  Make sure the base of the ponytail is where you'd like your bun to sit when it's finished!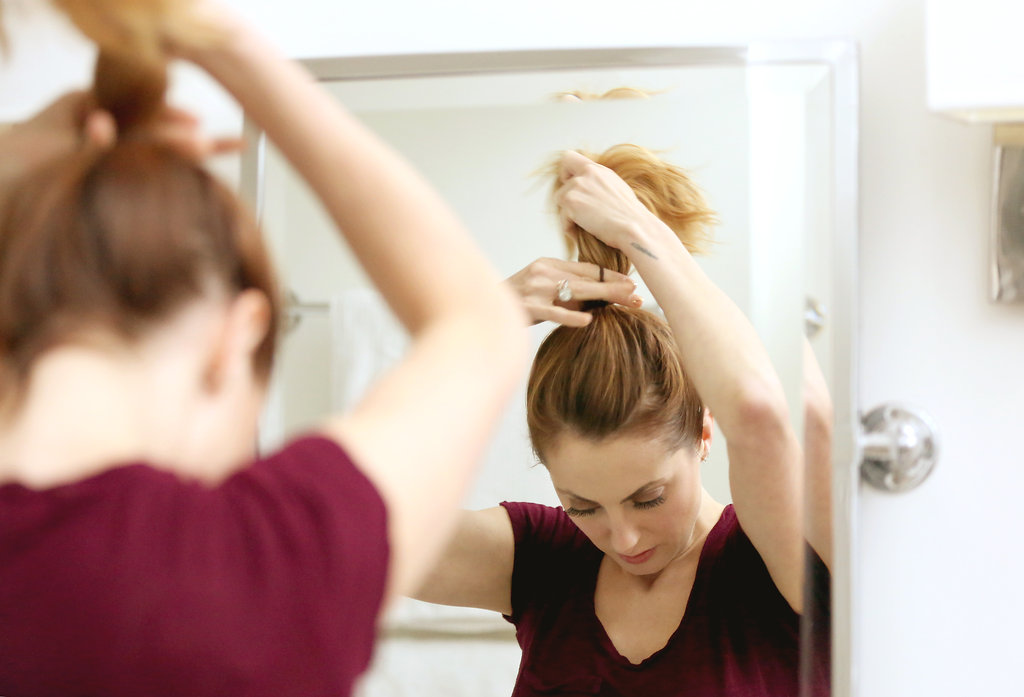 Step Three.
Place your ponytail through your sock donut, making sure that all your hair is through and there are no strays or flyaways
Step Four.
Now, take the donut and move it up until it is around three inches from the tips of your ponytail.  If you have a lot of layers, you may have to move it down a little back towards the base to make sure most of your hair doesn't fall from within the ring.
Split your ponytail in to two side-by-side sections at the tip above the donut ring, and banana peel them over the sides of the donut and underneath, wrapping over the edge.  Envision a banana peel going away from the center and hugging the sides of the donut.
Step Five.
Next, holding your bun like you see above, start rolling the donut down on itself, while pushing the hair up and under with  your thumbs.  Envision rolling a long stocking down your leg to your ankle– it's the same idea.  This part doesn't have to be totally perfect.  You fix in Step Six! Just make sure you are rolling it tightly, until you get to the base of your ponytail.

Step Six.
By now you should have a bun-looking donut.  If your hair looks nothing like a Sock Bun at this point, take the roll out and start again from the ponytail stage.  When I first did this hairstyle, it took me a few tries to get my technique down– don't get discouraged!
Now, we perfect the bun. Holding the center and the outsides, gently pull outwards from the center as if you are stretching out the collar of your kid's tshirt.  Make sure that the bun is the width you'd like, and tuck any stray hairs under.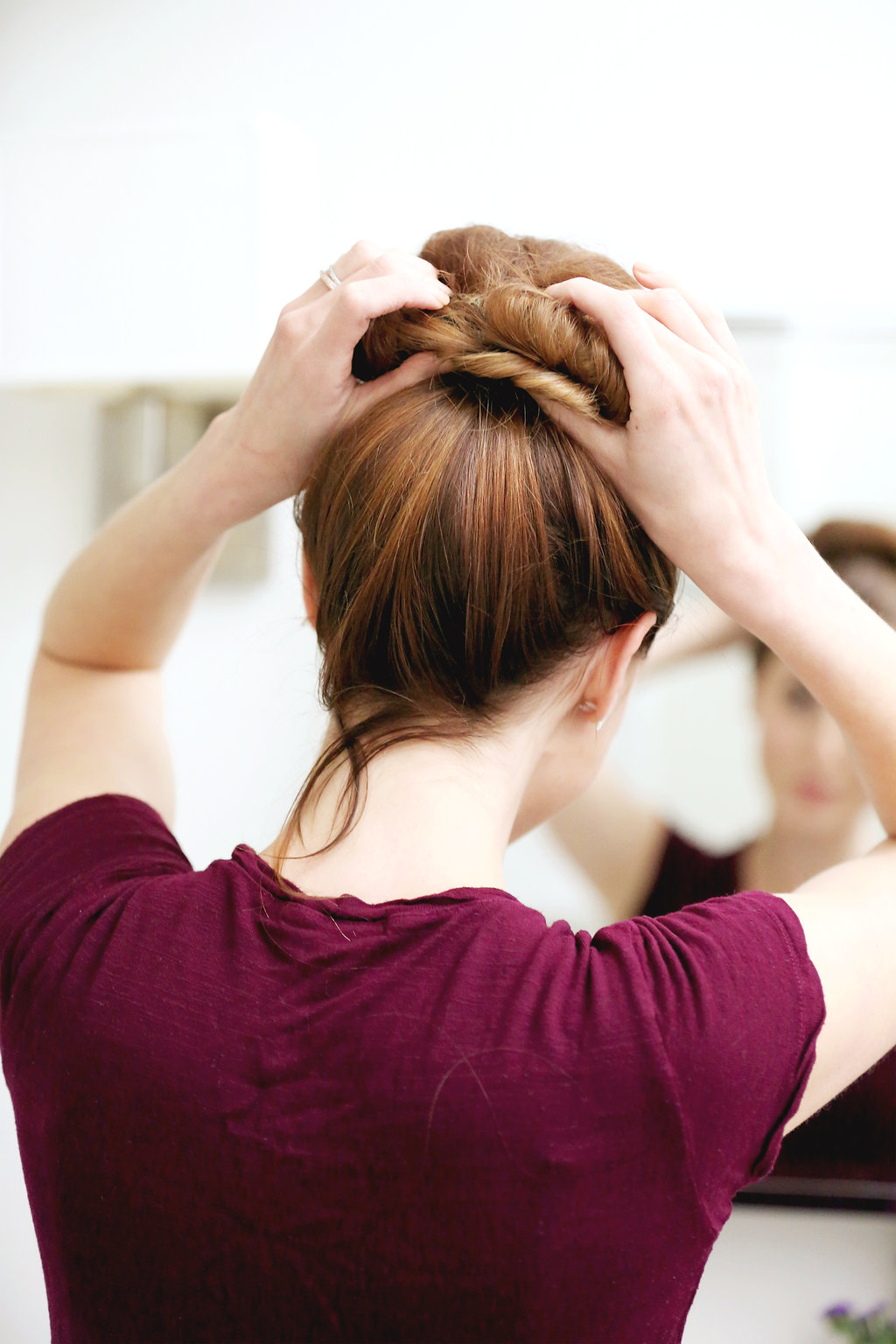 Step Seven.
Pin away!  I begin by placing two U-shaped hair pins in the bun itself, at the base. Now get all those stray hairs, and the ones at the base of your neck, tamed with bobby pins.
Step Eight.
Spray that Sock Bun, girl! Any hairspray will probably work, but I use this one because it gives great shine to my styled hair.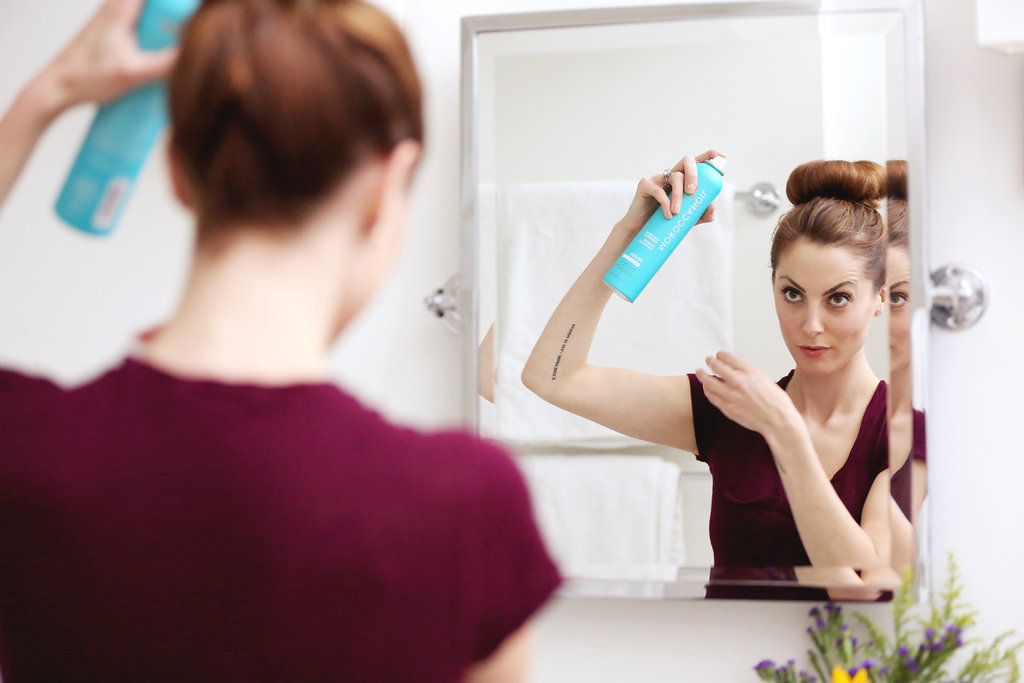 Step Nine.
Marvel at yourself, you sexy and pulled-together minx!
In total honesty, I wear this hairstyle when I have the dirtiest hair ever, and people always comment on it, so Moms with little to zero time– this one's for you!