The following content may contain affiliate links. When you click and shop the links, we receive a commission.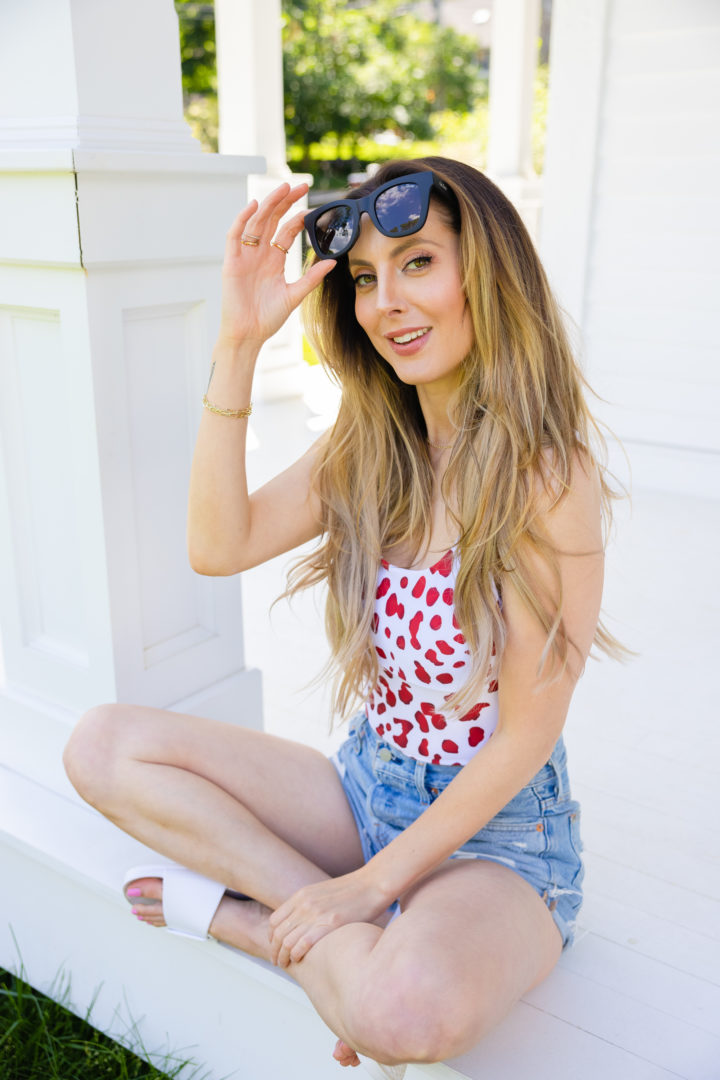 Nothing better than a great pair of sunglasses during the summer months! I love sunglasses that are fun and make their own statement, because I feel like they can make a simple outfit feel even more stylish! I was running errands the other day in workout gear and zero makeup, and as anybody who lives in a small town knows–THAT is when you run into everyone you know. LOL. Thankfully I had an awesome pair of sunglasses in my bag! I swiftly parted my hair in the middle and pulled it into a low, sleek bun. I popped my sunglasses on, and immediately I looked pulled together! It's a great trick in a pinch. Today I thought would be the perfect time to share some of my favorite fun sunglasses for summer at an affordable price point! While I have some "designer" sunnies, with three rambunctious kids I hardly ever wear them anymore. I like to keep them scratch-free! I'm sure I'll pull them out again in the future, but for this season of life, the less expensive a pair of sunglasses is, the better. If my kids step on them by accident, or I leave them at the beach, it's not a catastrophe. One less thing to stress about!
Let me know which of my picks is your fave!
Quay 'After Hours'
$55
I'm wearing these Quay sunnies in these pics, and I get SO many compliments on them whenever I wear them! I love the oversized, matte black look. They go with everything!
Le Specs 'Weekend Riot'
$59
I love the modern pattern and shape of these tortoiseshell shades. I'd wear these with a monochromatic outfit to elevate it and make it look chicer!
Free People 'Sundown Oversized Aviator'
$20
These oversize aviators are so cool and have that trendy retro vibe. I ordered them to wear to the beach!
Free People 'Clementine Cat Eye'
$25
I have these cat eyes in white, and love them so much I ordered them in black, too! 
Free People 'Matera Modern Sunglasses'
$25
Inexpensive sunglasses are a great way to play with trends. I had never tried a rectangular shape before but ordered these in yellow and love them! 
Madewell 'Indio'
$55
If you're interested in a round shape, this pair is a bestseller and super chic! I love wearing these when I'm dressing up a bit. 
H&M 'Large'
$17.99
I'm obsessed with these Dusty Rose sunglasses. And I love that they're under $20 even more! They pair so elegantly with dresses and any more femme look. 
Le Specs 'Subdimension'
$59
I couldn't resist ordering these super stylish sunnies to try. They make even a simple tank and cutoffs look so much cooler!