The following content may contain affiliate links. When you click and shop the links, we receive a commission.
Last summer, I wrote a blog post about all of the pieces of myself pre-baby that I've recommitted myself to putting back together and reintegrating in to my life. The only way I've found to stay committed to these treasured elements is by working them in to my life in a consistent way. One thing I really missed was consistently reading books. Last month, I launch the Happily Eva After Book Club! I've already selected next month's book, and it's amazing how much energy our group of readers has given me in such a short period of time. Another thing on my list of joy triggers was travel and adventure! I used to explore the world so much more pre-children (I mean, didn't we all…) but I truly believe that finding pockets of time and energy to explore something new is totally possible in my new Motherhood role…even if it's not every day, week, or month.
My goal has been to go on a little mini adventure, or to spend time somewhere that I'm curious about, every couple months or so. I recently visited Atlanta to go to the Polycor Marble Quarry, and turned it in to a little overnight trip at a really cool boutique hotel I'd been wanting to visit: The Clermont Hotel! I thought I would share some pictures and thoughts about it today! I'm calling this new series "Eva In Wonderland", in honor of the creative inspiration these little trips give me. These posts aren't meant to be reviews of the adventures, so to speak, but more of an assortment of photos, takeaways, and recommendations. Plus any tips I come across. I'm hoping that sharing some things that inspire me will inspire you as well!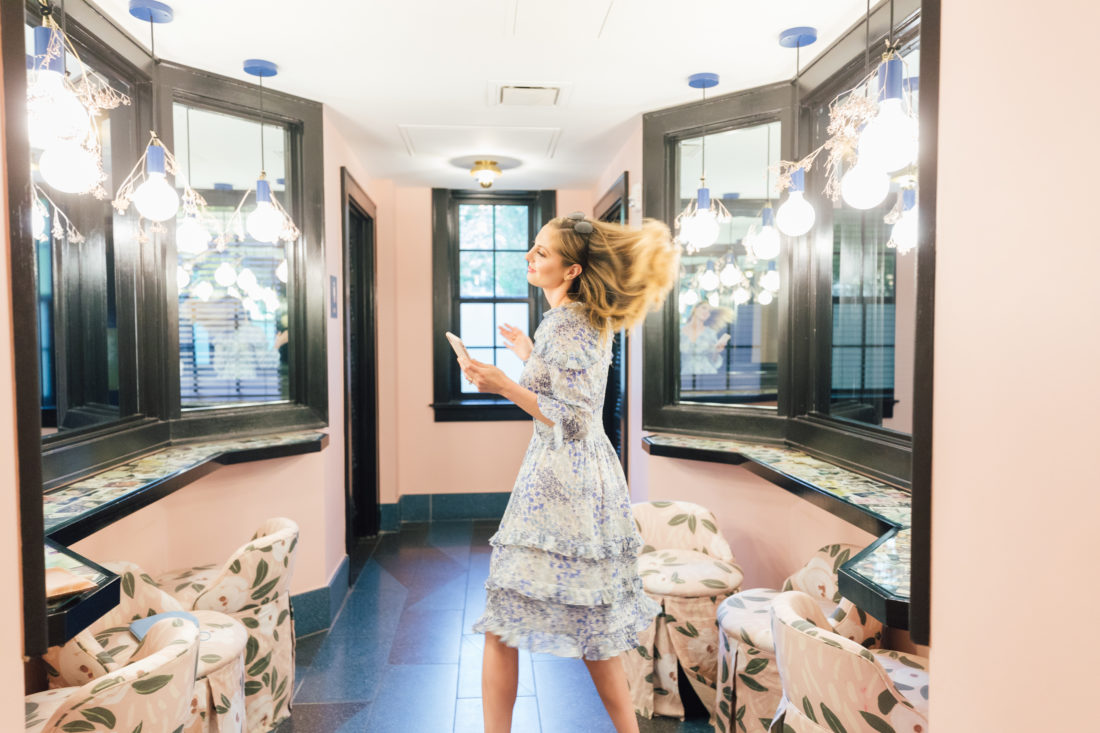 The start, the most striking thing about the Clermont hotel is the super robust midcentury modern vibe. It's a style fantasy! I just love the attention to detail, the mix of prints and fabrics, and the total throwback feel. It's done in a way that feels retro and modern at the same time. And everything is just super COOL. They give you a PBR beer when you check in to the hotel, for Pete's Sake! LOL. The rooftop was super cute as well, with a very stylized yellow and white decor concept. I even shot a blog feature up there about my love of yellow style items! I didn't eat at the restaurant, but I heard it was delicious. The most striking on-site feature, though, has got to be the decades-old strip club! It's in the basement of the hotel, and is supposedly the oldest in town, dating back to the prohibition era. I only found out about the strip club once I was in bed in my jammies, so I didn't check it out firsthand, but if you're in to that kind thing I would say it's probably a must. Another hotel feature that I thought was really quirky and hilarious was the sneaky two way mirrors in the lobby bathrooms! We were checking out the old-school design of the powder room areas, and noticed when we were taking pictures that you could look through the mirror and see in the bathrooms! LOL. It reminded me of some Pink Lady vibes from the movie Grease.
The Clarmont Hotel is in the middle of the really cool up-and-coming Poncy-Highland neighborhood in Atlanta– at the intersection of Downtown, Midtown, and the historical Old Fourth Ward districts. It seemed to have so much energy, and was definitely an area that felt really invigorating and creative, with tons of young people walking around, eating out, and hanging out. The whole trip, I found myself so inspired by the energy and the color stories of the hotel and its surrounding areas. It really made me excited to head in to the colorful Spring and Summer seasons and to play around with color more– both in my wardrobe and in my home decor. I probably won't be returning to Atlanta in the near future, but if I ever did, I would make sure to have a cocktail at the Clarmont Bar to soak in its awesome style once again.
Are there any cool boutique hotels that are a destination in themselves? I would love to hear your faves! Always looking for more Inspo!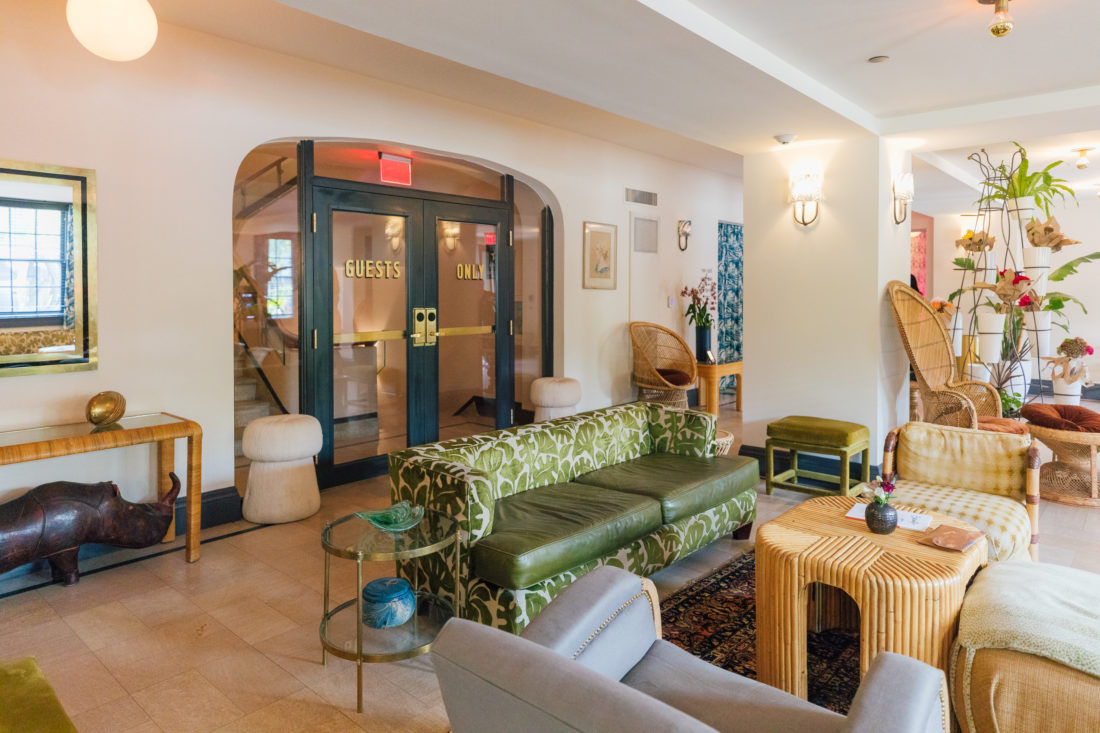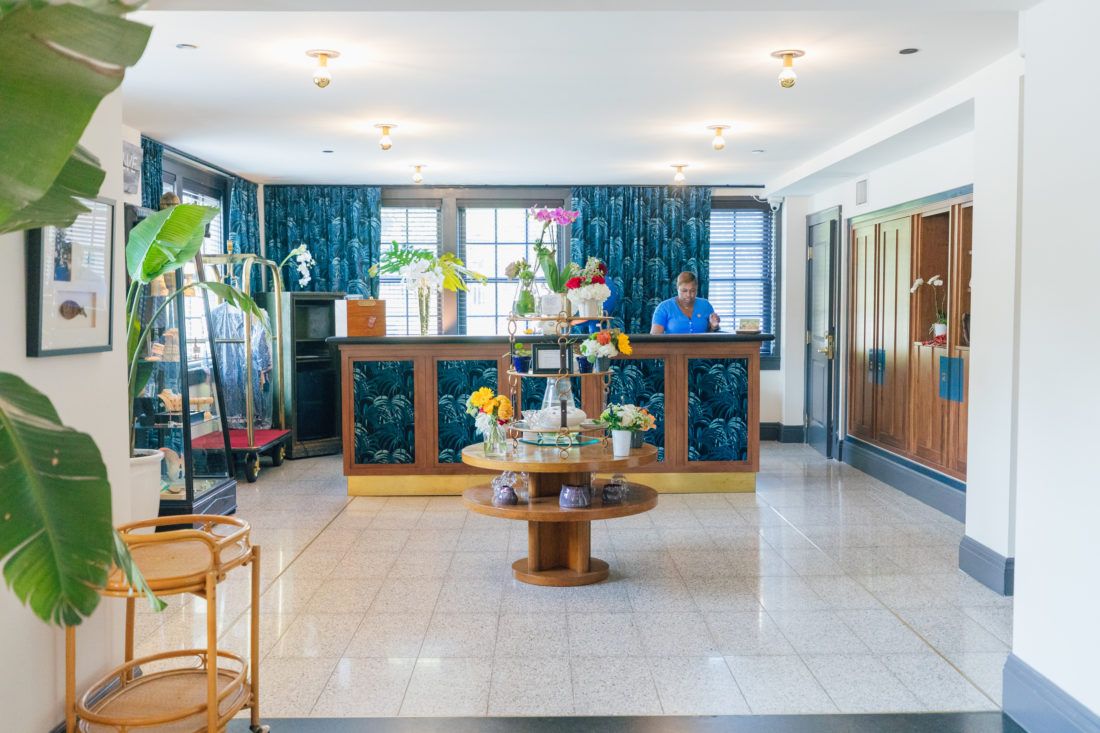 Shop the look…

Photographs by Julia Dags