The following content may contain affiliate links. When you click and shop the links, we receive a commission.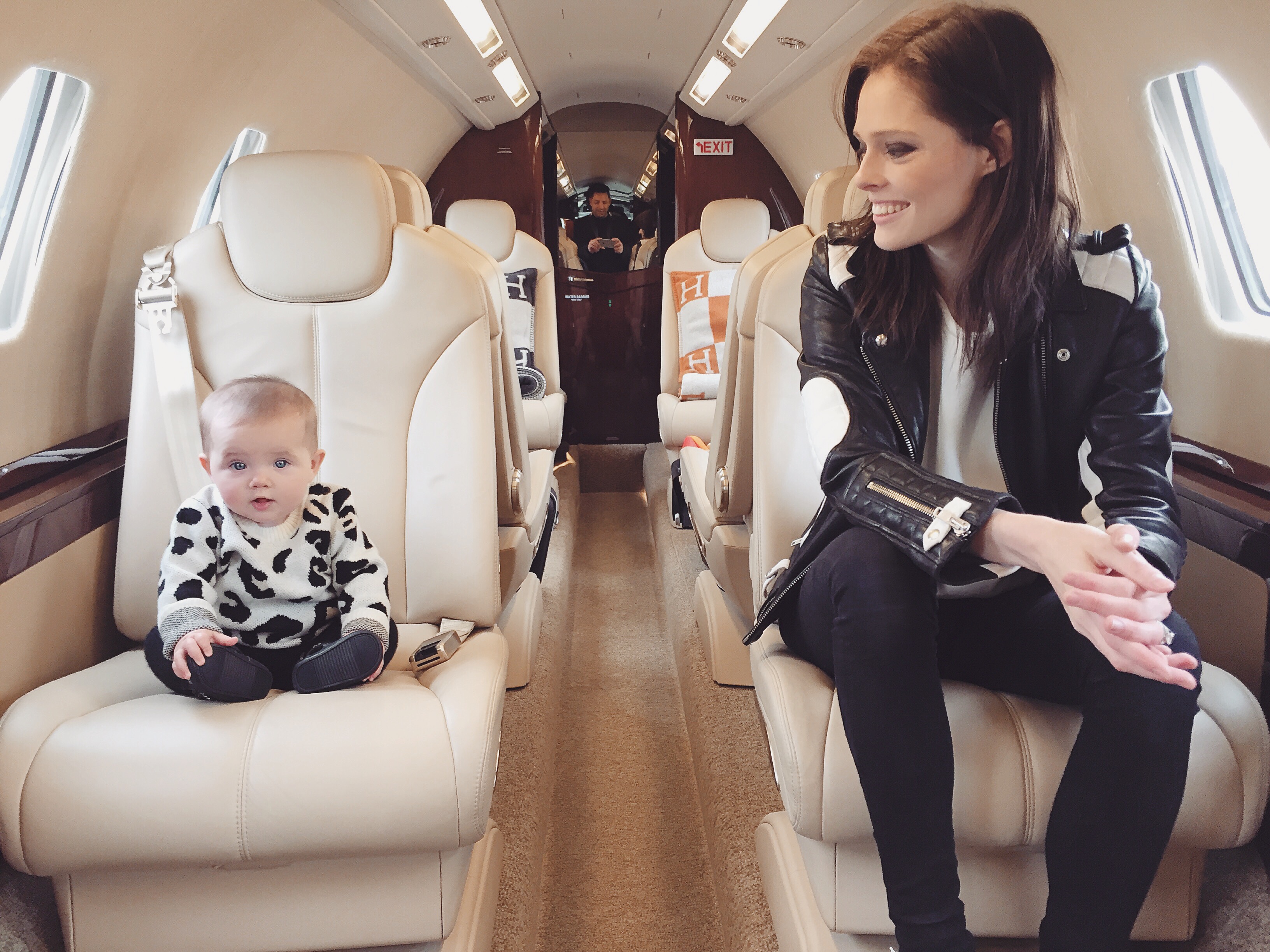 Sometimes when you see a stunningly beautiful Supermodel, who has graced covers, campaigns, and even has her own book, you think unapproachable– right? Coco Rocha shatters that stereotype. I met this kind, smart, funny, and lovely Mama on SOCIAL MEDIA, of all places, and she has always been nothing but sweet, supportive, and an awesome friend from afar.  Talk about a working Mom– she and her husband, James, travel with their daughter, Ioni (8 months), all over the world! Needless to say, Coco has her fare share of tips and tricks to share.  Today, she answers my eight favorite questions:
1. What is the best parenting advice you have received?
Not to aim for perfection. No one ever succeeds at being a perfect parent and kids don't need that to thrive. They just need parents who love them and care.
2. What is your greatest challenge as a parent?
Face timing all the grand parents! Ioni has Grandparents in Canada, the States and England and I sometimes feel like I'm a full-time switch board operator for Ioni's video conference calls!

3. What's the latest with your kid? Any new dynamics? Funny quirks? Challenges?
Ioni is nearly 9 months old now and in the last week she learned how to clap, point and wink. It was a big week! Her new favorite thing is to put her pointer finger onto the end of mine. Its a really difficult thing to do if you think about it, but makes her so happy when she does. She and I also spent a week being sick together and I have to hand it to her for continually being in a better mood than I was. Not being able to breath out of her nose frustrated her a lot, especially when she was drinking or sucking on her pacifier, but all in all she was a real trouper.

4. What is your dream day as a family?
On my dream day, Ioni and I would both wake up after 8am! Wouldn't that be amazing?! Then we'd have a nice breakfast together and a walk to the park. Honestly, every day is so amazing with Ioni, even if we are just in a hotel room together we have so much fun together.

5. Kid item you can't live without?
She's obsessed with FIJI water bottles! Its her favorite toy. Luckily we have plenty kicking around the house.

6. Favorite local kids activity?
At the moment we are packing our house to move and Ioni loves sitting in a cardboard box and being pushed around.

7. How do you unwind?
Ioni goes to bed around 8pm and even though I'm tired, I usually find I have all this energy when she's gone to sleep. I guess its because my body knows this is "me time". Usually my husband and I have a late dinner after she goes to bed and I really love to cook and the whole process of putting a meal together. Then I'll catch up with all the things I wanted to do through-out the day but couldn't because my hands were full, have a drink (Vodka tonics are my current obsession) and try to watch whatever show my husband is now into on Netflix. By 11pm I'm ready for bed myself.

8. What are your favorite beauty products?

At the moment I'm loving Burts Bee's – I like the fact they are 100% natural, and striving to work with100% recyable materials. As I have moved into motherhood, I am more concerned about the world and how I leave it for my daughter. Tatcha is another favorite. They have this pure one step Camellia Cleansing Oil. After removing my makeup I use this product and you'll be surprised how much makeup is actually left over! I also really like Tatcha's Ageless Revitalizing Eye Cream for my under eye. Its thick and feels like its doing the job after a hard days work. The Tatcha brand is made in Japan and is based on a 200 year old beauty regime the Geisha followed, its really interesting if you look it up.